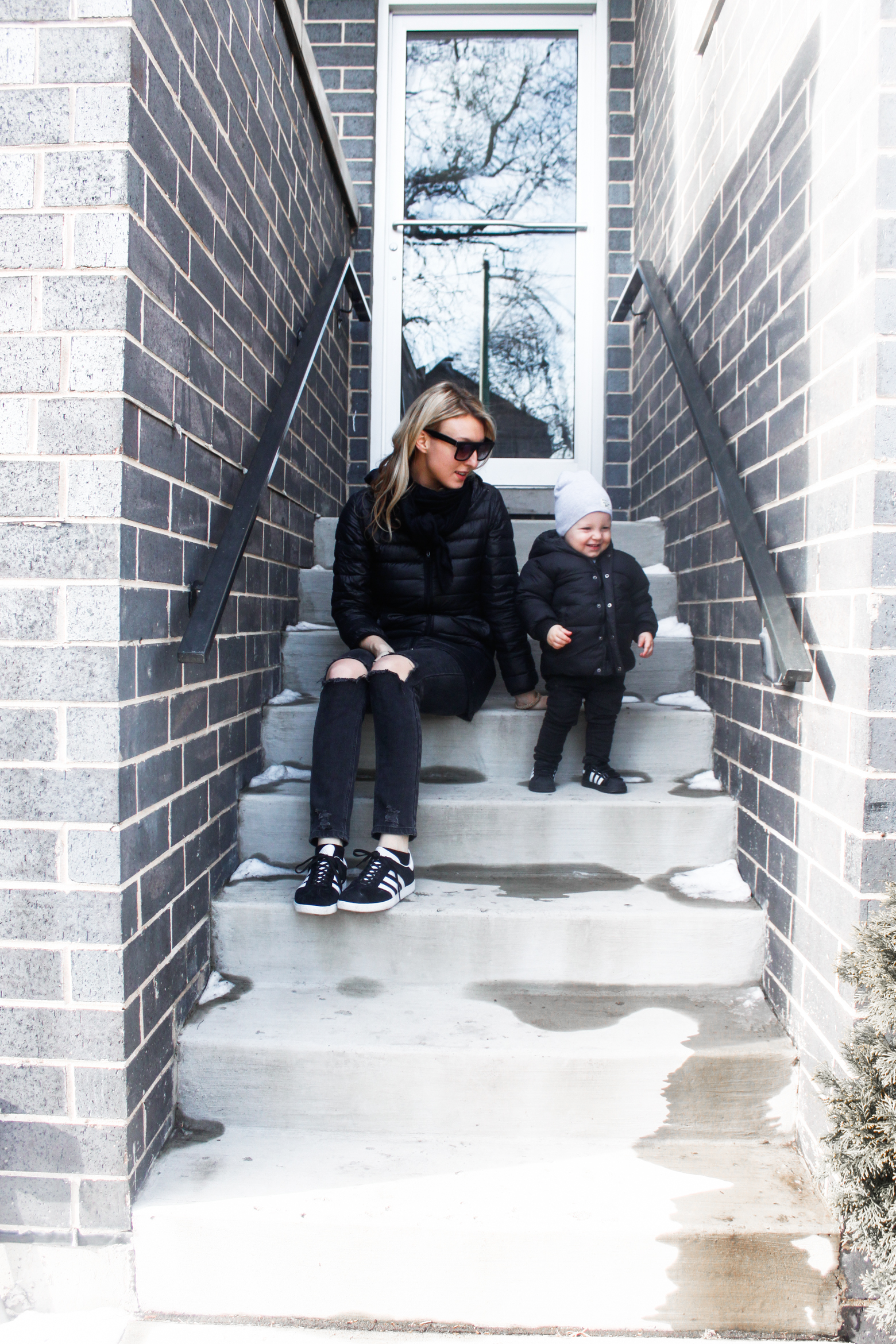 I know "life lately" posts are nothing new in the blog world, but it is something new that I'll be adding to MM toward the end of every month! Do you guys read Kelly in the City? She has awesome Life Lately posts, and they totally inspired me. When I created this blog last April, I had intended to do a better job documenting James and our life in general. Once 2018 hit, I sat down and reevaluated my content and made a list of things I want to keep doing + a list of things I want to do better. One thing that I want to do better: document my real life more often.
I'm starting to realize as I write this, that we typically don't have much going on. Lol. So, I'm probably going to play around with how I structure these posts until I find my rhythm!
So, here's what's going on with me…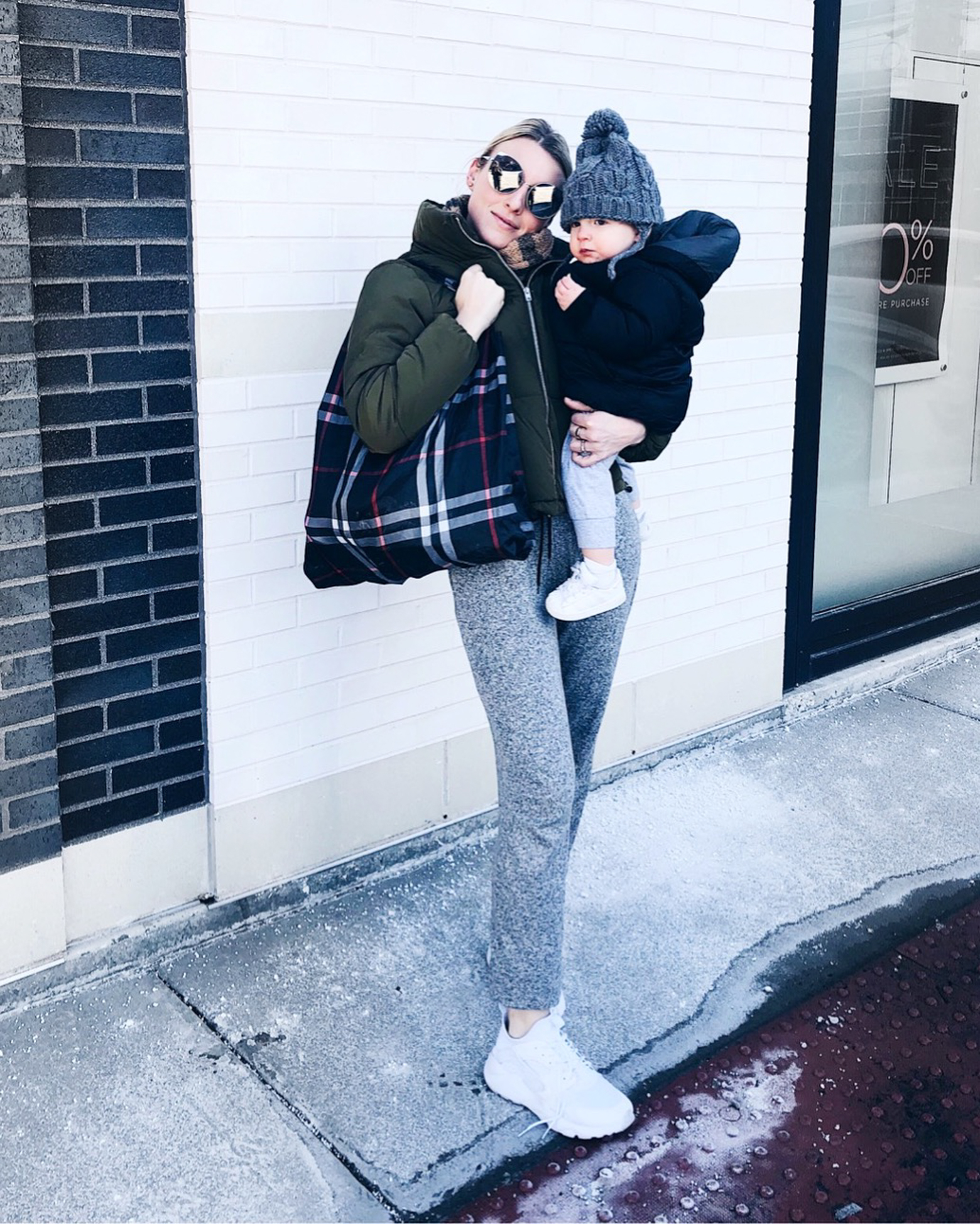 TRAVELING:
I've been running around like a crazy person this week! I'm going to L.A. on Thursday with my two best friends to celebrate me and my friend Lindsey turning 30 soon. Is that worded properly? I wasted about five minutes trying to make sure that sentence was grammatically correct, but I officially give up. Anyway – as I've mentioned many times – I struggle with organization. So getting ready for any trip sets me into panic mode! Especially considering I haven't left James since he has become so toddler-ish and aware. Do you guys FaceTime with your toddlers when you're away? Or does that just confuse them and cause anxiety? Please let me know your take on that!
WEARING:
If you follow me on Instagram, you probably have noticed I'm living in these chunky white Nikes with basically everything. I am pretty obsessed. Also still loving and consistently wearing this cropped puffer jacket and it is ON SALE FOR $25!!!! Like I mentioned in my sherpa coat post, now is the time to get outerwear because it is all on sale.
BEAUTIFYING:
As promised in my 2018 Bucket List, I am going to get my eyebrows microbladed! I made an appointment for February 4th. EEK! I'm so excited. I'm having it done at EverTrue Salon in Chicago, and if you are local – stay tuned! They are going to be offering a 20% discount to my readers! Which is pretty major, because it is definitely an investment.
I'm going to update my skincare and makeup posts soon, but here is a quick recap. Also promised in my 2018 Bucket List, I found a clean daily SPF that works and does not clog my pores! It is called COOLA Suncare and I highly recommend it for everday use. I have started trying bentonite clay masks and I'm loving them. I even put it on my arm pits! It is supposed to pull out toxins and impurities and I read it's helpful to do before you try and start using a natural deodorant. I digress. Also, I've been using this plumping serum and I'm pretty sure it is transforming my skin. I wanted to wait until I tried it for at least a month to report back to you guys on it. Here is my report: it rocks. I also just went to an event with Physicians Formula and am so happy to discover there is finally a clean + non-toxic makeup brand that is affordable and easily accessible. You can find PF at Walmart, Target, Walgreens, Ulta, and Amazon!
TRYING:
Toddlerhood is no joke! Currently, I'm really trying to be calm around James at all times, especially when he is amidst a toddler meltdown. Admission: I get ruffled pretty easily when things aren't going how I want them to. And nothing has made me more acutely aware of that than having a toddler. I'm trying to stay in the moment and breathe through it instead of allowing my anxiety to show on my face or through the tone of my voice. I know this is a common mom struggle and I shouldn't be too hard on myself – but as moms know there is nothing worse than feeling guilty about your child seeing you upset or frustrated!
Here's what's up with James (17 months)…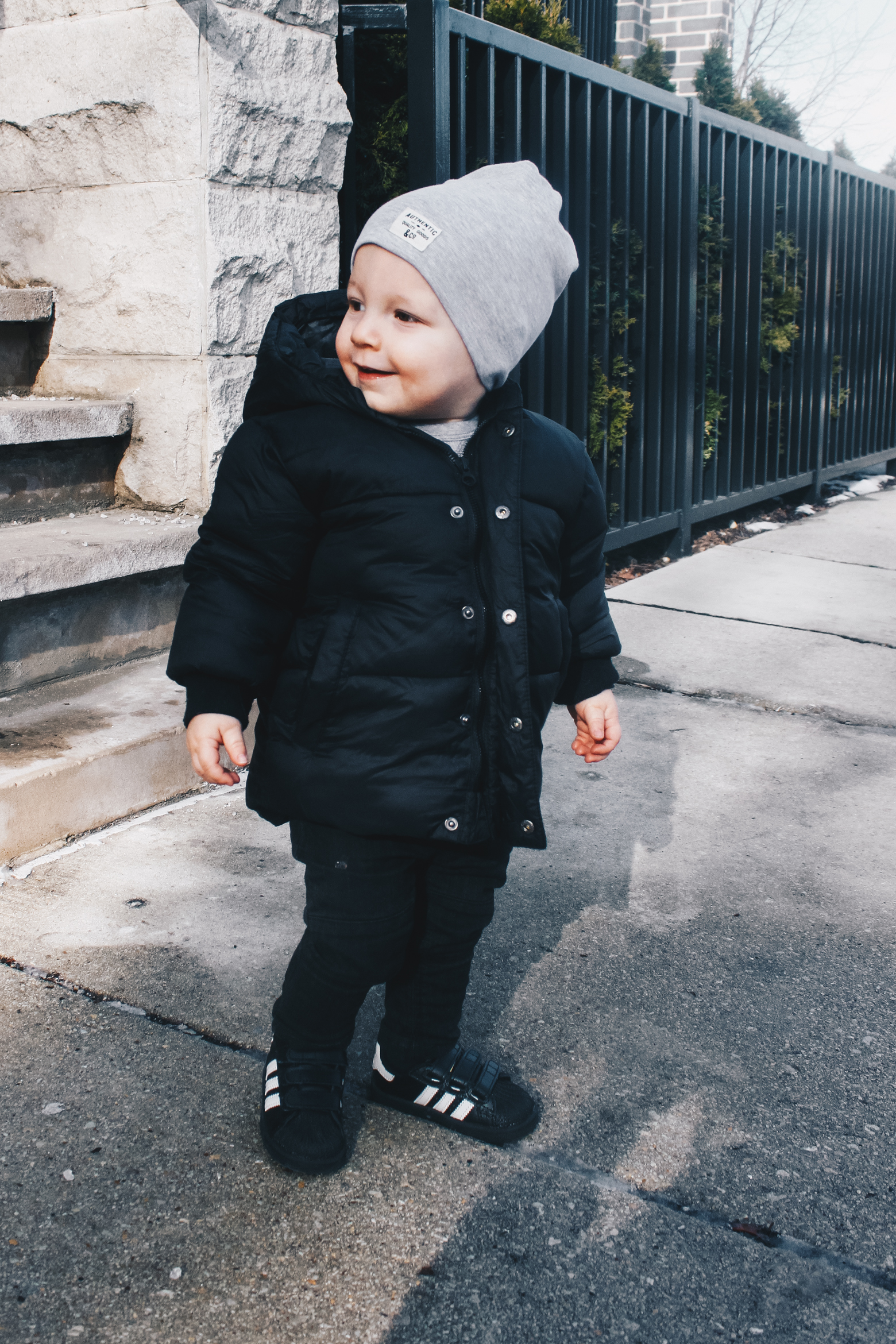 LOVING:
His little guitar, and music in general. Specifically The Beatles. All we do is listen to The Beatles on Alexa, and after nap time I let him watch a couple videos of them playing live on TV. Is that bad? I know screen time is frowned upon before the age of 2, but does live music count? He takes the wooden tray off our ottoman and puts it on the floor, then stands on it to pretend it's a stage. (At least that is what I'm assuming he is doing?! Not like he tells me.) He is also obsessed with climbing on everything. Oh, and STICKS, he love sticks.
SAYING: 
James has always been a bit of a chatty Kathy, I don't really keep a list of every word he says anymore. Currently, if he wants to do something or go somewhere he points and says "IN", or grabs our hand and says "HAN". Most recently he has been saying: hummip (hummus), cacka (cracker), diaper, taco, pizza, okay (he says it "ahhhkaayyy!"), heavy, all better, happy birthday ("hap batay"), he points to my kombucha and says "BOOTA", and he says "toot" every time he…toots. This isn't technically a word but he's also taking deep breaths and it is my favorite thing in the entire world, ever. Whenever he is upset I try to get him to calm down by taking three deep breaths, and I'm so shocked that it is actually working!
EATING:
HUMMIP! Translation = hummus. He is obsessed, and it is hilarious. He asks for it at all hours of the day. And if we pass it at the grocery store? Forget about it. Hummip is far and away his favorite food right now. Also, crackers. They are just as important to him as hummus. I buy Annie's saltines because the ingredient list is short and sweet. He is still eating steel cut oatmeal and fruit every morning for breakfast. We make a big batch of steel cut oatmeal at the beginning of the week, then we refrigerate it and give it to him cold every morning. Why? Because this way he can eat it with his hands! When it gets cold it turns into a giant clump and he can pick up chunks of it easily.
READING: 
Currently, he is loving The Foot Book & Pout Pout Fish – but only if I read it because Kyle can't do the fish voices like I can (sideways smile emoji).
Our home & family…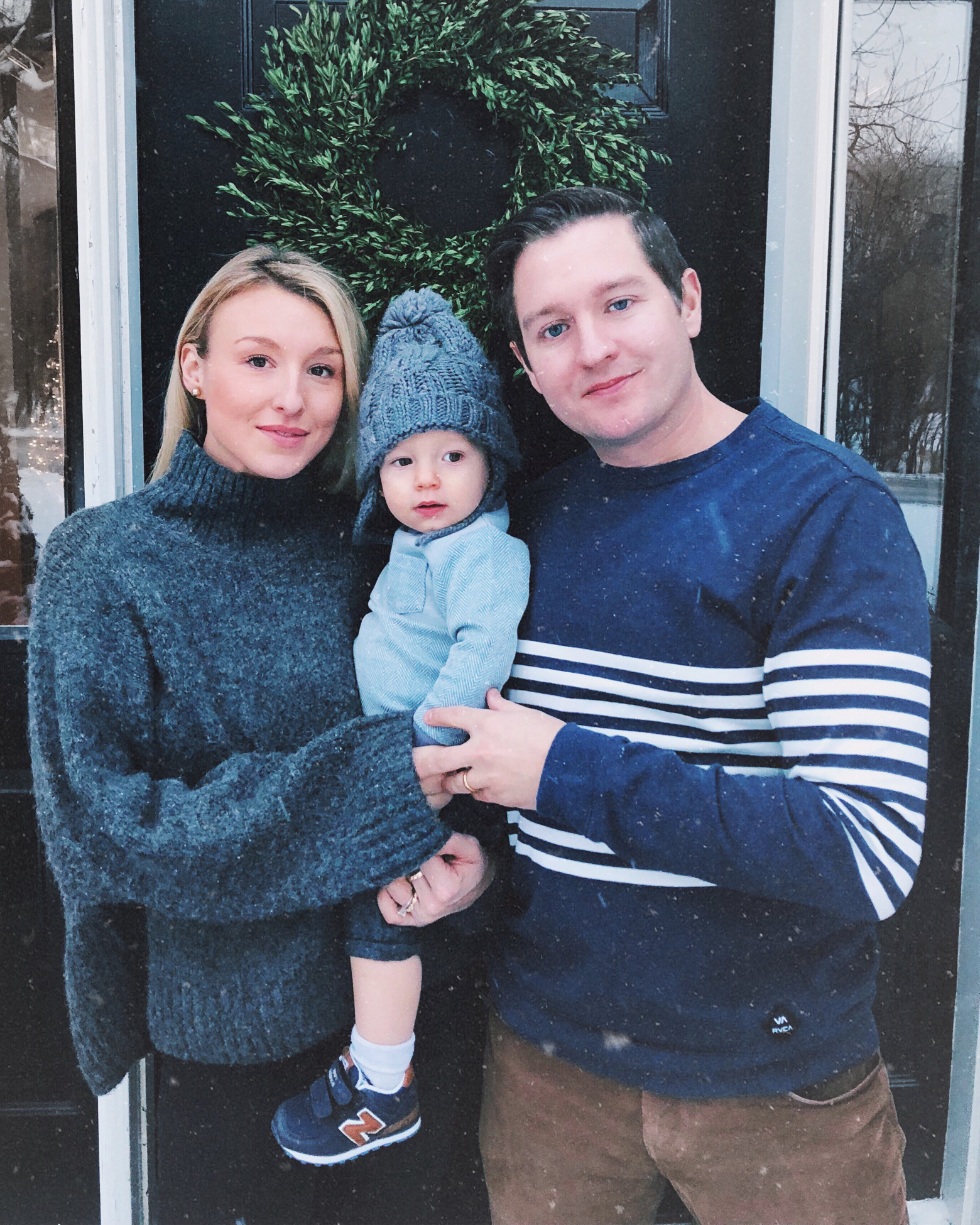 DINNERTIME:
I am SOOOO into one pan dinners right now! Next week I will be posting an "easy dinners" post, featuring only one-pan meals that are healthy AND easy to make. Also, we have been doing taco Tuesdays lately and all three of us are loving it. Here is what I use: corn tortillas, ground turkey with chili powder, black beans, Greek yogurt mixed with Cholula (plain for James), homemade guac, shredded cheese. Delish!
DRINKING:
Kyle and I drink GT's Kombucha every morning, it gives us life. Right now, Kyle's beer of choice is Apex Predator made by Off Color Brewing. I think it is my favorite beer now too! Super crisp and easy to drink. I have recently been craving white wine again, after having taken a major break between the end of summer and now. Loving the Kidia sauvignon blanc from Trader Joe's, and it's only $5.99! Whoop. I'm happy to report I've been pretty religious about drinking a hot cup of lemon water with cayenne pepper and honey every night before bed! I talked about it in my 2018 Bucket List.
WATCHING:
Together, Kyle and I are watching: Vanderpump Rules (the only Bravo show he will watch with me), we just finished the Crown (amazing), The Challenge (lol), we just started Peaky Blinders (omg SOOOO GOOD!), and also started Handmaid's Tale but I don't know if I can finish that. Not a show for moms! It is really good and I'm so intrigued but it gives me terrible anxiety!
Obviously, I'm watching RHOBH and RHOA. And every WWHL. Duh. I'm surprised how boring RHOA is this season, I expected more! However, I'm loving RHOBH as always.
I think that is it for now! Please let me know your thoughts on this post and if there is anything you rather have me skip, or something you'd like for me to add! xx
– SHOP THE POST –