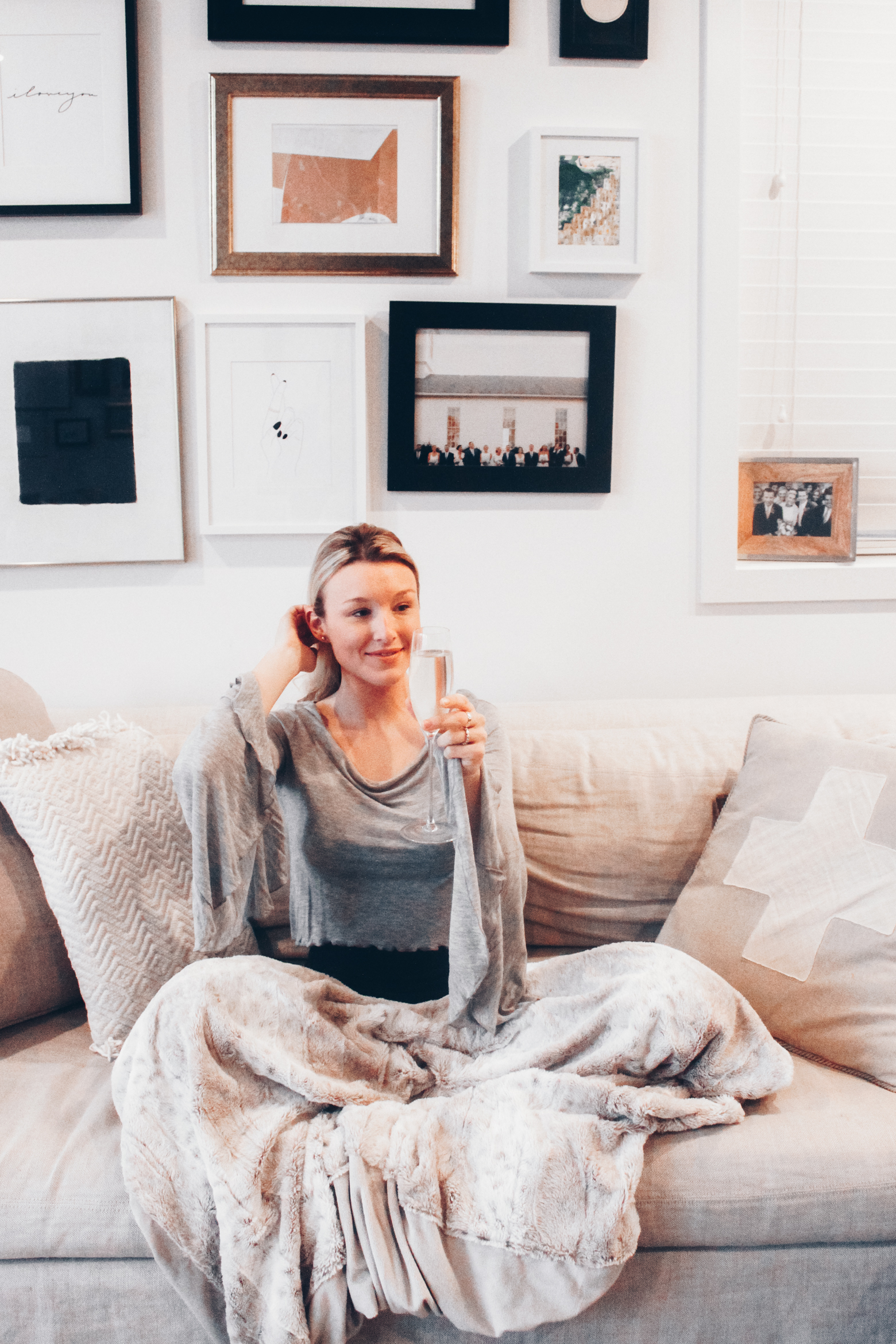 Hi, guys! Missed ya! I took a bit of an unplanned hiatus in December. I forgot how draining the holidays can be. But I'm finally feeling re-energized + ready to come back to life after weeks of binge eating, too much wine, and a bug that wouldn't leave my family alone. Woof! I hope you all had the best holiday and I'm sending you lots of fresh, 2018, new year vibes.
Note: these are NOT resolutions…
This is more of a bucket list of things I want to simply try to do this year. I wanted to make a list of things that are actually achievable! Admittedly, it's kind of shallow. You won't find any major diet changes, deep goals about living a more mindful life (however I would like to be more positive in general), less social media, exercise commitments, blah blah blah. Don't get me wrong, those things are all great and good but I'm sure you're not THAT interested in hearing me talk about becoming a healthier + better person, right? So let's keep it fun and more importantly doable for now.
1. Try meal prepping on Sunday nights.
Okay, this one is kind of resolution-y I'll admit it. But, I've been wanting to get into this habit for the longest time and I just can't seem to do it! Organization does not come naturally to me, so this will be a struggle. But, I'm convinced that if I can do it successfully for one month, then I can successfully do it the next month, and so on. Sort of like the beginning of breastfeeding.
Do you guys have any meal prepping tips???? PLEASE comment with them!
2. Get my eyebrow game on point. (Growth serum + Microblading)
I think I'm going to get my eyebrows microbladed soon. I'm deeming 2018 "the year of the brow". I'm determined to have a big + bushy unibrow by 2019. First, I want to use a brow serum to beef them up, and then I want to get them microbladed (tattooed) to fill them in permanently. That way, I won't have to mess around with filling them in myself, because they are never symmetrical when I do it!
I've been researching serums and below are some that have been claimed to seriously work. I'm torn between Rapid Lash Eyebrow Renewal Serum and Neubrow. Rapid Lash is much more affordable and scores 5 on the Think Dirty app (meaning it's not TOO toxic) but Neubrow is supposed to be the go-to for serious results, it's not listed on Think Dirty.
3. Re-watch Sex & The City from start to finish.
Does anyone else do this every few years? I haven't done it in forever but it gives me so much life. It's time.
Please accept my sincerest apologies because I totally told you guys I was going to try collagen peptides and get back to you, and I totally fell off the wagon. According to the poll I did in my Instagram story, people have experienced SERIOUS hair growth from using collagen peptides. I finally bought the giant tub and am going to add it to my coffee every morning, let's see if I look like Rapunzel in 2019? Fingers crossed.
The brand Vital Proteins is the one most recommended by the sources I've researched!
5. Take a wine tasting class and be able to make a semi-knowledgeable wine order at a restaurant by 2019.
Because I love drinking wine so much, I feel like maybe it would be fun/useful to start learning about it. Nothing fancy, just the basics. Typically, I just pick the cheapest bottle on the menu. So, by next year I'd like to make at least a somewhat educated decision when choosing from the cheap bottles.
6. Wear actual sunscreen on my face every single day, even in the winter.
I'm talking a real sunscreen (a daily one that won't clog your pores) not a moisturizer with SPF. I know that sounds intense but UV rays – WHICH ARE RESPONSIBLE FOR AGING SKIN – can still damage your skin in the winter. Even if you are just outside briefly commuting to work! In fact:
First and foremost, SPF helps protects against skin cancer. Secondly, it helps protect your skin from aging. I will be 30 in a month, and my fine lines are starting to freak me out. Gwyneth Paltrow wears actual sunscreen every single day. After doing a deep dive into her beauty regimen, I found that every morning she applies moisturizer followed by this sunscreen. Currently, I wear Beautycounter's Dew Tint Moisturizer, it's SPF 20 and I seriously LOVE it. However, it's more of a makeup consistency and I like to make a little go a long way. Meaning, I really only apply it lightly to my cheeks and forehead to give me a dewy glow. I want to start applying a real sunscreen liberally to my face before these fine lines start adding up.
Gwyn's favorite brands are Coola and Drunk Elephant! I recently purchased this one by Coola, and I'm LOVING it. It goes on like a light moisturizer, is completely odorless, does not clog my pores, and it scores a big fat beautiful ZERO on the Think Dirty app!
7. Drink a detoxifying cup of hot water with lemon + cayenne pepper once a day.
Let's be honest, I need my wine. I'm not into flash detoxing where you cut out alcohol or dairy for a month and then go back to consuming it regularly. So instead of cutting stuff OUT, I want to add something IN to help my body detox a bit. Hot water with lemon and cayenne pepper has many benefits: it's healing, helps with metabolism, stimulates your liver, aids digestion, and it's a totally doable goal. One little jar of cayenne pepper is like $4 and will last forever, and lemons are so easy to keep in the house!
*PRO TIP: You only need a DASH of cayenne pepper! My sister was over last night (to catch up on Vanderpump Rules obvi) and in the first batch I made us, I put about 1/4 tsp. of cayenne pepper in EACH of our cups and nearly killed us both. So, beware. Also, add a little honey!
8. See a musical.
I love musicals so much and I'm pretty sure I haven't seen one in over 2 years, and that makes me so sad!
9. Do a staycation with Kyle in Chicago.
We always talk about doing a staycation, and we never do. This year I want to finally take a mini vacation in my own city. Stay at a hotel, make a reservation at a restaurant we have never been to, do something touristy the next day like a museum, walk down Michigan Ave., you get the picture. Since we live in Bucktown (a Chicago neighborhood west of "downtown" for those of you not familiar) we don't spend nearly as much time in the actual city as I'd like to. Every time we go downtown I feel like I'm on vacation, so why not actually make a vacay out of it!
10. Start and finish ONE parenting book on my list.
I know this sounds like a pathetic goal, but for me it would be quite the feat. I have a terrible habit of starting books and not finishing them, especially parenting books! My friend Katelyn (But First Koffee) is an actual expert on parenting books. She has practically read them all – and lucky for us – she wrote a post about her favorite ones. Definitely be sure to check that out.
Here are some on my list: