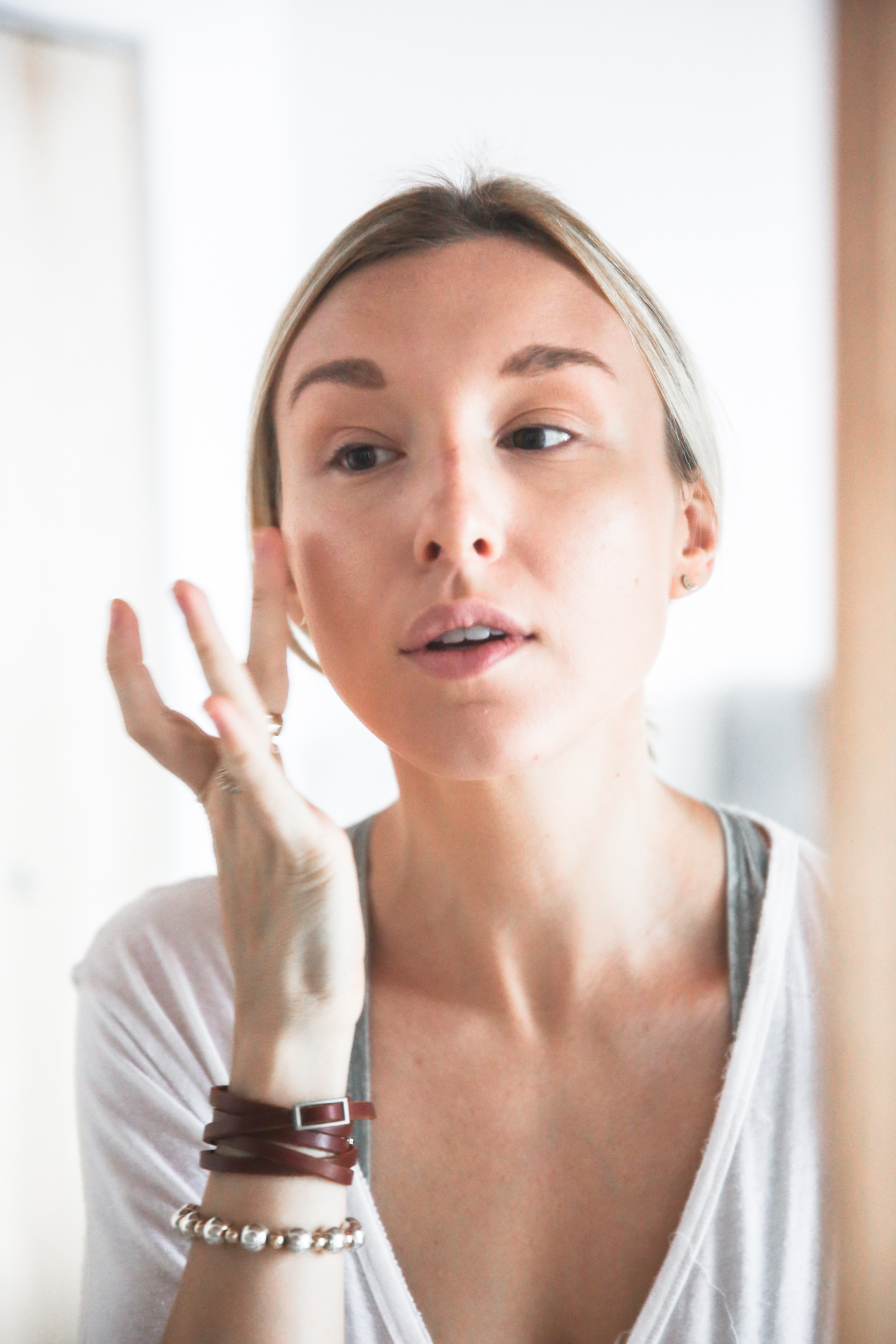 I took a MAJOR break from properly taking care of my skin after James was born. Like, a 10 month break. I would basically just splash water on my face in the shower and lather on coconut oil before bed, if I even remembered to do that. I decided to whip myself back into shape a few months ago. This time around I needed a quicker, more doable skincare routine that I wouldn't dread doing before bed after a long day with James.
Everything in this post scores in the safe green zone on the Think Dirty app. You already know my stance on non-toxic cosmetics, so I will skip the preaching. But just remember they are finding these toxic ingredients IN TUMORS which means they are most definitely playing a role in cancer. That being said, all of the products I'm talking about today are safe + clean + non-toxic, and they all work too. Here is a quick refresher course on the top 10 ingredients you should STAY AWAY FROM when purchasing makeup and skincare products.
STAY AWAY FROM THESE INGREDIENTS:
Parabens (they will be listed as: methlyparaben, ethylparaben, propylparaben, butylparaben, heptylparaben, benzylparaben, isopropylparaben, isobutylparaben)
Synthetic colors
Fragrance or Parfum
Phthalates
Triclosan
Sodium lauryl sulfate (SLS) / Sodium laureth sulfate (SLES)
Formaldehyde
Toluene
Okay, moving on! Here are all the products I use and a brief description:
This stuff is $7 PEOPLE! FOR A GIANT JUG! All you do is apply some to a cotton pad and wipe your face, done. I use it every night, and before every shower. It is a cleanser + makeup remover + moisturizer, all in one! I mentioned it in my Current Top 5 post the other week, and I'm OBSESSED. I'm telling you right now, ditch your cleanser and start using micellar water immediately. Especially if you are a mom and/or just lazy in general like me. There is NOTHING I HATE MORE than washing my face in a sink before bed and getting water into the neck of my pajamas and dripping down my chest. Cringe. I hate washing my face in general. This solves all my problems and it is actually better for your skin than an actual cleanser!
Micellar water is currently all the rage, here are a bunch of awesome articles if you're interested in learning more about it:
As previously mentioned, I hate washing my face in the sink. I use this
exfoliating cream cleanser from Beautycounter
in the shower a couple times per week to scrub off the dead skin. PS, everything by Beautycounter is amazing. I use their shampoo and conditioner too!
PRO TIP:
Be careful while washing your face in the shower! My esthetician friend advised me NEVER to let hot water pound down on my face while in the shower. The proper way to wash your face in the shower is to splash your face with water, wash it, and splash more water on to rinse. Apparently, standing directly underneath the hot falling water is terrible for your skin! It can break blood vessels and cause blemishes.
Okay, so this stuff is expensive but there is plenty of super affordable + effective vitamin C serum out there (see below). I did something crazy and totally splurged on a really high end,
pure form of vitamin C from Glotherapeutics
(an awesome brand for makeup and skincare products).  I figure that my face/skin is literally the one thing I should invest in above all else. I justified this purchase by telling myself: instead of spending $130 on ASOS.com I should spend it on preventing myself from looking like a haggard old lady in 10 years. RIGHT????
Here are some more affordable Vitamin C Serums all under $30:
I use this nourishing day cream from Beautycounter after I shower in the morning, and before bed at night. To clarify: before bed I apply it AFTER the vitamin C serum!
This stuff. The Dew Skin Tinted Moisturizer from Beautycounter is the freaking bomb. It gives you the perfect dewy glow and it feels amazing on your skin, like you can LITERALLY FEEL it quenching your skins thirst. I love it. I try and use this stuff sparingly because it is pricey and a little goes a long way! So, I really only apply on days I wear makeup. However, sometimes I put it on in place of makeup if I'm running to the store and don't want to look totally heinous. Get this!
Some other fun stuff I want to try…
I recently saw Charlize Theron on Watch What Happens Live (I watch every episode religiously and it is how I decide which celebs I love or hate, LOVED Charlize btw) talking about vitamin E oil. Andy asked her what her beauty secret was because she clearly is Benjamin Button-ing and she swore by vitamin E oil on her skin as well as taking vitamin E pills!
Okay, so apparently these masks are supposed to be AWESOME! Dying to try. I am going to buy them right now and promise to report back.
This stuff is also supposed to be amazing. It is an under eye cream/gel that is supposed to do great things for fine lines and anti-aging!
I read about this stuff on the Think Dirty app under their list of cool new products to try! Here is the product description: Hydrate, tone, protect and diminish the look of uneven skin tone in one easy step. Applephenontm, rich in high orac antioxidant value provides protective effects against oxidative stress, while belidestm daisy flower brightens the complexion and helps alleviate the look of hyperpigmentation. Ultra-antioxidant super fruits acai and mangosteen repair, protect and strengthen the skin.
That's all for now but I plan on updating this list as I come across other cool products! So, be sure to check back. Stay beautiful, girls. XX
– SHOP THE POST –