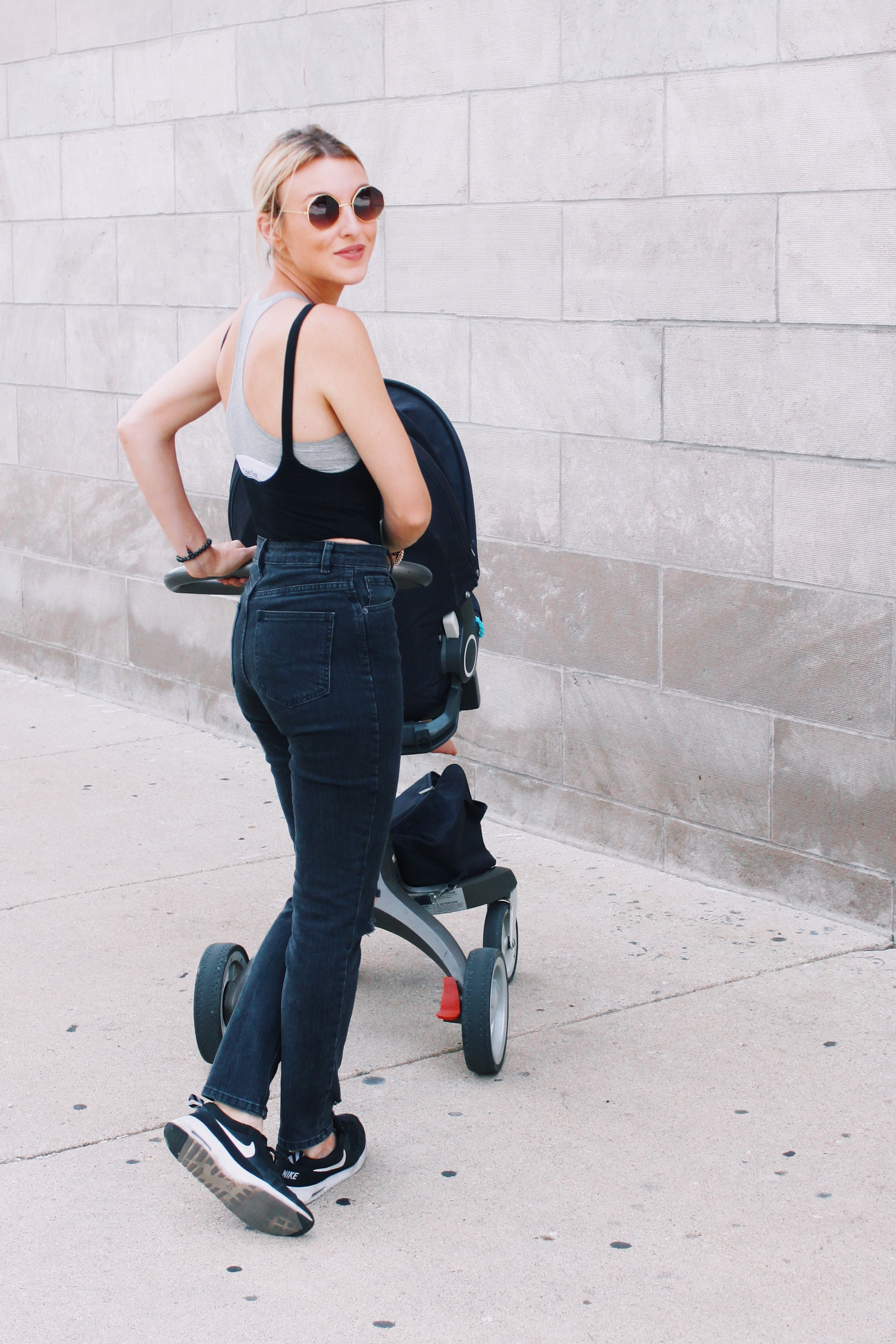 Good morning! Since I'm feeling all inspired and bloggy again, I'd like to intro you to my "current top 5". At least once a month (maybe twice if I'm feeling productive) I'll be covering 5 random things that I'm currently obsessed with. Things like: an awesome sale, a new recipe I'm loving, updates about James, anything new going on in our life, a beauty product I'm into, etc. etc. Here are some things for this month! Happy Tuesday 🙂
Can you believe it? I cannot. Nordstrom Rack has Calvin Klein bras on sale for 50% off, like basically all the time. You can even get a two pack for $20! They have different colors and styles too. Stock up before they sell out.
I think this is the third time I've said it now but: I'm living in these jeans. They are $56, true to size, they are super high waisted (therefore they suck everything in), a bit distressed but not over the top, they are the best jeans ever. I'm wearing them in that photo above!
3. James' new words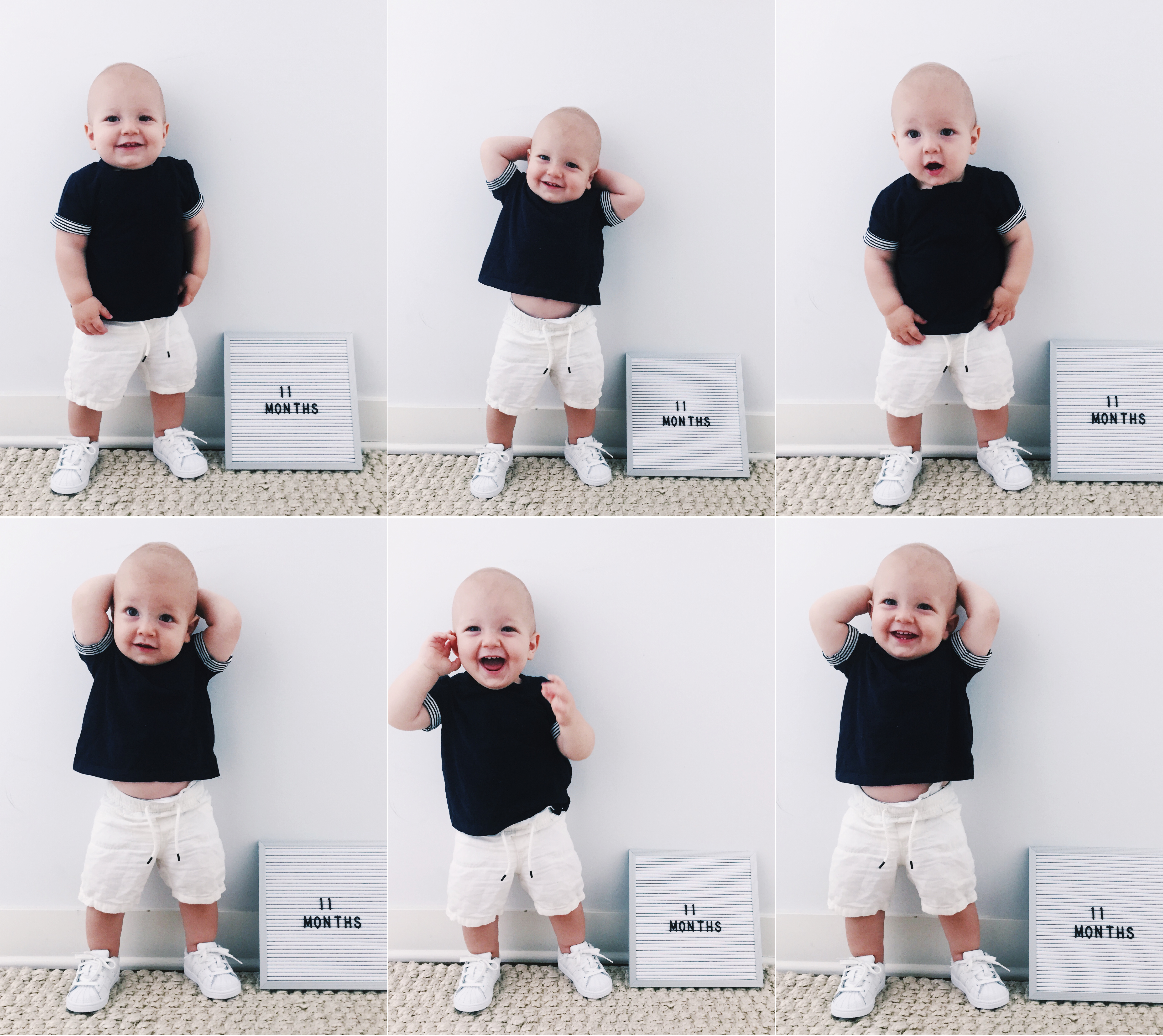 James is saying a bunch of new words and finally saying "mama" in context! Whoop whoop! Freaking finally because it has been all about "dada", all the time. Most recently he started saying "book" but pronounces it "book-ahhh" and it is hilarious.
Other words he is currently saying on demand: baby, sock ("ock"), up, hot ("ottttttt" whenever he sees a coffee mug lol), dada, pig ("pigga"), baba (aka bottle or bye bye), beep beep, broom, ball ("bah"), he will shake is head for "no" and bounce up and down for "yes", and we are working on "please" but he basically just says "sssssss"
Anyone else on this train? I AM OBSESSED. First of all, a giant thing of it is only $7. Secondly, I hate washing my face in the sink and this stuff solves all my problems. It's a cleanser but you use it like you would a toner; you apply it to a cotton pad and wipe your face clean. I'm working on a more in-depth post regarding my skincare regimen, and I promise to talk more in detail about this stuff + why it's so amazing. But for now here is all you need to know:
Micellar water is an all-in-1 cleanser and makeup remover, cleanses, removes even waterproof makeup and refreshes skin

Oil-free, alcohol-free, fragrance-free

Micelle technology attracts dirt, oil and makeup like a magnet without harsh rubbing

All skin types, even sensitive
5. We are leaving for Mexico on Saturday!
Ok, I know what you're thinking. WTF would anyone go to Mexico in August?! Well, my family goes every year at this time because my parents have a place near Playa del Carmen and they rent it out during the months that people would ACTUALLY want to go to Mexico (like Fall and winter, lol). Anyway, I'm so excited because this is James' first real vacation! Yes, that means first plane ride. People keep asking me if I'm stressed about it and I just keep telling them I'm not thinking about it. That is my plan. To avoid thinking about it until we get to the airport, and then to drink wine. Good plan? I think yes.
Anyway, a bunch of summer stuff is on sale now! Here are some things I recently purchased for our trip, they don't arrive until Thursday though, so I will be sure to update you about what stuff is awesome and what sucks.