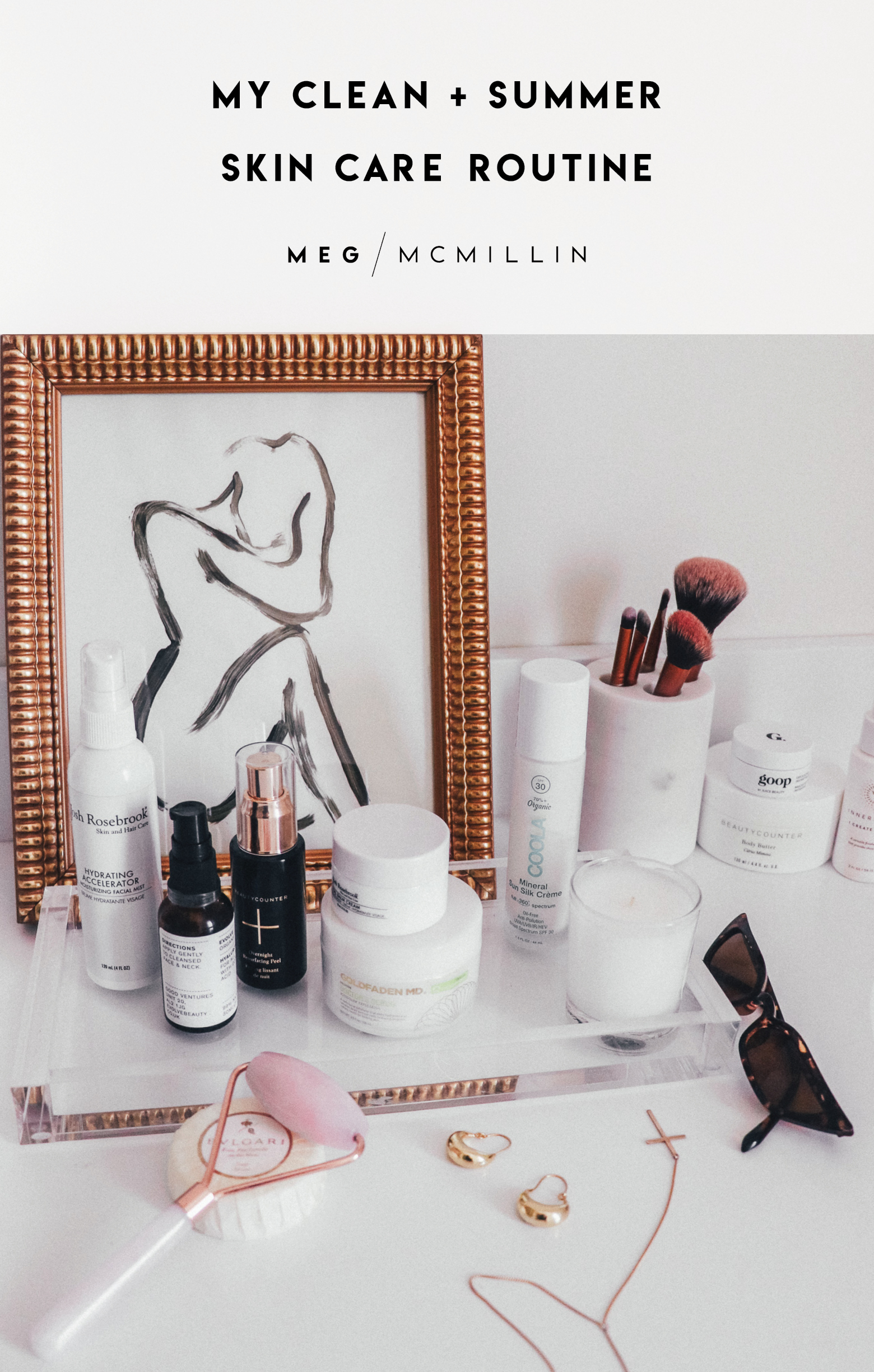 Summer is HERE! I can't believe it's almost the 4th of July. Just another Chicago summer, flying by as usual. I've been meaning to do an updated skincare post for a while now, but admittedly, I was SO lazy with my skin all winter. I basically just cleansed and moisturized when I could remember. This summer I'm being much more proactive and have finally nailed down a skin care regimen that I feel really good about.
Recently, I received a big haul from Credo Beauty – my favorite clean beauty supplier – and I'm obsessing big time over my new skin care products. Is there anything better than new cosmetics to play with? PS this post is not sponsored by Credo. I was gifted a few things with my order but they aren't listed until the very end of this post. The products I purchased (my daily exfoliator, hyaluronic acid serum, vital balm cream, and hydrating mist) are things I did extensive research on before ordering and I'm really excited to share them with you guys!
I've always been a believer in the less is more approach when it comes to skin care and try not to go crazy on expensive serums, acids, anti-aging creams, etc. However, after doing a lot of research, I've found there are a few essential steps to building a healthy skin foundation and that is what my current routine stems from:
1. Cleanse
2. Exfoliate
3. Hydrate
4. Moisturize
5. Sun protection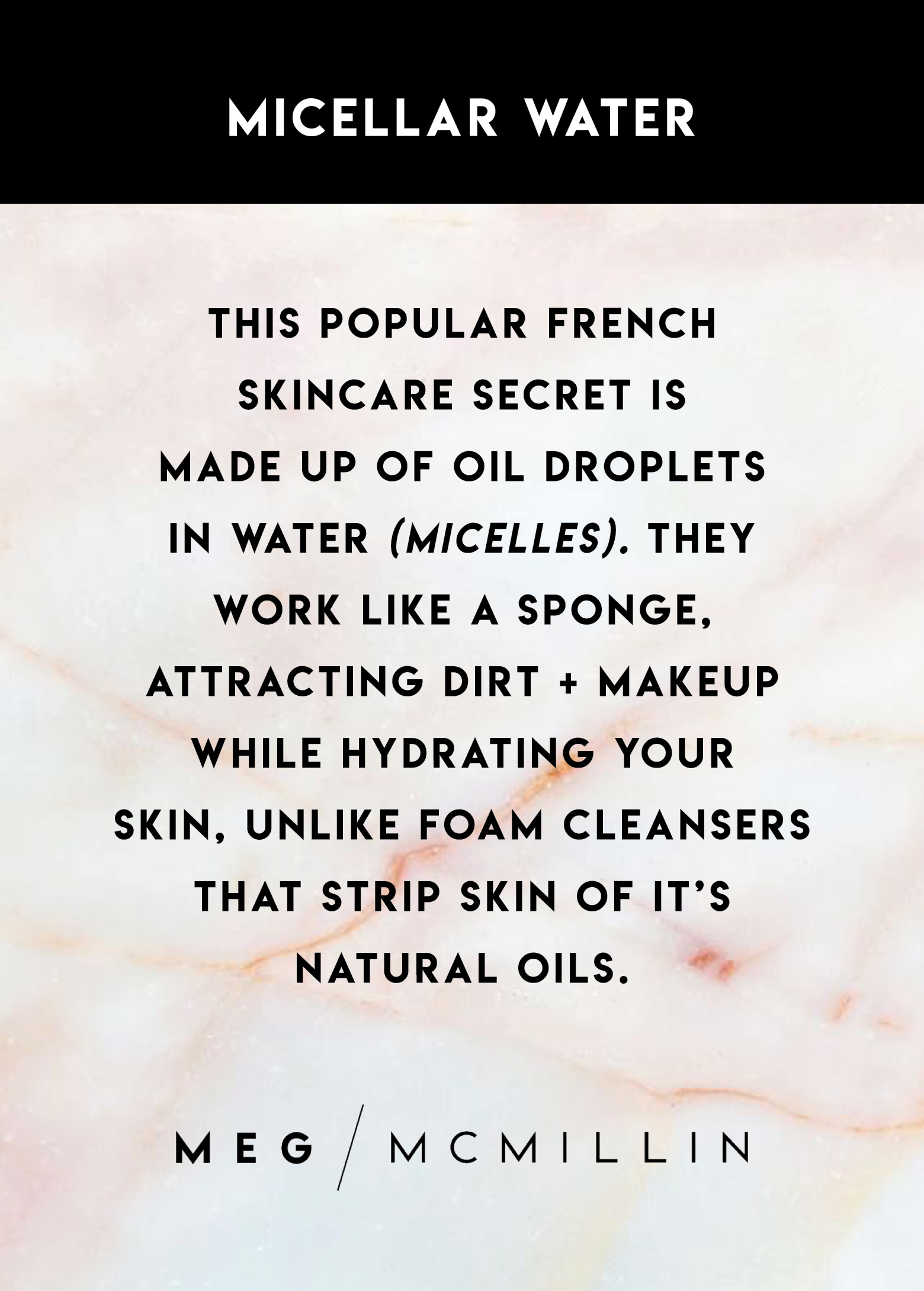 Shockingly, this Garnier Micellar Water is one of the less toxic micellar waters out there. The only ingredient of concern is called "dipotassium phosphate" which is used as a PH adjuster in cosmetics and food and can possibly cause respiratory and skin irritation – however, this does not irritate my skin. Considering there are no hormone disruptors (dioxin, BPA, phthalates, parabens, etc.), I am comfortable using this.
When I use it:
Morning and night! I do a light cleanse on my face and neck in the morning, and use it for makeup removal at night before bed.
How to use it:
I apply the Micellar Water to a cotton round (not ball) and gently wipe my face in a circular motion.

When I use it:
I use this scrub every night after I remove my makeup with Micellar Water. However, on mornings that I shower I'll use it then and in that case, I don't use it again at night. By the way, there is a difference between exfoliators and daily exfoliators! Daily exfoliators are gentle enough to be used every day, but don't use an intense exfoliating scrub every day because that could cause inflamed skin.
How to use it:
You want to exfoliate damp skin NOT wet skin. When I use it at night I'll lightly splash water on my face after I remove my makeup, use the scrub, and rinse with warm water. When I exfoliate in the shower, I stick my head out and dab my face with a towel to absorb some water before using it.
Why it's so important to exfoliate:
Dead skin clogs pores. Applying moisturizer to skin that hasn't been exfoliated actually softens dead skin and further clogs pores. This causes breakouts + dull looking skin, it also prevents serums, oils, or moisturizers from reaching your active skin cells! Therefore, nothing you put on your skin will work unless you exfoliate.

Things to know about Hyaluronic Acid:
Don't let the word "acid" fool you, Hyaluronic Acid is not a harsh exfoliating agent or toxic chemical. It's a naturally occurring substance in the body! It is a water-holding molecule and it's ability to bind water to your skin cells is the key to plump + hydrated skin. Also, HA stimulates collagen production (jackpot) and plays a major roll in skin elasticity and cell regeneration. Also, it needs to be applied to damp skin.
When I use it:
Morning and night! I use it after cleansing and before moisturizing.
How to use it:
This is important!!!  You need to use Hyaluronic Acid Serum on DAMP SKIN! Part of what makes hyaluronic acid so awesome is that it attracts and retains 1,000 times it's weight in water. By applying it to damp skin you're allowing it so suck in extra moisture and deeply hydrate your skin. I spray my face with this Josh Rosebrook Hydrating Accelerator Mist before and after applying the Hyaluronic Serum.

When I use it:
I use the Josh Rosebrook Vital Balm at night after I apply my hyaluronic acid serum. It is INCREDIBLE and I will eventually end up using it morning and night, but right now I still have half a jar left of my Juice Beauty antioxidant moisturizer and use that to moisturize in the morning.
How I use it:
I apply the Josh Rosebrook Vital Balm evenly to my face and neck, paying special attention to the fine lines on my forehead and around my mouth. However, it's not the type of moisturizer you glob on! I use little dabs on my finger tips and apply it to my face section by section. It's extremely moisturizing so a little goes a long way!
Why I love it:
Guys, I'm LOVING this Josh Rosebrook brand. So far, I have the vital balm and the hydrating accelerator mist and am fully obsessed with both. I really love how the vital balm cream makes my skin feel, it gives you that post-spa-facial feeling: dewy, hydrated, it smells good, and my face still feels + looks hydrated when I wake up in the morning. It's made with senna seed extract which some call the "botanical hyaluronic acid" – AKA: super hydrating!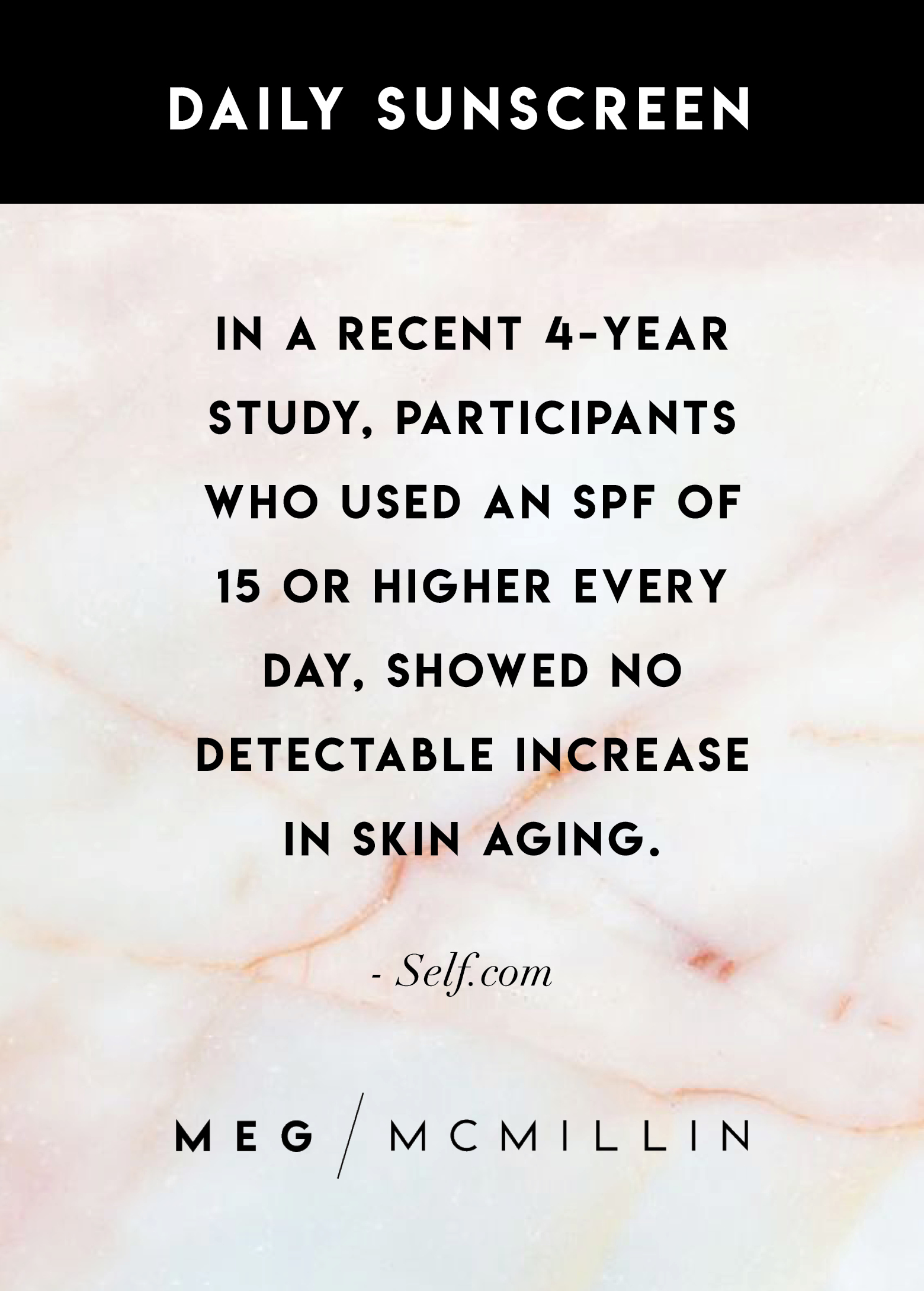 On a typical day where I'm running around with James and not wearing makeup, I use COOLA Mineral Silk Creme SPF 30 for daily sun protection. However, on days that I wear make up I use my trusty-tried-and-true Beautycounter Dew Skin moisturizer with SPF 25 because it applies more like a foundation. I've been using COOLA for daily sun protection for years but a friend of mine (hey, Lisa!) just highly recommended Bueatycounter's Mineral Sunscreen and said it applies great, might try that next!
When I use it:
Every day! I apply it as my final step in the morning, after moisturizing.
How I use it:
COOLA sunscreen applies wonderfully and doesn't leave your face looking white like most mineral sunscreens do, however you do have to make sure you rub it in and apply it evenly!
Don't forget to sleep on a silk pillowcase! It is so much gentler on your skin and hair compared to cotton. I've been sleeping on one for years and regular pillowcases feel like sleeping on sandpaper now. Just make sure you get one that is 100% Mulberry silk!
 A few other products I'm loving…
Below are some other skin care products I've tried/loved/used intermittently over the past few months. I love everything by Tata Harper but can't get myself to splurge consistently on their products because they are quite pricey. However, every few months I like to treat myself to something by the brand! Their reparative moisturizer is heaven.
The Beautycounter peel serum is awesome and  – when I can remember – I use it once or twice a week. PS, it does not actually peel your skin! It's just a serum you apply before bed. I love how my skin looks in the morning when I use it!
I've only tried the Goop facial twice but LOVE it! It's pretty intense though, read the instructions carefully. And the Insersense clean hairspray is fantastic, it comes out in an even spritz (something I struggle with finding when it comes to non-toxic hairspray) and I like how it sticks to my hair.
Lastly, the Vertly CBD oil infused lip butter is heaven on my lips and so moisturzing! I want to learn more about CBD oil everything by the way. Tell me what you know!