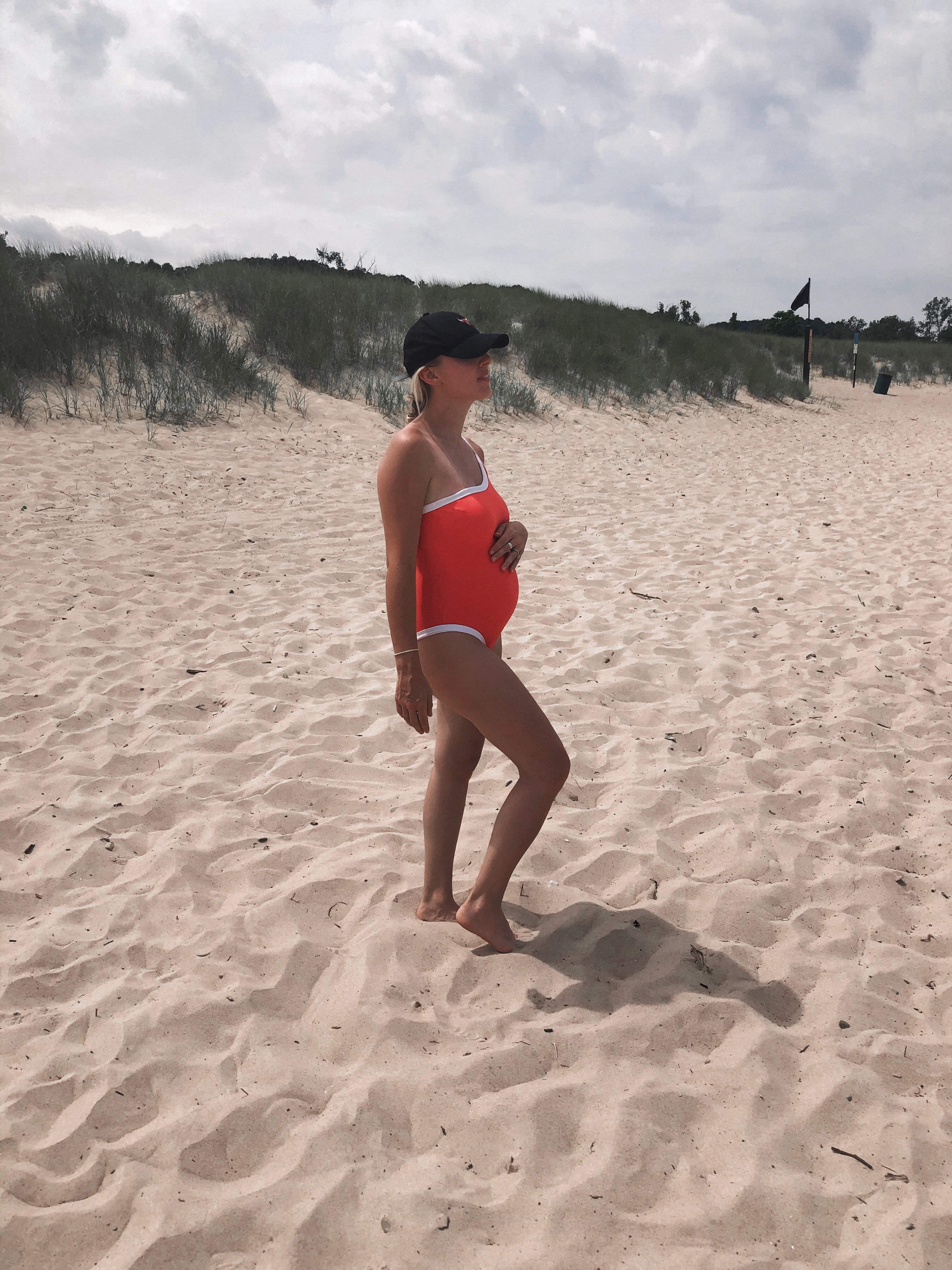 Q: Do you drink coffee/caffeine during your pregnancies?
I don't. I will treat myself to a little kombucha here and there but I don't drink caffeinated coffee during pregnancy. I have absolutely zero judgement toward women who do though! I know it's not that big of a deal. I was just too nervous to do it during my first pregnancy with James, and since I didn't do it with him I just decided to do without it this time around.
However, I crave hot coffee like crazy and drink decaf when I'm in the mood. I drink Two Brothers Decaf Brewhouse – it is decaffeinated using the Swiss water process which means it is decaffeinated without the use of chemicals (most decaf coffee is decaffeinated using chemical solvents).
Q: What vitamins do you take/took while trying?
I didn't take any prenatal or fertility related vitamins while trying to conceive. However, I've read that women should start taking 400 micrograms of folate every day for at least a month before they become pregnant (via: this article). During pregnancy, I take Garden of Life Vitamin Code Raw Prenatal Vitamins – which is what I took with James. I chose those after reading this article about the best organic prenatal vitamins on Gimme the Good Stuff (my non-toxic bible). 
Q: Did you change your diet while trying to conceive?
No, I didn't do anything specific to my diet, alcohol intake, or vitamin regimen while trying to conceive. I'm sorry that I can't shed more light on this topic!
Q: Spray tan? Self tan? I'm also pregnant and haven't been but I'm DYING TO…I'm so pasty!
I hear you! James was born in August so I was able to maintain a regular sun tan through most of my pregnancy and didn't use any self tanners or get any spray tans. However, I'm standing up in a wedding this November and am probably getting one for that.
Here is the deal with spray tans and most sunless tanners: there is a toxic ingredient in most of them called "DHA" (dihydroxyacetone) and it's inconclusive whether it is able to penetrate the skin. Therefore it's up for debate whether spray tanning while pregnant is THAT bad. At the end of the day it's one of those things you just have to decide if you're comfortable with on your own.
By the way, there ARE some sunless tanners that use organically derived + natural DHA. My mom uses this Beauty by Earth self tanner and really likes it. The ingredients are safe and it contains DHA that is derived from sugar cane, not toxic chemicals.
Q: Any tips for morning sickness?
Ugh. Morning sickness was more like all-day-sickness for me in my first trimester. I was miserable which is why I basically went fully MIA on my blog and insta for a few months. Survival mode! I don't vomit but was so nauseous all day long for the first 12 weeks. It's pretty inevitable but here are a few tips I recommend for making it slightly better:
Take your prenatal vitamins at night during your first trimester as they can cause nausea. In your 2nd trimester when the nausea is (hopefully) gone, go back to taking them in the morning because they help give you energy.
Carbs, carbs, carbs, and more carbs. Bagels and cream cheese were my medicine. Eat whatever you can stomach for the first 12 weeks and don't feel guilty about it for a second. I read somewhere that our bodies crave carbs in the first trimester to prevent us from eating anything that could potentially harm the fetus!
Kyle bought me this organic ginger lemon tea and I swear it helped. I would get really nauseous at night after dinner and a few sips of that stuff really eased my stomach before bed.
Carbonated or sparkling water instead of flat water! I drank so much Spindrift during my first trimester because the thought of flat water made me want to instantly throw up.
Q: Do you get stretch marks and do you use anything on your belly to try and prevent them?
I actually didn't get any stretch marks with James. I used coconut oil and vitamin e oil on my belly during my whole pregnancy with him but this time I've been using this belly oil that a friend recommended and I really like it! TBH, I know nothing about the science behind stretch marks and if they are hereditary or if oils/balms even help.
Q: Baby names?! Ideas for boys since you probably don't want to reveal girl names!
I love boy names for girls! Our list of girl names is so long that I'm not even going to list them right now because there are so many, and I'm so lost, and my mind changes every day. But her name will probably be something gender neutral!
I'm happy to share the boy names we were considering though…
Luke
William
Colin
Beau
Bennett
Casey (although that's my sister's name so we wouldn't have actually done it, just love it for a boy!)
Max
Cole
Camden
Evan
Q: What are your registry/newborn necessities?
I've done a couple blog posts listing my favorite baby products and I talk specifically about newborn essentials in my baby registry guide! I also did a post about 11 baby products that got us through the first year. Hope those help!
11 of my favorite baby products that got us through the first year
Q: Did you guess the gender right?
No! Full disclosure, I was kind of hoping for and totally thought I was having another boy. Even though I felt so much worse this time around; but I figured the gender having anything to do with that was a total myth. Of course, I just want a healthy baby (I know that goes without saying but I feel obligated to type it)  but I just felt like it was going to be a boy and was really hoping for James to have a brother at first. Now that I've processed the fact that I'm having a girl I'm so excited and can't wait to see him with a baby sister! Also really looking forward to seeing Kyle as a girl dad because I hear it's so much different for the dads.
Q: Did you do a gender reveal party?
Yes! We did a very small gender reveal party with our families for both of my pregnancies. But we kept both very low key! We just had a cake made at a bakery and we had my Grandma and James cut it together. I highly recommend doing something like this, it was SO fun and special! Please note James' face in the 3rd picture, lol. I die! We don't know if he was that excited about getting a baby sister or just excited that it was time to eat cake.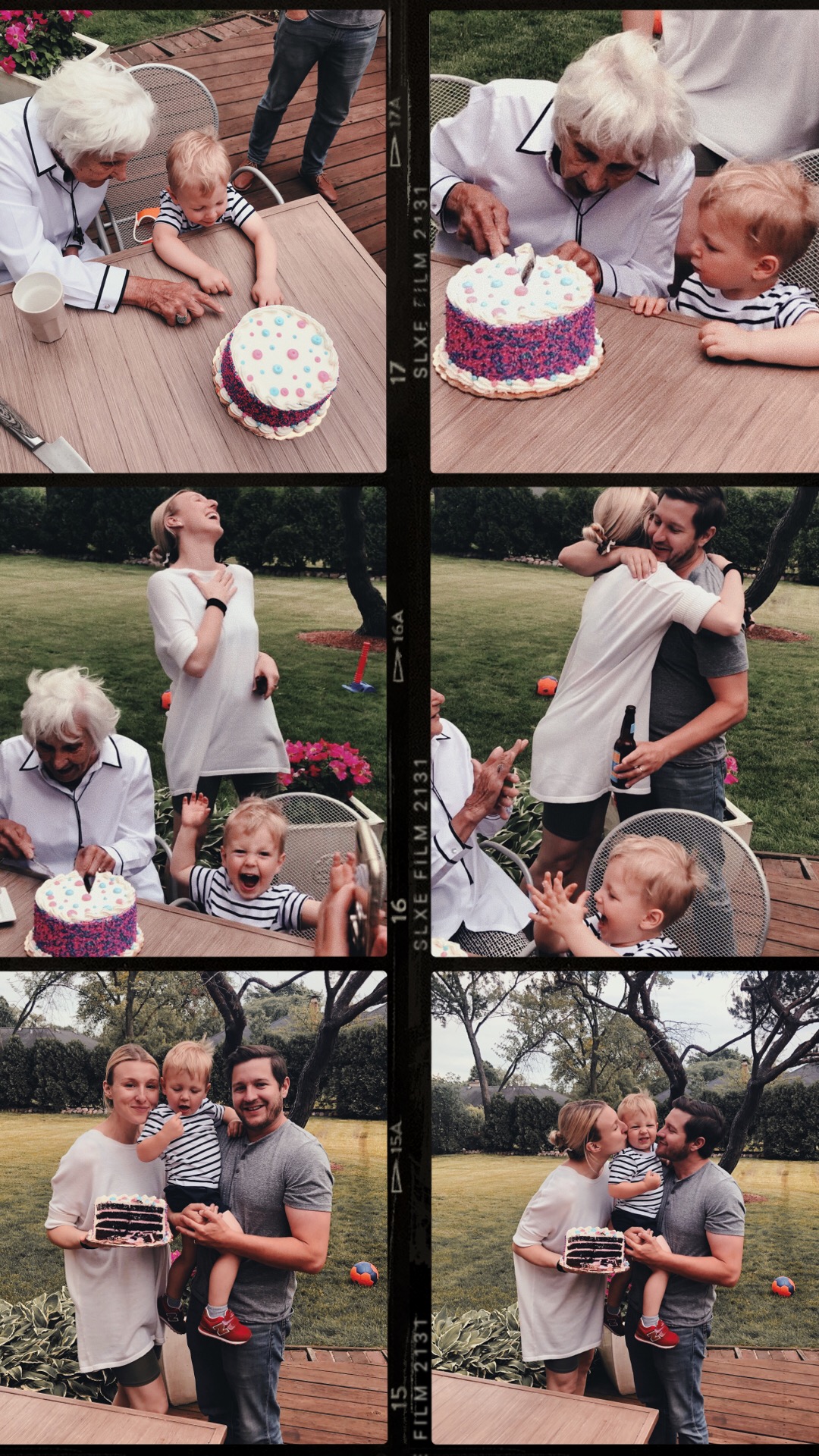 Q: How is this pregnancy the same/different as it was with James?
Different in the sense that I don't remember being nearly as sick or as tired with James in the first trimester as I was this time. It was pretty brutal fighting through the nausea and exhaustion while being at home with a toddler! I napped when James napped basically every day for 12 weeks. I can't imagine how hard it is for women who go to a work place and can't nap or even vent to their co-workers about how bad they feel since they aren't even officially "out" yet! God bless you. There should be a paid first trimester leave.
It was the same in the sense that as soon as my 2nd trimester hit I felt SO much better and more alive. I can easily get through our day without napping, I can stay up past 9pm, I can stomach so much more food. I'm fully expecting to slow down and become exhausted again in the 3rd trimester though. I also feel like my body is changing in the same ways it did the first time. Oh and I'm super hormonal/over-emotional/dramatic just like I was when pregnant with James. I'm not one of those people who thrive during pregnancy, I tend to struggle with the changes!
Edit: I forgot to mention my skin is SO much worse this time around! Not sure if there is anything to the saying that when you're pregnant with a girl they "steal your beauty" but my skin was not like this at all with James. I'm not breaking out in actual zits but I have like an underlying layer of blemishes that won't go away no matter what I do!
Q: Is it easier to be pregnant in the suburbs than the city? Considering a move to the burbs.
For me, yes. Especially in the summer because there is so much going on downtown that I can't really participate in! I love going out and miss my social life big time during pregnancy (you're probably not supposed to say that out loud but whatever it's true for me) but I'm not the type of pregnant person who likes to attend all the social events while pregnant. I prefer to hibernate and that's hard to do in the city because there is so much action and there is always something fun going on. There is not nearly as much FOMO out here, the pace is slower, I don't feel as much pressure to be active, and the general vibe is just more pregnancy friendly in my opinion.
Q: Do you work out or do any exercise while pregnant? If so, what do you do?
Not really. I go for walks as much as I can, and I do some light weights to try and combat the cellulite building up on the back of my triceps. I attempted doing squats for a while to help combat the major cellulite happening on my butt, but now that I'm bigger they're just too hard and I'm just too lazy. My body is covered in cellulite, btw.
If you are a person who loves working out (jealous) and you're nervous about not being able to exercise as much while pregnant, don't be! I know people who maintain rigorous work out routines up until they give birth. I have friends who do yoga, Soul Cycle, Orange Theory, they run consistently, and more. As long as you're not on bed rest and have permission from your doctor you're all good.
Q: When did you start to show and was it earlier than your first pregnancy? (5 weeks pregnant here with #2)
They always say you show earlier with your second but I'm not sure if that really happened with me? Maybe it did but around 12/13 weeks I remember thinking "aren't I supposed to be showing more by now?". I definitely had a bump around then but thought it felt/looked more like a food baby than an actual baby and I remember feeling that way around that time with James! I was definitely popped round 16 weeks this time though and I think it was more like 18/20 with James.
Q: Have you considered a digital doula? Nichole Joy is amazing!
I have not heard of or considered a digital doula but I like the sound of that! I didn't use a doula with James but love the idea.
Q: Pregnancy safe skin and beauty care tips?
I'm pretty conscientious about using clean beauty products while not pregnant, so I don't really make many adjustments while pregnant. You can check out my clean skin care routine here – it's what I'm currently doing right now while pregnant. I used this non-toxic nail polish in my first trimester (I was extra and would bring it to the salon) and I didn't get my hair highlighted until my first trimester was over. Here is a brief article from Gimme the Good Stuff about how to detox your prenatal beauty routine – she always has great advice!
Here are a few general rules I try and follow extra closely while pregnant:
I don't wear perfume
I use a non-toxic/unscented sunscreen – I like COOLA and Alba although heads up, Alba leaves you a bit white after application!
I try not to wear makeup every day but when I do I wear clean brands like Beautycounter and W3LL People
I use a clean/unscented dry shampoo spray – I like Not Your Mother's Clean Freak Dry Shampoo
I stay away from any specialty beauty treatments like hydrafacials, chemical peels, microblading, etc.
Q: Where to buy baby stuff in Chicago?
Honestly, I buy most of our baby stuff from buybuy BABY, Target, and Amazon. If you're looking for cute little boutiques in Chicago I love Sprout San Francisco on Division in Wicker Park, The Red Balloon on Damen in Bucktown, and Galt Baby in Old town!
Thanks so much for stopping by and feel free to email me with more pregnancy Q's at: hello@megmcmillin.com // subject: Pregnancy Questions // and I'll add them to my next AMA post! 🙂