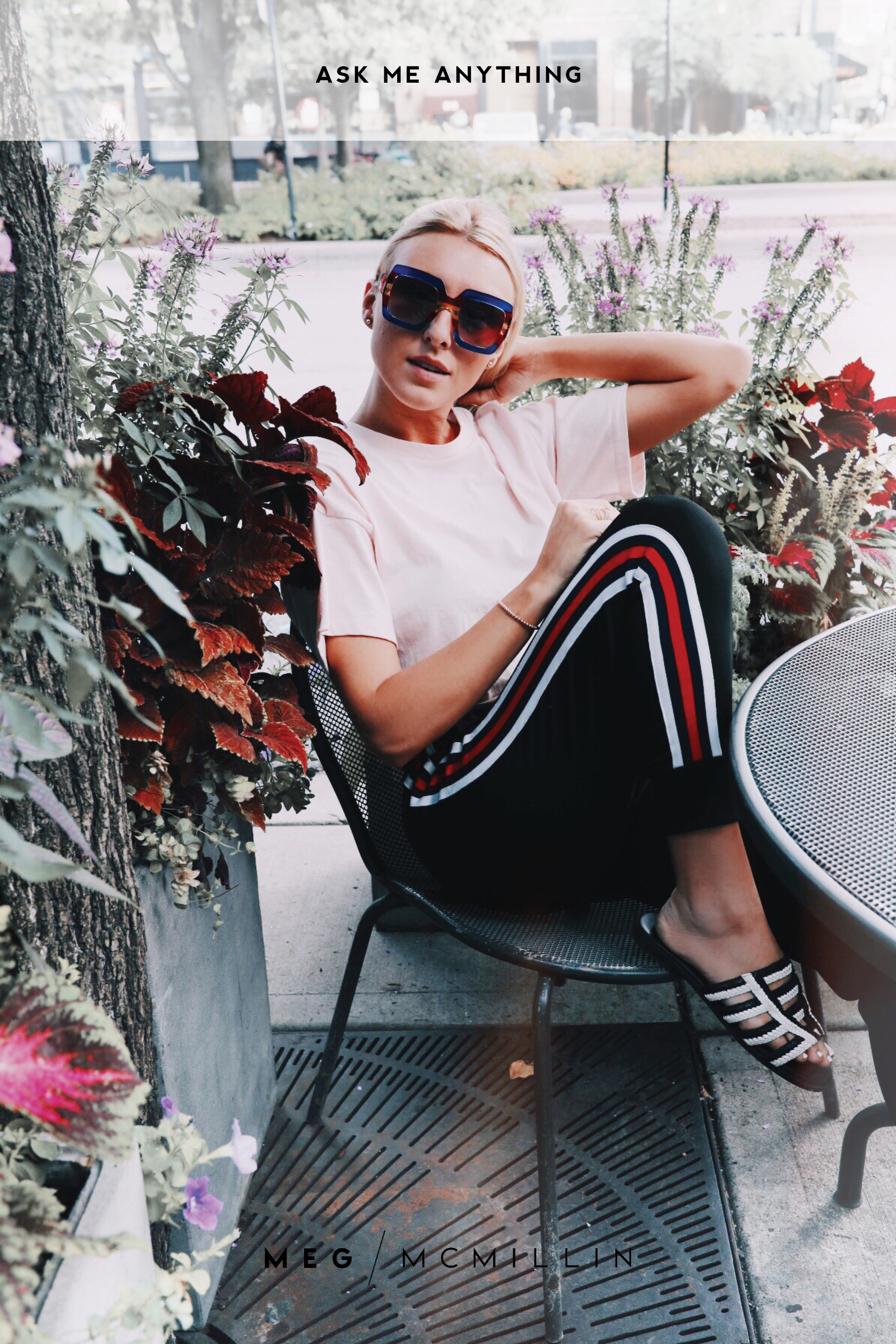 Q: How did you and Kyle meet?
We actually went to the same high school! But we are not high school sweethearts, Kyle is 3 years older than me and we didn't start dating until I was like 21-ish. We had a ton of mutual friends because a lot of my friends have siblings his age. We got married in 2015! 🙂
Q: What are your favorite cheap eats in Chicago?
Here are some of our favorite go-to food spots for takeout and/or casually dining in:
Q: I would be interested in hearing your perspective on "must haves" from the Nordstrom sale since your style is different than many other bloggers I follow, probably most similar to my own since you are a Midwest girl like me!
Hey fellow Midwest girl! Ohhh the #NSALE. I skipped covering it but LOVED all of your feedback when I polled IG stories asking if it's something you would like me to cover, or if you were sick to death of hearing about it. Thank you so much for all your awesome messages! The conclusion I came to was that people generally like the Nordstrom sale, but were annoyed with having it jammed down their throats (especially before it was even open to non-cardholders), and it sounds like most of you wish bloggers did a better job of creating more curated round-ups instead of linking every single shoe that's on sale and saying it's a "must have". By the way, that's EXACTLY how I feel.
However, Katelyn did an amazing + thoughtful post on it that I recommend checking out. It inspired me to peruse the sale and see what all the hype was about and I ended up buying some stuff I really like. So, here are 10 things that I think are worth it:
Q: How did you develop your sense of personal style?
This is such a fun but tough question! I feel like my personal style has always been a combination of what I think flatters me (i.e. high waisted jeans or anything black) and also heavily influenced by trends that I find unique and fun to style. I went to art school and everyones style was so different + more individualistic than what I was used to seeing in high school. And I loved it. I think that is really where my personal style began to develop. It was so fun to be around people who gave zero F's and wore whatever they wanted to. I think that gave me the confidence to start tapping into my own individual taste and wearing what I liked and felt good in without caring what people thought.
Q: Have you ever flown with James? What's your favorite trick?
Yes! And I actually did a post on it: flying with a one year old: tips & thoughts. We are actually going to be flying with James again in a couple weeks and I plan on doing a follow up post about flying with a 2 year old because I'm certain it will be different in many ways! Wish us luck.
Q: What is your dream career?
I have a degree in Advertising Art Direction and when I was younger I always dreamed of being the creative director for a major fashion house like Gucci or Fendi. Lol. Unlikely that will happen at this point but you never know! Honestly though, my goals really have shifted and being a stay at home mom and blogger really is my dream at this point. I genuinely love what I'm doing.
A boutique called Vintage Charm! They recently closed their city location but they have a location in my home town (La Grange) where I buy them IRL. You can also buy them online through their website!
Q: What spas do you recommend in Chicago? Just moved here and looking for some recs…thanks & I so enjoy following you!
Thank you so much! There are so many good spas in Chicago. I honestly hardly ever go to any of them as much as I would like but here are some of my favorites that I've been to:
Q: What was that book you read before having James? I remember seeing a post or Instagram story about it but can't find it! I feel like it was British?!
Bringing up Bebe! It is about French parenting! Best book ever.
Q: Do you know of anywhere that does good eyelash extensions? Does that place you went to for microblading do eyelash extensions?
I don't get lash extensions often but when I do, I always go to Penny Kraft & Co. in Bucktown – the same place I get my spray tans (which I've talked about before on my IG stories). The place where I got my microblading done (Evertrue Salon) does not do eyelash extensions, they only do microblading!
Q: What Chicago neighborhoods do you recommend? My partner and I are considering moving!
That's so exciting! They are honestly all amazing. This is tough because it all comes down to what vibe you are looking for. I have lived in the Bucktown/Wicker Park area for years and absolutely LOVE it. You honestly cannot go wrong because Chicago is such a cool city no matter where you are, but here are some of my favorite neighborhoods:
Bucktown/Wicker Park – My favorite neighborhood. More of a hipster almost London-esque vibe!
Ukrainian Village – Right near Bucktown/Wicker Park
Logan Square – Similar hipster vibe to Bucktown/WP but further west and more of a hike from downtown. SOOOOO many good bars and restaurants, a VERY up and coming area! Awesome for families too.
Lincoln Park & Old Town – Sooo incredibly gorgeous. More of a preppy vibe.
Lakeview/Wrigleyville – Similar to Lincoln Park but further north and not quite as expensive!
River North – Such an awesome location because you aren't quite in the hustle and bustle of the city but you are within walking distance to it! Amazing nightlife, restaurants, and bars.
Gold Coast – Dream vibes. Located closer to the lake with amazing bars + restaurants, close to downtown, BEAUTIFUL homes!
Q: I think I remember reading that you breastfed James, if you don't mind me asking how long did you do it for? I have a 2 month old and have no clue how long I want to go for because I'm finding it really hard.
Good for you! Two months is awesome, the first two are by far the hardest. I breastfed James for about 17 months, which is a lot longer than I planned. It is SO hard at the beginning and I was in the same boat as you. I had no idea how long I wanted to breastfeed and honestly I was miserable for the first 2-3 months. However, I wasn't ready to stop so I just decided to take it month by month instead of giving myself a hard deadline. And to my surprise, each month it got easier and easier.
By the time James was 6 months old, I had it down pat and the thought of figuring out how to switch to formula stressed me out more than the thought of continuing to breastfeed. So, at that point I decided to just ride it out until he was old enough for regular milk around 12 months. I thought I would for sure be done at 12 months but stopping was a lot harder than I anticipated. So, I took my time with weaning and we ended up totally stopping around 17 months. I hope that helps! See a lactation consultant, they are God's gift! They can even help you make a smooth transition to formula if you want to stop nursing.
Q: I have a 9-month old and my days are quite full with taking care of him. This brings me to the question I wanted to ask: how do you manage your time so well? I started a blog almost a year ago and I struggle to post regularly because I just don't find the time to actually write, not to mention to take those amazing pics you are taking… when are you able to write your posts and how long does it usually take you to write one from draft to public?
In hindsight I should have just turned this question into a blog post, because I have so much to say – apologies for this long answer! To be totally honest, I am horrible with time management and always have been. Balancing my blog and duties as a full-time SAHM is something I struggle with big time. It is also a constant topic of conversation among other mom bloggers I'm friends with. Some people probably think blogging while being a stay at home mom is easy and just "something you can do during nap time" but it's not at all. Especially because James does not nap well! And when he does I'm constantly torn between rushing to get a blog post up, tending to social media (which now that James is a toddler I feel an insane amount of guilt doing around him), doing laundry, cleaning, dinner prepping, etc.
This summer has been especially hectic and I've been pretty bad about getting consistent blog posts up. I used to post at least twice a week and since summer hit, that turned into more like twice a month. Sigh. Recently however, I've slowly gotten into more of a groove after much trial and error. I'm in the process of making a conscious decision to be more intentional with my schedule instead of living by the seat of my pants as I've done basically my whole life.
Here are some rules/goals I have made for myself to help me better maintain the blogger/SAHM balance:
Make a schedule for the upcoming week + list my goals for that week on Sunday night.
Do a better job of working at night even if I am tired/don't feel like it.
Allot two separate times of the week to ONLY blogging (not responding to emails, not social media, ONLY writing blog posts). My MIL babysits James on most Tuesday afternoons, so I have dedicated Tuesday days, and Wednesday nights to blogging.
Set a realistic posting goal for myself. Currently, I'm working on posting on the blog once a week.
Wake up early and tackle emails and Pinterest for one solid hour every morning. James wakes up at 6:30am so that is when Kyle and I get up too. Kyle does breakfast + play time with him before he leaves for work and I lock myself in my bedroom for an hour with my coffee.
Do NOT start a blog post if I'm not confident I can finish it within 48 hours. I recently had a mini-breakdown after scrolling through my drafts and discovering how many posts I have started and never finished.
Don't try and get blog stuff done during the small window of time I have during the day while James naps. This took me forever to figure out but I've decided I need to use that time to do my household work and not try and spread myself too thin during that 1-2 hour period.
Line up Instagrams at least one day in advance. So much easier said than done but so worth it.
I hope that helps, fellow mom blogger! The balance struggle is real for ALL mothers. I hope we can all learn to give ourselves some credit and not get too caught up in trying to do 100 things at once every day all day!
Feel free to leave questions for my next post in the comment section or email me directly at hello@megmcmillin.com with the subject like "Ask Me Anything"! As always, thanks SO much for stopping by. XO!