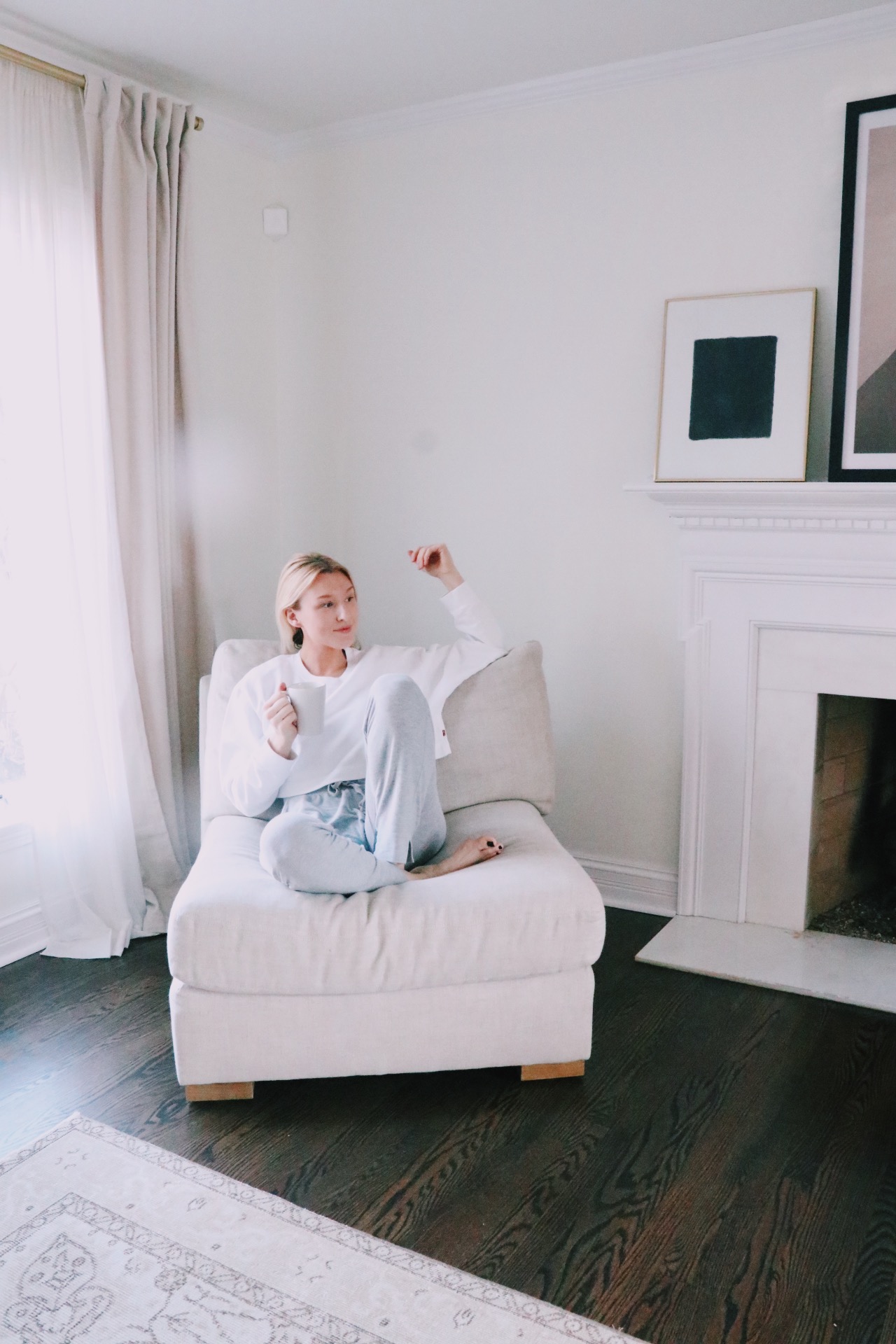 SHOUT OUT to all of you who sent sweet messages that weren't necessarily questions but just kind words (mostly about James <3) – I read + appreciated them all so much. Thank you 🙂 And thanks to everyone for all these fun questions, I love doing these and want to do them more often now that I'm finally getting back into a normal post-renovation life routine. Also, if I didn't get to your question I promise I'll answer it in the next post, I have a folder on my phone with screenshots of all the Q's I got on Instagram last Friday. Love you all! xx
Q: Did you end up finding a couch!!! If so, from where?
We have not found one for our family room yet! Finding a sectional is kind of like wedding planning, I was really into it at first and now it's driving me crazy and I'm taking a break. We got this awesome pit sectional from Arhaus for our basement and we LOVE it, also it's on sale right now! We wanted to get the Kipton sectional from Arhaus but sadly it's too big for our family room. There is a couch from Montauk Sofa that I am MADLY in love with but it's outside of our budget, however we are considering the splurge because we've heard amazing things about Montauk Sofa and we know it will last. Also, their designs, omg.  Also, quite a few people have recommended Interior Define! I need to make my way into their Lincoln Park showroom to check out their couches IRL very soon.
Q: What is James new room going to look like?
As of now, it looks pretty much the same as it did at our condo. I will post a little tour of his new room soon! We've added a couple things to it since he has more space now; but for the most part we tried to recreate it exactly as it was in order to help him with the transition to the new house. Which, is a tip I learned while researching what to do when moving with a toddler!
Q: Will you have more kids? If so, how many do you want?
This question was asked in some form over 10+ times! I really don't mind though. The answer is yes we definitely want more kids. However, I don't know exactly how many more. That is TBD. We always said we'd plan to try and have another one soon after James turned 2, but then everything with the house + the move + the renovations happened so quickly! To be totally honest, I need a minute to settle in to our new life but it is something that's definitely on our minds.
Q: I'm a 25 y/o grad moving to Chicago in July (from west burbs) – Wicker Park of Bucktown?!
Whichever one you can find a great place within your budget! Is that sentence grammatically correct? Both are amazing and you can't go wrong with either. Wicker Park and Bucktown are practically the same, and you can get the best of both worlds no matter which one you choose because they are so close to one another. I have lived in both and loved both! I also recommend Ukrainian Village which is in the area as well.
Q: Did you always have edgy style or did it develop over time?
I feel like my edgier fashion tendencies did start to develop until college. Someone asked me a similar question in this "ask me anything" post and I'm going to be a lazy blogger and copy + paste my answer from that…
"I feel like my personal style has always been a combination of what I think flatters me (i.e. high waisted jeans or anything black) and also heavily influenced by trends that I find unique and fun to style. I went to art school and everyones style was so different + more individualistic than what I was used to seeing in high school. And I loved it. I think that is really where my personal style began to develop. It was so fun to be around people who gave zero F's and wore whatever they wanted to. I think that gave me the confidence to start tapping into my own individual taste and wearing what I liked and felt good in without caring what people thought."
Q: Have you always lived in the Chicago area?
Yes! I grew up in the southwestern suburbs, then I went to college in downtown Chicago, stayed downtown for a long time, and now we are back in the suburbs. Full circle!
Q: Does James still say hummip?!
This made me LOL! Sadly, no he doesn't and it breaks my heart. For those that are new: James used to be ob-sessed with hummus and he called it "hummip" and it was the best.
Q; Does blogging make a good living?
It certainly can! There are bloggers that literally make six figure salaries. Even some that make seven figures. Let's be clear, I'm not one of those bloggers – ha. Bloggers make the bulk of their money through affiliate commissions (i.e. LIKEtoKNOW.it, Shopstyle, etc.) as well as brand sponsorships. How much you make really depends on how much you put into it. Bloggers who do this full-time (as in they treat it like a full-time job and work every day like it's a 9-5) can certainly generate enough money to live off of.
Q: How did you know it was time to leave the city?
The answer to that is in the form of this post about why we moved to the suburbs!
Q: Does Kyle commute downtown for work? If so, how has that been going for all 3 of you?
Yes! Some days. Kyle works in finance and is able to work remotely but he still has an office that he goes to a few times a week downtown. Because his job/hours are so flexible, him commuting really hasn't been that difficult on our family.
If your family is making the move to the burbs and one or both of you works downtown, don't panic! I know so many people out here who do it and make it work with ease. Of course, I can't speak from personal experience though, so maybe it's harder on them than it seems. But from what I gather it is totally doable!
Q: Favorite place in your new home?
Ahh, I don't know yet! Such a fun question. I really love sitting in our little kitchen nook every morning because it looks out to our backyard. I'm also very into the 'formal' living room because it's the room I'm most excited about decorating, and it is also the only room I've even been able to semi-decorate at all so far. We don't have a bed, or any furniture, in our master bedroom (we are currently sleeping in the guest bedroom in our old bed from our condo) and I'm assuming our bedroom will probably quickly become my favorite spot once it's done. I miss having a bedroom!
Q: Did you breastfeed with James? If so, for how long?
Short answer: yes, for 17 months. Long answer: in this post!
Q: What is your health routine?
Okay, truth be told I don't work out. I grew up playing competitive sports my whole life and once I quit, basically all exercise went out the window. Terrible, I know. I JUST DO NOT LIKE IT. I wish I did!!! I used to walk a TON when we lived in the city and considered that my work out (I miss the 606 so much – ugh) but now I consider chasing after a toddler all day my work out. Once the weather gets warmer, I'm determined to get into a better exercise routine because I know my body and mind need it, for my general wellbeing. Especially my mind!
My health "routine" – if you want to call it that – is much more diet based. I don't diet, though! Ever. Or count calories. Nor have I ever cut out one particular food group (I eat dairy, gluten, etc.). I'm just generally particular about quality of and ingredients that are in the foods I regularly eat.
Currently, my mornings always start with:
A small glass of kombucha – it's always the first thing I have in the morning
A hot cup of matcha with milk and honey
A bowl of steel cut oats with chia + flax seeds (it is what I make for James every morning except I put fruit in his)
The following vitamins: multivitamin, chlorella, spirulina, maca root, turmeric, and ashwaganda before bed
Q: Have you ever done eyelash extensions?
Yes! I just did them in February before I went to LA with my girlfriends. I usually only ever get them done for special occasions or (certain) vacations but when I do get them, I freaking LOVE them. I kid you not, you literally don't have to wear eye makeup while they're in and it's heaven!!
Q: Any recommendations for facials in the suburbs?!
I haven't gotten one out here yet, I'm actually in need of all your recommendations! However, I do have one trusted source who speaks VERY highly of this med spa in Hinsdale called Bella Vita Med Spa – but I have not yet been myself! I'm dy-ing to get into a med spa and get some serious facial treatments done (i.e. microneedling, hydrafacials, you name it I will try them all). Also, my girlfriend just got me a gift card for a facial at Levato Salon & Skin lab – also in Hinsdale – and I'm so excited to get in and try it out, I hear good things! PS thank you, Kate 🙂
Feel free to leave questions for my next post in the comment section or email me directly at hello@megmcmillin.com with the subject like "Ask Me Anything"! As always, thanks SO much for stopping by.