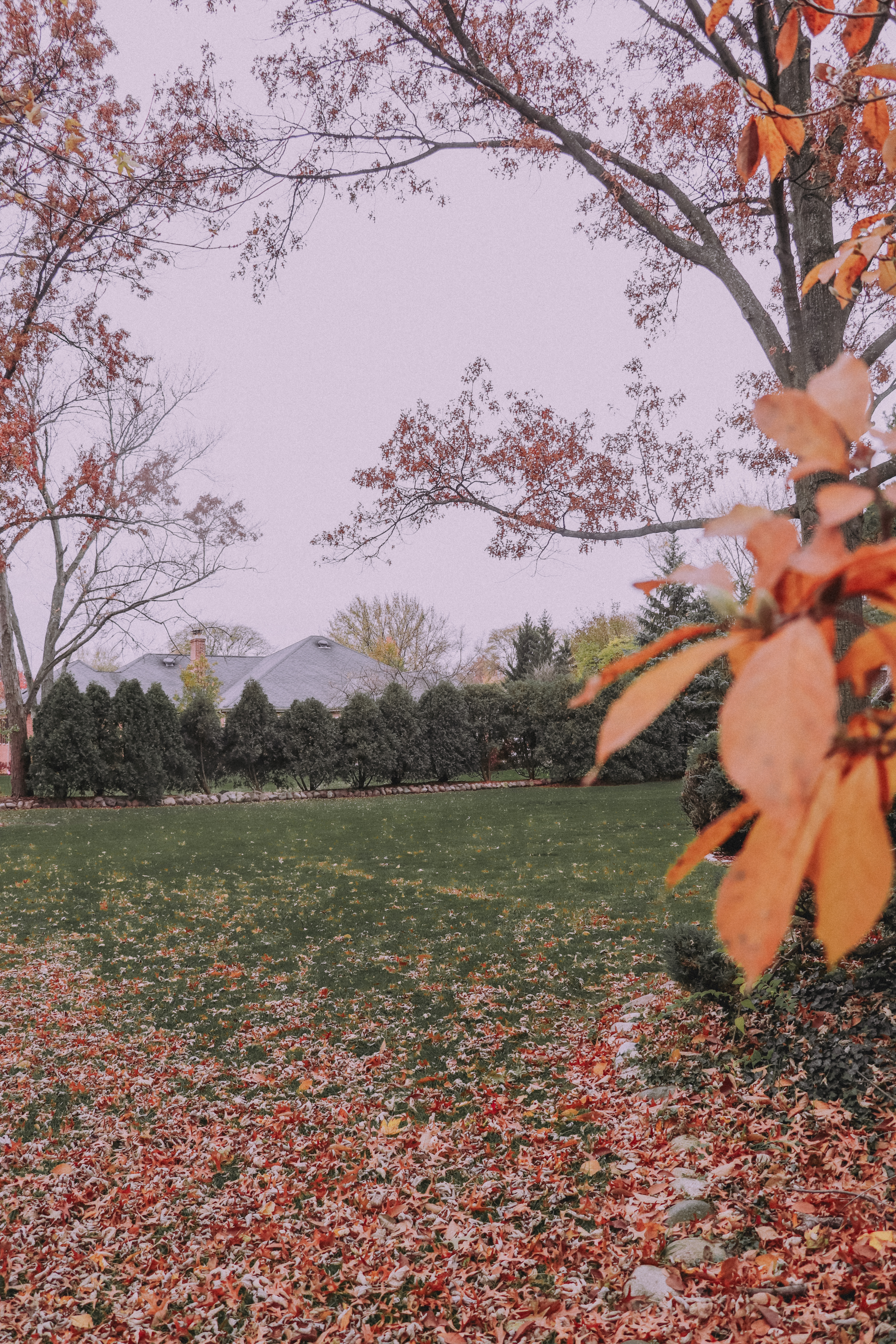 Where did we move?
We are about 15-20 miles outside of the city in the western suburbs, where Kyle and I grew up!
Why the suburbs? (No, I'm not pregnant lol.)
Having been raised here ourselves, raising our family in the suburbs is just what feels personally right for us. We were outgrowing our 1100 sq. foot condo and while we did consider getting a bigger place in the city for a few more years (which I really pushed for at first) we decided that since we knew we'd eventually move to the suburbs, it would be best for James if we just did it now.
Not to get too cheesy here but Kyle and I grew up playing in backyards until dark, building tree houses, riding bikes to our friend's houses, etc. And when we sat down and had the serious "where do we really want to settle down and raise our family?" discussion, all of those things came up. Of course other things came up as well; the public schools in the western suburbs are incredible (and holy crap I didn't know just how expensive private city schools were until recently), the overall space difference compared to city living, and pretty much all of our friends with kids are already out here so that certainly made burb life even more appealing.
Please don't get me wrong, I do not think there is anything wrong with raising children in the city! I went to college downtown Chicago and nannied for multiple city families, the children were all incredible. It is just a lifestyle choice. We don't know what it's like to be a kid in the city because we didn't grow up in the city, we're just going back to what we know. Which is so funny because when I was younger I kind of looked at "going back to where we came from" as a negative and swore I would "do something different" but my whole perspective has changed since having James. We both loved our childhoods so much and decided we would be thrilled to give James the same experience.
My thoughts on leaving the city…
I have so many mixed emotions. Katelyn (who also just announced she's moving to the burbs!!!!!!!!!!!!!!!!!!) and I literally text back and forth about city vs. burb life all day long. And I'm already in a much different place about it compared to a couple weeks ago. I think I was confusing what I thought was fear of leaving the city, with my fear of change in general. Now that we've moved and the reality has set in, it feels so right. Of course, I'm going to miss certain things about MY city lifestyle. However, at the same time I'm so excited to give James this new lifestyle.
Aside from our condo – which I can barely even think about let alone write about without getting choked up because I miss it so much – here are some things I will really miss about the city: my friends who are still there, my sister, the bars and restaurants, going out basically whenever I want to (I still plan on going out downtown don't get it twisted), the city energy, blog photo locations, oh and the restaurants. But when I thought about what James would miss about the city? My list was much shorter. Aside from, of course, our beloved Bubbles Academy and Mr. Dave Music – both of which I hope open suburb locations immediately! And both of which we still plan on visiting often.
I would be lying if I said it didn't make me feel like one chapter of my life, that I wasn't ready to be over, is over. But, perspective is everything. Nothing is over. We will still have fun, we will still go out, this is a new journey and I'm excited for the change. I'm excited to have a house, to have space, to wash dishes and drink coffee while James plays in the backyard in the morning, to be close by our parents, to park in parking lots, to have big parties, and to watch Bravo far away from where Kyle is watching football.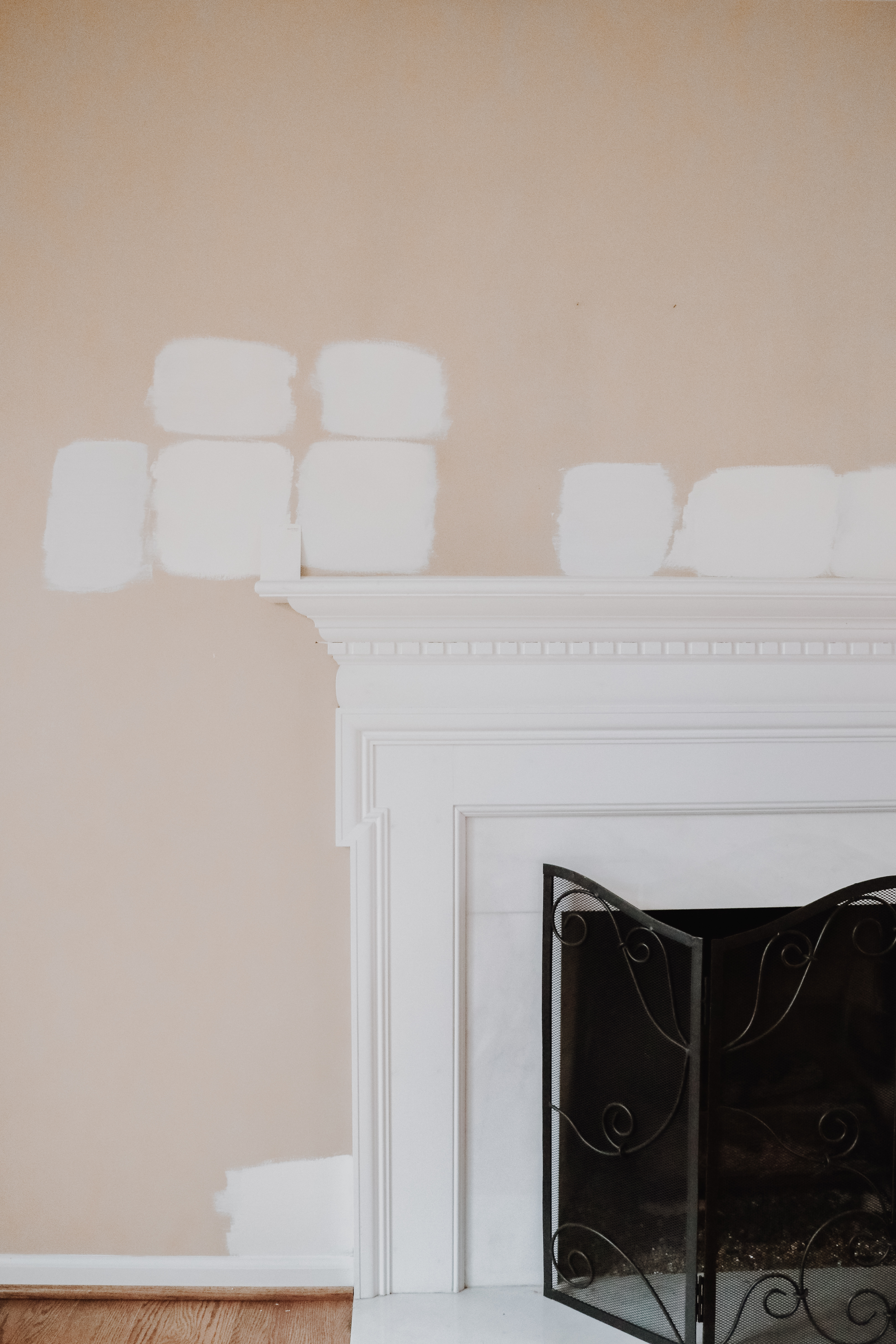 The fireplace in our formal living room. This is the room I'm most excited about decorating!
Here's what's going on with the house!
Eeek! I'm so excited to document/blog about our whole decorating and renovation experience with this house. We barely have any furniture since space was so tight on our last place – so we are kind of starting from scratch! I can't wait to share my finds and good deals with you on here. Especially as holiday sales start soon!
The house itself is in awesome condition, but needs some updating here and there. We are staying with my parents for the next week or so until we get the upstairs floors stained and rooms painted – I will share our paint and stain color soon! Our strategy is to settle in upstairs and then begin to tweak the first floor. We are also redoing the master bathroom and closet right off the bat, so Kyle and I will be sleeping in a guest bedroom while all of that goes on. 
Eventually, I want to restructure the kitchen and turn what is now a three seasons porch into an extension of the family room. Katelyn is trying to convince me to keep the screened in porch but I'm not familiar with them and don't really get the point. Please weigh in, I'm open to changing my mind!
I'm still trying to get my footing as to how I should go about sharing everything on here but I promise to consistently keep you guys in the loop as best I can. My goal is to do weekly house updates on the blog, even if I only have a few sentences to report on. I'm thinking I'll go room by room and do before and after blog posts of each one as it gets decorated/renovated? What do you think? If you know of any bloggers doing a good job of sharing their home renovations, please let me know so I can check out their strategy. I also want all of your opinions and input so please share away throughout this journey!
How James is handling the move so far…
So far, so good! However, he is basically on vacation at Nana and Papa's house with us right now so it's hard to tell what is setting in and what isn't. I have done a lot of research on the effects of moving on a toddler and I've learned that adjustment issues don't tend to rear their ugly heads until a few months after the move.
I was shocked to read (multiple places) that moving for a toddler is basically the emotional equivalent to an adult losing a loved one. My parents laughed at me when I told them, and I think I laughed at Katelyn when she first mentioned that to me, and then all my friends laughed at me when I relayed it to them. Lol. But once I started researching it all made sense. They are being taken from the physical space where they feel most comfortable, without an explanation they can understand, and they are unable to thoroughly express their feelings or ask questions about why it's happening. SAD!
But, moving is a part of life and they will be okay, and there are things we can do as parents to help them through this in a totally healthy way. I'm currently working on a blog post covering everything I've learned about moving with a toddler, and everything we have done with James specifically. I'm also going to include all of your input from my Instagram stories the other day!
I struggle big time with change and place a lot of sentimental value on my surroundings. Moving out of our condo does feel like a loss to me. Like, the place where I feel most comfortable and associate so many amazing memories with has just been physically erased from my life. So, I'm trying to empathize with James and just be constantly aware that even though he might seem fine on the outside, his little brain is busy processing. I'm trying to be more present for him, I'm placing emphasis on routines, I'm stopping and acknowledging what he's saying if he mentions "going home" or "our old house", and trying to make the move as fun and positive for him as possible.
Some more questions I got from Instagram:
Q: Is there a big backyard for J? Also, is your husband going to commute?
A: Yes there is! And yes, for the time being Kyle is going to commute to his office downtown. He is self employed though and eventually will move his office out to the suburbs.
Q: Can you cover the home buying process including saving for a down payment, etc.
A: I will work on a post that goes into that more in depth! Great post idea.
Q: What paint colors did you choose?
A: I have to go back to the drawing board with finding my perfect white, my mom and I painted a room in Behr "bleached linen" and after it dried I think it's too warm/yellow. I'm going to try Benjamin Moore "simply white" next. Full blog post coming soon!
Q: Omg please talk about strategically packing up/purging your things!
A: Love this for a post idea! I gave SO MUCH AWAY during the packing process and it felt SO GOOD. We were amateur packers and didn't know much aside from strategically labeling boxes. I definitely learned a lot from this move (like you need more than one day to get it all packed up) and I will share more in depth in a blog post. I had my mom come down and help me wrap up all our breakables like a week before we packed up the rest of the house and I'm SO GLAD I did because we wouldn't have gotten out of there in time if that wasn't done ahead of time!
Q: Light fixtures! I'm struggling with them!
A: Awesome post idea, I plan on covering this for SURE! I need a chandelier for our dining room, and basically light fixtures for every other room in the house.