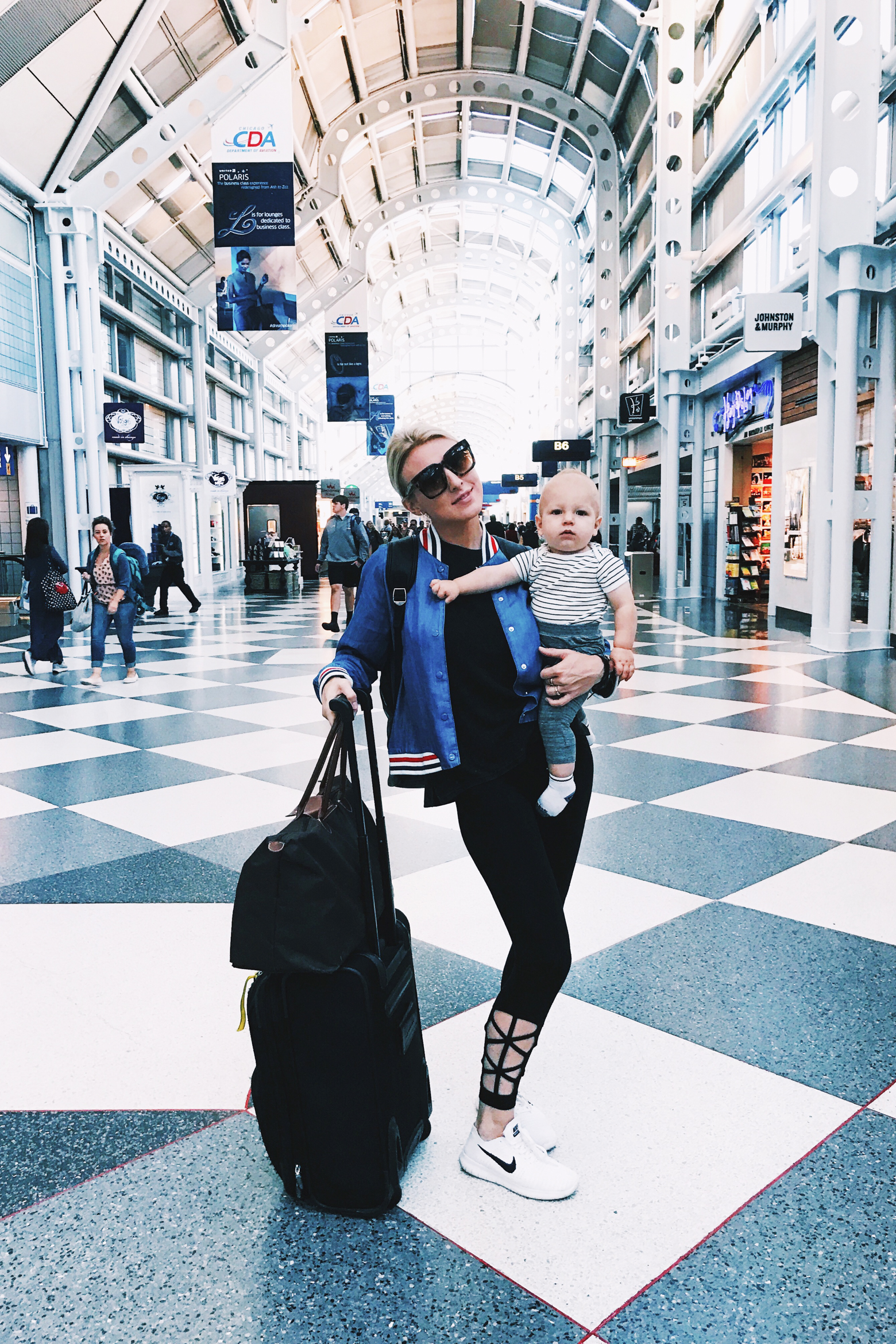 Hola! We are back. Our trip was amazing and so much fun. I'll be doing a blog post about it and also including a guide to Playa Del Carmen – stay tuned! For now, I want to talk about our first ever airplane ride with James. I want to preface this post by pointing out this was my experience flying with a one year old and I'm certain the experience differs based on the age of your child. If you have a 10-14 month old (?!) I'd say this post is for you! There are probably more seasoned moms reading this that may laugh at my next thought: I think that right around the one year mark is probably the hardest age to fly with??? They are totally mobile but not old enough to take instruction or sit still, yet not young enough to fall asleep super easily. Oy.
Full disclosure: it was fine. Not like "so easy!" or "a total breeze!" – I would classify it as "fine and doable".
However, I am happy to report that the AIRPORT experience (security, checking bags, hanging at the gate, etc.) was a total breeze! That part was actually fun and easy. There was so much for James to look at, he was having a blast and so happy the whole time. That being said, I was kind of expecting the airplane part to be a little more fun and slightly easier, based on what I read in preparation. But, meh. Not so much.
Our flight was 3.5 hours and we were definitely counting down the minutes to landing both ways, lol. I think it's one of those things – like childbirth – that moms want to talk up a bit so you aren't stressed going into it. Which is a good technique that I totally believe in! However – like childbirth – flying with a baby is something you hate in the moment and want to be over but afterward you remember the experience as totally okay and you aren't scared to do it again. Lol. Also, I'm in the camp of "low expectations are good protection" and I would have preferred going into it thinking the experience would be worse than it was, instead of expecting it to be better. Does that mean I'm a pessimist? Prob.
So, if anyone reading this is about to fly with their baby for the first time, I hope I'm not stressing you out! You will do great, so will your baby, and it is no big deal. Here are a few tips and random things I discovered:
#1. Buy this super cheap + lightweight umbrella stroller to use in the airport and check it at the gate of the plane! This is a must!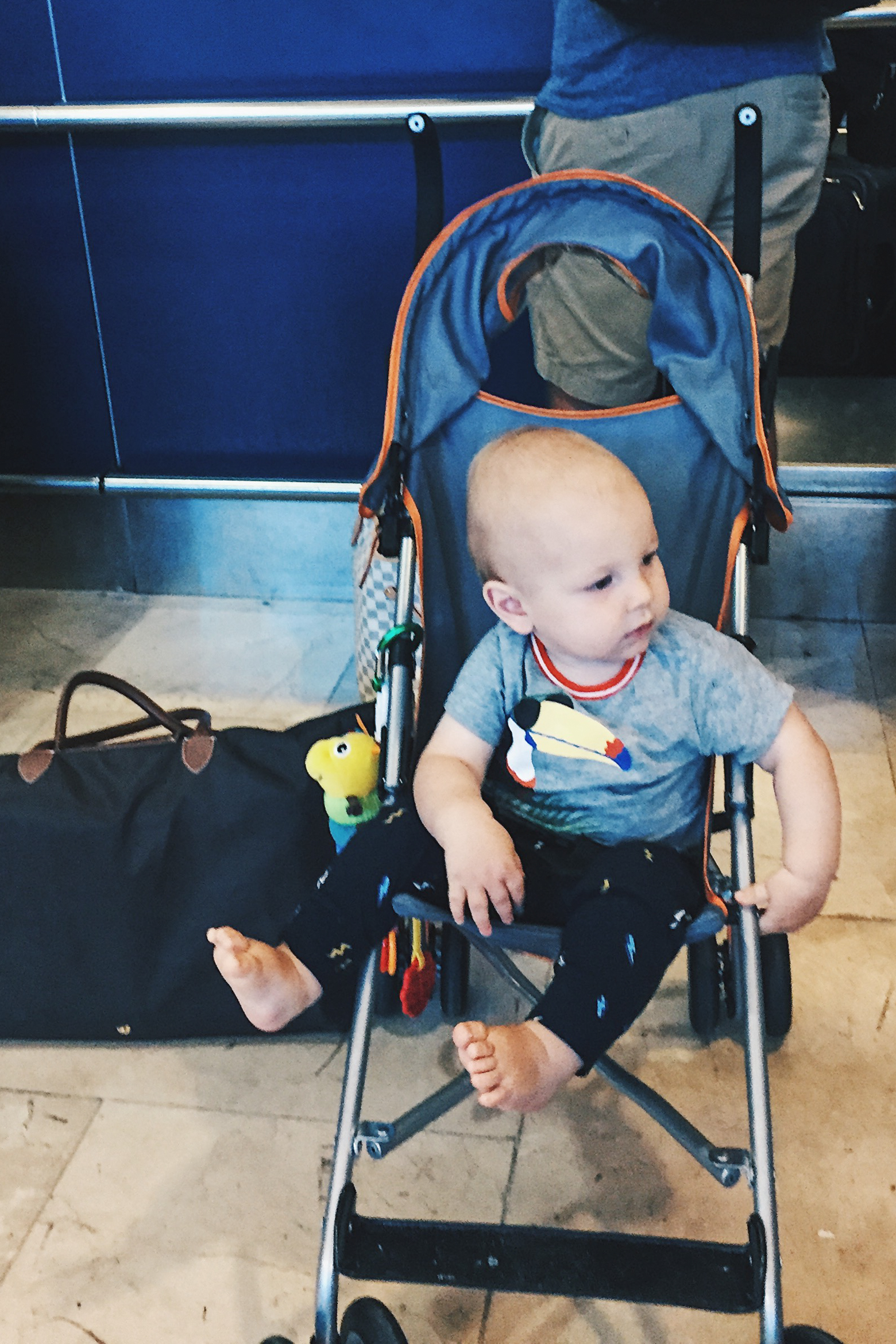 A lot of people recommend using a baby carrier in the airport instead of a stroller. But for this particular age, I disagree! Mainly because James is heavy AF. If your baby can sit up on his/her own, use a lightweight stroller! I think a carrier is for sure a great idea for younger babies, but a compact stroller is the way to go for like 10+ months. When I told Kyle the plan was for him to wear James, he wasn't thrilled. No offense James, but you're fat. So, instead we got this umbrella stroller for $19.99 and it was basically the best purchase we ever made. James LOVED it (because: new experience) and toting it around was a freaking breeze.
So, if you have a heavy/older baby then I absolutely insist on using one of these! It folds up really quickly and easily, so we were able to fly through security with it. They will make you put it on the conveyer belt though. We checked the stroller at the gate which took all of 0 seconds, because they do it for you. Additionally, it is all we used/needed in Mexico! We didn't bring our good stroller.
***Just to clarify, check at the gate = bring it up to the door of the plane and they will pack it underneath the plane so you don't have to worry about storing it as a carry-on. Then, when you get off the plane the stroller will be magically waiting for you on the jetway. EASY!
#2. Take advantage of pre-boarding and let your baby move around + explore the plane before everyone else gets on!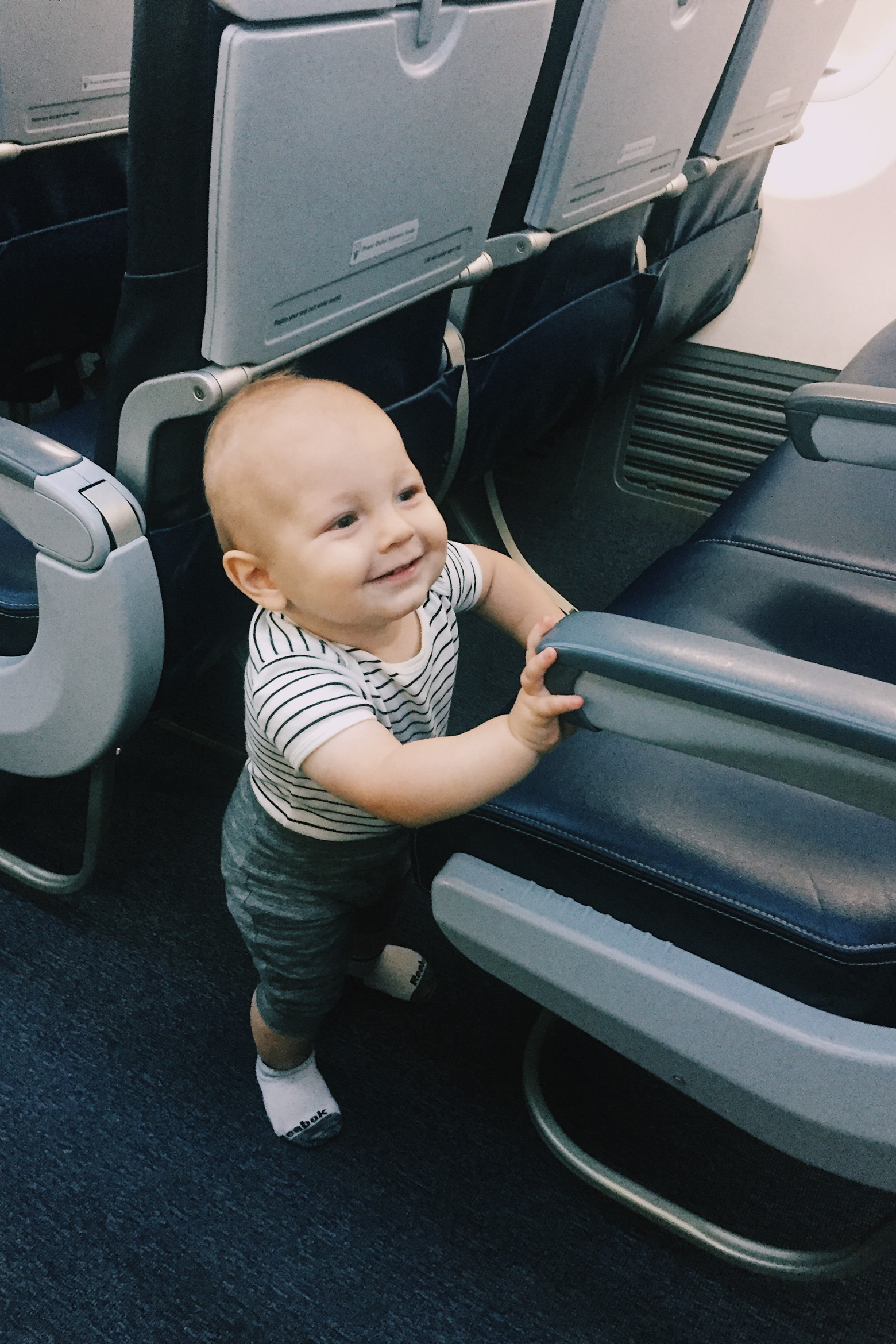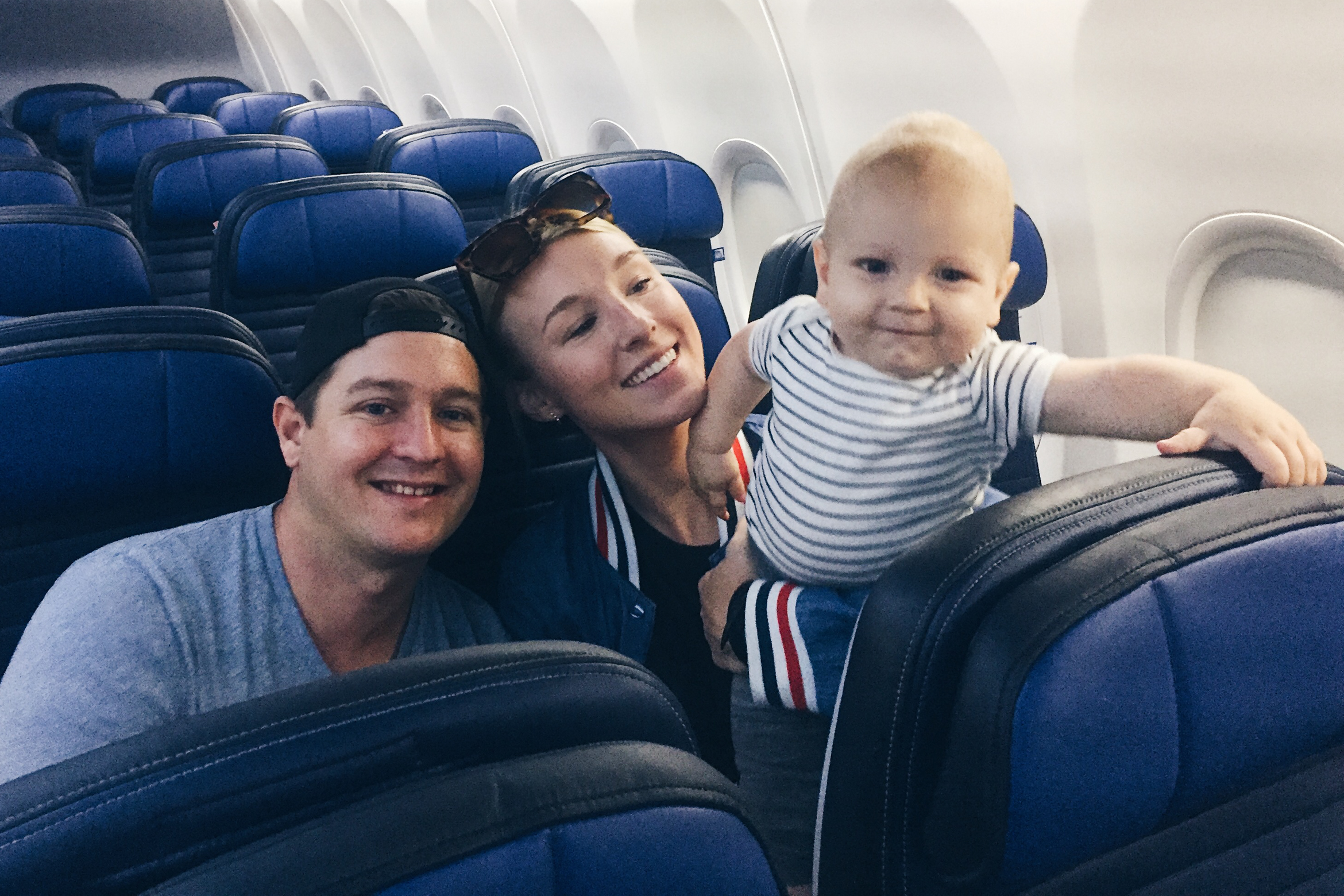 We almost missed pre-boarding because we were busy having a quick mimosa (something else I highly recommend while traveling with a baby) but omg I'm so glad we made it in time! You guys, pre-boarding is awesome. People are so nice to you when you have a baby. Once you are on – and have the whole place to yourself which is the best – don't be afraid to let your little one walk around, stand, crawl a little, explore on the plane. The FA's do not mind! Flight attendants love babies. They are your best friend while traveling with little ones, I know this for a fact because my mom is a flight attendant. Let your babe stretch out and do some discovering, it will tire him out. Use every single last second you have before you need to confine him to your row!
#3. Bottle or breastfeed during takeoff and landing.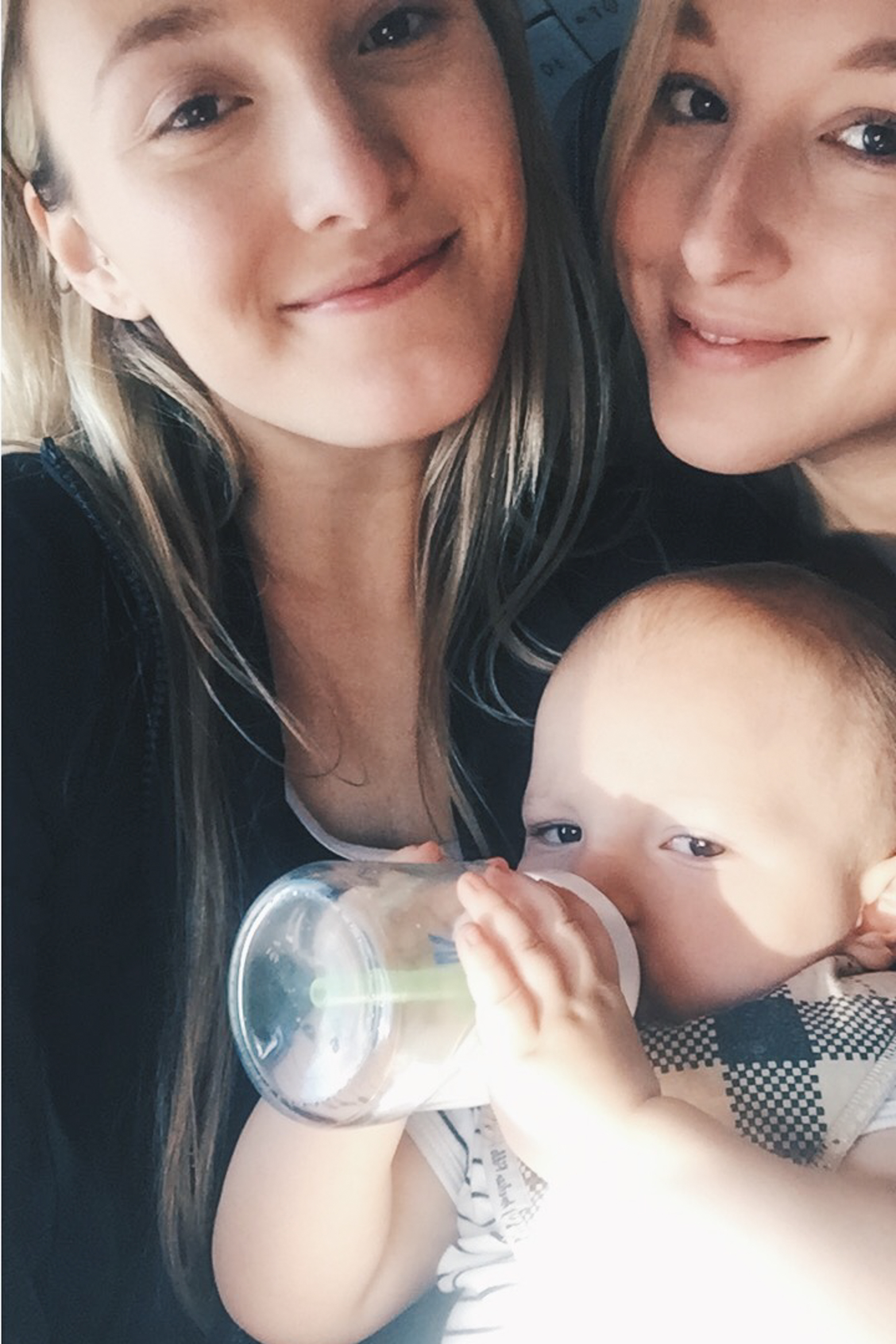 So according to my Mom (the flight attendant), landing is the worst for babies and ear popping. Takeoff technically is not that bad for ears at all but since you need to have them fully secure and in your lap, I highly recommend giving them a bottle during takeoff as well too. This will ensure they are relaxed and sitting still!
#4. Bring a diced up finger food (or Cheerios, etc.) and feed it to your baby ONE PIECE AT A TIME on the tray table. This will kill so much time!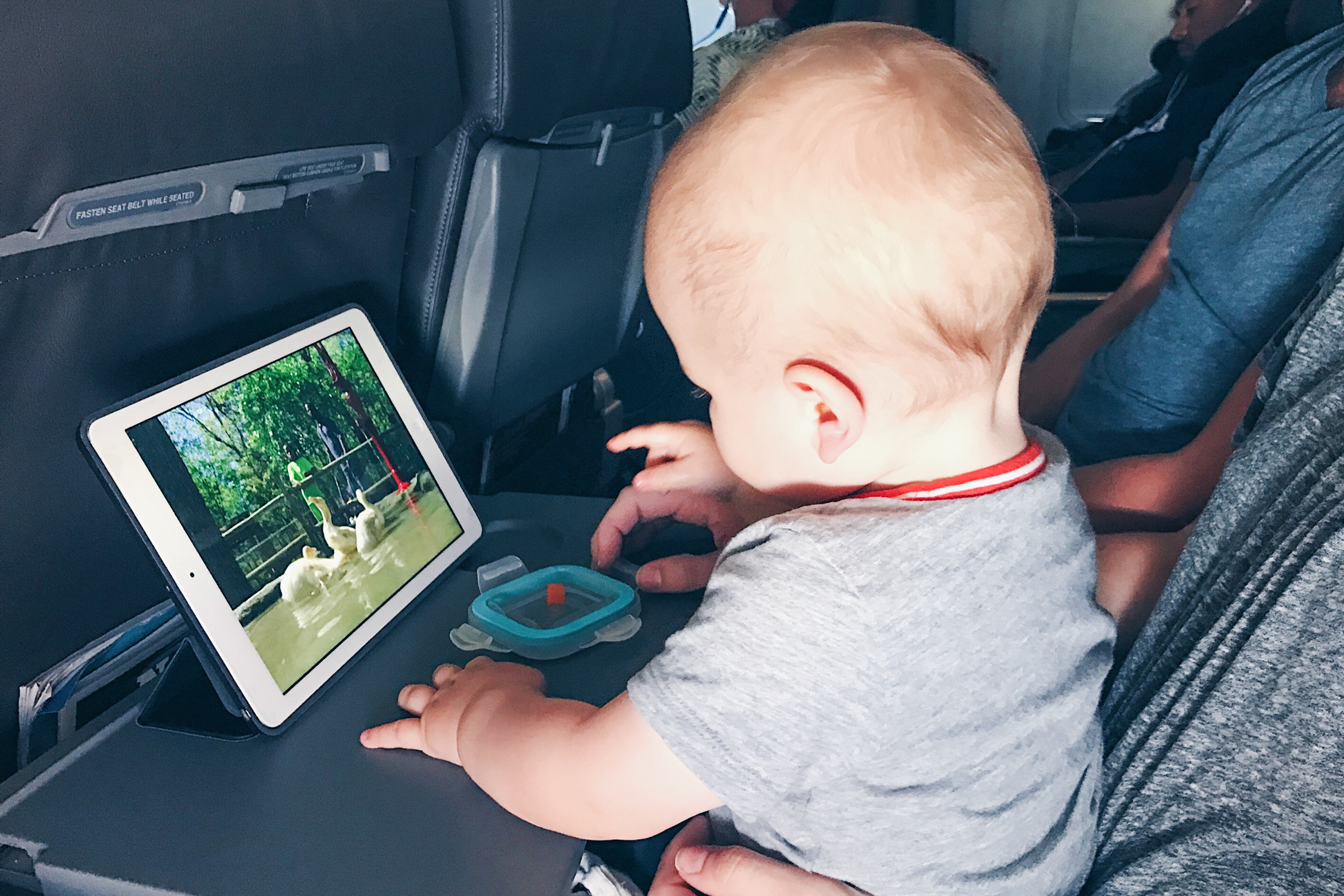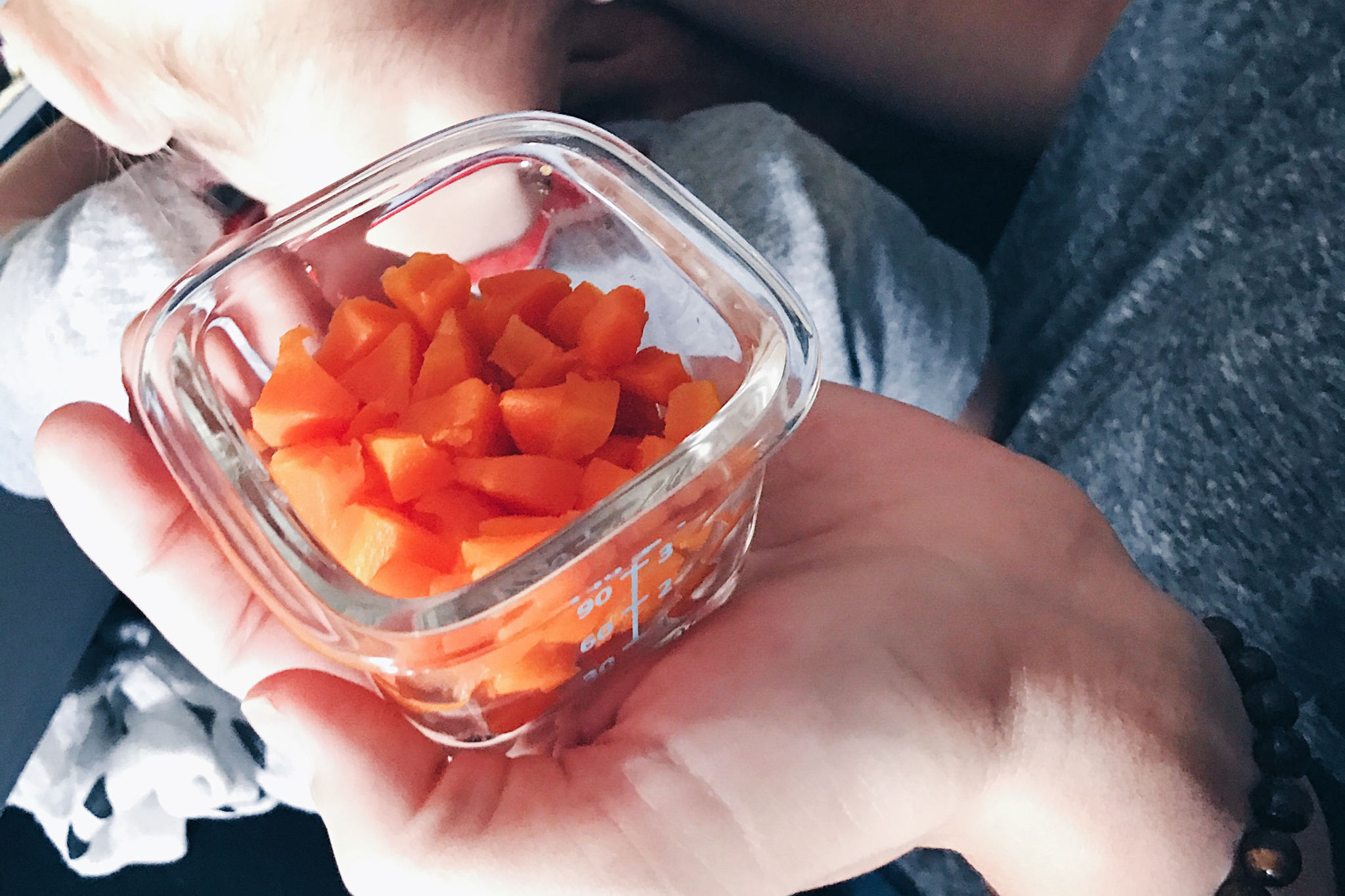 This is probably the best tip I can give you.You will quickly realize that the name of the game is KILL TIME! Kill time. Kill time. This does the trick because as we know, like dogs, food is the way to a baby's heart. I steamed and diced a large carrot the night before, and packed it into one of these awesome little Oxo Tot glass containers (they come in a 4-pack and we live for them). When James began to get antsy, I set up the iPad and gave him one little piece at a time (we used the little top as a plate). This was our saving grace! Getting a one year old to sit still is no easy feat, and this was the only way I got it done. PS: Don't let them see the container or else all bets are off!
#5. Go into this assuming your one-ish year old baby might not sleep on the plane, but if they do praise Jesus and close your eyes.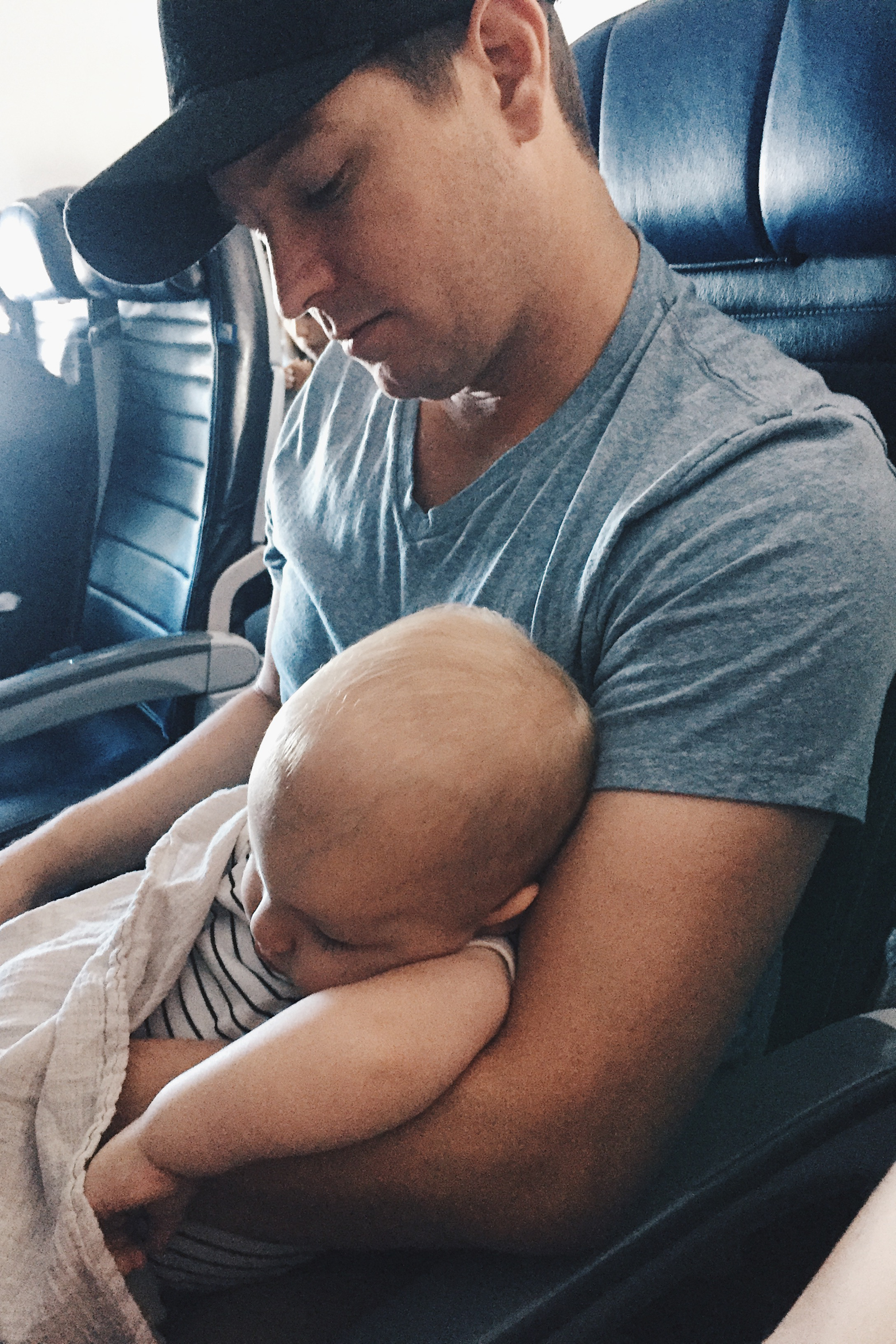 So, our flight there was at 9am which is right when James usually takes his morning nap. At first we thought we were being so clever and beating the system with our timing. When we booked our flights a few months ago we thought, "perfect he will just be falling asleep as we take off!" – LOLOLOL. No. He is super curious and needs to know what is going on around him at all times, so I quickly realized he was probably NOT going to nap. I semi panicked and started to wonder "HOW THE F DO PEOPLE GET ONE YEAR OLDS TO SLEEP ON A PLANE???????". But it happened! About an hour into the flight he became super antsy/crabby (I could smell the meltdown coming) and we immediately popped out the iPad and put on Elmo. I held the iPad while Kyle held James and he somehow slowly dozed off! But, he was up about 20 minutes later. Better than nothing!
On the way home our flight was 2pm, and about an hour after take off he started to show all the pre-meltdown signs. We were tired, hungover, and I just didn't give AF so I threw a blanket over the two of us and nursed him to sleep. Yes, I am still nursing and yes I am starting to wean. I never thought that I could be someone who nursed a one year old in public (and I had no plans to do so on either flight) but I couldn't resist. I knew it was a surefire way to get him to fall asleep. Airplane mode is survival mode, moms!
TIP: I am pretty sure you will have MUCH more luck getting your one-ish year old to sleep on the plane if you buy him his own seat and bring a carseat! We will certainly be doing that next time.
#6. Walk around/stand up whenever the fasten seatbelt sign is off.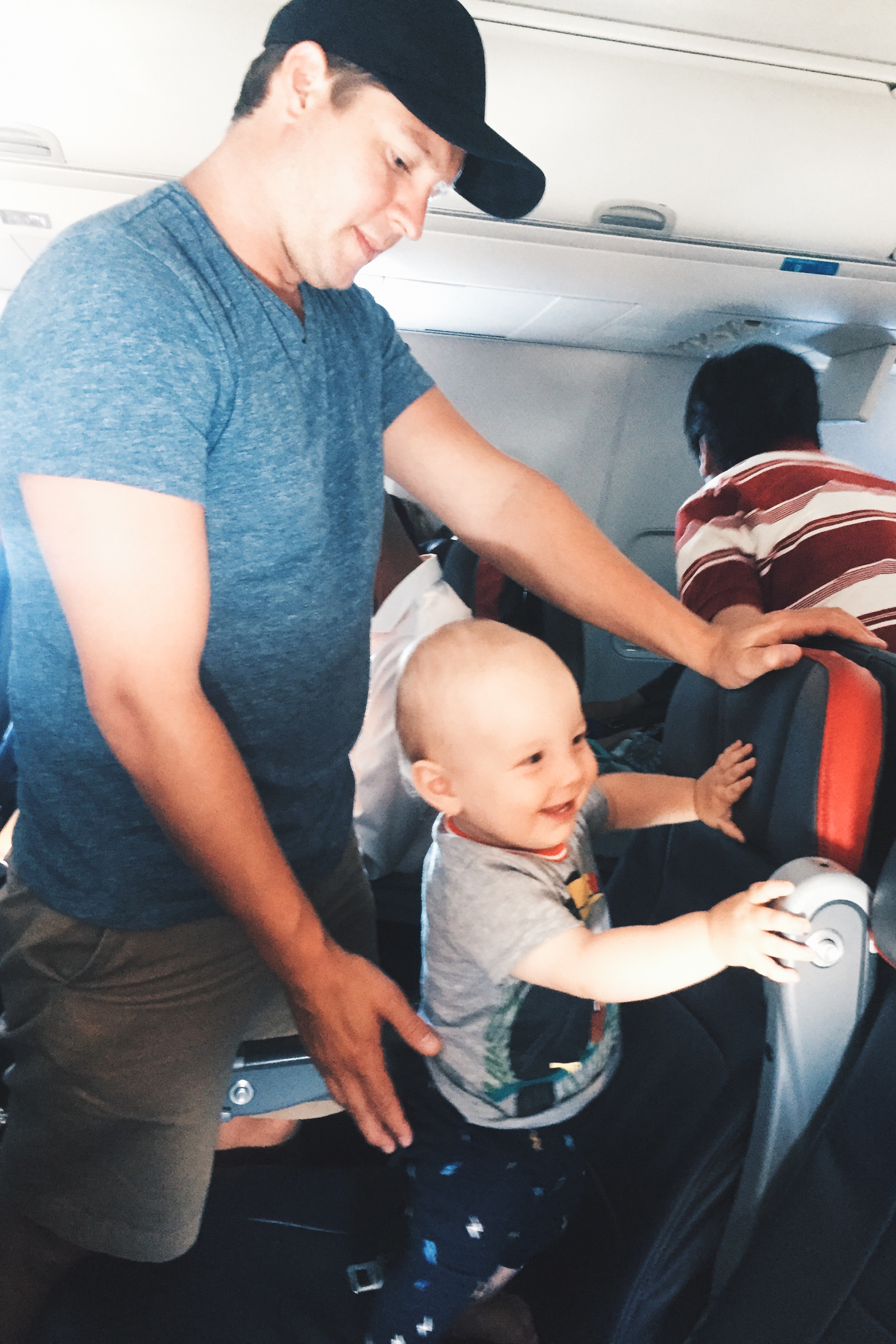 We had a bumpy flight both ways, and we would get SO pumped when the fasten seatbelt sign would go off! Take advantage of it. Kyle would walk up and down the aisle with James as much we he could. Also, we would take turns standing up in the aisle and letting James stand/play in our seat.
#7. Changing a diaper in the plane bathroom is super easy! But don't take your whole diaper bag with you.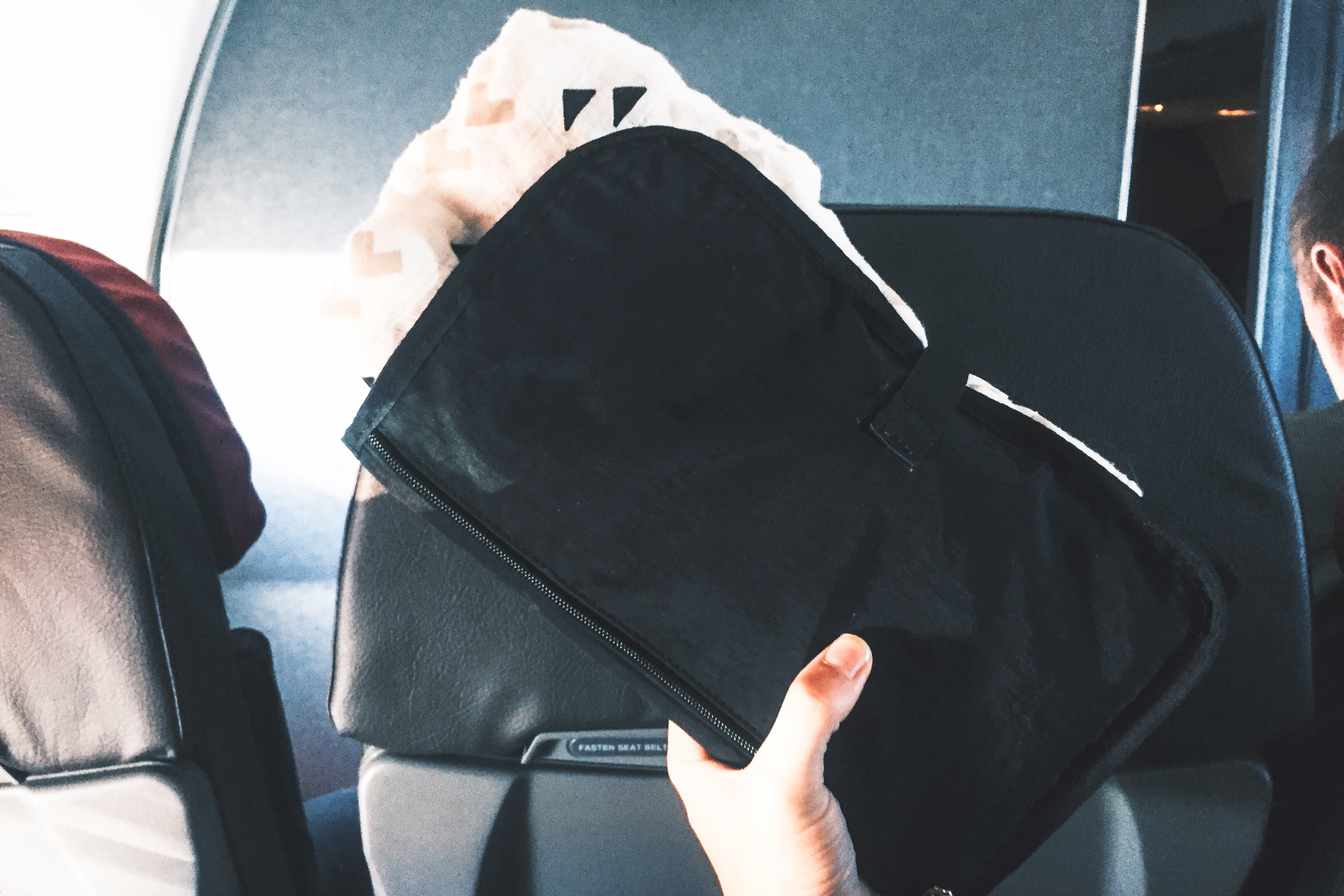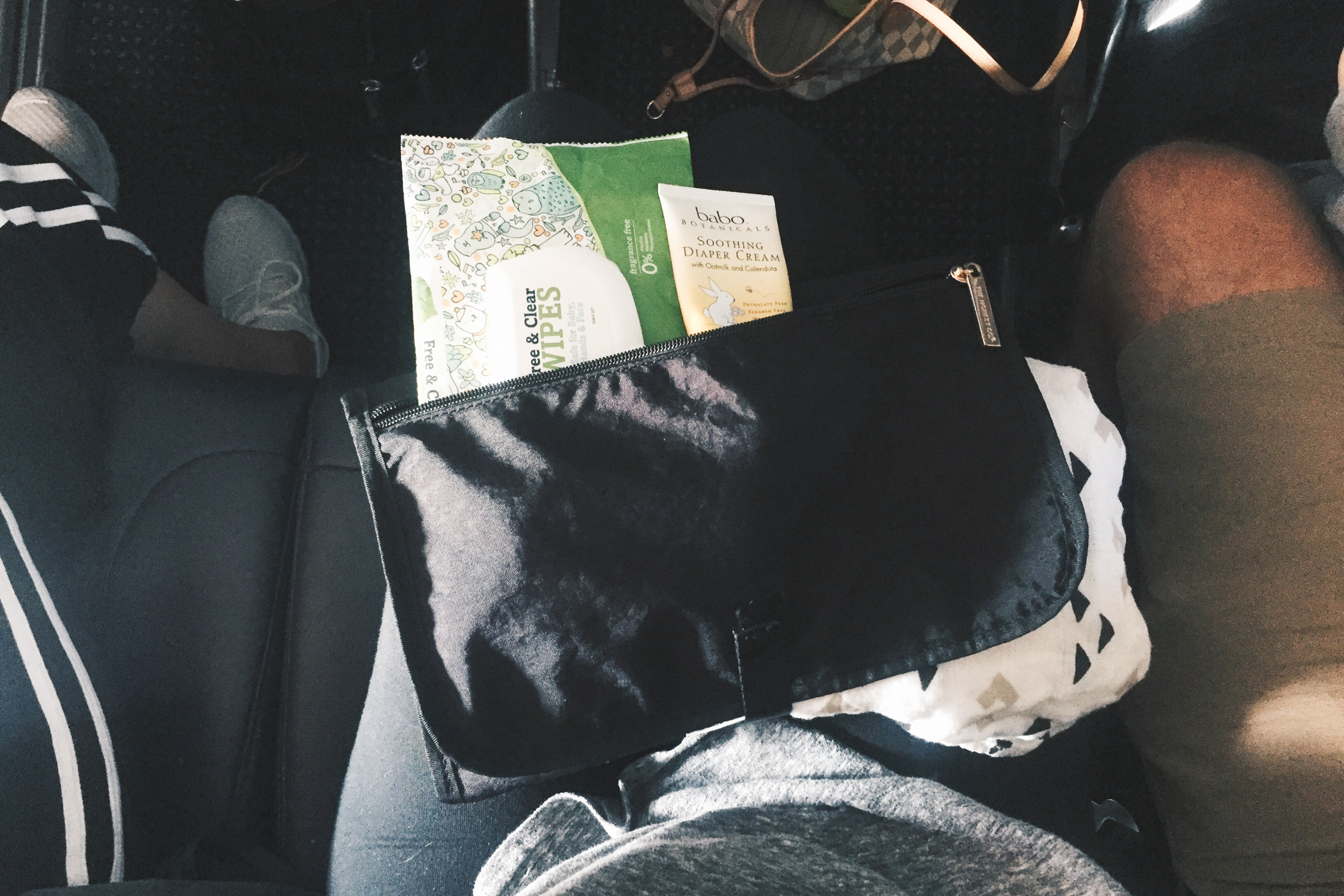 I was so pleasantly surprised at how easy it was to change James on the plane. I actually had to ask my mom the night before if there are even changing tables in airplane bathrooms – because I have never noticed! The answer is: DUH MEGAN. There are, and they are located right above the toilet. As you know though, space is tight. So enter with as little as possible! My diaper backpack comes with a little changing mat that folds up and has a zipper (I'm pretty sure all diaper bags do). I have never used it until now! I stuck a diaper, wipes, cream, and blanket into the mat and that is all I brought with me. SO EASY! James enjoyed it too because again the bathroom was: A NEW EXPERIENCE.
#8. Don't fear a melt-down, everyone on the plane has headphones in anyway!
Again, like dogs, your baby can smell fear. Don't get anxious anticipating a melt-down. First of all, everyone on planes these days has headphones in. Secondly, anyone who has an attitude about a crying baby on a plane is mentally disturbed and you should feel sorry for them. Is that so harsh? Well it's true. James definitely had a few moments of "protest" (as we like to call it) and the less I let it freak me out, the quicker he calmed down. Go with the flow and if he starts to head toward melt-down city just take a few deep breaths and do what moms do best: DISTRACT HIM!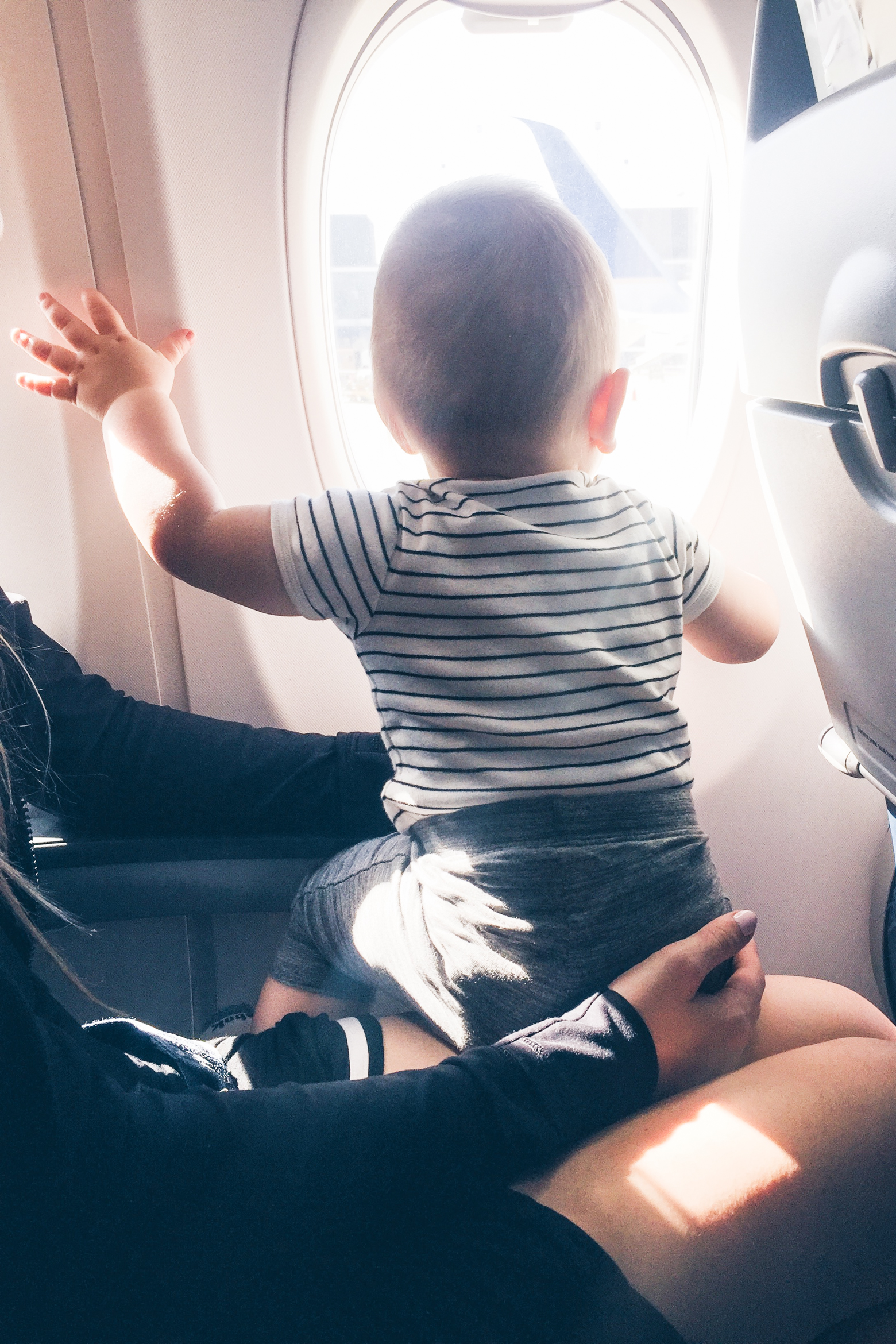 #9. Bring a Ziploc bag of small random toys/items to keep them busy.
My MIL is the cutest and put together a "busy box" for James! It was a life saver. It had cheap little random baby-friendly gadgets and toys that we would pull out one by one to distract him. Don't bring any expensive toys, or anything you would be upset about losing!
#10. Drink wine.
This one explains itself.
Okay folks, that is about it! Please leave comments if you have any tips or tricks I should know about! I am a total amateur. Best of luck to all traveling mamas – you will kill it! xx