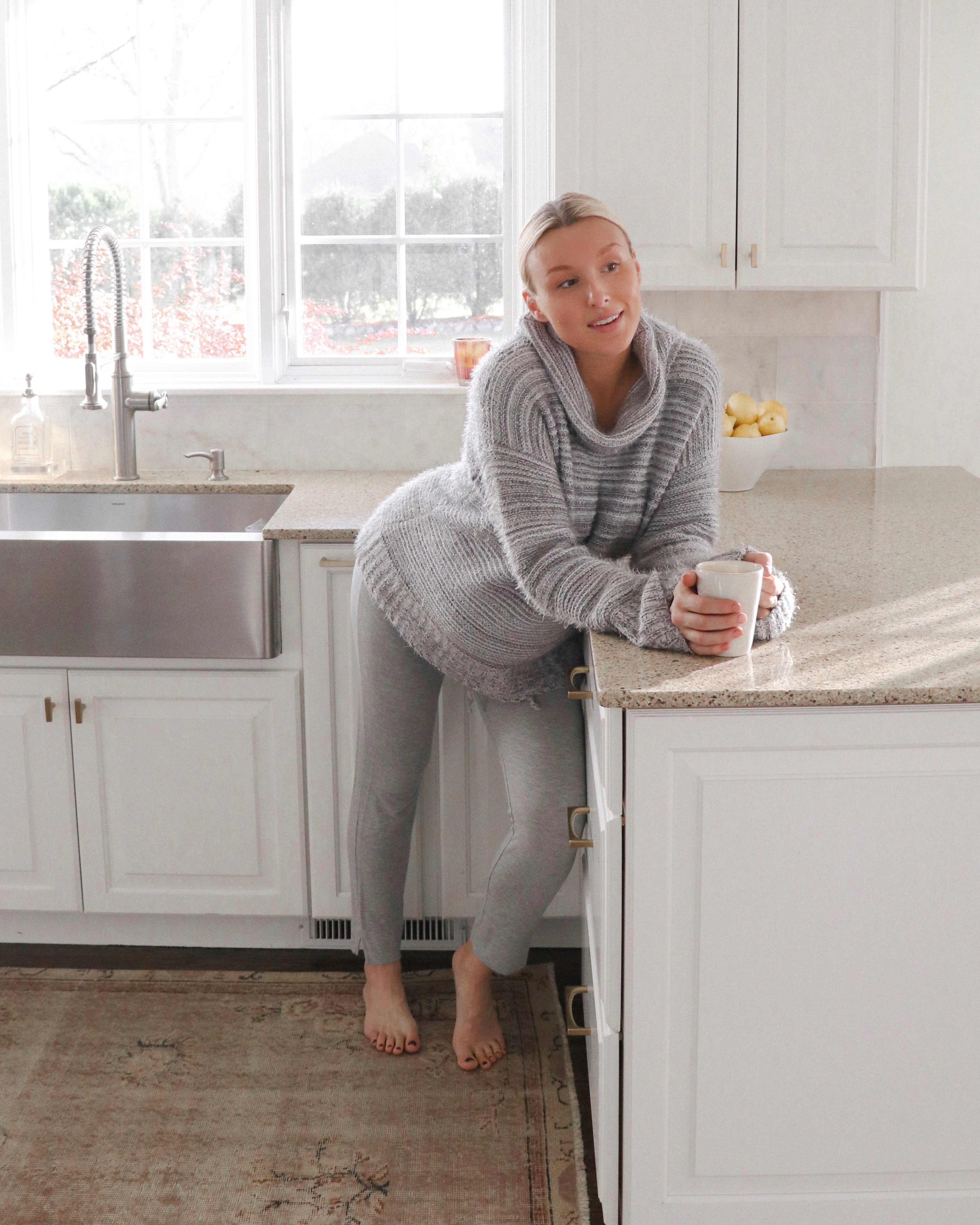 This post is in partnership with Hinsdale Lighting, Mitzi + Hudson Valley Lighting, and Top Knobs; all brands I trust. Opinions here are my own!
Happy Monday! Excited to finally share our mini kitchen makeover with you guys today! It is seriously crazy how a few small changes can affect the whole vibe of your kitchen in such a big way. In this post I'm going to show you all the before and after pics, break down what everything cost, and also share the key elements in this makeover – there are only 3!
So here is the deal with our kitchen…
I really wanted to completely renovate it first thing upon moving in but we didn't have the budget to do that along with all the other stuff on our to-do list (floors, master closet, master bathroom, opening up the first floor, etc.). So I decided to wait on the kitchen and do the rest of the house first. I realize we are lucky as the kitchen really wasn't that bad. I'm just a psycho perfectionist who wants everything my own way, but I'm aware that is not always possible or important!
Major tweaks I'd still like to make at some point…
While I seriously love what this mini makeover has done for our kitchen, there are some major tweaks I definitely want to make at some point down the road; like removing the soffit above the cabinets and getting cabinets that go all the way up to the ceiling, removing the peninsula and adding a small island, and replacing the countertops. Who knows when any of that will happen, but that's my wish list! Oh and I wouldn't mind a double oven and a larger fridge – just putting that out into the universe…
Our kitchen before the mini makeover: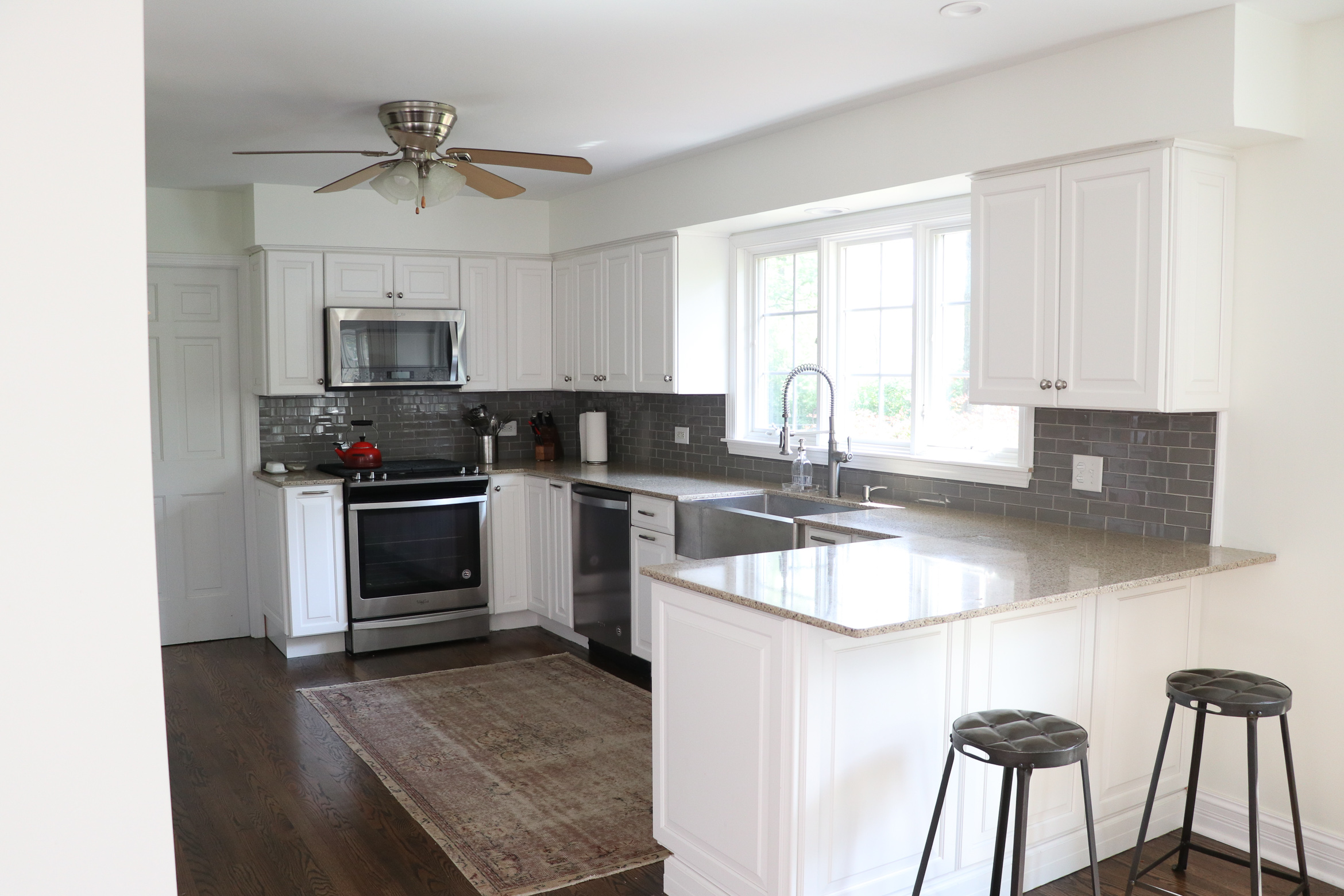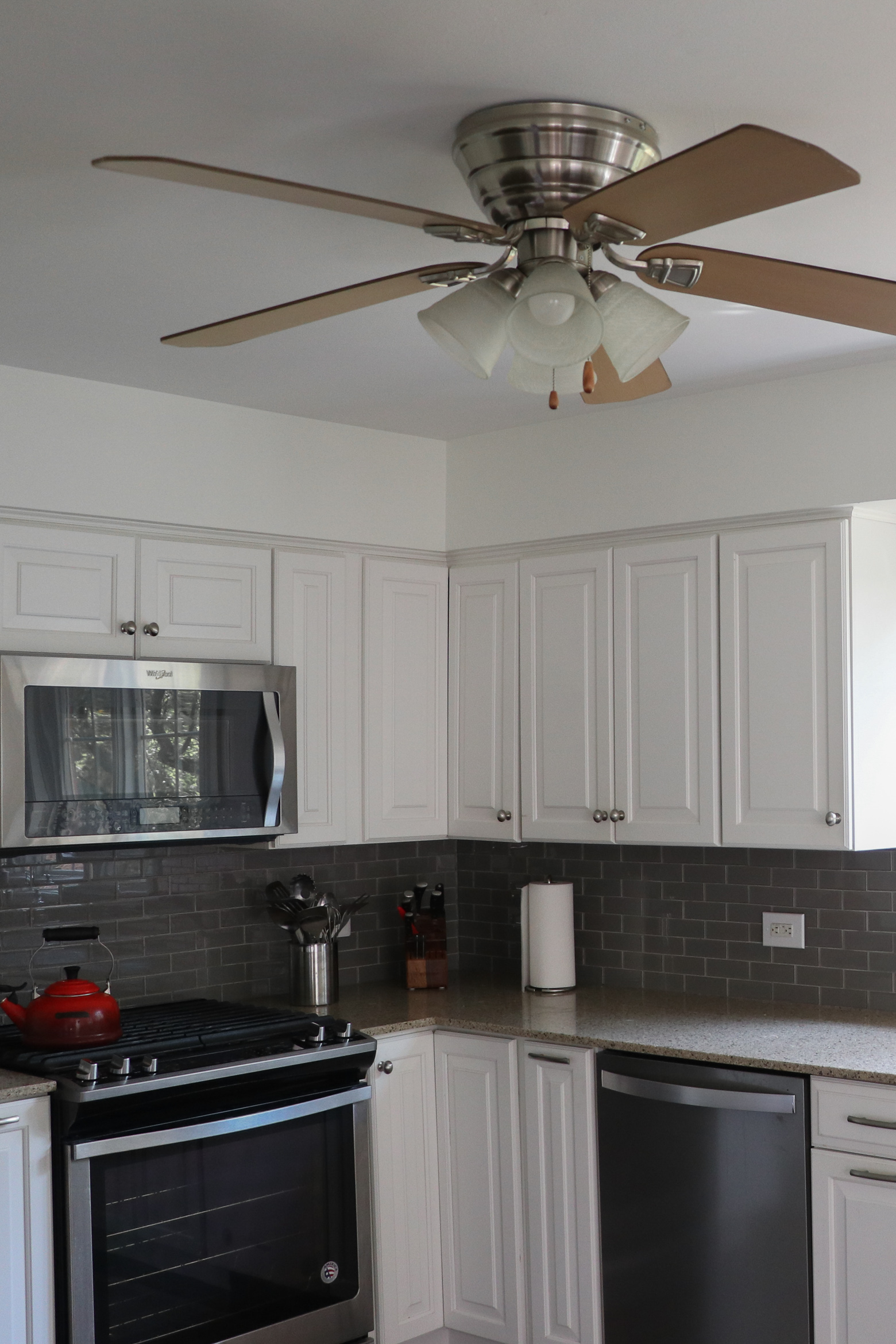 Our kitchen after the makeover: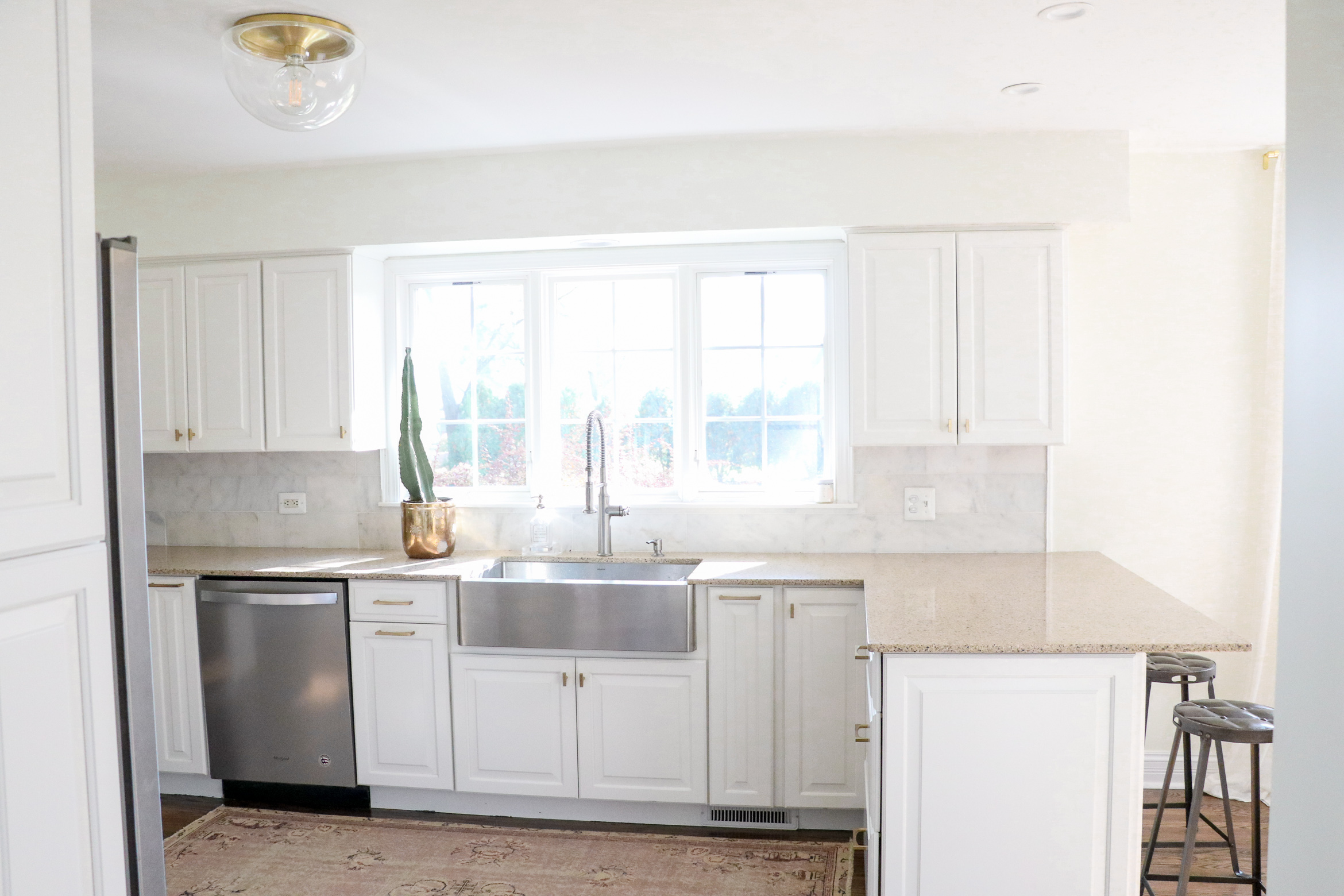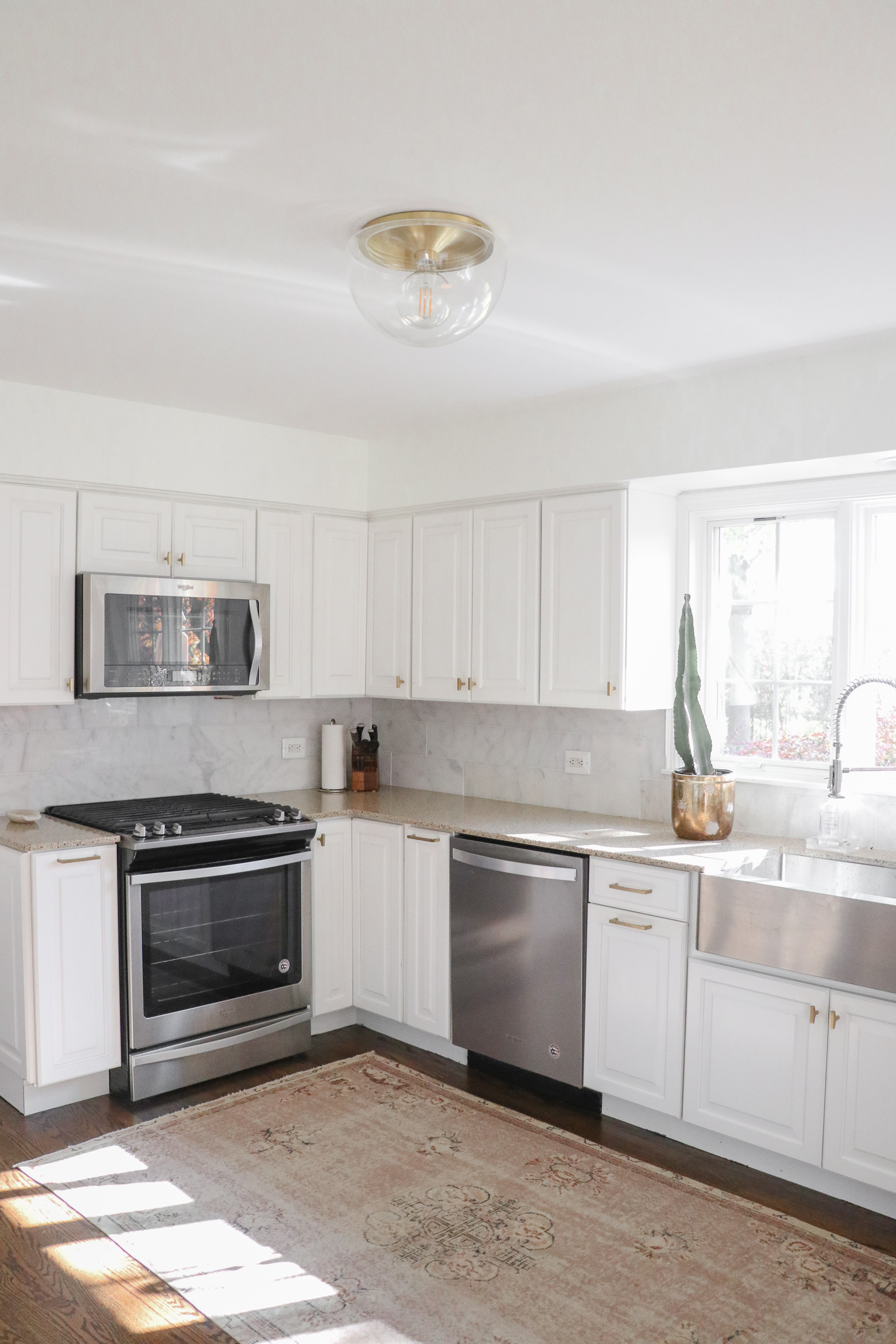 Can you spot the differences?! We only changed 3 things! And they were all relatively inexpensive, well very inexpensive if you are comparing it to the cost of doing a full kitchen renovation.
The 3 changes we made: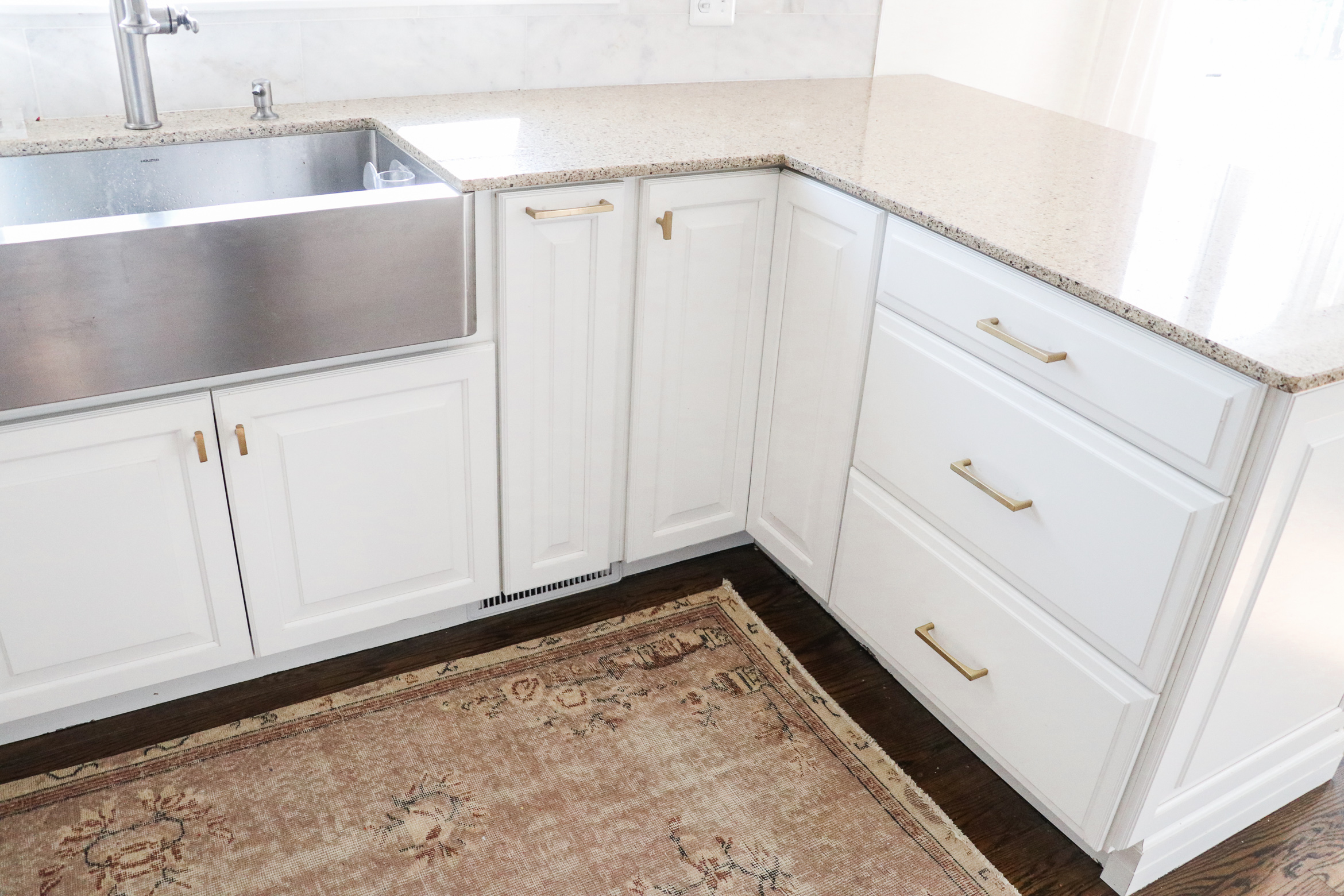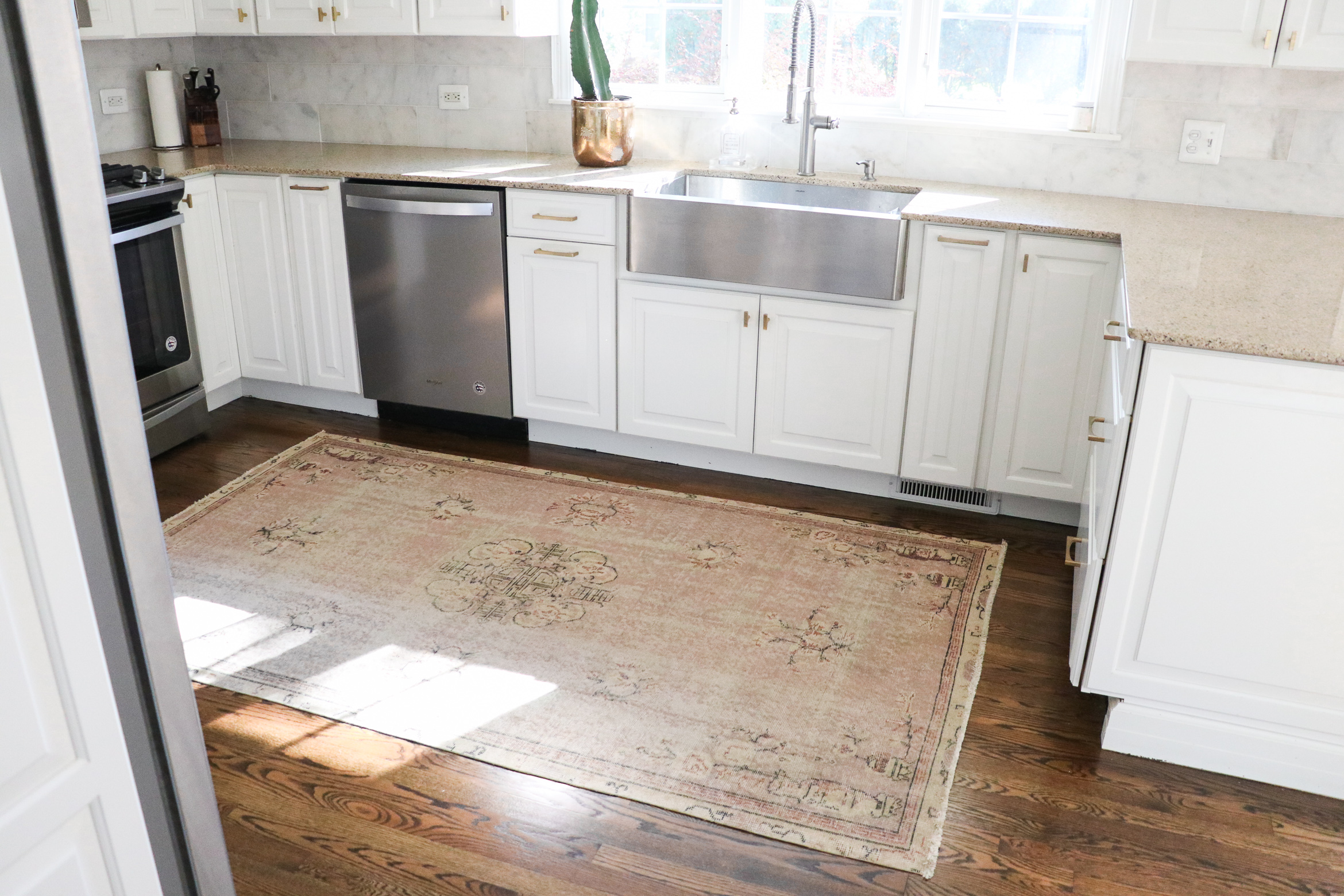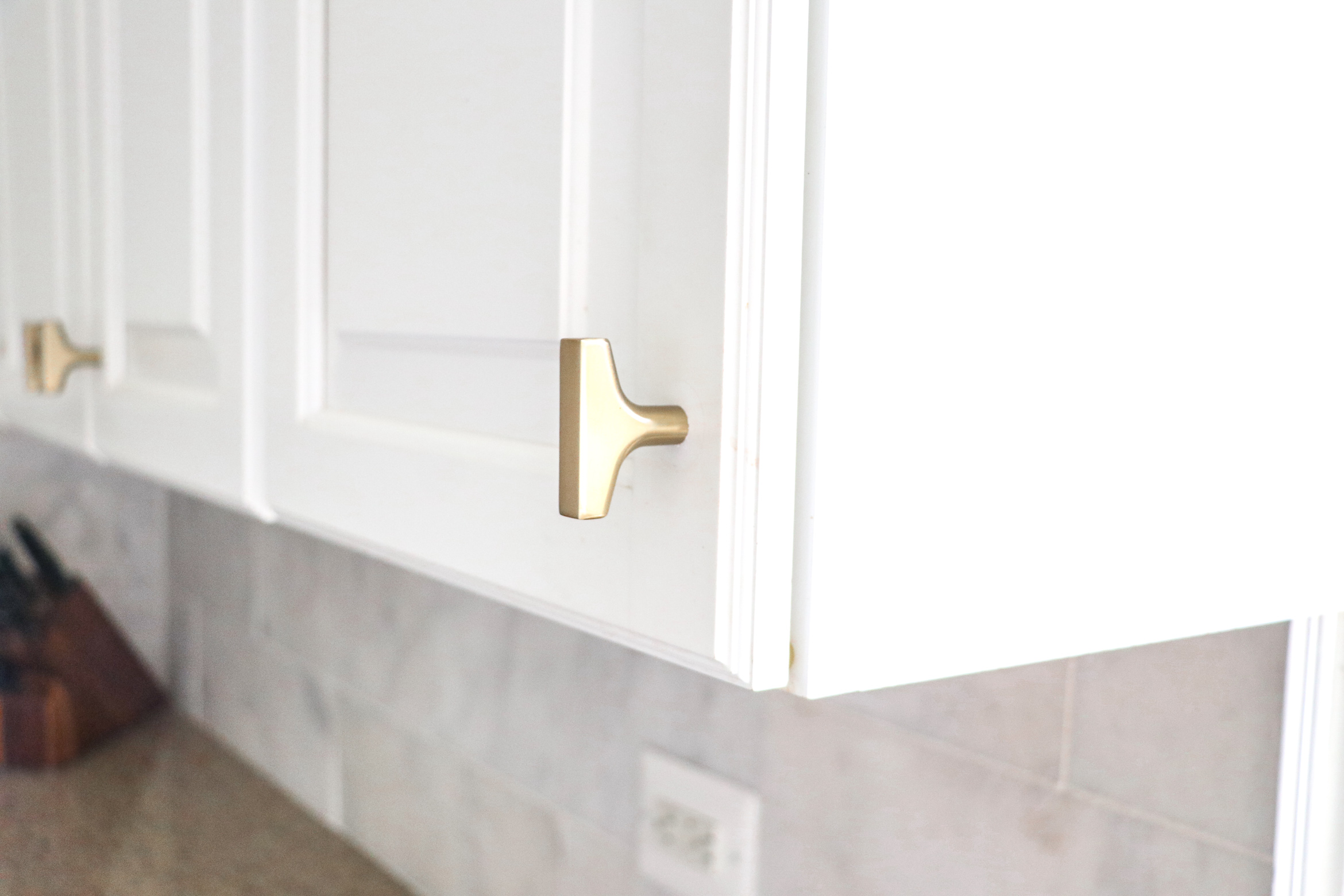 Replacing the cabinet hardware = $295
Top Knobs gifted me these pulls and knobs, but the total would have been about $295. The ladies at Hinsdale Lighting helped me select the color and style! I've mentioned this before but Hinsdale Lighting does more than just lighting; they offer design services and can assist you with selecting hardware, mirrors, and other home finishes that align with your lighting plan.
We decided on the Riverside T-knobs and Riverside pulls in honey bronze to go with the new light fixtures we selected for the house. tI'm not just saying this because I'm working Top Knobs, I swear I'm truly obsessed with these pulls. They are such amazing quality and the color is so versatile. I really didn't want to do pulls that were super orange or yellow (that happens often with gold and brass finishes) and these are not at all! Plus they are very durable and solid.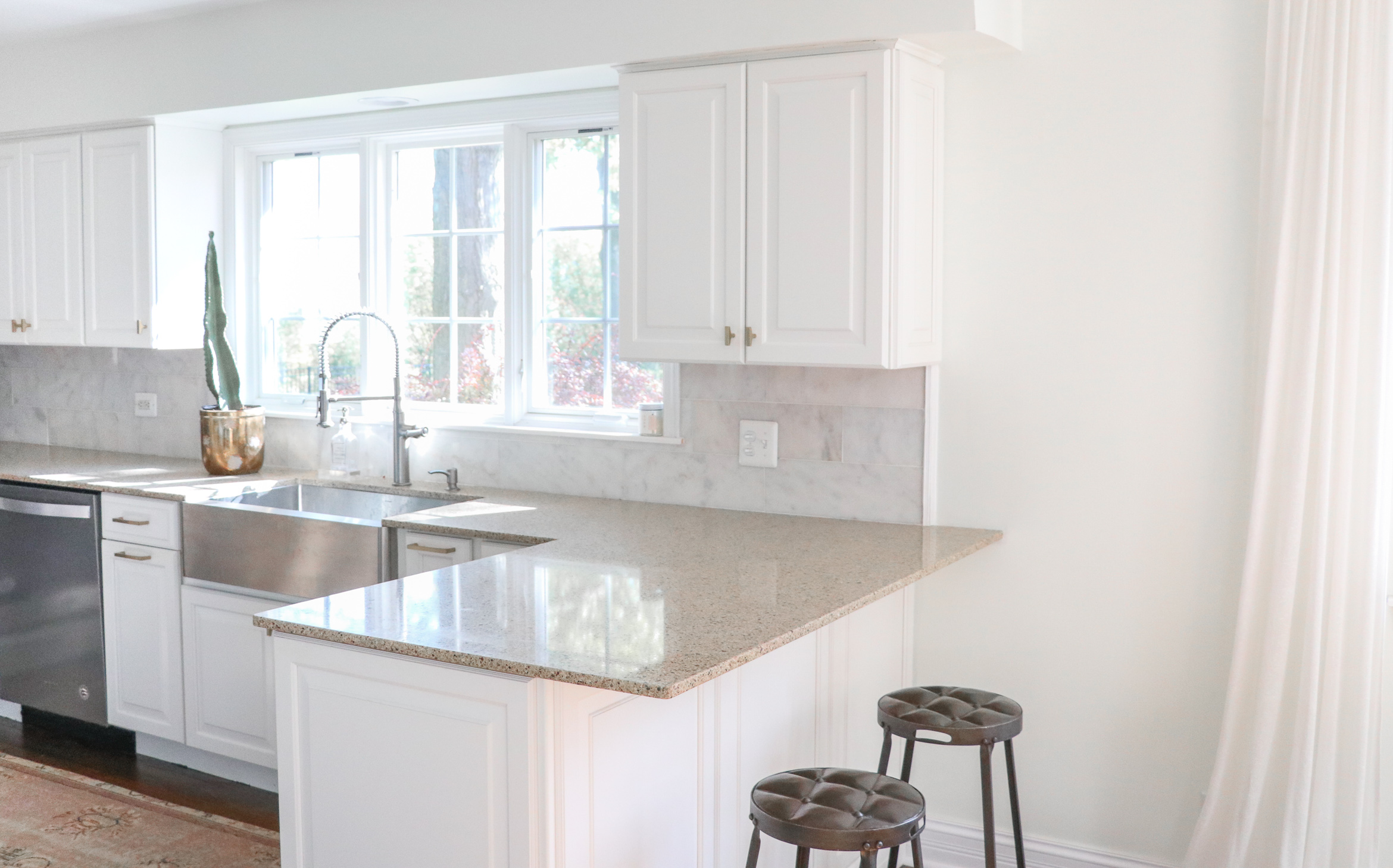 New light fixture from Mitzi = $218
This fixture was also gifted by Hudson Valley Lighting, but the price point is fantastic. We removed that very large ceiling fan and replaced it with a simple light fixture: the Grace flush mount from by Mitzi for Hudson Valley Lighting.
Since the flush mount in the kitchen is in between our kitchen nook chandelier and dining room chandelier, Karen from Hinsdale Lighting suggested I do something "subtle and barely there" as to not take away from the other two statement fixtures so close by. I absolutely love this flush mount, the quality is really great and it gives off a lot of light – we are putting it on a dimmer (so easy) which I'm super excited about!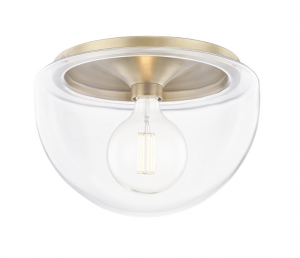 Before…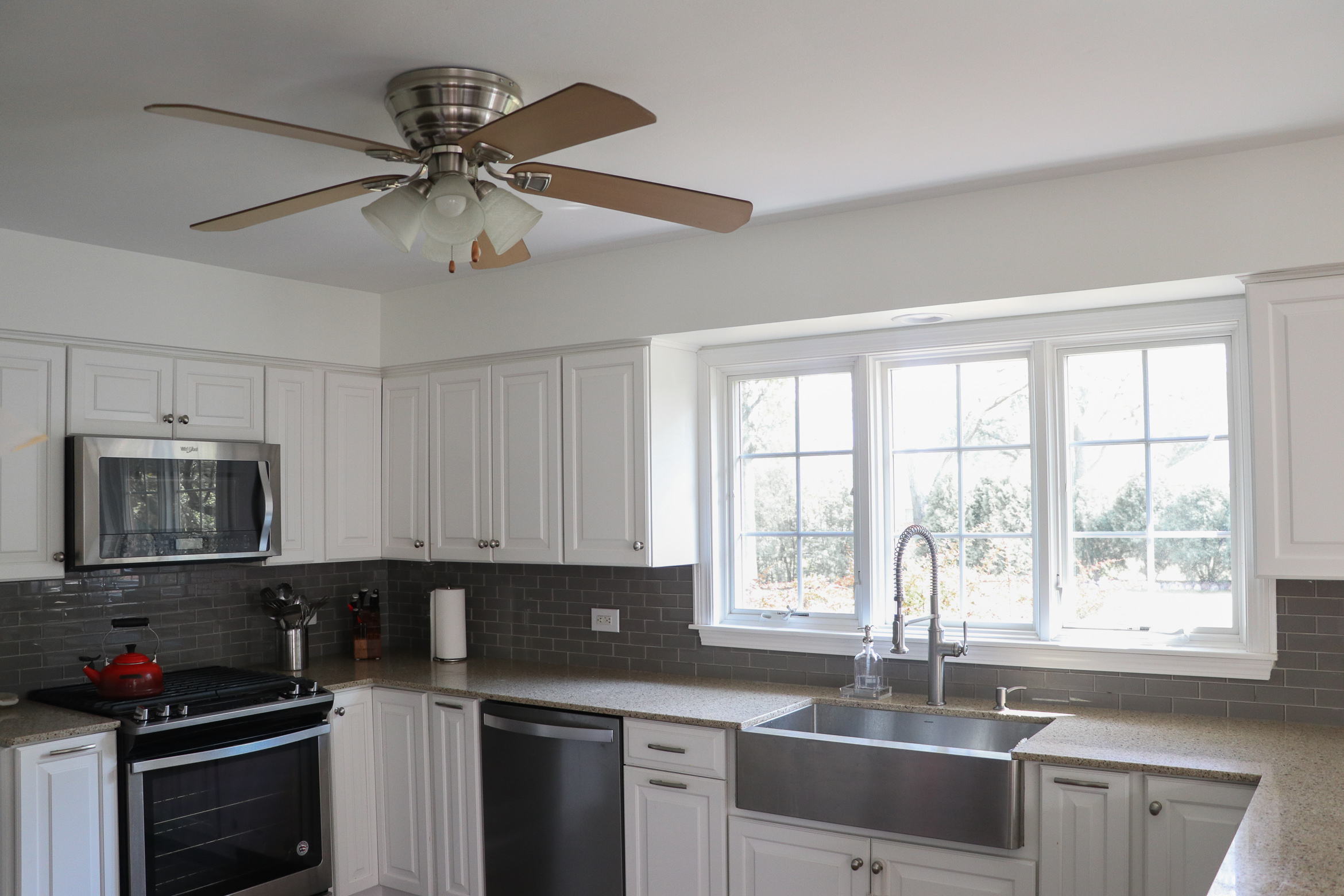 After…

Replacing the backsplash = $250 for materials + $300 for labor
Home Depot literally offers a class that teaches you how to remove your old and install a new backsplash. If you have a handy husband or family member, or if you're handy yourself, this is something you might be able to do on your own. My dad is the handiest man alive but he was super busy during the time I wanted this done quick before James' birthday party, so we ended up hiring someone to do it (Kyle is not handy). 
My dream kitchen situation is similar to this, I love a backsplash that is just one large slab of stone (or at least big pieces put together to look like one huge slab). So, that is why I decided on the large 6×18″ tiles because it gives me the vibe of one big piece of stone. Ideally, I'd love our countertops and backsplash to be the exact same stone, but that is quite pricey.
I really don't like our countertops but don't want to replace them until we decide when and what we are doing in terms of larger renovations way down the road!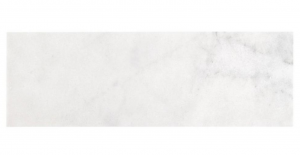 We used these Carrara marble tiles from Floor & Decor with white grout and I loved how it turned out. This new backsplash has literally made me dislike my countertops slightly less. The white definitely brings out the lighter side of them, whereas the dark gray tile made the countertops seem so dark. I also want to note that marble is extremely porous and not typically recommended for actual countertops, however it is okay to use for a backsplash. Just make sure you seal it for extra protection against moisture and stains!
Before…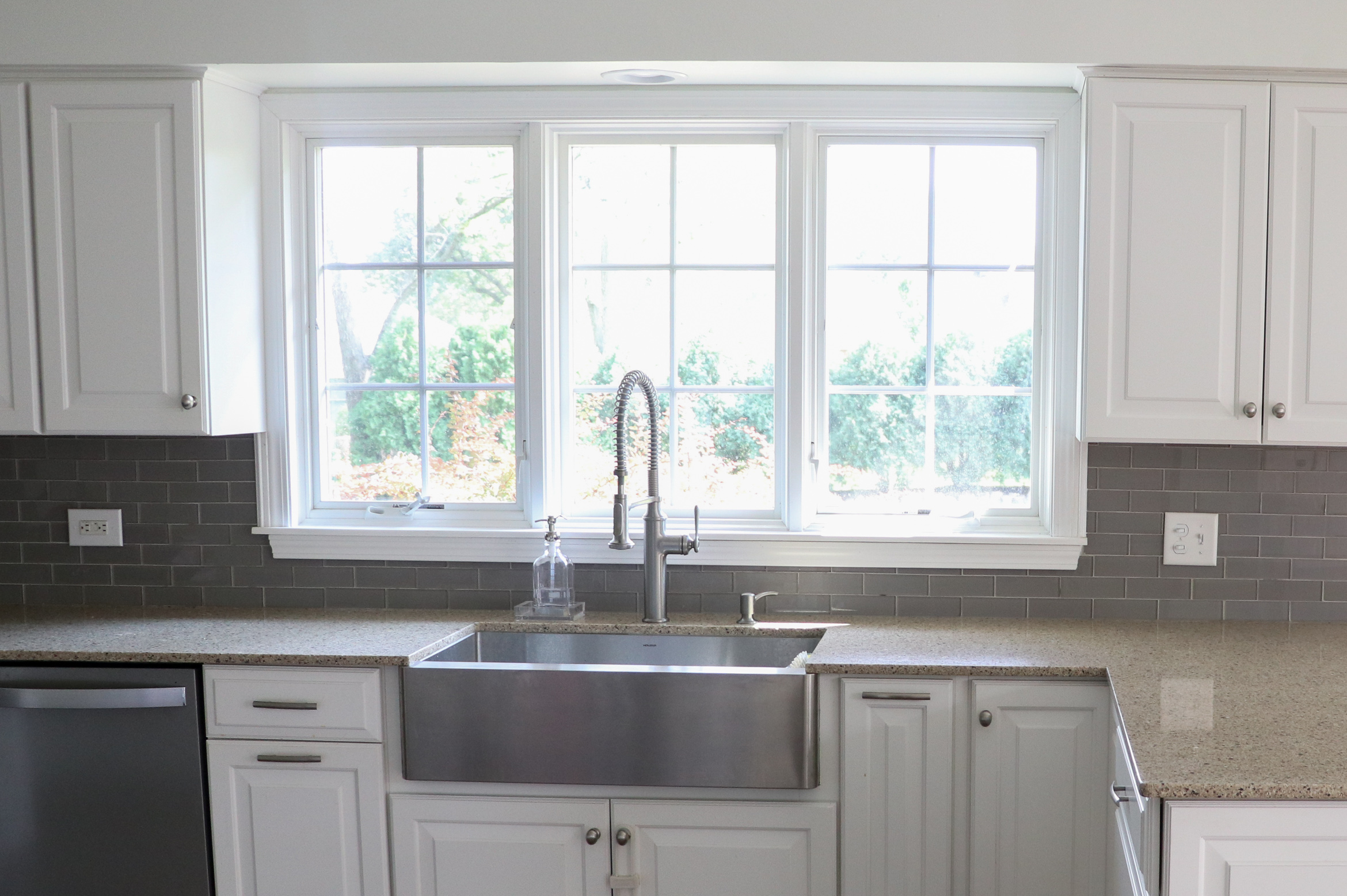 After…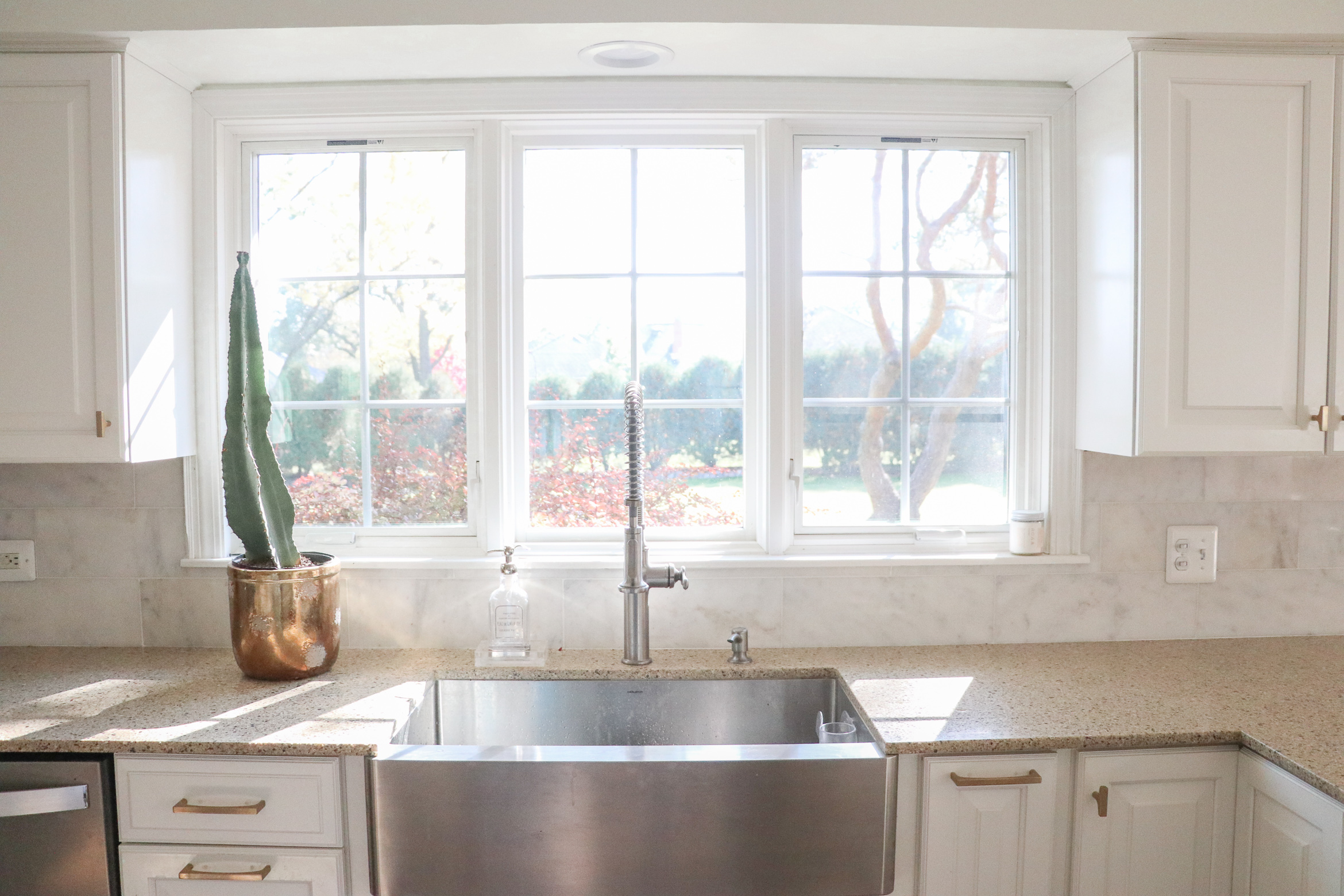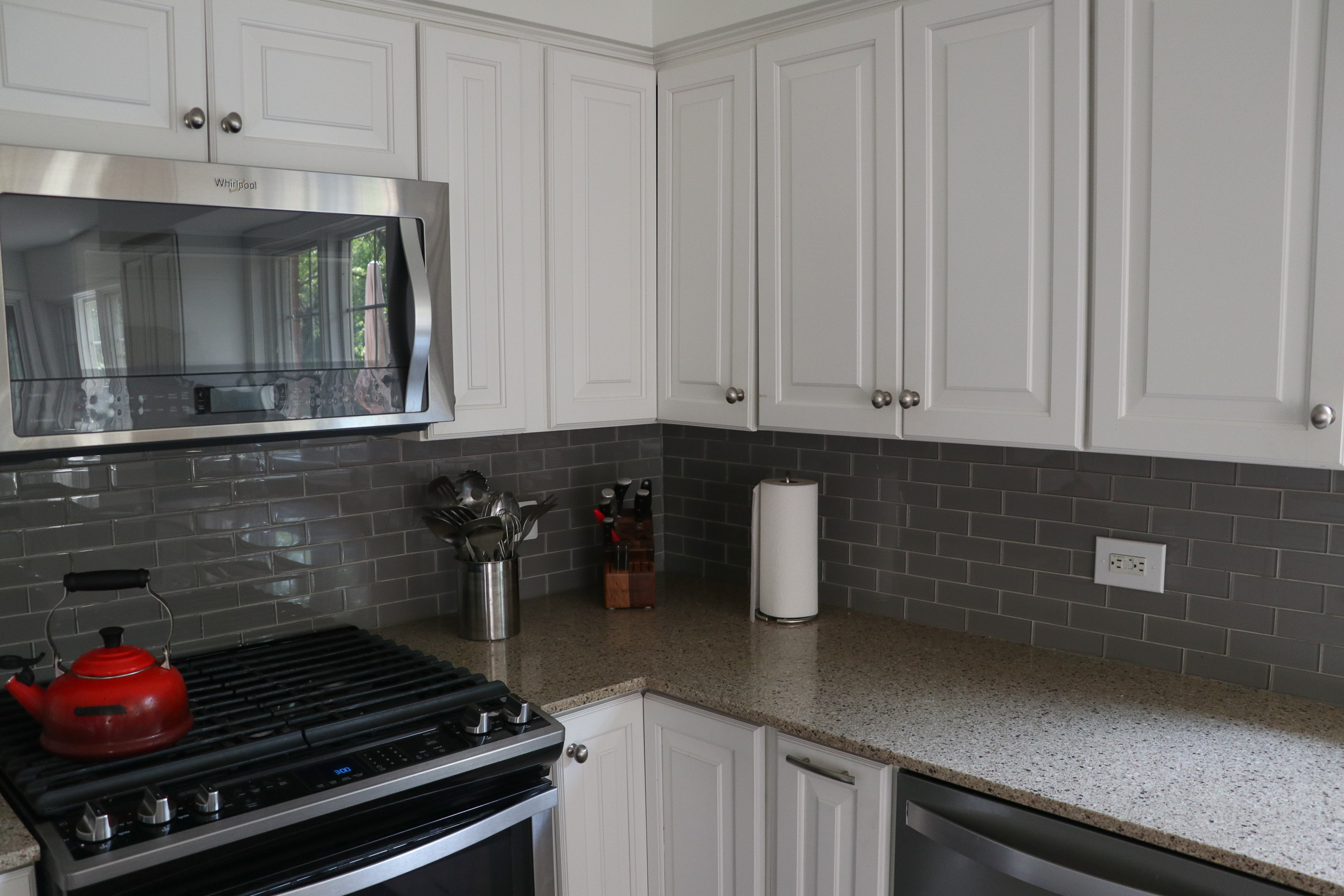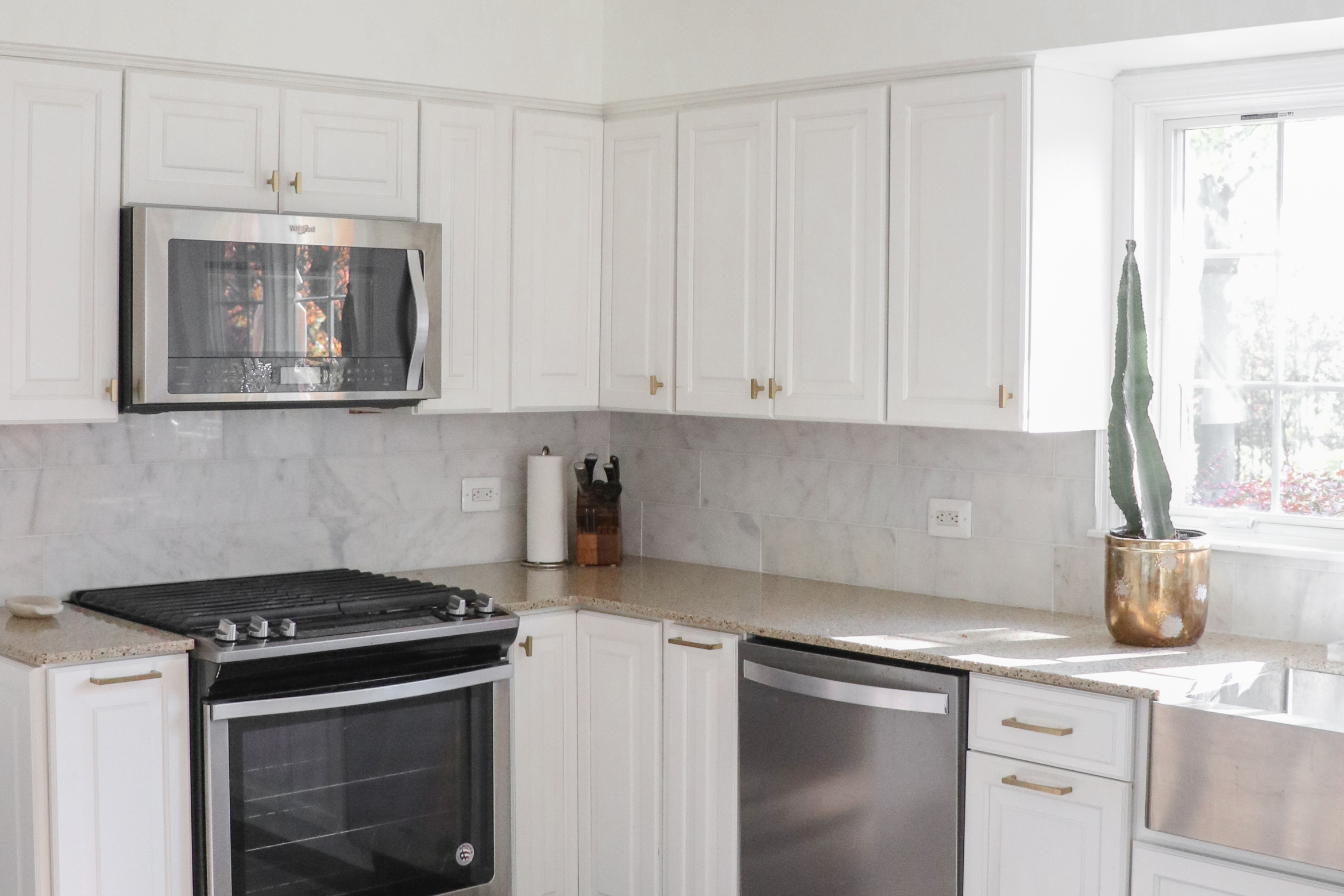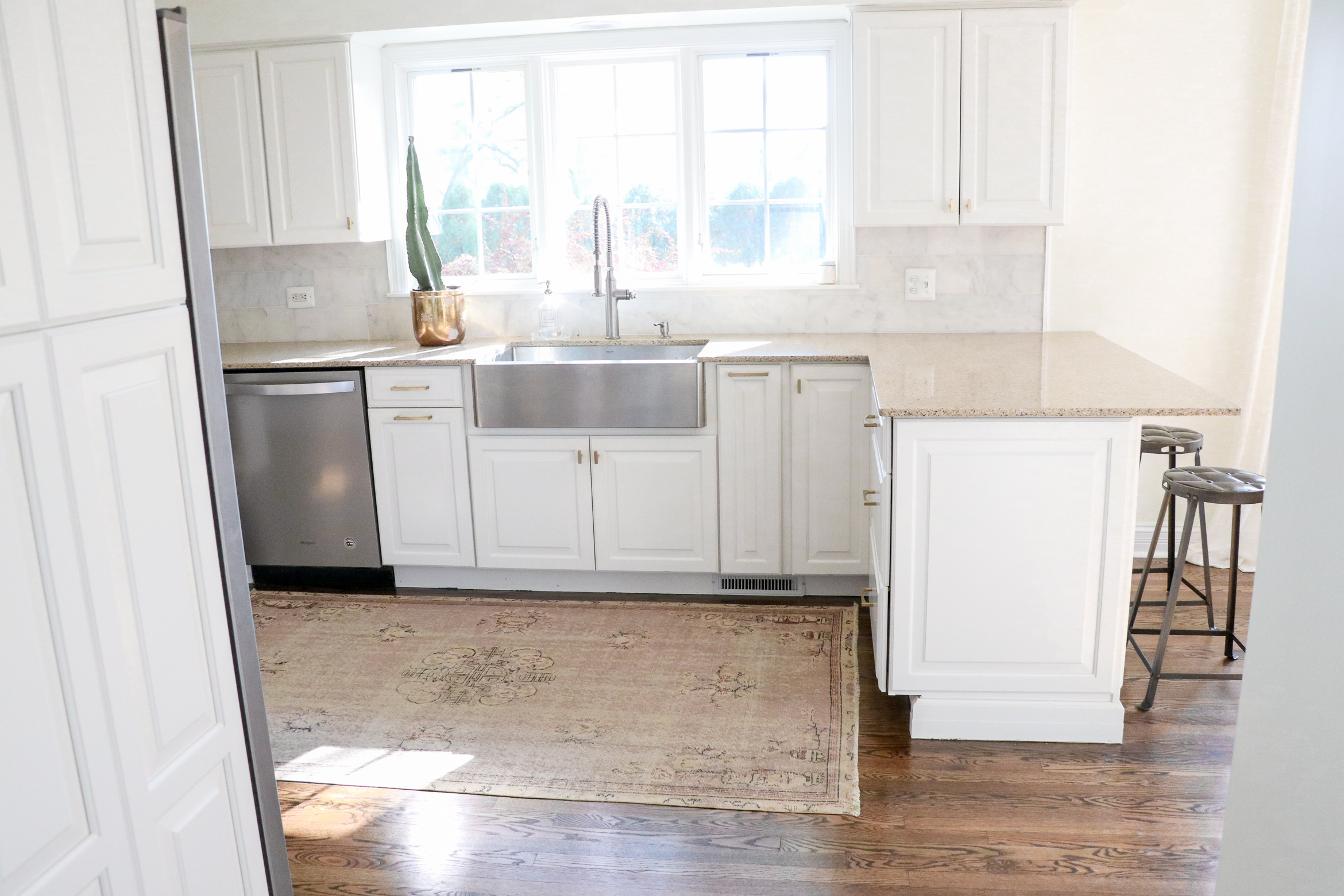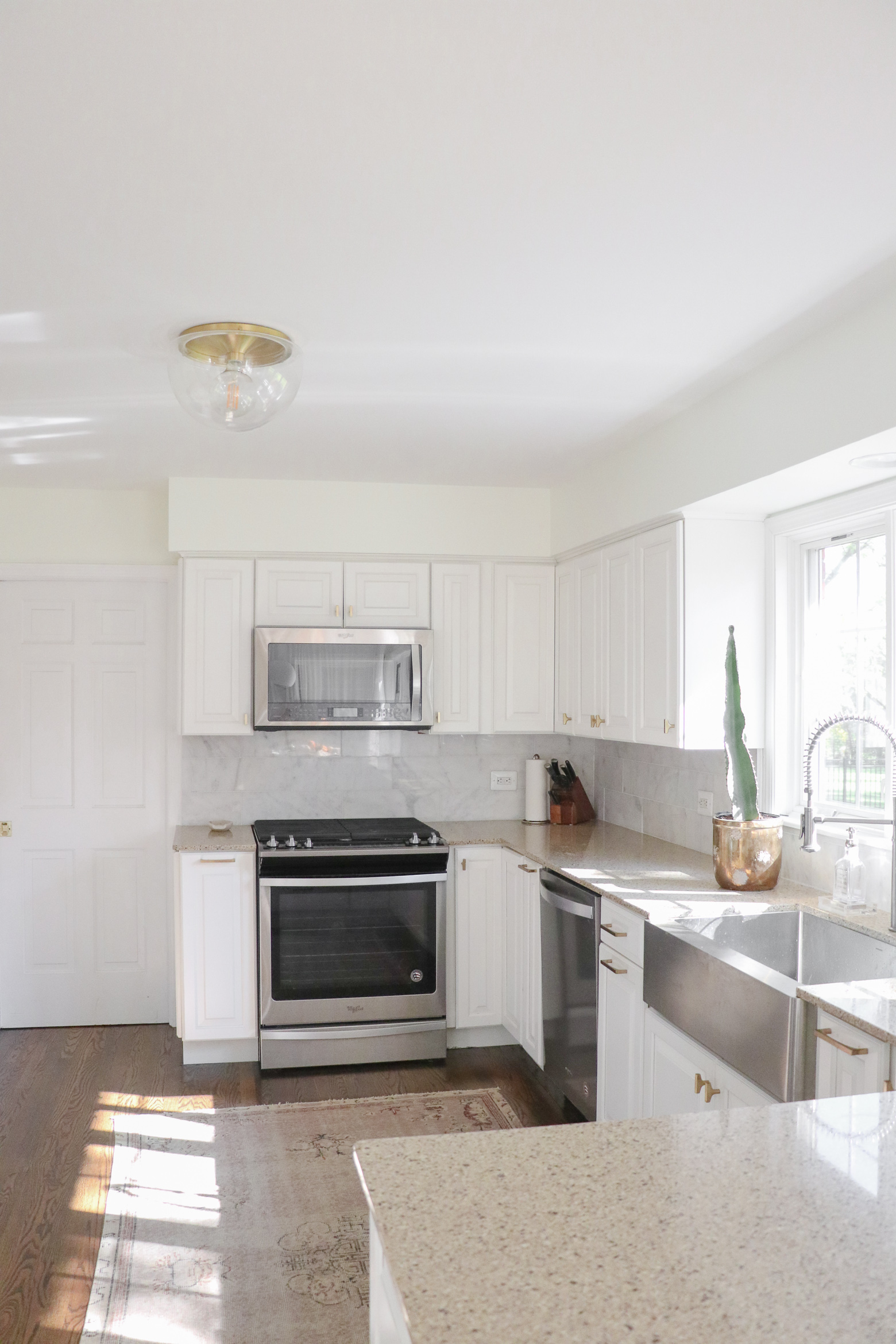 That's about it!! The grand total would have been a little over $1,000 had I not been gifted the pulls and fixture. If you are not loving your kitchen but don't have the budget to do a full renovation, I highly recommend making these small changes. My kitchen feels brighter, bigger, and more up to date and I definitely feel like these updates will hold me over until we are able to make the more major changes in the future. 🙂