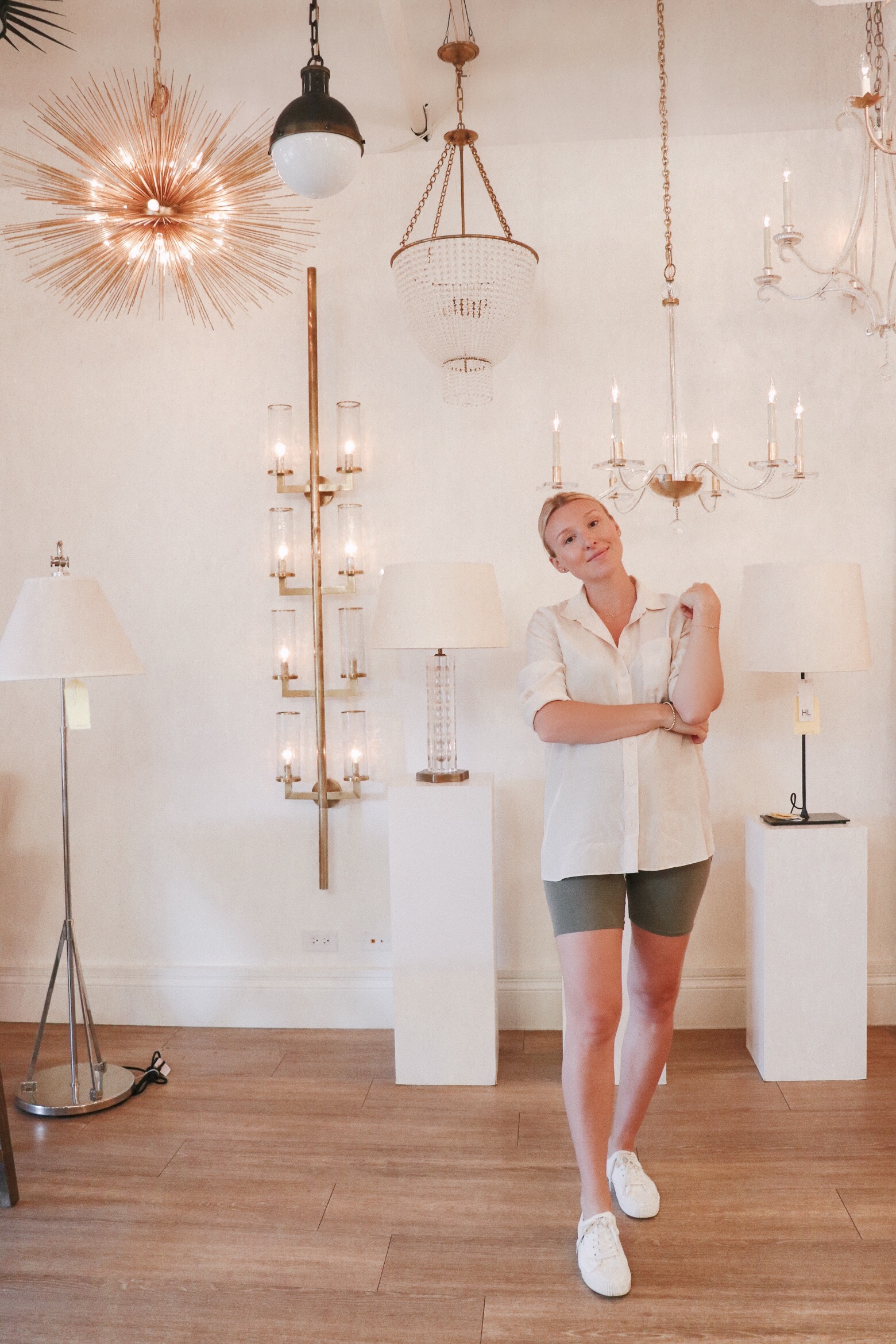 This post is in partnership with Hinsdale Lighting and Hudson Valley Lighting Group, both are brands I trust and love but all opinions here are my own!
Hi! James is watching Blippi right now (do you guys know about Blippi #nocomment) and I'm sitting at the kitchen table under our current light fixture dreaming of replacing it oh-so-soon with the new one that is arriving any day now. If you've been here before or you follow me on Instagram you know I'm partnered with Hinsdale Lighting to develop a lighting plan for our house. Check out this lighting Q&A post with Hinsdale Lighting to learn more about them and our partnership!
Today, I'm going to share which fixtures we've selected thus far and where they are going. As well as update you on my experience with Hinsdale Lighting. I'm honestly sad that we are getting close to finishing because design meetings with them have been so fun and interesting. I'm learning so much about interior design by way of lighting and it's kind of making me want to come back as a lighting designer in my next life.
Okay let's start with the entryway!
For the entryway I wanted something bold and dramatic and this Romanov flush mount designed my Martyn Lawrence Bullard (he is the Kardashian/Jenner's go-to interior designer: see here) for Hudson Valley Lighting Group was literally my dream come true once I laid eyes on it. Our entryway is small and the ceilings are low – neither of which are ideal for an entryway – like at all – ha. BUT this fixture is the perfect solution because even thought it's large it still fits the small/low space while still making a HUGE statement.
We went with the 25″ x 9″ size (the medium) and it's actually really big but still fits the space appropriately. This is one of those things that had I selected this on my own, I would have had zero idea about what size to get. The ladies from Hinsdale Lighting came to my house and measured + took photos and based on their expertise they deemed the 25″ wide fixture the right size! I'm so glad because I probably would have played it safe and gotten the 16″ one and it would have looked awkward!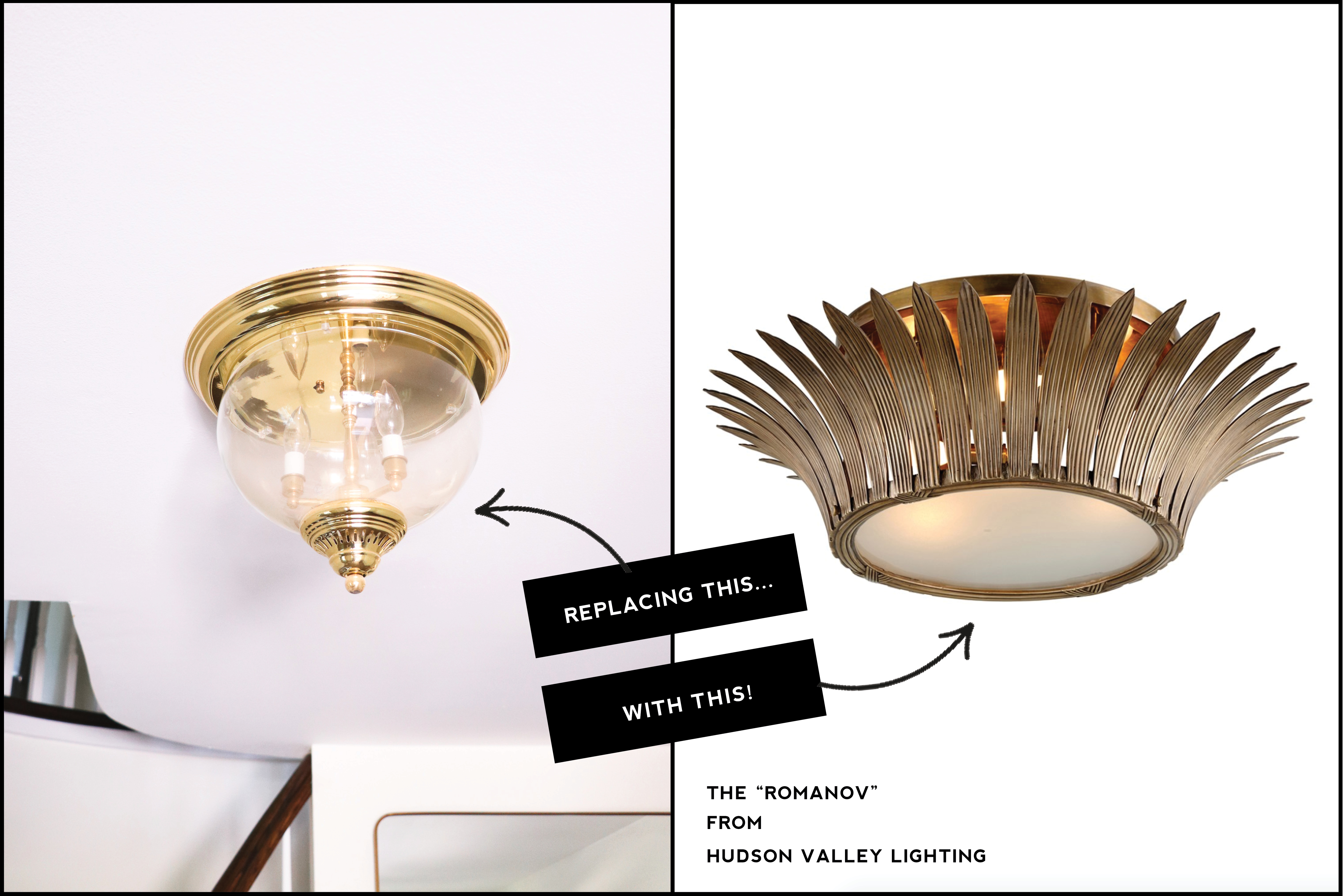 Now onto the kitchen…
We have two things that need replacing in our kitchen: the hanging light above our kitchen table in the nook area, and the ceiling fan in the actual kitchen.
We decided on the Carrie fixture for the space above our kitchen table and I'm simultaneously SO excited and a little nervous because it is BIG and another total statement piece! Karen from Hinsdale Lighting talked me into it because she said it would be super bold and fun while also going with the vibe of our house.
Before going into our design meeting, the Hinsdale Lighting ladies told me to peruse the Hudson Valley Lighting website and flag anything that caught my eye, I did not flag the Carrie!!! I scrolled right past it. It is very mid-century mod and I didn't think it vibed with my Parisian apartment goals. It wasn't until Karen and Nora brought her to my attention and told me this style is actually VERY French bistro-esque that I fell madly in love with her! Another reason why you should call in the pros for lighting. Check out this Pinspo to see a similar fixture in a room that totally goes with my style direction!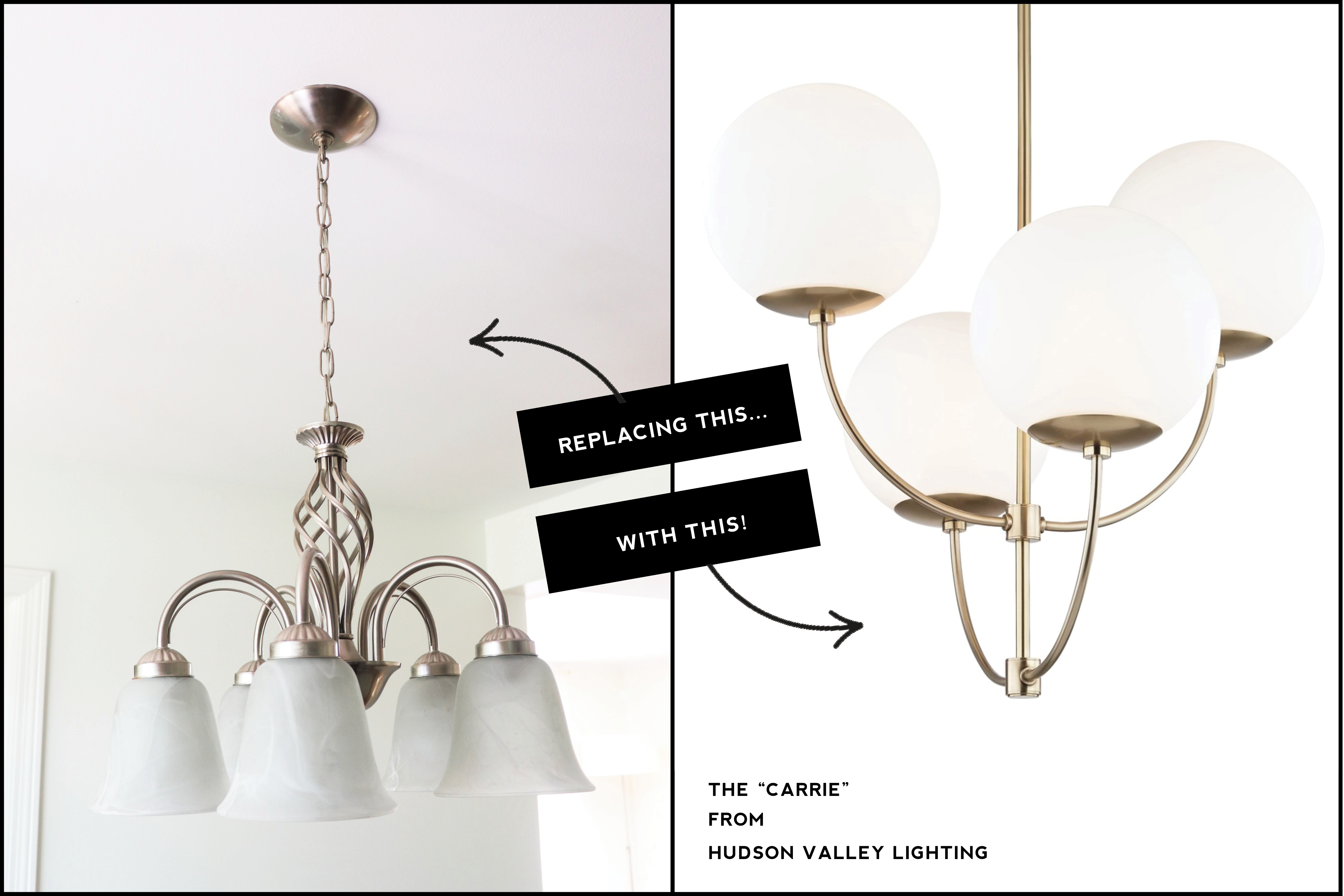 Next, we need to replace this ceiling fan in our kitchen. It's really big/dated and I don't really want a fan in my kitchen. So, we decided on what Karen called a "barely there" flush mount. Something subtle and simple that would work well in between the two bold chandeliers that will be flanking it in my kitchen nook and my dining room on the other side. When she showed me the Grace flush mount by Mitzi for Hudson Valley Lighting I was immediately sold. It's just a simple glass fixture that I'll put on a dimmer (all of these will be attached to dimmer switches, I'm a mood lighting FREAK and can't live without dimmers) and it goes seamlessly with the other lights we have selected!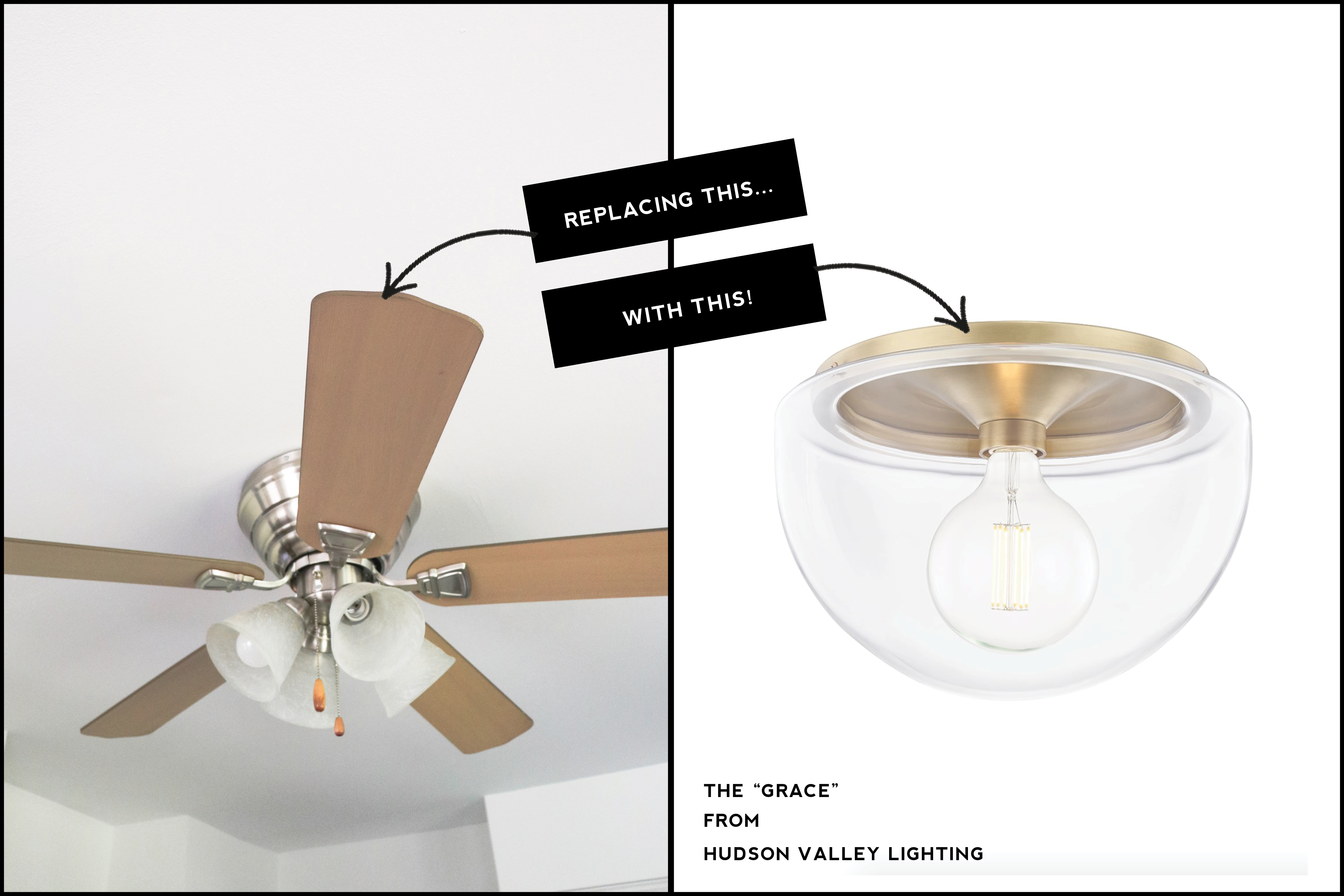 And also our dining room…
I know I've already shared this fixture with you guys but just thought I would include it in the update just because! We've selected the Gideon chandelier for our dining room and I'm counting down the days/minutes/seconds until this arrives. It's on backorder and won't be here until November, but it's well worth the wait.
What to expect during design meetings at Hinsdale Lighting…
The meetings with your designer at Hinsdale Lighting are so fun and painless. You do not need to be prepared, you do not need to do any homework, you simply go to their beautiful showroom and enjoy a cup of coffee while they lead the way. Prior to your first meeting they'll come to your house for an in-home consultation, where they take measurements and photos + get a feel for your style. This way, once you arrive to your first meeting they will already have photos of your home uploaded and ready on their big computer, and they'll virtually place any fixtures you're considering into the space to give you some visuals! There is nothing better than visuals.
While they will already have relevant suggestions prepared for you, they're totally open to hearing your thoughts and ideas. You can explore their manufacturer's websites and catalogs together, ask all the questions you want to, and say "no" comfortably – because it is impossible to hurt their feelings. They really are the most kind and down to earth team of women!
Click here to make an appointment with Hinsdale Lighting!