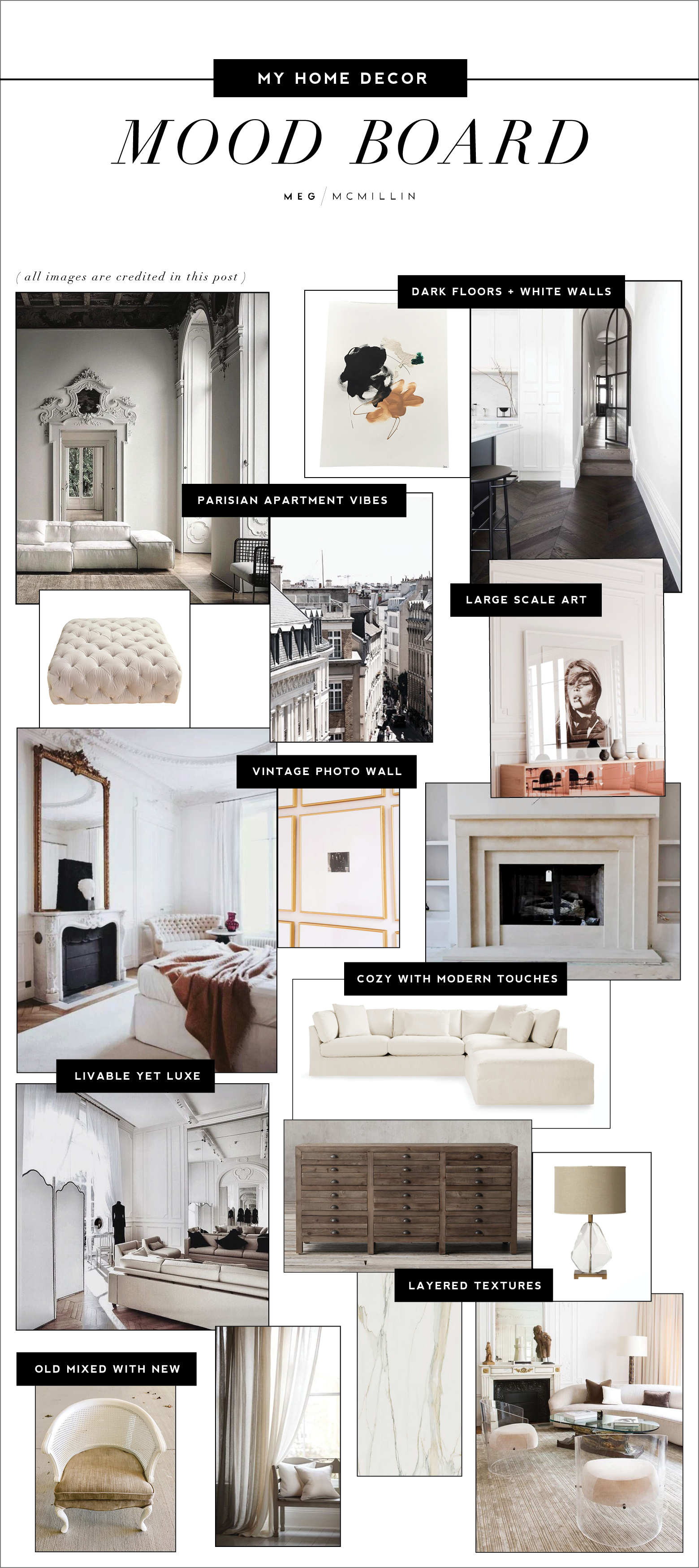 Follow my home board on Pinterest!
I hope you all had a lovely holiday! I'm coming down from about 20,000 calories a day + what feels like a permanent wine hangover. But, other than that, life is good! We are making LOTS of progress on the house and expect to be in by the end of January. Fingers crossed.
I'm finally slowly entering the decorating phase but I'm trying to control my purchases at the moment because I really want to live in our house + get a feel for the space for a bit before making a ton of design decisions.  I'm chomping at the bit to get started though because I truly LOVE home decor + interior design; so, I've directed my energy into making a mood board to help me get started with my vision.
If I had to describe my home decor goal: comfortable yet chic family-friendly Parisian apartment (is that a thing…)
Should be a piece of cake right? Ha. Not so much, considering that is basically a list of oxymorons. Please wish me luck! Like every other girl in America, I'm a francophile. I'm so inspired by all things Parisian: their lifestyle, the fashion, beauty routines, their parenting style, and of course French inspired interior design. It's all so effortless and authentic. I stumbled upon this awesome article from My Domaine; 10 Things the French Always Do When Decorating. I love each and every philosophy.
Of course, I need to keep in mind I'm living in suburban Illinois and have a 2 year old, sooo, yeah. I'll need to be creative about how I go about this; but I'm a big believer in putting some heart and soul into your space and if there is something that inspires you or makes you happy, find a way to incorporate it into your home. It is the place we spend our lives after all!
I love these quotes about interior design: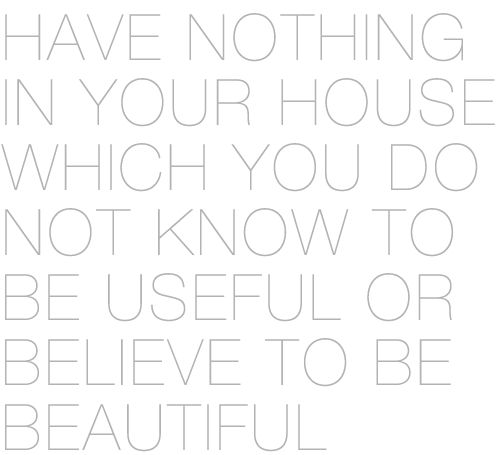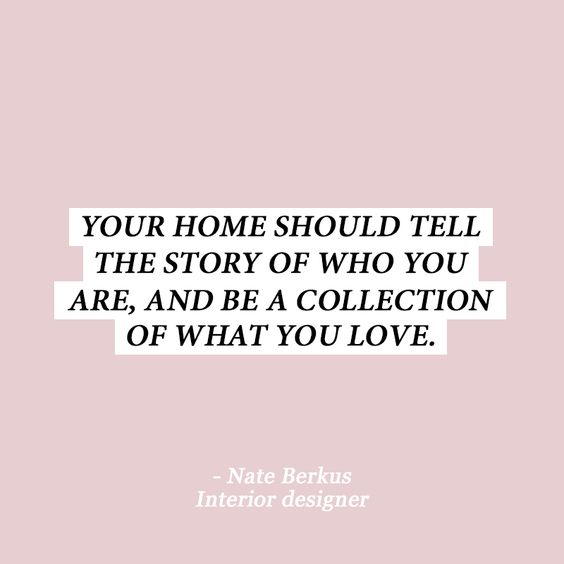 7 design elements currently inspiring me…
First and foremost, I want our home to be livable and feel inviting. But I also want it to be visually pleasing! I'm also an expert deal hunter – not to brag – so I'm confident that I'll be able to achieve some version of this without filling my house with insanely pricey things that I'll cry about when a kid destroys it, hah.
This post could honestly go on and on and on. I had to stop myself at 7 though so, below are just a FEW interior design elements that I'm loving and will be doing my best to incorporate into our new home!
1. The lived in yet chic feel of a Parisian apartment
A worn-in couch so comfy it might eat you, below dramatic + ornate palace style crown molding. GOALS. I've already covered my love for French design but they really have just nailed the "lived in yet so beautiful" vibe. Inspiration for days.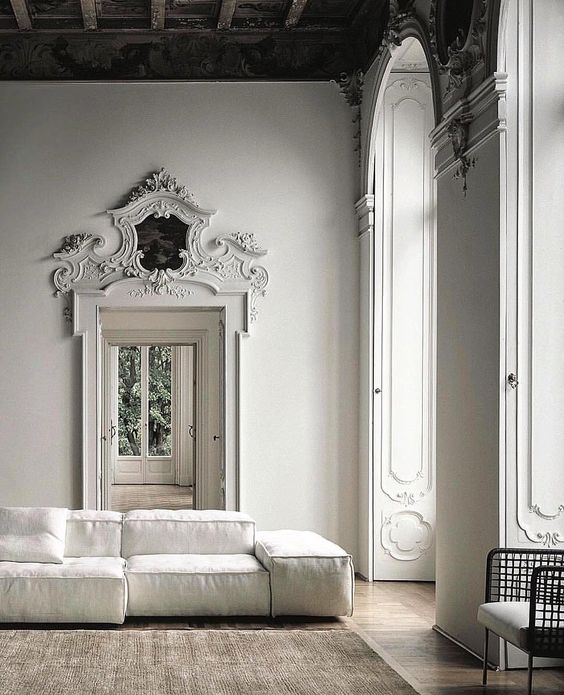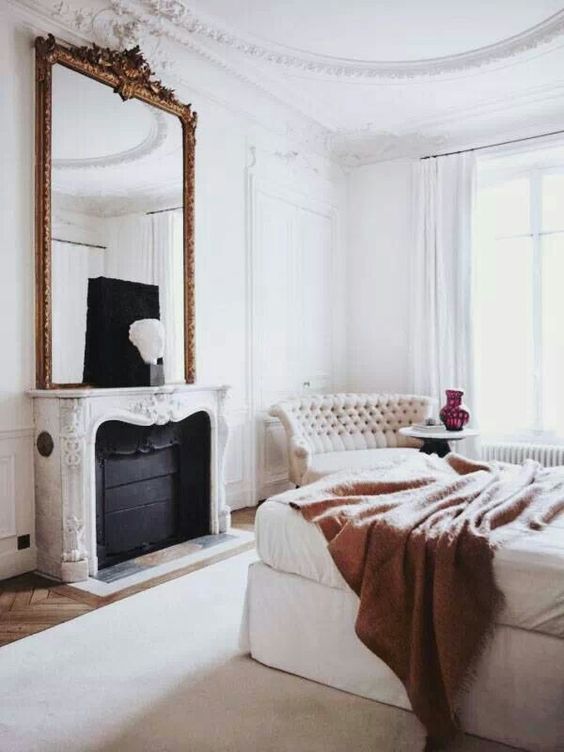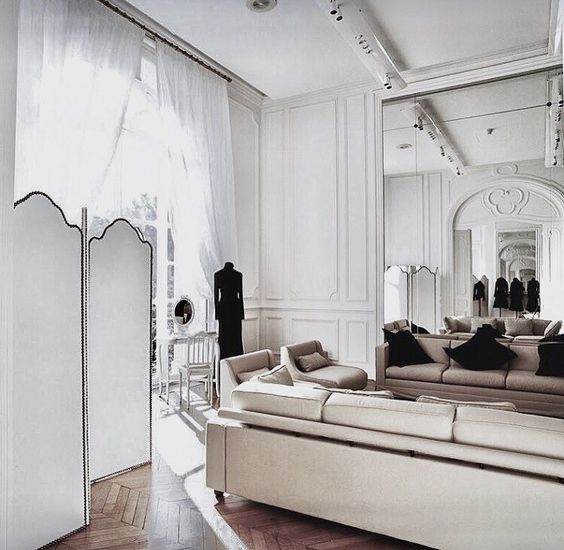 2. The combination of different styles + textures
I love the combination of different styles. For instance I just bought this super rustic 91″ sideboard (below) from the Restoration Hardware Outlet and I plan on putting 2 modern lucite lamps on it. I believe contrast is everything when it comes to interior design! PS, I only paid $995 for the 91″ sideboard and it's normally $2,075! The RH Outlet is major. Find one near you!
*In case your curious, here are some other things I bought from the RH Outlet : 2 floor lamps, a bathroom vanity, 2 basin bathroom sinks, bath towels, a linen cabinet, an outdoor lounger, and a mini kid's couch for James' room. You have to really dig when you're there – some stuff is RIDICULOUSLY well priced; for instance I got a $2700 linen cabinet for – wait for it – $300 (!!!!!!). But couches are still crazy expensive at the outlet. While I was there they were offering an additional 40% off the outlet price so I really made out!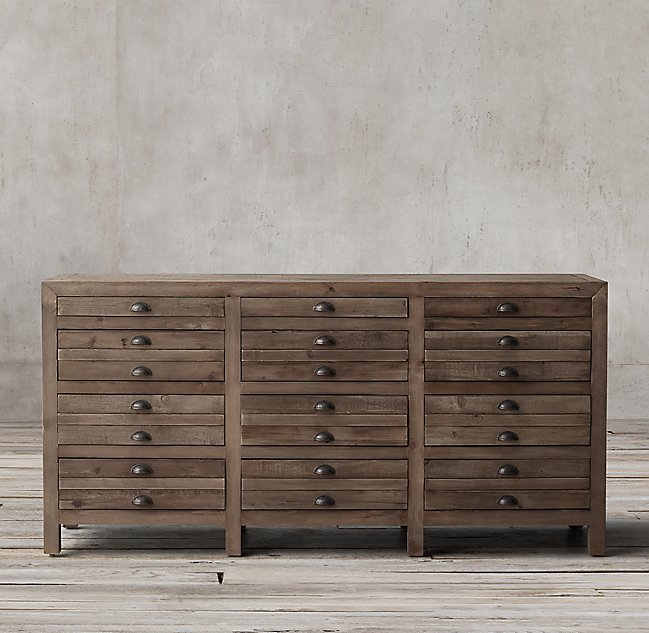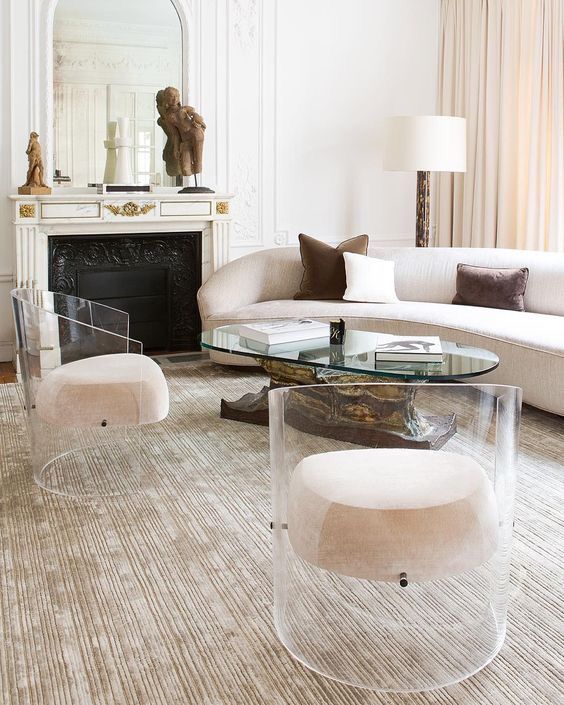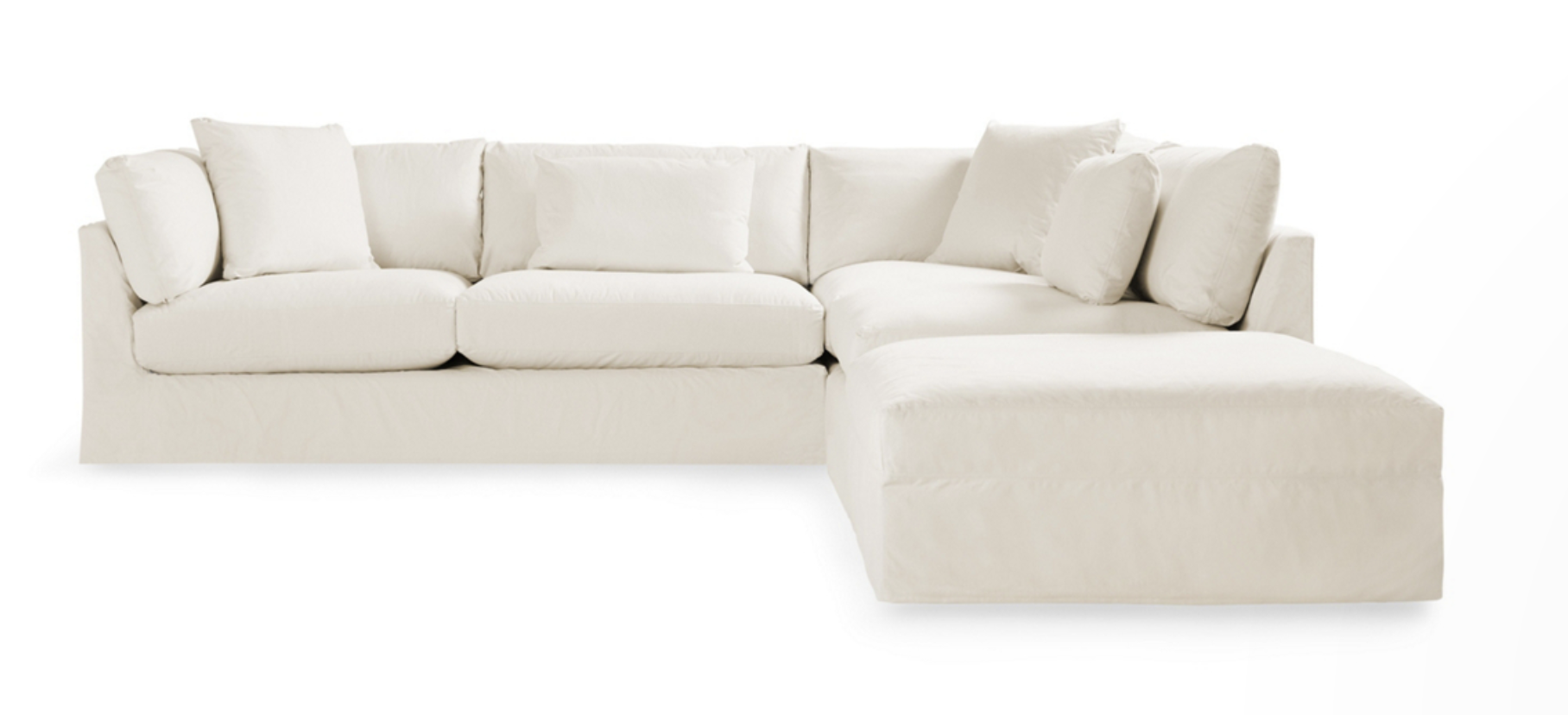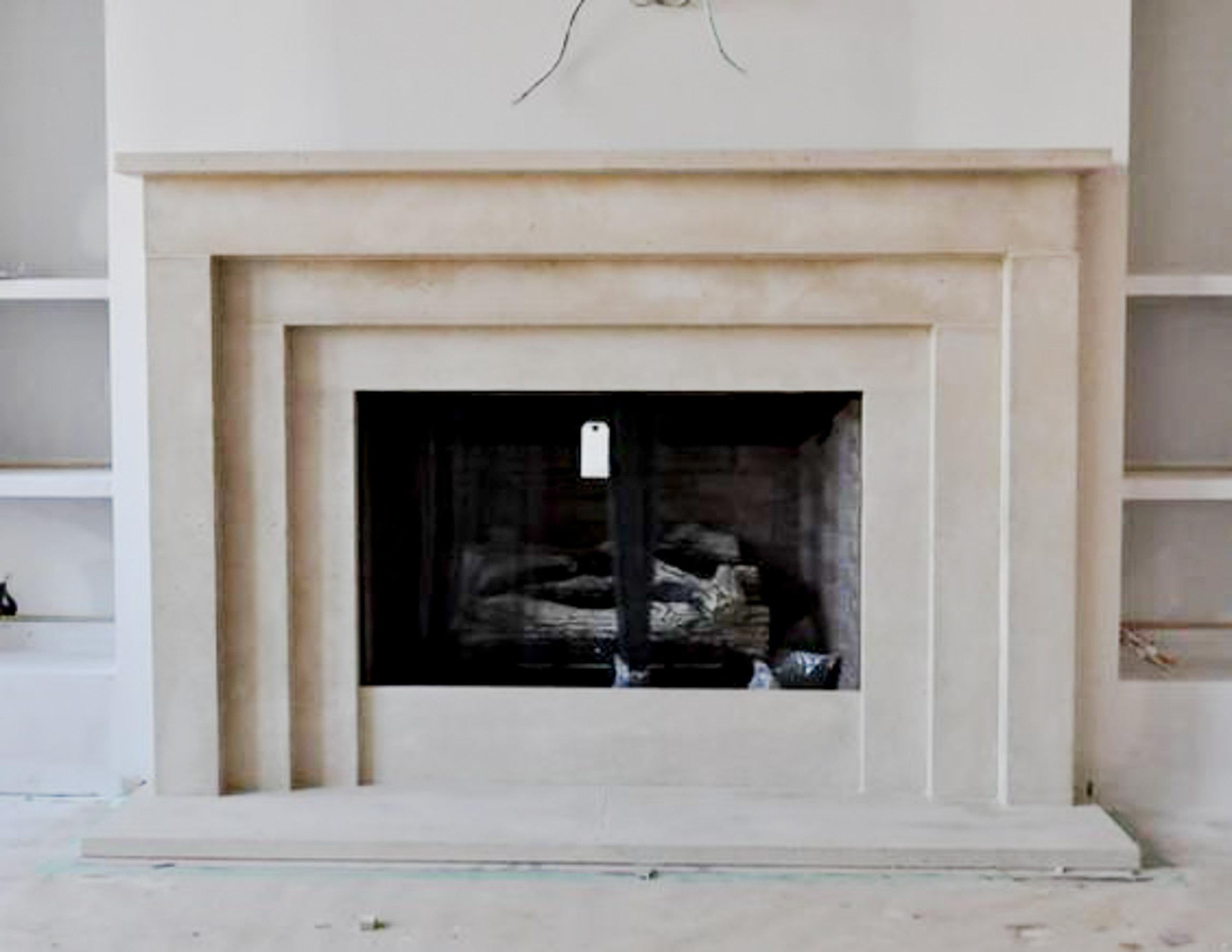 3. Large scale art
I'm going to do a whole post on this so I won't ramble on about it here but I'm SO obsessed with huge art. I want to do 2 humongous framed prints on top of each other (see below) somewhere in our house!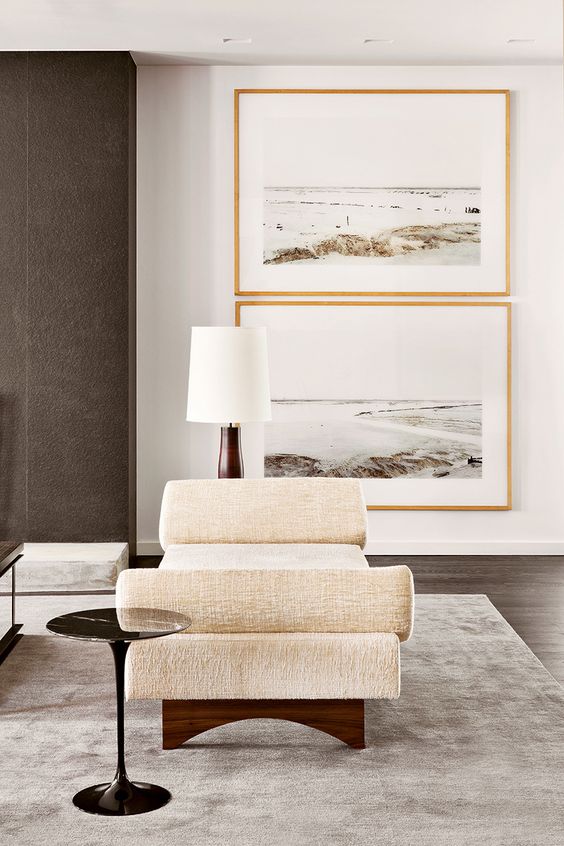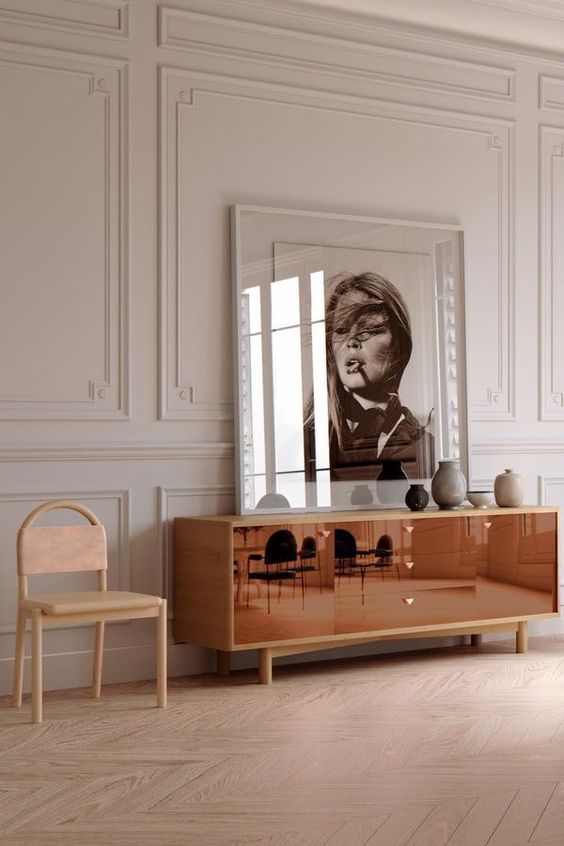 4. Dark floors with white walls
There is nothing I love more than a crisp white wall atop a dark hardwood floor. We just had our floors stained and I'm so obsessed with how they turned out. We also just finished painting basically our whole house Simply White and a few rooms are White Dove (both Benjamin Moore shades). I definitely plan on incorporating color through the use of art and accessories, and I want to do something bold and fun on the walls of our first floor bathroom. But MAN do I love white walls!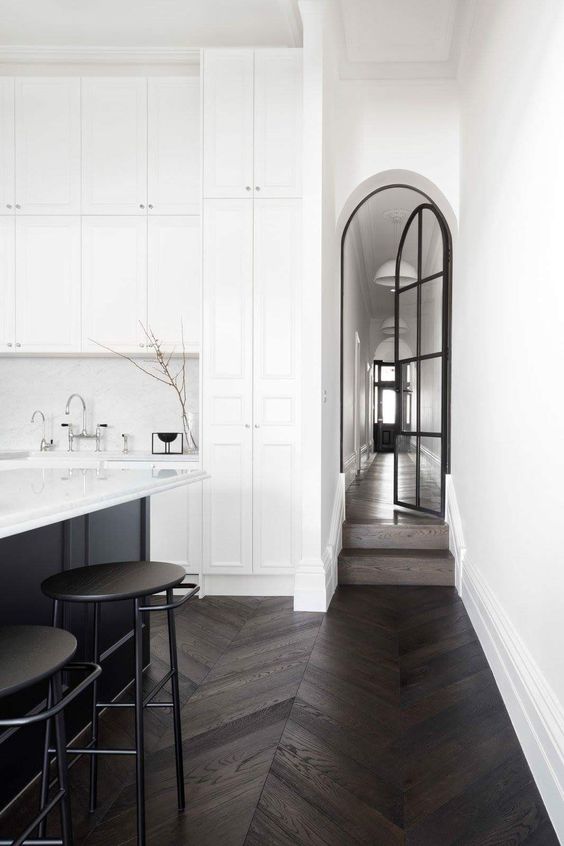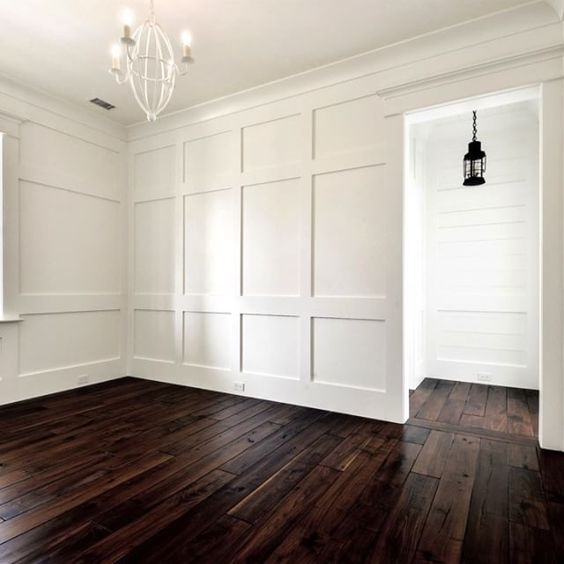 5. Blending the old in with the new
One of the things I love most about French interior design philosophy is that they don't just toss something if it's old or worn. Vintage pieces with character are are kept and displayed proudly next to more contemporary counterparts. I love this chair below and dream of putting it next to a chic new marble + gold end table or something.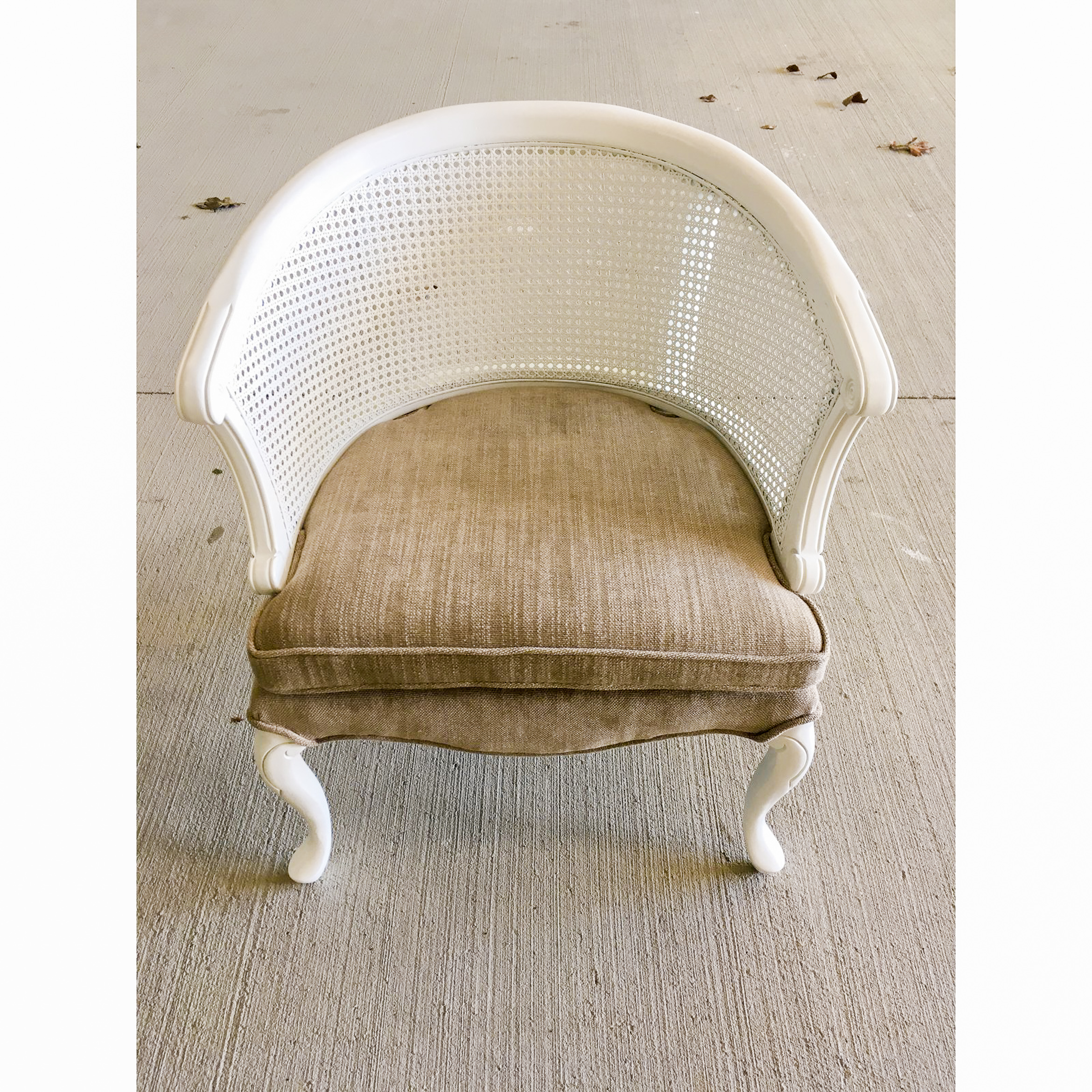 6. Vintage photo gallery walls
I have been collecting (okay, stealing) old photographs from my parents house for years. I've always dreamed of having a huge gallery wall in my 'real house' filled with cool old photos of our loved ones.
I am also SUPER into black and white portrait photography at the moment (see second photo below) and I have a vintage coffee table book filled with the coolest old photos of celebrities that I'm seriously considering tearing some pages out of to frame. I know that is sacrilege but isn't it better than the images just sitting un-looked at in a book no one ever reads!?!? Right?? Lmk.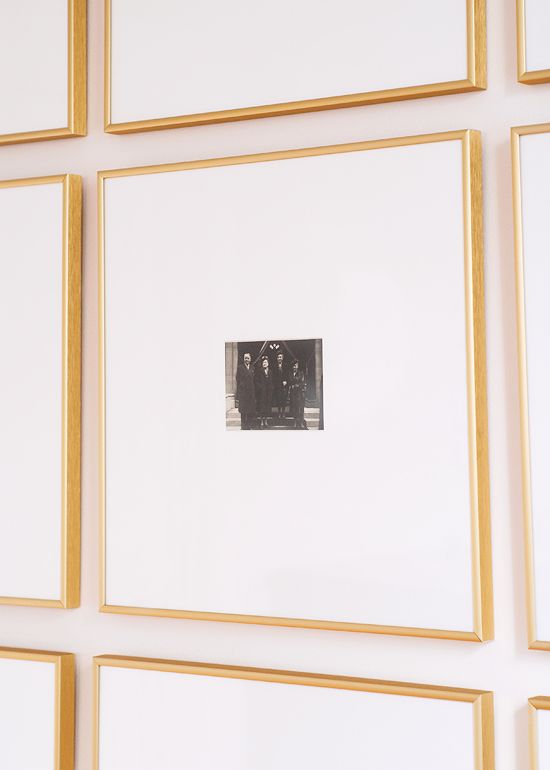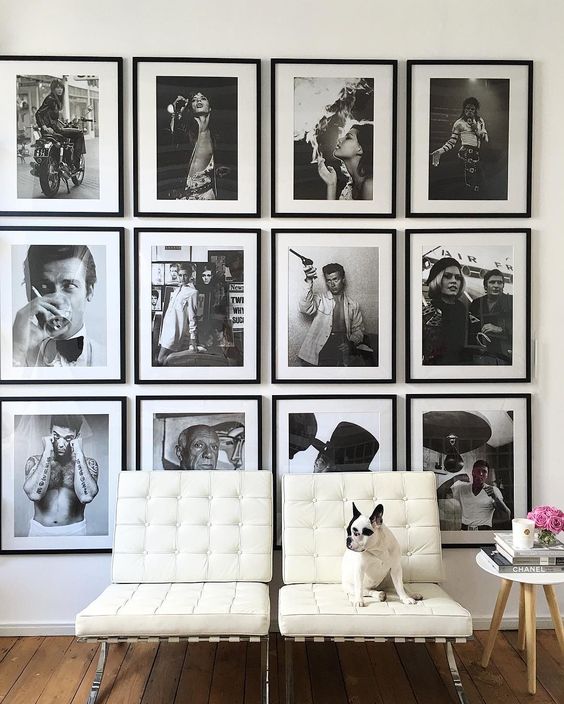 7. Flowy + layered linen drapery
One of the things I miss most about our condo are the drapes in our front window. They were my everything. They were so long and luscious and flowy and – okay someone stop me. I can't WAIT to get to the drapery portion of our house because I believe they truly make a room!