Let's talk lights!
So, I'm officially a full blown lighting geek and am overly excited to share this post with you! As you have probably heard by now, I've partnered with Hinsdale Lighting to design the lighting plan for our home. They will be guiding me in selecting fixtures from one of their top manufacturers, Hudson Valley Lighting Group. I sat down with lighting expert + HL owner Karen Lang and picked her brain with all of your questions about lighting – thanks for all your submissions on my Instagram stories! You guys asked the best questions and Karen's answers are so educational.
As seen in my most recent house update post, we have a lot of dated fixtures that need replacing. We also need quite a few recessed can lights installed too because there are ZERO on the first level of our home. The team over at Hinsdale Lighting is helping me with all of this and I'm going to be documenting the whole process for you guys here on the blog.
Lighting is a lot trickier than you might think…
I thought picking out some replacement fixtures and calling an electrician to handle the can lights would be a breeze. I was so wrong. Once I sat down and attempted to educate myself on the basics of home lighting, I realized this is it's own animal and greatly exceeds my general knowledge of design.
Things like ceiling height, room square footage, spacing, scale, furniture placement, the fact that you can mix + match fixtures but that there is a right and a wrong way to do it, and more, all play a role in determining your lighting plan. Also, quality lighting is not cheap so it's really not worth risking!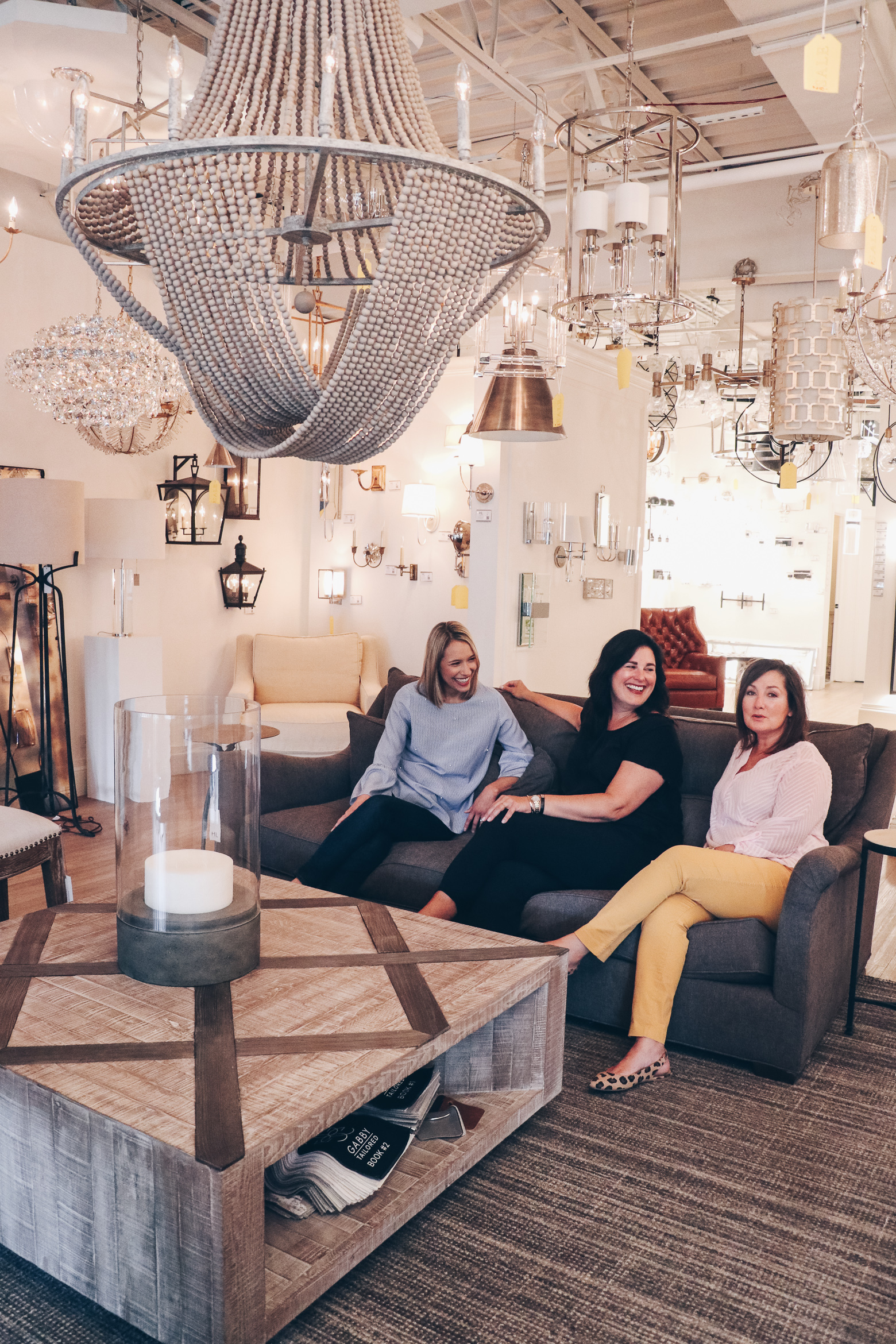 After much research on the best light design companies in the Chicagoland area, I reached out to Hinsdale Lighting and decided to work with them and ultimately partner with them. Here are a few things that set them apart from the rest of the companies we looked at:
I immediately clicked with the team. Their energy and vibe is fresh + modern and overall so aligned with mine. I could tell that design meetings with them would be genuinely fun.
The showroom is stunning and I knew upon walking in that their designers have amazing taste and that this is a company I could trust to steer me in the right direction. (Get a feel for their style by checking out their concept boards!)
They are so flexible and offer lots of ways to work with them. Check out their "work with us" page to learn more about their pricing and types of projects they can help you with.
They do more than just lighting! HL is also going to help me select mirrors for my master bathroom (it has been almost finished for like 5 months but for the life of me I can't decide on mirrors) as well as some new kitchen hardware.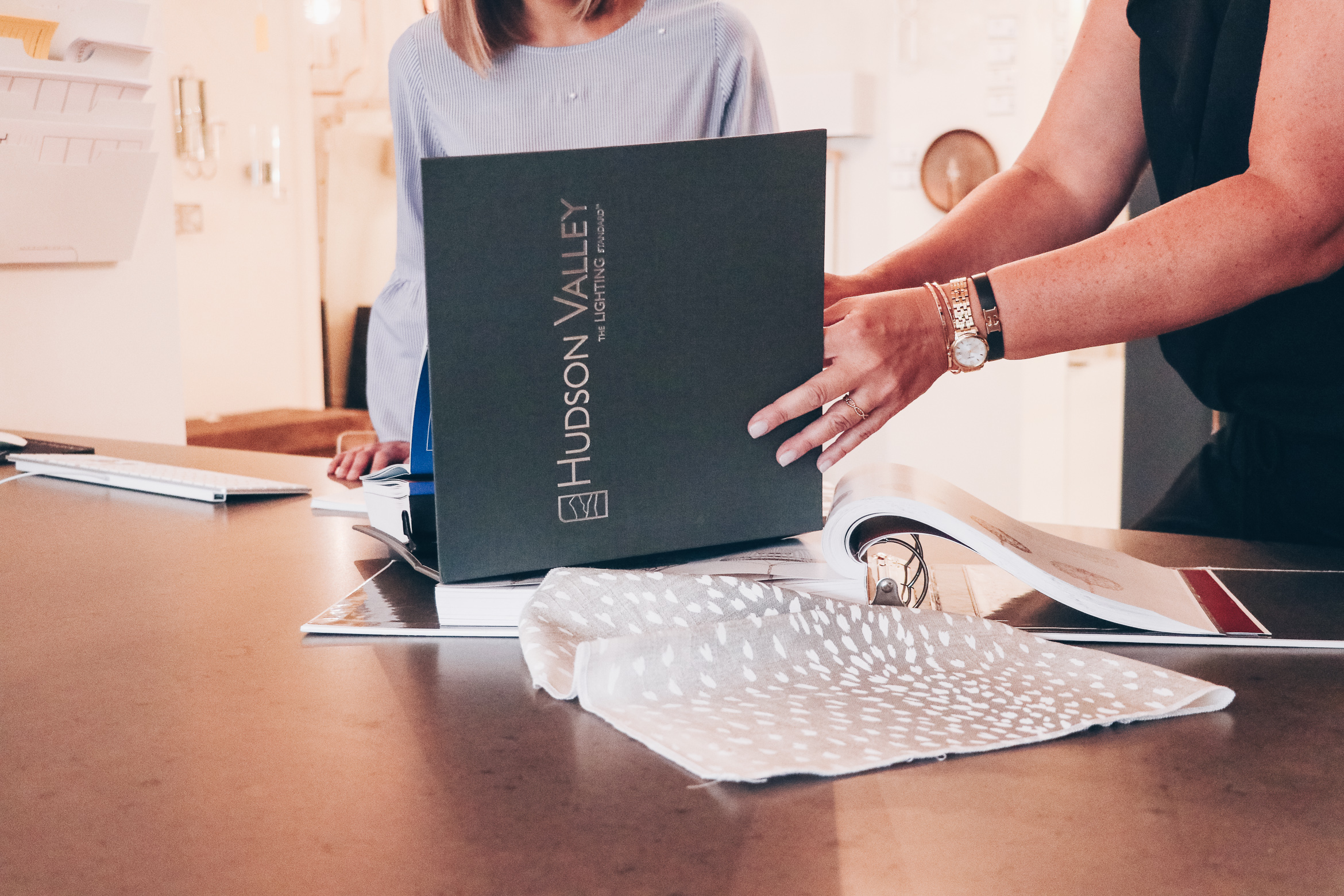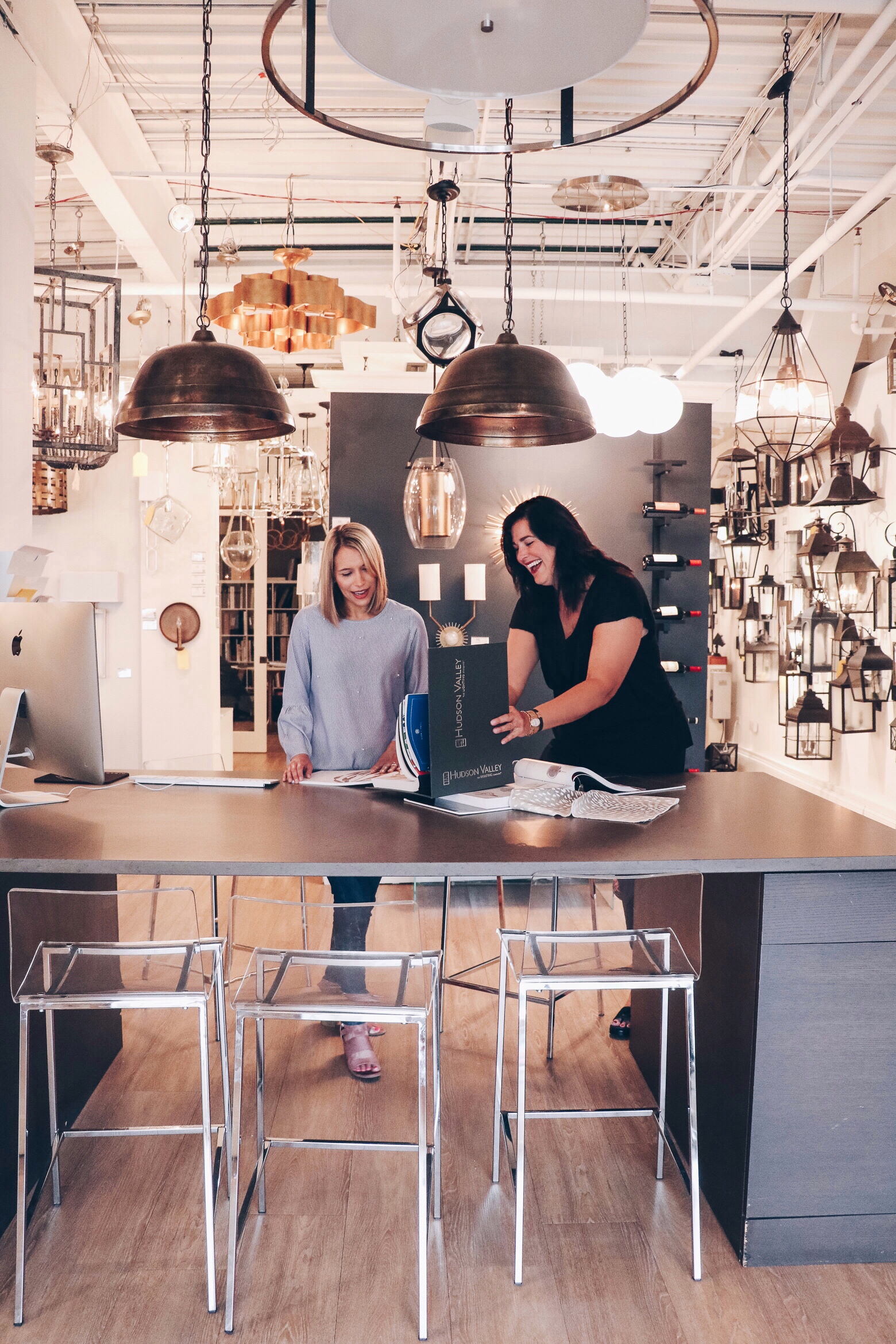 Lighting Q & A! Your top 25 questions answered…
Okay, without further ado, here are the answers to your lighting questions. A big thanks to Karen Lang from Hinsdale Lighting for taking the time to educate us! If you have any questions that aren't answered here please feel free to leave them in the comments and I'll do my best to get back to you ASAP. 🙂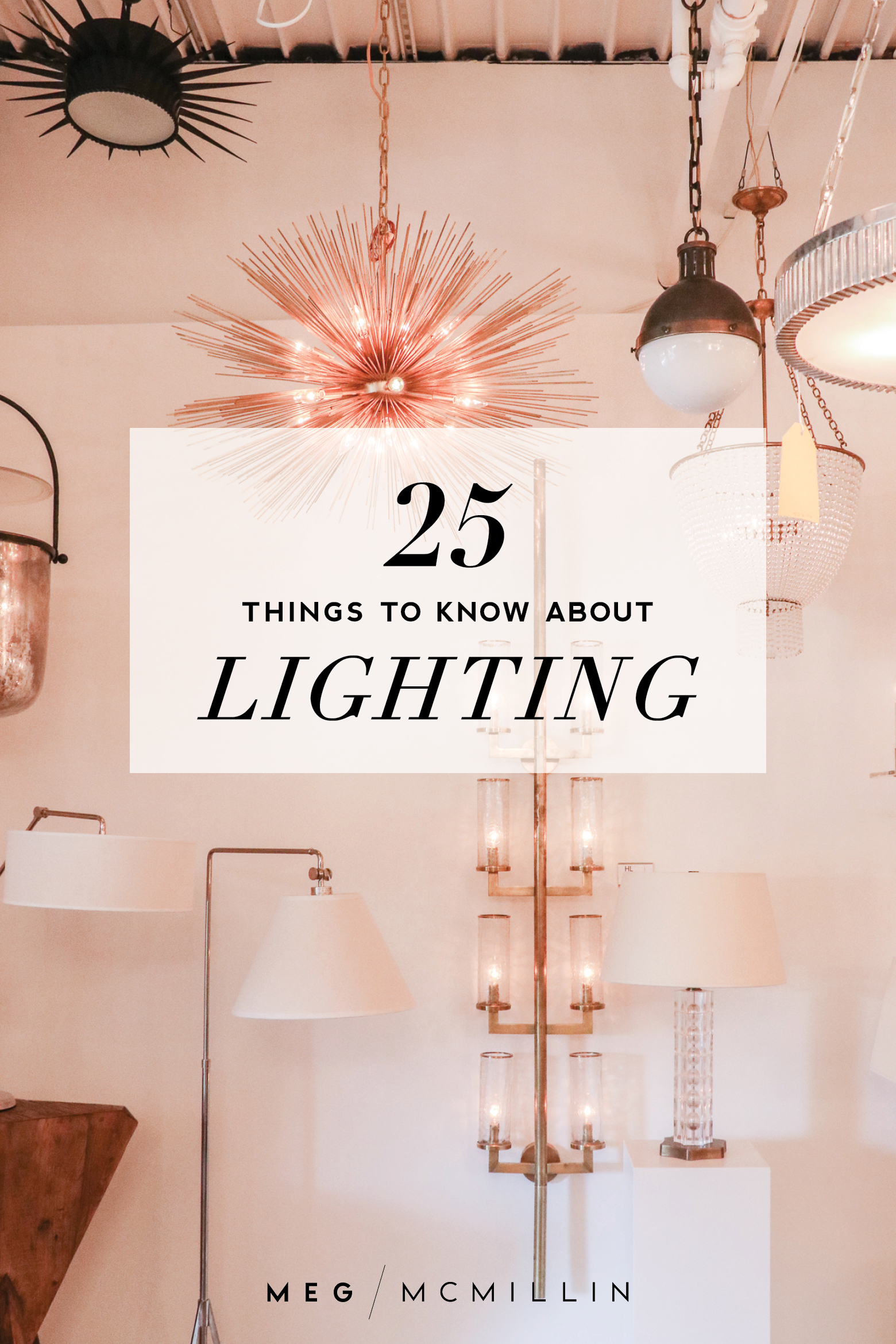 Q: What are the current trends in lighting for 2019? Is there any type of light that will never go out of style?
Mixed metals and black! Black is a hot finish color right now and blends perfectly with the gold and brushed brass finishes we have see in recent years. Just like tile and countertops, tastes and trends change! Luckily, mixed metals are in right now, so changing out a few fixtures can really update the look of your home.
Q: I know it varies, but what is the estimated price range to expect when hiring a lighting design pro?
Anywhere between $60-$200 per hour. Many lighting designers rebate their design fee with a product purchase.
Q: What is the best indoor lightbulb? Not too warm but not too cool…
The best lightbulb color temperature would be one that has a CRI of 90 or above and is 2700 or 3000K (K= Kelvin). If your decor is more traditional, you would do best with 2700K. This color temperature is warmer and has a yellow undertone. 3000K is a littler whiter and is best for more modern interiors but is quickly becoming the American norm.
Q: What kind of fixtures and lighting trends are totally OUT of style and should be avoided?
Polished brass colonial pieces seem to be sitting on the curbs. But in the end, much like fashion, anything can be styled with the right surroundings!
Q: Redoing my kitchen and wondering if I should put lighting underneath my cabinets to light the backsplash? Is that still in style?
YES! It is one of the best types of lighting there is. It is called "indirect lighting" – meaning you can't see the source of the light – which makes it easy on the eyes and that is always in style!
Q: Is there anything I need to know before buying an antique light fixture?
YES!! You need to look at the quality of the cord and if it appears brittle or cloth you should have the fixture rewired professionally before having it installed in your home. Other things to look for are crystals or parts that are cracked or broken because those will be difficult to replace!
Q: What are the most common lighting mistakes you see people making?
Using the wrong bulb
Incorrect size of light fixtures (fixtures that are either too large or too small for a room)
Using the wrong replacement bulb in a recessed can
Mixing color/temperatures in a room/home
Q: Do LED lights need a special kind of dimmer?
Almost always! If you have a dimmer that was purchase before your lights were LED, it is likely you will need a new dimmer. An older dimmer will cause a few problems if not compatible. Flickering and pop on/off where you lose the ability to dim the full range.
Q: Are pendants over an island discouraged for lower ceilings?
Pendants can look funny with a short stem but luckily mini flush mounts are totally in! They give great "down light" over a task area and also allow for a clean and up to date look.
Q: What kind of flush mounts are "in" right now? I need to find a cute one for my powder room and feel like they all look dated!
Shapes are in! Quatrefoil and drum shades! Anything less than 12″ in height can be considered a flush mount.
Q: Any general lightbulb rules to follow? I never know what wattage to buy.
Typically, your lamp or fixture will have a sticker on it with the max wattage to be used in a fixture. When replacing and incandescent bulb with an LED bulb, the LED box with state what wattage the LED is replacing.
Q: Is it expensive to put dimmers on already existing lights?
Dimmers range in price from $30 to a few hundred dollars per dimmer. Right now, the trend is moving toward wireless dimming devices, which can be controlled through Google Home or Alexa.
Q: Best lightbulbs for accent lamps?
When working with a lamp, sconce, or chandelier that has a shade, we recommend using a frosted bulb.
Q: Do's and don'ts for bedroom lighting?
DO: 
Consider using shades on bedroom fixtures, as shades diffuse and soften light, which is alwasy preferable in a bedroom.
Consider bedside swing arm lamps if you like to read in bed.
Consider placing a switch near your bedside so you are able to turn off light fixtures when you're already in bed. There are devices available that do not require rewiring.
DON'T:
Hang a fan too close to recessed lighting as it will create strobe effects. Make sure your fan sizing is correct!
Q: What light designers and fixture brands will add the most value to a home?
It is not necessarily the brand or designer of a fixture but more so the styling . and placement of the fixtures themselves. Exterior, kitchen, and master bath lighting are the main places to spend the most money if staging your home for market.
Q: It seems light fixtures can really range in price, what is a good average price range to stay within?
We recommend that when building a new home, a lighting package should be around 6% of the homes purchasing price. The same can apply to a renovation project price as well.
Q: I need to find a chandelier for my dining room, is it worth it to hire a designer to help me with only one or is that only necessary when doing multiple fixtures?
A designer is always a good idea to help determine the best fixture for the use and esthetic of a room. Even if it's only one fixture! They are also familiar with many lighting brands and price points and can save you time from scrolling through the internet. Which we all know can be so overwhelming!
Q: Any general rules of thumb to follow regarding lamp lighting? (Placement, height, mixing and matching styles, etc.)
The height of the lamp should not be taller than the height of the table, EXCEPT when dealing with higher or cathedral ceilings. This means, if you set the lamp on the floor next to the table and it exceeds the height of the table top, it doesn't belong there!
Pairs of lamps always feel more formal than mixed + matched styles
Use a frosted bulb for lamps with a shade
Make sure all bulbs are the same brand and color temperature in the same room
Q: Can I do gold pendants in my kitchen if the rest of the light fixtures in my house are silver?
Yes! Especially if you have other gold accents (hardware, decorative accessories, or mirrors) in the rooms with silver fixtures.
Q: How do I go about integrating 'smart lighting' into my home and is it really expensive?
There are so many ways to go about smart lighting these days. You should consider how long you will be living in the space that you want to install smart lighting. If it is 6 months to 2 2years, consider buying light bulbs that can be controlled on an app on your phone, which begin around $30 per bulb. If you plan to live there for 2 years or more you should invest in smart switches from a reliable national brand. Smart dimmers starts around $100 a switch to have installed.
Q: What is the deal with sconces and when should they be used?
Sconces have typically been thought of as an accent light and are the last type of lighting builders will add to a home. They add the most warmth and we find our customers use accent lighting a lot because it's what really adds mood lighting to the home.
Q: Does Hinsdale Lighting do outdoor lighting plans as well or just indoor?
Yes we do outdoor lighting plans! They typically take a littler longer because all of our plans are looked over by the manufacturer who will be providing the light. Outdoor lighting is definitely something that adds quality to a home and it shouldn't be overlooked!
Q: Current trends in bathroom lighting?
Corner pendants
Overhead sconce lighting
Lit mirrors
Q: 3 things a lighting expert wish people already knew about lighting?
Rooms that are comfortable and memorable always have great lighting!
Usually there are simple things you can do to improve the lighting in your home with a minimal investment.
Lighting is the jewelry of a home!
Q: Any lighting tips for sloping ceilings?
There are special recessed lights that work best on a sloped ceiling. If hanging a fixture on a sloped ceiling, it is best to avoid a fixture with a rod, chain is better!
This post is in partnership with Hinsdale Lighting (located at: 777 N York Rd Suite 19, Hinsdale, IL 60521) and Hudson Valley Lighting Group.