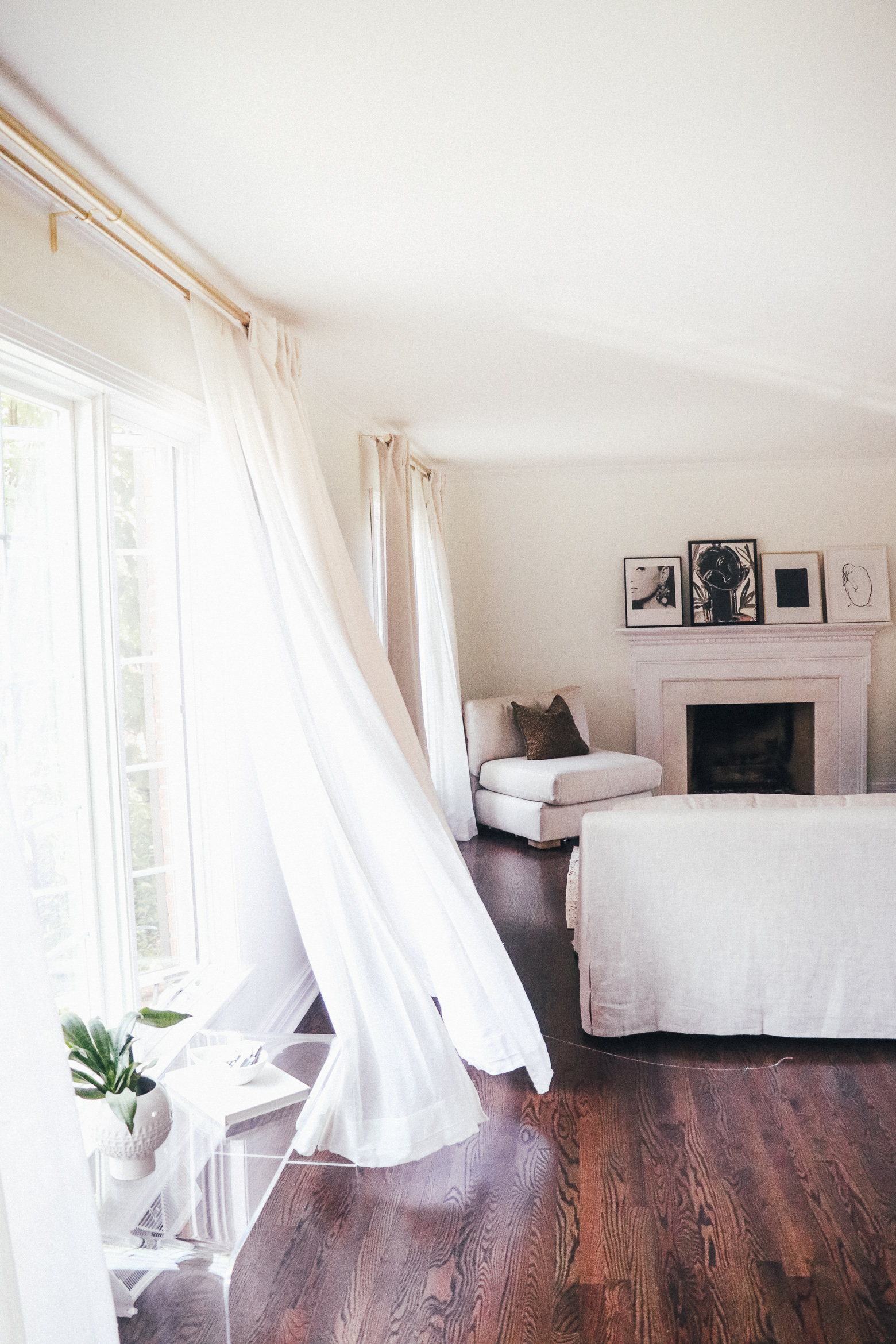 Hi guys! I know it has been a MINUTE since I gave you a house update – or any blog post for that matter – and for that I apologize! Honestly, I needed to take a little break  because I started to get super burnt out with the house stuff and decided to take a step back and regroup. I found myself on the brink of making decisions just for the sake of making decisions and it started to feel more frustrating than fun. BUT after this little hiatus, I'm feeling refreshed and sooo ready/excited to dive back into this.
So, here we go! Below are some updates on where we are in different areas of the house…
LIGHTING
(+ a partnership announcement coming later this week!)
So, I've realized that no matter how much furnishing/decorating I do, the house will not feel complete until the lighting is complete. Meaning, until all of our current light fixtures have been replaced. Also, Kyle and I have come to the conclusion that this is not something we can do on our own. To be honest, I thought I could do it solo but turns out lighting is SO much more than just picking out a fixture that you like.
After an extensive amount of research I have learned that when it comes to lighting there are lots of rules, and I mean like real rules! Not things you can just guess on and hope for the best. Things like ceiling height, room square footage, spacing, scale, furniture placement, the fact that you can mix + match fixtures but that there is a right and a wrong way to do it, and more, all play a role in determining your lighting plan. Also, quality lighting is not cheap so it's really not worth risking.
That being said, we've been looking at a lot of different light + design companies that specialize in consulting and designing a lighting plan. After much consideration we've found a company we really love and trust. Also, I'm so excited to share I'll be partnering with them and extensively documenting the whole process on the blog and on my Instagram. I will be announcing the partnership and telling you more about the company later this week on Instagram, stay tuned!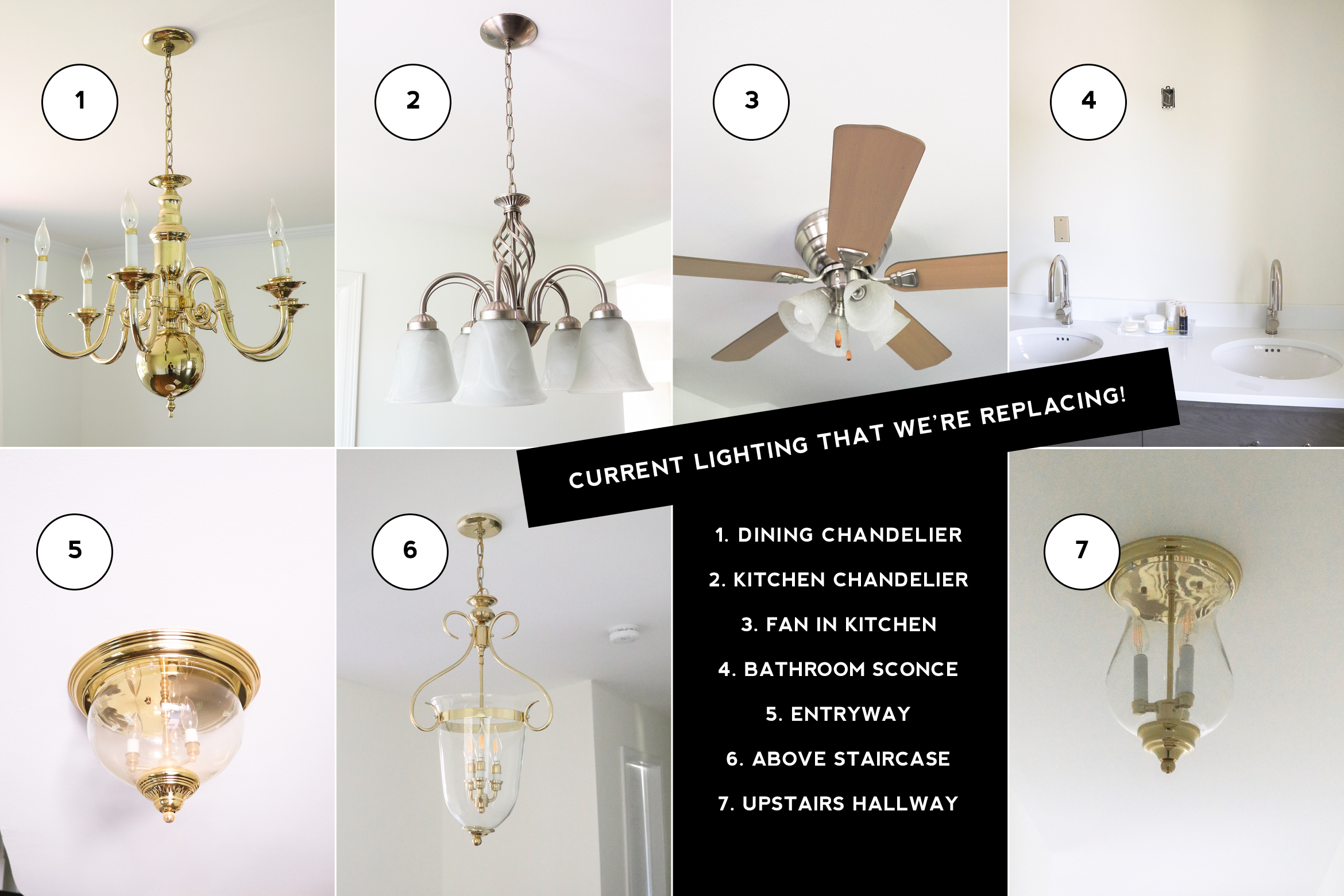 FAMILY ROOM FIREPLACE
The fireplace is 90% complete!!!! Stay tuned for final product, coming soon! This thing was a family affair. My mom and I designed it and my dad built it (he's a masonry contractor) with the help of Kyle and his brother – oh, and James of course. Below are the design plans along with the stone we used! It's simple yet bold. We did 3 huge + thick slabs of a textured/pitted limestone called "cottonwood" (we got the stone from Gary Galassi Stone in Romeoville).
After SO much back and forth about what to do with this fireplace, I decided I wanted something clean and modern. Our house has low ceilings throughout (insert Kim Kardashian cry face) and the layout is very traditional so if I'm not careful the house could easily feel dated. I love texture and wanted something modern that still felt natural, with a hint of rustic, and when I found this pitted limestone I fell in love. I actually did not like the first slabs they cut for me because they had very little texture, and I ended up finding some slabs I SUPER LOVED in their scrap pile! Never be afraid to look in the scrap pile.
Right now, the slabs have been laid and the fireplace is essentially built out but I still have to paint the inside of the firebox (trying to find a guaranteed non-toxic fireproof paint, know of any?), I need to get a fireplace screen, and we're actually going to be doing a subtle paneling/wainscoting above the stone so that the TV has more of a 'home' and isn't just floating on the wall. Does that make sense? Here is a picture of what I have in mind! More to come soon.

FAMILY ROOM SECTIONAL
We finally decided on a sectional for the family room and it's scheduled to arrive at the end of the month! We bought the Jane sectional (pictured below) from Montauk Sofa which is another brand I've partnered with and am excited to tell you more about in the upcoming weeks! I'm outrageously obsessed with this couch and may or may not dream about the day it arrives every single night. I want to be totally transparent with you guys, I was not gifted the sectional however I did receive a discount. This couch is definitely a big splurge, Montauk Sofa is on the high end of the furniture spectrum in terms of price AND quality. However, we decided we were comfortable putting some money toward a couch we truly love that will also last and withstand years of daily wear. More to come on this couch when it arrives!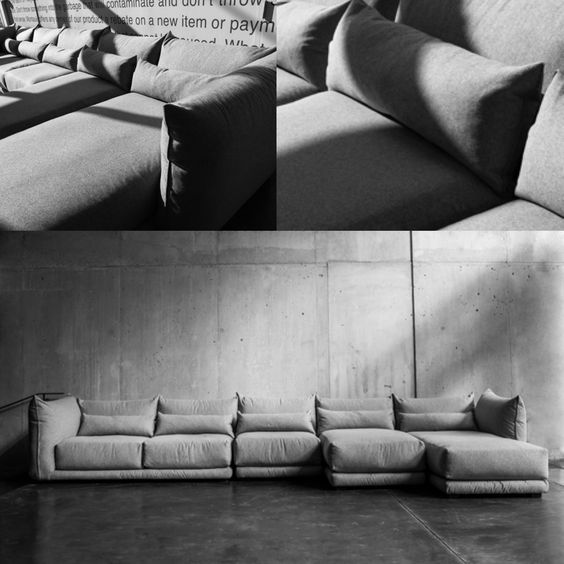 I hate when bloggers say this: but I got SO many DM's about the couch in our basement last time it was on my IG story. It is from Arhaus and so amazing, also currently on sale!
LIVING ROOM
We moved our old RH Belgian Track Arm sofa into the formal living room and now I've finalized the layout of the room. I switched out the rug that was originally in here and replaced it with the one pictured. I bought it from my not-so-secret-anymore eBay shop (blog post all about how to shop the shop here).
Also, I just bought a big reclaimed wood coffee table for the living room (below) and I'm obsessed. I'm determined to find gigantic lucite bookends for it and have a row of large coffee table books standing up down the center of the table (very specific vision I know lol). I got the table on Chairish for only $770! Oh, and I put the little acrylic waterfall table in front of one of the windows (TYSM for that suggestion Katelyn) and am LOL'ing that I considered that as a coffee table for even a split second because it is WAY too small.
For this room I still need: console table for behind the couch, to design/hang the gallery wall, floor mirror (?) or something else for one of the walls on the side of the couch!
Rugs currently for sale from my favorite eBay shop (PS those are 'buy it now prices'!!! act fast…)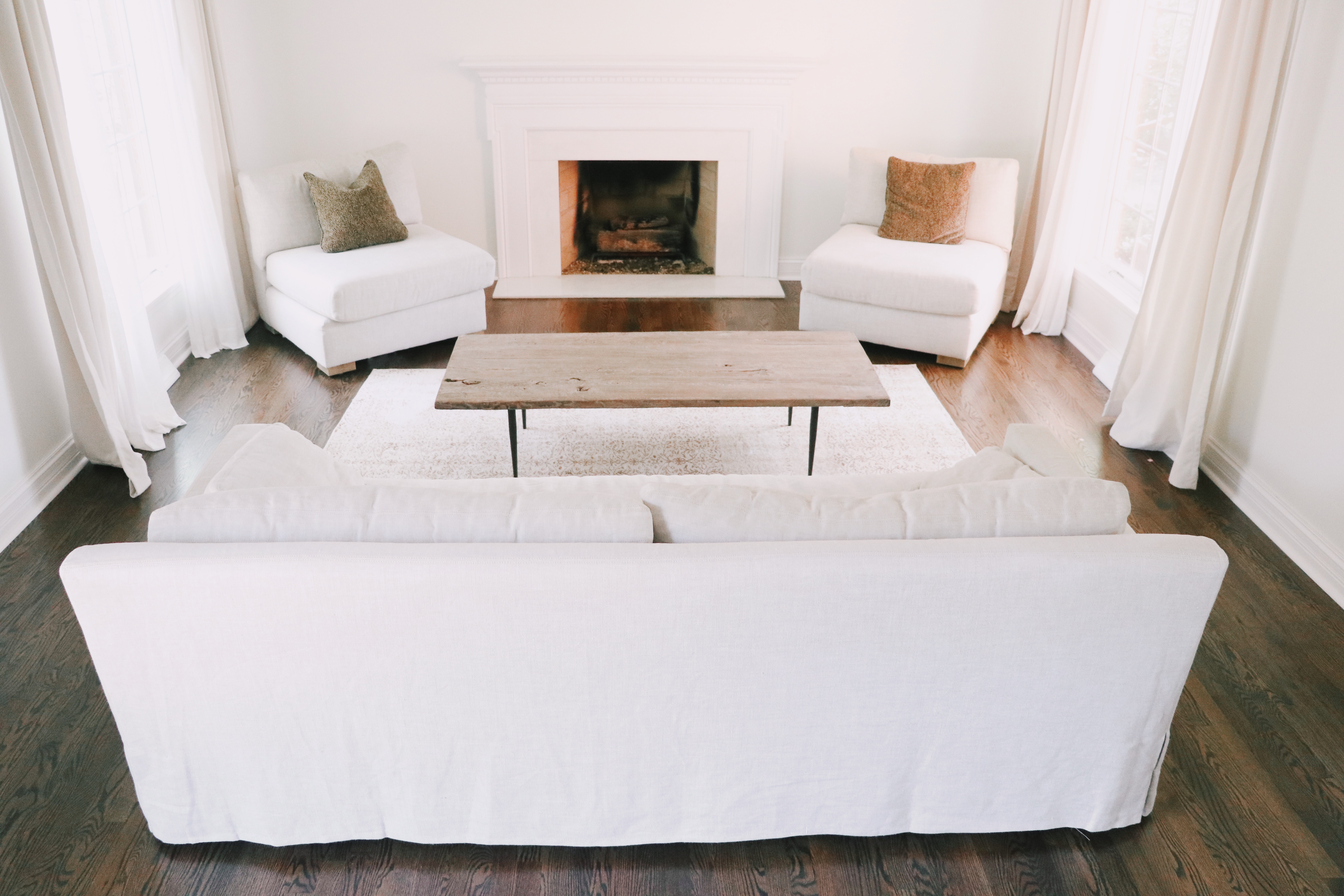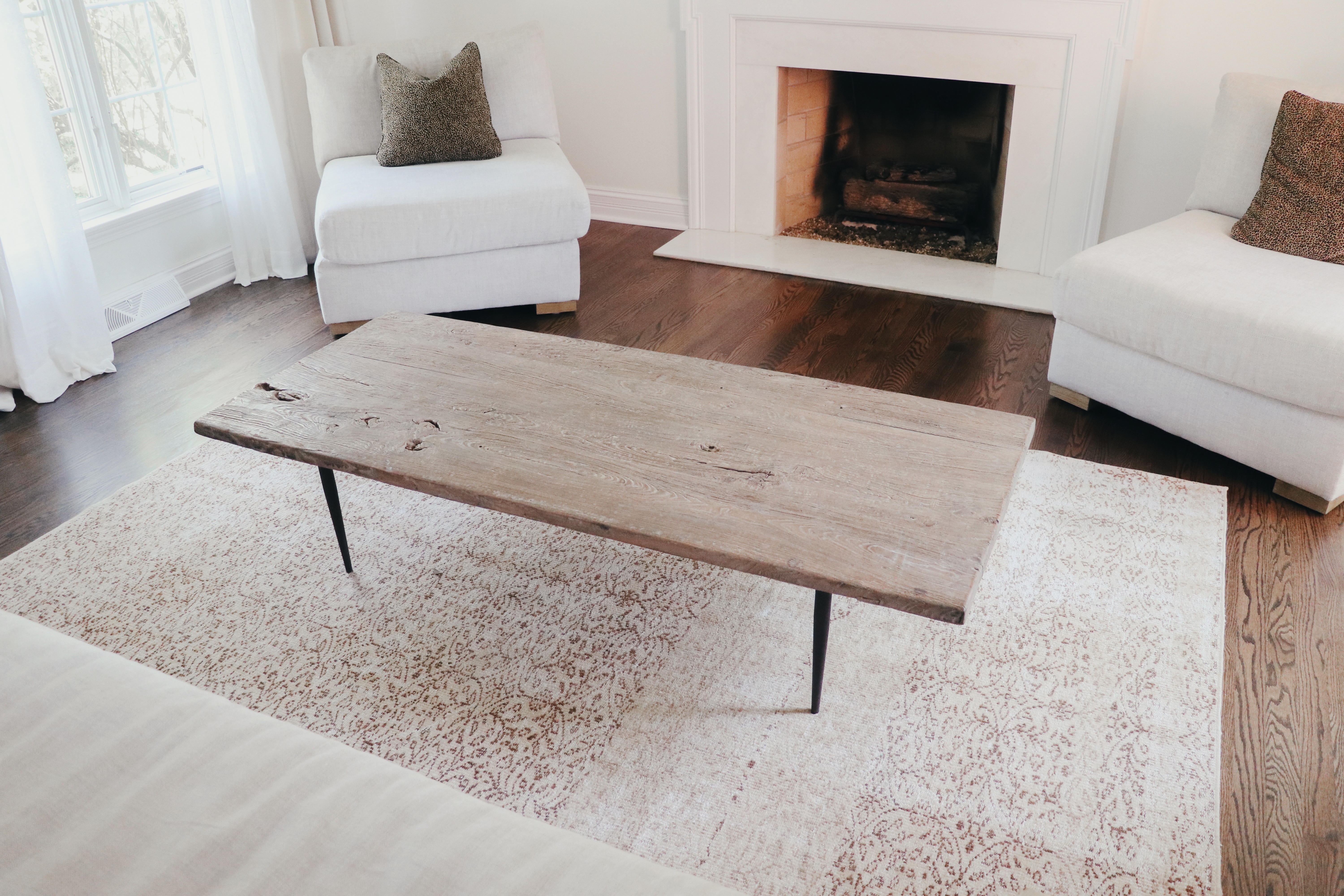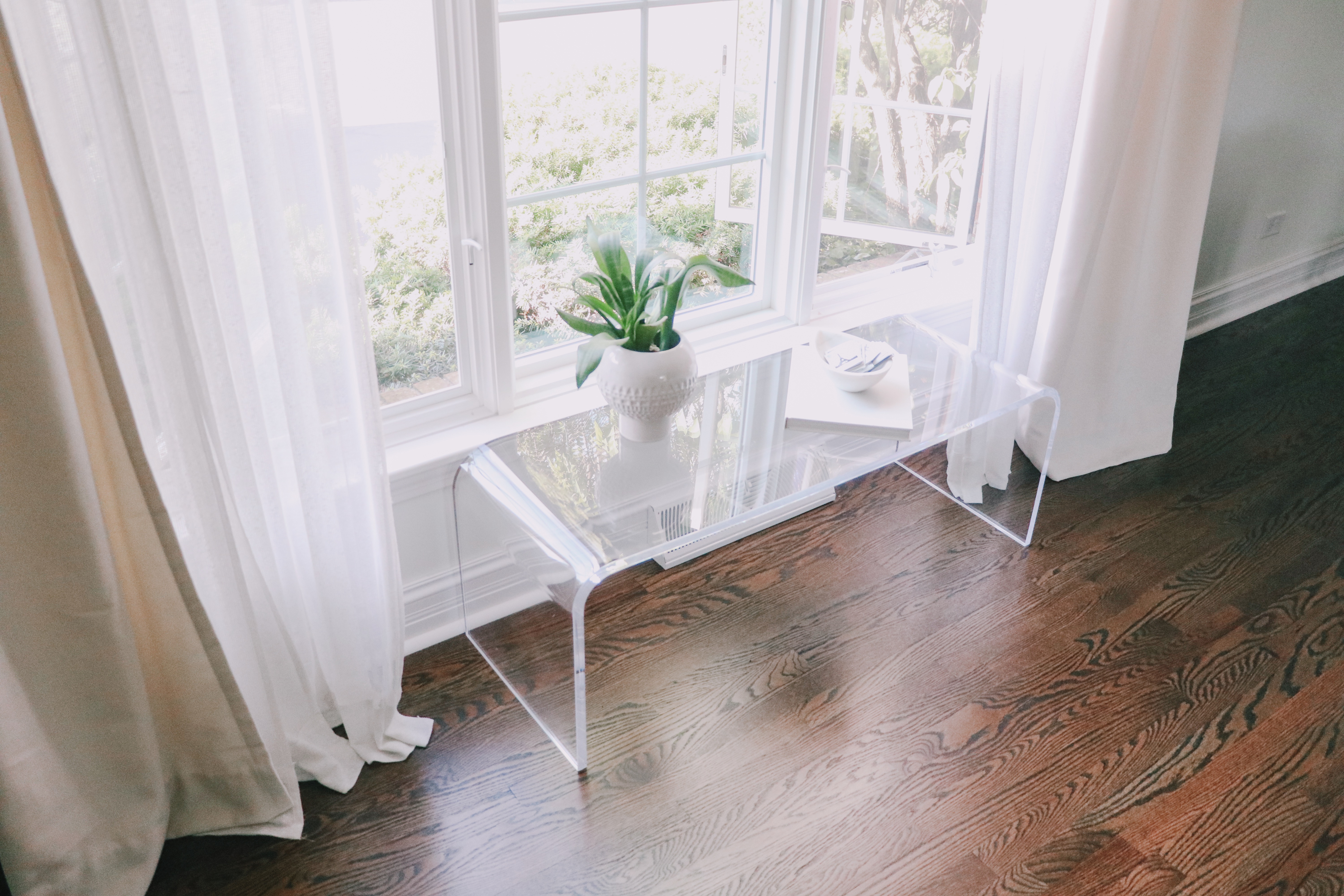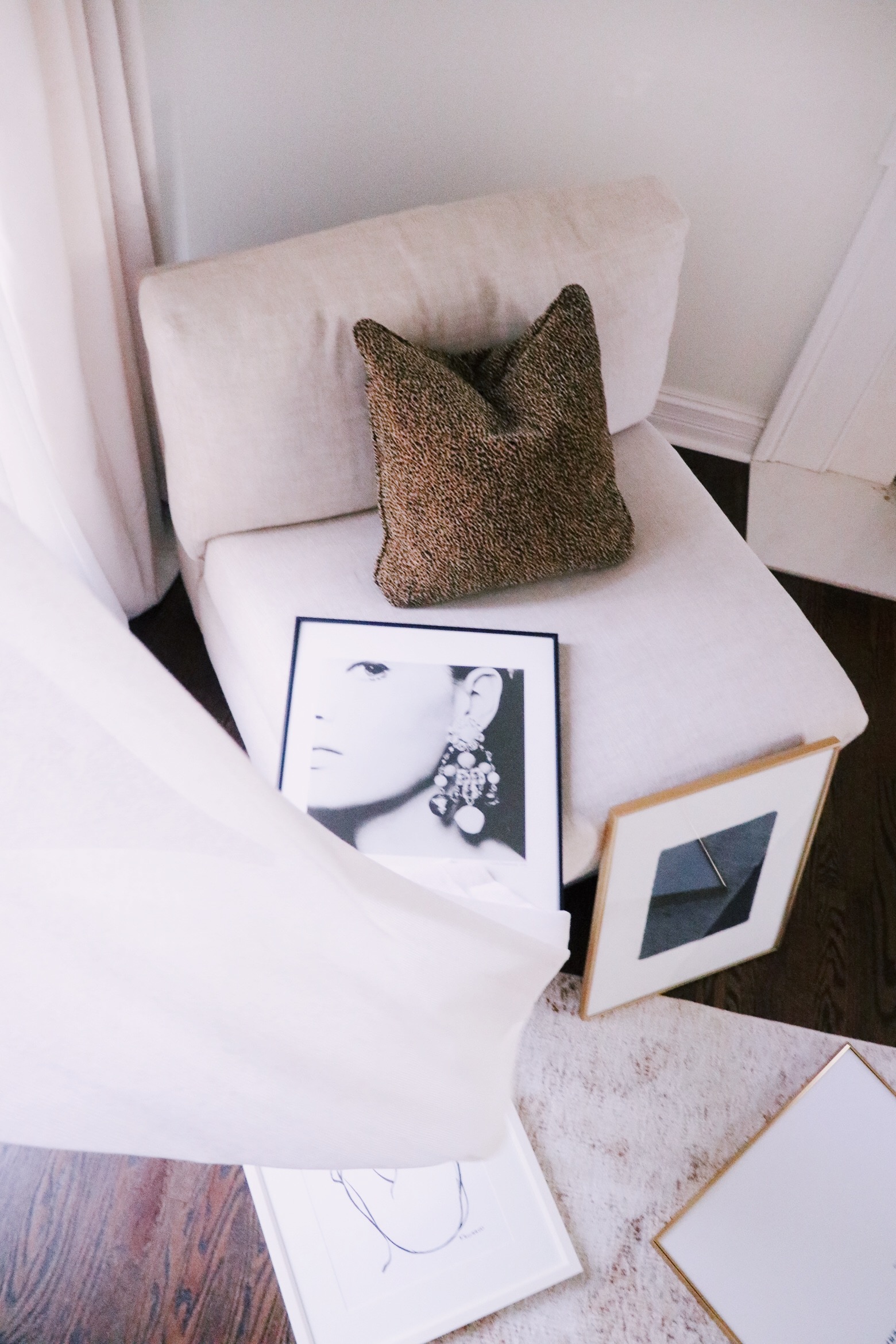 BEDROOM
We finally bought a bed! We have been sleeping in the guest room in our old queen bed from our condo. People think it's crazy that we have never slept in a king sized bed together so apparently we are in for a real treat because we finally bought one. The bed we decided on is also from Montauk Sofa (photo below) and is scheduled to deliver at the end of the month with our couch.
ALSO! I am super determined to buy a non-toxic mattress and have been doing loads of research. This non-toxic mattress guide on Gimme The Good Stuff is an excellent and I'm definitely going to be buying one from her "good stuff" list. I'll keep you posted!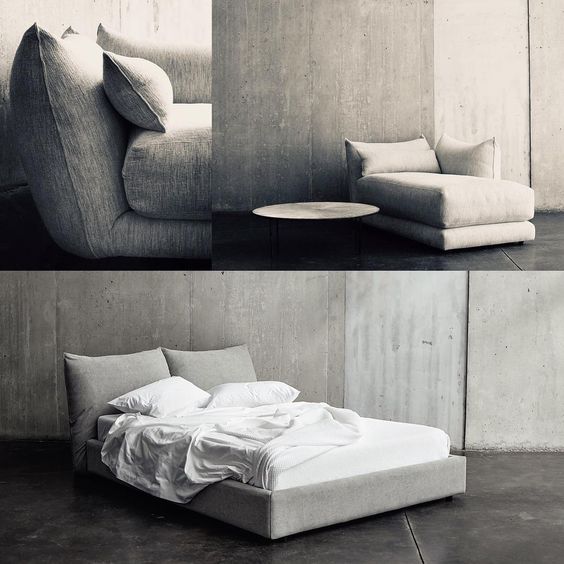 Okay that's about it for now. Thanks for stopping by and I promise it won't be 100 years until my next update post!
Here's some furniture + home decor stuff I'm loving that's currently on sale!