(the images below are not clickable, scroll for links!)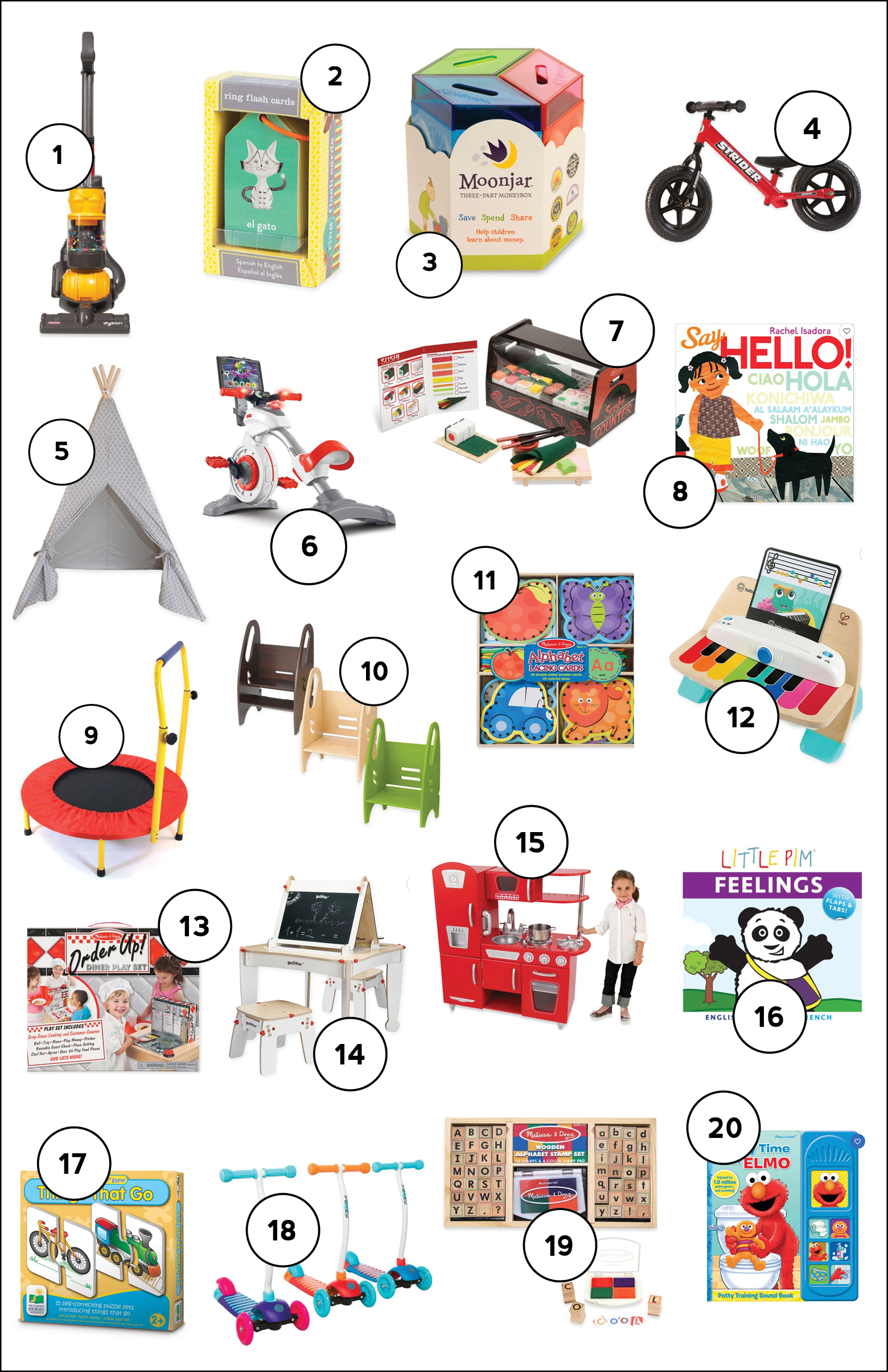 This post is in partnership with buybuy BABY, a brand I love. All opinions here are my own.
I'm really nervous that the toys are really going to start piling up quickly now that we are moving into a much larger space. Before, I was able to use the "we just don't have the space!" excuse when expressing to our families that we don't want them to buy a ton of toys for James. And it wasn't an excuse! We really didn't have the space. But the days of that line are over because now we do have space! But that doesn't mean I want to fill it with toys that James doesn't need or barely plays with. So I want to make sure I keep being intentional about the stuff we let in.
I'm going to do my best to make sure whatever I buy for him for Christmas this year serves some sort of purpose. He is still young enough to where he's not expecting or asking for certain items. So, I'm going to take advantage of that and be smart this year before he gets old enough to ask for junk!
I put together a list of 20 toys from buybuy BABY that focus on development, pretend play, or both! I'm doing basically all of James Christmas shopping at buybuy BABY this year, they literally have it all. Also, if something is out of stock online, be sure to check store locations near you because they often carry extra stock in stores! Let me know what you all are buying for your toddlers this year for Christmas and let me know if there is anything I should add to this list! 🙂
What is it with kids and vacuums?! They are so obsessed. I'm not complaining though because James learning to vacuum the house is the closest I'll ever get to a live-in housekeeper.
Toddler brains are little sponges and now is the time to introduce languages to them! These flashcards look so cute and like an easy way for parents to teach Spanish, even if you don't speak it yourself or are rusty like me!
This is SUCH an awesome idea. It's essentially like a piggy bank but with 3 slots: one for saving, spending, and sharing. Such a great way to give your kid a basic understanding of money! We are getting James one of these for Christmas.
We are getting James a balance bike for Christmas too! This is going to be his "big gift". If you're not familiar with balance bikes, they are what people are using these days to teach their kid to ride a bike instead of tricycles and training wheels – which I just read are bad for kid's spines! Balances bikes are wheel-less and they are actually safer than tricycles. When the bike starts to tip, toddlers instinctively plant their feet on the ground and begin to learn control, steering, and braking.
5. Teepee (multiple colors)
My Grandma got James a teepee last Christmas but we didn't have room for it in our condo so it's been at my parents basement for the past year and James loves playing in it so much. I can't wait to bring it to our new house!
Okay this is basically a toddler Peleton bike and I'm dying. SO cute!
I mean if this is not the most adorable thing ever. Such a good way to teach a toddler about food from around the world!
A book to teach your child to say "hello" in multiple languages!
We also have one of these for James at my parents house and he goes nuts on it. In the mornings we go down and do "20 jumps" – it's good counting practice and also helps him get a little exercise since running around outside is limited in the Winter!
I still haven't pulled the trigger on this step stool but I think we're finally going to get it now that we are out of the condo! I know that it's pretty expensive for a step stool but I've heard really great things about these. The steps are adjustable so it can grow with your toddler! Also, I can justify the price based on the fact that he will use it every single day.
An excellent fine motor skill development activity!
A great way to help your toddler learn their colors!
James is SO into playing restaurant right now. Pretend play is arguably the most important part of toddler development, so toys like this that help encourage it are so great!
This is pricey but it is really cute (not a total eyesore for your house) and comes with 2 chairs, a table, chalkboard, easel, and a storage bin!
I did some research on kitchens and this one seems like it has the most going on + is the cutest for the price point!
This book looks so precious! It is intended to help toddlers learn about emotions + empathy. The book uses lift flaps and pull tabs to reveal photographs of expressions and emotions and translates the emotion words to Spanish, French!
James has this exact puzzle and we do it almost every day! He loves it and it's so good for his little brain.
Like the balance bike, these scooters are also so great for little ones! Both of them help develop a sense of balance and control. We got James a scooter for his birthday and by the time he finally started to get the hang of it the weather turned and now he rides it in my parents basement. (PS – if you're new to the blog we are staying with my parents while we renovate our new house!)
Stamps are where it's at for toddlers! I let James stamp an envelope for me with our address on it and now he asks to use the stamper almost every day. This is on his list. Bonus: this set will help them learn their letters!
Anyone else is in potty training limbo? AKA halfway enforcing it/trying and half not? I'm going to get this book and see if it helps spark more interest in the topic for James. I'll let you know!