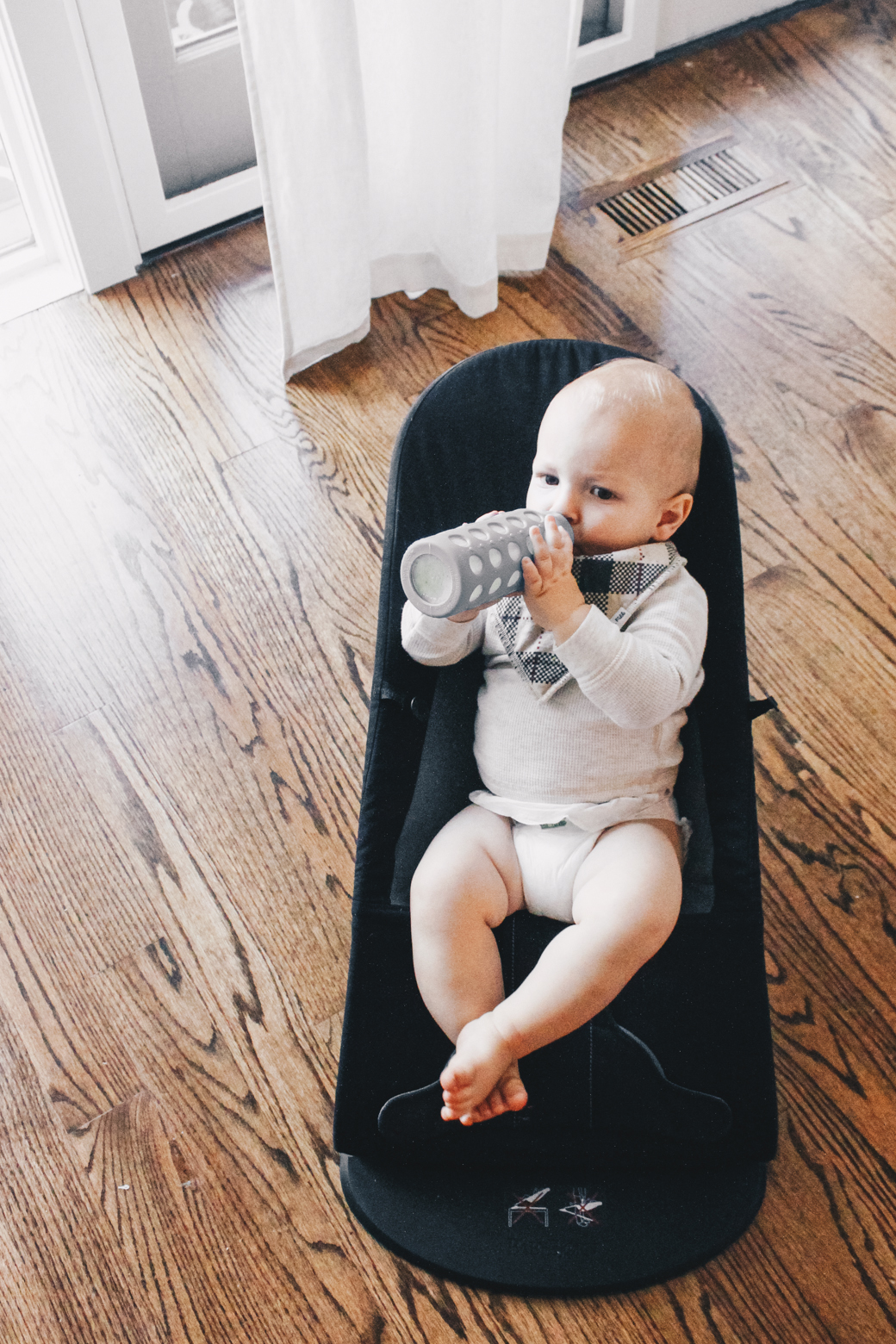 This stuff is a MIRACLE CREAM! And it is 100% clean + non-toxic. You can use it all over your baby's body: face, scalp, butt, anywhere. It works wonders for cradle cap, eczema, diaper rash, dry winter cheeks, and so much more!
They also have a Green Goo Nursing Cream and it is equally as fantastic. Both are made completely from natural oils – no chemicals whatsoever – so that means no guilt or stress for mama. You don't have to worry about scrubbing yourself off before nursing because ingesting what's left of the oil is not harmful to your baby in any way (of course you don't want them eating globs of it though).
I don't know what we would have done without this. I have been using it since James was 4 weeks old and it grows with them until they are toddlers! James is 15 months and now uses it as a chair to drink his afternoon smoothie in, ha! As a baby, he liked sitting up more than laying down so it's nice they have a vertical feature! It's seriously how I got everything done. I would bring it in the bathroom to shower, I put it on the countertop while I make dinner (only safe to do when they are really tiny).
TIP: Definitely make sure to register for the Toy Bar as well, it doesn't come with it included and it's key.
We have used this since James was born and he has never had a diaper rash! I apply a little after every diaper change, and lather it on at night time. Unlike Desitin and Boudreaux's Butt Paste, this cream is totally safe and non-toxic. Anything by the Babo brand is fantastic!
We also use their sunscreen. I researched and found out this stuff is super safe and all natural, so I was thrilled to find that it ACTUALLY works too! I also use coconut oil all the time in his diaper area. The Babo brand also makes a bath soap and lotion which we also use and love.
This sleep sack is unlike any other sleep sack and it is the BEST, want to know why? I have to words for you: shoulder snaps. When we switched to this sleep sack our lives changed drastically. It is so nice not having to cram Jame's shoulders/arms in and out of tiny holes!
When I was registering, I had noooooo idea how important having one of these was! I'm so glad someone told me to register for it. An exersaucer is a must, and James lived in this thing. I really love this Oribel one because it isn't overstimulating. Most exersaucers look like an acid trip for babies. Even though this one didn't have flashing lights or make tons of noise, he was still FULLY engaged and entertained by it. Also, total bonus – it converts to a mini table for when they are toddlers!
We just started using these and they're awesome. They are the only totally plastic free, safe sippy cup on the market! The cup is totally stainless steel (keeps liquids cool which allows them to last throughout the day) and the sippy cap is silicone. Also, James loves to bite the silicone which is a win because he's constantly teething!
James has lived in these since birth, and he STILL sleeps in them under his sleep sack. I recommend registering for them in a range of sizes, get a pack of each: 0-3, 3-6, 6-9!
This thing is a MUST. It catches all the food they drop which reduces waste and mess, and it is easy to clean!
A sound machine of some kind is a total must. We like this one because it's simple, affordable, and has an option to be portable (battery operated) or plugged into a wall. We use the "white noise" setting!
Anything by the 4Moms brand is awesome. This tub is amazing and fits right on top of our kitchen sink. It is so easy to use and it has a feature so clean water flows in as dirty water flows out. Additionally, it has a thermometer so you can gauge the water temperature before baby gets in. We used this until James was like 6-7 months old!
This blanket is one of my favorite items James' owns. It is so soft, warm, cozy, and we genuinely use it ALL the time. The quality is incredible, I wash it all the time and it is still in great condition. We've used it since he was born and still use it daily in the stroller!
Okay, this was originally going to be a top 10 list but I almost forgot how important cute bandana bibs are! No one ever told me to register for cute bibs, and no one ever told me that around the 3 month mark all your baby does is spit up and drool. CUTE BANDANA BIBS ARE A MUST!