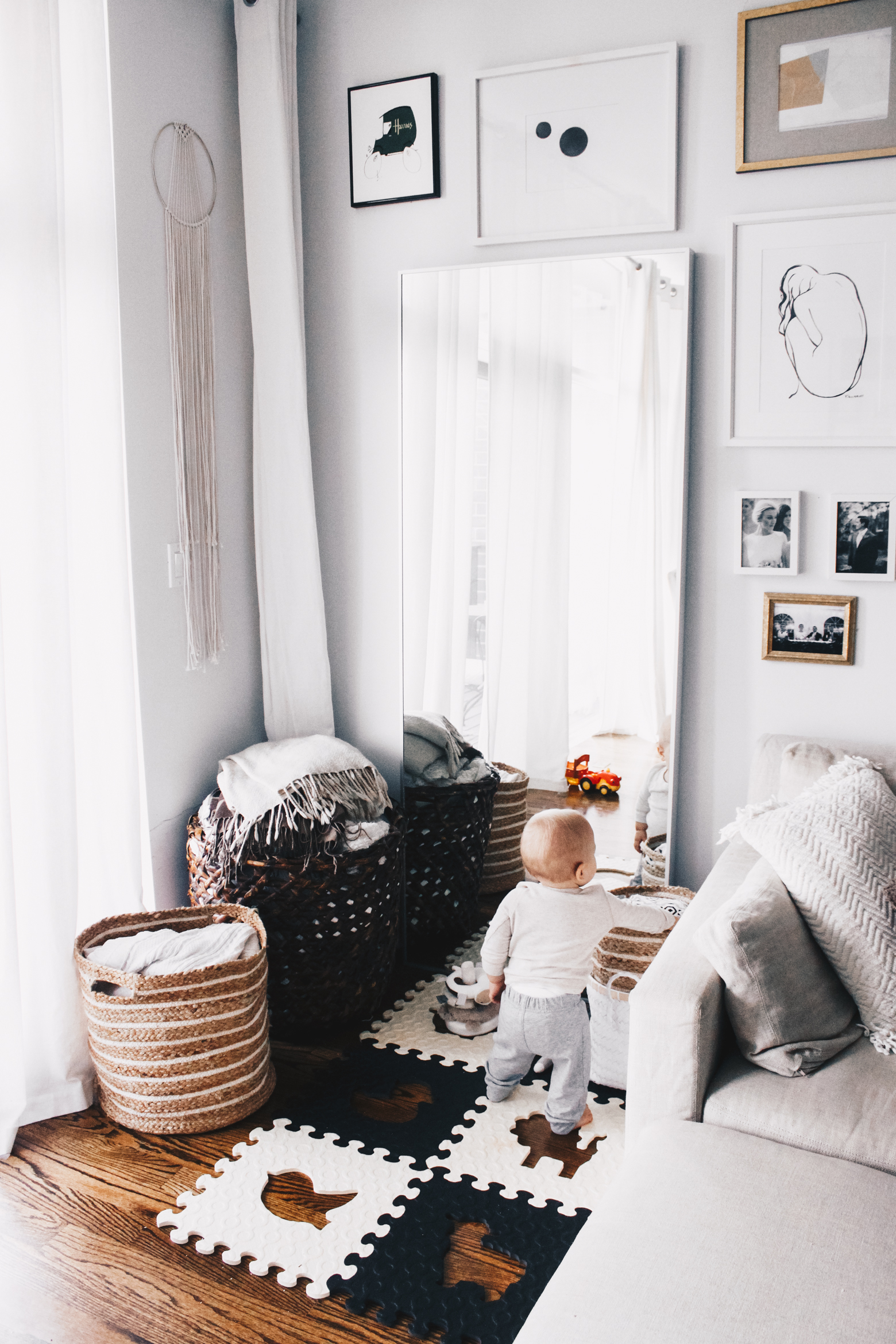 Much to my dismay, our living room is James' play room. We live in a 2 bedroom condo – which I love btw – but space + storage is limited. This has forced me to find a way to blend James' many colorful toys in with my very neutral, minimalistic living room. Good news is, I found a way to do it! It has also taught me a valuable lesson in why it's important to limit the STUFF in our lives. Today, I'm talking about how to create a play space for your child in your main living space, without feeling like your life has been taken over by Fisher Price.
Invest in pretty storage that matches your aesthetic.
This is key. If you have pretty baskets to hide all the ugly toys, that's half the battle. Target has some cute and affordable storage options (I like this round woven basket) and so does Wayfair (this three piece basket set is adorable and only $80!). However, most good quality + beautiful baskets are weirdly expensive. Even though you might end up spending more than you want to on some pretty storage baskets, I promise it will be worth it. Just look at it this way: you will see and use them every single day. In the long run, it pays off. Our jute storage baskets from Pottery Barn Kids are up there with my favorite items in our home, I look at them with heart eyes every day. Sadly those exact same ones are no longer in production, but they have plenty of other cute baskets!
My advice is to splurge on one big, beautiful "toy dump" basket that you feel proud + excited to display in your home, and pair it with a couple cheaper ones. The white woven basket in my photos is from Target, it was actually what I used for James' Easter basket this year!
**TIP: I suggest buying storage baskets that have lids! This way, they will only hold what they are able to and you won't be tempted to overflow them. I wish that we had gotten at least one large one with a lid! I love this French laundry basket from Wayair, and these baskets from West Elm. Since I don't have lids, I like to throw a pretty blanket on top of the basket to hid all the toys!
Here are the best places to buy pretty storage baskets: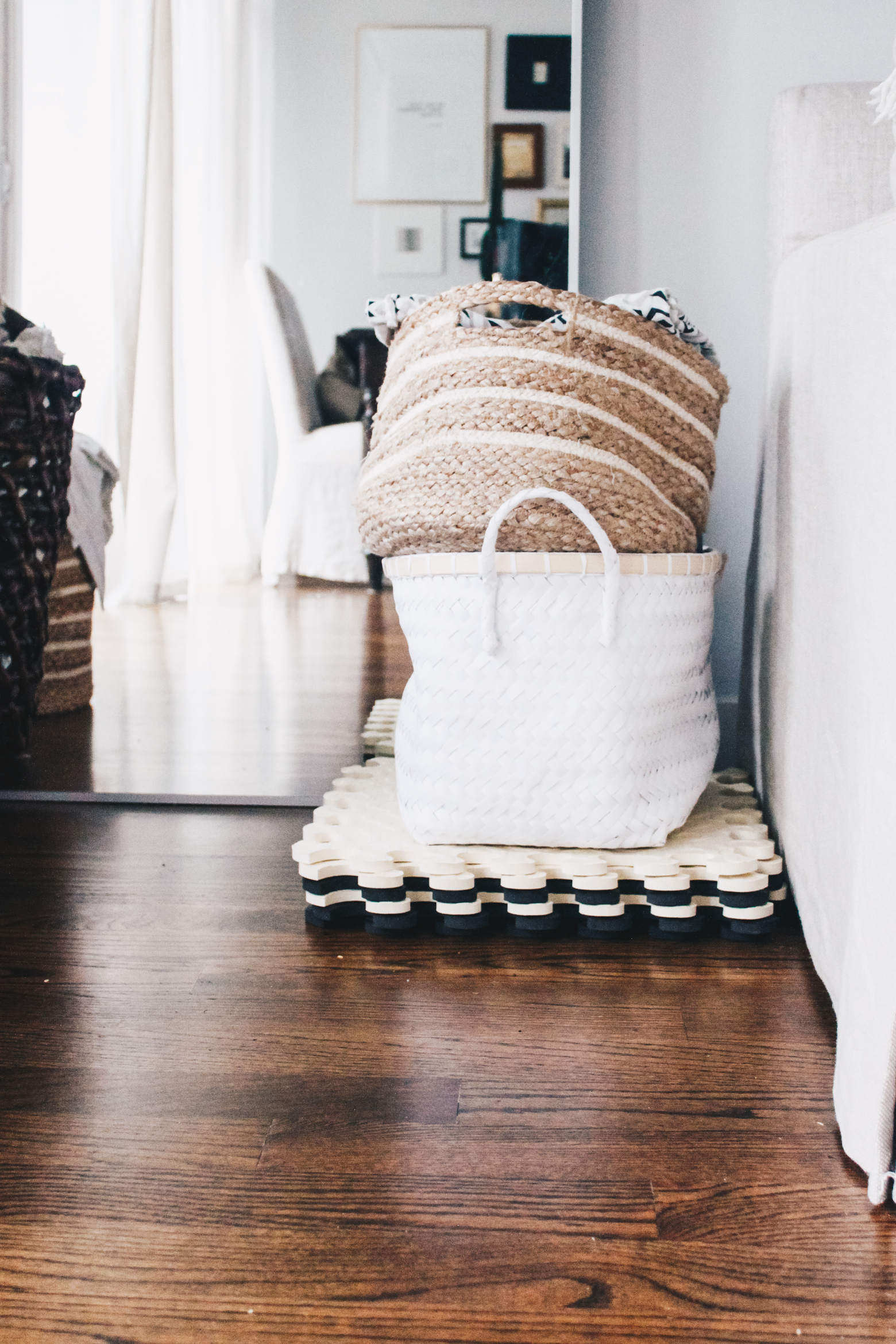 Buy a trendy looking + neutral playmat that you can deconstruct easily.
Like pretty baskets, this is also key. If you have toy storage that matches your decor AND a neutral playmat that somewhat blends in with your floor, it will make all the difference in the world. There are so many SUPER affordable and cute playmats out there nowadays, that do not scream "BABY" – like this playmat that looks like a hardwood floor (only $35!). You can teach your kid about primary colors, numbers, animals, and trains through toys and books. They do not need to be displayed loudly on your floor! Our playmat is from Target, the tiles are tan and black but it actually has colored animal shapes that pop in and out of the tile center. As I'm sure you've noticed, neon isn't really my thing. So, I usually just pop them out (or deconstruct the mat completely if we are entertaining) and let James play with them separately.
**TIP:  The "sports and outdoors" section of retailers like Target and Amazon sell solid foam mats that look just like baby playmats, but they come in plain, solid colors! Here is a gray foam exercise mat that could totally be used for a play space!


Rotate toys & books, because less is more. (Try my 3, 5, 10 rule!)
Recently,I came across these fantastic articles on Pinterest about the importance of minimalism for children: The 6 Reasons Your Kids Need Fewer Toys, and Why Kids Need Minimalism. I am an unorganized person by nature, and it brings me lots of unnecessary anxiety/stress. My anxiety is totally triggered by clutter, and I do not want this life for James! It is easy to prevent our children from inheriting all of our unfavorable traits, right??? Lol. Wishful thinking. I fear that I'm already creating a cluttered life for James due to the fact that we live in a small space. But, I cannot make excuses. Our condo is plenty big, I can't blame it on the condo! I'm trying to take responsibility for this issue by starting to live a less cluttered life; starting with minimizing the things around our home. A good place to start? James' toy corner.
Do you ever feel like your kid wants to play with everything in your house BUT his/her toys? I was complaining to my mom about this (as I do) and she jokingly suggested I hide all of his toys for a week and when I put them back, he'll want them again. Since we have a 1200 square foot condo with limited storage, hiding ALL of his toys at once for this experiment wasn't really an option. So, I decided to start rotating his toys and books.
I do this for 2 reasons: to eliminate clutter in our small living room, and to keep James interested in his toys. This is the 3, 5, 10 rule I'm (trying) to follow…
– 3 "big" toys out at a time
– 5 "small" toys
– 10 books
Every other week, I switch them out. And when I do, James is like a kid in a candy store! Or toy store. Everything seems new to him, and just like that he's interested in his toys again. Even though we are limited on storage, I found a way to stash all his other toys because having a living room that isn't crazy cluttered is priority #1.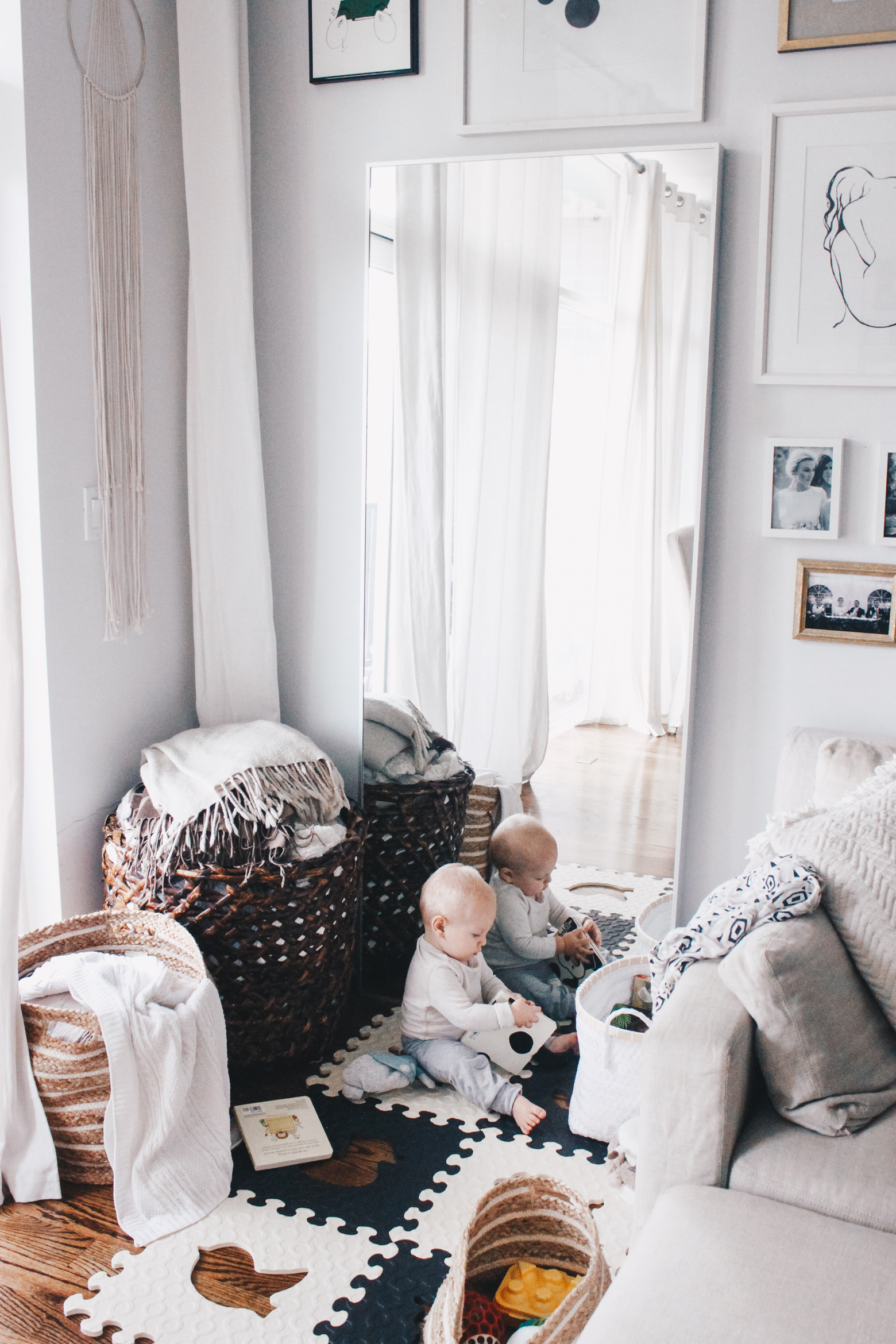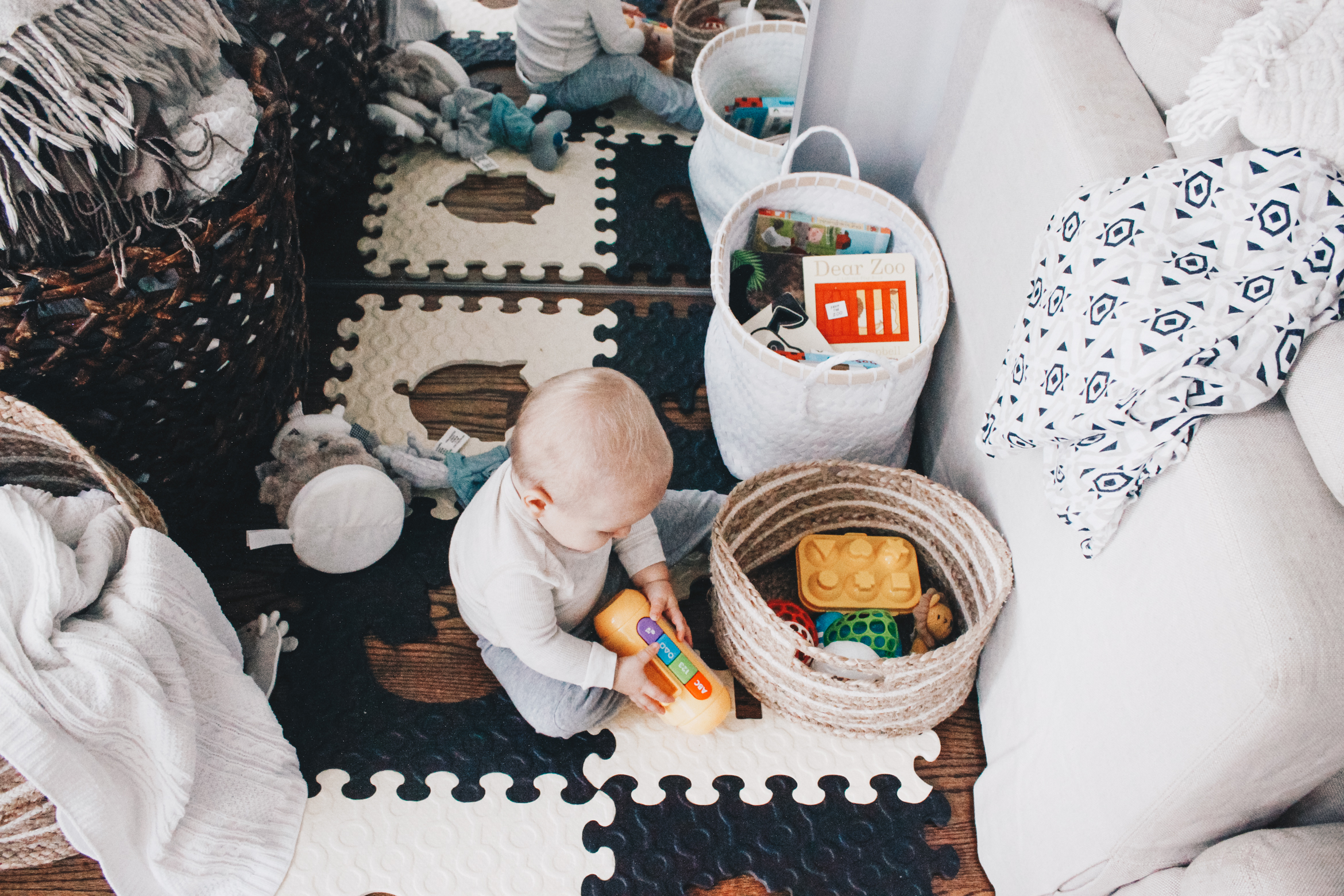 Be mindful about the toys you let in.
Start making the conscious decision to be more selective about the types of toys you let into your baby's play corner. Of course I'm not suggesting spending an arm and a leg on ensuring your baby only plays with hand crafted artisan toys made by monks in the Swiss Alps (are there even monks in the Alps?). But as you know if you've ever let your baby play with a box or a wooden spoon: baby's and toddlers are MORE than okay with simplicity. In fact, they need it! Overstimulation is a real thing, and it can interfere with sleep. And we all know: DO NOT MESS WITH THE SLEEP! Also, simple toys that don't do anything fancy help teach your child how to use their imagination.
Of course there is nothing wrong with a few bright, flashy, noisy, fun toys. A few of those are necessary too. And I love watching him play with the fun + musical + fancy toys too, they are a blast. For instance, James loves this dinosaur that talks to him when he feeds it (it's so cute), and of course his beloved digital drum set (it is not loud or annoying at all, and I actually play it more than James). But, no need to stock your baby's whole toy collection with fancy toys. Know when to draw the line, and focus on making sure there is a good balance of  stimulating toys, and simple toys. Additionally, YOU will benefit from a room that isn't filled with bright neon colors, flashing lights, music playing 24/7.
Ideas for "simple" toys:
My favorite toy brands are: PlanToys, B. Toys, and Skip Hop.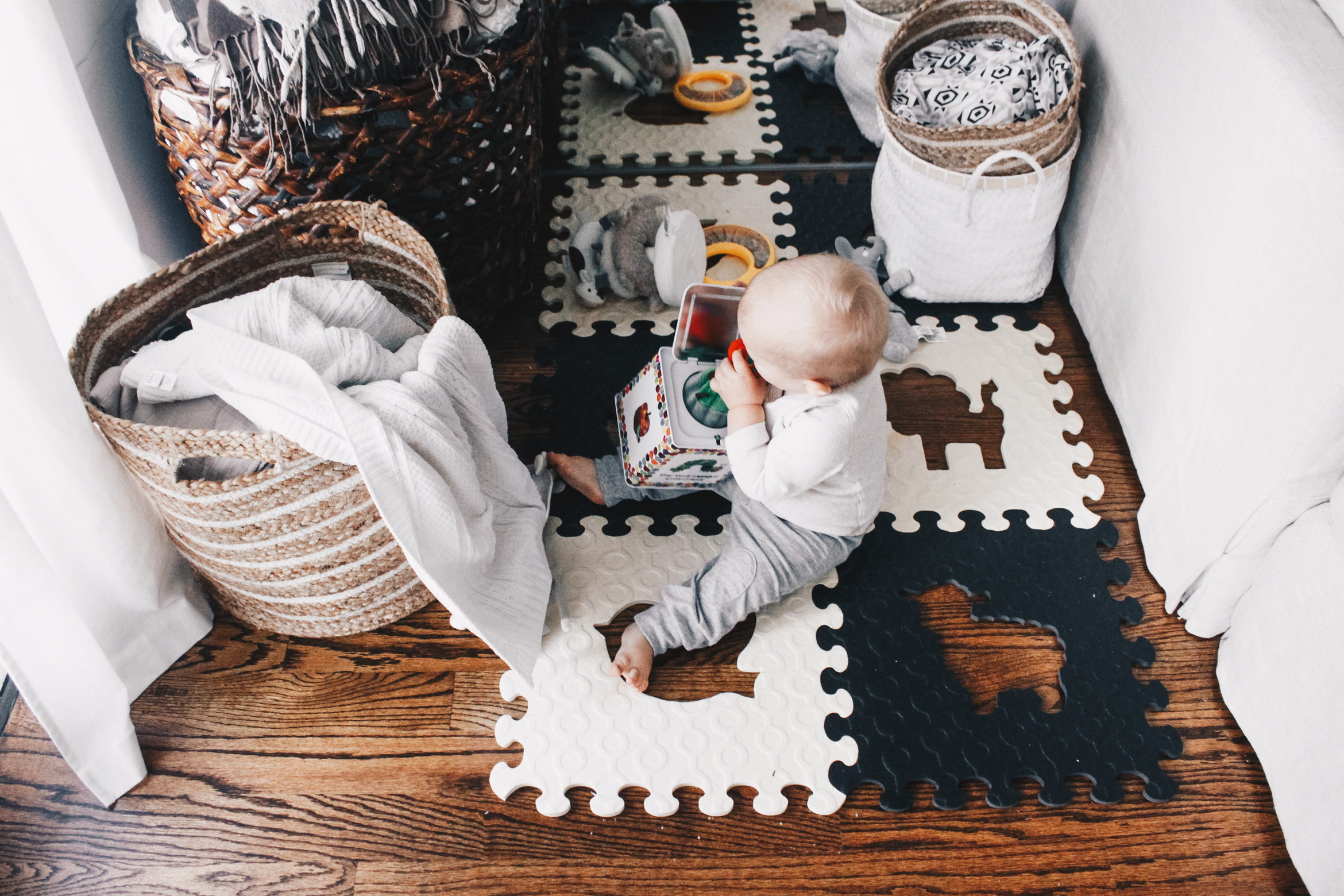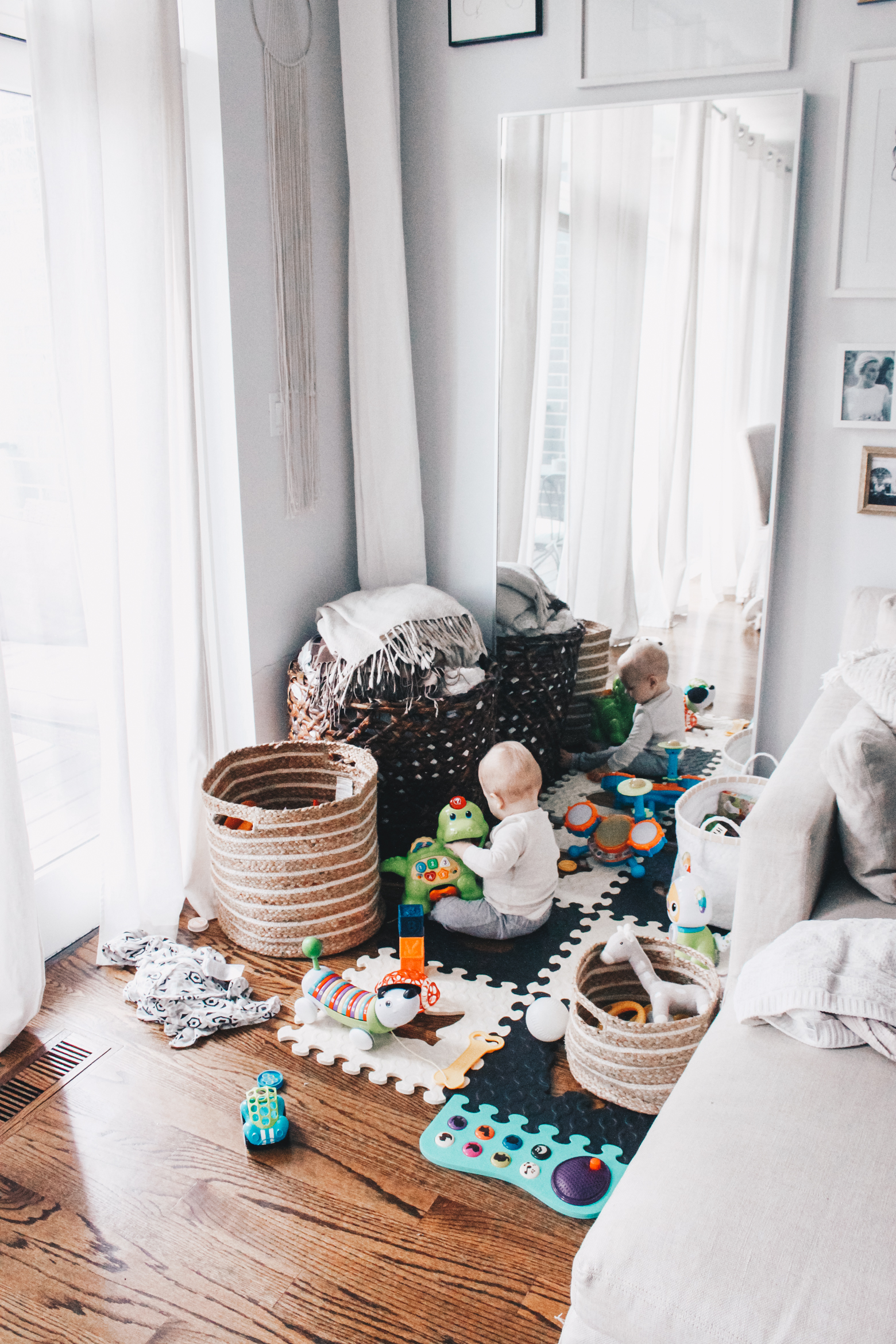 – SHOP THE POST –