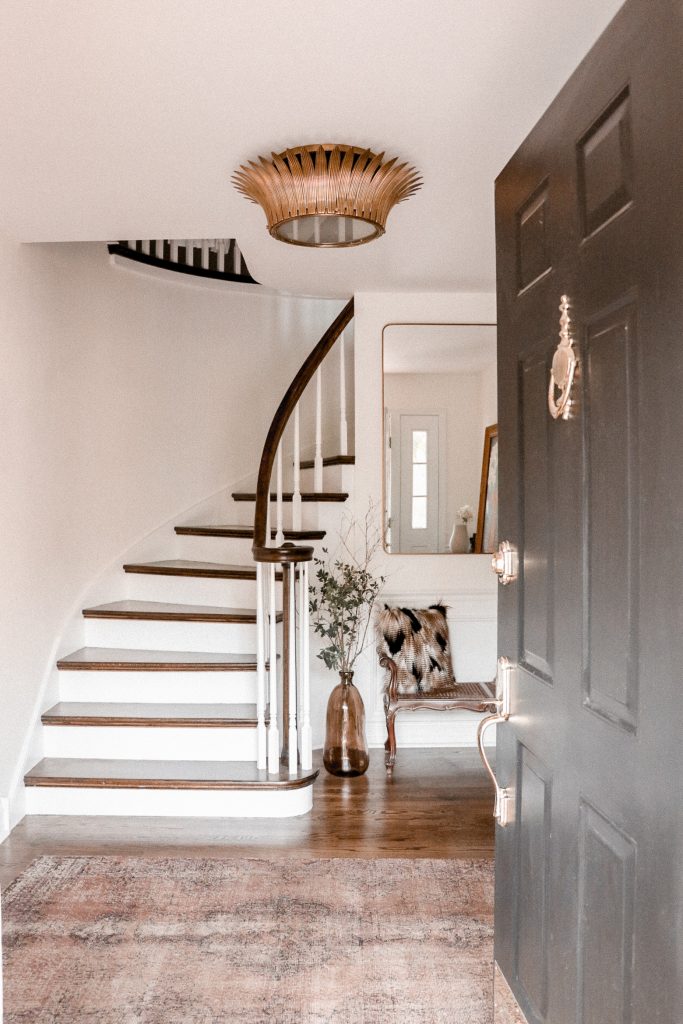 This post is in partnership with Hinsdale Lighting and Hudson Valley Lighting Group, brands I trust and love. Products were gifted to me and all opinions here are my own!
I'm excited to share a house update with you guys as I know it has been so long! I took a major home decor hiatus after having Shea (and all of the craziness that ensued) but I'm back on the horse and it feels so good. I have a lot of upcoming house updates on the way but first I want to start with our entryway featuring this STUN-NING flush mount from Hudson Valley Lighting that I selected with the help of none other than Hinsdale Lighting.
Our foyer is finally done. It took me forever because for the life of me I couldn't find the perfect console table but now that I've completed that seemingly easy but surprisingly arduous task, the rest of the little space just fell into place. By the way, my burl console table is vintage and I found it on Chairish. I'm so in love. I found it from a woman who was selling all of her dad's old office furniture from the 60's and she told me it has "great energy" and she "just wants it to find a good home" – UGH I love vintage shopping so much.
To be totally honest, when we moved in I was dead set on finding a way to raise the entryway ceiling. But much to my dismay, not possible. I was bummed because the space is pretty cavernous and I always dreamed of having a foyer with a tall ceiling and big + beautiful statement light fixture. Thankfully, I started working with Hinsdale Lighting and they introduced me to something I didn't know existed: the world of sexy flush mounts. Cue, the Romanov from Hudson Valley Lighting Group.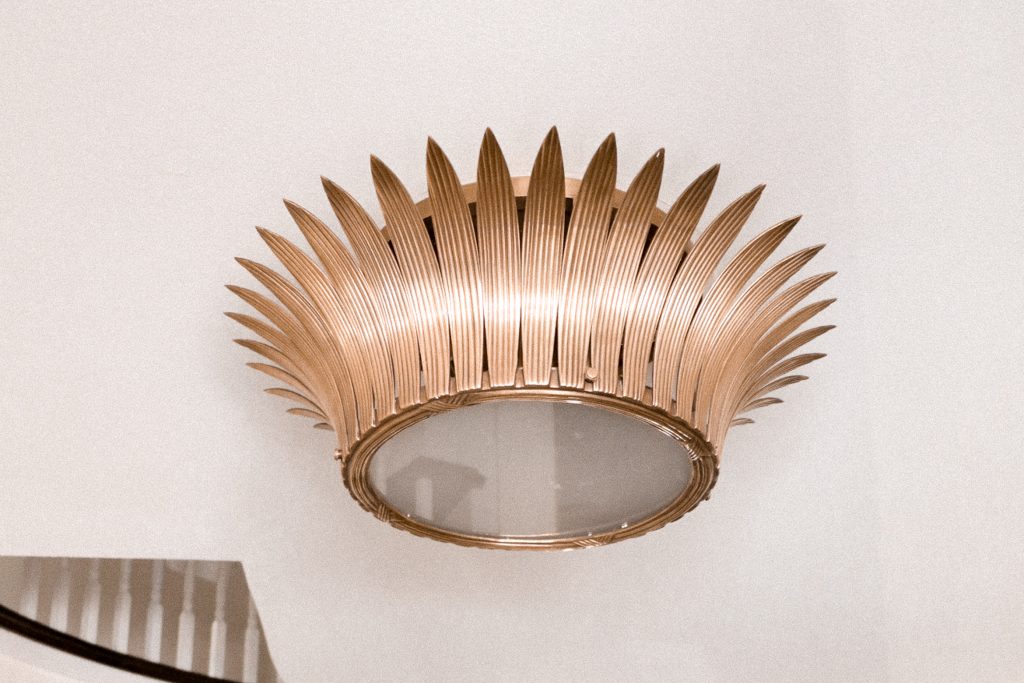 The Romanov flush mount was designed by renowned interior designer, Martyn Lawrence Bullard. He has designed multiple homes for the Kardashians (Kourtney's is by far my favorite) and I'm a long time fan. So, I was very excited to check out his lighting collaboration with HVLG.
Romanov comes in three different sizes and I went with the medium (25″x9.5″) and it fits the space perfectly. Picking the right size is one of those things I definitely couldn't have done without the experts at Hinsdale Lighting since there are so many scaling rules when it comes to light fixtures for your home. They are not a one size fits all installment!
I love this fixture because it is so dramatic. I tried to get a photo of the amazing light and moody shadows it casts at night but I just could not get a good one! The pictures just weren't doing it justice. It was hard enough to photograph this space in the day time because of how dark my entryway is – even at the brightest time of day! Sigh.
Check out before and after photos below and you can find additional links at the end of the post but apologies in advance as pretty much everything is vintage and not directly linkable, or sold out. Ugh, sorry! Thanks for stopping by 🙂
Our entryway before & after…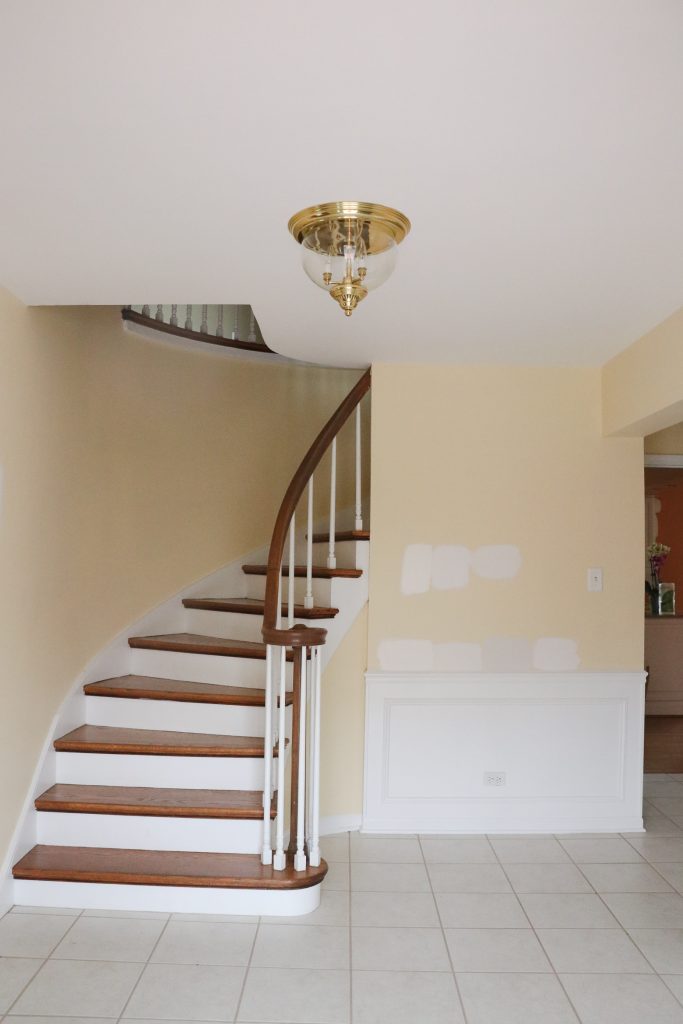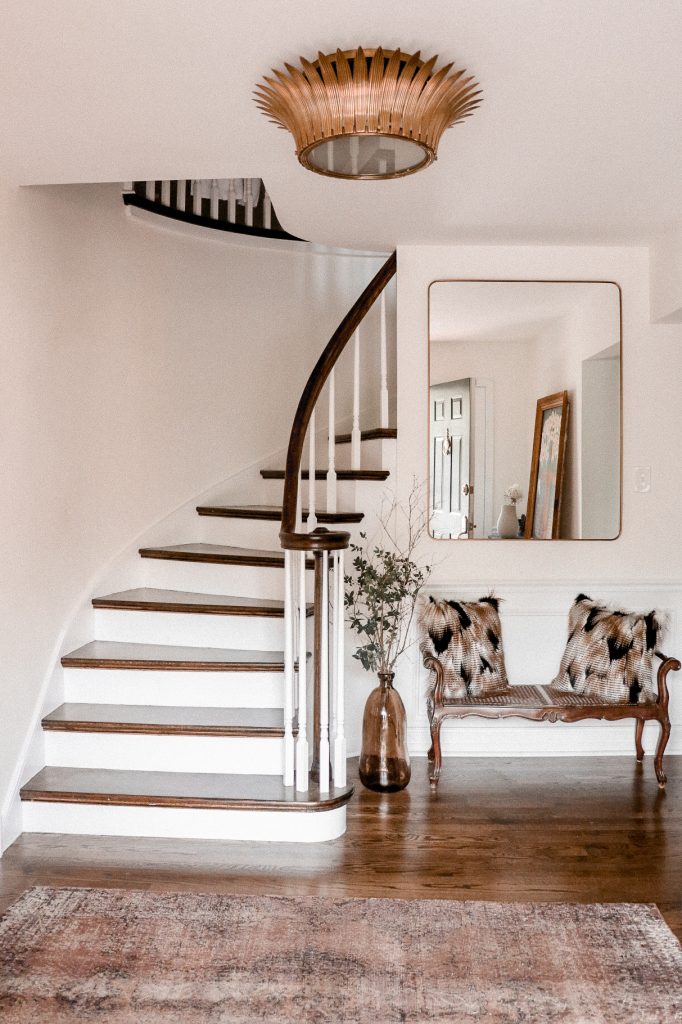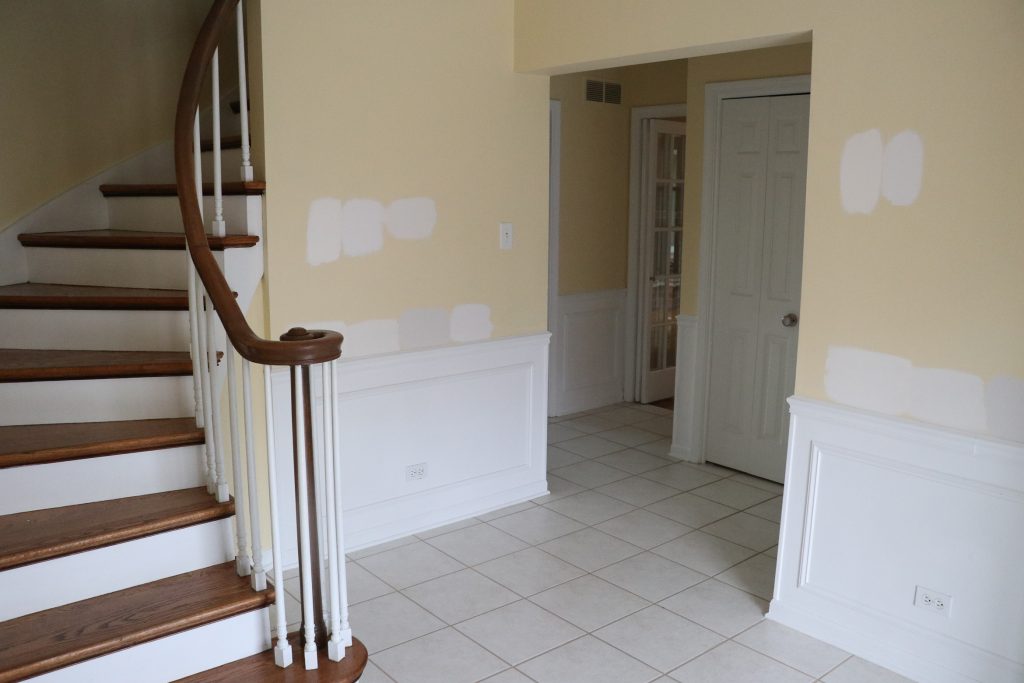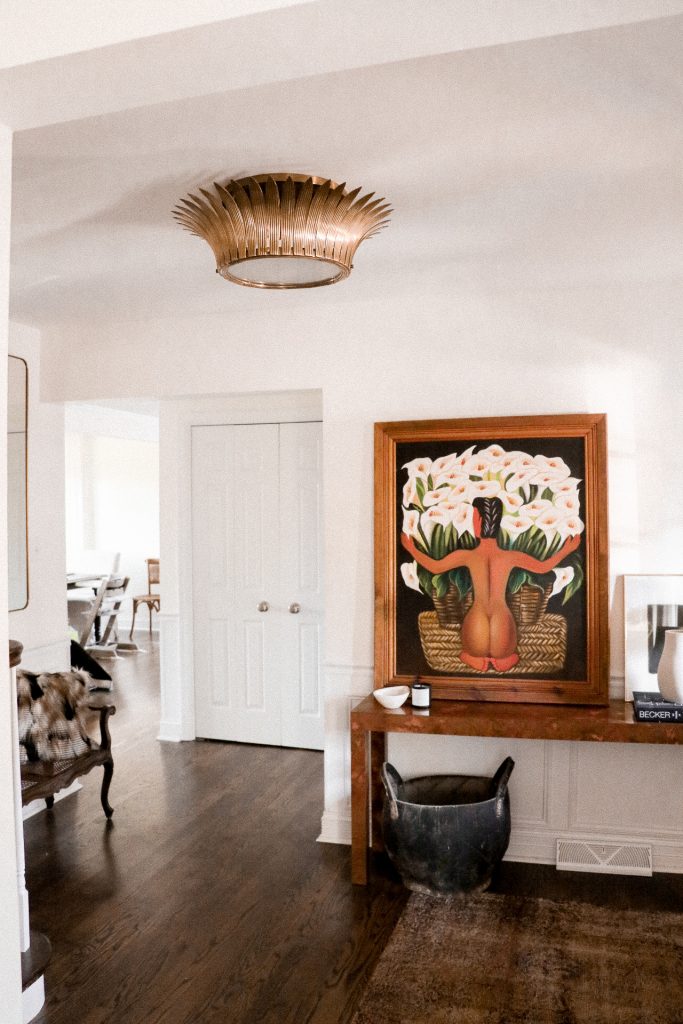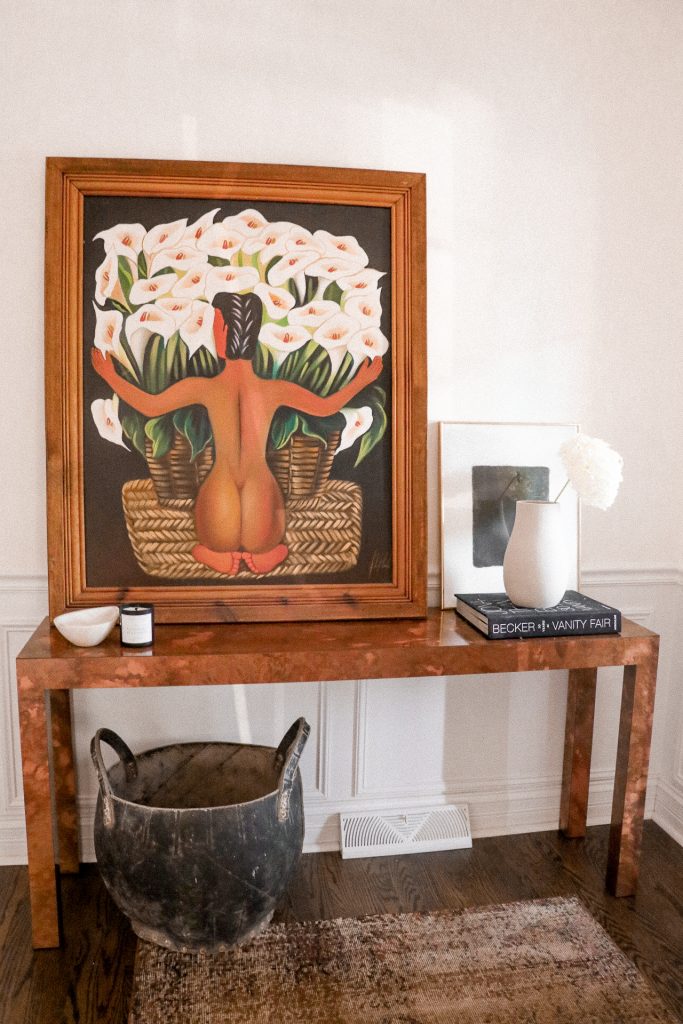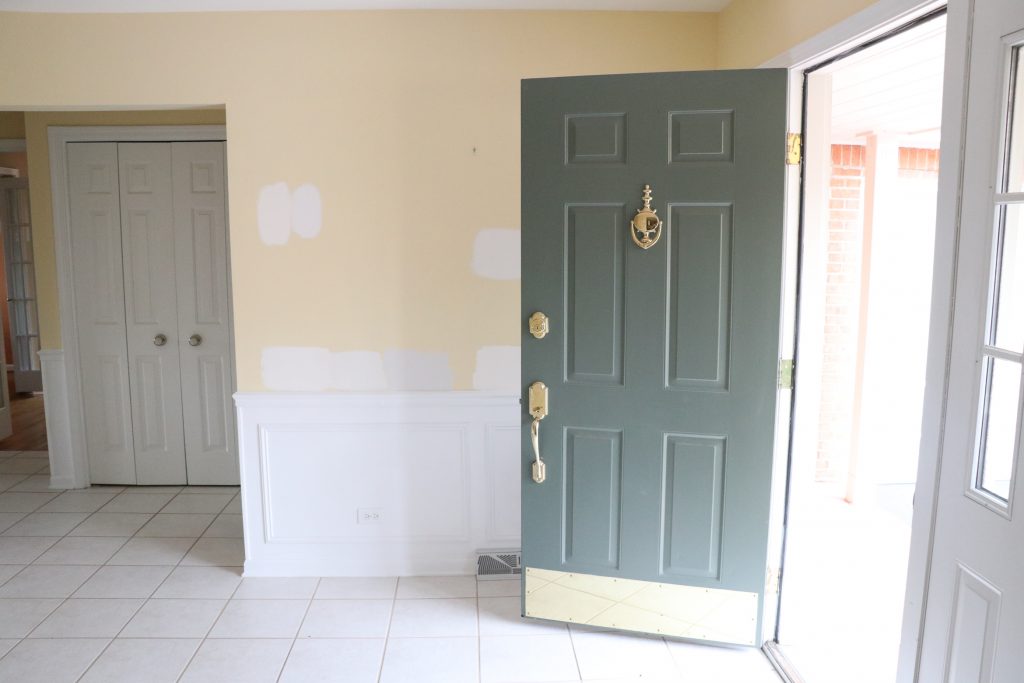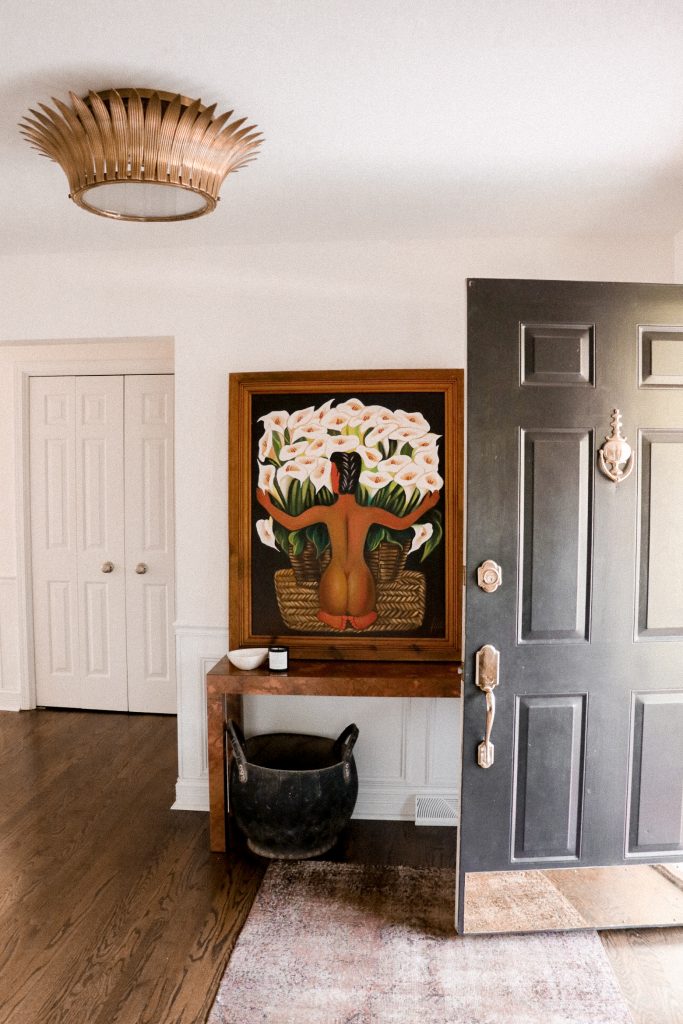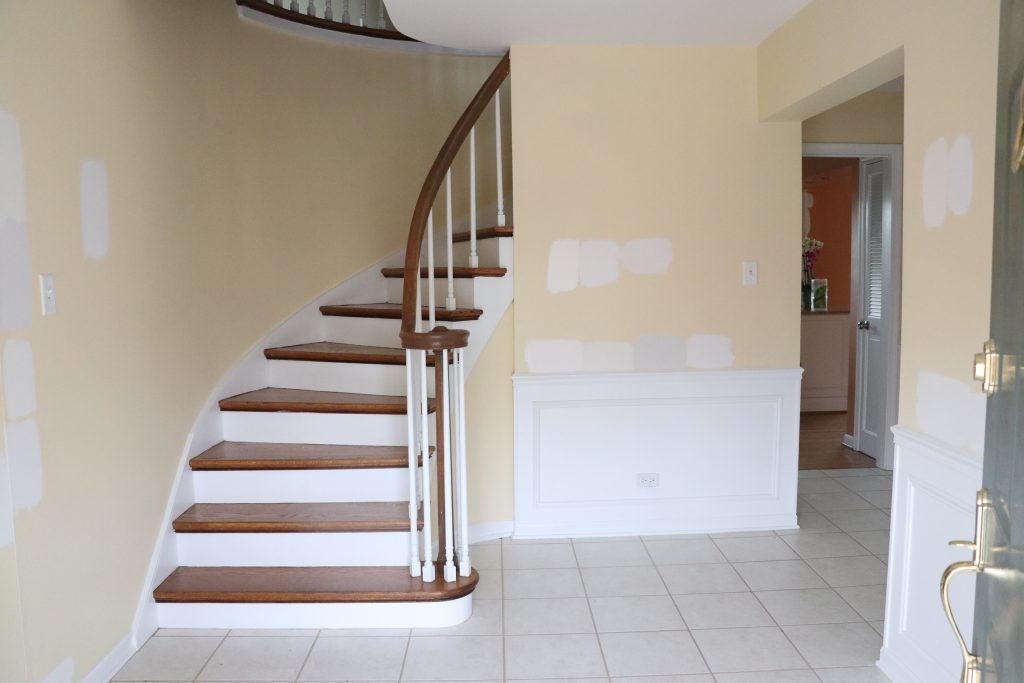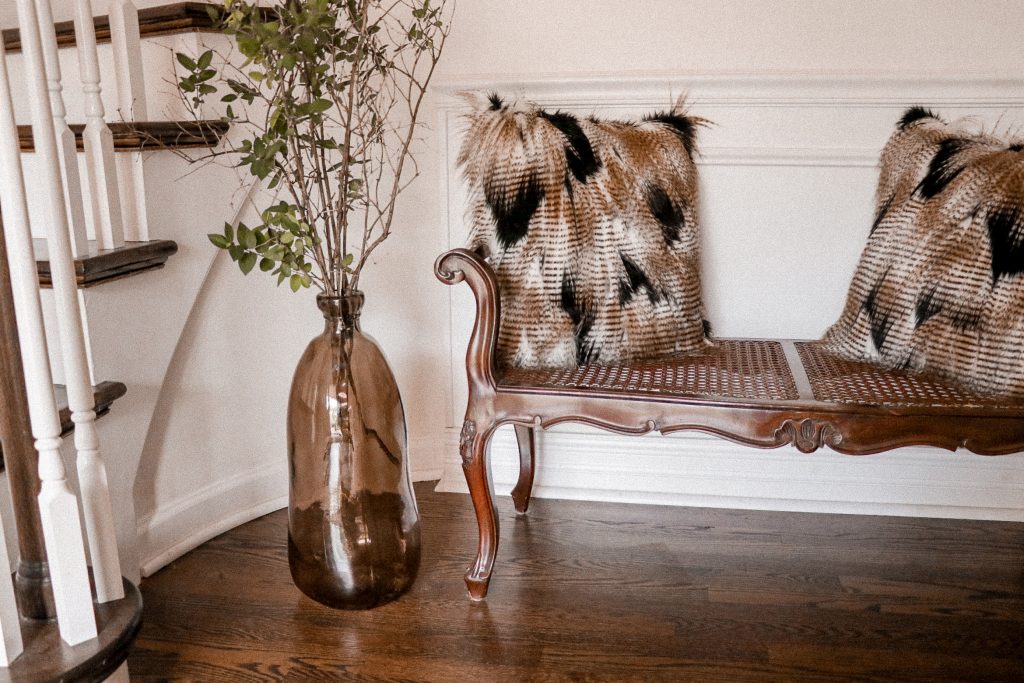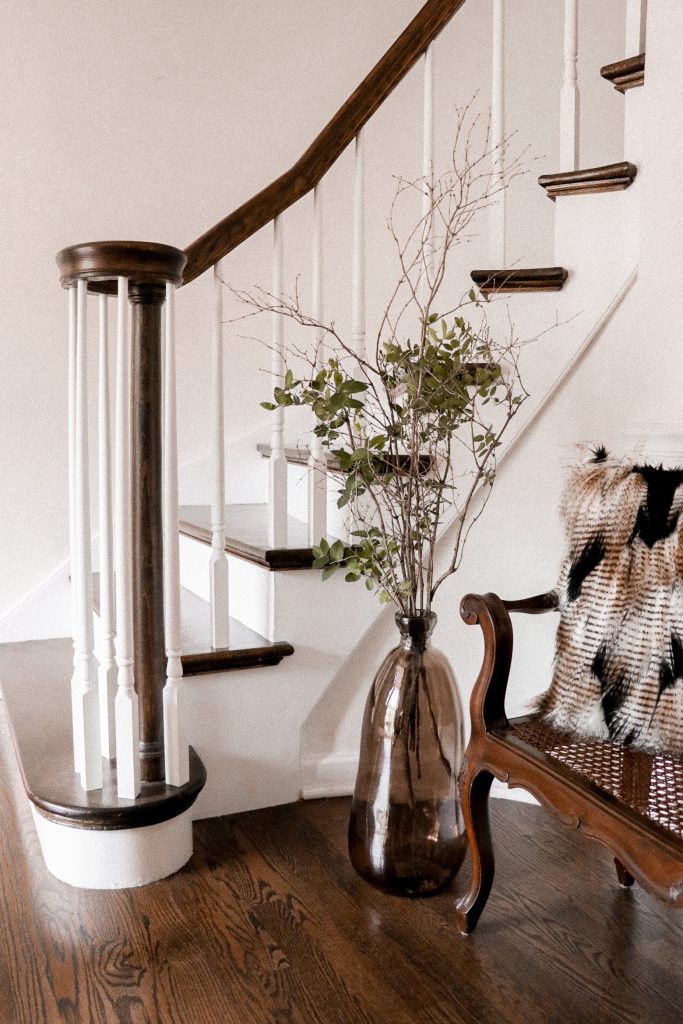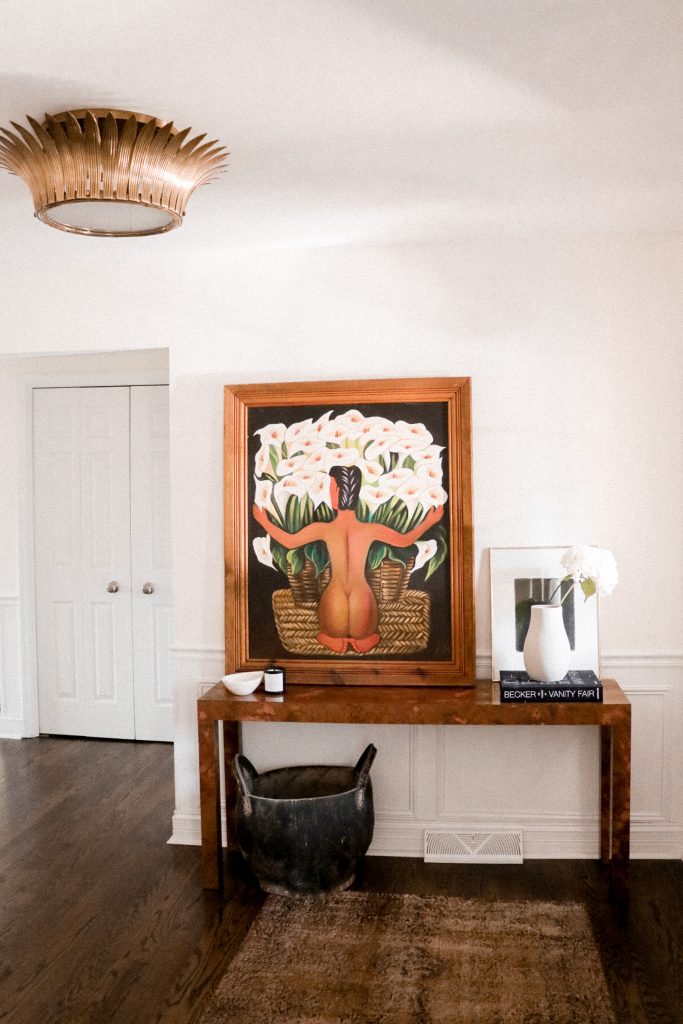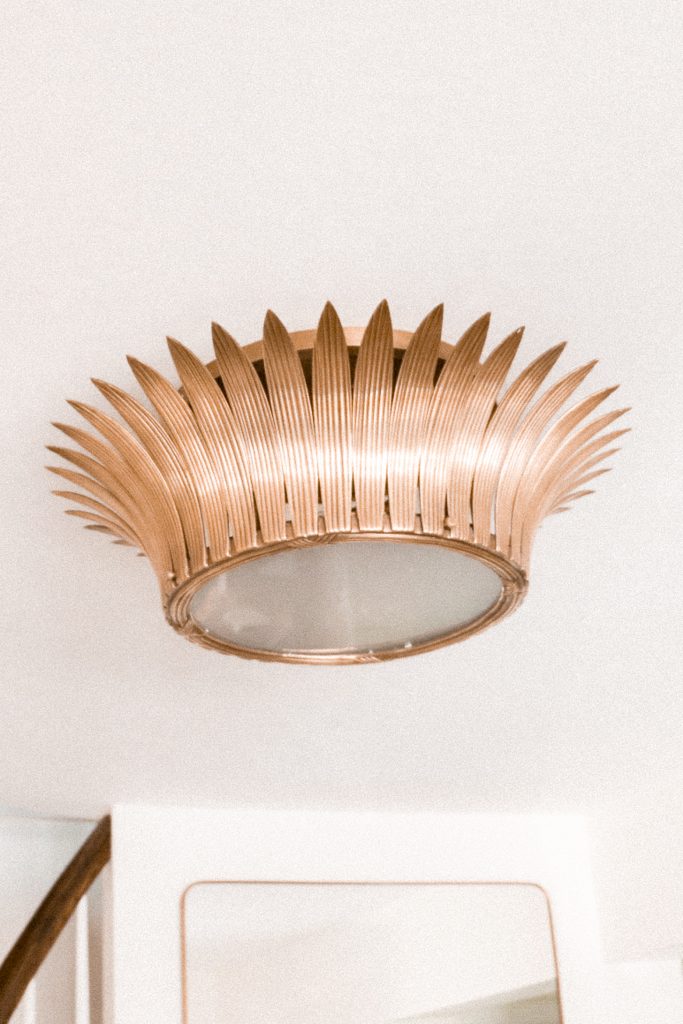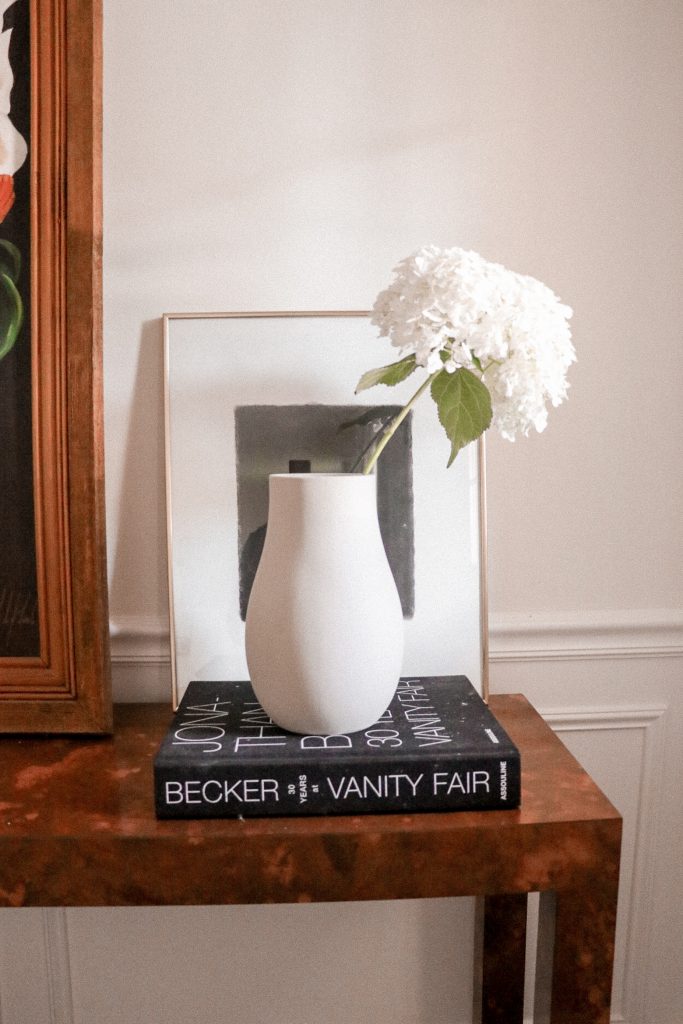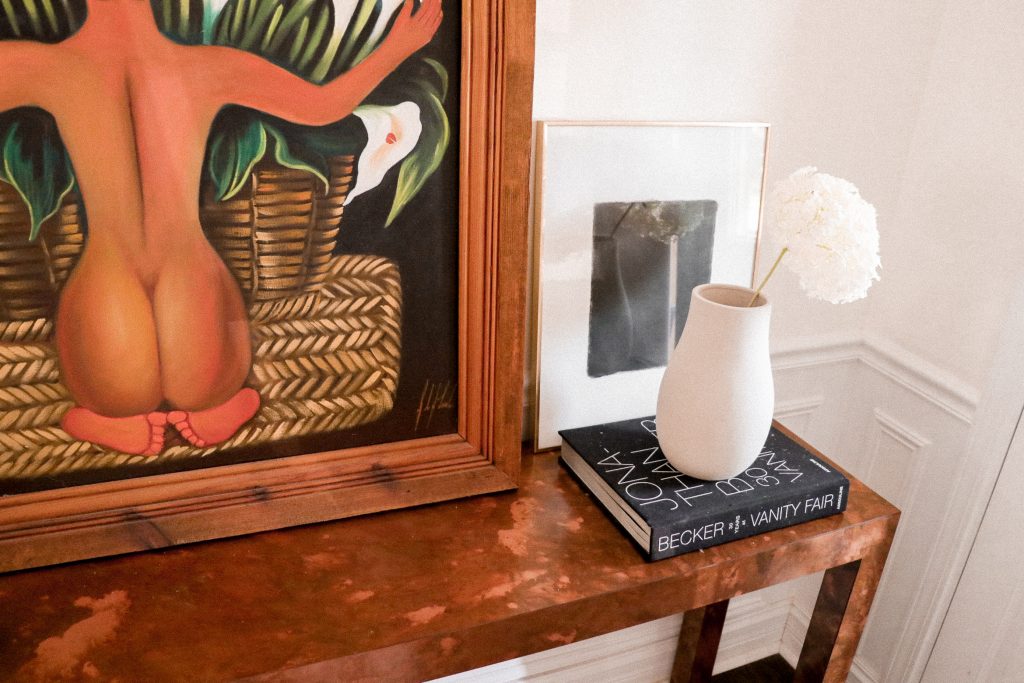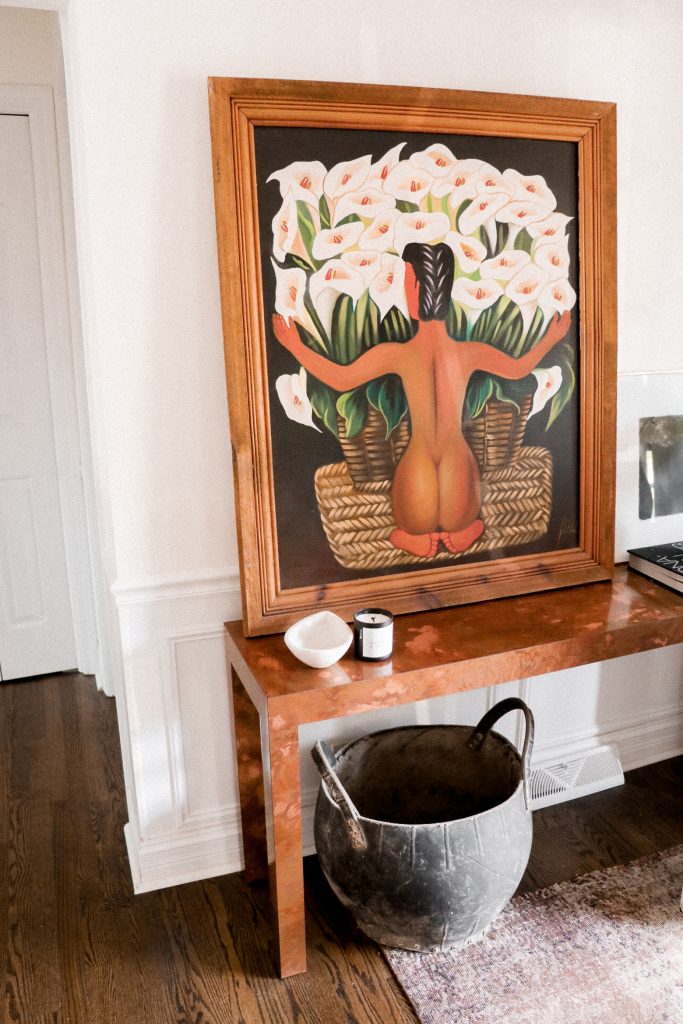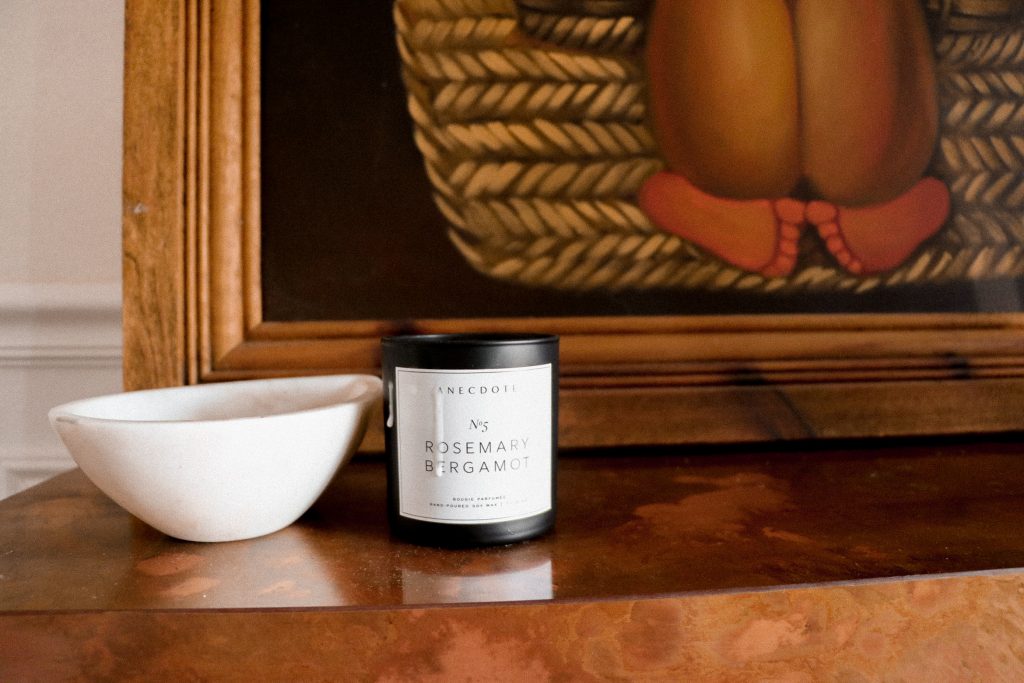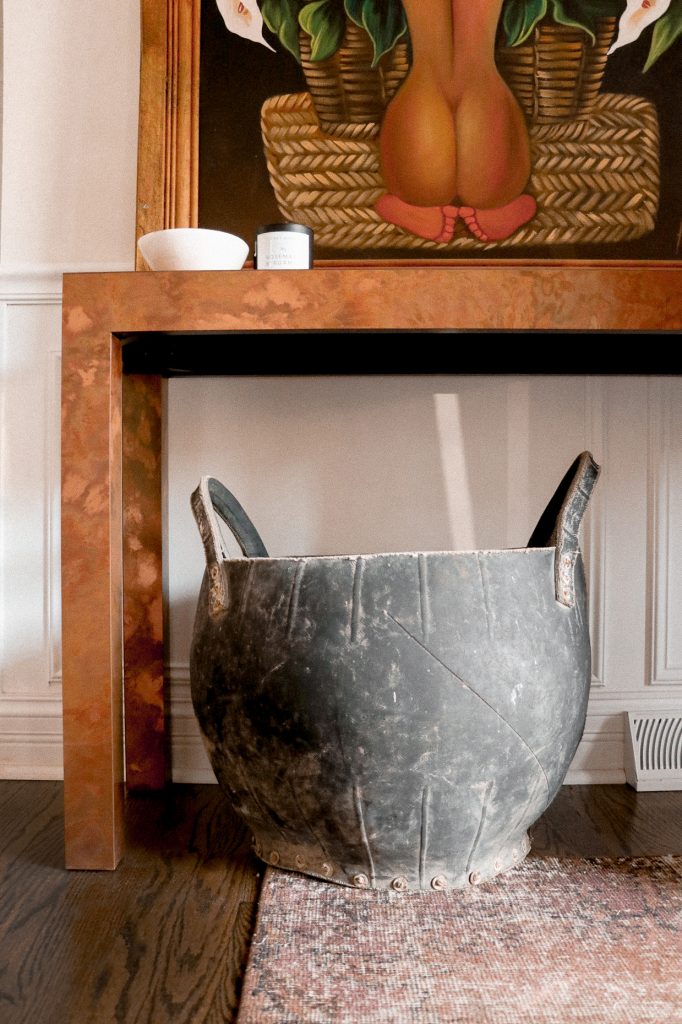 Product links:
Floor vase – sold out from Zara Home, branches in vase were cut from my backyard!
Vase on console table – sold out from CB2 but similar here
Book on console table – I can't find it anywhere but similar here
Console table – vintage from Chairish
Pillows on bench – vintage from Chairish
Bench – vintage from local antique shop (Jackson Square Mall in La Grange, IL) 
Rug – vintage from eBay (everything you need to know in this blog post)
Large oil painting – found on Craigslist for $25!!!!! Check Craigslist for art!
Basket under console table – vintage from Alchemy Art & Antiques in Michigan
Paint color – Simply White by Benjamin Moore