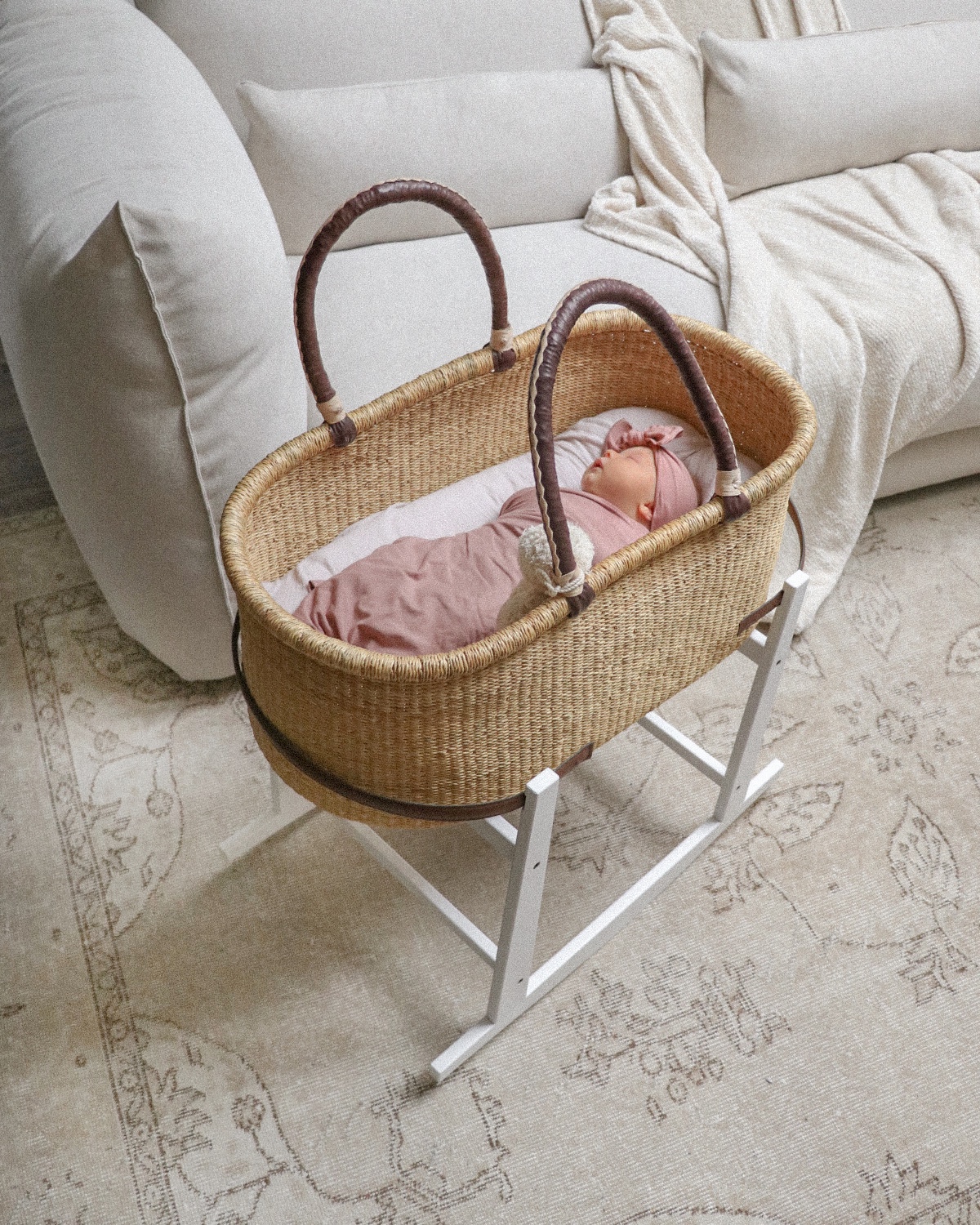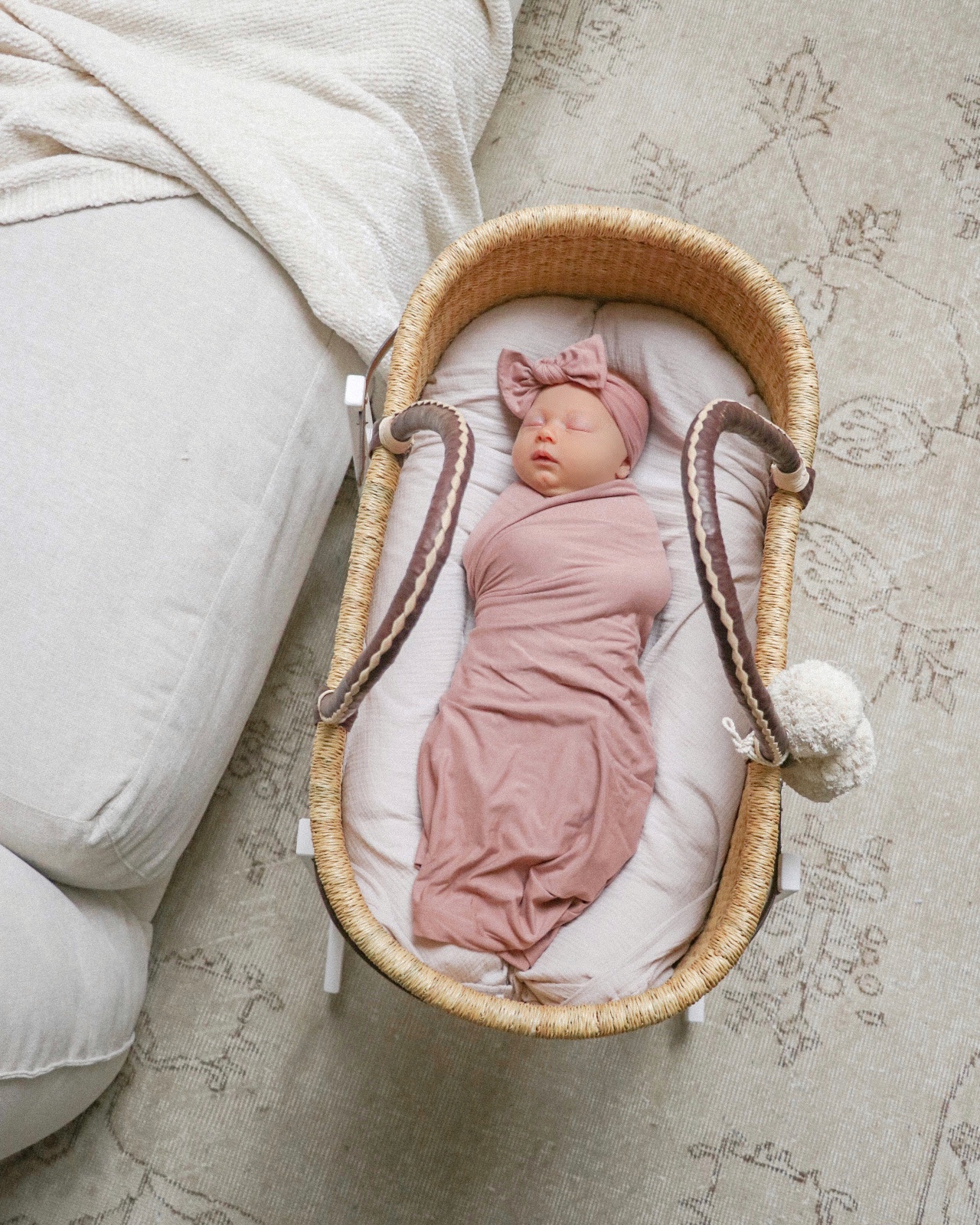 I was on the fence about whether or not one of these baskets are really necessary and I'm here to say I'm a total believer now. This basket is seriously amazing and really does serve multiple purposes. It was gifted to me by the brand but I swear I'm not being paid to rave about it. If you follow me on Instagram, you know we use it every single day!
First of all, I love having a bassinet on the first floor of our house. It's so nice having a safe place for Shea to sleep in these early months where I can see her and get stuff done. We have a Boppy and it's great for lounging but for one, it can only be used on the couch which makes her extremely vulnerable to my three year old tornado, and two, I like her to do the majority of her sleeping flat on her back.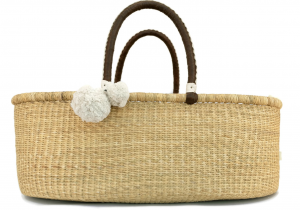 Also, the basket itself is totally portable and can be toted around the house and placed on any (safe) flat surface. The other day, I put her down for a nap in the Moses basket on the bassinet stand while I made James lunch in the kitchen. After lunch, she was still asleep and it was time for me to bring James upstairs for his nap and I simply brought the basket upstairs with us and put it in James' doorway while I read him books and got him settled in his room. Then, I brought it back downstairs, all without waking her! Arguably most importantly, it has totally given me the power to shower! I put it on the bathroom floor and have eyes on Shea the whole time.
If you're going to get one, I highly recommend spending the extra $85 and getting the bassinet stand as well. That is where I have the basket the majority of the time! It's so great to be able to move the stand from room to room, I'll put it in the living room next to Alexa playing white noise while James and I play in the family room. Also, you'll need one of their basket pads because Dock-a-Tot and Snuggle Me Organic cushions are too big. They have two inserts: a nest pad, and a basic vinyl flat pad.
** Note that if you go with the nest pad which is what we have (the more cushiony insert with bumpers on the side) you cannot let your baby sleep in it without being able to monitor them periodically! If you want to use this as an overnight bassinet, get the flat basket pad.
Ahhh the Haakaa! To be alive in the time of THE HAAKAA! Okay, I'm being annoying but this thing is so incredible and has seriously changed the breastfeeding game big time. I rarely ever use an electric pump anymore and I already have a huge freezer stash of milk I've obtained from the Haakaa alone. I'm so sad it didn't exist when I was nursing James!
What is it?
The Haakaa is a breast pump that is essentially just a silicone suction cup. I don't even want to refer to it as a "pump" because that would imply there might be work involved, and there is not! It literally magically expresses and collects milk from your breast and you don't have to do a thing aside from stick it on your boob. And once it's on, both hands are free to do other things! It is super easy to put on – here is an awkward YouTube video of someone attaching it to a fake boob.
When do you use it?
Every time I nurse! BF'ing moms: you know how your unoccupied boob leaks milk as soon as your baby starts nursing on the other side? Ever wonder just how much milk comes out during that let-down? A LOT! And the Haakaa collects it. I put the it on one breast while Shea nurses on the other and it collects all of the milk from my let-down on the side I'm not nursing on. However, it does not empty the breast because there is no stimulation involved. So, once your baby is ready to switch to the other breast (the one that the Haakaa was on) there is still plenty of milk left for them!
How much milk does it collect?
I get anywhere from 2-3oz per use but that of course will vary from person to person. The max amount it can hold is 4oz.
Do you still need an electric pump?
Yes because if you are in a situation where you missed a feed and need to fully empty yourself, have to pump and dump, or you're trying to up your supply, then you'll still need an electric pump. Like I said, it does not stimulate your breast by simulating a nursing baby like an electric pump does. The Haakaa just applies pressure via suction to your breast so once the milk from your let-down has been released, it will stop expressing milk!

I swear by this Aden & Anais swaddle. It is made of the softest, most cozy, lightweight material and it's stretchy! Something I didn't know I needed in a swaddle. We put Shea in a sleep sack at night because I don't trust my swaddle skills to last overnight but I always swaddle her in blankets during the day for naps when I'm awake and can check on her. Also, this is just a great general purpose blanket to have around as well!
I know, I've raved about this stuff a million times. But I forgot how great it is until I started using it daily again. This totally non-toxic, natural oil based baby balm is a cure-all for so many things! I mainly use it on her bottom after every diaper change to prevent rashes and it truly works. I have one jar marked "body" and one jar marked "face" because it's awesome for baby acne, cradle cap, and scratches on the face too.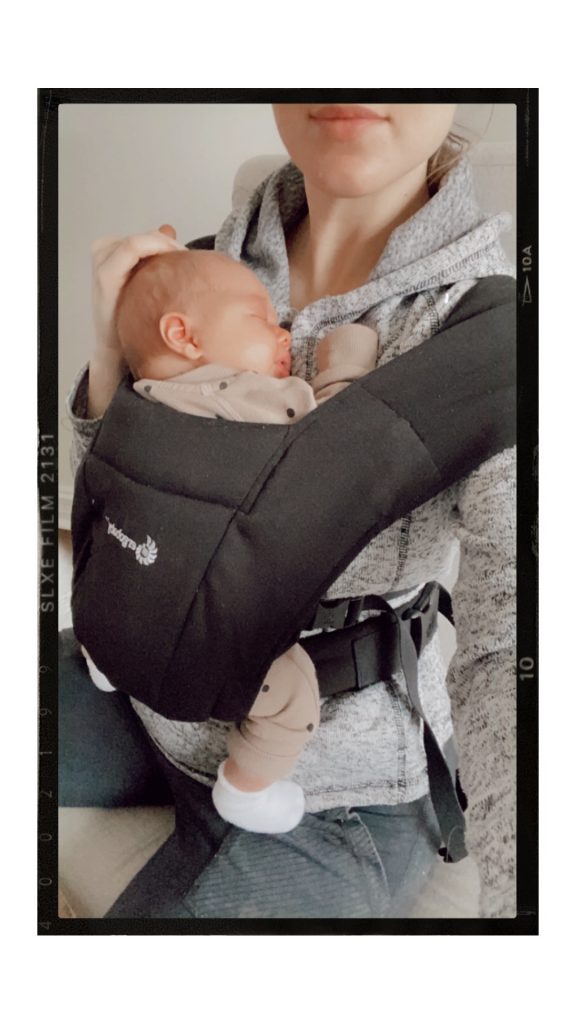 I talk about this in my 25 new baby products to know about post and I'm so glad I got it! I was told at buybuy BABY that the Ergobaby Embrace is the new "it" baby carrier. It's a hybrid, meaning it wears like a baby wrap but functions like a structured carrier. You can use it from birth to 18 months. Also the price point is super friendly in comparison to other structured carriers by Ergobaby. I use it every day with Shea!