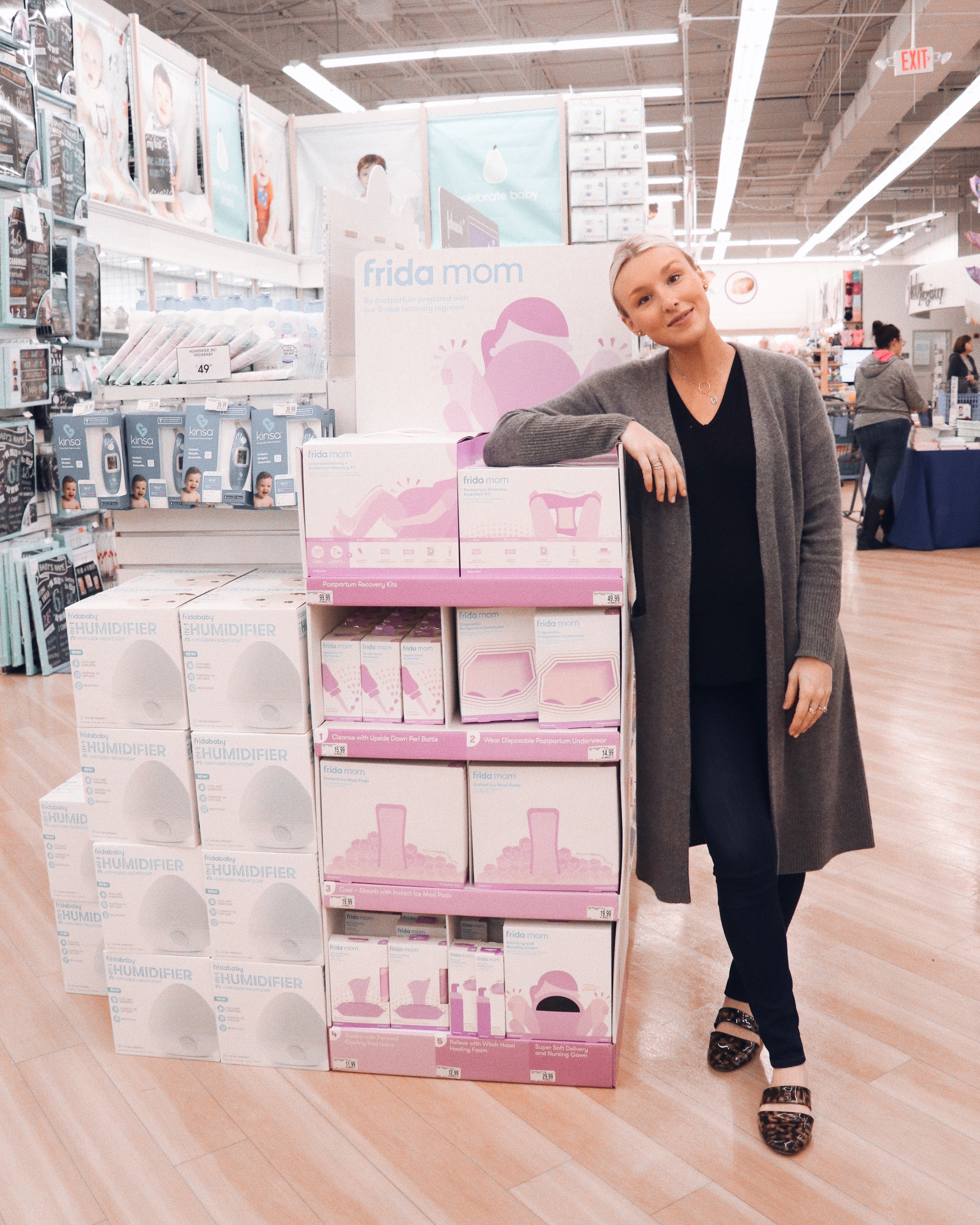 This post is in partnership with buybuy BABY, a brand I trust. All opinions here are my own.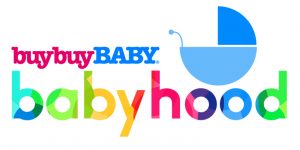 I can't believe I'm due in two months! However, I'm officially NOT a believer in the notion that second pregnancies "fly by" because this one has literally been crawling. But I do feel like these last weeks are going to pass very quickly with the holidays coming up and I'll enter some type of panic mode soon. I haven't started the nursery, we still need to go through James' old baby stuff, and I've barely bought this baby girl any clothes! One could argue I'm in denial that this huge change is coming. Everyone keeps talking about how the transition from one to two is SO MAJOR and friends of mine that have recently had their second have not sugarcoated a thing. Not going to lie, I'm nervous!
Last week, I went to buybuy BABY to meet with one of their in-store associates (hey, Beth!) and she showed me the ropes in regards to the current infant world. We went over all of their most popular and registered for products right now and it was so informative! This was the perfect way to dip my toe back into the newborn pond. It helped jolt me into reality that this baby will be here soon and I need to start preparing. A good amount has changed since I had James in 2016 and I'm so excited to share everything I learned from my visit because it was super helpful. Their associates are so great and always willing and eager to show you around + answer a million questions!
Before we start, I want to clarify that not all of this stuff is technically "new". However, it is all new to me! Depending on the age of your children and when you were last pregnant, you may be familiar with some of these products. But if you're like me and have been fully out of the newborn/infant loop for a couple years now, then I'm assuming + hoping you'll find this list very helpful!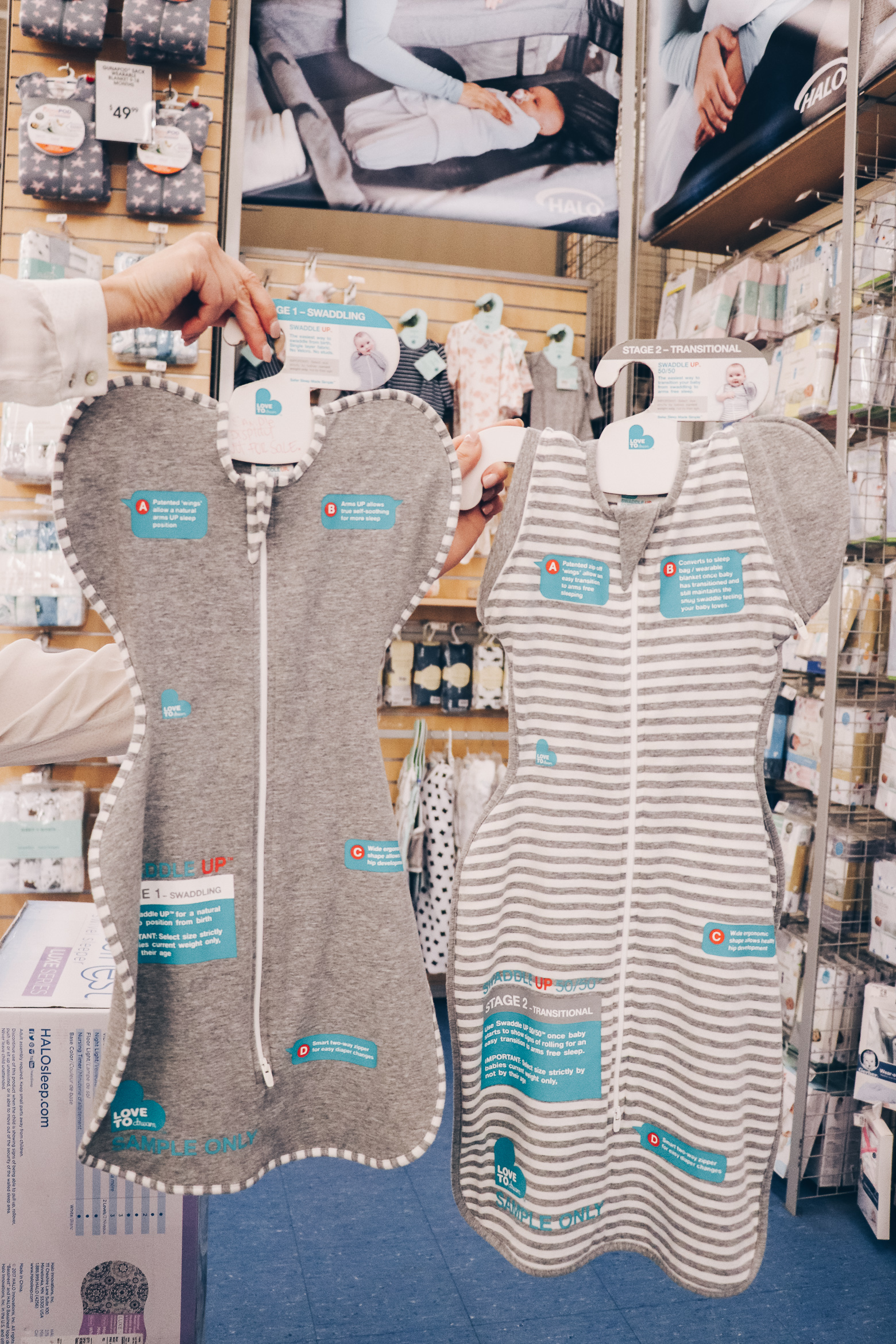 Okay this invention is brilliant. I feel like the parents spoke, and the baby sleep gods listened. James wouldn't sleep with his arms swaddled in and when they were out he'd constantly whack himself in the head, scratch his face, etc. while trying to fall asleep. These sleep sacks solve that problem! Baby's arms are semi-free to move around about but they're still covered and restricted from hurting themselves.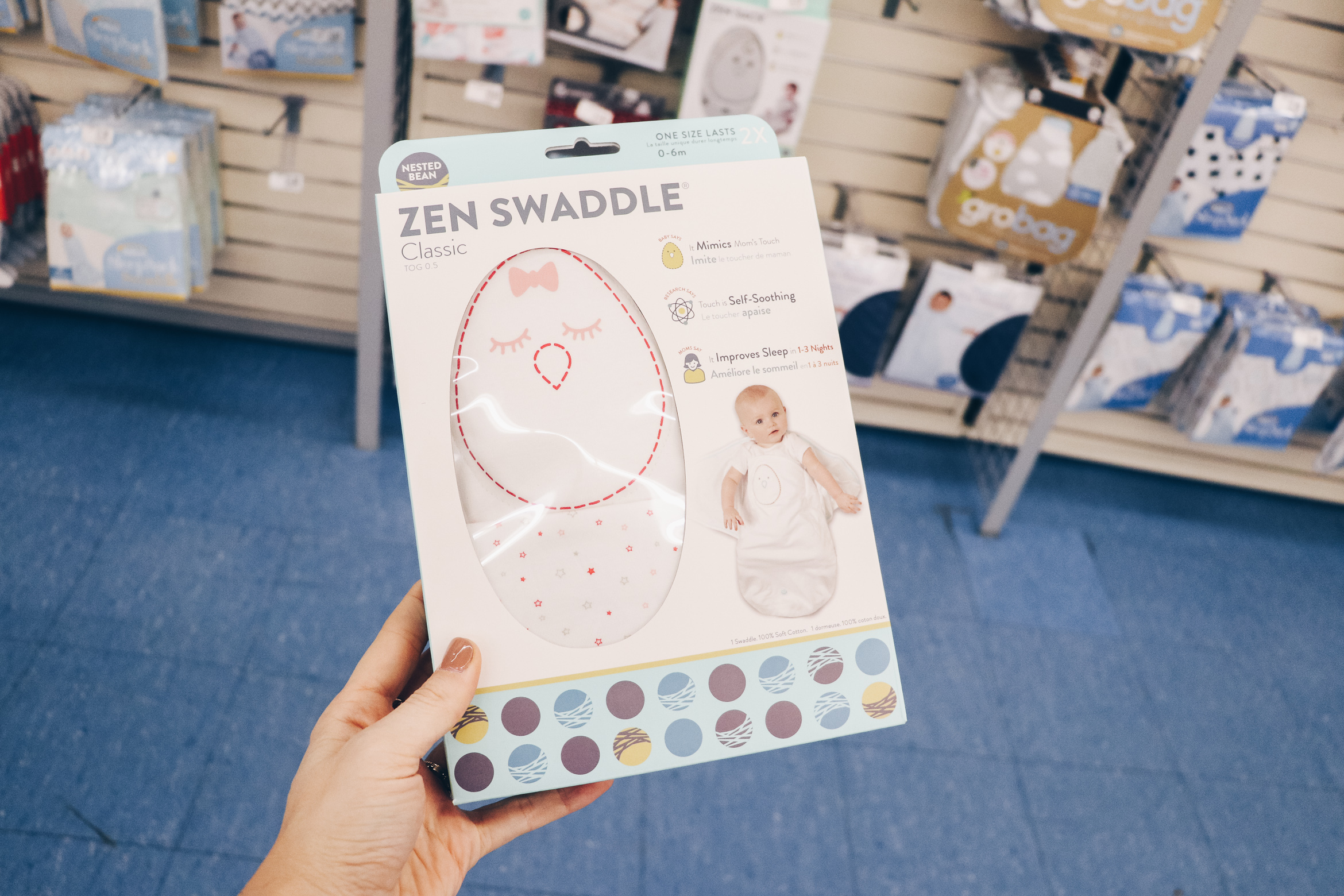 More innovation in the sleep sack department! These Zen sleep sacks have a slightly weighted spot in the center that mimics the feeling of an adult's hand on baby's chest. I mean! So good. I remember literally peeling my fingers off of James' chest one by one when trying to get him to stay asleep. Definitely getting one of these too.
Beth from buybuy BABY told me this is the new "it" baby carrier!  The Ergobaby Embrace is a hybrid carrier – meaning it wears like a baby wrap but functions like a structured carrier. You can use it from birth to 18 months. Also the price point is super friendly in comparison to other structured carriers by Ergobaby.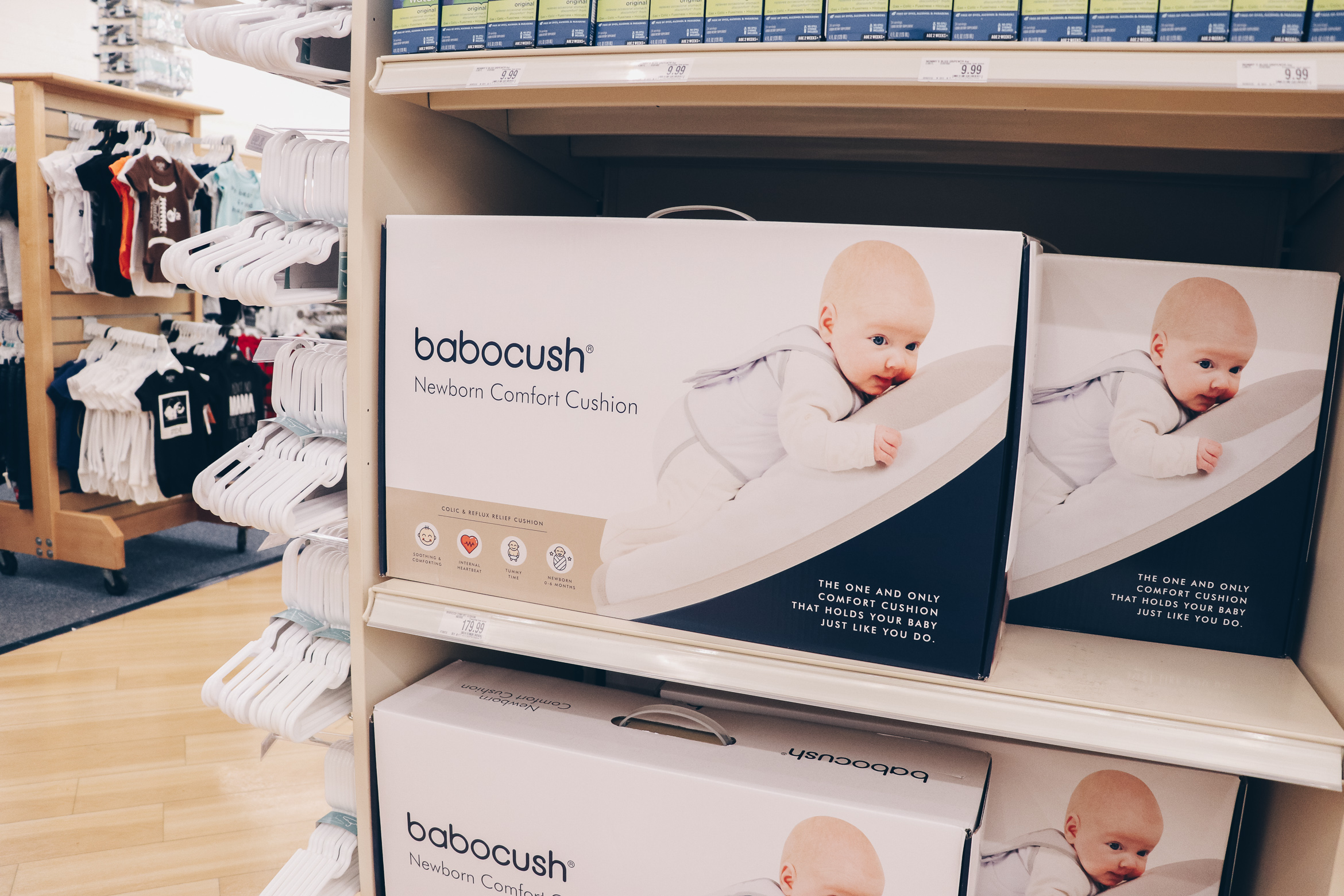 Okay this thing is on the pricier end but if it does what it says it does, then I'd say it's worth it because it's killing like three birds with one stone. The Babocush is essentially a fancy tummy time pillow complete with heartbeat sounds and soothing vibrations, but it's angled to help relieve colic, gas, and reflux. It also helps to straighten baby's neck and back and therefore works toward preventing the flat head issue we all fear. James had so many gas issues and I was ready to buy anything and everything that I thought could help. Very excited to know about this product!
Hello organization!!! We have the Boon grass and Boon twig which were fine but I'm seriously loving the layout and larger size of this bottle drying rack. I feel like it offers a more order to the bottle madness that occurs on the counter top.
So, apparently the Nanit is the "it" baby monitoring system these days. And by "baby monitoring system" I mean a surveillance camera PLUS a full service analyzation of your baby's sleep and breathing patterns. The other popular brand in this category is the Owlet but the Nanit is gaining popularity due to the fact it uses a sleep sack to track your baby, unlike the Owlet which requires a special sock.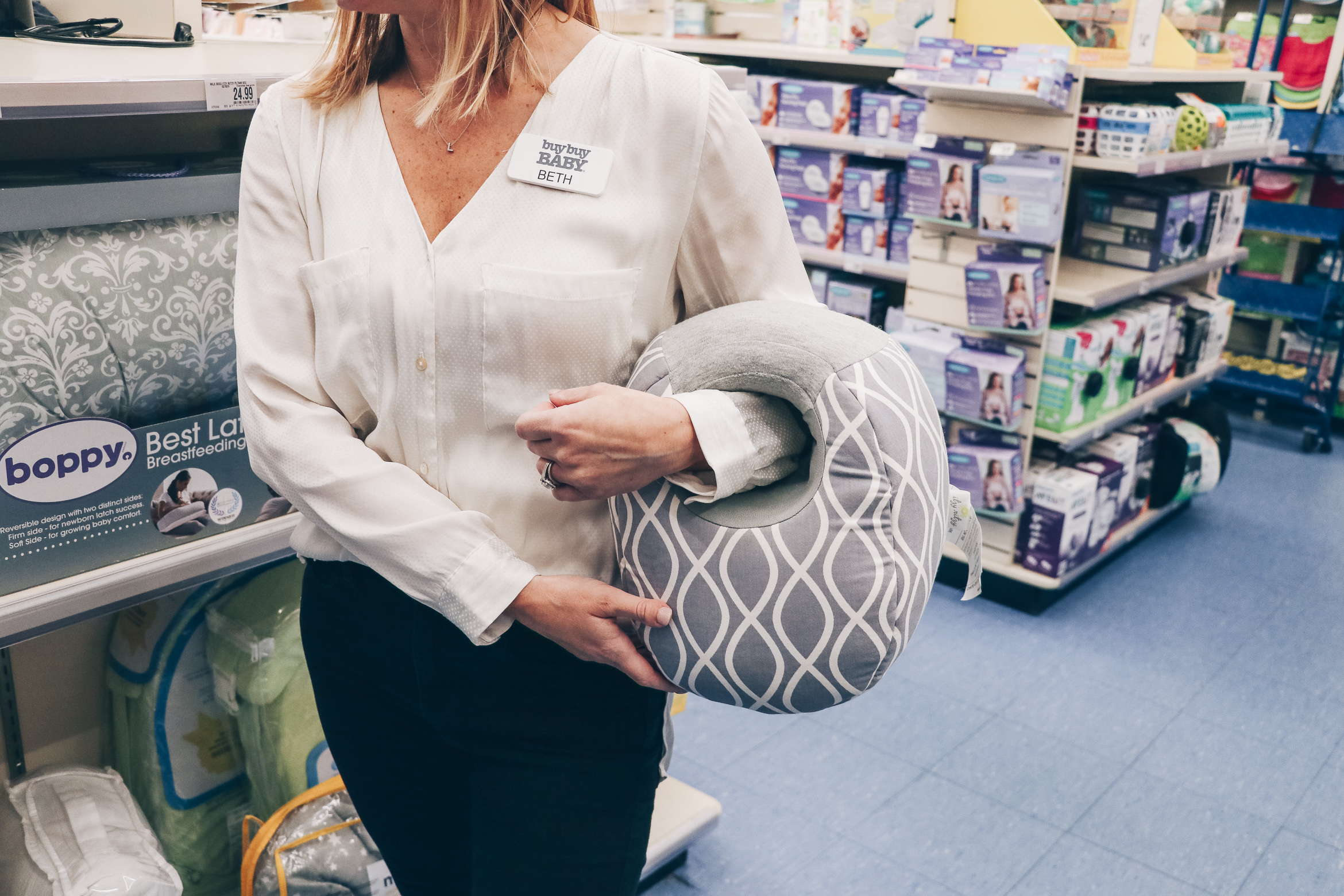 More problem solving being done with this Milk Boss pillow! It works as a baby support, burping pad and arm pillow all in one! It can be used for breast or bottle feeding and positions baby at the right angle to minimize reflux or gas while improving mom's posture and preventing arm strain. Win, win, win.
Word on the street is the Babula diaper pail is supposed to be the best of both worlds: stylish like the Ubbi pail (which unfortunately leaks smells) yet functions like the Diaper Genie (which isn't cute but actually works). Bonus, you can use standard kitchen garbage bags!!! It can also be used later as a regular garbage can elsewhere in your house.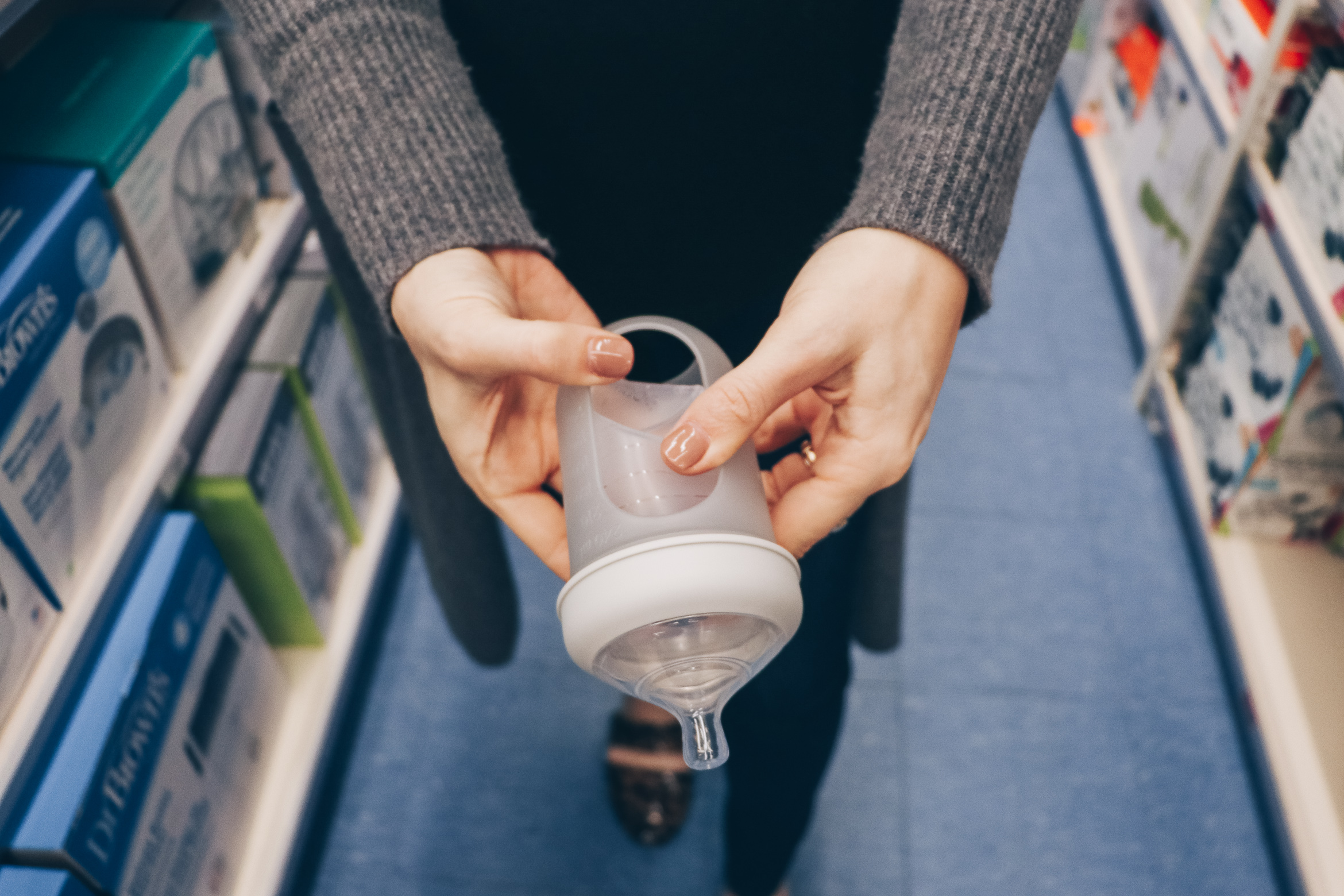 Finally! Another bottle designed to help relieve gas and colic! As I mentioned, James had digestive issues. I originally bought the Comotomo bottles because they mimicked the boob and I was nursing but we ended up immediately switching to the Dr. Brown bottles with the vent system. We love Dr. Brown's over here but I'm definitely excited to see another solution entering the game! Also love that these Boon Nursh bottles are silicone.
I love everything by Frida, for real. This humidifier sounds fantastic and I'm adding it to my list since we need a second humidifier anyway. I always wanted to try essential oils with James but never did! Maybe I'll get one for him too. What a great idea to combine these three things together.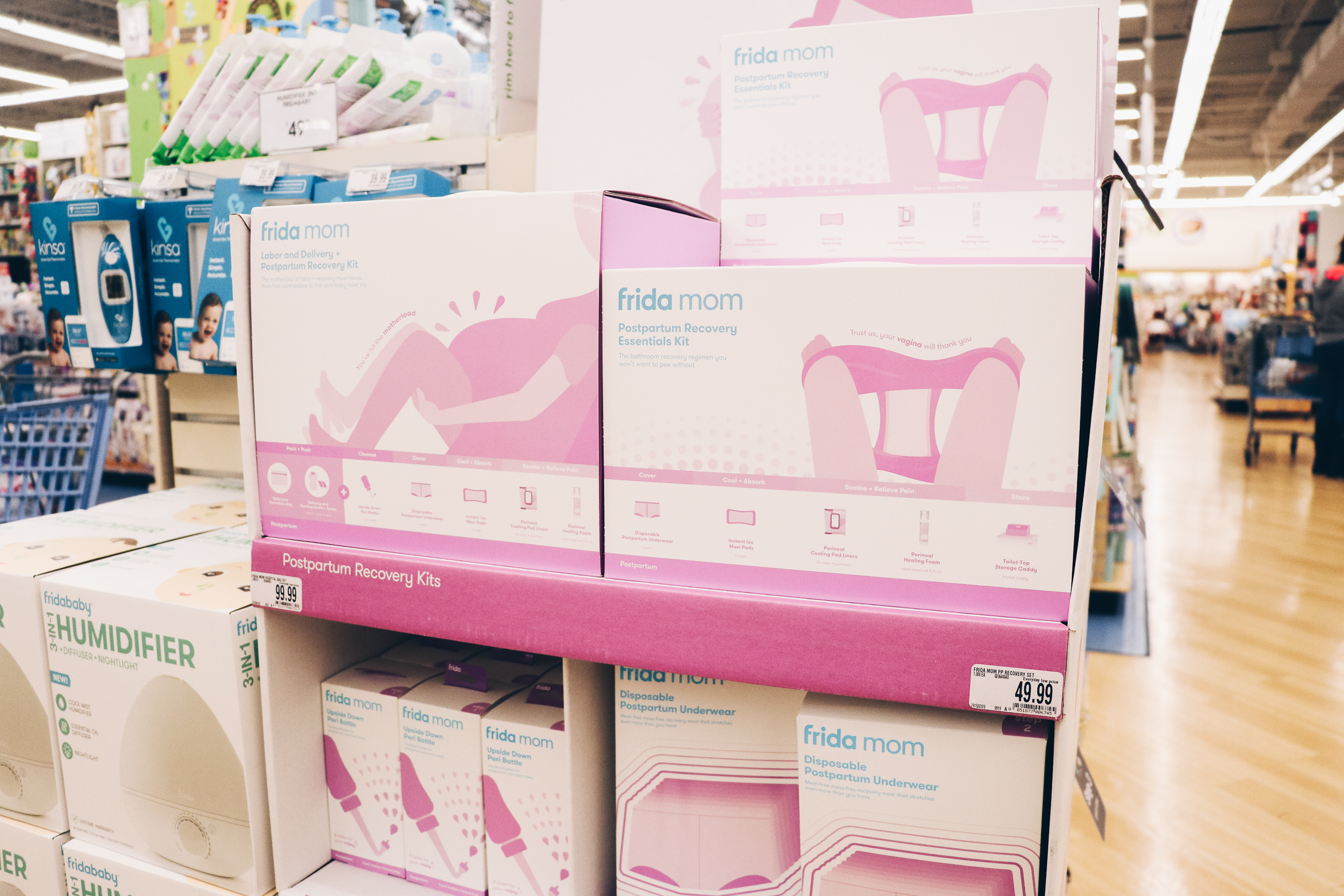 Um, okay this is probably the best gift you could ever give a new mom. Bravo, Frida. This postpartum recovery kit contains all the essentials you need after birth! Now you won't have to worry about remembering to steal this stuff from the hospital (hello, mesh underwear). Genius!
Alright I went down a Fridababy rabbit hole and am so pumped that they've come out with a ton of amazing new products since I was last pregnant. Back then they really only had the Nose Frida snot sucker thing, nail clippers, and the Windi – all 3 of which we used religiously. I would have registered for everything by Fridababy had all of this been available back then! Their products are simple yet efficient and they always see holes in the market that no one else seems to catch. Also, their branding is everything.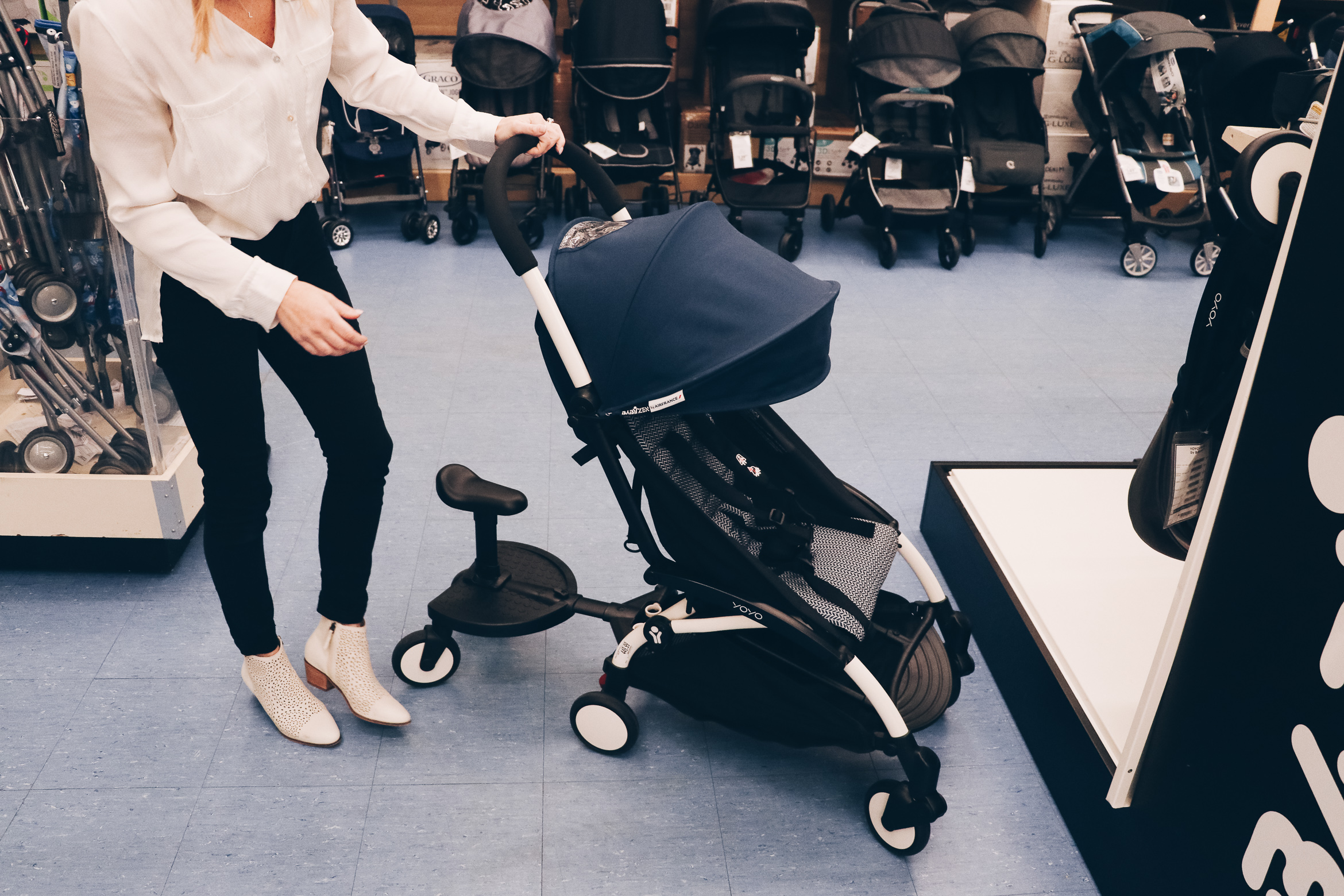 This isn't technically new – Katelyn has been raving about this stroller for a couple years now – but I'm seriously considering it because it seems like such a compact dream. It was designed by Air France to be the perfect travel stroller; you can bring it onboard with you (it fits in the aisle!!!) and then proceeds to fold up + fit in the over head compartment too. Even if you don't travel often, it still seems like a great stroller to just keep in your trunk at all times without taking up a ton of room. It's lightweight at only 13 lbs and very agile in it's maneuvering! Just a heads up, the fabric/covering is sold separately.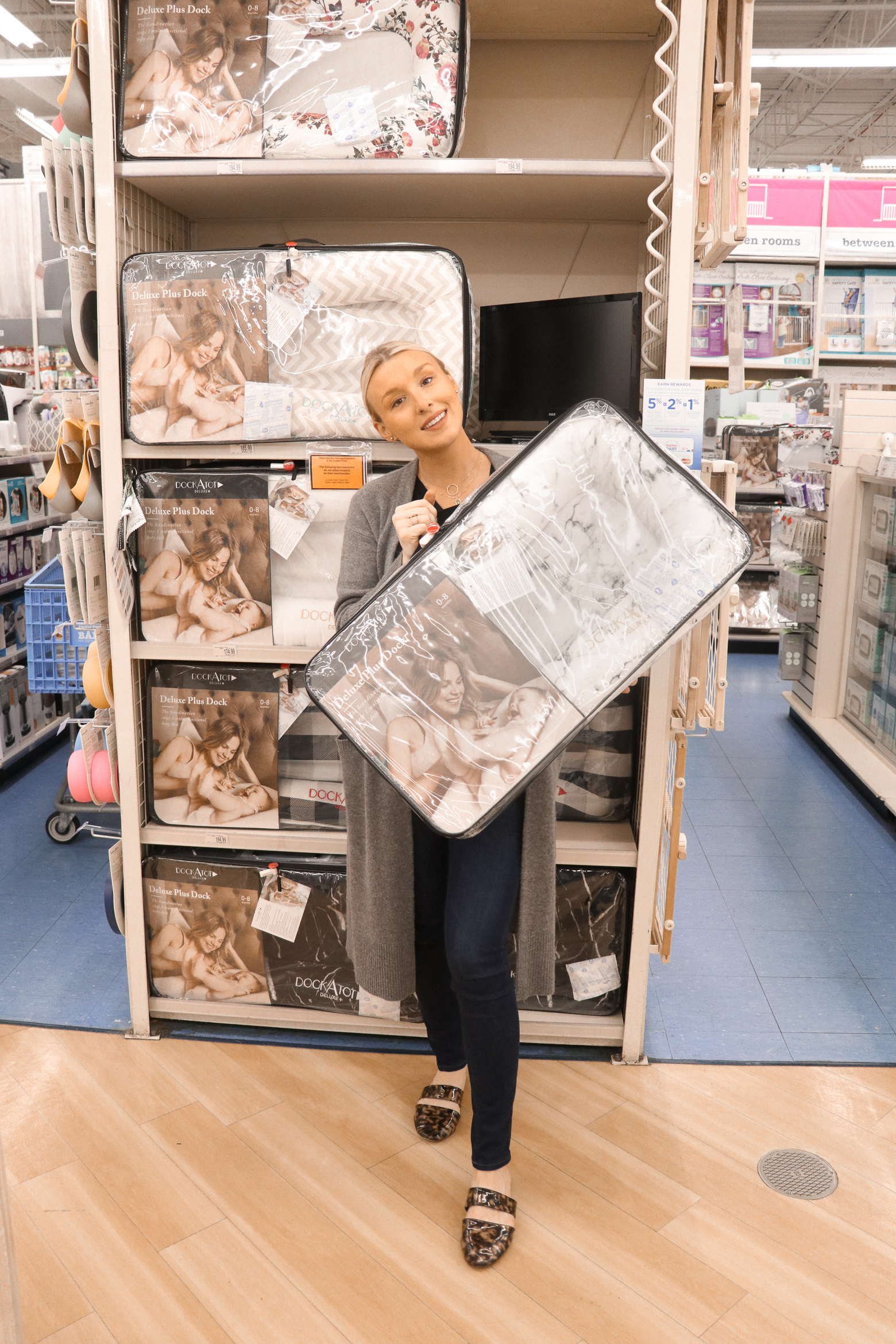 Again, not new, but it wasn't around when I had James. Back then we used the Boppy lounger, which we loved, but I'm loving the additional features that the Dock-a-Tot offers. It accommodates babies up to 8 months old, has cool accessory add-ons like a sunshade and a toy bar, and it comes in so many cute prints.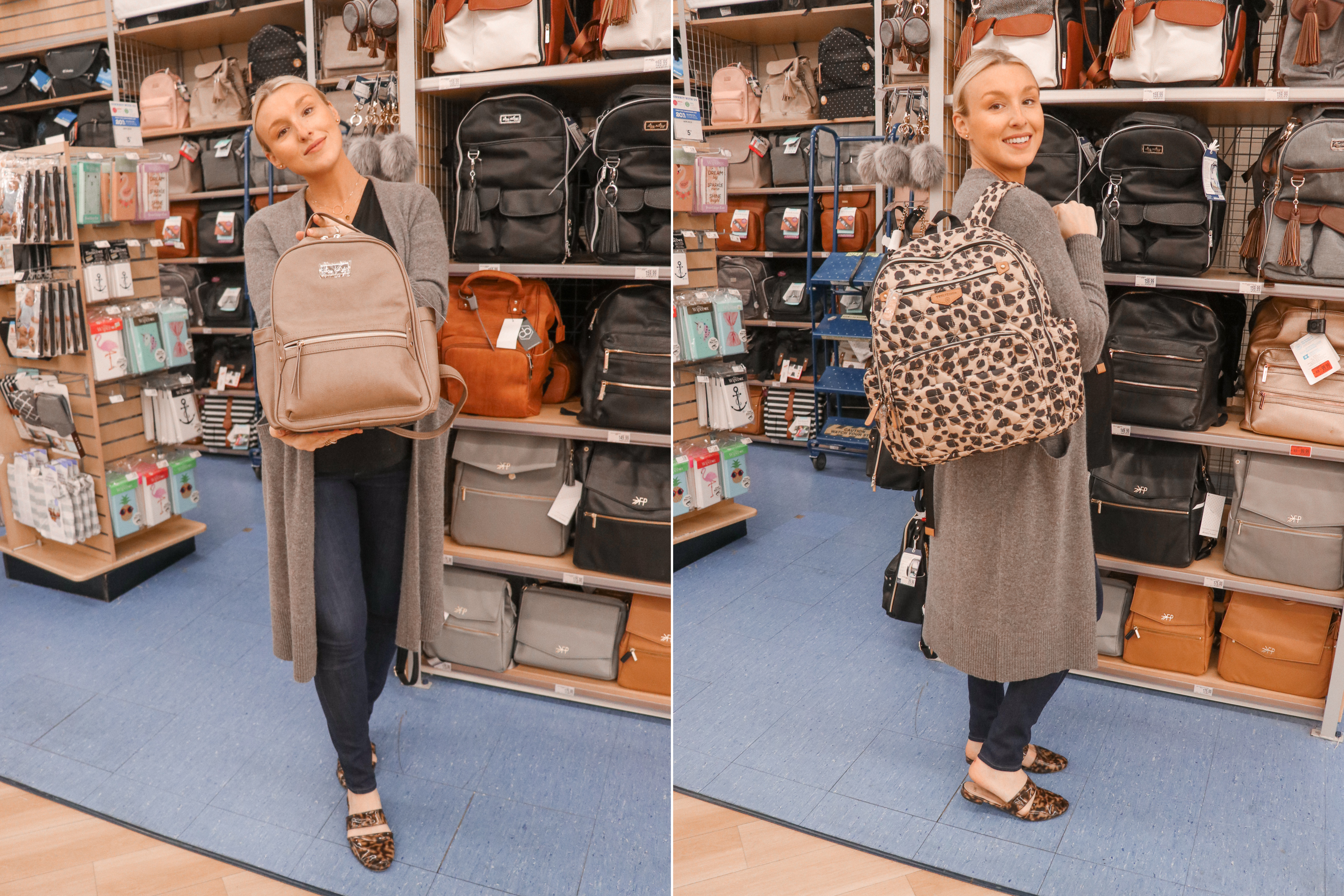 We have the Honest backpack which I love but it was really the only cute option available at BBB a few years ago. That has totally changed! There are a bunch of trendy new bag brands now; Freshly Picked, TWELVElittle, and the mini backpack by Itzy Ritzy are a few of my favorites.
I've heard great things about the Hatch sound machine. It's controlled from your smartphone, has a soft light features  and super soothing sounds!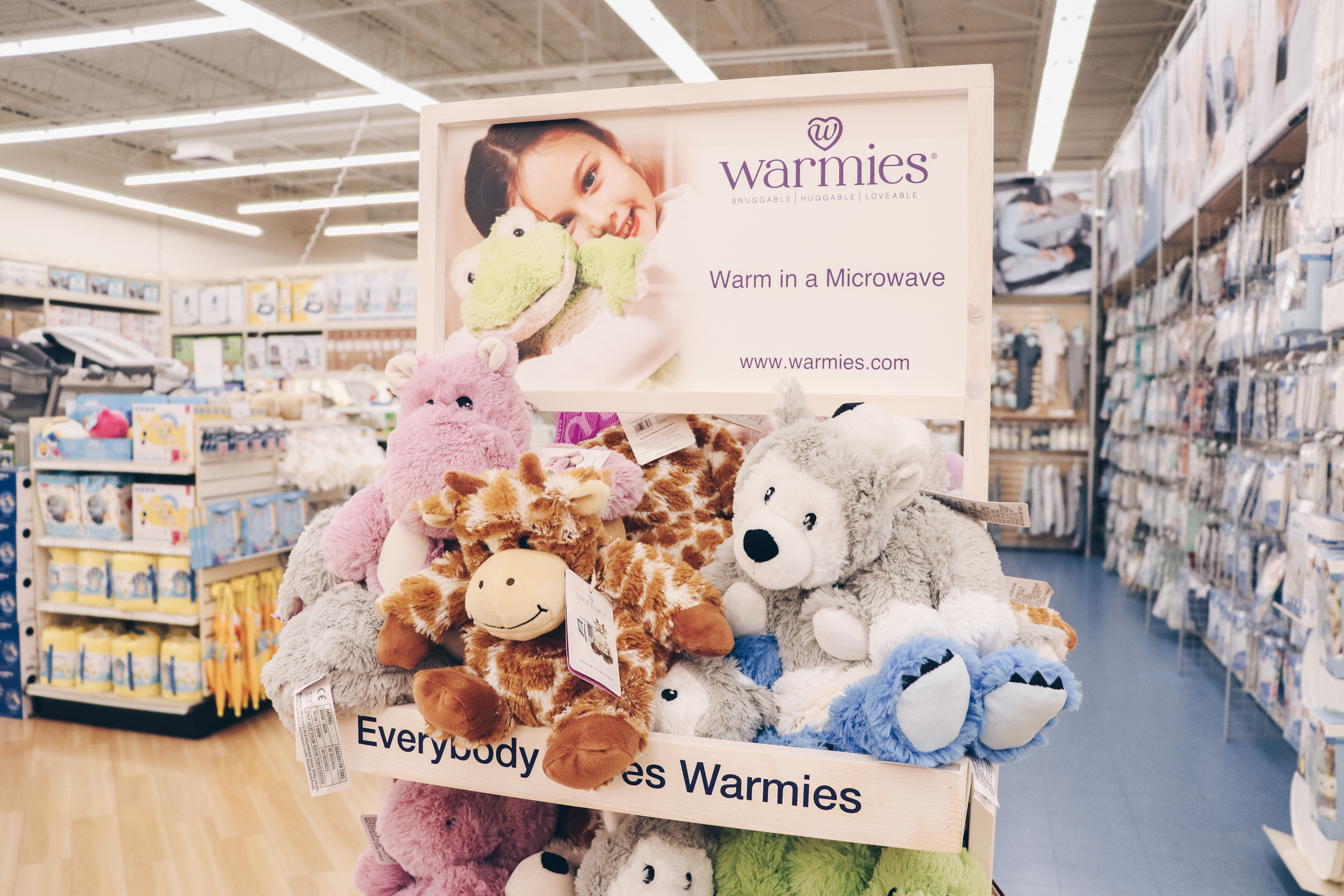 These are so cute! Warmies are stuffed animals filled with flax seed and dried lavender. When you warm them up in the microwave it releases the lavender scent and soothes your baby! There are a ton of different animal options too.
THIS BRAND! I want everything they make. Their swaddles are some of the most beautiful patterns I've ever seen and their teethers are so adorable too! The Oreo literally makes me hungry.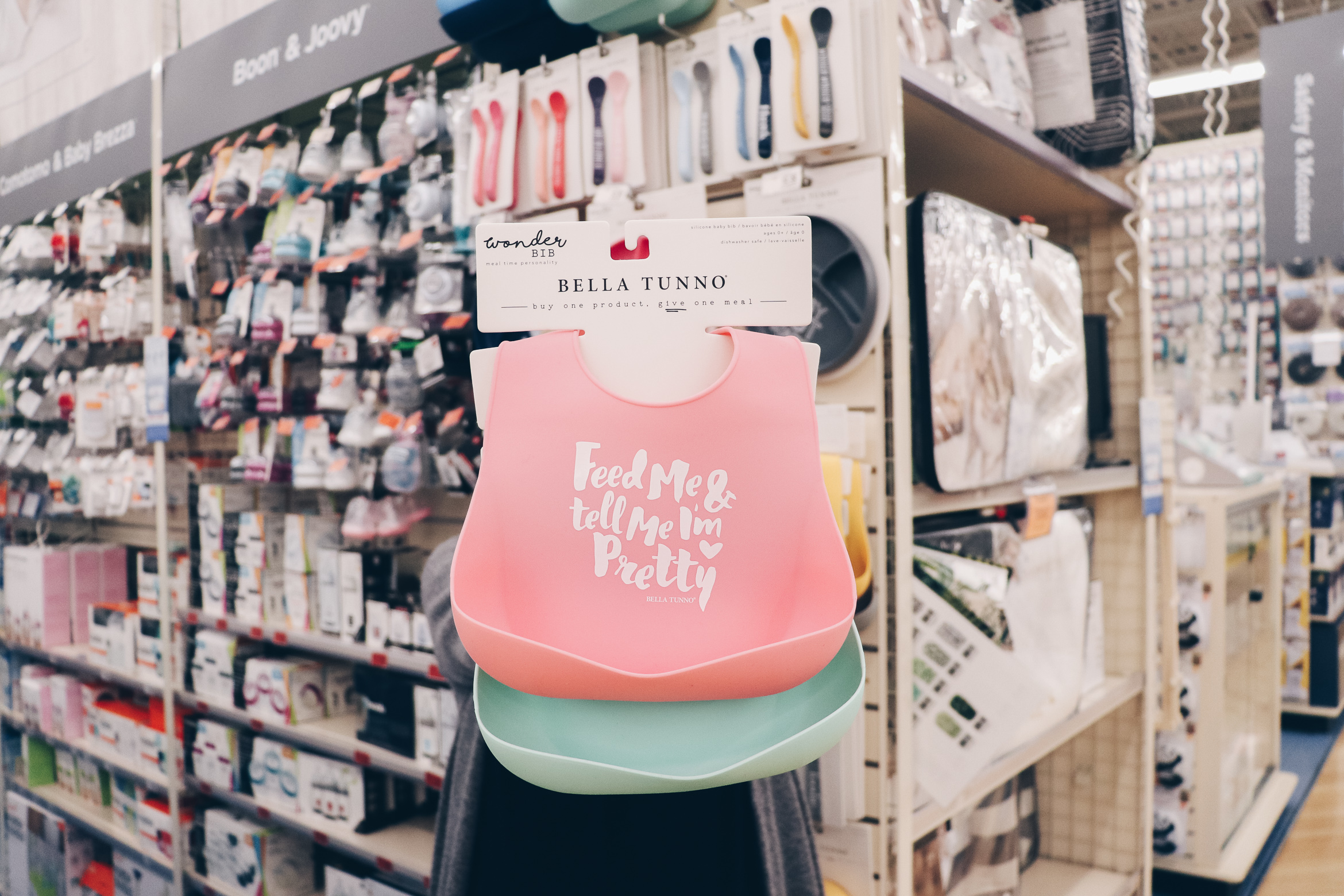 Not only is this brand so fun and creative, Bella Tunno gives one meal to one child for EVERY product sold! Isn't that amazing? Really excited about supporting this cause.
Speaking of brands doing good, Goumikids is not only adorable, they support a few incredible causes as well. They partner with NICUs all over the United States to prevent unplanned extubation, they provide clothing to babies in need, and portions of their proceeds go toward fighting human sex trafficking. Talk about AMAZING. They have pulled 85 women total from human trafficking!
James didn't take a pacifier so I don't know much about this world, but I've heard these are pretty awesome! They feature a unique ergonomic shape that helps promote healthy oral development and discourage nipple confusion while breastfeeding. Going to stock up on a couple of these in case baby girl is a pacifier lover!
I was shocked by how few bath seats were available when James was ready to move from his infant tub to the real tub. This one by Summer Infant has fantastic reviews and is thankfully totally safe thanks to the arms, unlike bath seats that use only suction cups on the bottom – which by the way are NOT safe!
Okay, I'm very curious as to whether or not I would actually take the time to use this BUT that being said, I really like this concept! Plus the idea of a little baby butt spatula is just too cute.
My girlfriend swears by this pump! I used a Medela but it was nothing special, I'm excited to try something a little more innovative and I think this is the one I'm going to get.
I really love everything by Itzy Ritzy. These silicone teethers and teething mitts are too cute and come in such fun designs.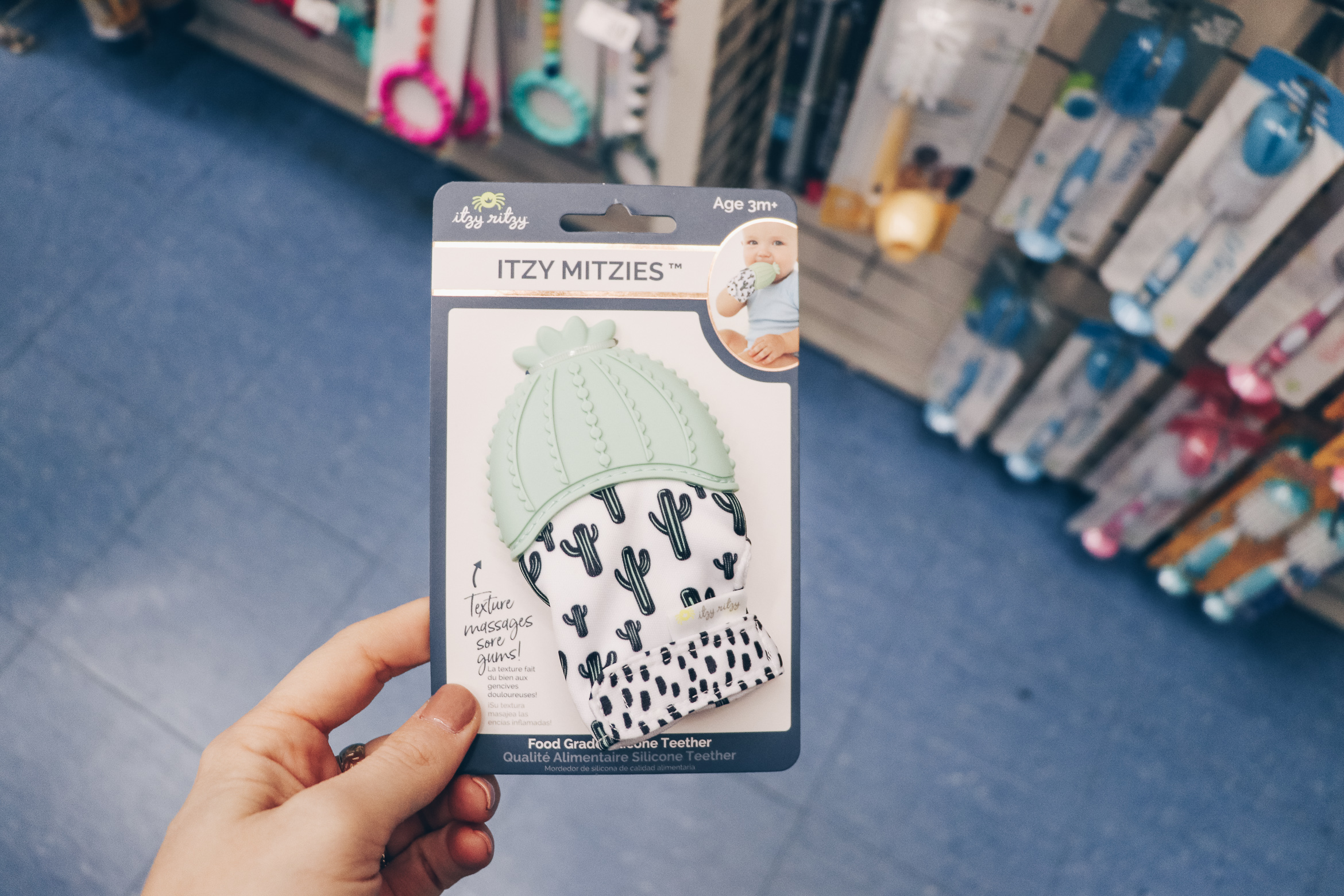 That about wraps my list! Let me know in the comments if there are any new-ish baby products you're swearing by these days!
Also! Did you know…
Buybuy BABY now offers a complimentary nursery design service! You can go to any store, book a design appointment and work with nursery stylist to build your dream nursery and the service is completely free! Also, you can scan the entire nursery and add everything to your registry. Their nurseries are super cute, highly recommend checking it out if you are in need of some design direction.