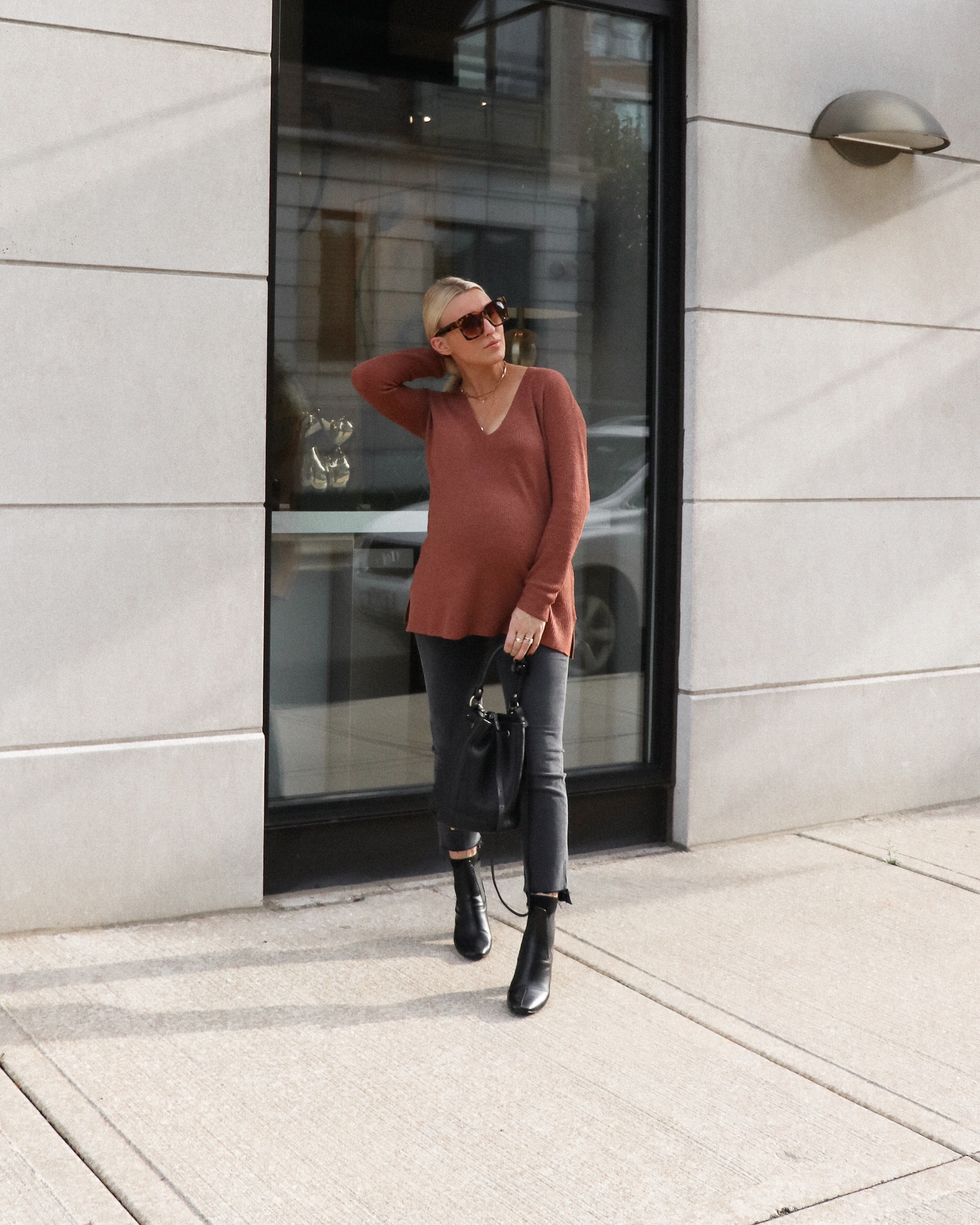 This post is in partnership with A Pea in the Pod, a brand I trust and love! All opinions here are my own.
HAPPY FALL! FINALLY!
This pregnant girl has been dying for cooler weather to bundle up in. T-shirt dresses are comfy and semi-flattering I suppose (although I have the hardest time finding good ones) but I prefer oversized sweaters + comfy leggings during pregnancy. Plus, oversized sweaters are life and can be worn during pregnancy and beyond. Even the maternity ones!
I'm trying really hard to be thoughtful about all the maternity clothes I acquire. Pretty much everything I have – aside from jeans – can be worn again post pregnancy. However, I'll be living in the jeans during the postpartum months anyway because newsflash: unless you're Kristin Cavallari, Giselle, or just #blessed your regular jeans probably won't fit for a few months. I learned that the first time around when I was getting ready to go out for my first postpartum girls night a few weeks after having James and thought I could just pop right back into my old jeans. L-O-L, not even close! Not trying to scare you, just giving you an honest heads up so you can mentally prepare and be easy on yourself because: IT'S NORMAL! They will fit again soon.
In this post, I'm going to be covering some of my favorite Fall and Winter maternity staples from A Pea in the Pod. Also, I want to note that the majority of everything I've linked in this post can be worn again postpartum. Happy shopping mamas and mamas-to-be!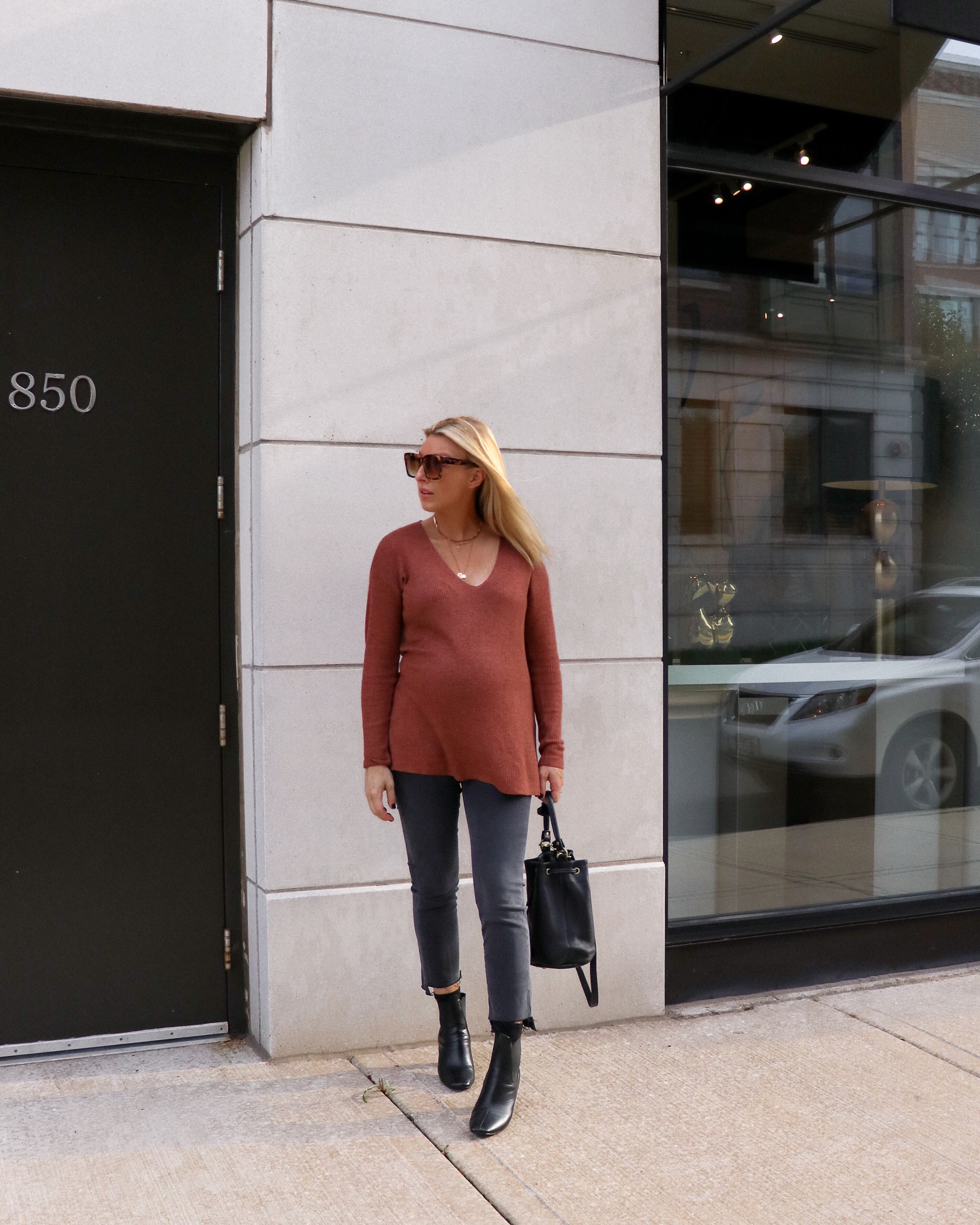 A Pea in the Pod is most definitely where you want to go for quality staple pieces for your pregnancy. They have the best selection of designer jeans, maternity outwear, workwear, and quality wear-again pieces like blouses and sweaters that will actually last. I have a sweater and a blouse from from A Pea In The Pod that I bought during my first pregnancy 4 years ago and they are now a part of my normal/non-maternity wardrobe and are still in fantastic shape!
Let's talk about designer maternity jeans for a second!
I'm SO pro investing in an awesome pair of quality maternity jeans – and I rarely ever buy designer jeans even when I'm not pregnant. However, pregnancy is a whole different ball game and designer jeans really do fit better than the cheapies from Old Navy and ASOS. Also, treat yourself. Our bodies are morphing and expanding in weird ways and it's not fun dreading getting into a pair of jeans you hate or that aren't fitting your temporarily larger body correctly.
A Pea in the Pod sent me a few different brands of designer maternity jeans to try out (see above: Frame, AG, and J. Brand) and all three pairs are as great as I hoped they'd be. Particularly these black Frame cropped jeans (wearing them above and below) because I swear they are the most flattering piece of maternity clothing I've ever worn. They are a splurge but I cannot recommend them enough. I got my normal size (27) and they fit perfectly in all the right places. They have an over the belly band (which I prefer) but the band part is VERY lightweight and non-invasive.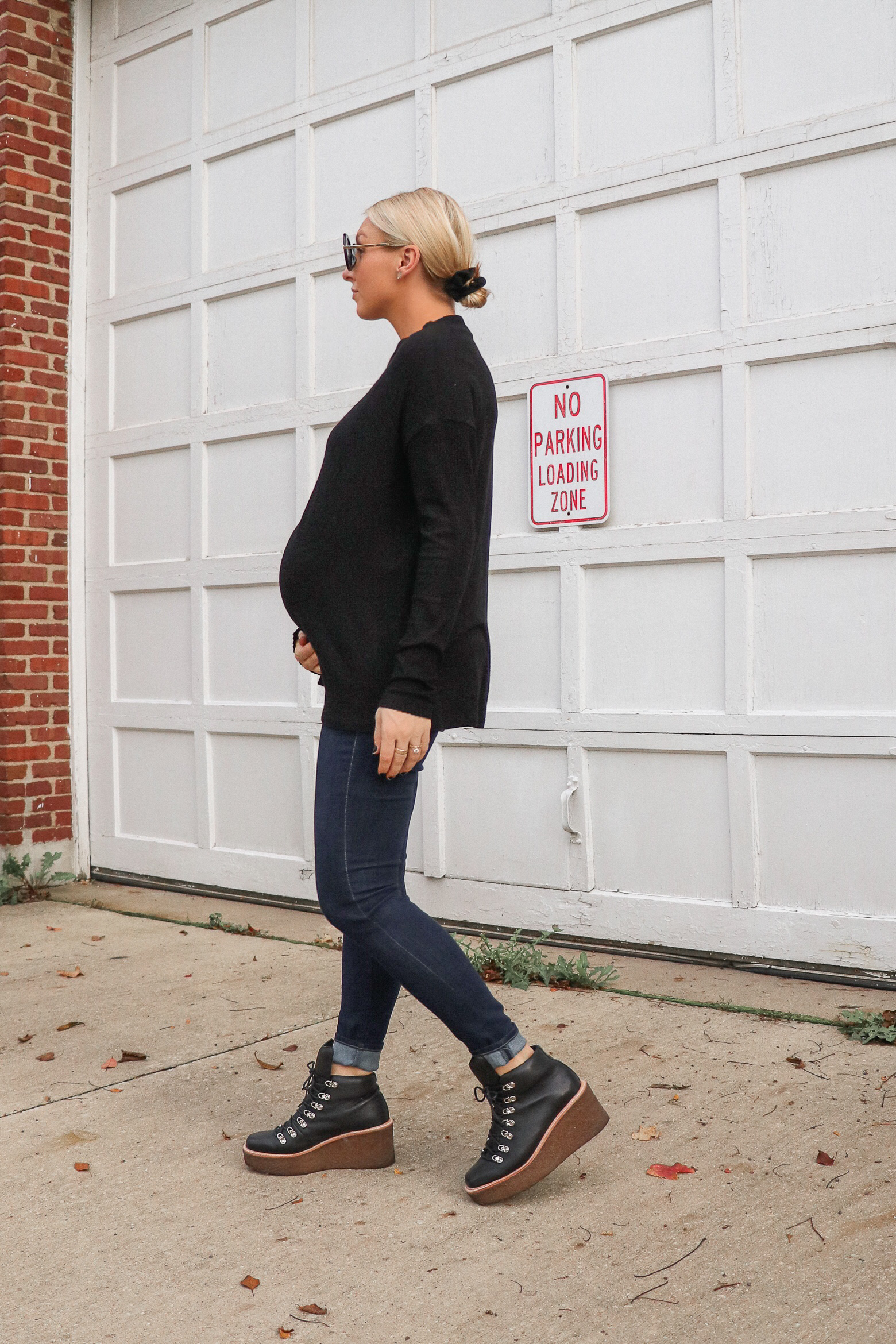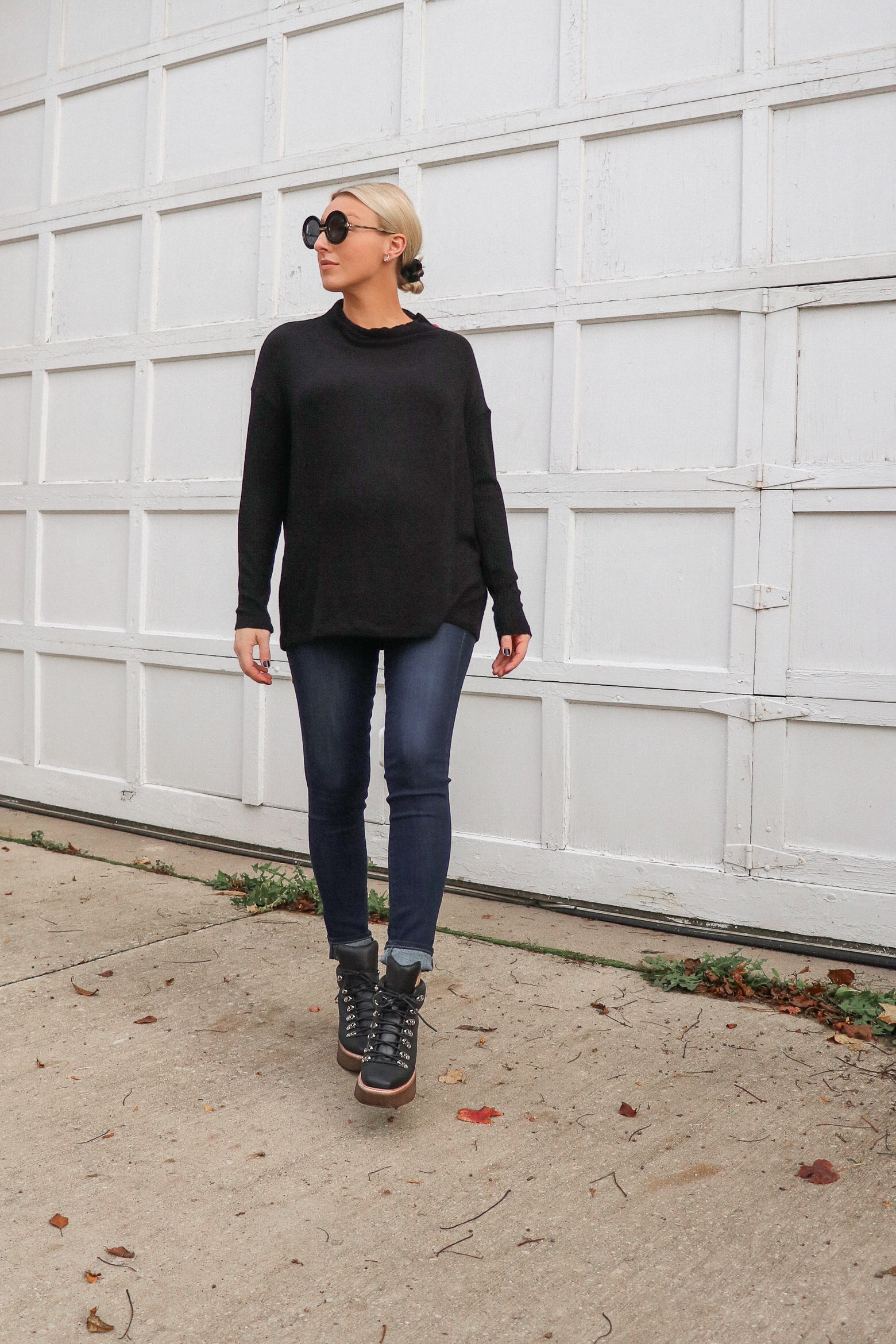 Next up are these dark wash AG jeans which are also super fantastic and totally suck in your thighs and hold things up in all the right places. I know I keep saying that but it's SO important that maternity jeans are tight in the right spots and giving in the right spots! I've heard so many amazing things about AG maternity denim and I can now say that I'm a believer. I got my regular size (27) and they fit perfectly.
That black sweater is so incredibly comfortable. HIGHLY recommend! It's quickly become a go-to sweater that I know I'll be living in all Fall and Winter. It's really lightweight + crazy soft and the length is perfection. You want your maternity tops to be long TRUST ME!! Butt and crotch coverage is a total must. I got a Medium and it fits great but you could totally size up on this if you like things a bit roomier.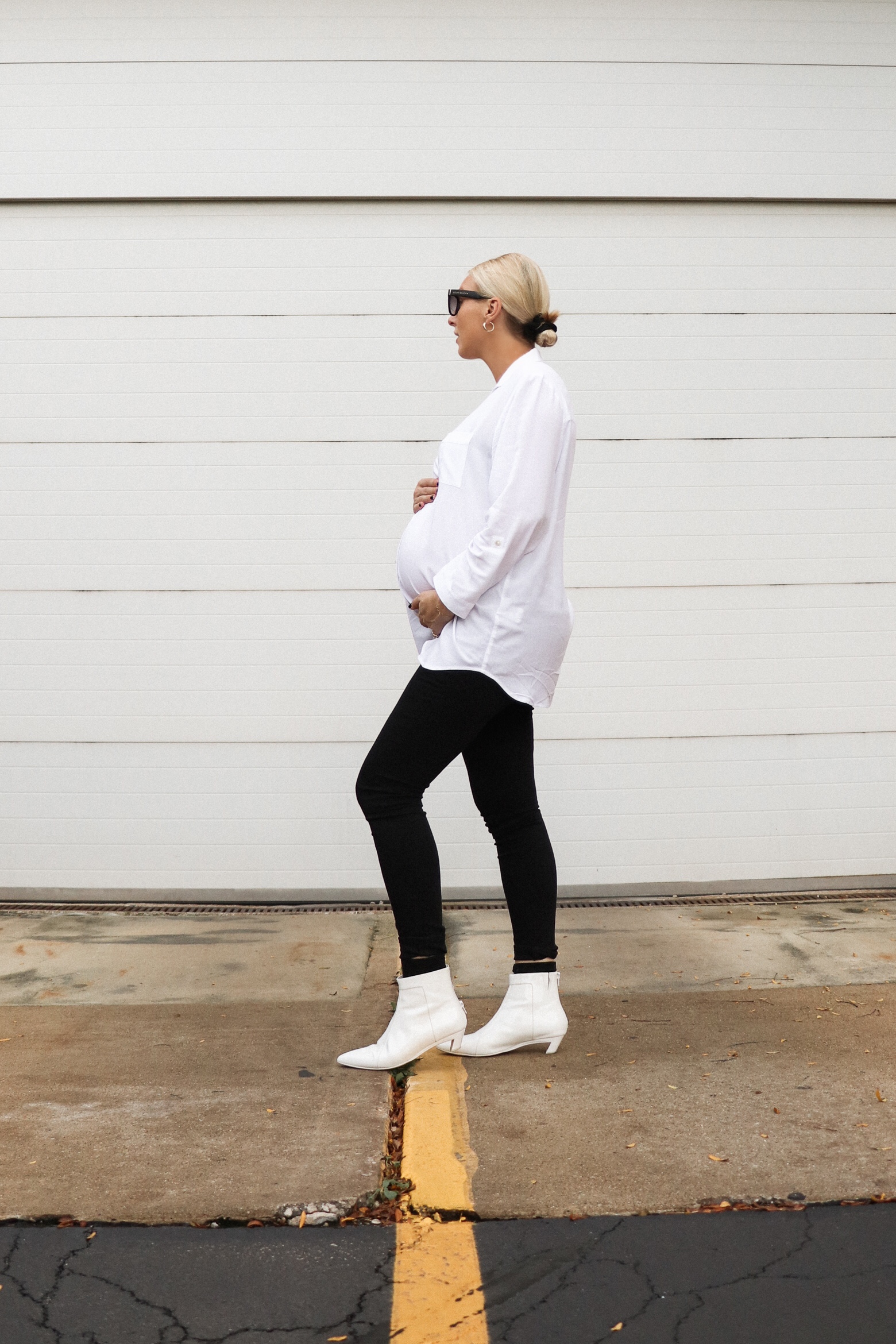 These black J. Brand jeans are also awesome and offer a really great fit. They have a side panel instead of an over the belly band but they do a great job of staying up on their own. However, like with any side panel maternity jeans, you do have to pull them up now and then! These I might recommend ordering 2 sizes and seeing which fit best because you may want to size up. I got a 27 and they work but they are a bit snug! I like a snugger fit though because it pulls my thighs in more.
The white blouse is a splurge for a top but if you work in an office or are like me and LOVE a good quality white blouse (the most classic staple in my opinion) then it's totally worth it. The material is really lightweight + comfortable, the length is so great – more butt coverage – and while it fits my pregnant belly perfectly, there is nothing about it that screams "maternity". Therefore, I will be 100% keeping this in my rotation of regular clothes once I have this babe! I'll wear it as an oversized blouse and it will live in my closet as a good quality staple piece.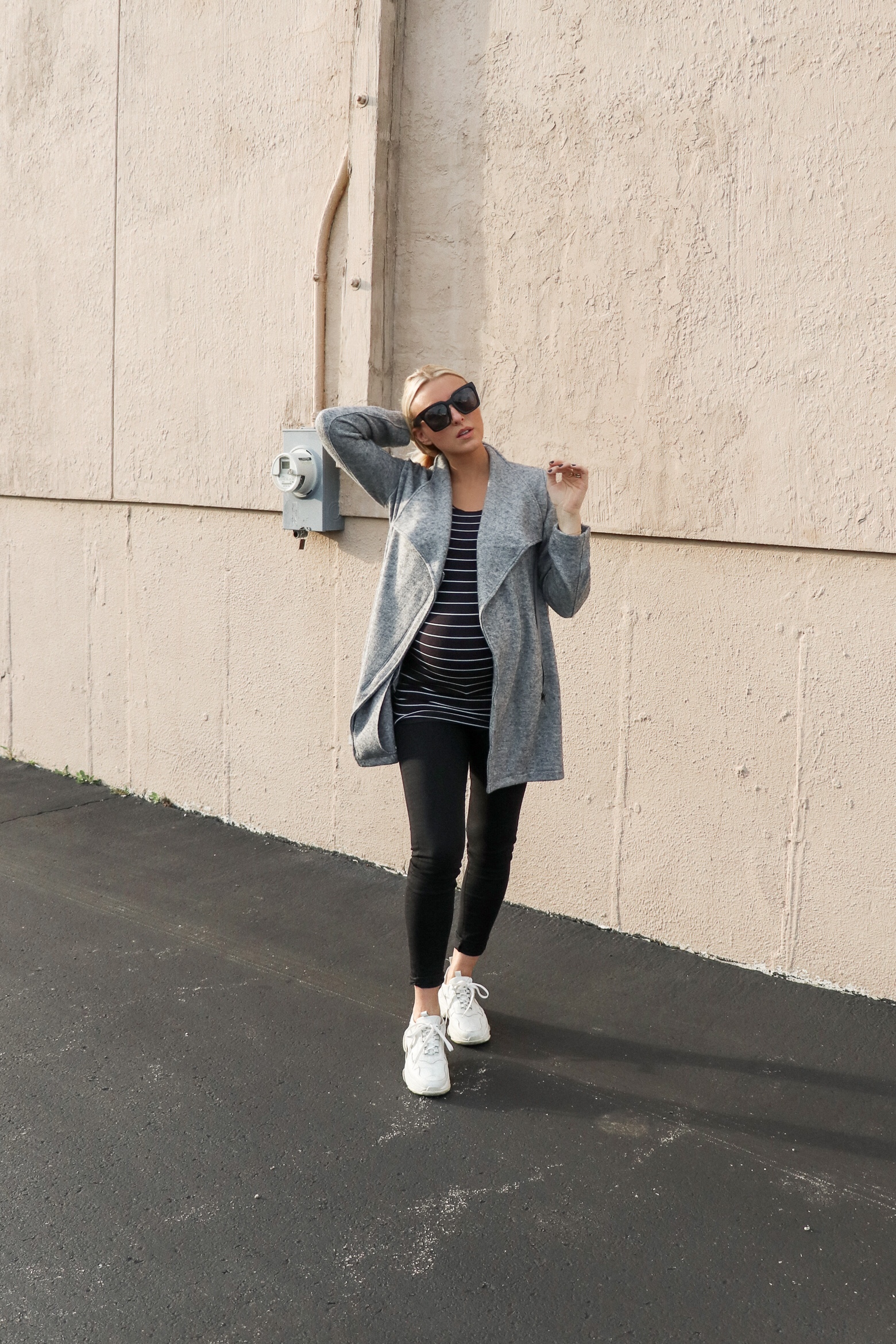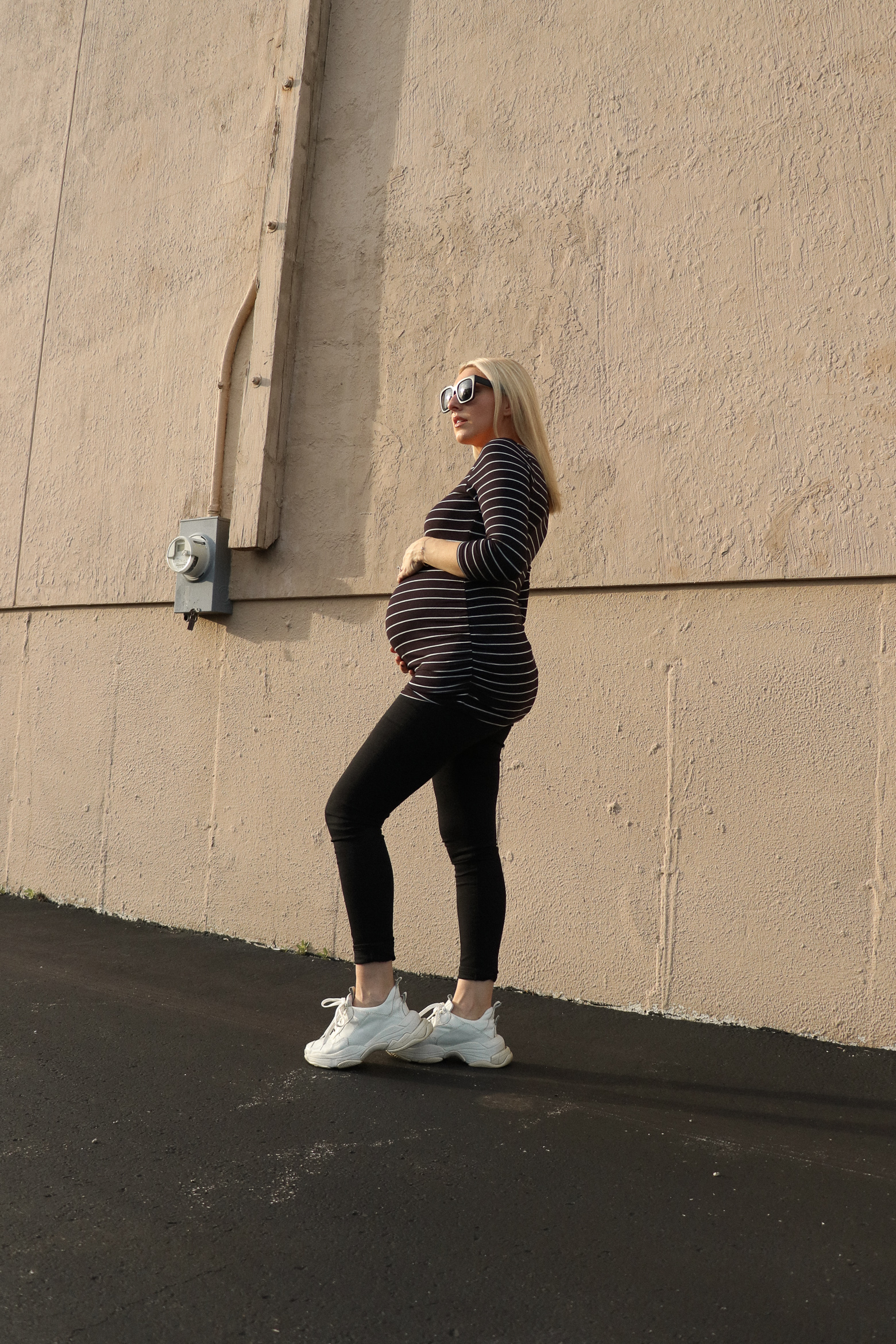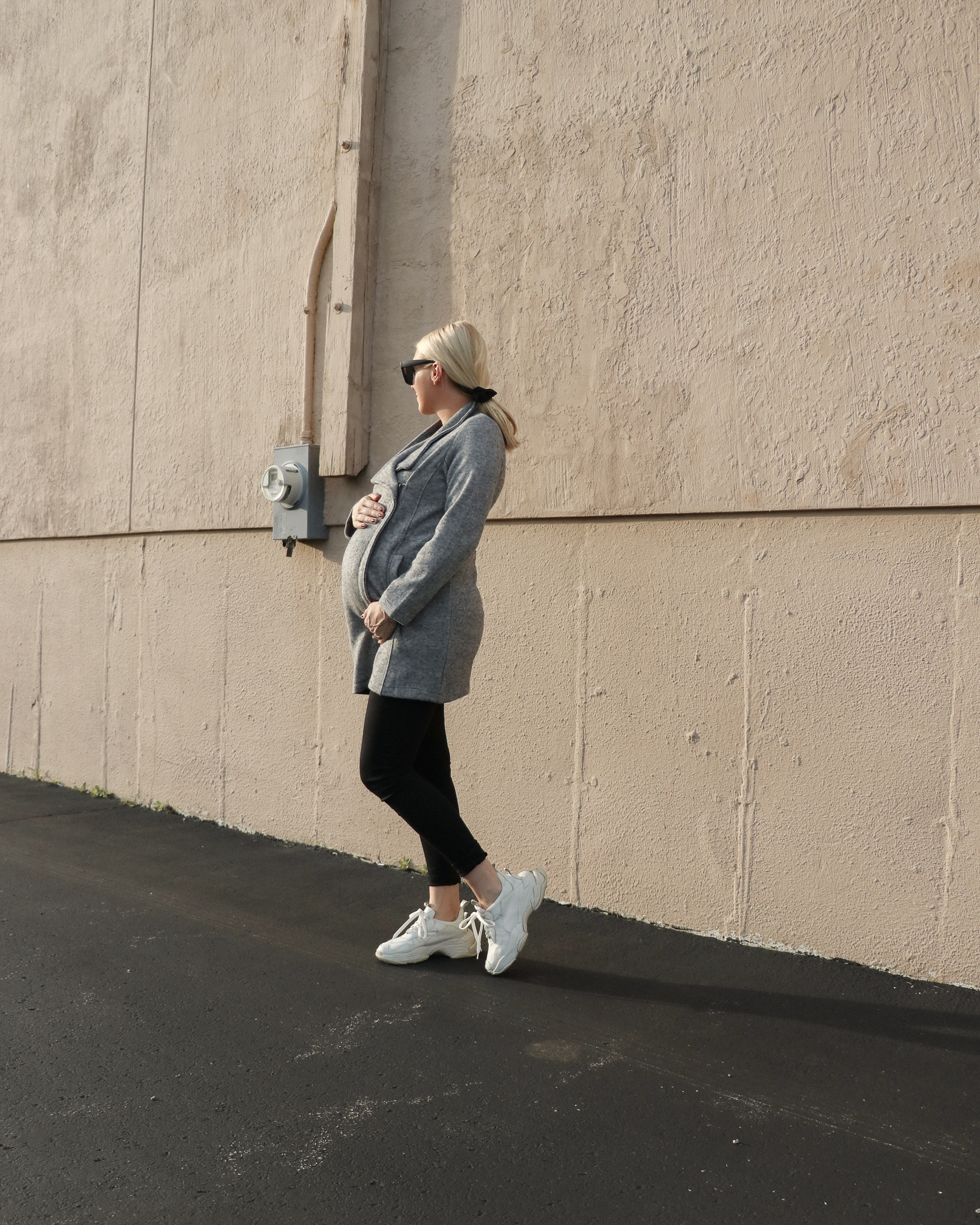 Trust me when I tell you, you need that striped top I'm wearing! I want it in every color. It's so incredibly comfortable and flattering on the bump. The length is perfect and it just really is an excellent go-to maternity top. I wore it like 3 days in a row last week, don't judge. Aside from the jeans, this is probably the only other thing that you most likely won't wear again post pregnancy because of the ruching on the sides.
This BB Dakota Maternity Coat is super cute and easily zips over the bump! And bonus: it can totally be worn as a non-maternity jacket too. One of my best friends has a maternity jacket that she wears all the time even thought she's never been pregnant, lol. I got a Medium and I'd say it fits perfectly but almost too perfectly, I kind of wish I tried the Large to see if it gave me some more room in the arms but there is a 75% chance I would have just kept the Medium anyway because the sleeve length is just right. Also, it's super soft and not itchy at all!