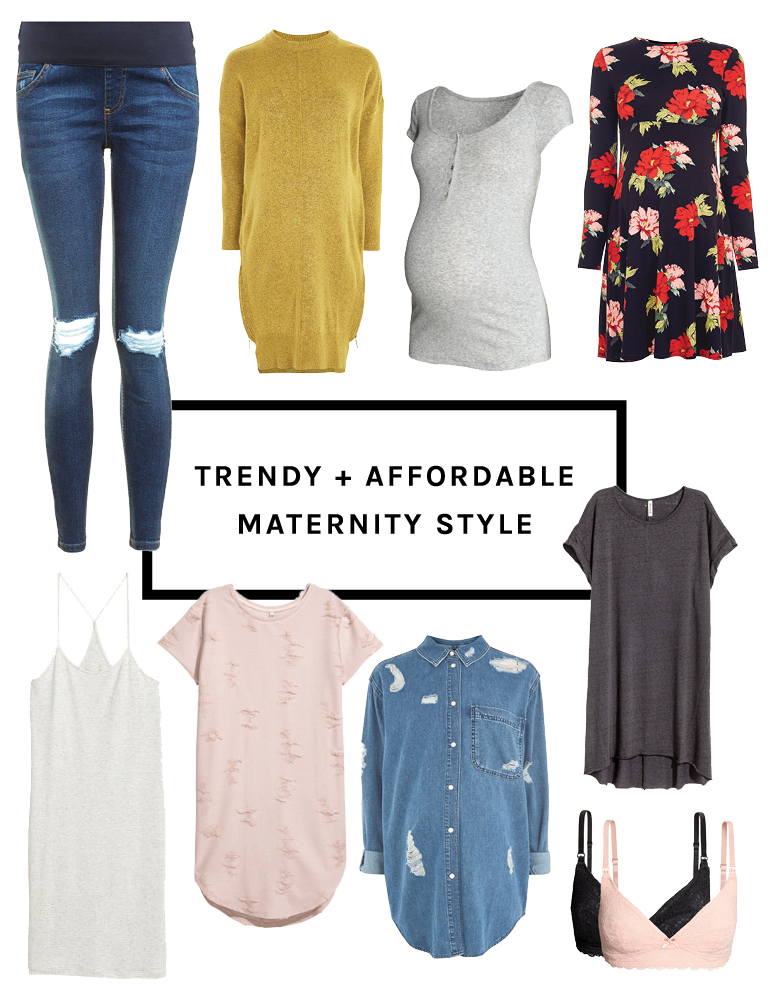 I'm going to cut to the chase here. Forever 21 and ASOS are where it's at when it comes to dressing your bump on a budget. Also, H&M and Topshop have some good stuff as well. ASOS, H&M have real maternity clothing that is super cute and affordable, and you can wear pretty much all of it post-pregnancy too. Forever 21 doesn't actually have a maternity section but – as we all know – their clothing is cheap AF and super on trend and it will stretch over your bump just fine. All you need to do is buy a couple sizes up!  Topshop has awesome maternity jeans but if you want to go all out on a pair of designer jeans, head to Nordstrom. Which by the way, you deserve. After all, you are growing a human – NBD! I highly recommend investing in at least one pair of good maternity jeans that you feel really good about.
I was sooooooo fashion-depressed toward the end of my pregnancy and a mom-friend recommended going on a Forever 21 shopping spree. It changed my last trimester for the better in every way. I spent $200 and – no joke – got 20 new pieces of clothing. I bought baggy t-shirt dresses, form fitting cotton dresses that easily stretched over my big ole' bump, stretchy skirts, oversized tees, giant sports bras for my giant chest (sigh), and a bunch of super cute workout/stretch pants (even though there was NOOOO working out going on). I just bought a size (or two) bigger so the waistband could accommodate my largeness. F21 actually has really cute, decent quality workout clothes for SUUUUUPER cheap, like crazy cheap. It is a pregnant girl's dream.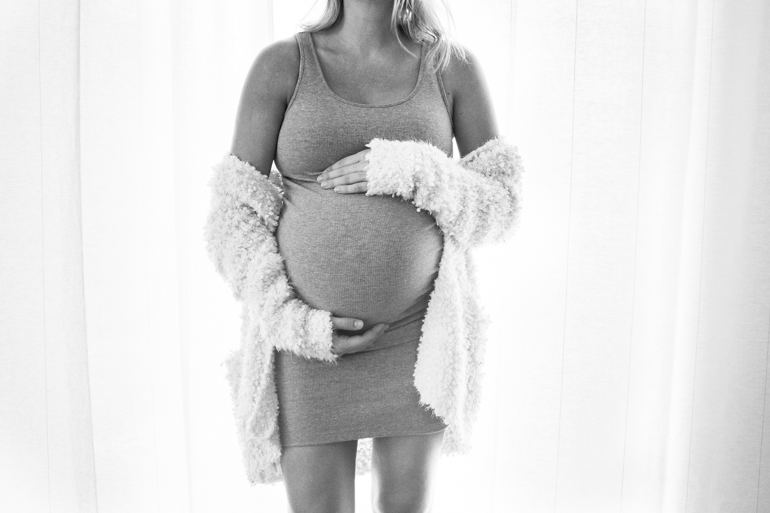 CUTE BODYCON DRESSES:
I'm 9 months pregnant in that photo and the dress I'm wearing is a size large bodycon midi dress (it's not maternity wear) from Forever 21 that I bought for TEN DOLLARS, PEOPLE. Maternity clothing can be expensive; and since you don't want to stretch out all your regular clothes, buying cute/inexpensive clothing to stretch out is the way to go! Cotton bodycon dresses are AWESOME during pregnancy, especially if it's warm out. They are comfortable and it's fun to show off your bump! Also, they are easy to style. On cooler days I would throw an open button down or long sleeve tee over the dress with a pair of Converse sneakers.
BEST MATERNITY BRAS:
ASOS has great nursing bras, which is something you definitely need (the brand Emma Jane Maternity is my favorite). Nursing and maternity bras are the same thing by the way, in case you were wondering. And what do they have that regular bras don't? A little extra support and this fun little hook that let's you unclip the top of the bra so your baby has easy boob access for nursing. Even if you don't plan on breastfeeding, I recommend buying one or two good quality maternity bras to house your new boobs because they are going to triple in size and not go back to normal for a while (well, sadly they will NEVER be normal again – tear – but they'll go back to a less insane size at some point).
***TIP: I would stay away from underwire bras, maternity/nursing bras already have fantastic support without the underwire and pregnancy boobs are so sensitive that I found underwire to be really irritating. They are also bad for your milk ducts!

MATERNITY LEGGINGS:
BUY THESE LEGGINGS! DO IT! I lived in them during my whole pregnancy AND for the first couple months after I had James. I didn't like other pants with an over-the-bump waistband, but I LOVED these. So comfortable and soft, they are truly a must-have. And they come in a 2-pack for only $34!

FORMAL DRESSES:
ASOS, ASOS, ASOS. They have the most beautiful selection of formal maternity dresses! And they are so affordable. If you are anything like me, you'll have to go to 500 weddings while you're pregnant (eye roll). I just bought one dress and wore it to all the weddings – sue me – but I loved it and felt really cute. And feeling good about yourself when pregnant is SO key, and honestly I had a really hard time adjusting to my new bod so it was exciting to find a dress I felt pretty in.
MATERNITY JEANS:
Like I mentioned, it is a good idea to invest in one really good pair of maternity jeans. We all know the importance of a great pair of jeans – and when you're pregnant – it's even MORE important.
T-SHIRT DRESSES:
I mean t-shirt dresses are the best whether or not your pregnant. But when you are pregnant they are truly THE BEST. So comfortable and easy to style. I wore the same H&M t-shirt dress with a pair of Adidas Superstars like every other day.
OVERSIZED TEES:
I mean this goes without saying but baggy tees are life. Especially when you're preg. Don't get me wrong, once you pop it is fun to show off the bump (see next section) but a good little rotation of comfy, oversized tees is essential.
SHOW OFF THE BUMP TOPS:
Don't be afraid to flaunt your bump. It's pretty exciting when you start to show, so buying a few form fitting tops that highlight your new curve is a total must! I liked showing off my belly most in the second trimester. When it was cute and compact. By the third trimester I was so big that I really didn't give AF what I looked like, and I showed in EVERYTHING, so it wasn't as exciting. Take advantage of that second trimester and have some fun styling that presh little stomach.
ROMPERS & JUMPSUITS
Rompers and jumpsuits are such a great way to feel stylish AND comfortable while pregnant. ASOS has by far the best selection!