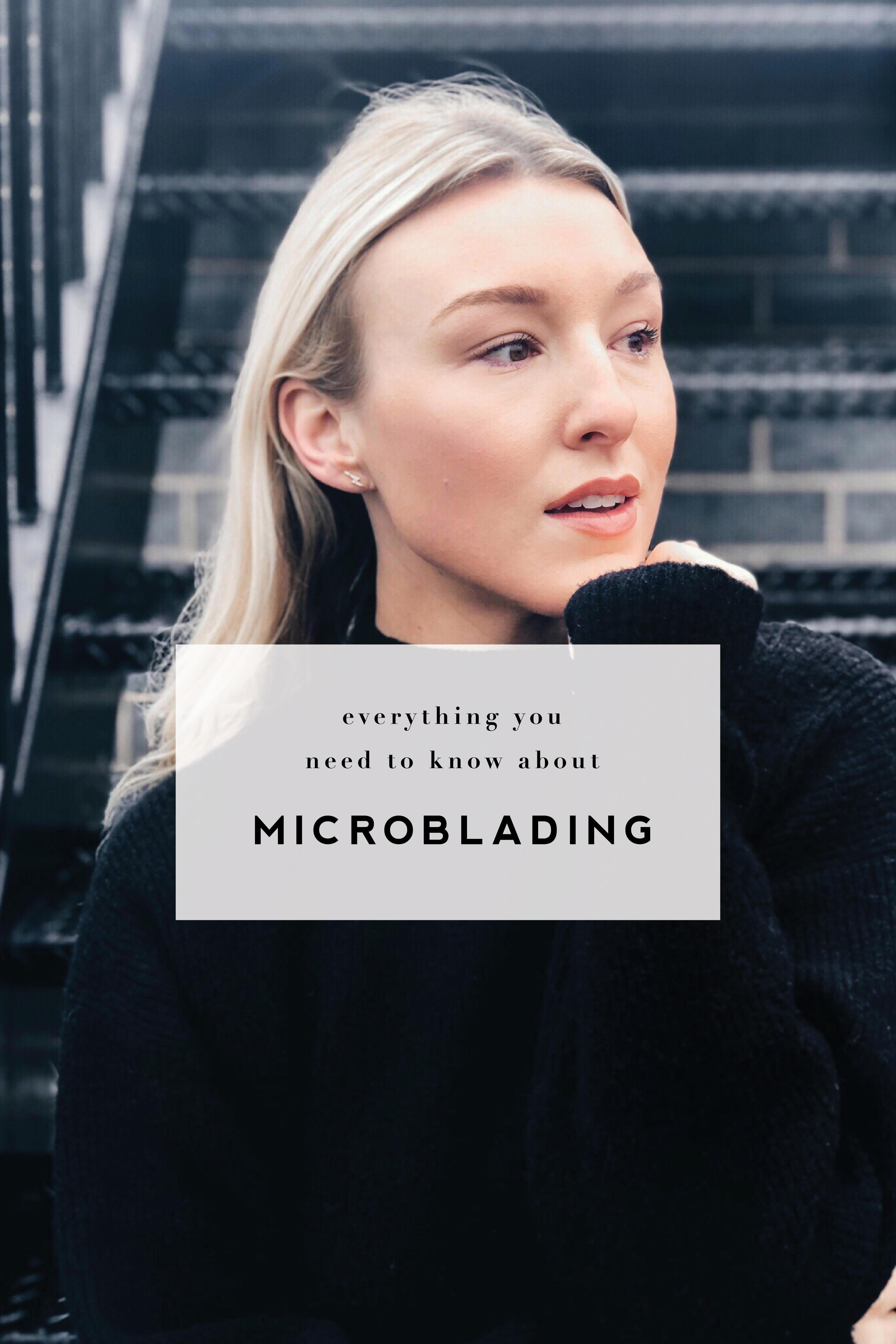 Guys! I have been knocking so many things off my 2018 Bucket List, and am honestly shocked that I can already cross off #2: getting my eyebrows microbladed! I am beyond obsessed with this decision, and really pumped to tell you guys all about my experience. I feel like I had plastic surgery or something in the sense that my face just literally looks better.
3 things I want you to know right off the bat about eyebrow microblading:
It has changed the way I see my face (in the best way)

It does not hurt at all the first round, but expect some mild pain when you go back for your touch up session.

Your eyebrows will be CRAZY dark for the first few days but DO NOT FREAK OUT! It is normal and goes away by day 7! Keep scrolling to see pictures of my dark phase.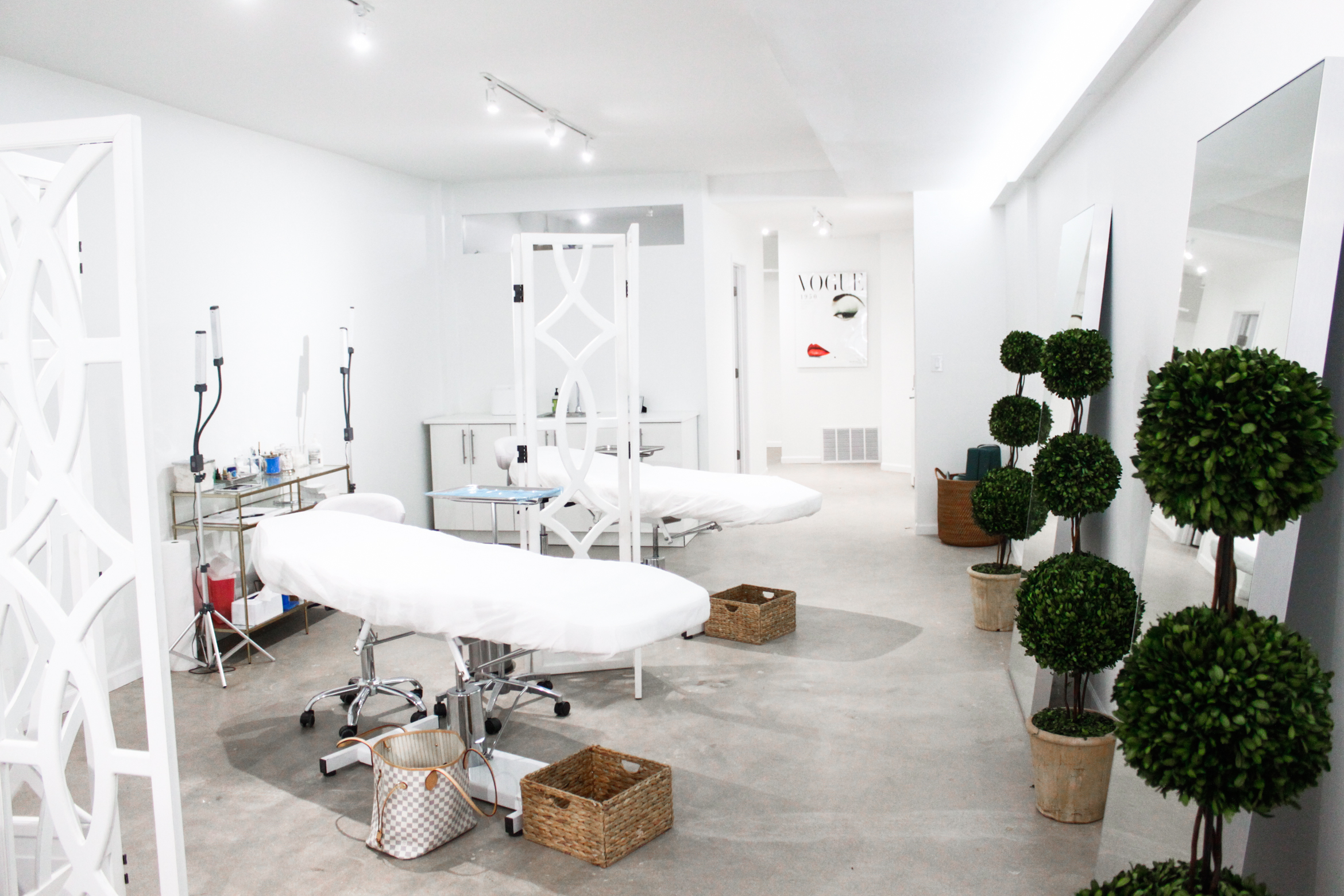 FYI! For a limited time you can get 20% off microblading services at EverTrue Salon in Chicago if you mention my blog!
I got my eyebrows microbladed at EverTrue Microblading Salon in Chicago, and before we get started I want to tell you why I decided to go there.
I chose EverTrue Salon (after doing extensive research) for a few reasons:
EverTrue is the only place in Chicago that ONLY does microblading exclusively. All of the other places I checked out were salons that offered it among other services. So, this made me confident that the artists at EverTrue are experts in their craft.
EverTrue has fair skinned/light haired clients in their microblading portfolio. At first, I was really concerned that eyebrow microblading was only for people with dark hair. EverTrue's portfolio is what made me realize I was wrong!
The people. Ramon and his team are some of the friendliest, most helpful people in the world! I was pretty nervous when I went in for my consultation and everyone there put me at ease immediately. Jackie is the fabulous woman who did my brows, and she made me so comfortable! Also, big shoutout to Lanice the receptionist for helping take photos! You're the best girl.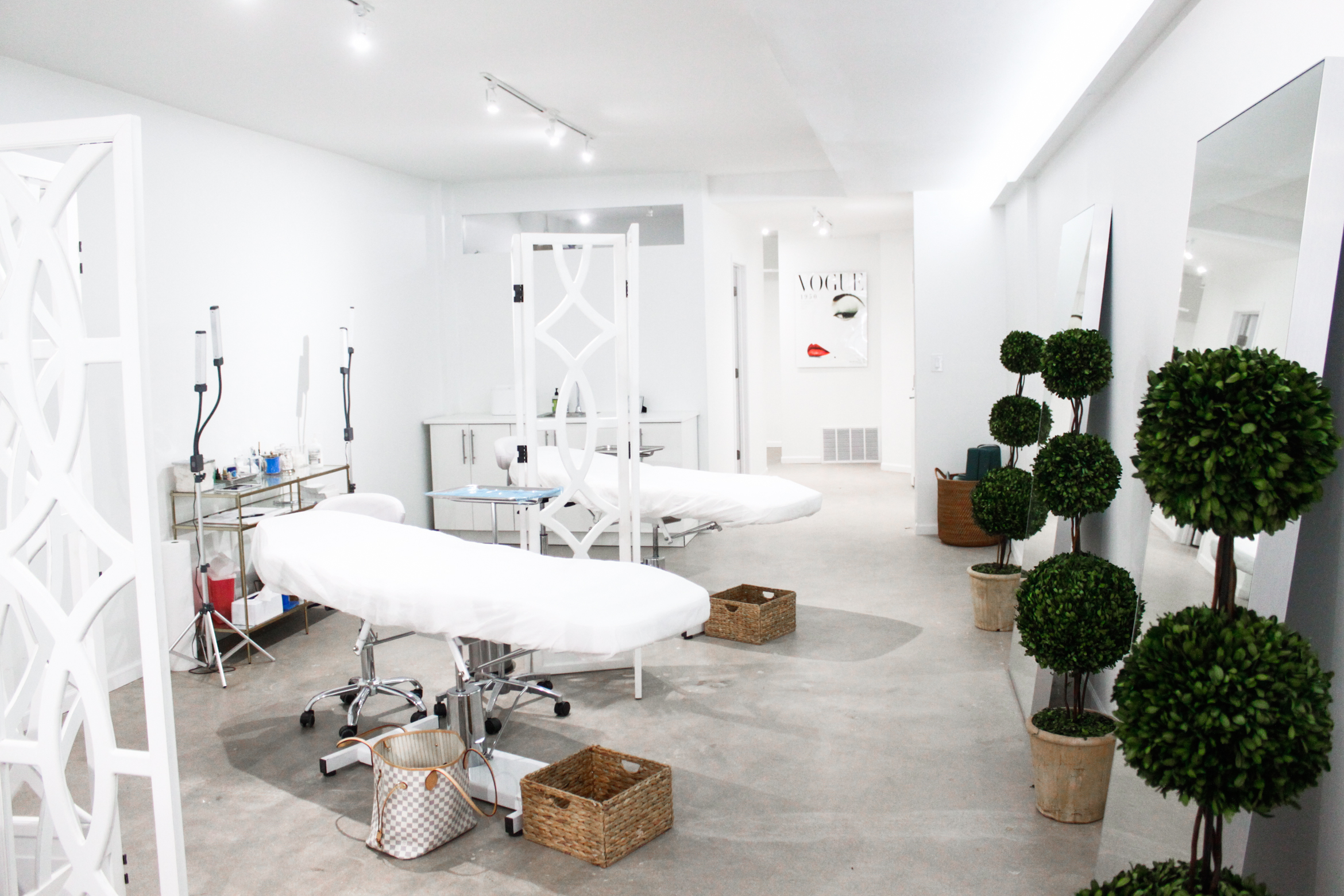 If you have been following my little microblading journey on Instagram, you probably know a lot of this stuff already. If you don't know what I'm talking about but want to watch videos of my microblading process, head to my Instagram and click on the little circle on my profile titled "MICROBLADING". See below!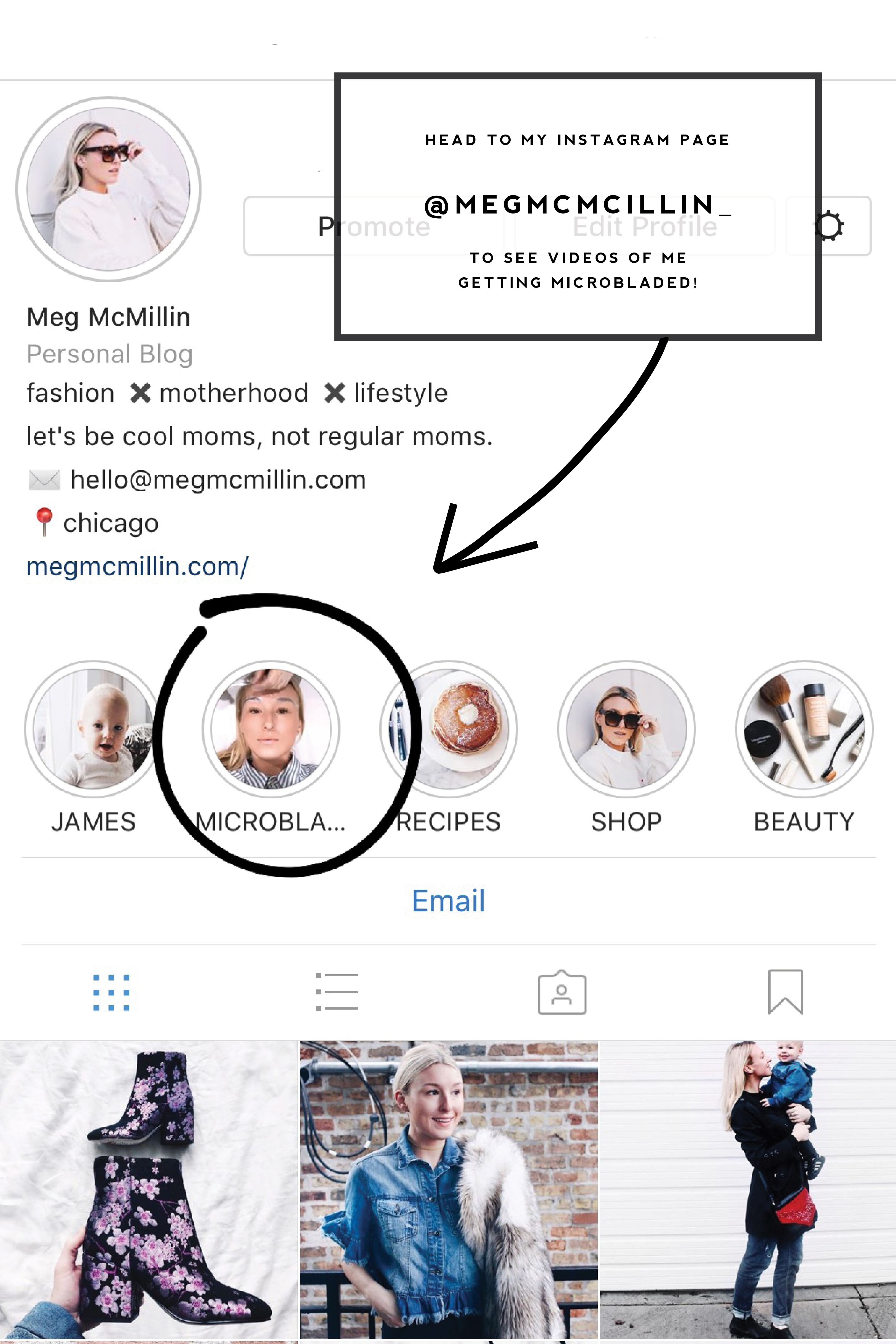 Before I get into my experience, let's cover the basics. Below are some common questions you might be having and I went ahead and took most of these answers right off of EverTrue's FAQ page, because they know best! Be sure to explore their website to learn more.
So, what the heck is MICROBLADING?!
Microblading is a technique where fine lines are scratched into the surface of the skin, and pigment embedded.  The strokes accurately replicate hair (as in a brow or hairline).  Results can last from six to 18 months, depending on a variety of factors such as color of pigment, skin type, and lifestyle. – EverTrue
How long does it last?
For brows, up to 18 months. For lips, one to two years. For eyeliner, three to five years. Hair color, skin type, after-care, and lifestyle also affect longevity of the results. Occasional touch-ups are a way to refresh the results. Done correctly, the treatments do not change color and fade naturally away with time. For areas such as brows, this allows future flexibility with shape, as standards of beauty change.  Please note even if not visible to the eye, there will always be vestigial pigment permanently embedded in the skin. – EverTrue
Does it hurt?!
This is my answer: NO! I was shocked at how painless it was. They used (an FDA approved) numbing cream that totally prevented me from feeling any discomfort. In my opinion, waxing and plucking are far more painful. I would say on a level of 1 to 10 – 1 being no feeling at all and 10 being super painful – my experience was about a 2. I could feel a little scratching but that's it.
What is the recovery process like?
I will get into this more below, but like the actual process, the recovery phase is totally painless. The brow will take about one week to fully heal. There is some peeling and mild itching but the only thing that is a bit jarring is the fact that your eyebrows will get SUPER dark the first few days after treatment. Then, they slowly fade to their natural shade! The brow will soften in color by up to 40-50%. During this period, after-care procedures should be carefully followed.  – EverTrue
What happens during a consultation?
First of all, consultations are free. Once you arrive you talk about the results you want. I brought in a photo of the look I wanted and was VERY specific about wanting them to look natural, not angular or makeup-y! Next, your specialist will analyze your brow hair grade and color, and the desired shape is drawn on with a specialized pencil. NOTE! If you are fair like me, your eyebrows will look VERY dark when drawn on with this pencil! I was freaked out at first but then they assured me they will be using a dye that matches my hair color perfectly for the actual microblading – and they did! #TRUST
Once you are satisfied with the shape and thickness, the therapist consults with you on color, they mix and match with the hue to ensure a shade that is closest to your natural hair color . You will also discuss the procedure, the after-care, how long it takes the skin to heal, and how to ensure the best results. Consultations at EverTrue are always free with no obligation to proceed with the treatment! – EverTrue
How much does it cost?
This is for sure a bit of an investment. EverTrue's microblading starts at $515. Other places I looked at were all in the $500-$700 range. If a place is offering it for less than $500, I wouldn't trust it. I will say there is nothing like knowing I can wake up for the next year and a half with perfectly symmetrical, already "done" eyebrows! Even when I don't have makeup on I still feel like I look good now, thanks to my eyebrows. To me, this is worth the price!
PS: A "perfecting session" is included in the price!
After 6 weeks, you go back for a perfecting session where they will touch you up! Ramon (the owner of EverTrue) said that 9 times out of 10, people come back saying they want them even bigger and darker! I don't go in for another few weeks, but I already know I will be one of those people.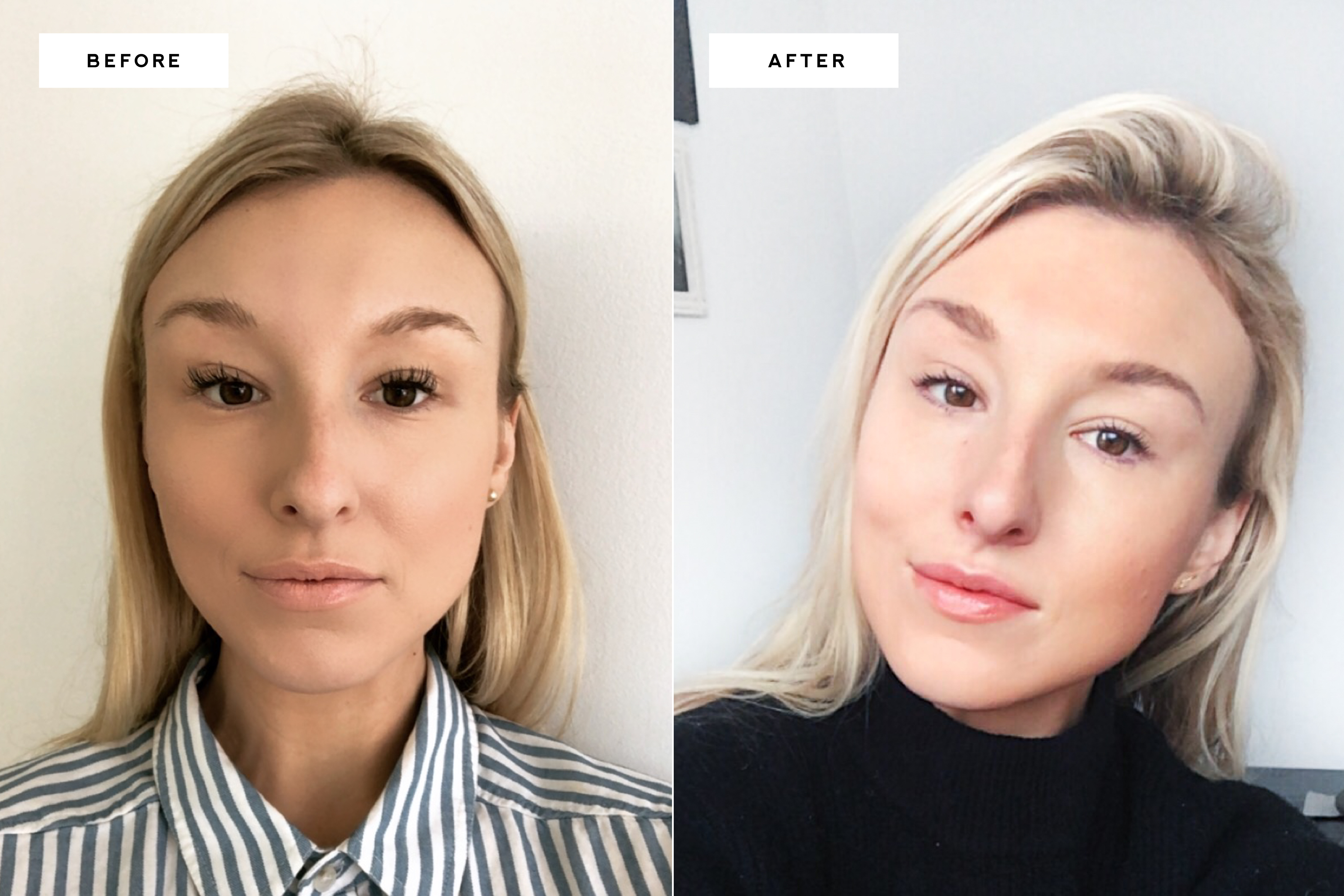 Now on to my experience!
I got my eyebrows microbladed on February 6th. Here is how it went down:
Step 1: My eyebrows were drawn on with a pencil to confirm the shape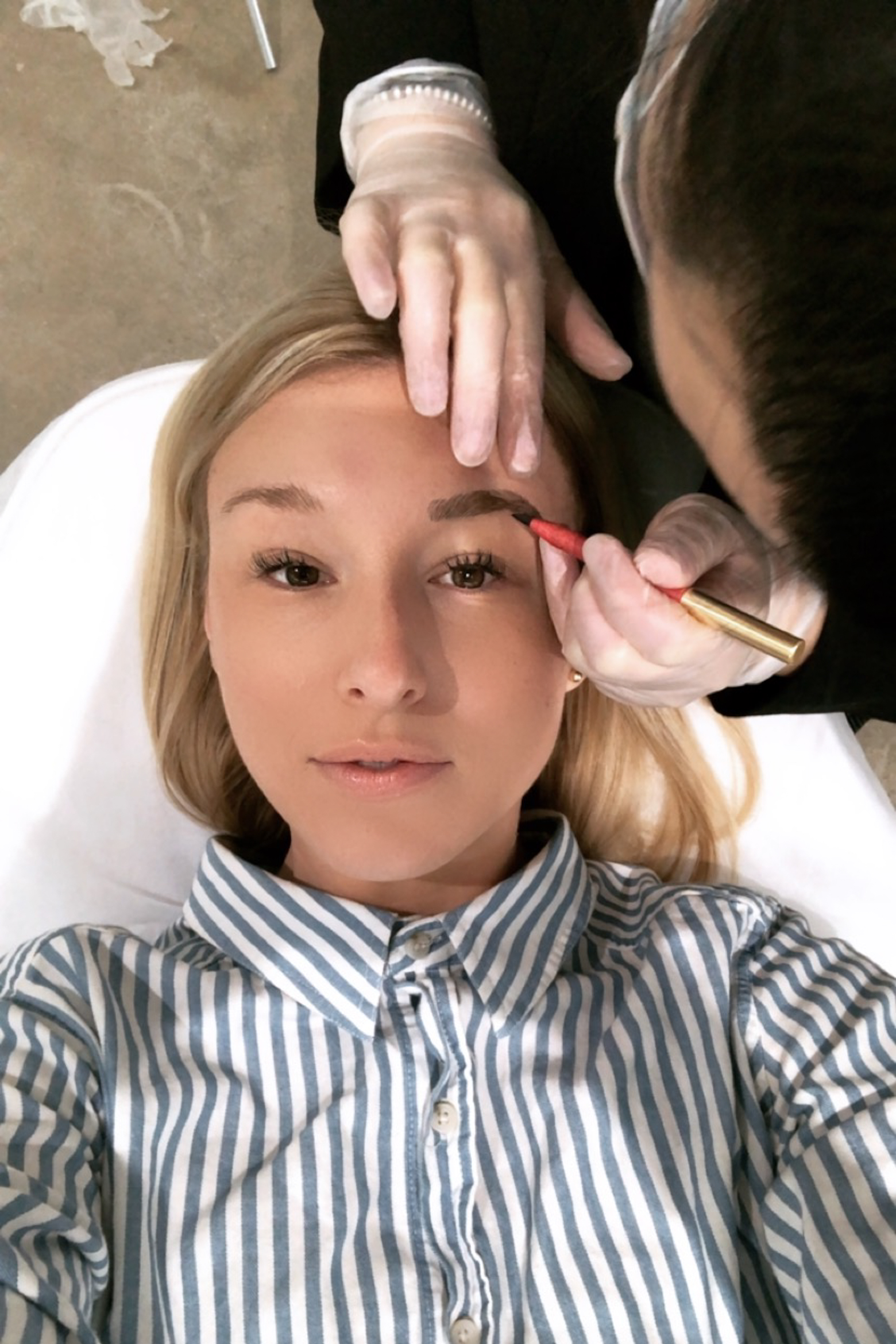 Step 2: Once both eyebrows were drawn on, Jackie applied numbing cream + plastic. This sat for 15 minutes.
Step 3: Jackie removed the plastic and started microblading with this tiny blade. I didn't feel a thing!
Step 4: Once she was done with the microblading, she applied the dye with a Q-tip.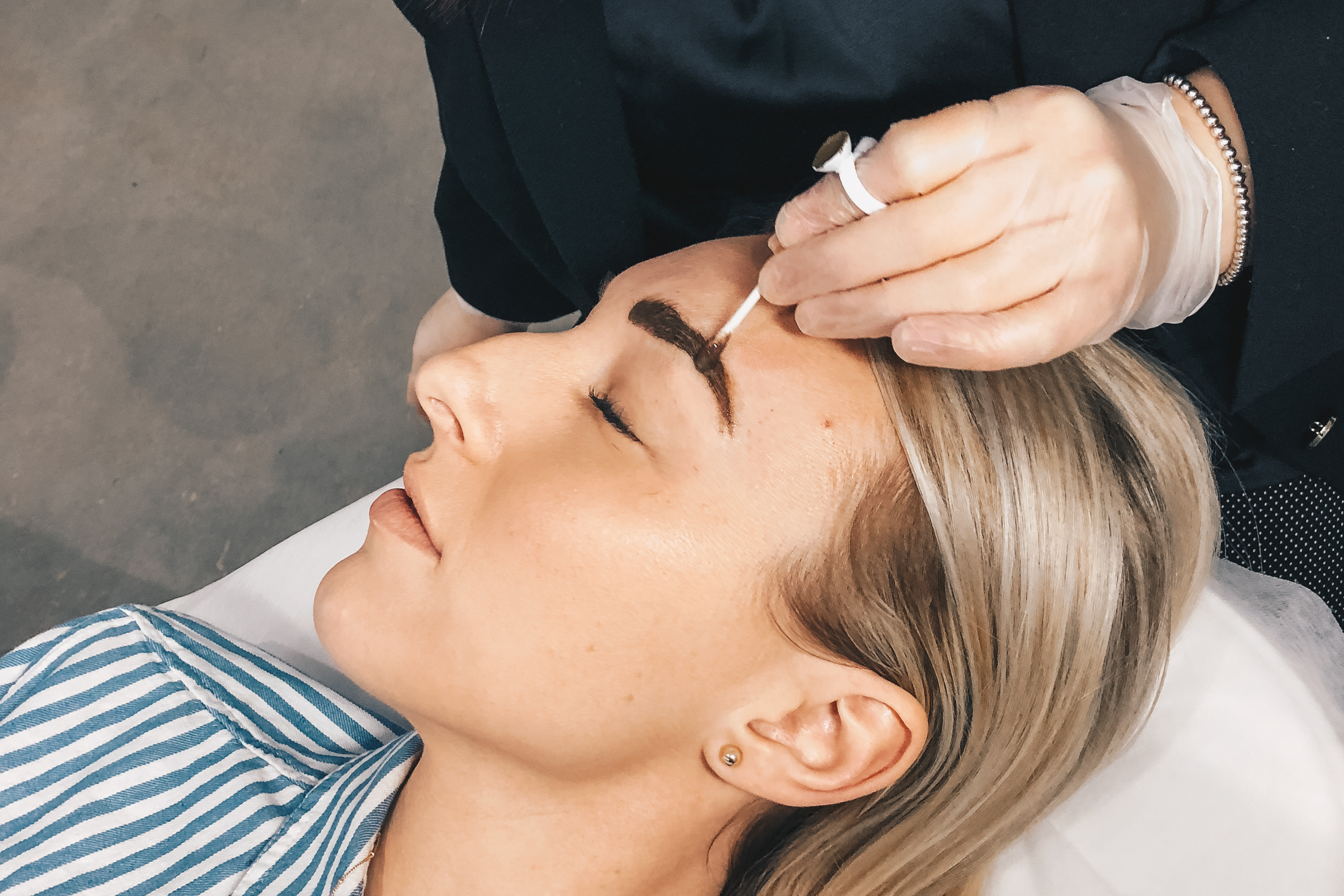 DONE AND DONE!
They were super dark when I left, I knew this would happen but it was still a little scary – not gonna lie! However, I had a good support system of a couple girls who had recently been microbladed. So, it was nice to go to them for reassurance whenever I got scared they wouldn't fade!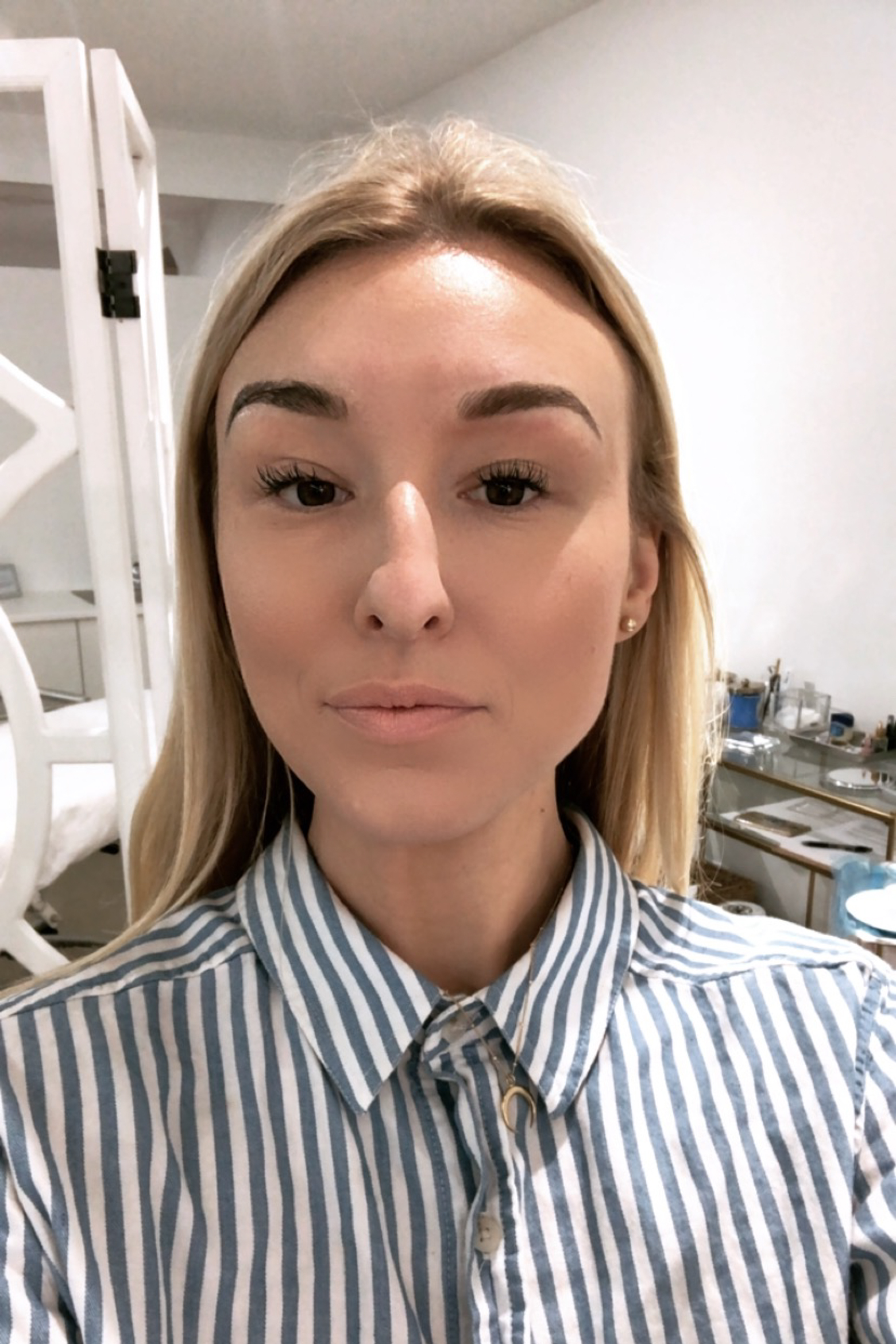 Okay, onto the recovery phase:
This post is so long, I know. But there is just so much I want to tell you! As I mentioned earlier, THEY GET SO DARK! Like, black. If you have darker hair and/or are dark complected – this probably won't be that big of an issue for you. But, if you are fair like me, you might freak out a bit. Luckily, I had a few people who had been through this there to PROMISE me they would fade. I trusted them, and they faded!
There was mild itching that started around day 4-5, as the ink began to scab a bit and peel off. You will get a special cream to apply 2x a time for the first week, as well as a detailed list of aftercare instructions!
Here is how I recovered: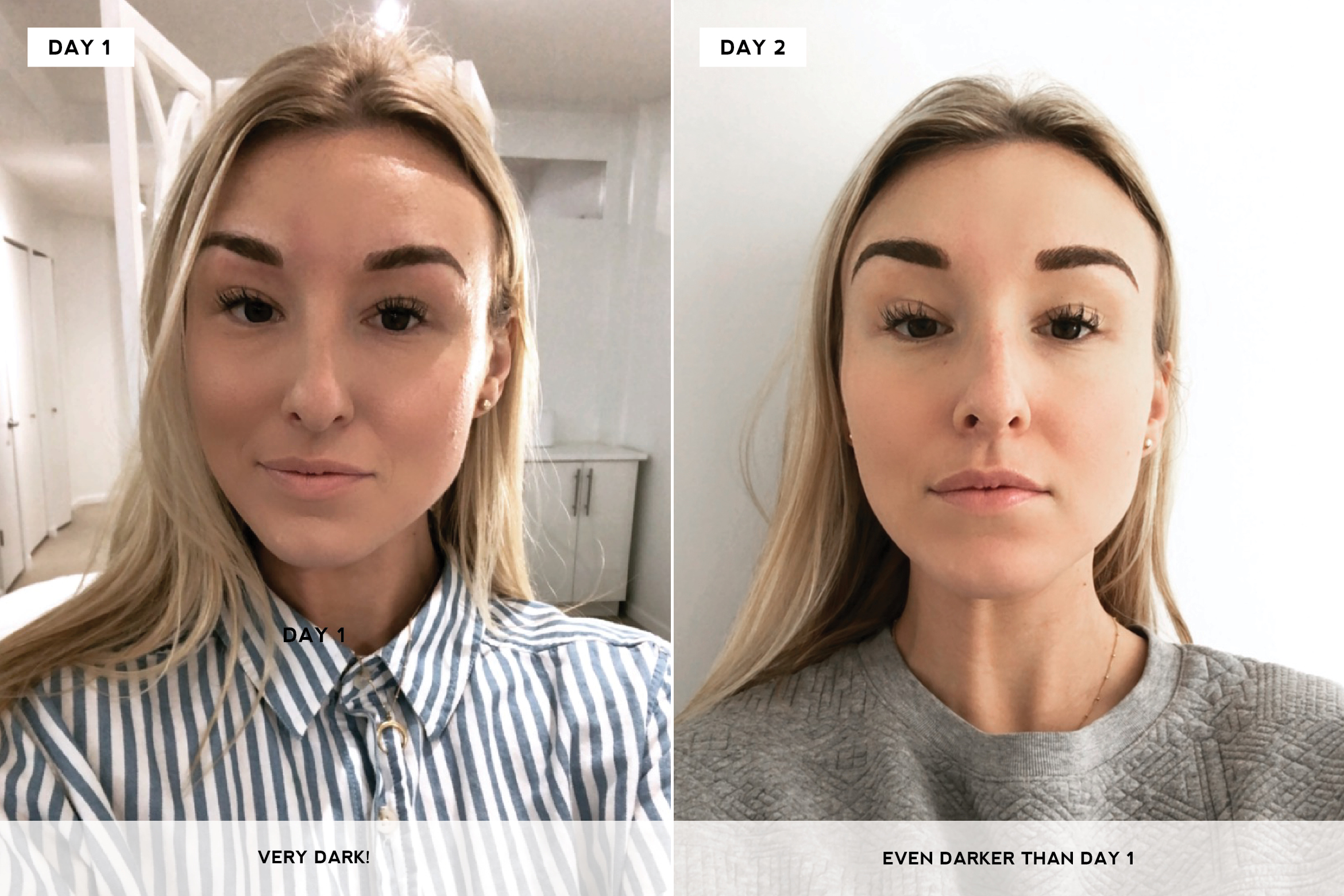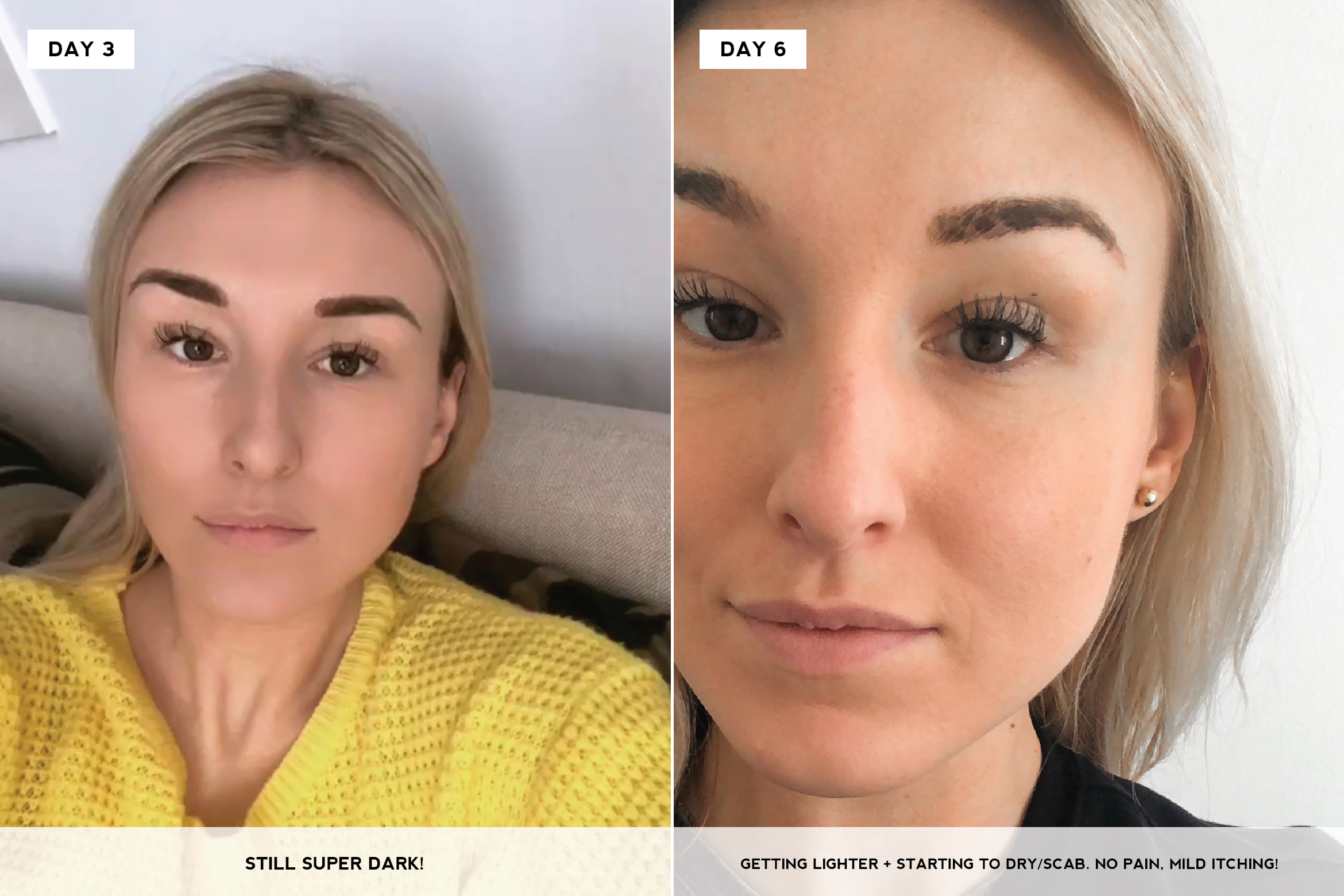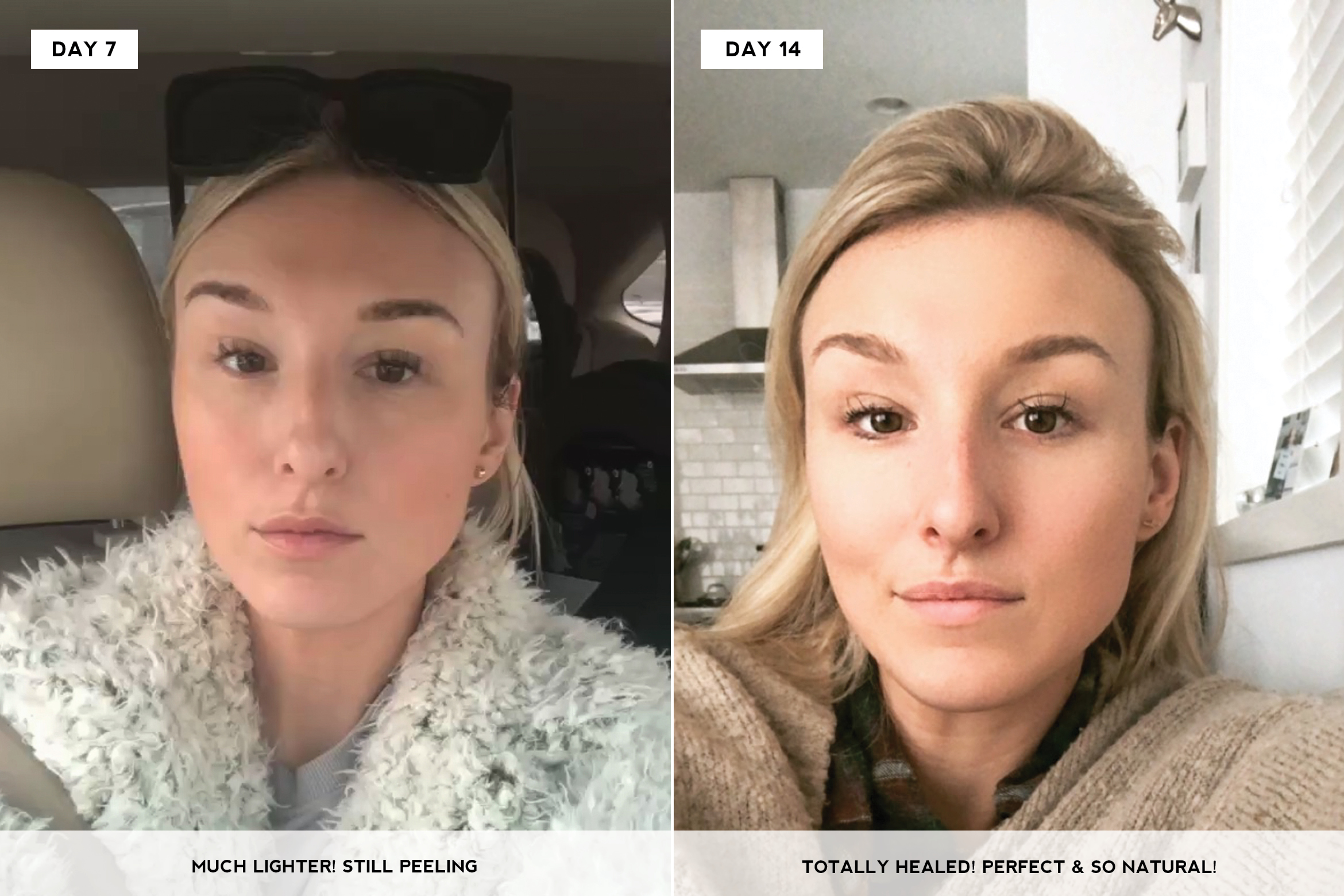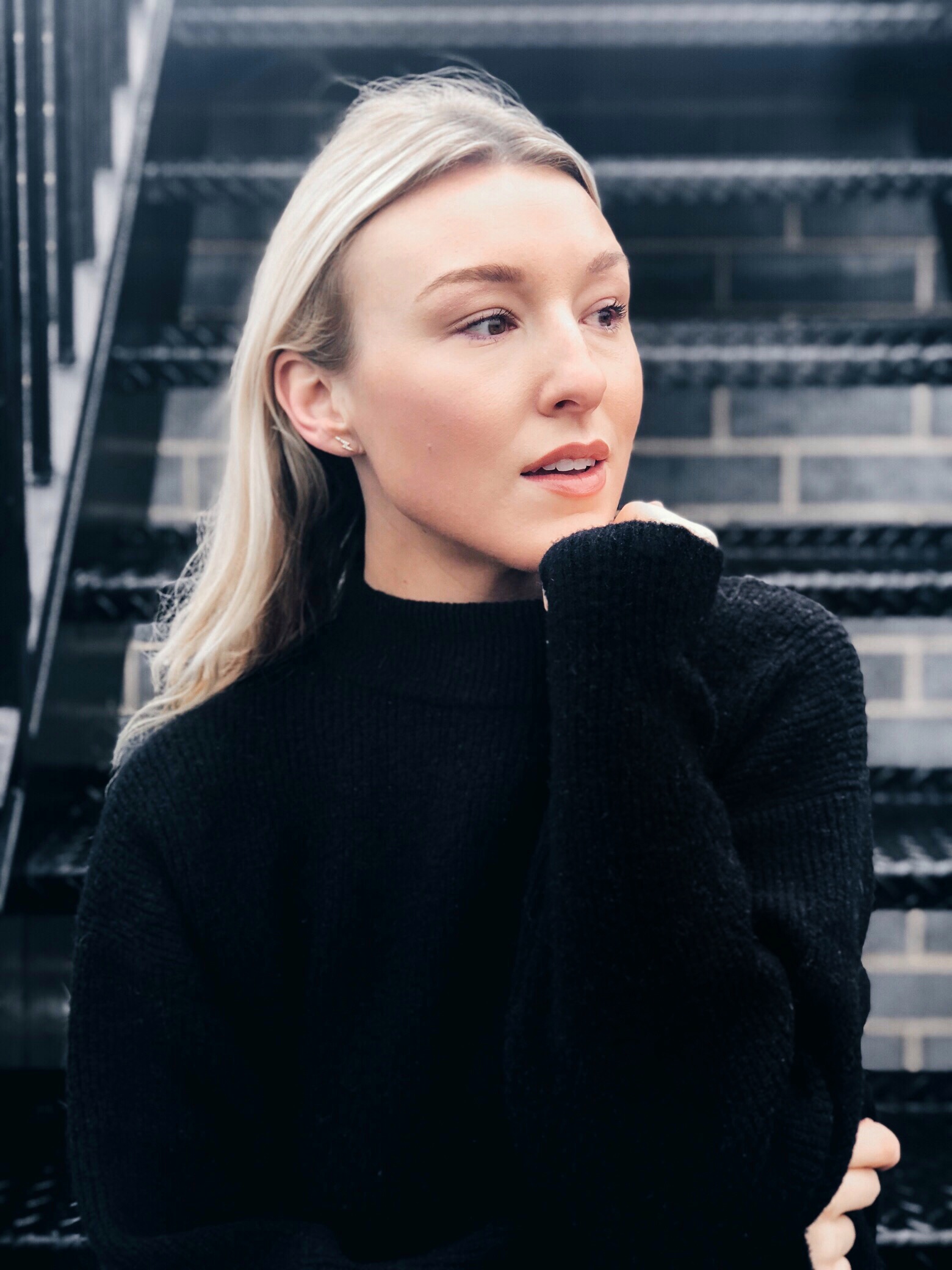 All done! Let me know if you guys have any questions at ALL! I am happy to answer anything you might be wondering about. And don't forget about the 20% discount!