I'm trying to be better about meal planning (as mentioned in my 2018 bucket list) and I'm finding these dinners below to be a total breeze lately. Thank you to so many of my Instagram followers who sent me over their favorite easy dinner recipes! I will be doing 'easy dinners' posts more often, and I cannot wait to incorporate more of what you guys sent me.
Okay, so all of these dinners have been James + Kyle tested, and James + Kyle approved. I obviously can't promise your family will love these dinners but it's worth a shot. They are all pretty simple, no crazy flavors or spices that a toddler would have any major problems with! I'm hoping they work out as well for as they did for me.
1. One-pan Greek chicken salad with roasted veggies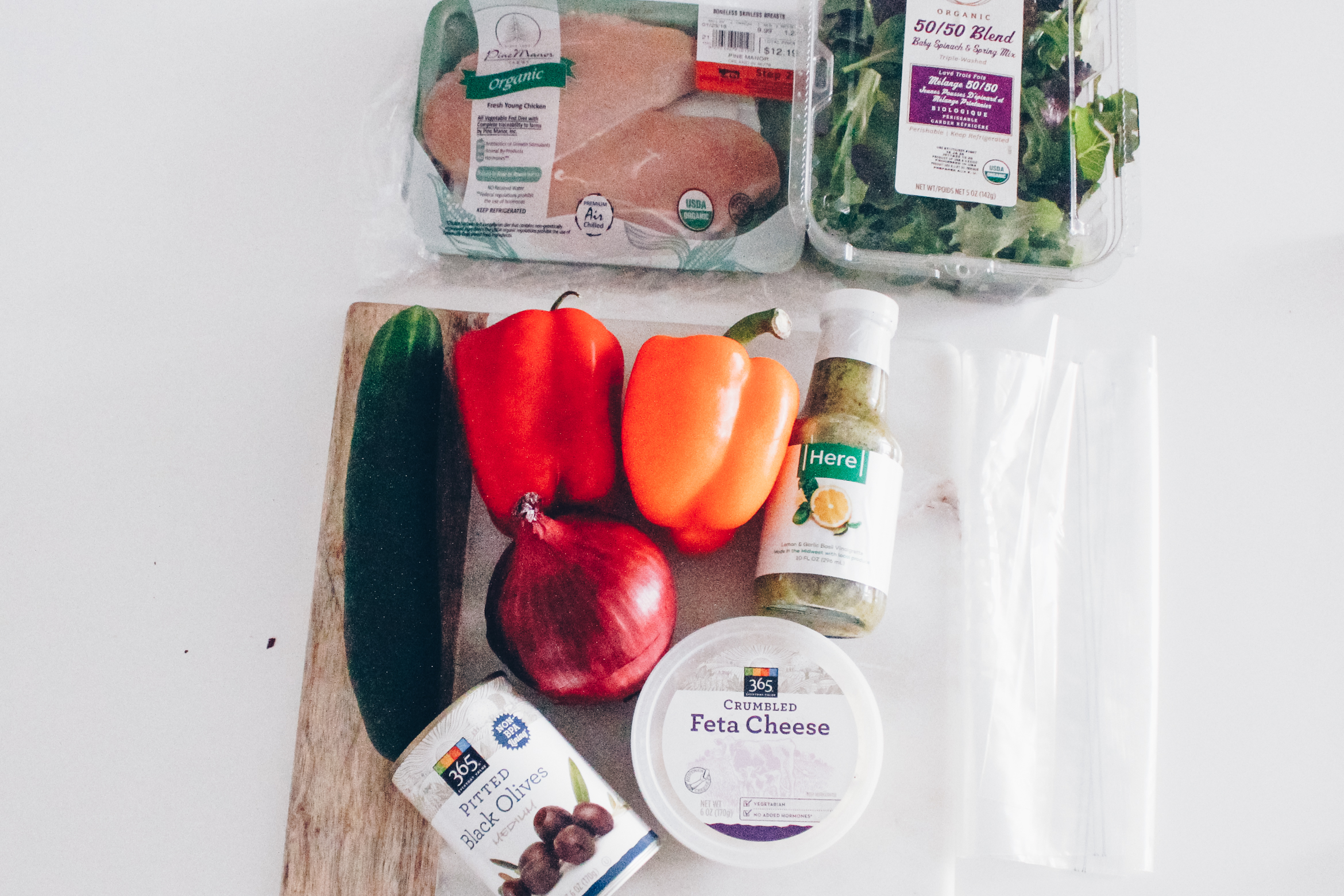 This is fool proof. SO EASY! Quick note about the salad dressing though: The day I bought the ingredients to take these photos, they were out of the Greek salad dressing I usually buy at Whole Foods – so I used the lemon garlic flavor by the same brand. It is called Here Dressing, and they make all different flavors using ONLY oil and spices – no nasty chemical ingredients!
INGREDIENTS:
2 chicken breasts
1 red bell pepper
1 orange bell pepper
1 purple onion
1 cucumber
1 bag or box of mixed greens 
2/3 cup Greek salad dressing (I only use Here dressing and it's sold at Whole Foods & Mariano's)
Feta cheese
Olives
DIRECTIONS:
Preheat oven to 400 degrees
Chop peppers and onion and combine in ziplock bag with 1/3 cup of the salad dressing, put the chicken breasts in separate ziplock with the other 1/3 cup of the dressing. You can let it marinade in the fridge all day for more flavor, or just let it marinade briefly for a few minutes!
Once chicken and vegetables are marinaded, place them all in the same pan, sprinkle with feta cheese, and bake for 30 minutes at 400 degrees.
Check to make sure the chicken is thoroughly cooked then cut into strips and toss into the mixed greens with the vegetables. It's so good when everything is hot!
Add feta, chopped cucumber, and olives. You won't even need to add extra salad dressing, the marinade from the vegetables holds so well that it dresses the salad itself!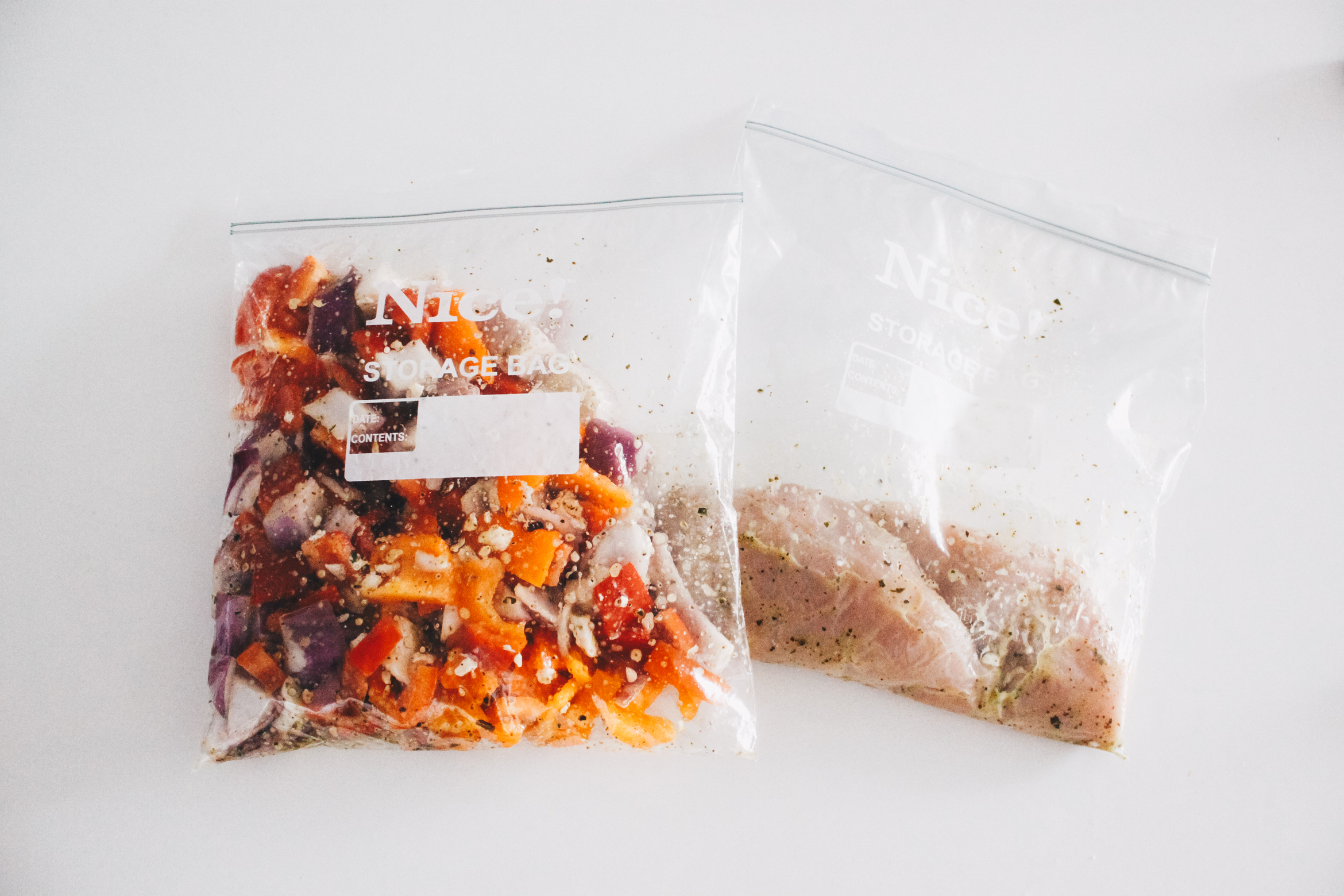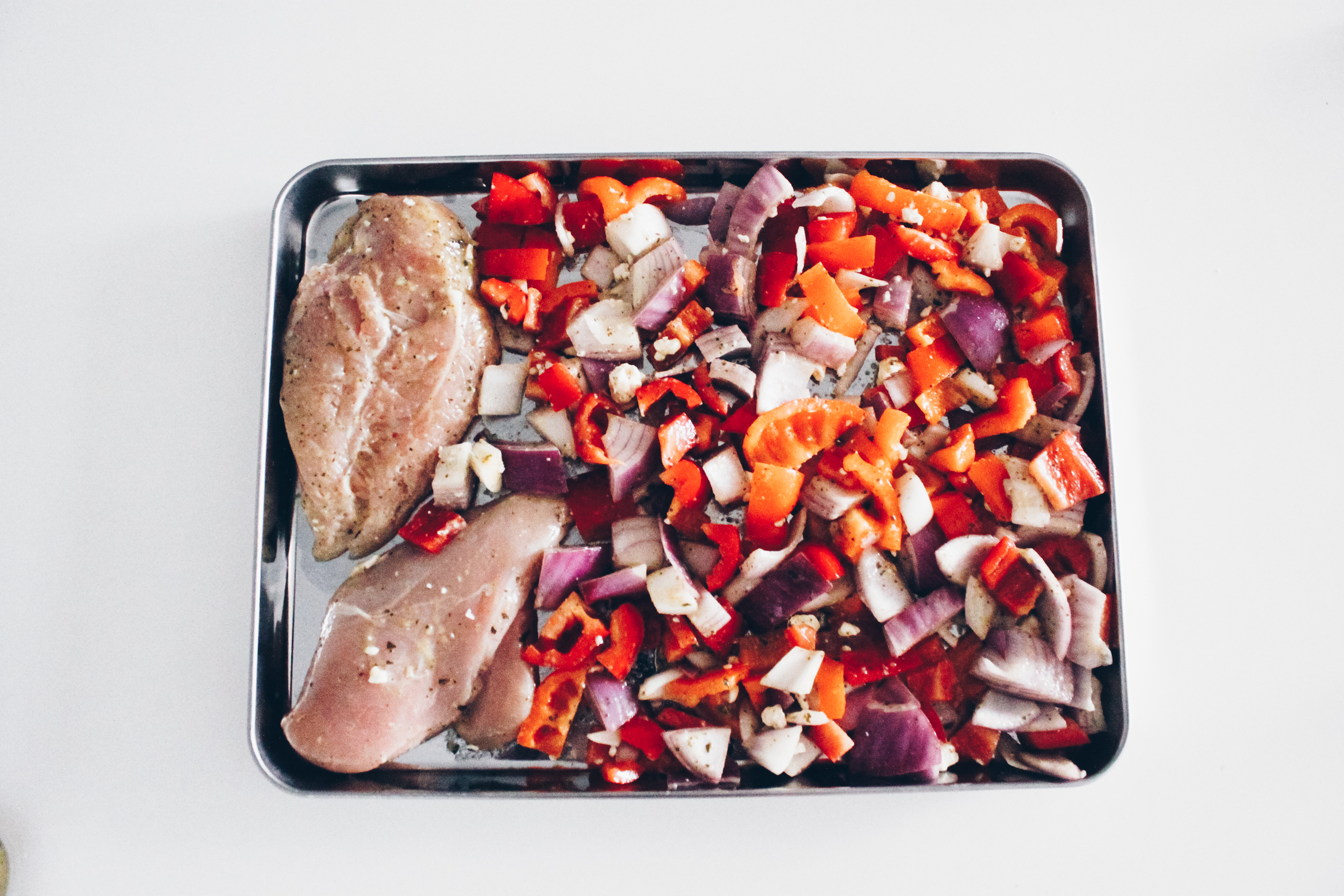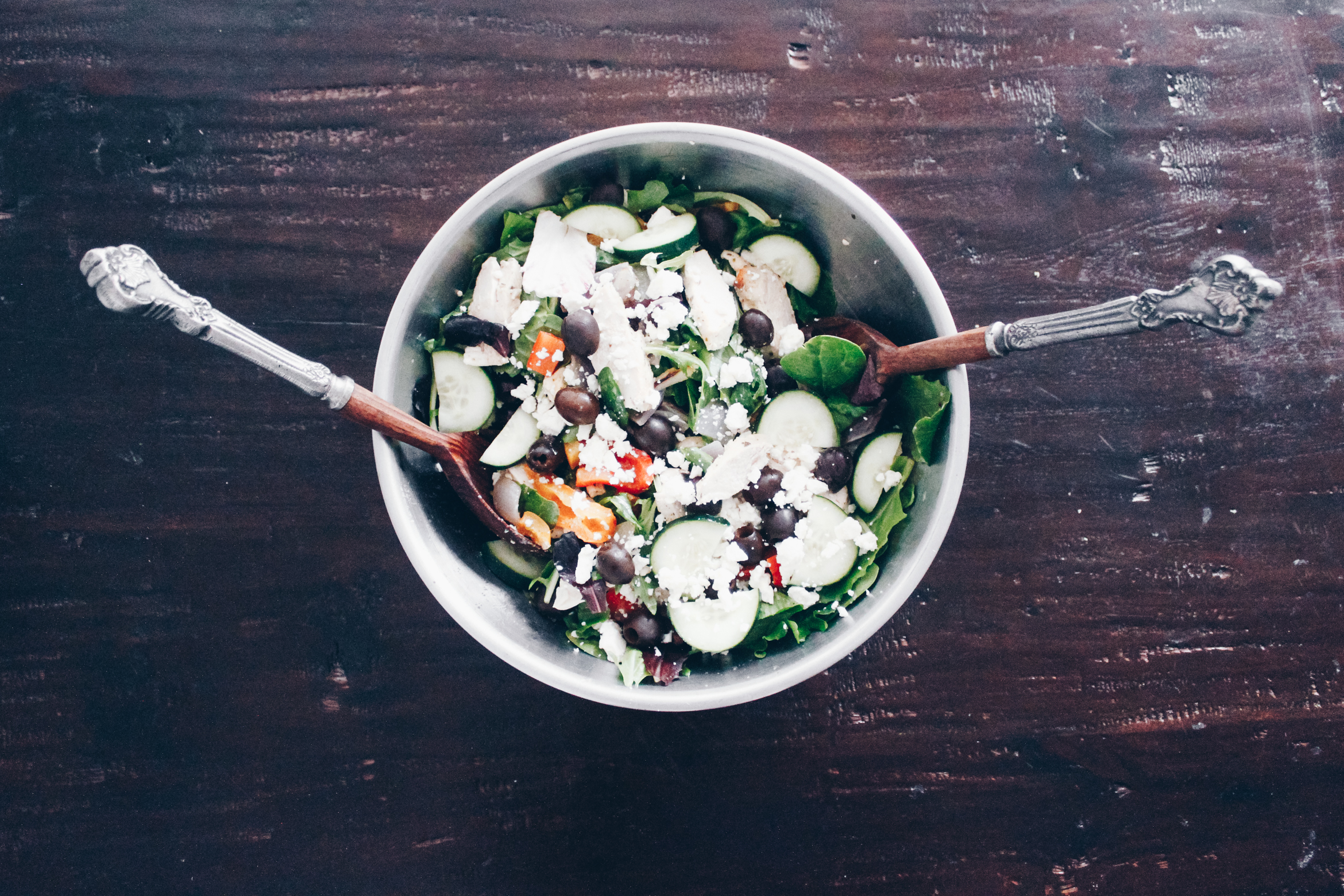 2. One pan honey garlic chicken with sweet potatoes & green beans
One of my lovely followers sent me this recipe, but it called for thighs and I didn't have any. So, I searched for a recipe that had breasts and altered it. For instance, I use sweet potatoes instead of regular potatoes, and green beans instead of broccoli. The original recipe (with chicken breasts not thighs) is right here on Damn Delicious!
INGREDIENTS:
3 tbs olive oil
2 tbs unsalted butter, melted (FYI – I was out of butter and it turned out fine)
2 tbs honey
2 tbs brown sugar
1 tbs Dijon mustard
3 cloves garlic, minced
Salt & pepper to taste
2 medium sweet potatoes, peeled and diced or cut into medallions
4 chicken breasts
1 lb green beans
TURN LEFTOVERS INTO A QUINOA BOWL: For lunch the next day, I made quinoa and mixed it with the leftovers. I added a little feta on top too! So good.
DIRECTIONS:
Preheat oven to 400 degrees
If you are cooking for a toddler, I recommend boiling the green beans separately for a few minutes until they are tender so that they're sure to be cooked through after baking!
In a small bowl, whisk together the olive oil, butter, honey, brown sugar, Dijon mustard, minced garlic and set aside.
Place potatoes and softened green beans in a single layer onto a baking sheet and drizzle some of the honey mixture onto the vegetables. Then place chicken breasts onto the same baking sheet and brush thoroughly with the rest of the mixture.
Place in oven and roast until the chicken is completely cooked through about 30 minutes.
Once fully cooked, broil for about 2 minutes to char and caramelize the mixture onto the chicken and vegetables.
3. BBQ chicken + quinoa casserole
I have been making this for FOREVER. It is so painfully easy. You can find the original recipe here, but as usual I altered it a bit to make it even easier. I skip the cilantro and canned corn – unless for some reason I have both on hand!
INGREDIENTS:
2 chicken breasts (cooked and shredded)
1 cup dry quinoa
2 cups cheddar cheese, shredded (or to taste)
1 can black beans
2 cups BBQ sauce (store bought or make your own – I make my own because store bought has too many weird ingredients! Recipe below!)
OPTIONAL: chopped sweet onion if your kids will eat it, canned corn
EASY HOMEMADE BBQ SAUCE:
3/4 cup ketchup 
2 tablespoons light-brown sugar 
1 tablespoon white-wine vinegar (I have used white balsamic vinegar and that works as well!)
DIRECTIONS:
Preheat oven to 350 degrees F.
Combine quinoa with 1 3/4 cups of water in a medium saucepan over medium-high heat.
Bring to a boil, reduce heat to medium, cover, and let cook for 15-18 minutes, until all of the water is absorbed and quinoa is sprouted. Remove from heat.
In a large bowl, combine quinoa, chicken, black beans, barbecue sauce and 1 1/2 cups of cheese and stir well to combine all ingredients.
Transfer quinoa mixture to a 9×13″ pan (or any casserole dish)
Top with remaining 1/2 cup of cheese.
Bake in preheated oven for 20-25 minutes!
4. Cheesy broccoli rice
Original recipe found on Budget Bytes! I altered mine a bit, .
INGREDIENTS:
1

lb.

frozen broccoli florets, thawed

2

cups

long grain rice

2

Tbsp

butter

 

1/2

tsp

salt

 

1/4

tsp

garlic powder

 

1/4

cup

grated Parmesan

2 cups

shredded sharp cheddar

1/2 cup Greek yogurt
DIRECTIONS:
Place rice in large pot and add 3 cups water. Cover pot and bring to a boil. Once it reaches a boil, turn the heat down to low and simmer for 15 minutes. Then, turn the heat off and let the rice rest without removing the lid for an additional 5 minutes. (OR use your favorite method of cooking rice — rice cooker, Instant Pot, etc.)

While the rice is cooking, chop the broccoli florets into tiny pieces.

Once the rice has cooked, fluff it gently with a fork. Add the butter, salt, garlic powder. Stir to combine.

Add the chopped broccoli and gently fold it into the rice

Add Greek yogurt, parmesan and cheddar cheeses, and fold to combine again!
5. Slow cooker honey apple pork loin
This is tooooooo easy! I found the original recipe here on The Magical Slow Cooker. Sides are optional, I usually do a baked sweet potato or salad!
INGREDIENTS:
3-4 lb. pork loin
2 sliced apples (I use Granny Smith but any kind will work)
1 sliced white onion
½ cup butter, sliced (I have done this without butter before, more flavor with it but doable without!)
¼ tsp. salt (and pepper if you want)
½ tsp. cinnamon (or to taste)
¼ cup honey
DIRECTIONS:
Cut slits into the pork loin, I cut about an inch down. Insert apple slices into the slits. Set aside.
Add the onions + leftover apple slices down in the slow cooker. Lay over the slices of butter.
Add the pork loin into the slow cooker on top of the onions + apples + butter
Sprinkle the pork with the salt + cinnamon + pepper
Drizzle the honey all over
Cover and cook on LOW for 6 hours without opening the lid during the cooking time
When the cooking time is done. Remove the pork onto a platter and let rest for at least 5 minutes. Slice and serve!