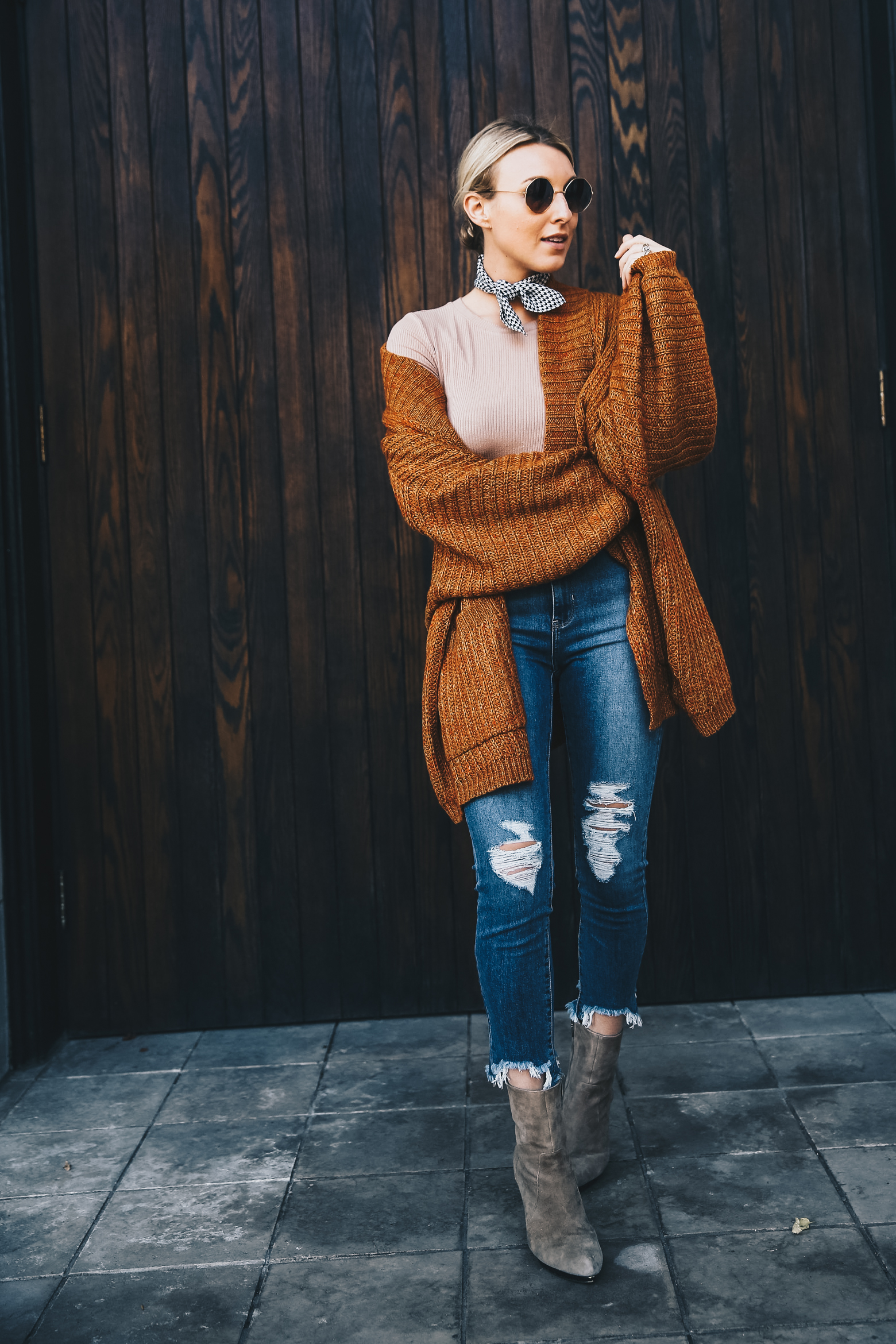 Sweater weather is the best weather. I love summer, but I love layers more. To me, there is nothing better than finding the perfect oversized cardigan you can live in during the Fall and Winter. I like my cardigans to make me feel like I'm on my couch, wrapped up in a big + cozy blanket with a glass of red wine. And this blanket-y beauty from Urban Outfitters meets all my requirements. Not to mention the color! Doesn't it just scream "FALL!!!!!!!!!!!!!"? I wanted to try something a little different from my usual gray or black, and I'm loving it. It's really easy to style! The other night I wore it with black skinny jeans + a black t-shirt. Also, I'm wearing a SMALL! Can you believe it?! Typically, I buy everything in the L to XXXXL range because I'm addicted to oversized. However, this cardigan is so naturally oversized that the S fits just perfectly.
My jeans are from Vintage Charm, and they are also an item I'm living in as of late. I can't get enough distressed hems! In case you missed it, last week I posted about how to DIY a distressed hem on an old pair of jeans: check it out here. I've also been OB-SESSED with silk square scarves tied around the neck! Hello, Parisian vibes. The one I'm wearing in this post is only $14 from Urban Outfitters.
I've linked 30 of my favorite cardigans at the end of this post. I do think that a quality cardigan is something to invest in. (Kyle always laughs + rolls his eyes at me when I use the word "invest" when referring to clothing.) There is nothing worse than having to give away a sweater that you love because it is pilled to death. So sad. Treat yo'self and spend a little dough on an awesome cardigan that you can keep forever! And by "a little dough" I mean like $100-ish, I'm not advocating for a monthly-rent-priced cardigan, you guys know I'm cheap. However, if you DO want to go that route, I'd like to introduce you to my dream cardigan by Missoni. Cue 500 heart eye emojis. Isn't that the most magical thing you've ever seen? Ultimate blanket goals.
30 COZY CARDIGANS FOR FALL: