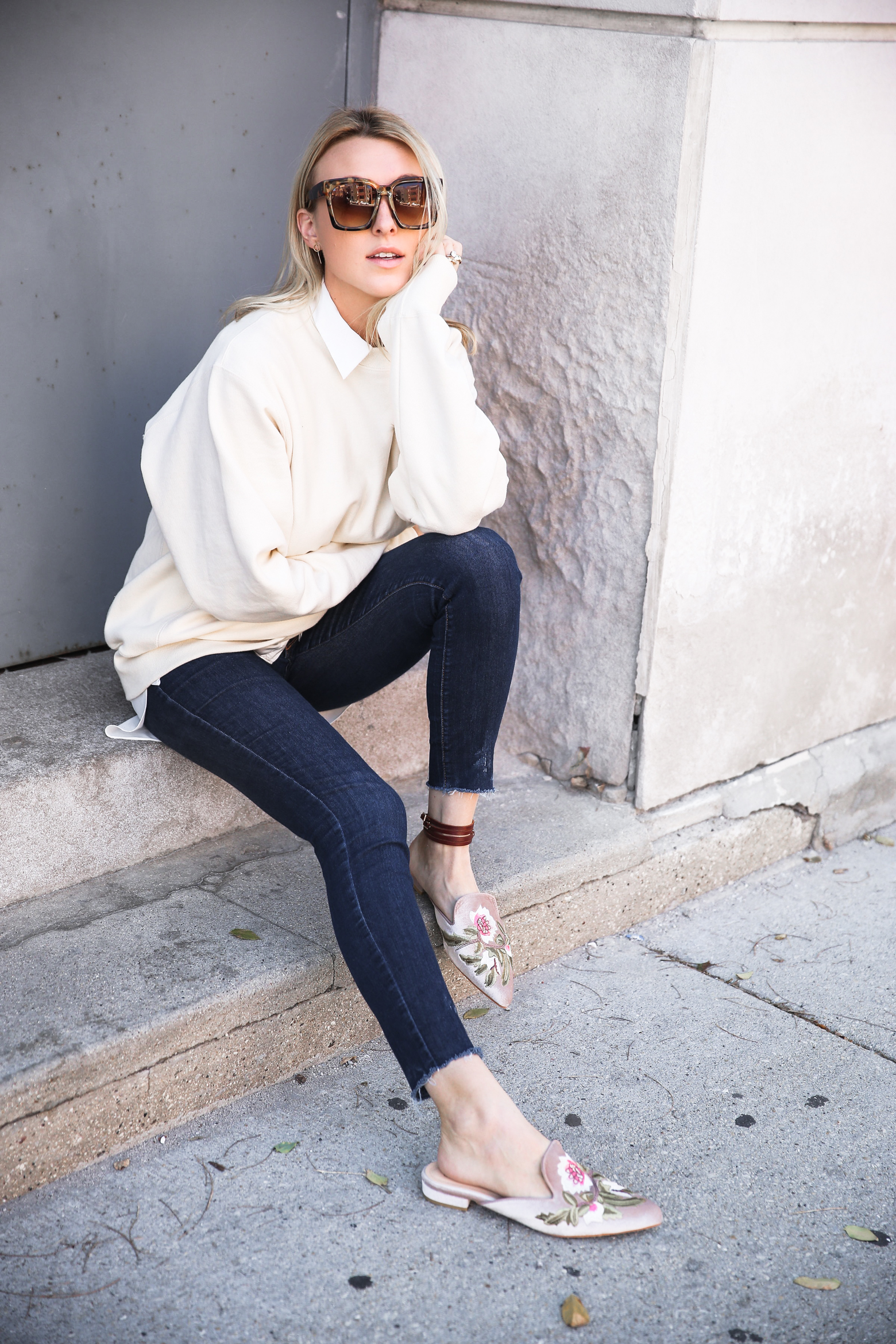 I'm on a huge embroidery kick (hence my jeans in yesterday's post) and these mules are totally fulfilling my obsession. If you don't have an embroidered item in your wardrobe rotation right now, I highly suggest making some moves! Start with these taupe embroidered mules from Vintage Charm. They're also available in green, and brown!
You know I love to dress up a sweatshirt, so I styled the mules with this cream Champion sweatshirt from Urban Outfitters, an oversized white blouse underneath, and an old pair of jeans that I just distressed the hem on myself! It was so incredibly easy. I used a pair of scissors, and a cheese grater! See below for tutorial.
Oh, and PS: anklets are a thing again. I wrapped one of my busywrist leather wrap bracelets around my ankle, and I plan on tying a bandana around it next!
HOW TO DISTRESS THE HEM OF YOUR JEANS:
We should all be distressing old denim on the reg. You cannot go wrong with the technique I used! To be honest, I'm tempted to take out the hem on all of my jeans now.
Step 1:
This is the MOST important part!!!! You must open up the seam, instead of just hacking off the portion below the hem. If you do the latter, you'll risk a choppy finish. Additionally, doing it this way gives you the option of creating a high/low hem (like the hem on these jeans). To open up the seam, use the scissors to cut upward along the inseam – as shown above. Stop the cut right above the stitching!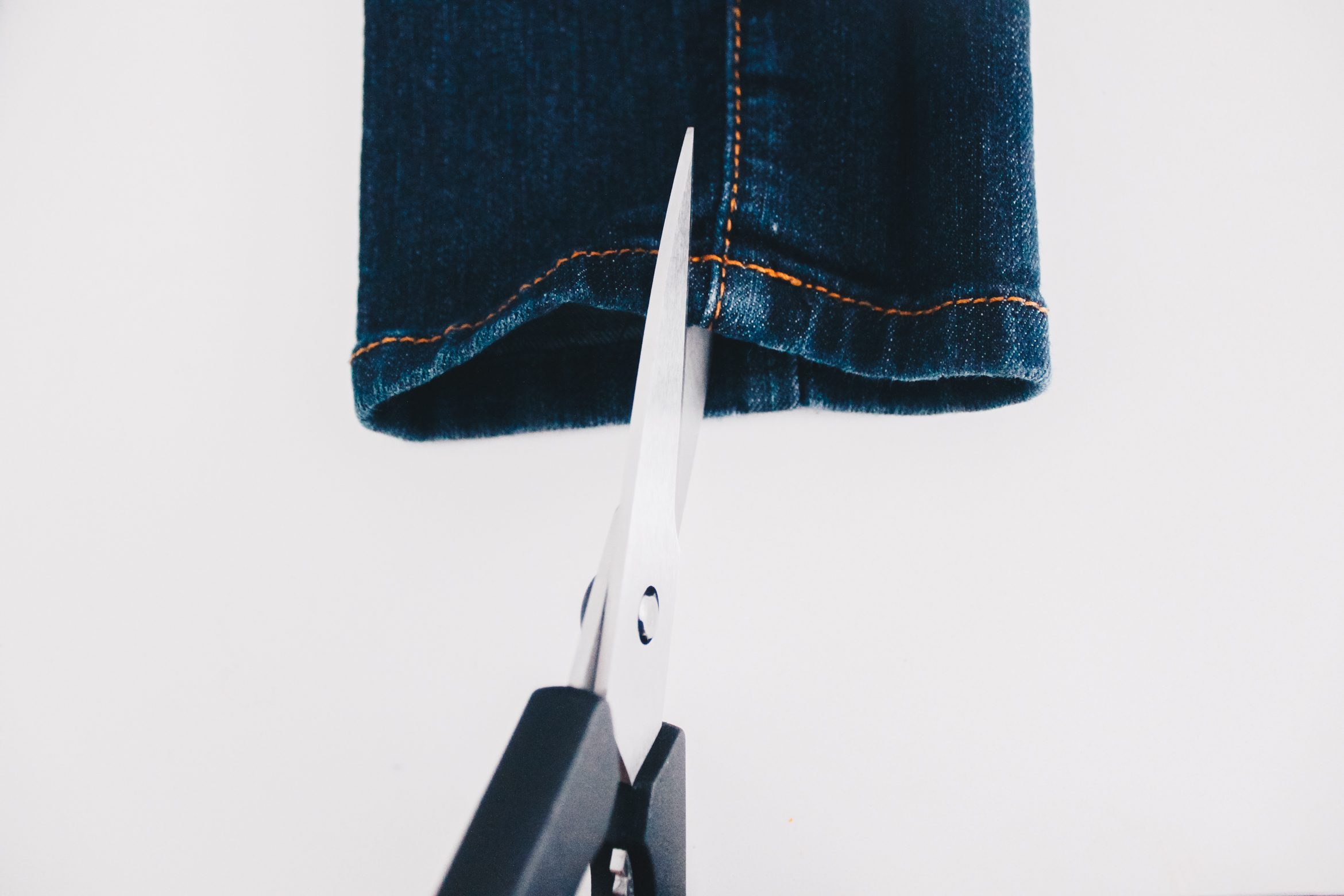 Step 2:
If you have a seam ripper, now is the time to use it. But if you do not have a seam ripper, don't worry! Just use the tip of the scissors to snip along the thread of the hem. Snip then pull out a few stitches by hand, then snip and pull out the next few stitches by hand, repeat.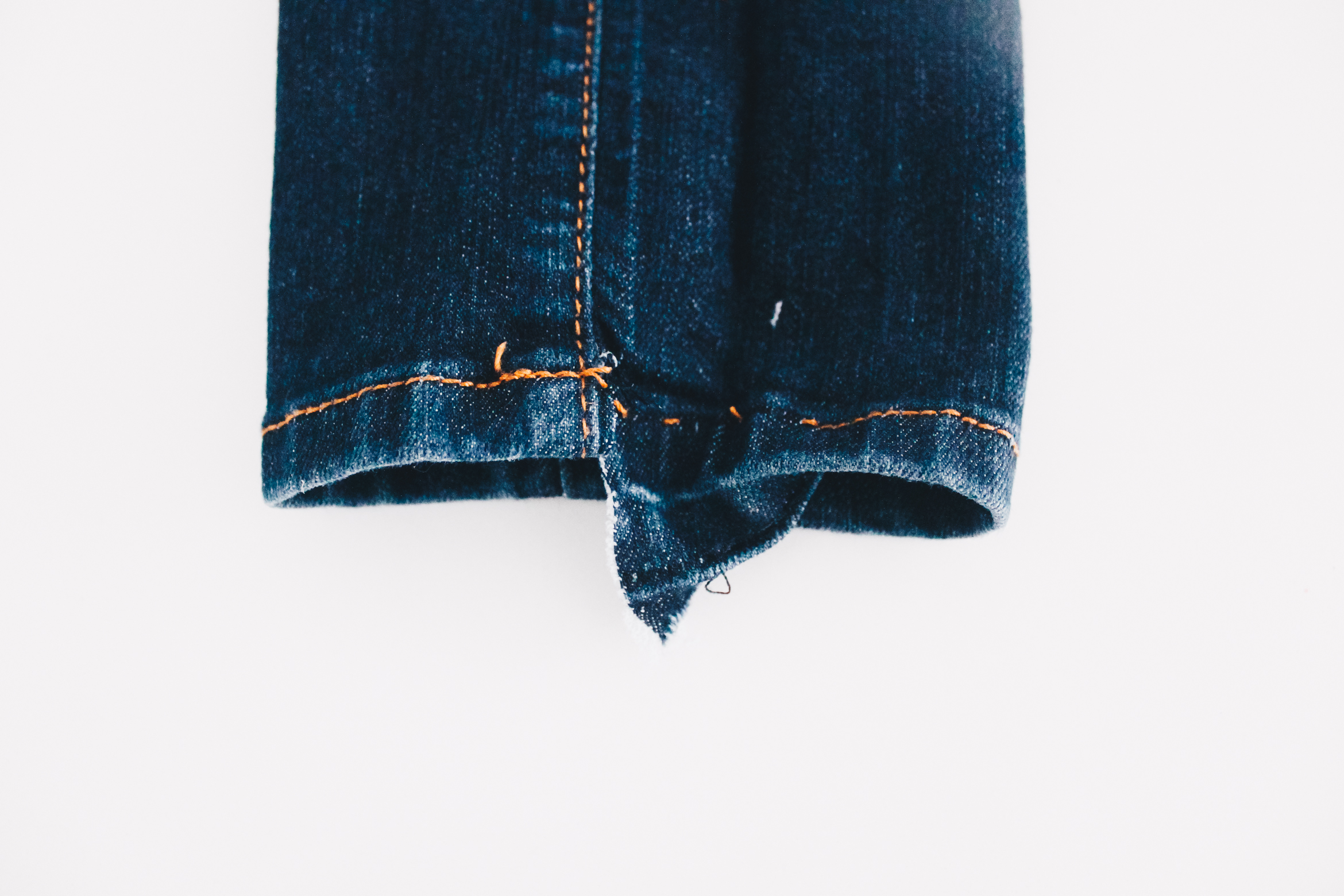 Step 3:
Be sure to snip + pull from the inside of the jeans. You will be able to pull about a lot of the stitching by hand.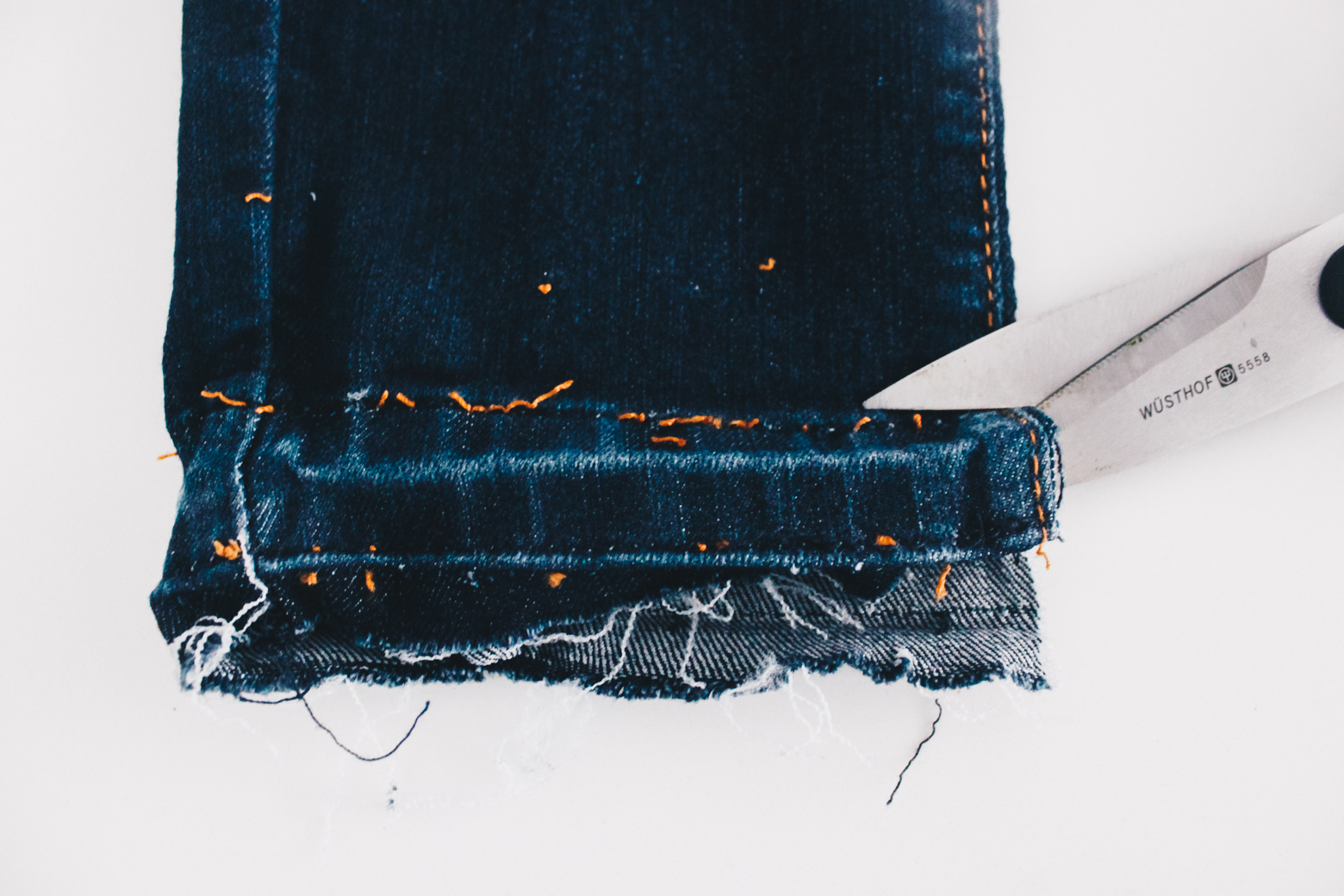 Step 4:
This is where you get to decide which style jeans you want! You can totally stop at this point, if this is the look you're going for. I love this look, but decided to crop them further. You can get creative at this stage. You can leave them like this (above) so you can still see the bleached fold where the hem used to be, or you can cut off the front part and leave the back as is (to create the high/low hem), or you can cut off the whole thing to create a fully frayed hem by following along the top line with your scissors – which is what I did.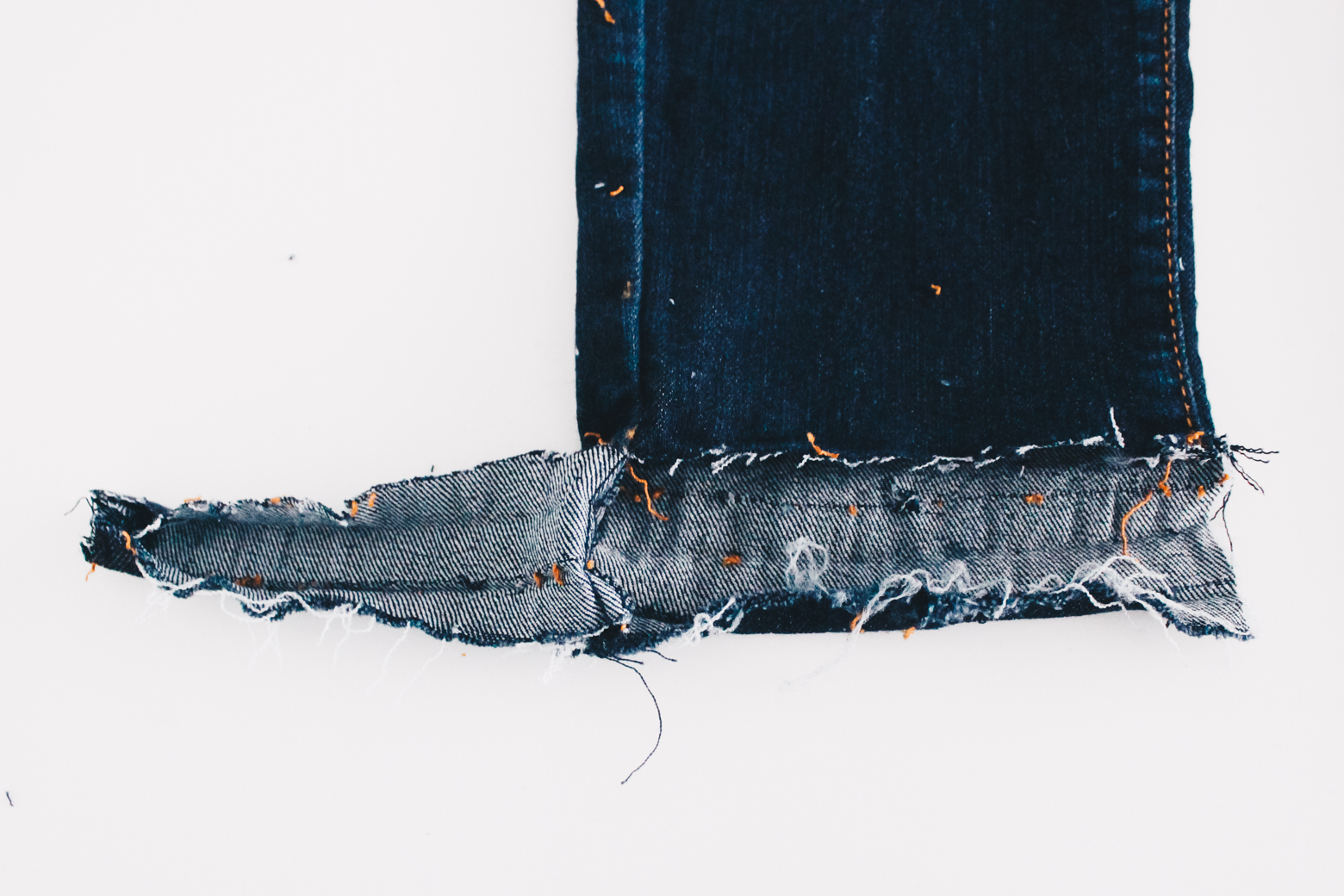 Step 5:
Next, use a cheese grater to distress your newly raw hem! This is the fun part. You can use the cheese grater on ANY part of the jeans. I didn't go too crazy with it on this particular pair, but I did do some grating around the ankles!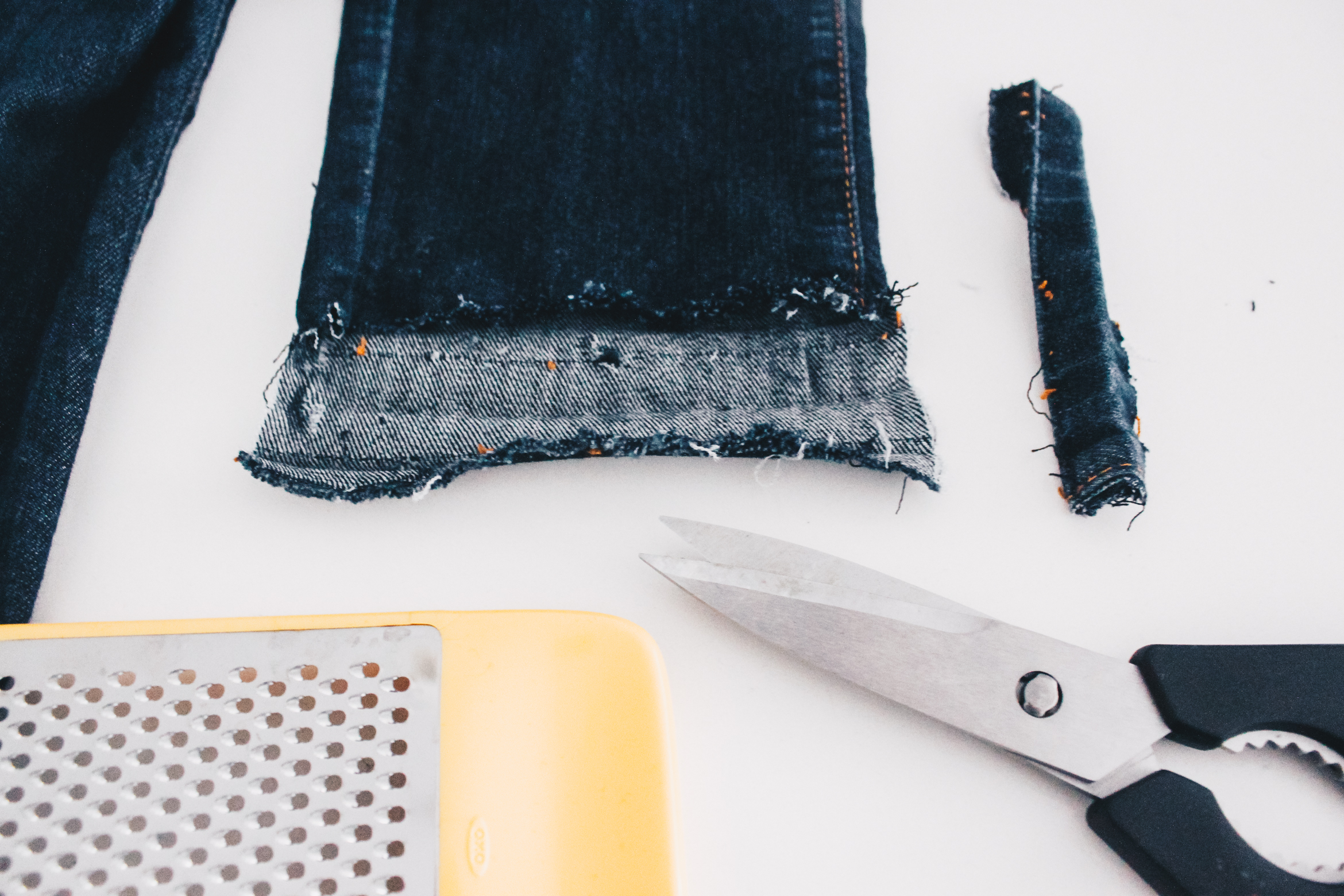 Step 6:
Last steps: iron out any creases where the hem used to be (if you decided not to cut that part off) then wash, and dry the jeans! It is really only necessary to iron the bottom cuffs if you have decided to not cut off below the hem. Does that make sense? If all you did was release the hem and NOT cut off below it, then you'll want to iron out the crease where the hem was folded. You will also want to iron the back if you decided to create a high/low hem. If I'm confusing you, I apologize! You'll know what I mean when you get to this step.
Enjoy your new jeans! 🙂 xx



– SHOP THE POST –