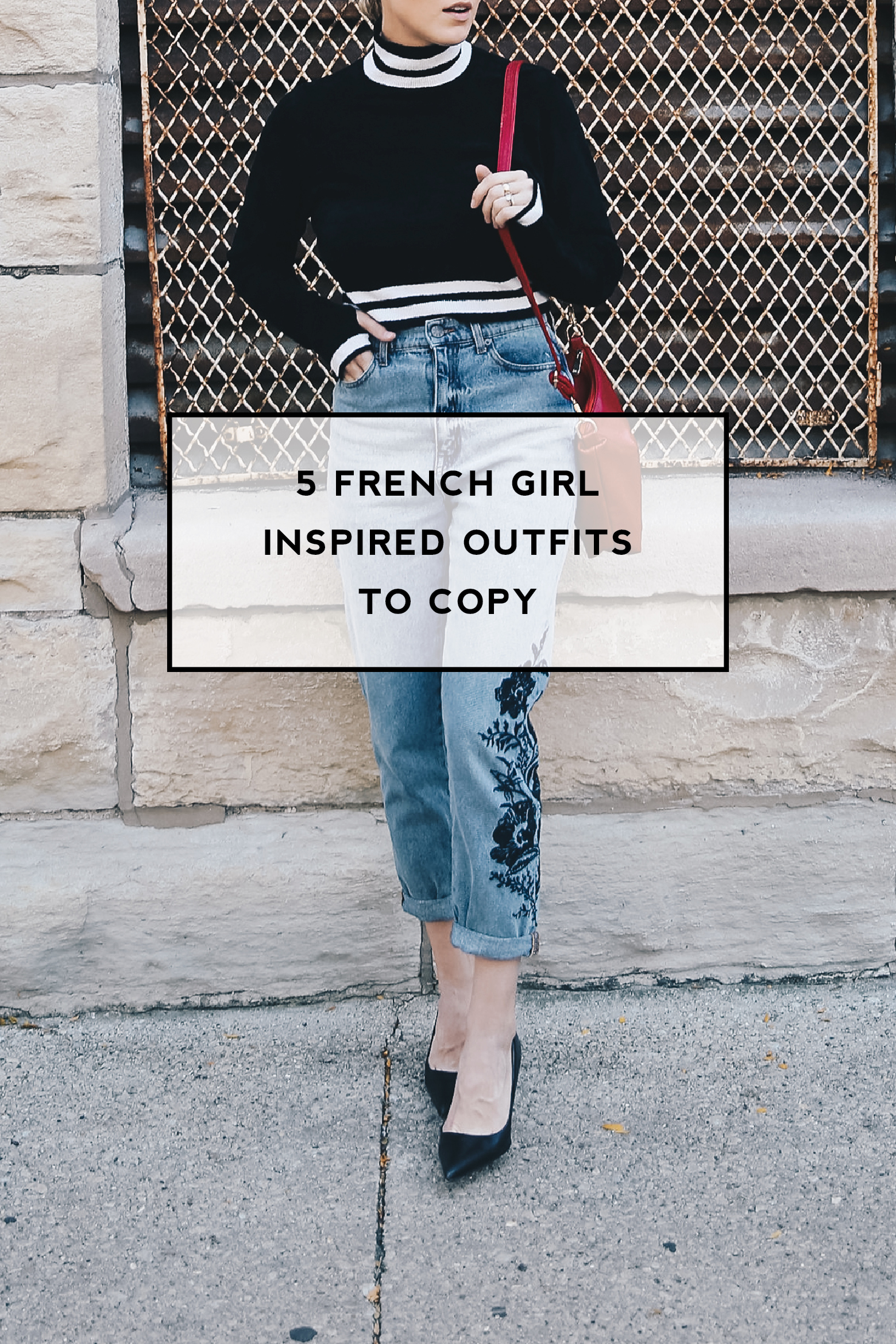 Happy Monday! The Fall weather has *finally* hit us here in Chicago, and it is so refreshing. We had a nice + low key weekend and I'm SO excited to report: James took a 2.5 hour nap, three days in a row!!! We have officially ditched the morning nap, and started putting him down after lunch. He's ready for one nap. It is happening. And, I'm elated. On Saturday, we went to the Chicago Children's museum at Navy Pier for the Eric Carle exhibit, and it was magical. If you are a mom in Chicago, you HAVE to take your kids! Basically, all of Eric Carle's adorable books came to life, James loved every second. Highly recommend! The exhibit will be up until January 7, 2018. Also, it is super baby friendly!
Moving on to some Fall fashion. You probably already know I'm a total francophile and obsessed with all things Parisian, and I have been super inspired by French style + beauty lately. More so than usual, I don't know why! I have become obsessed with air drying my hair recently (currently trying a few products that help the process and I plan on posting about it soon), I've been wearing little to no makeup thanks to what micellar water is doing to my skin (read more about that here), and I'm so pumped to be covered in head to toe black now that it's getting cooler. I even started a Pinterest board dedicated to my obsession: French Girl Style. Also, I recently stumbled upon this article about the best Instagram accounts to follow for the ultimate French girl inspiration – yes, please.
French style is all about exuding effortlessness. In the streets of Paris, you'll find women wearing minimalistic pieces that still pack a punch, classic colors + tones, and natural hair + makeup. French style is simple but never boring, and finding that balance can be really fun. Here are 5 outfits you can easily copy that will help make you feel like you're strutting downtown Paris along the Seine. Au revoir! xx
Dressing up casual jeans with a pair of stilettos is eternally Parisian (here is another example). I rarely wear heels, but when I do they are usually paired with my favorite mom jeans. These embroidered, high waisted jeans from Urban Outfitters are amazing. They are only $79, fit true to size, and the quality is great. This cropped sweater is also from Urban, and please trust me when I tell you it's softer than a baby's butt. The material is "chenille", and it basically feels like terry cloth and velvet had a baby. It also has thumb holes!!!!! I am weirdly obsessed with thumb holes. All in all, this is my dream sweater.






You will be seeing oversized tweed blazers everywhere this Fall. The menswear trend isn't going anywhere! See here, here, and here for more inspo. Style it with a white t-shirt, blue jeans, and some flat black mules and voilà! You will be instantly cool.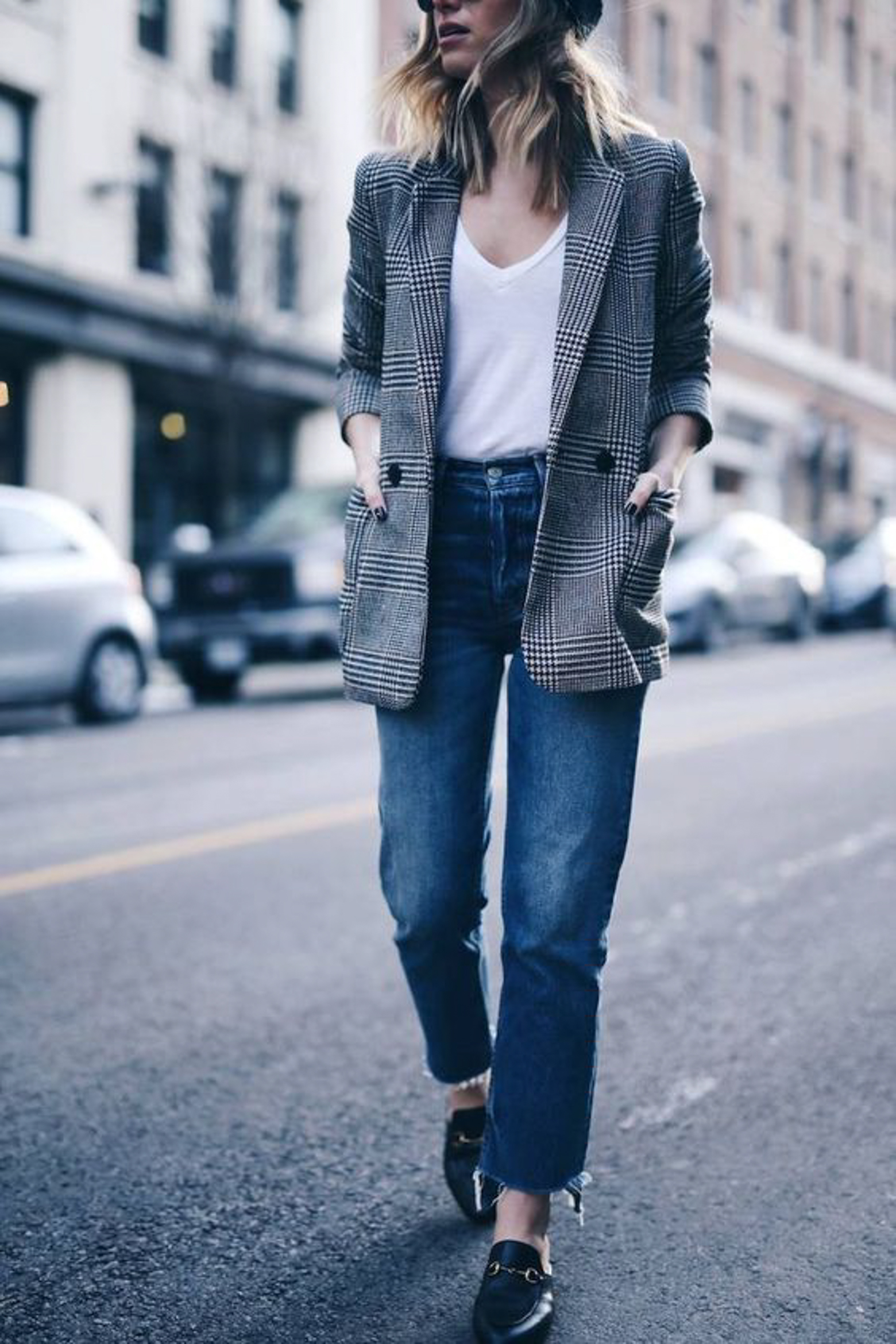 I found this image on Pinterest but it is originally from The August Diaries
Even though typical Paris street style consists of mostly blacks and neutrals, French girls aren't afraid to go bold. Pair a big + comfy red sweater (this one is amazing if you want to splurge, if you don't want to splurge this one is almost equally as amazing, this Topshop one is fab, and I love this oversized one from Free People), with a pair of cropped jeans and these gorgeous $49 brown ankle boots for a classic, cozy yet trendy Fall look. (Also, I love these Free People ankle boots too!)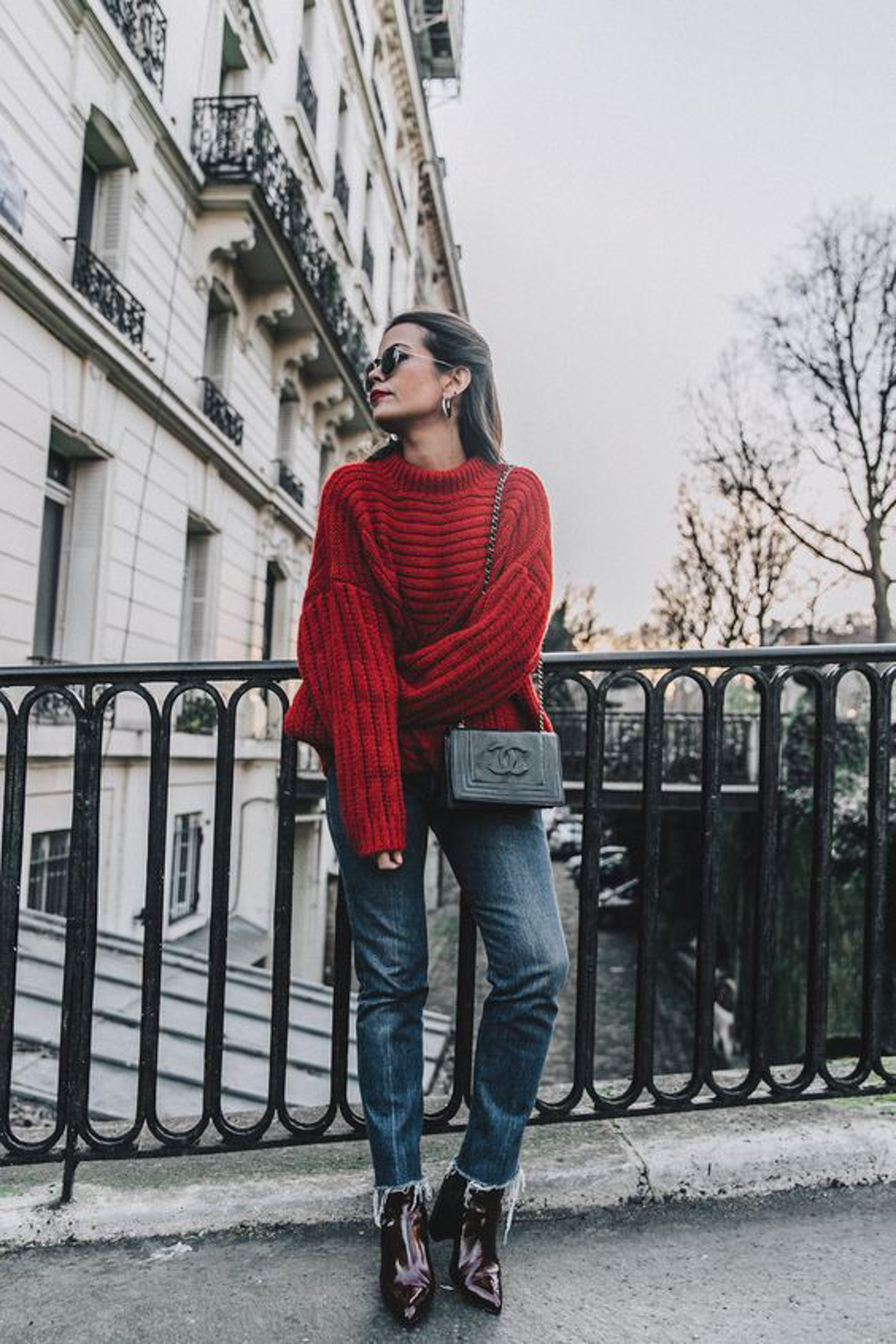 This might be my favorite look ever. I bought a long, black wool coat in Paris a few years ago and it is my most prized possession. My mom has one exactly like it, and it's 20 years old! A long wool coat will literally never go out of style. Pair it with a gray turtleneck, literally any style jeans (personally I love wearing my coat with black skinny jeans from Topshop), and a pair of black Nike sneakers (or any), for a look that will definitely make people mistake you for a French girl.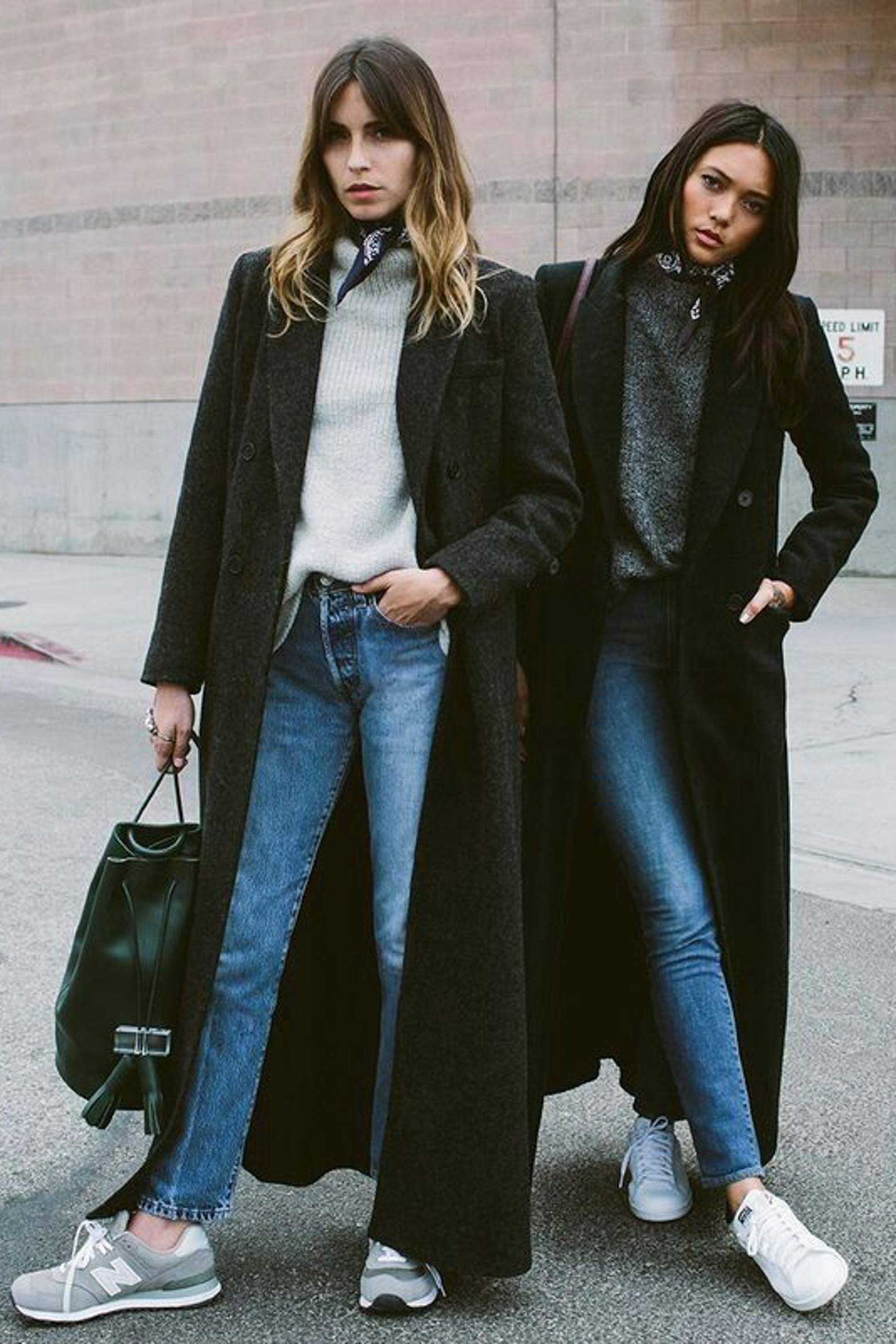 Don't fear the fishnets. They're only slutty if you wear them with booty shorts and stilettos. Paired with a big + baggy sweater dress, fishnets are a great way to take your style to the next level. Throw on a pair of chelsea boots, and you are good to go! I can't wait to try this look for Fall.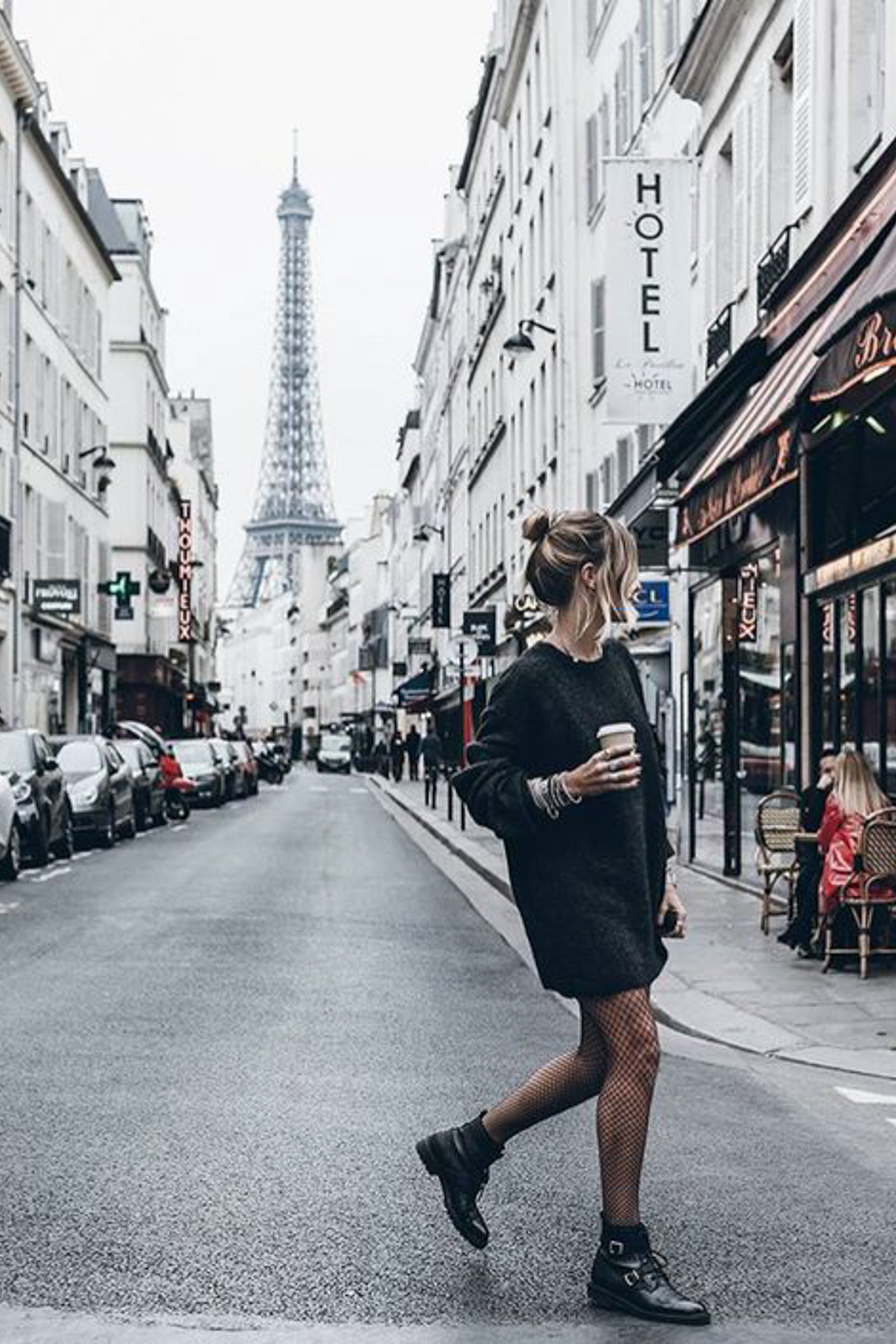 Thanks for stopping by, babes! Have a great week 🙂