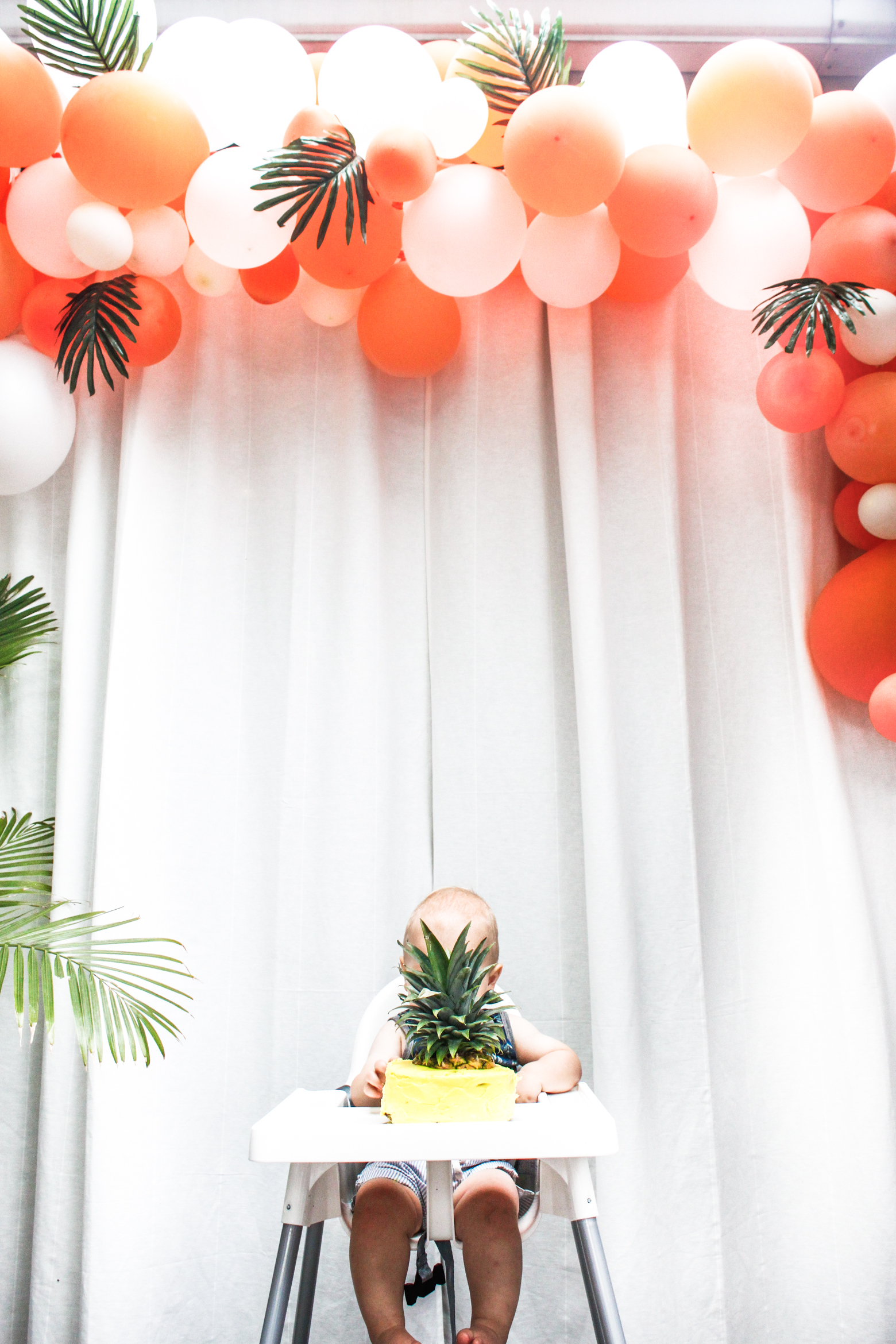 I cannot believe James is one (said all moms, everywhere). I will spare you the "the days are long, but the years are short" speech, about how insanely fast this year went by and how having children automatically enters you into a straight time warp where everything is happening 10x faster than it did before. I will spare you all the cliche mom lines about how it feels like he was born yesterday, and how hard but amazing this year was. I will (sort of) spare you all of that! Because, if you are a mom you know exactly what I'm talking about anyway, and if you don't have kids yet then you're rolling your eyes and scrolling down. I'll leave the sappy portion of this post at this: I love you, James. Thanks for creating the most memorable year of my life. 🙂
Moving on to the party. Full disclosure, I had no intention of going this overboard with James' first birthday. In fact, I've always kind of eye rolled when people have some big elaborate celebration for a one year old who will never remember it. Then, I started to realize this party was not just about James, it was actually – totally – a party for Kyle and myself. Does that sound so selfish? Sue me. The first year of parenthood is SO INSANELY HARD, and James birthday party was a way to celebrate the fact that the three of us made it out alive. Of course it was also about celebrating James, but really a first birthday party should be about the parents getting surrounded by their closest friends and family, having a few drinks, and celebrating the fact that they survived year one. The whole thing was a lot more special than I anticipated, his party was a lot more meaningful to me than I anticipated, and I was a lot more emotional about him turning one than I had anticipated. It meant so incredibly much to us that so many people came all the way out to my parents house in the suburbs, to celebrate our little family, and our little boy.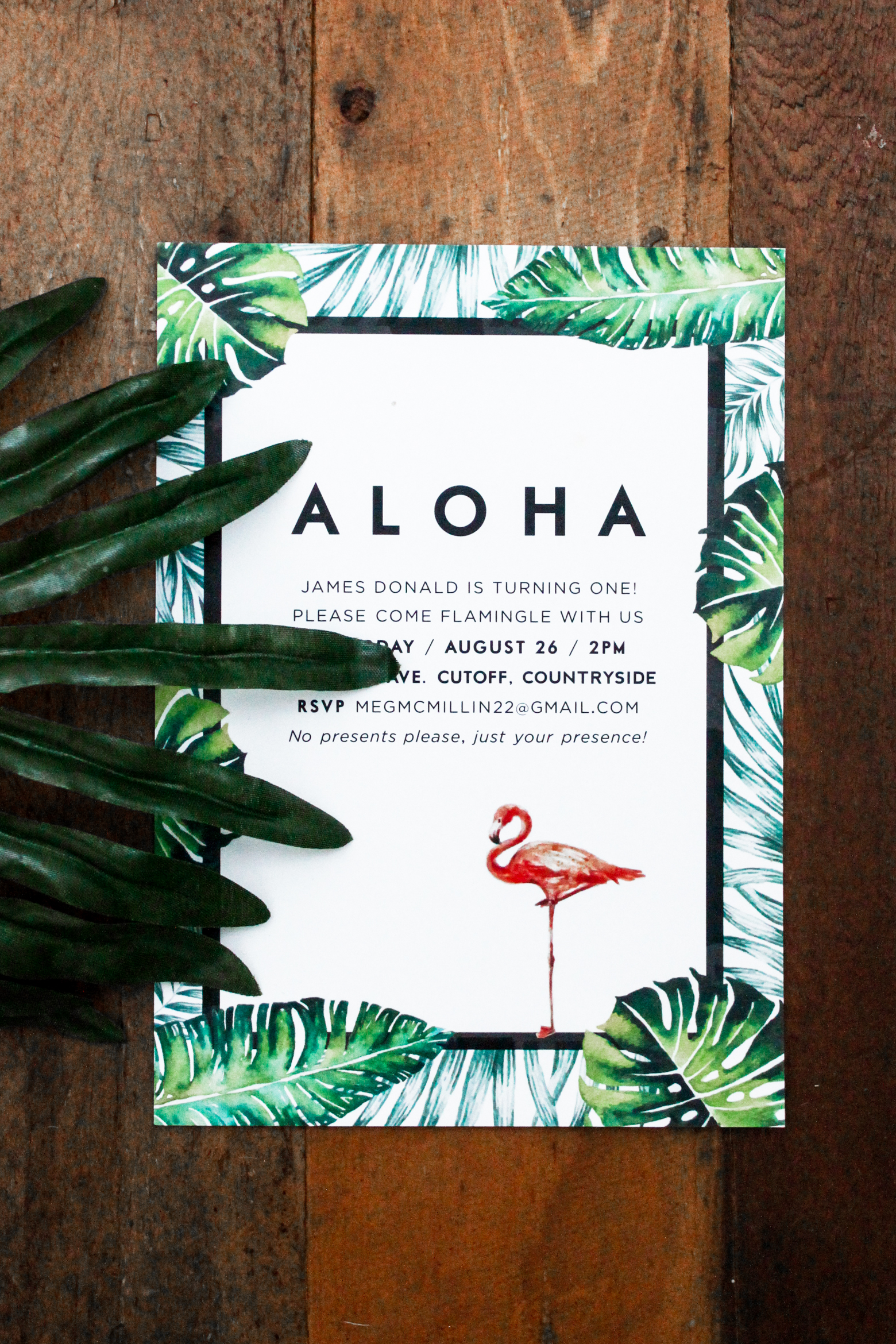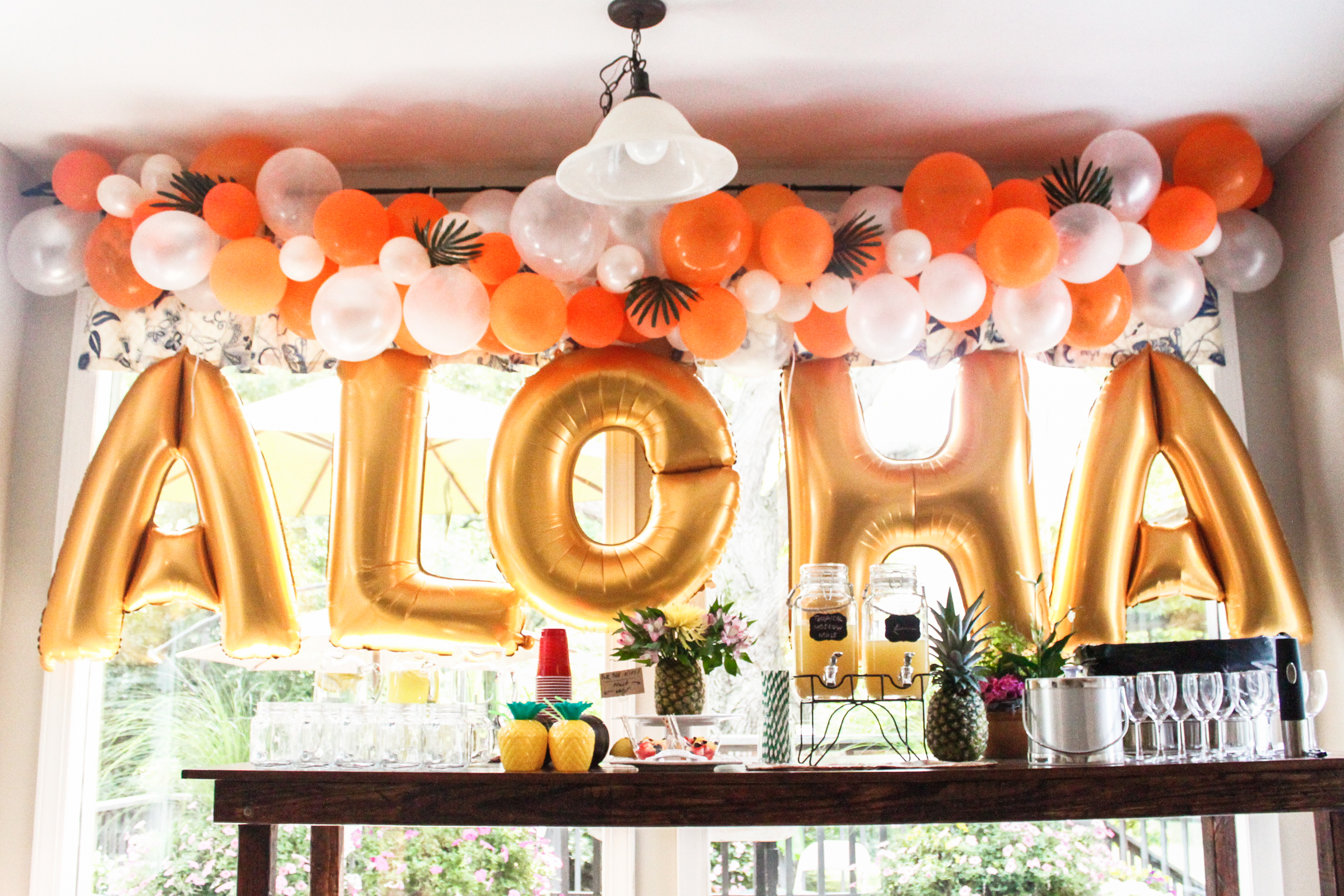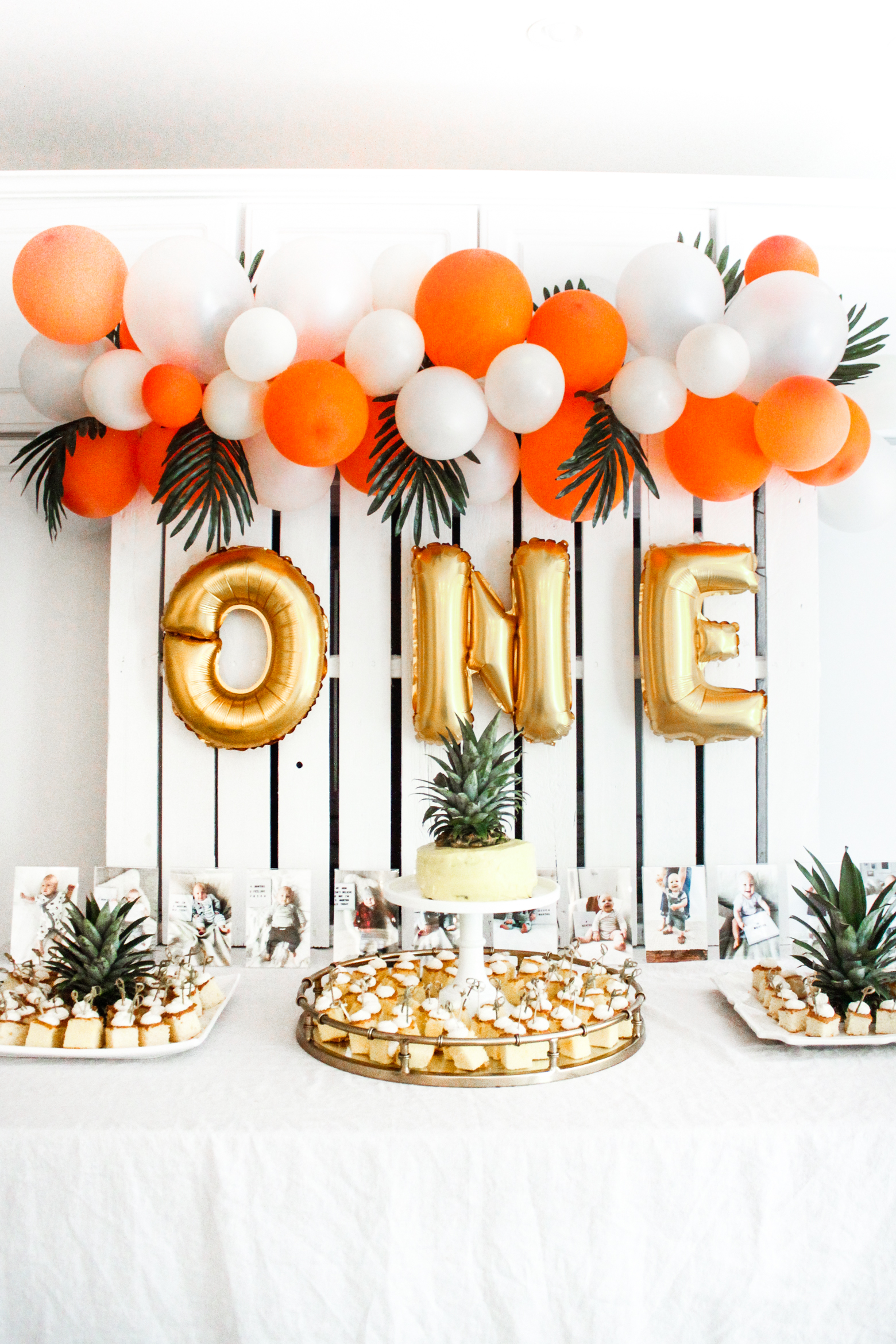 I went back and forth about theme options, and finally settled on tropical after doing some serious pinning. (Here is my inspo board for James' party.) I became slightly obsessed with balloon arches; here is an example of a super extreme one, amazing right? Kyle and my mom were dreading me attempting one of these, for fear that I would get way too frustrated when it didn't turn out and become a crazy person. Well, jokes on them because I succeeded in creating THREE balloon arches and managed to somehow be totally pleasant through the process. SO THERE. Guys, I'm not kidding when I tell you it was SO EASY! All you really need is this, this, and this (and balloons obvi).
I found this adorable cake display table on Pinterest, and decided to straight up copy it. If you can somehow get your hands on a palette (the big white thing in my photo), it will be super easy to recreate this. My dad works with a lot of stone in his business, and the stone comes delivered on big wooden palettes. If you know anyone in the construction, brick, or wood working business then beg them to get you a palette! It will be FREE! They are essentially garbage. My parents think it's so funny that these gross dirty pieces of wood – that are created solely for transporting building materials – are now one of the most trendy + coveted items in the Pinterest world. I had him make me this exact palette bar for our rooftop last summer! Just a heads up, they are not white. They are gross, dirty, and brown. You will need to power wash it (or at least give it a good scrub) and paint it.
Next, I bought these 16″ gold foil balloons from Amazon to spell out the word "ONE". FYI, you have to buy each letter separately.  I blew them up with this hand held balloon pump, and used Gorilla Tape to adhere them to the palette. By the way, if you are planning on making a balloon arch, you HAVE to get one of those little pumps! Check out my You don't need helium for a balloon arch, but you also don't want to blow up 500 balloons with your mouth and possibly kill yourself. This handheld pump is the best invention ever, and I can't believe it has taken me this long to realize it even exists! Check out my balloon arch tutorial here: Balloon Arch Tutorial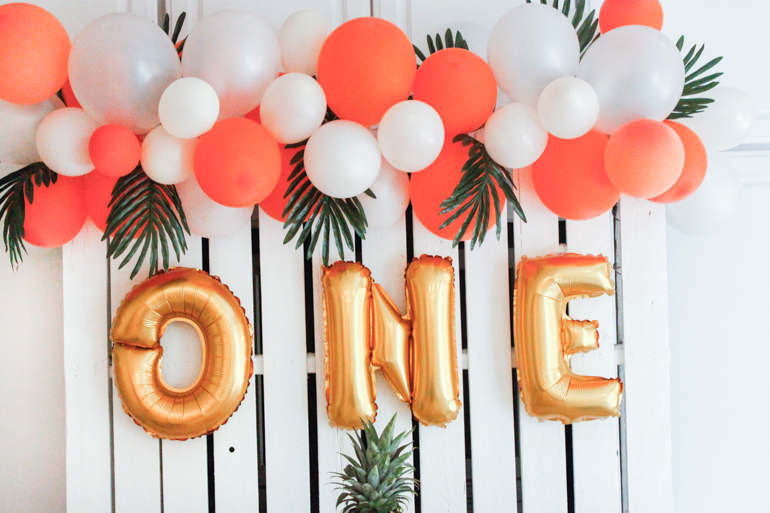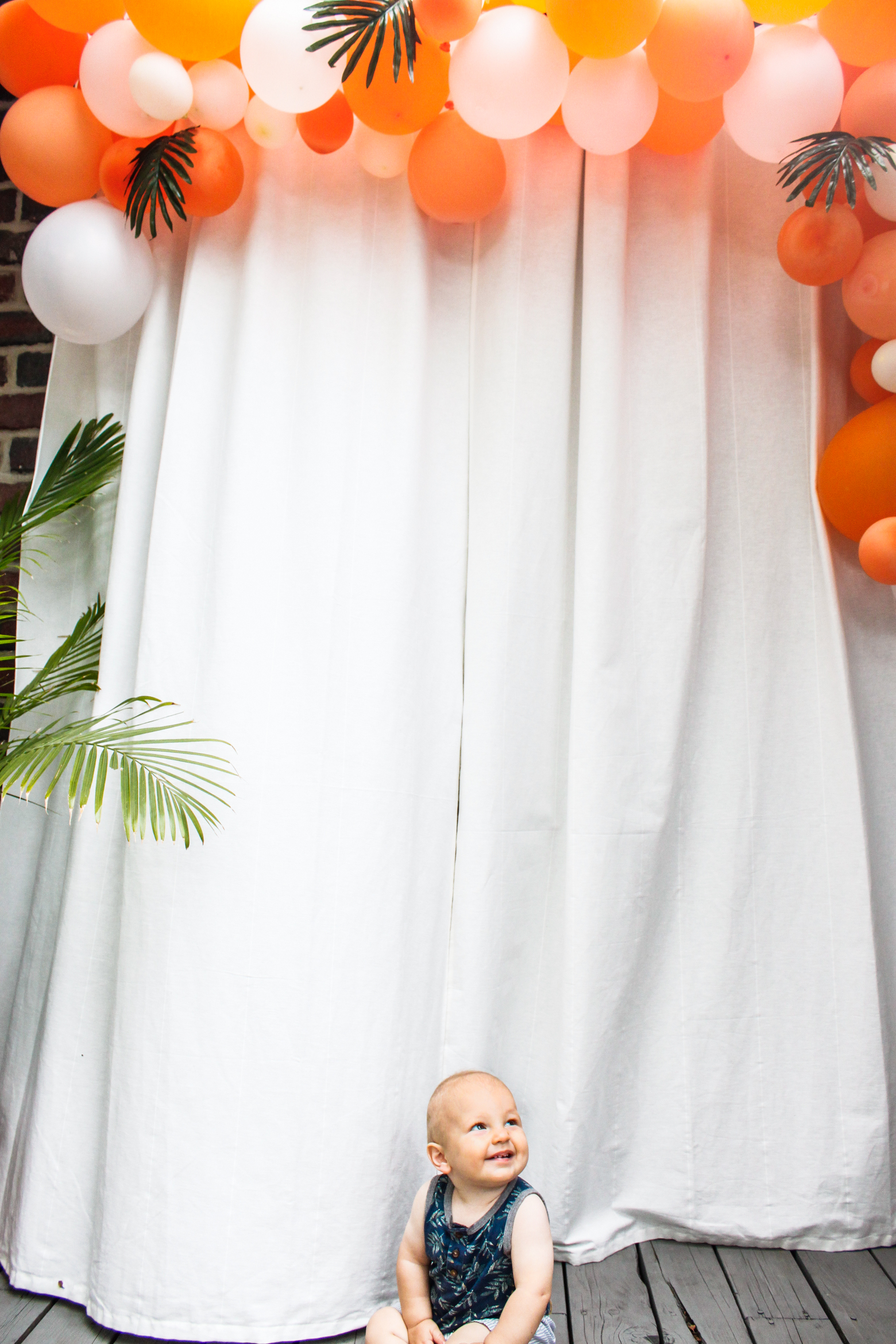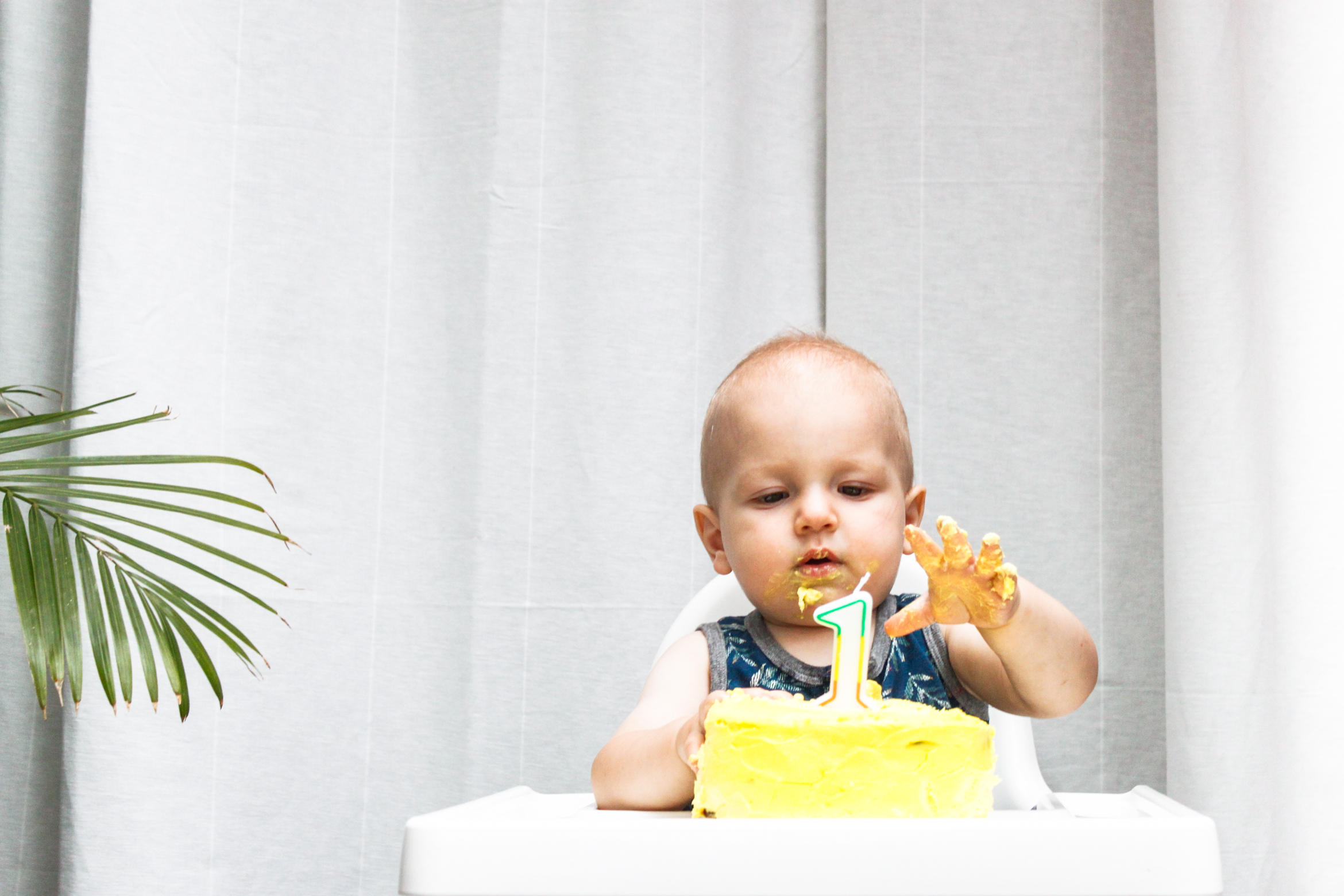 I wasn't ready to let James go full on with a regular sugar cake yet. I'm scared that once he gets a taste of the good (bad) stuff then he will stop eating regular food. He's already rejecting some vegetables and begging for fruit instead, so I fear he has a sweet tooth forming. I can't imagine what will happen once he tries REAL junk food or dessert. My friend Katelyn had the CUTEST little smash cake at her daughter Blake's first birthday party (the whole party was freaking adorable, we were there!). I couldn't believe she made it herself because it was so pretty. TG, she posted the recipe here! My mother-in-law is a saint and offered to handle the cake, so she is the one who actually made it. Not me, oops. Anyway, it's basically a healthy version of carrot cake with a cream cheese frosting. She used organic food coloring from Whole Foods to get the yellow. To give it a tropical flare, I hacked off the top of a pineapple and set it on top! 🙂 Instead of doing a cake for the adults, we just ordered 100 little cake bites from Nothing Bundt Cakes – in case you aren't familiar: they are straight crack.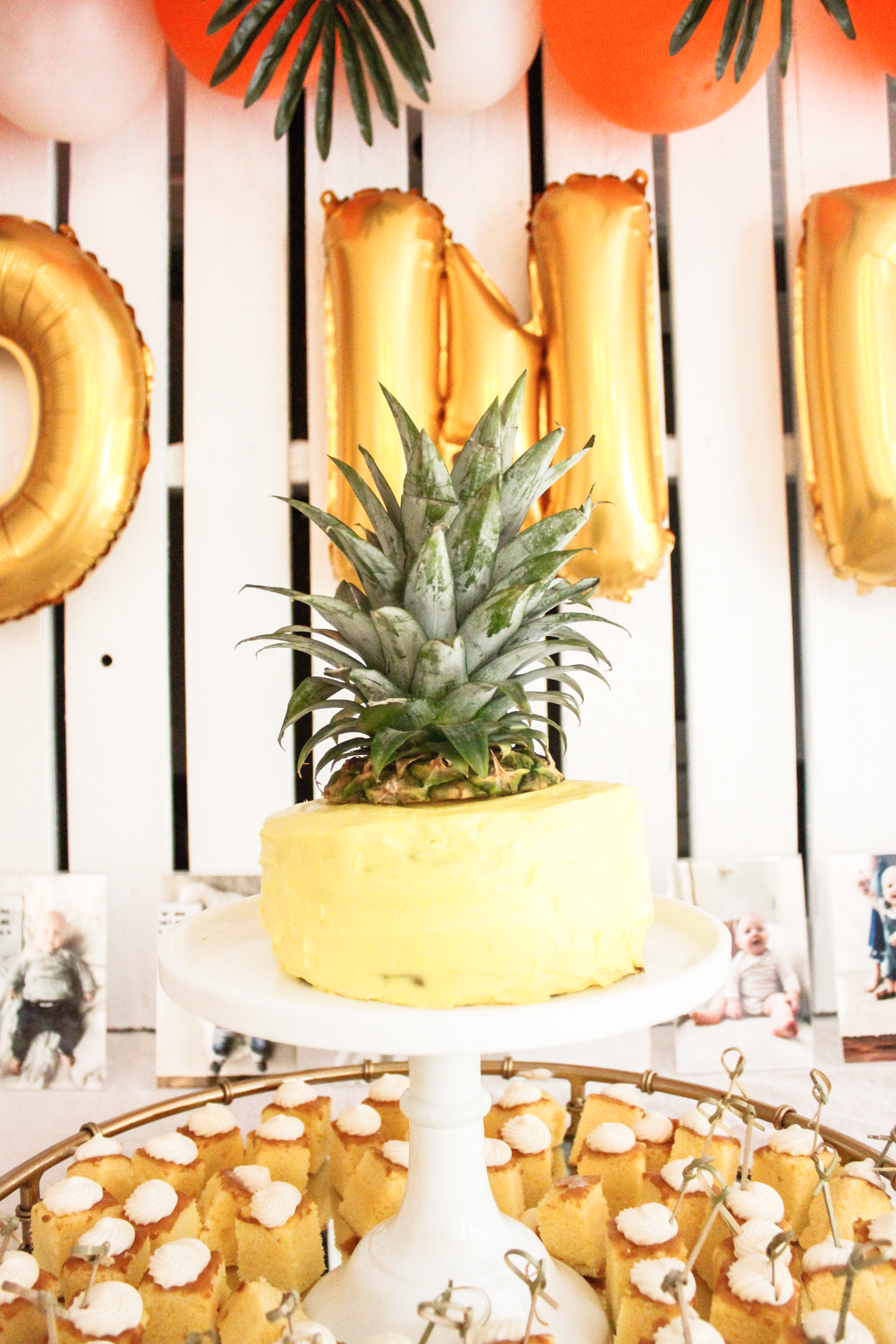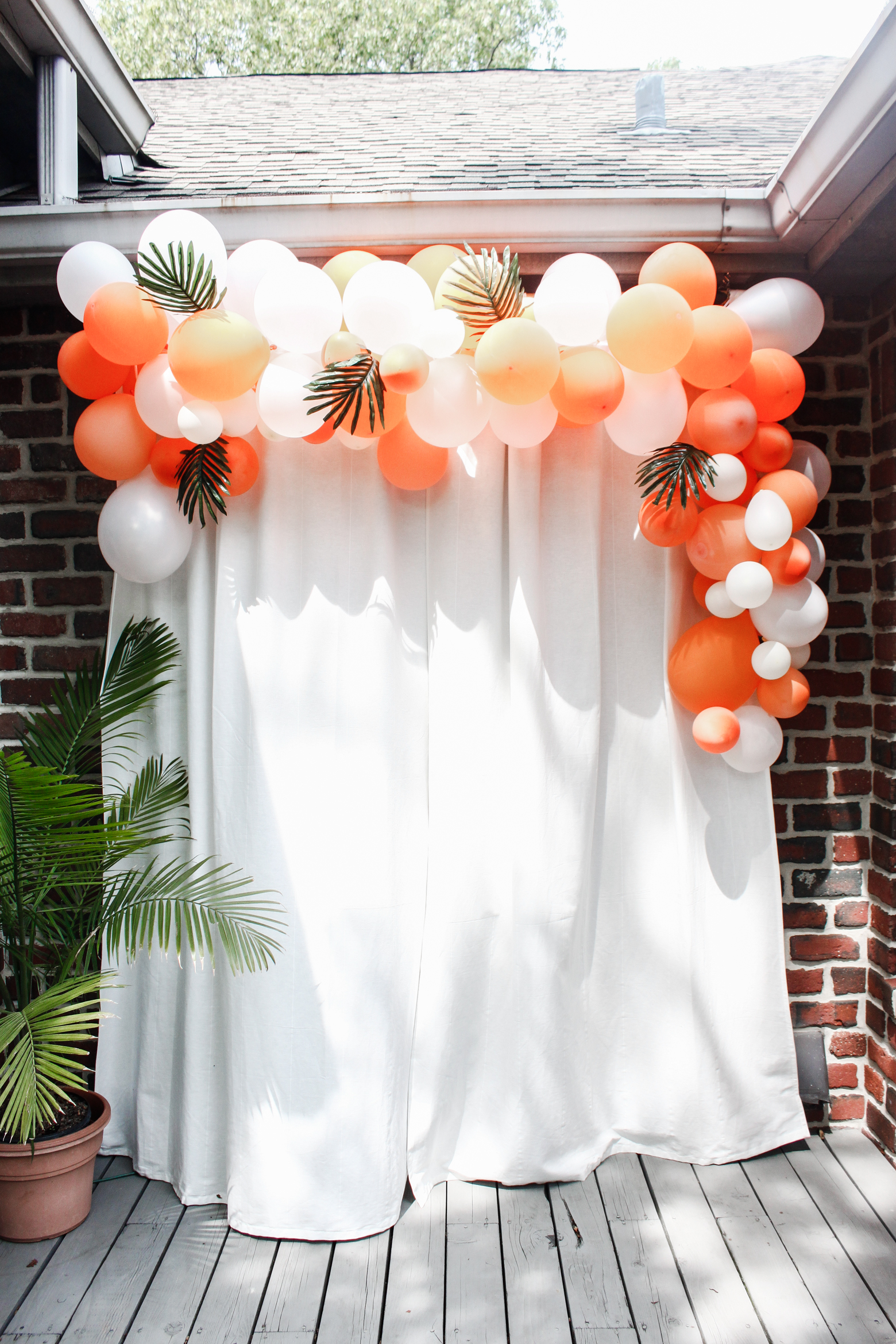 Of course – because I'm Instagram obsessed, and photo obsessed in general – I wanted to make a cute little backdrop for our guests to take pictures in front of. Additionally, I wanted an excuse to keep making balloon arches. Lol. I said it earlier, and I'll say it again: the balloon arch was SO easy. I actually found it therapeutic to make, not joking. I made all three arches over the course of two days, it took probably 10 hours total? I had a friend help me out on the first day (TYSM, Afton!) and we made the smaller arch on the palette, then I made the photo backdrop and arch above the drink table on my own the next day. If you are into this sort of thing, I think you'll find it fun. I am impatient and easily frustrated and even I thought it was fun to make – so that is promising for all of you, trust me!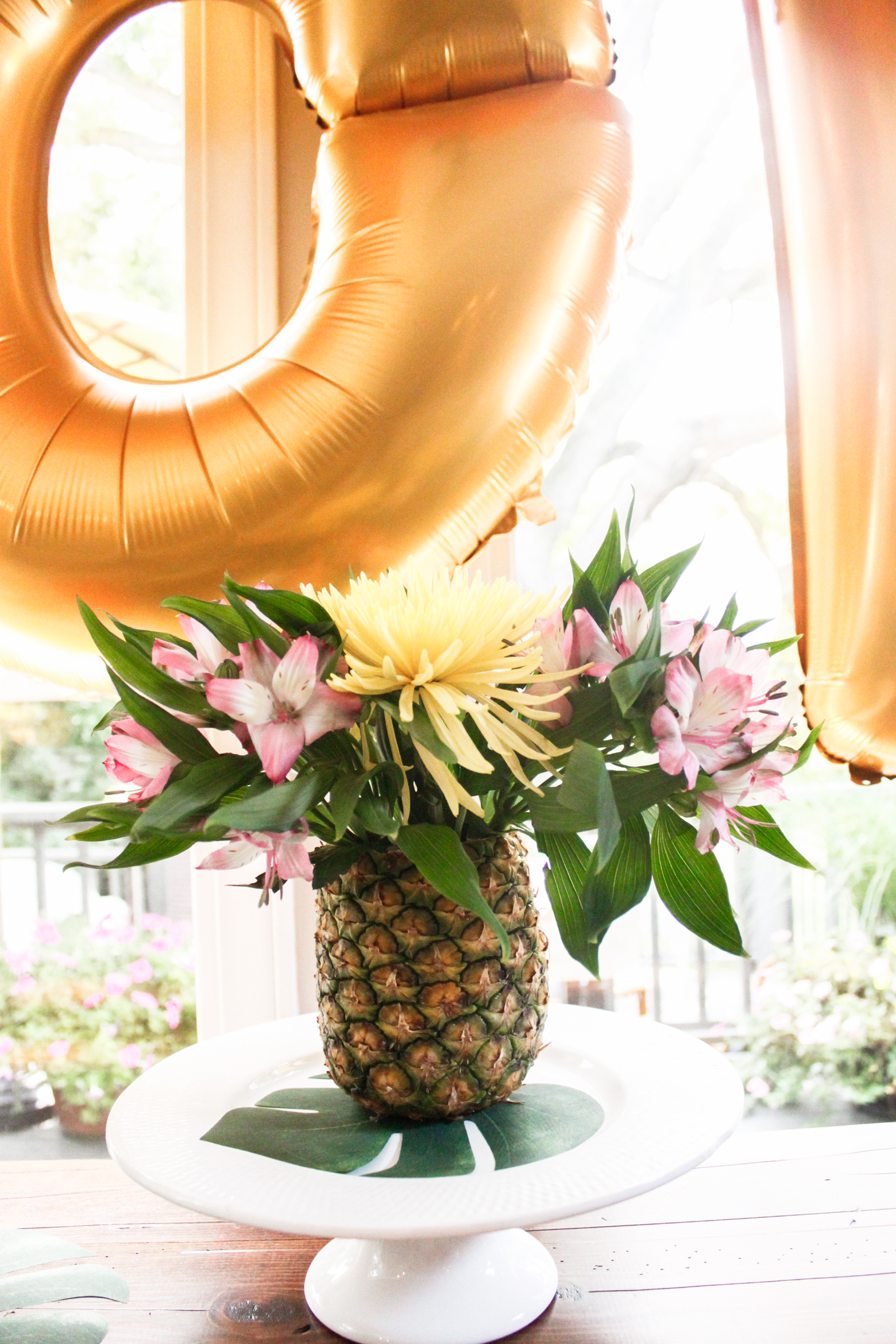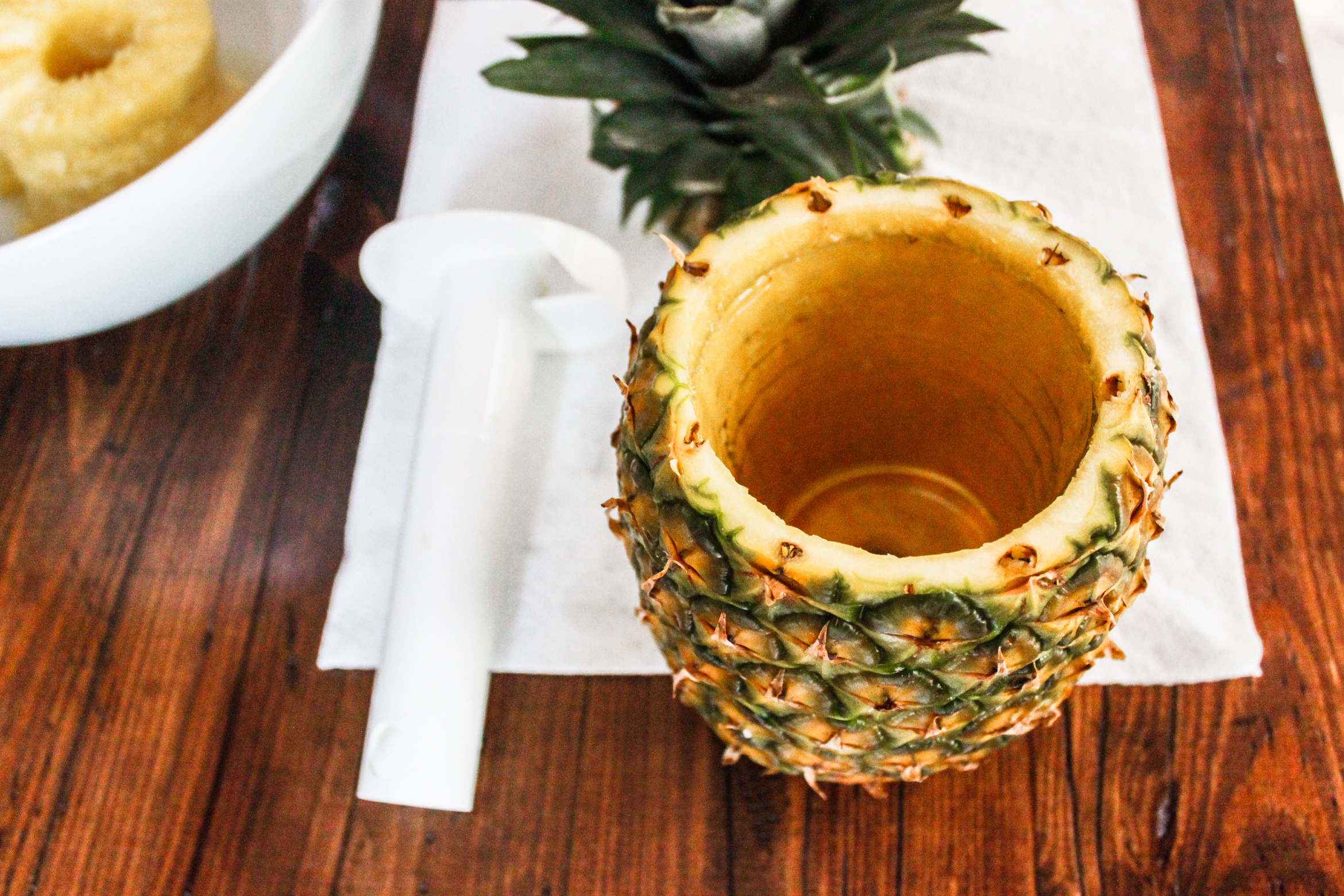 How pretty are these pineapple vases??? I wish I could shellac them and somehow make them last forever. They were SUCH a fun touch to add to the party. We made 5 total, and dispersed them throughout the different spaces. We used a pineapple corer (my MIL has one) but here is an easy tutorial on how to make a pineapple vase using a melon baller or ice cream scoop. It doesn't matter how you choose to hollow out the pineapple, just be sure you put a cup or a glass inside to fill with water before putting the flowers in! If you try and fill the pineapple itself with water, it will absorb and leak. If you look really closely at that photo, you can see a glass stuffed inside the pineapple!
*Note: If you choose to use a pineapple corer, be sure to stop twisting before the corer goes through the bottom!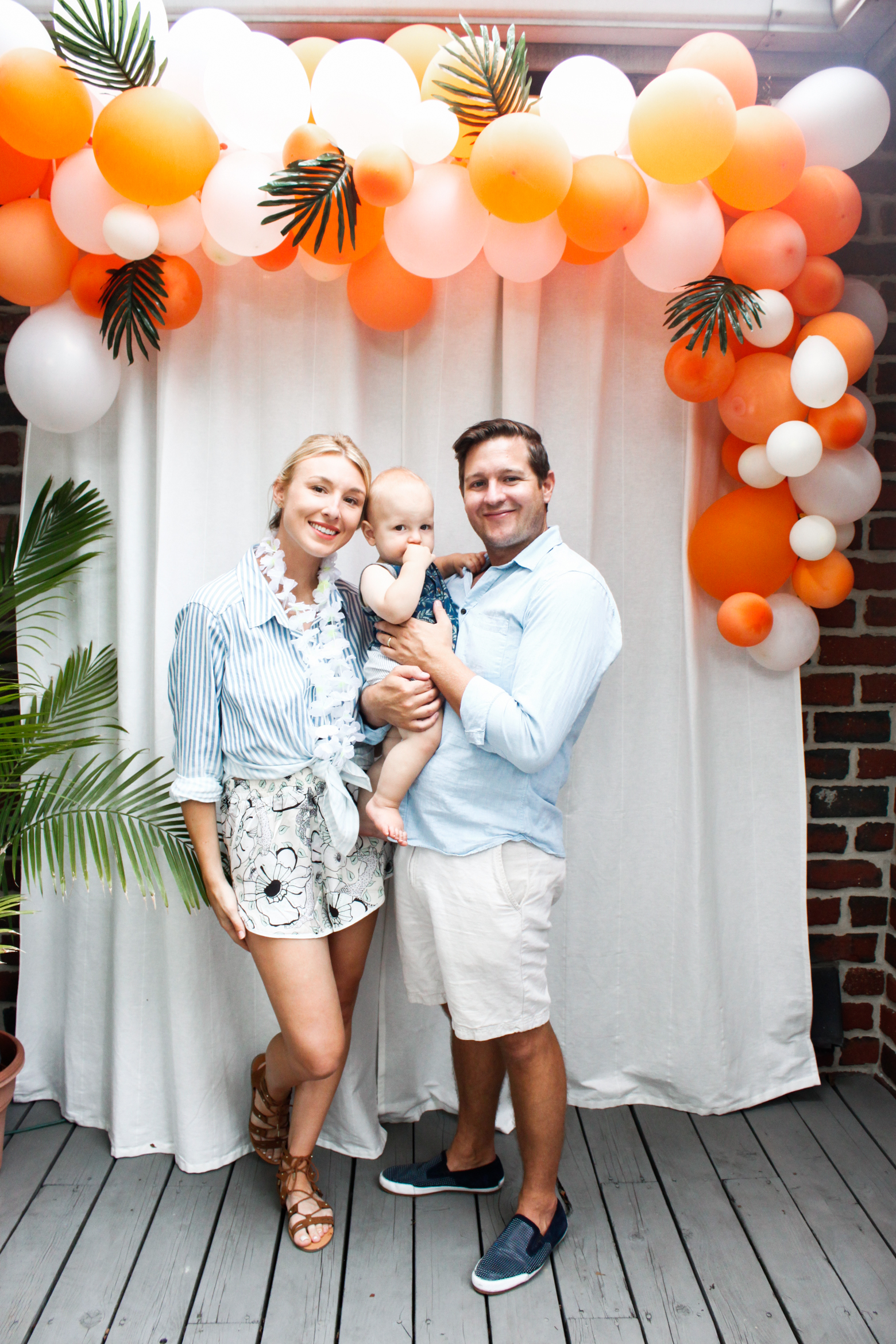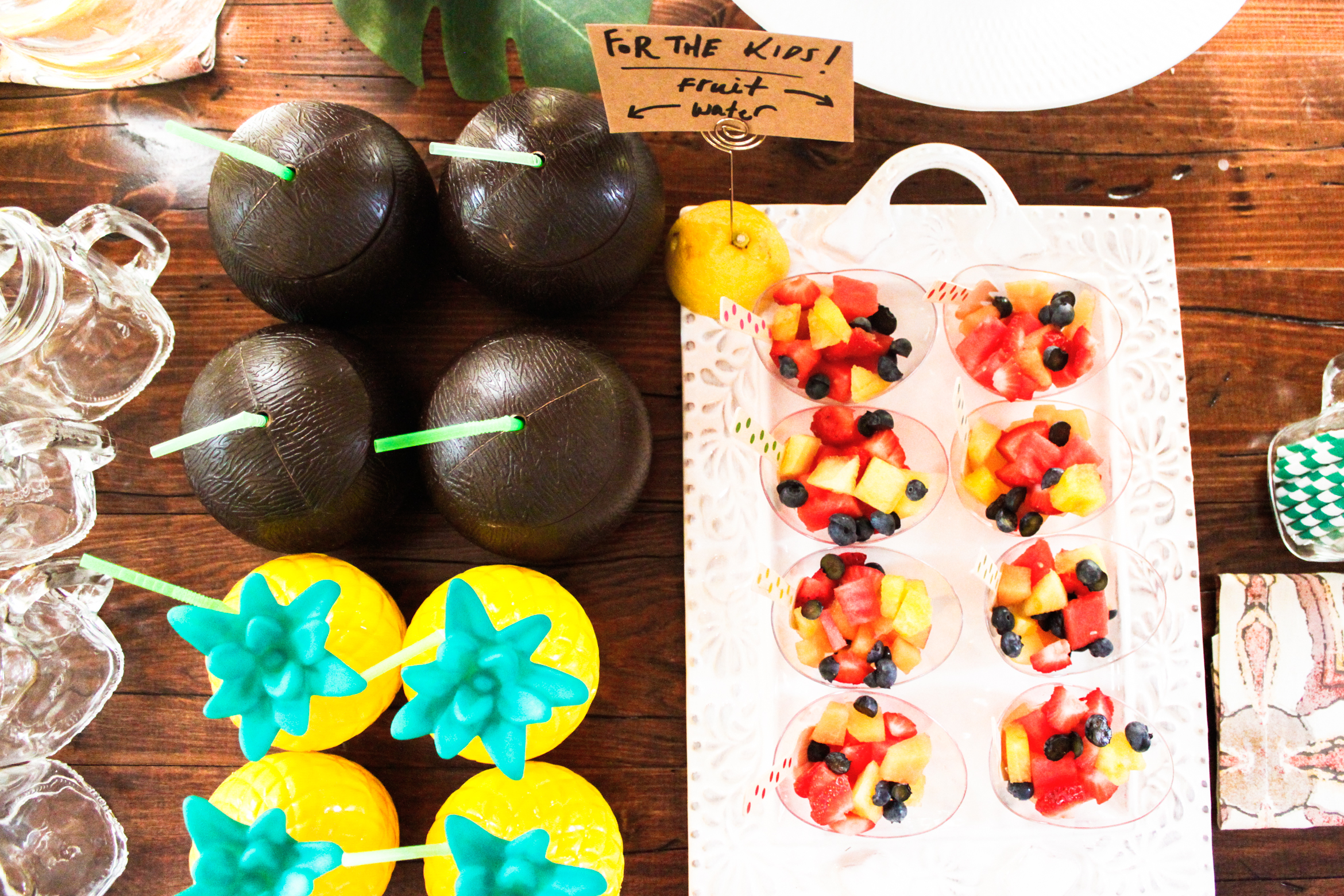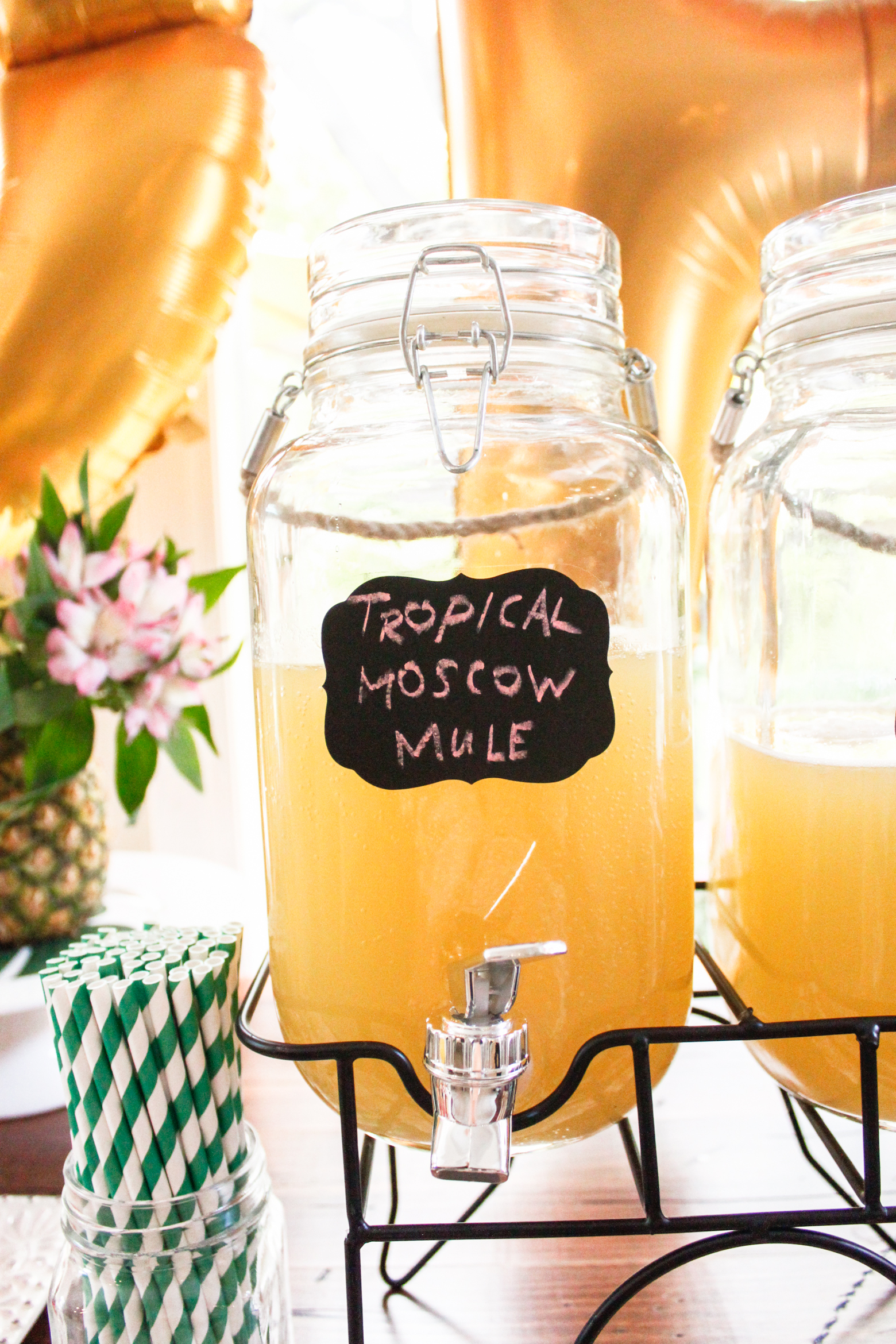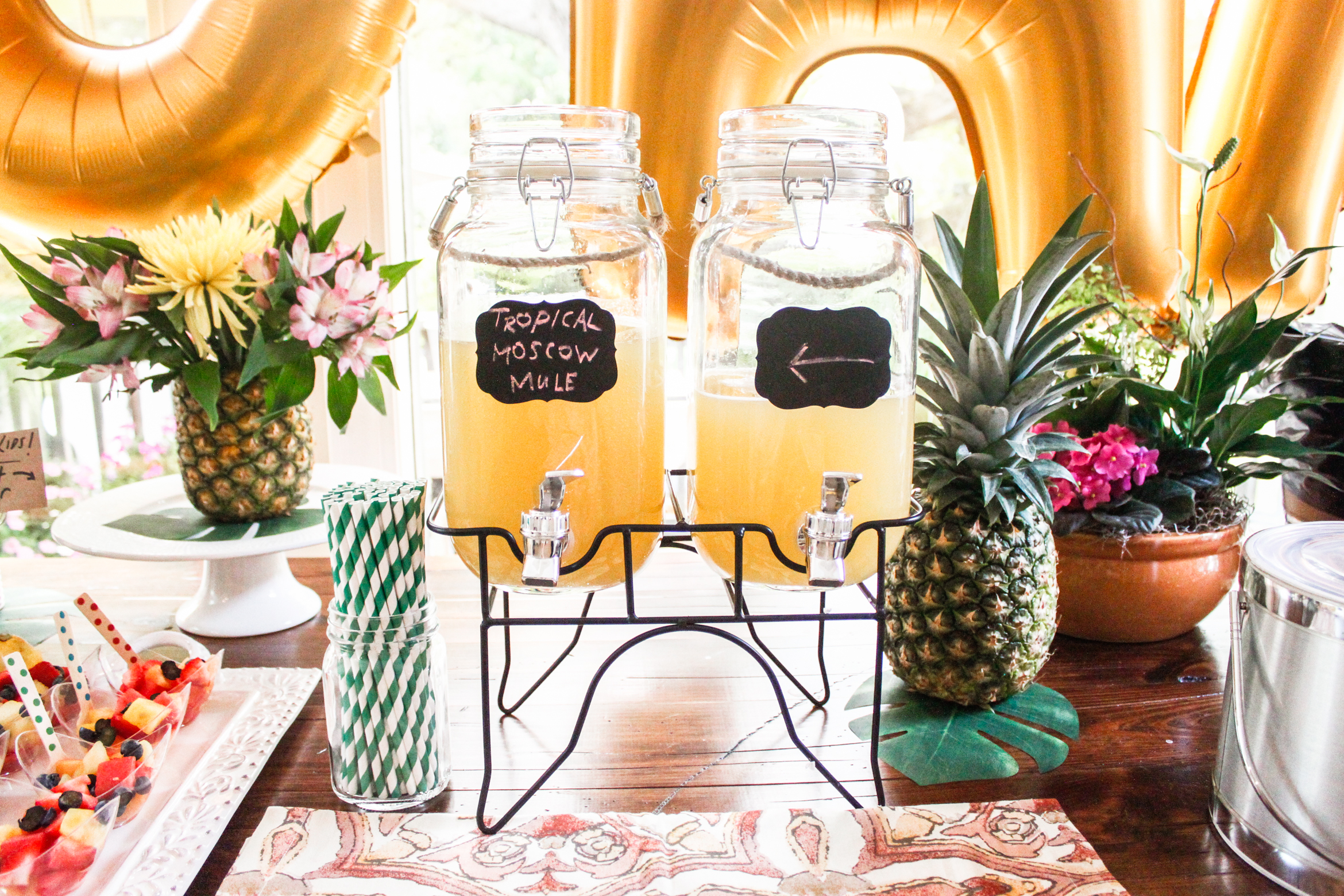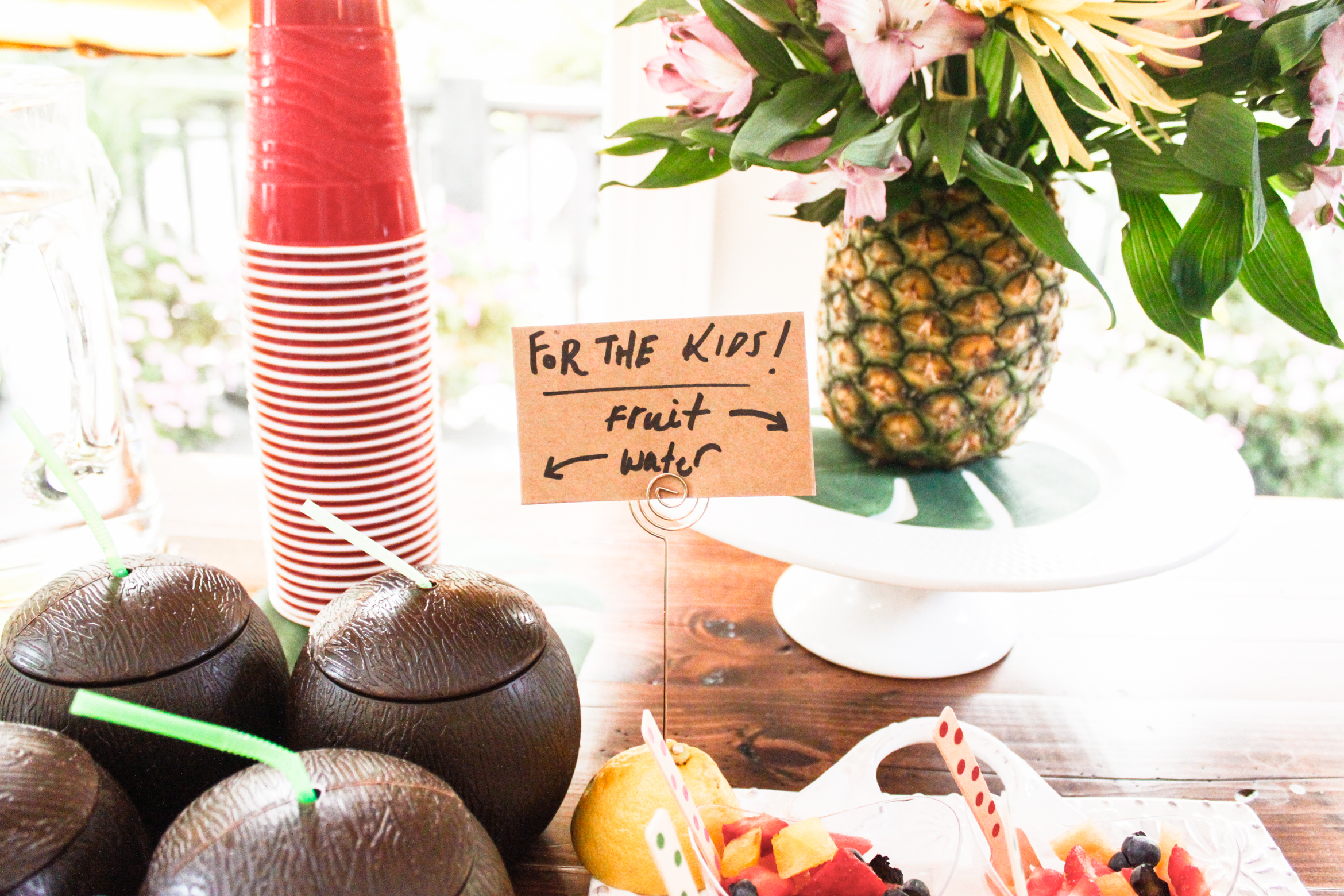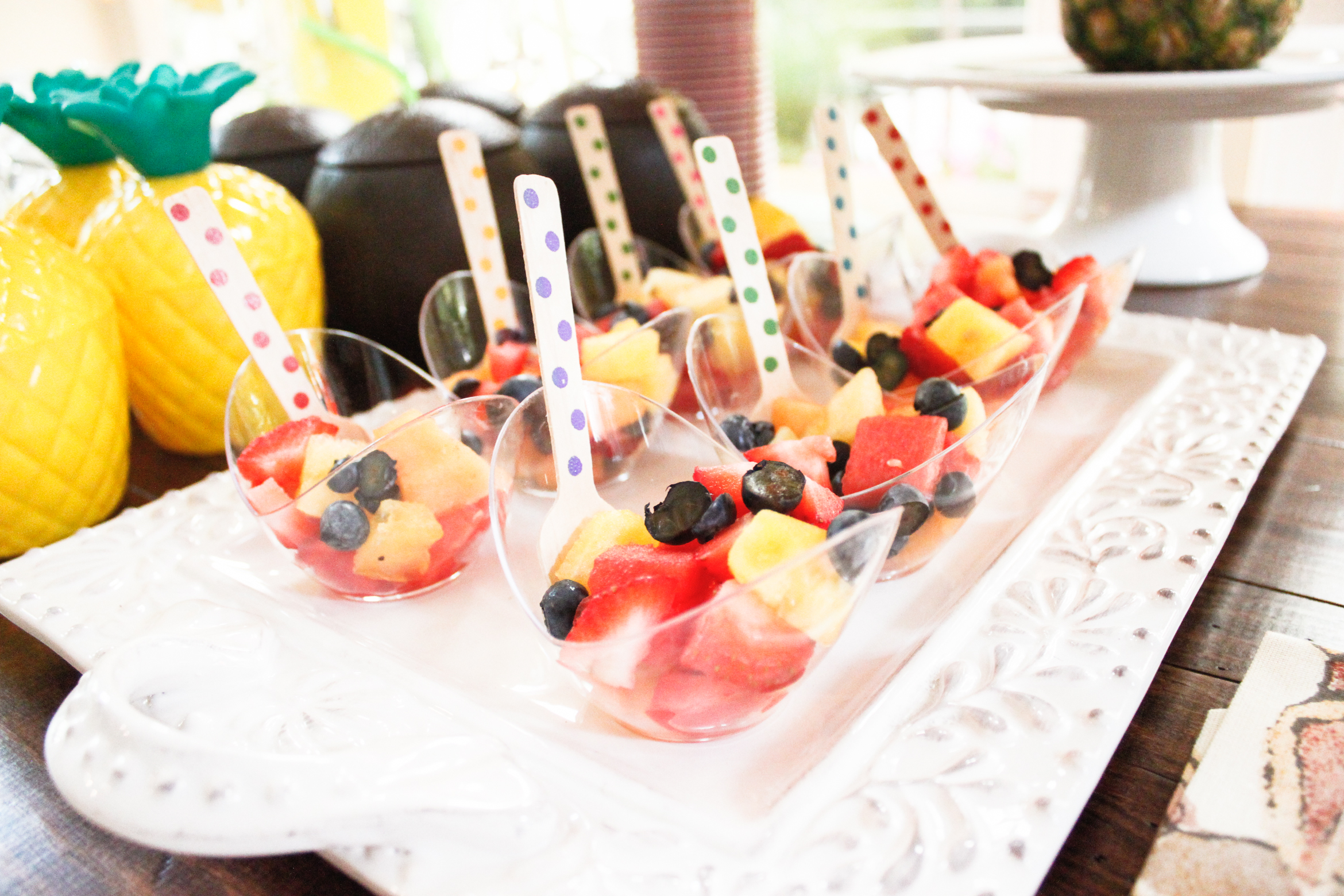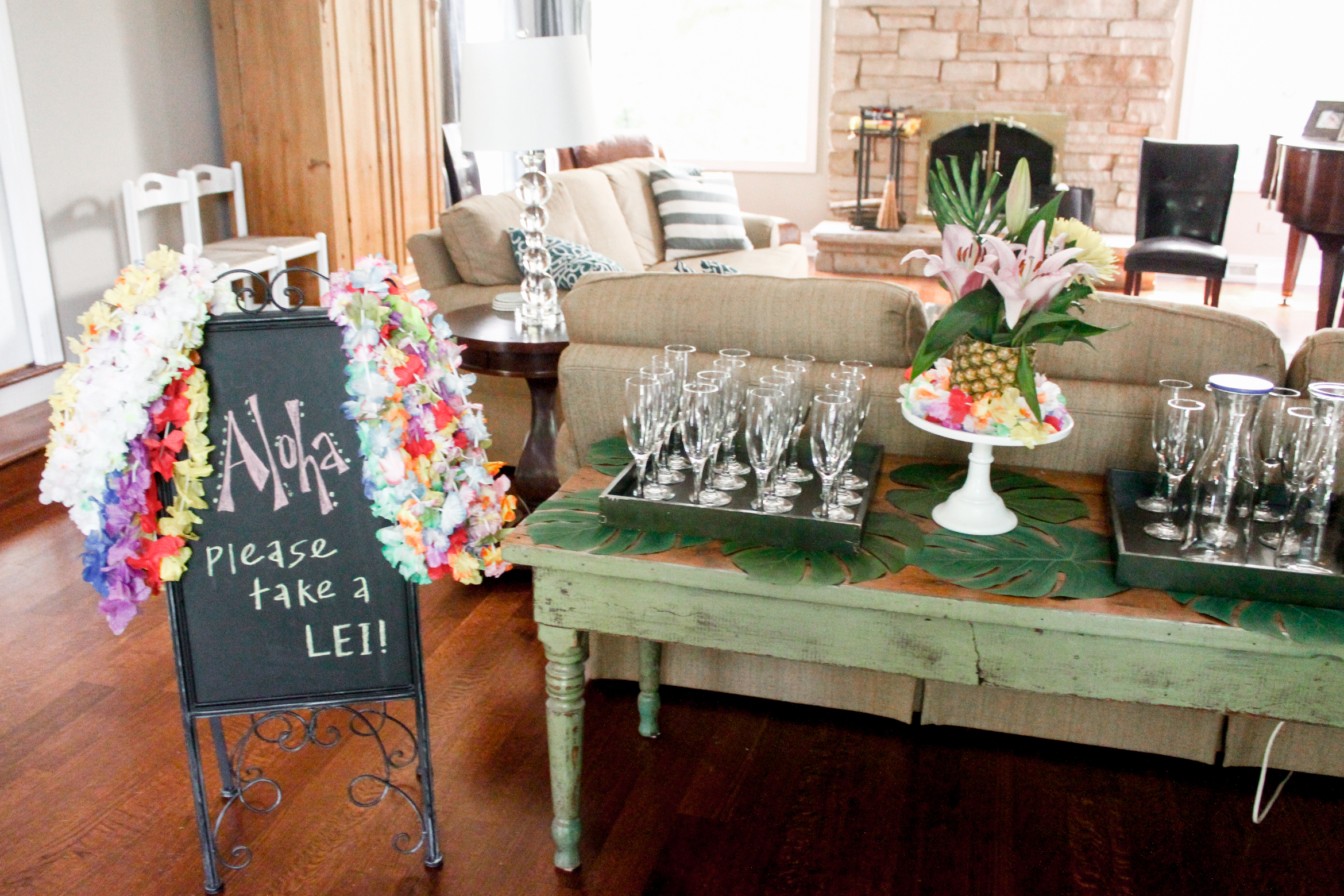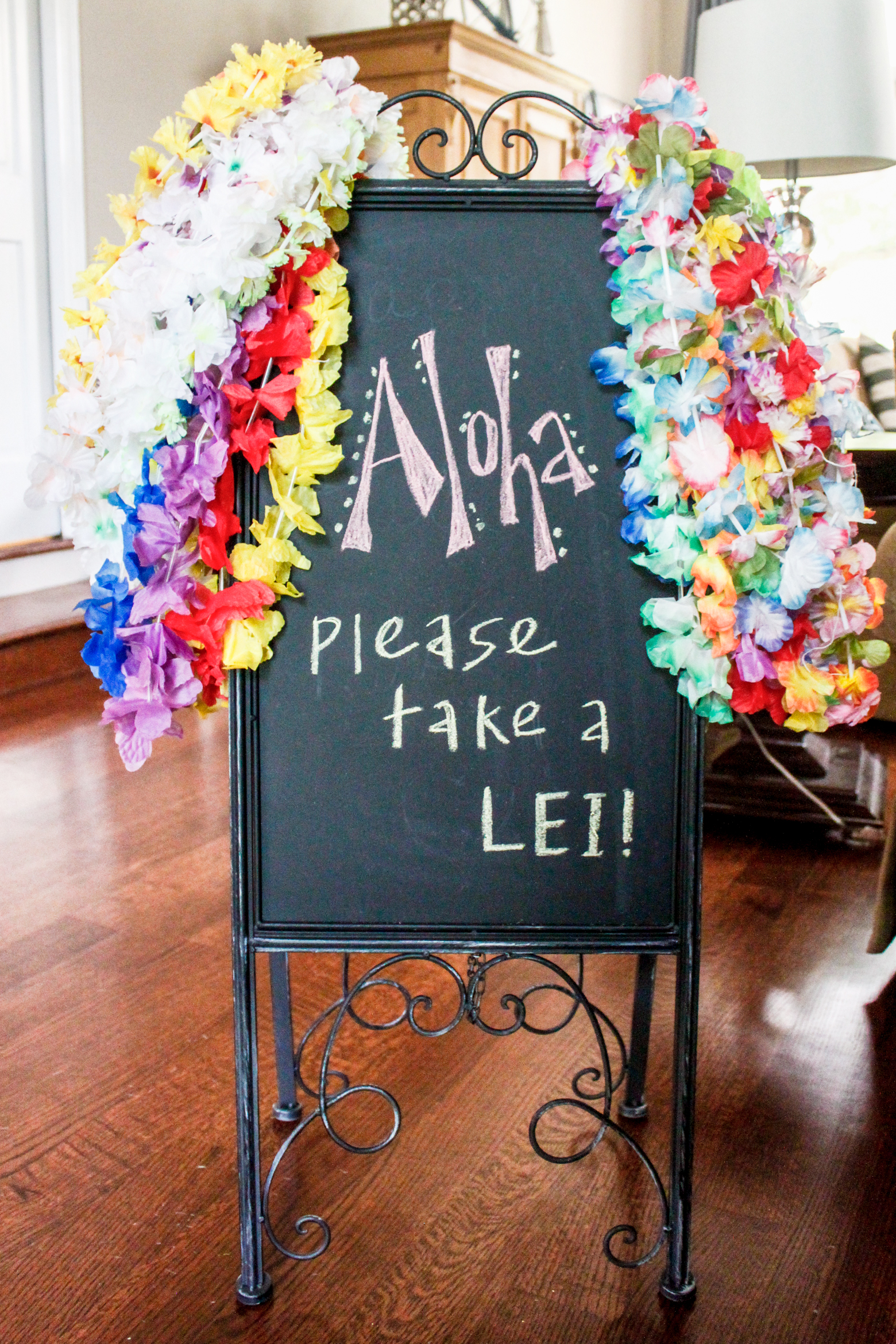 Whenever my mom entertains (this is my parents house by the way) she has a drink table set up right at the front door, so guests can grab a drink as soon as they walk in. She knows what she's doing, guys. We did a blood orange mimosa bar using San Pellegrino (blood orange flavor, obvi). If you haven't had those yet, omg they are the best ever. Go drink one right now. RIGHT NOW!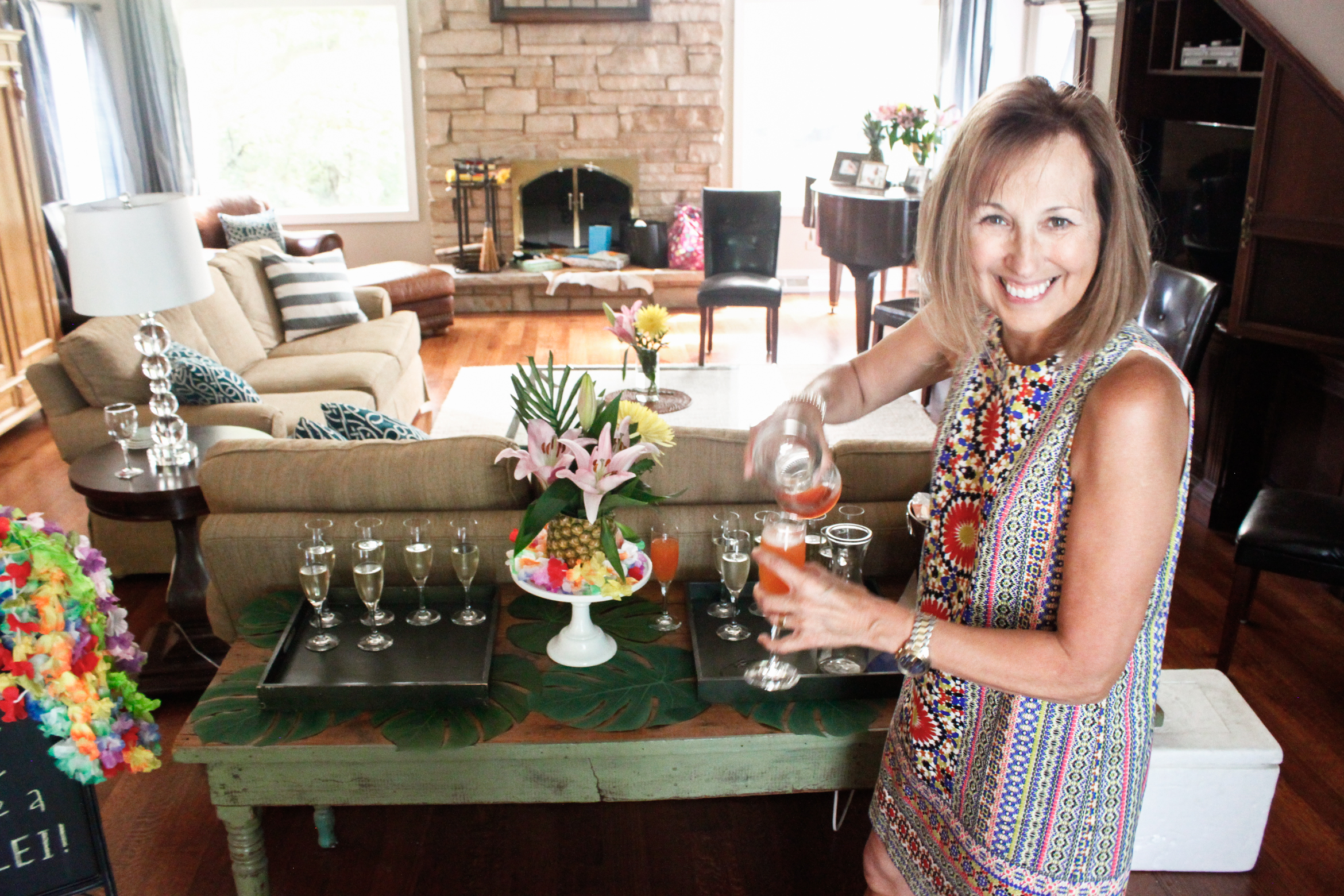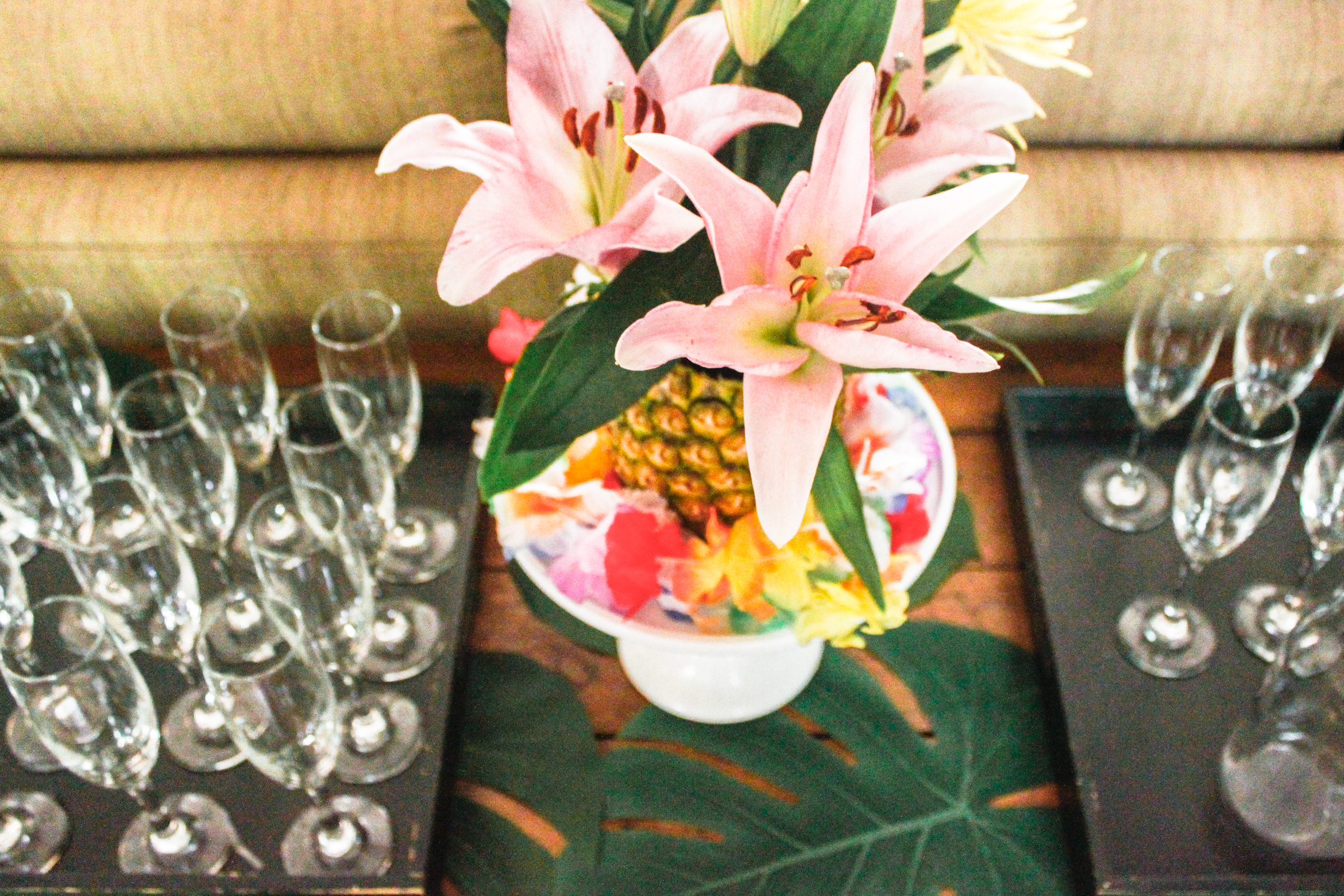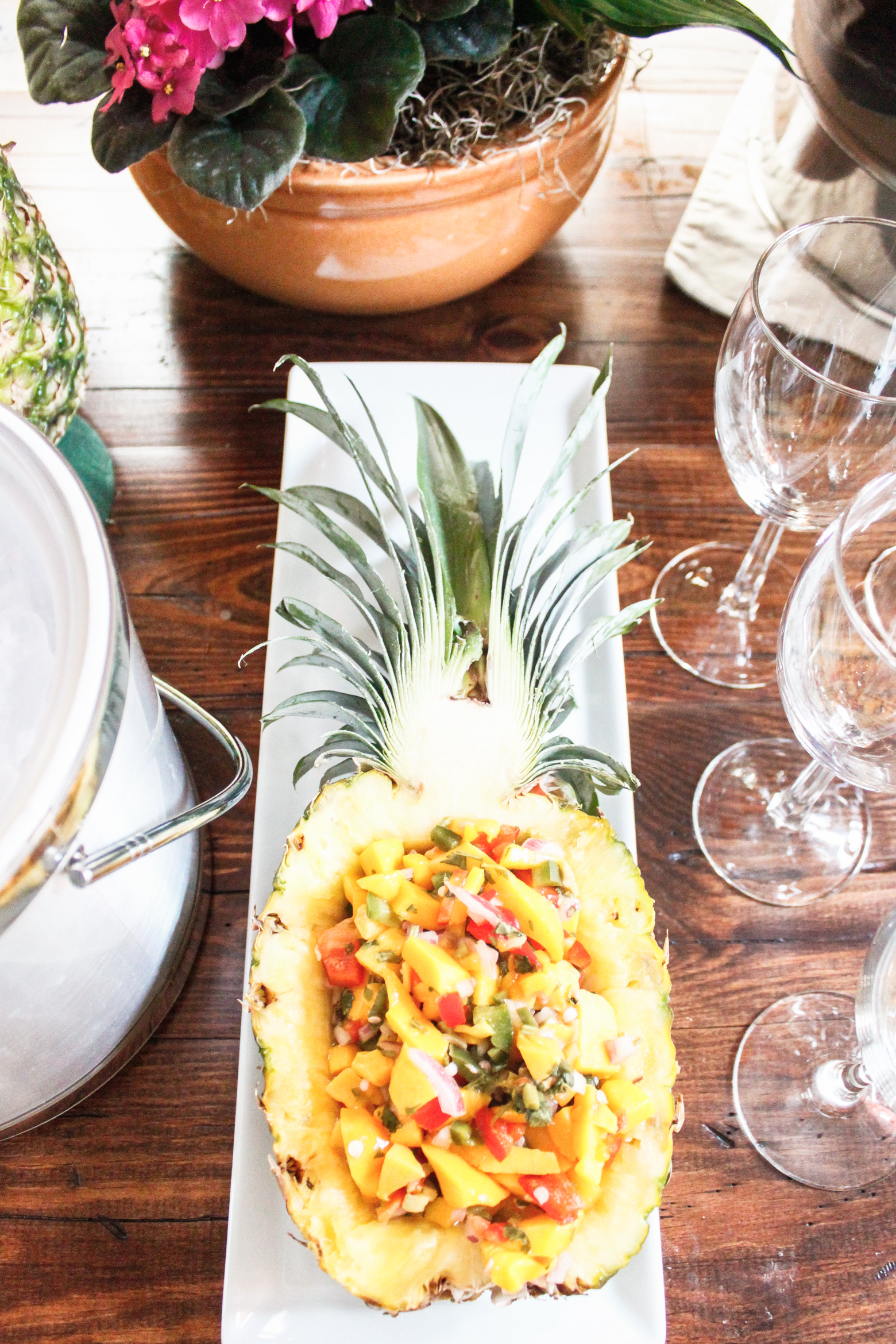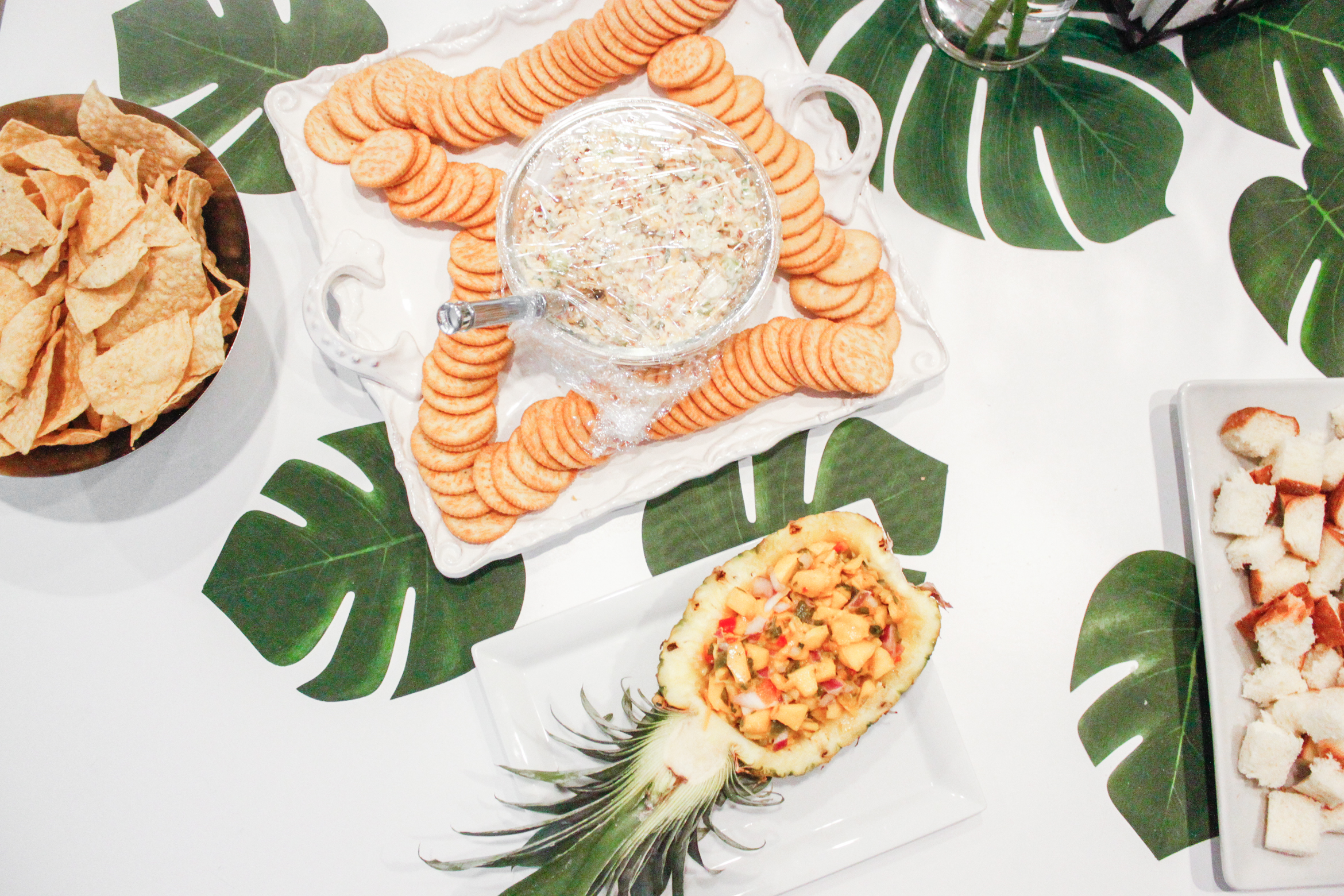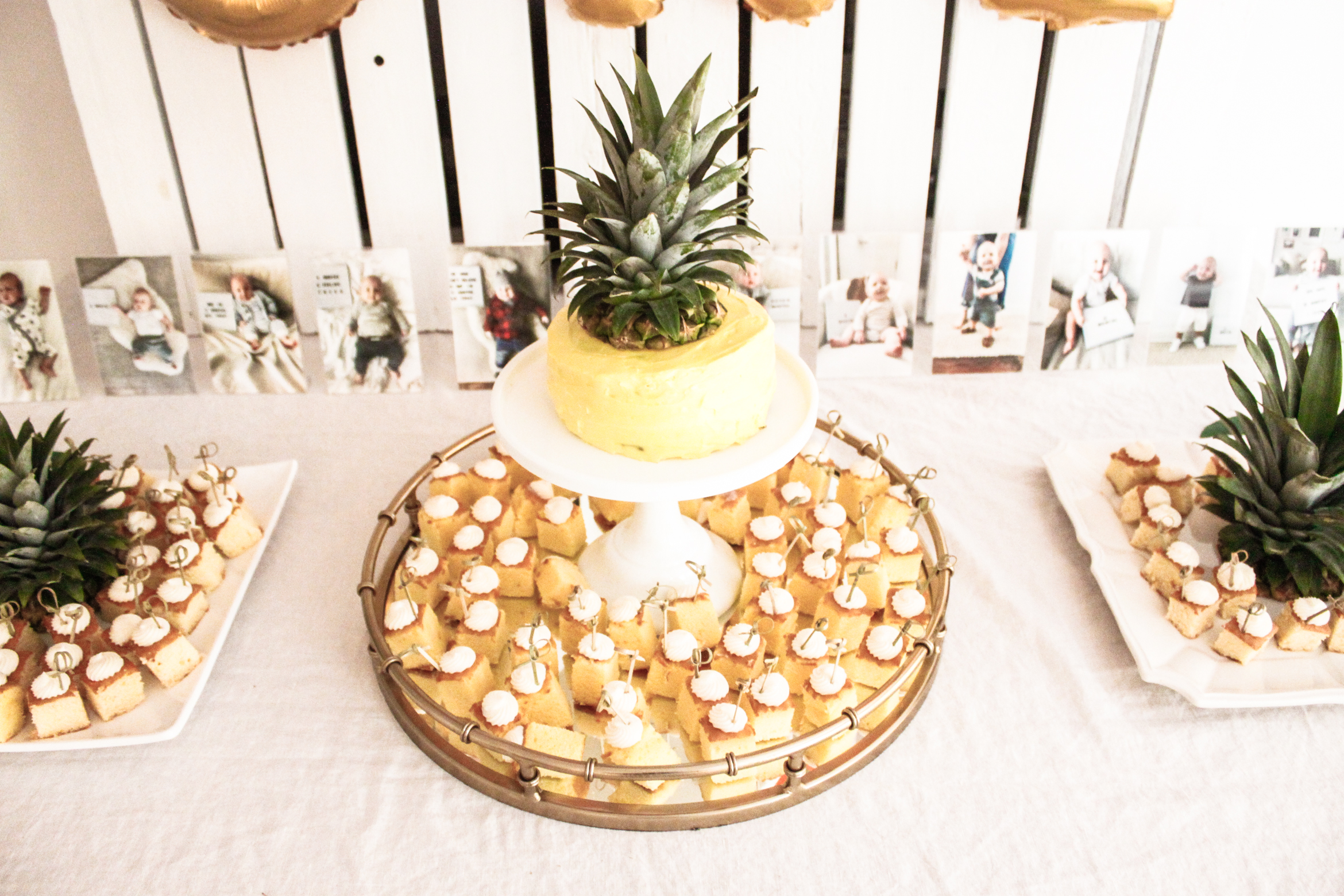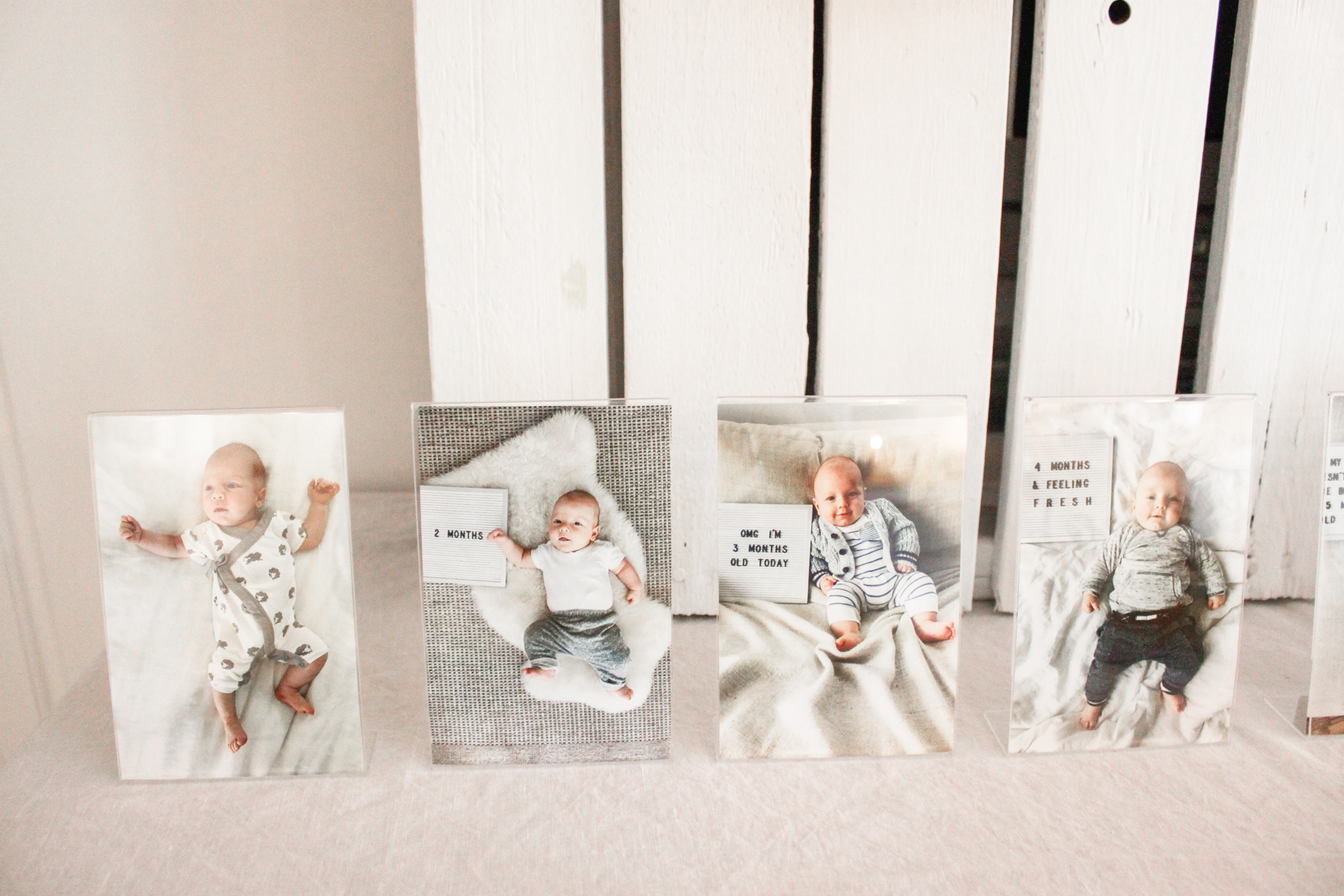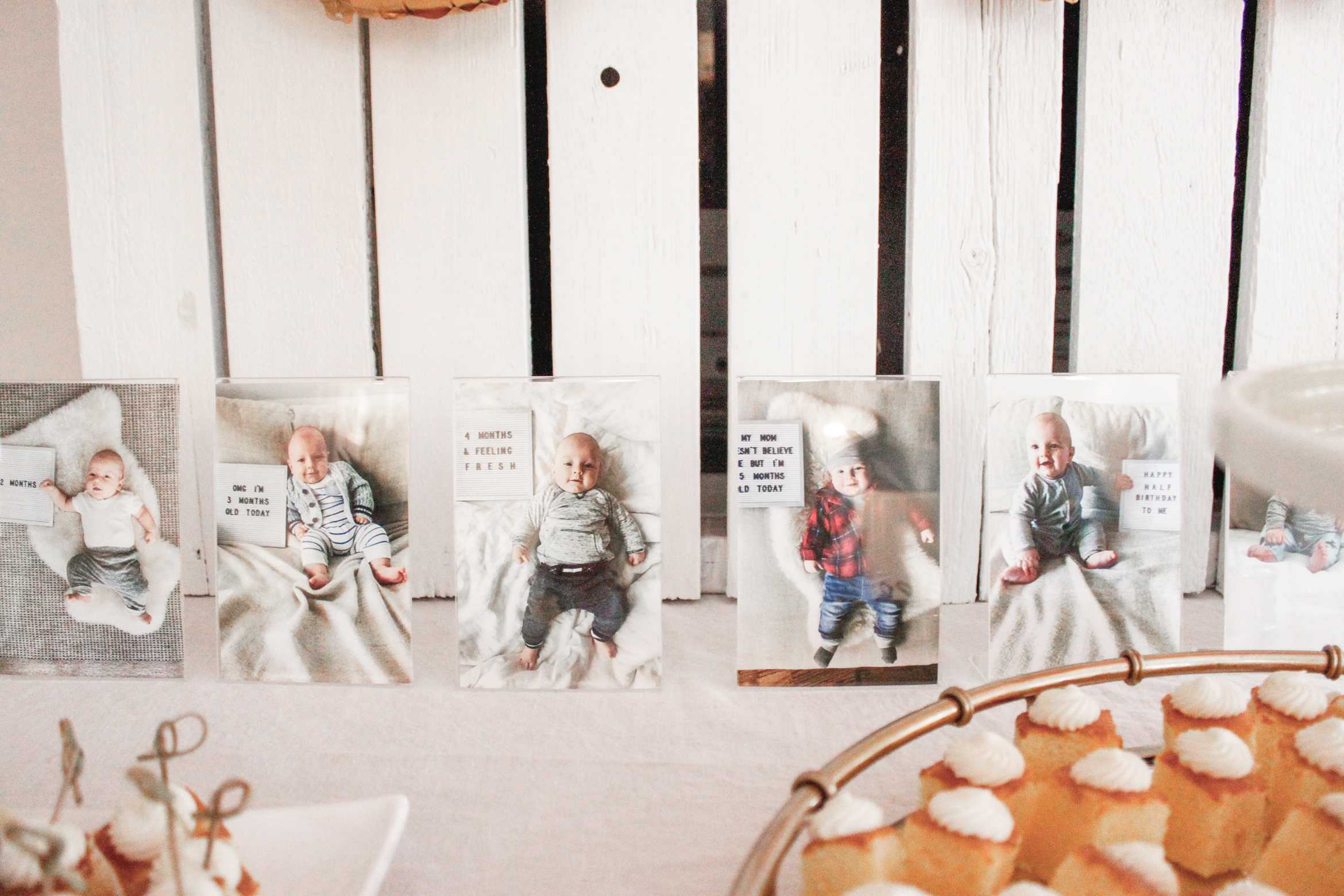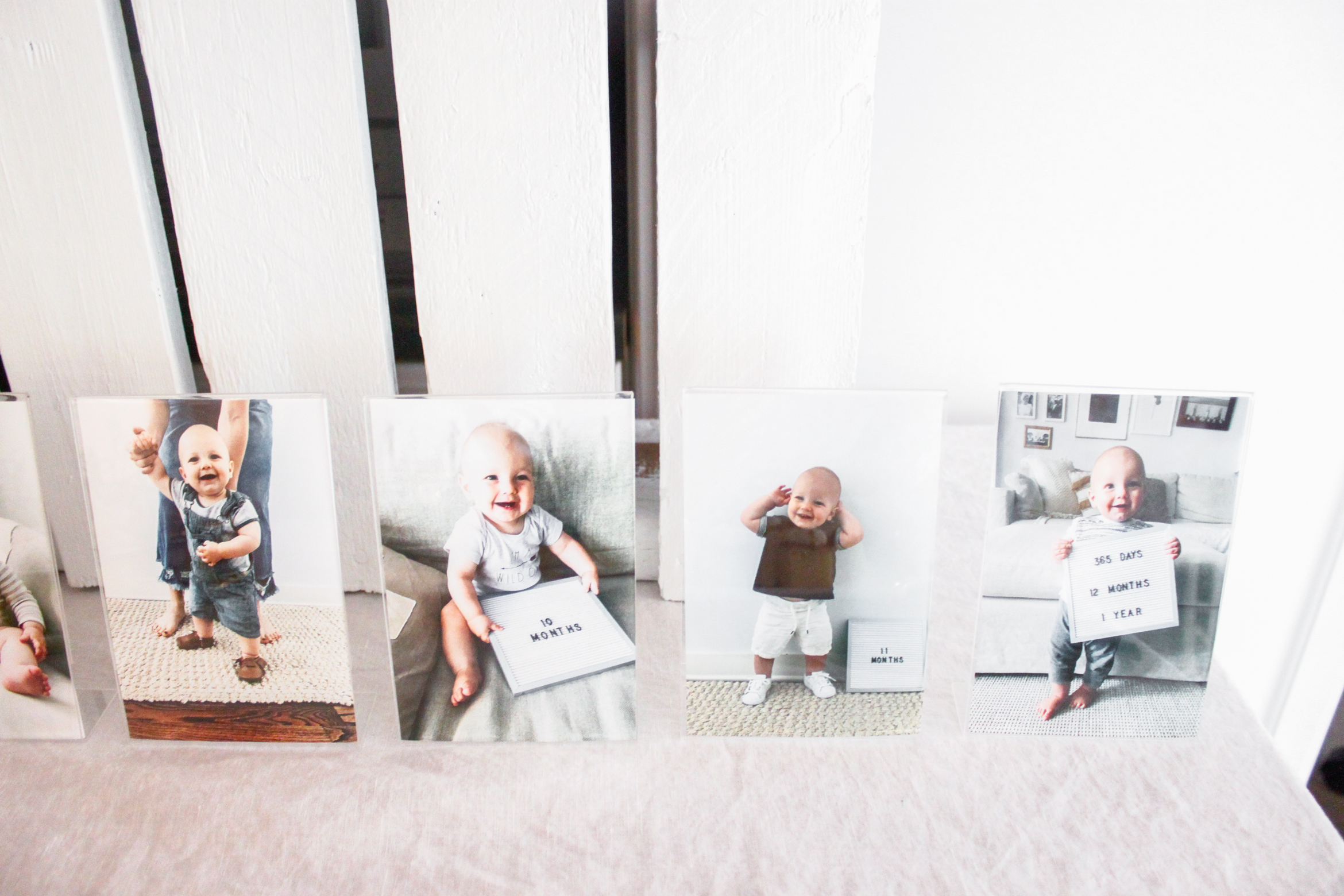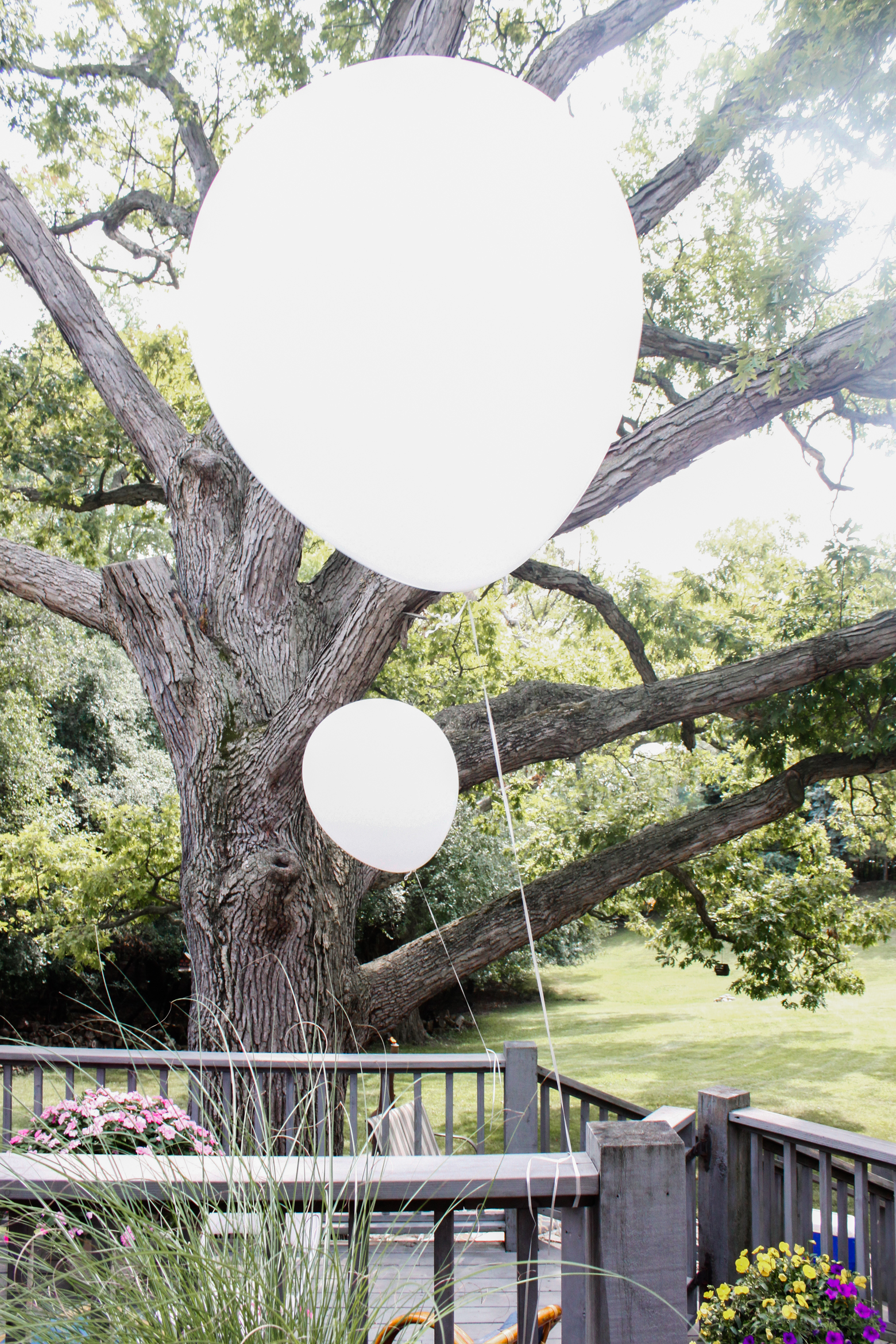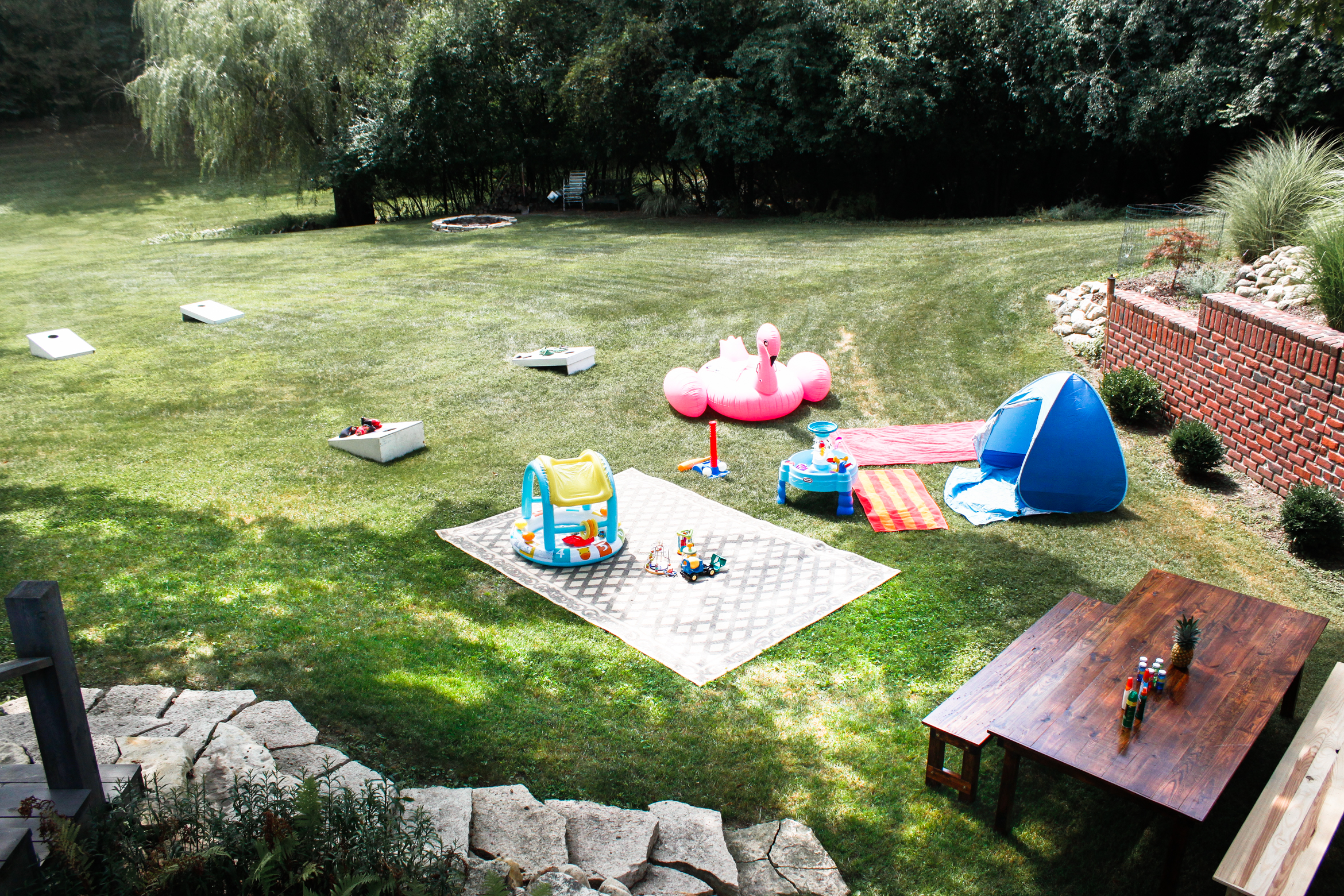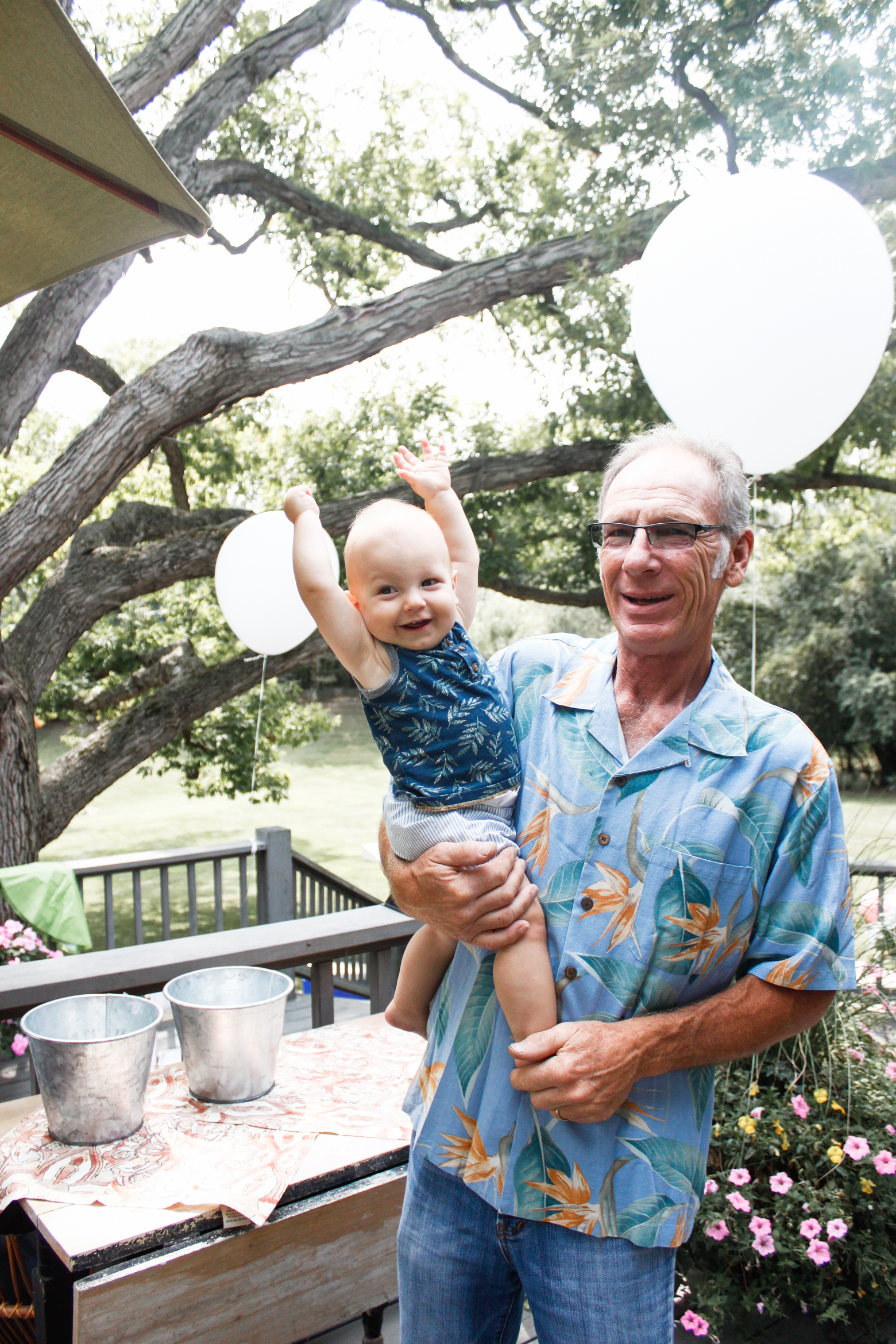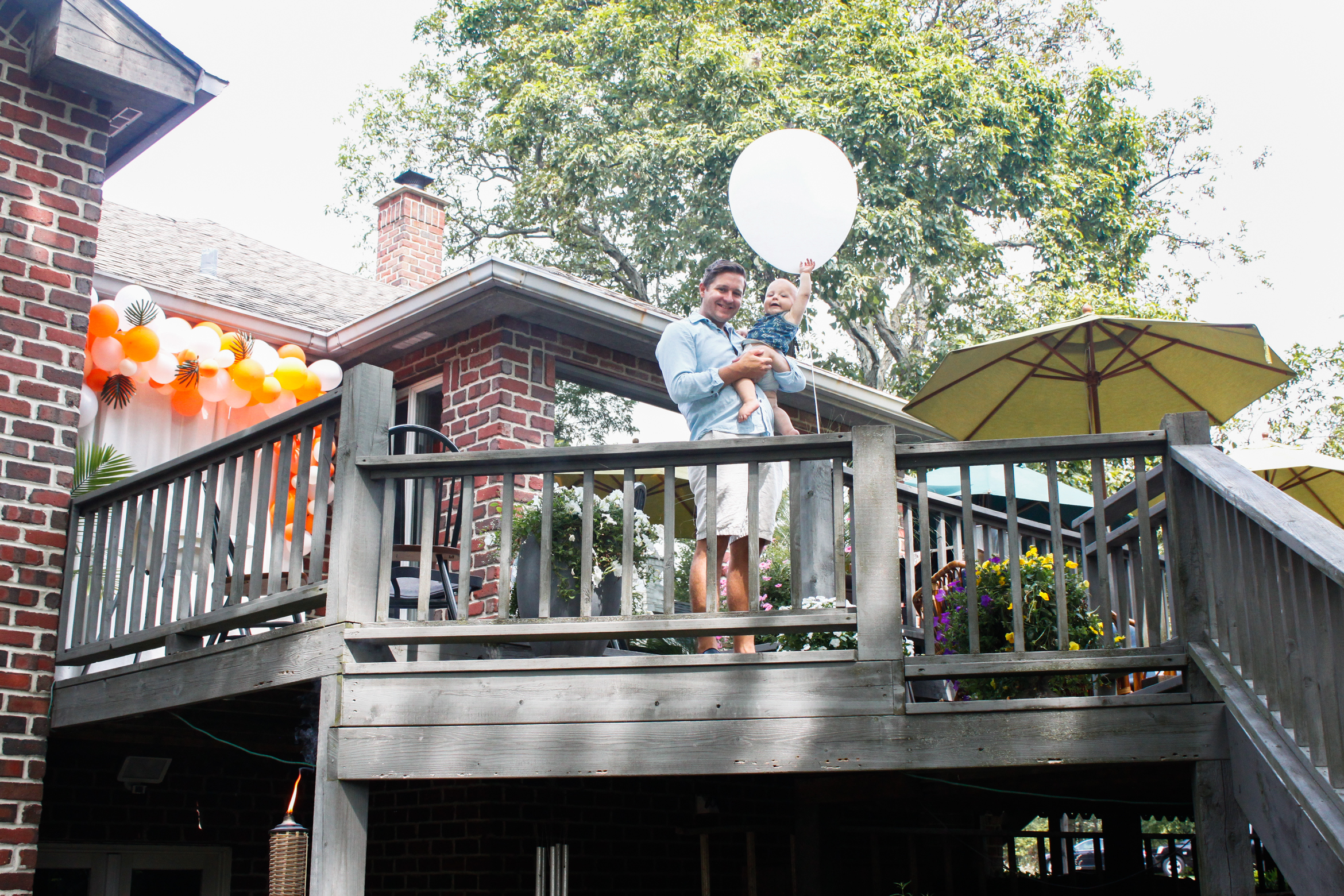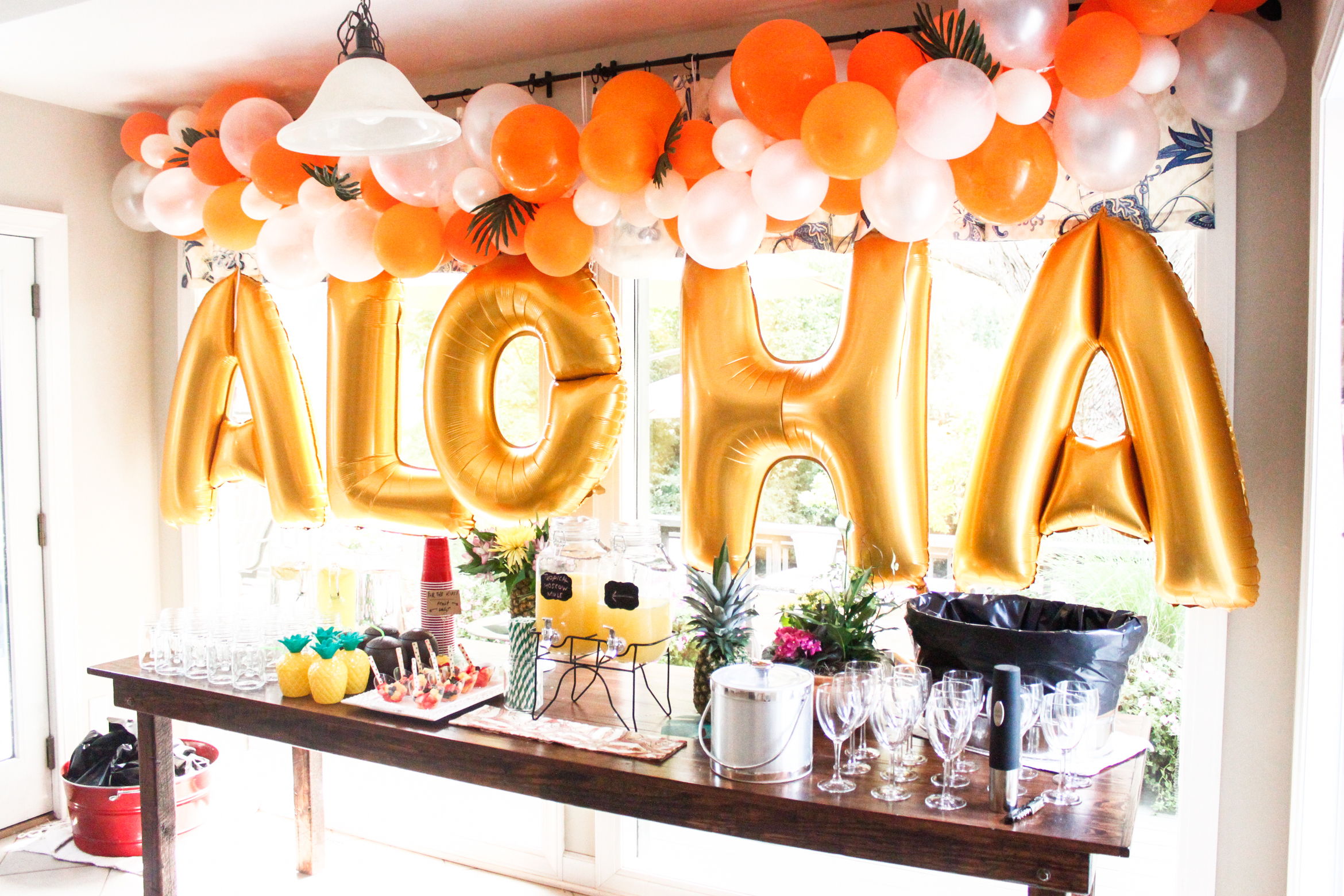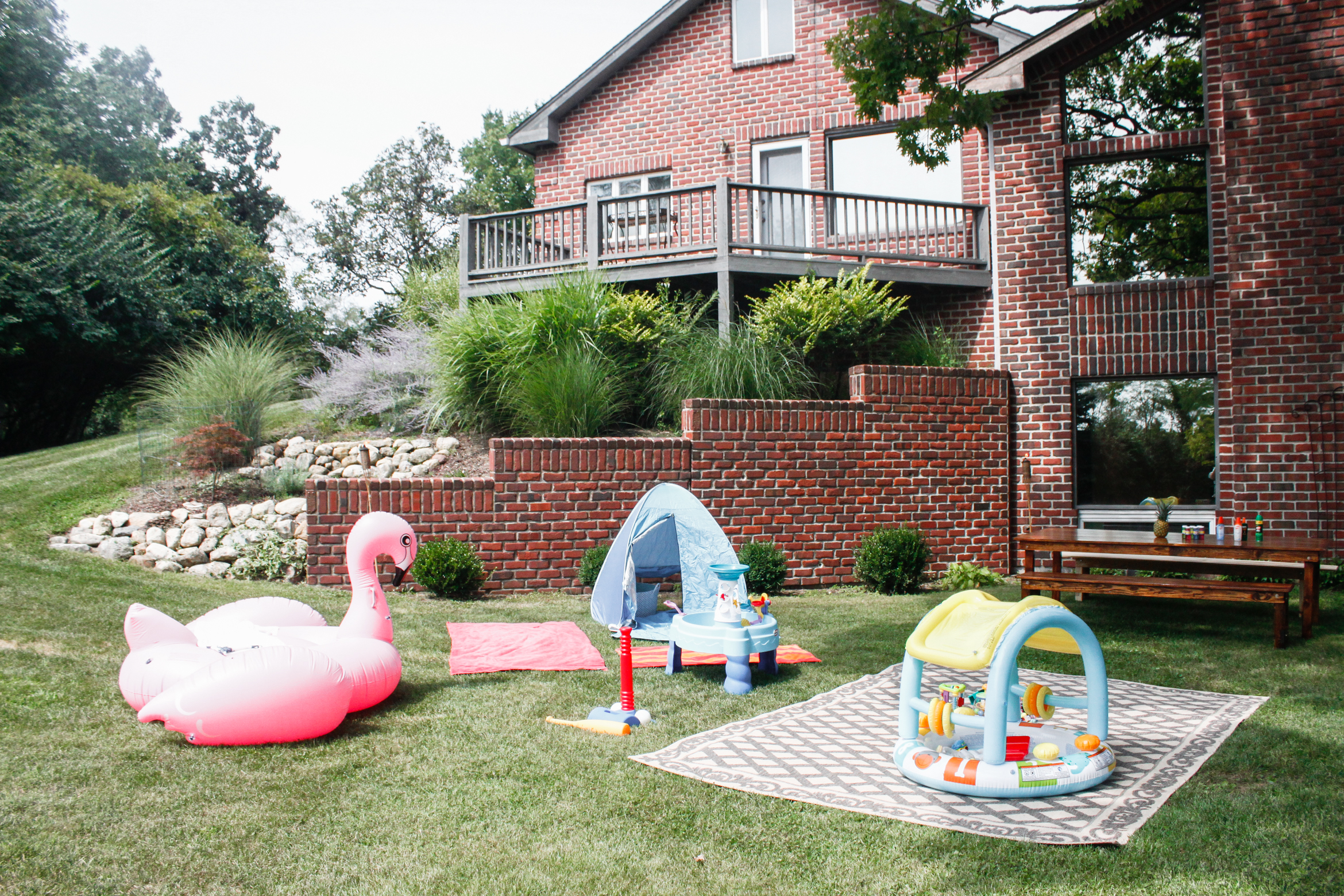 This flamingo was about 10x the size I thought it would be but I'm so glad because literally 5 kids could play on it at once! They loved it. It's only $20!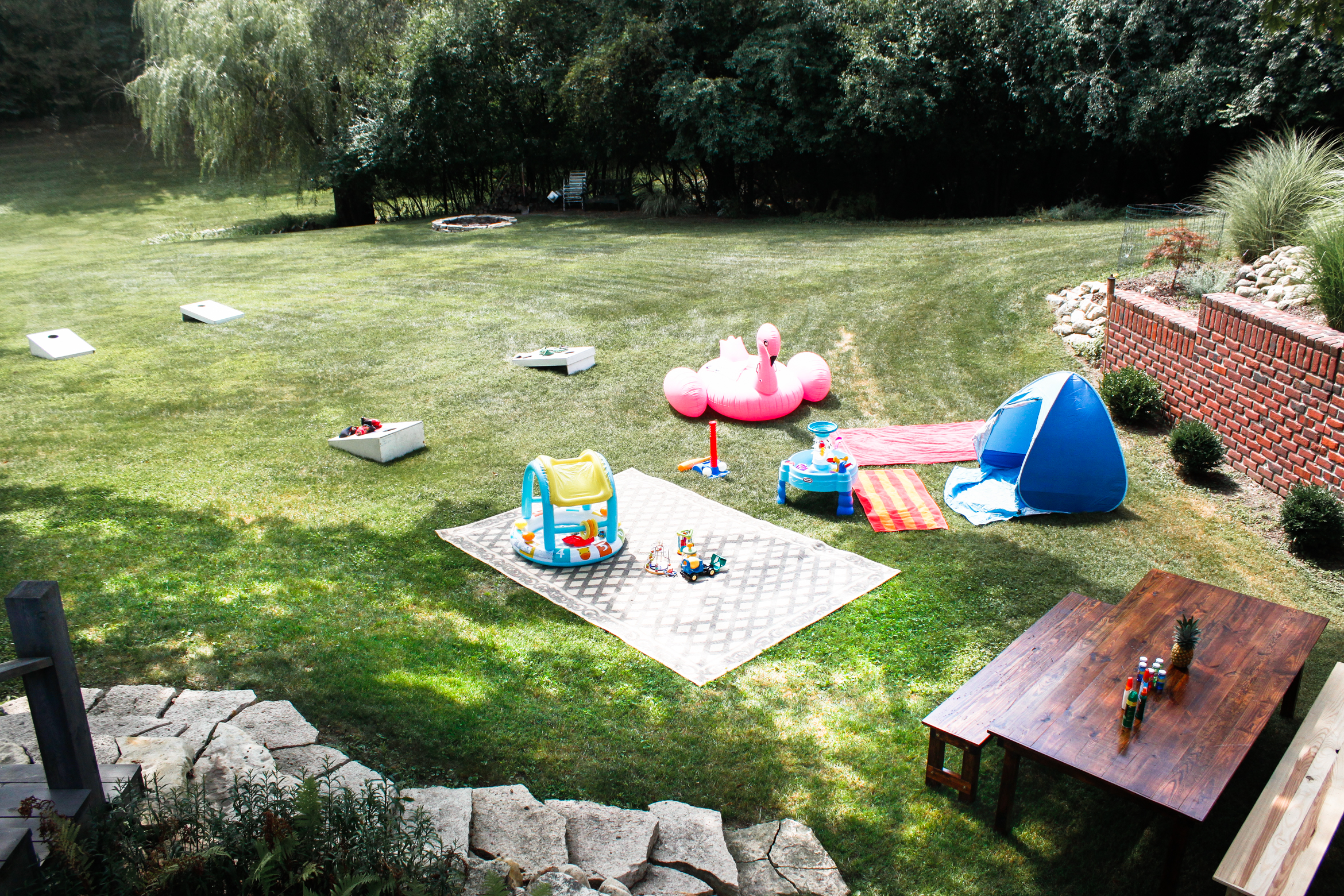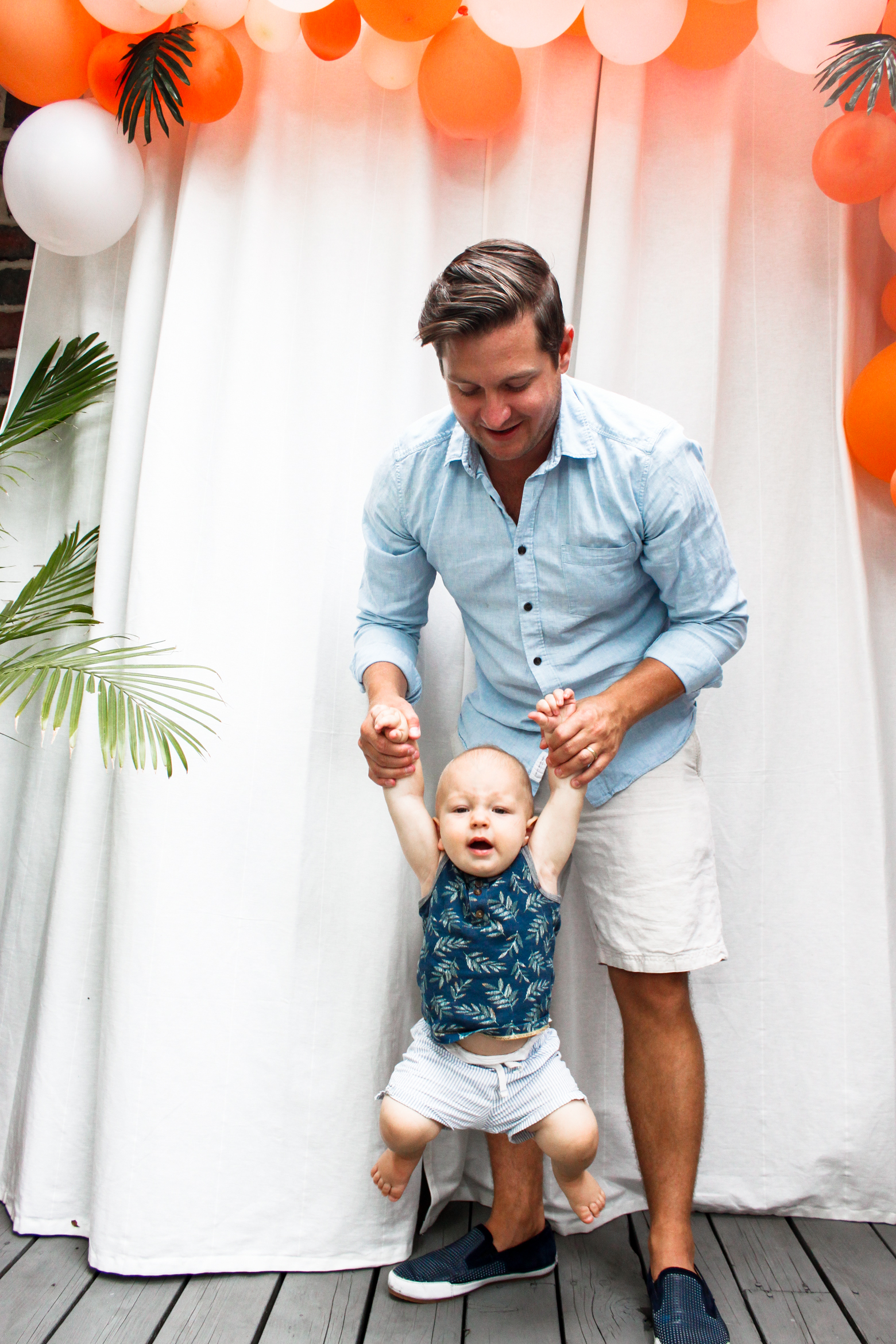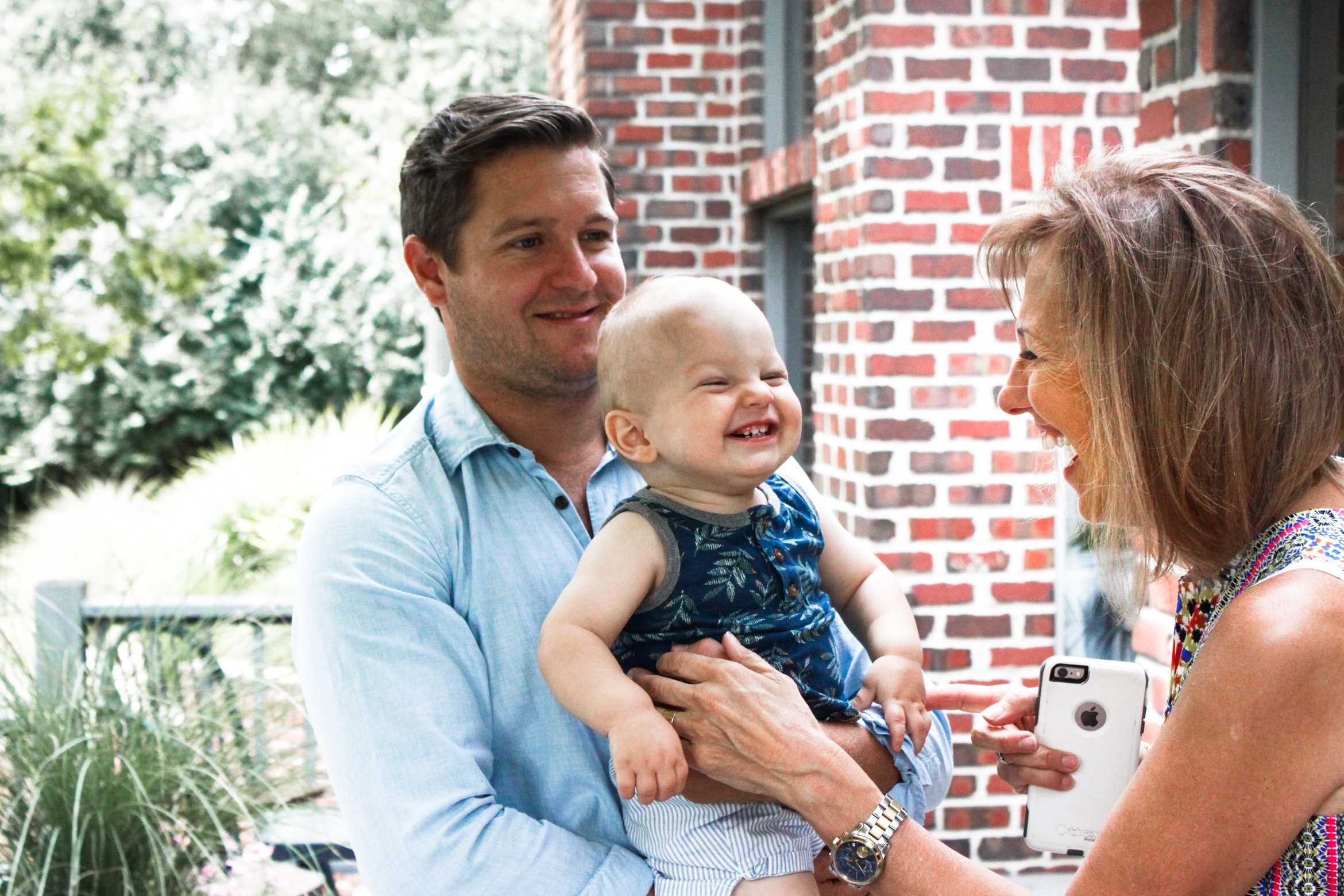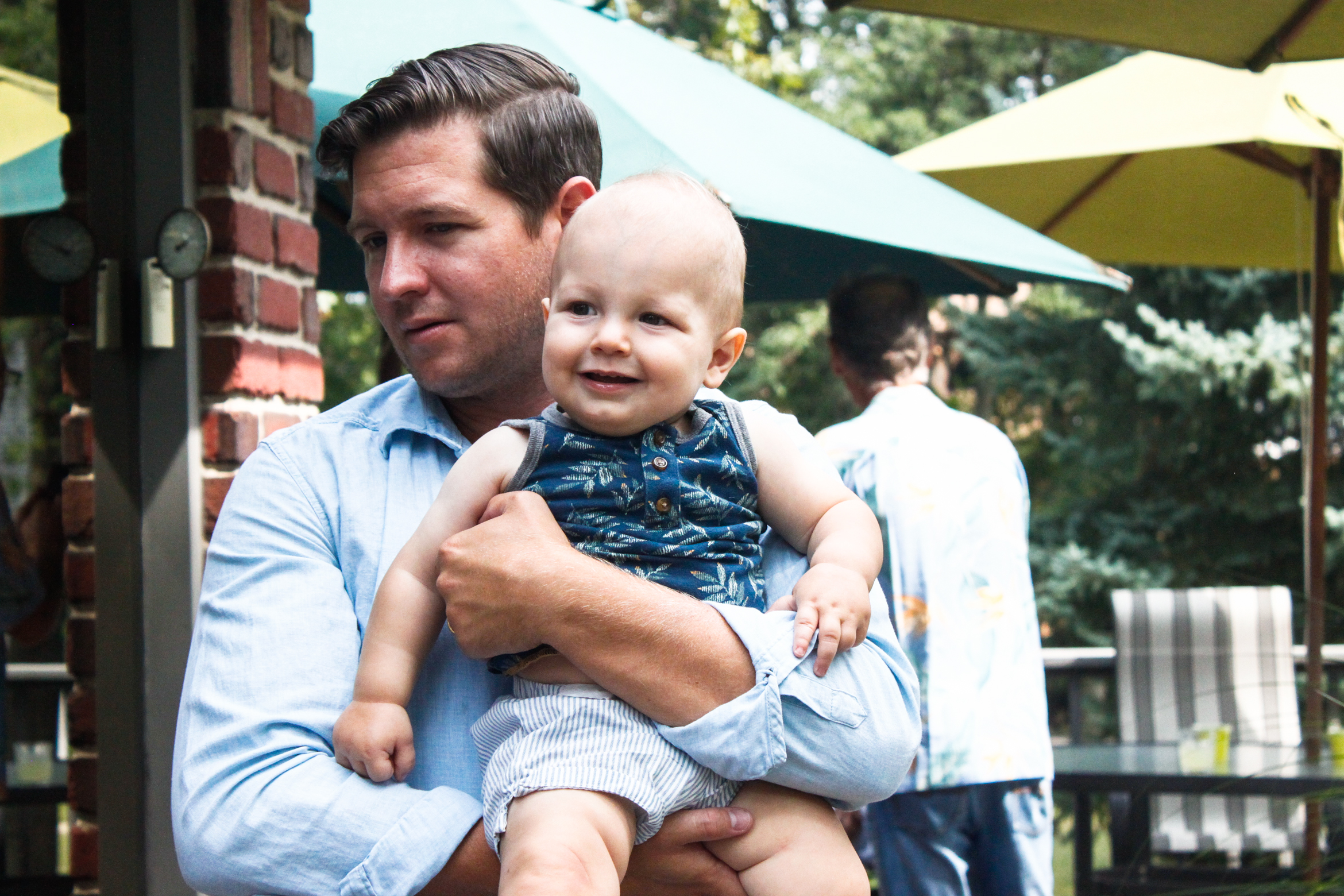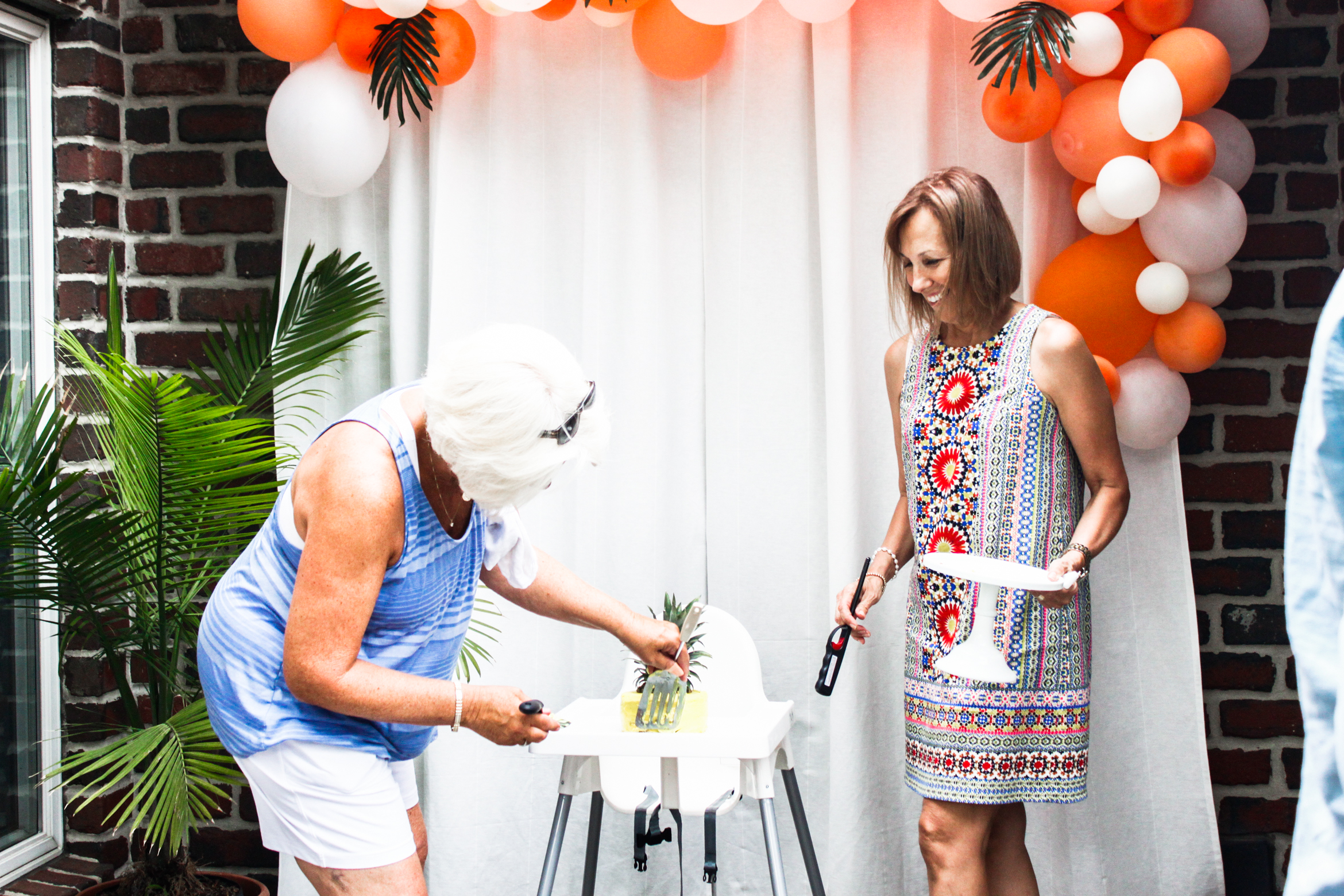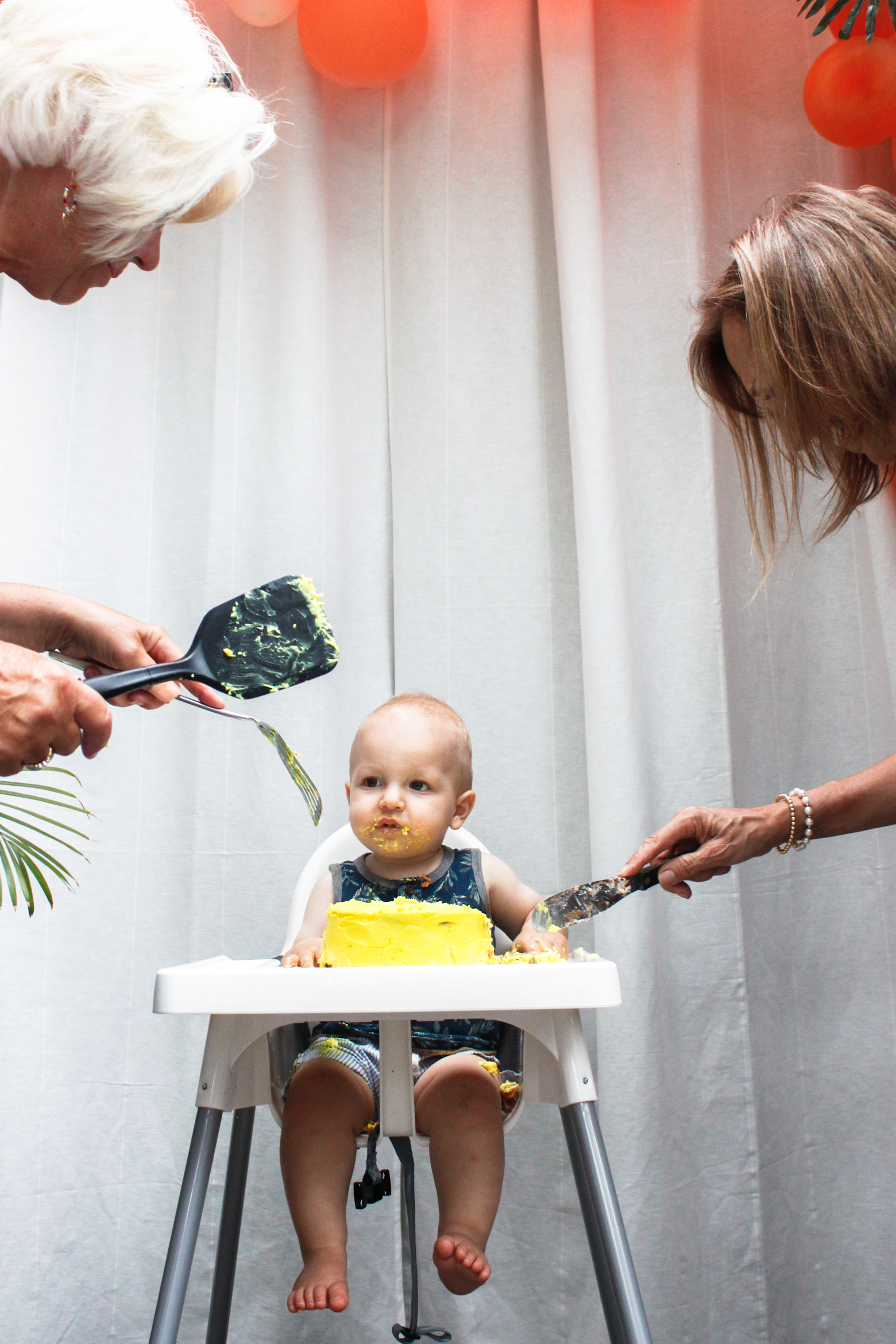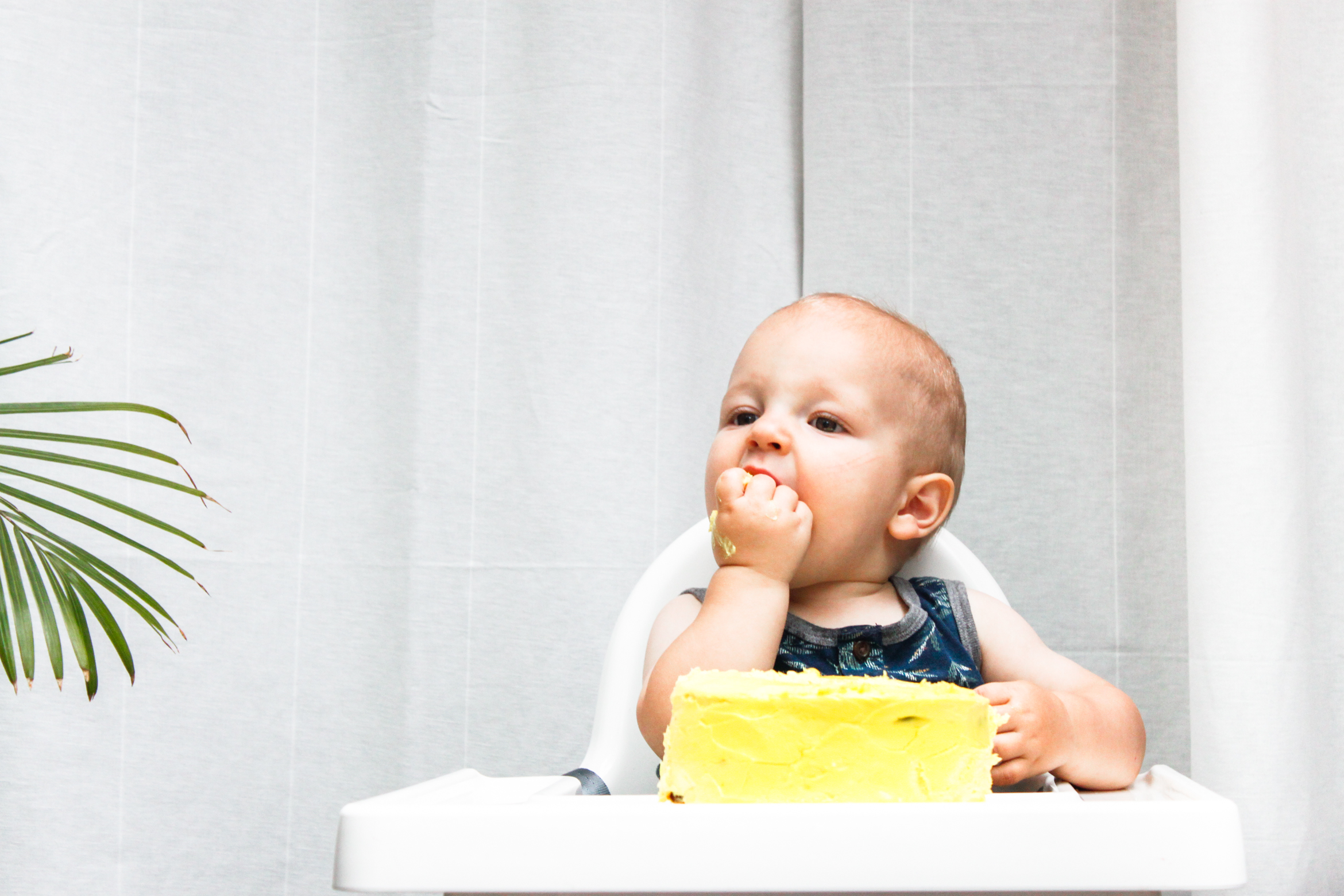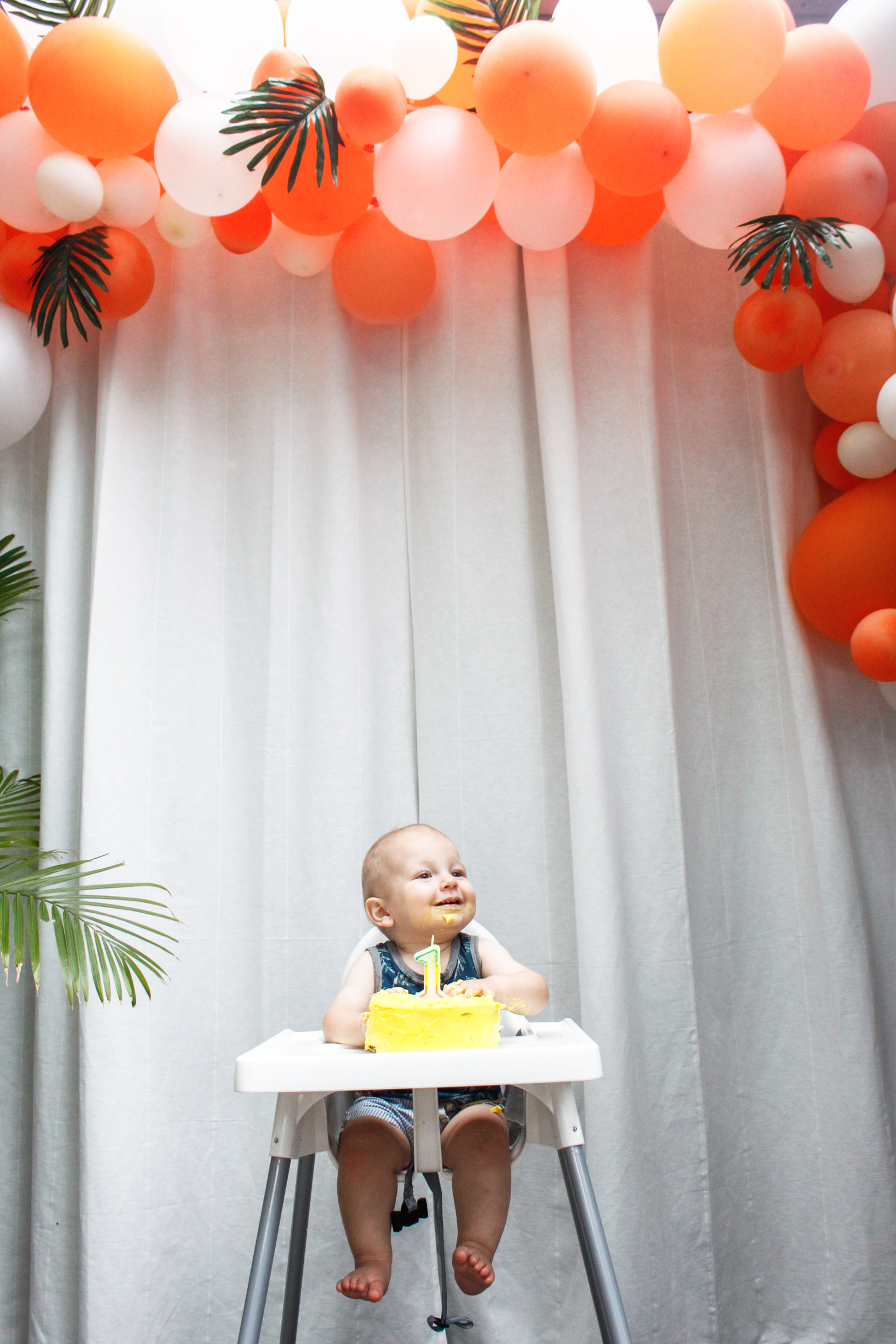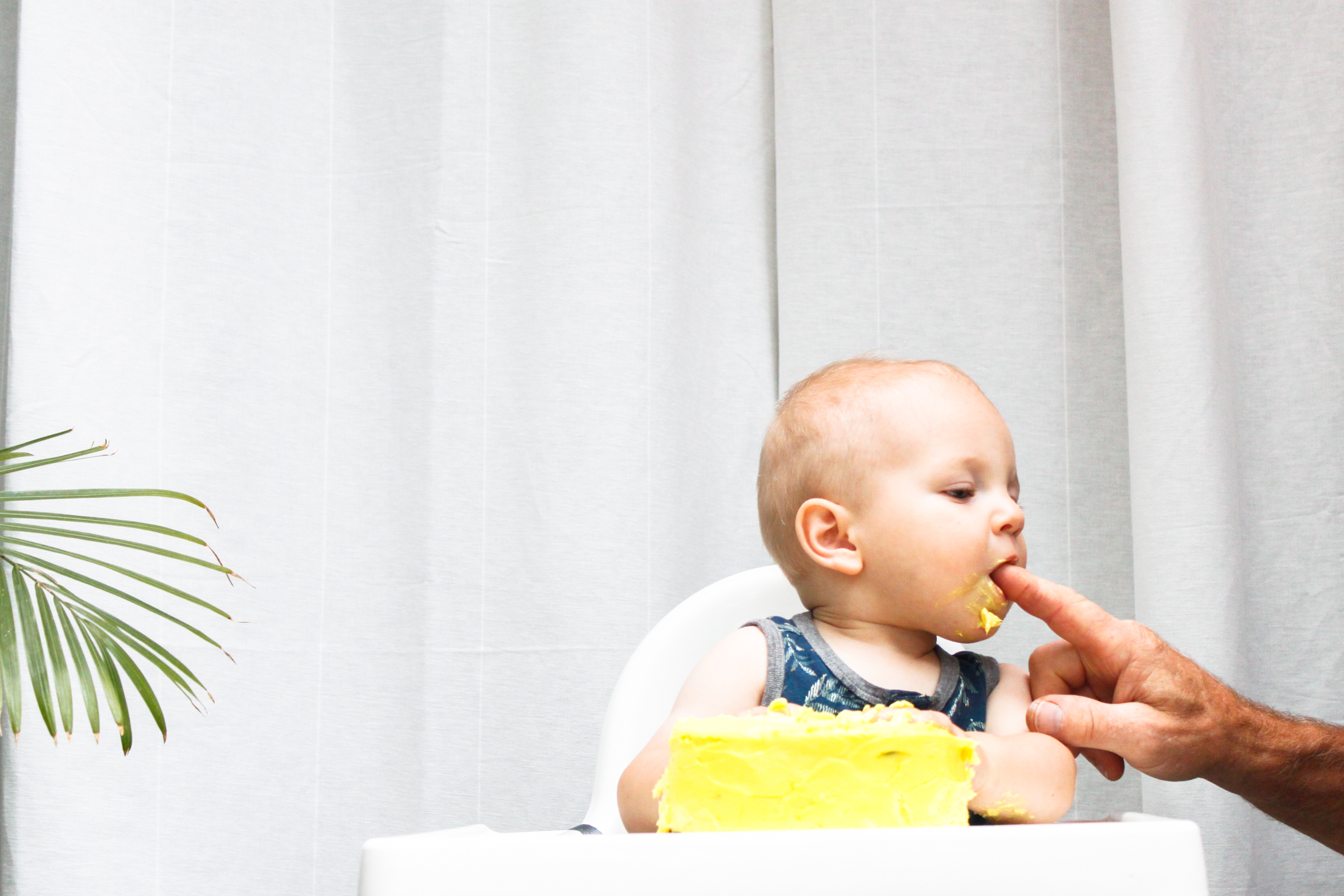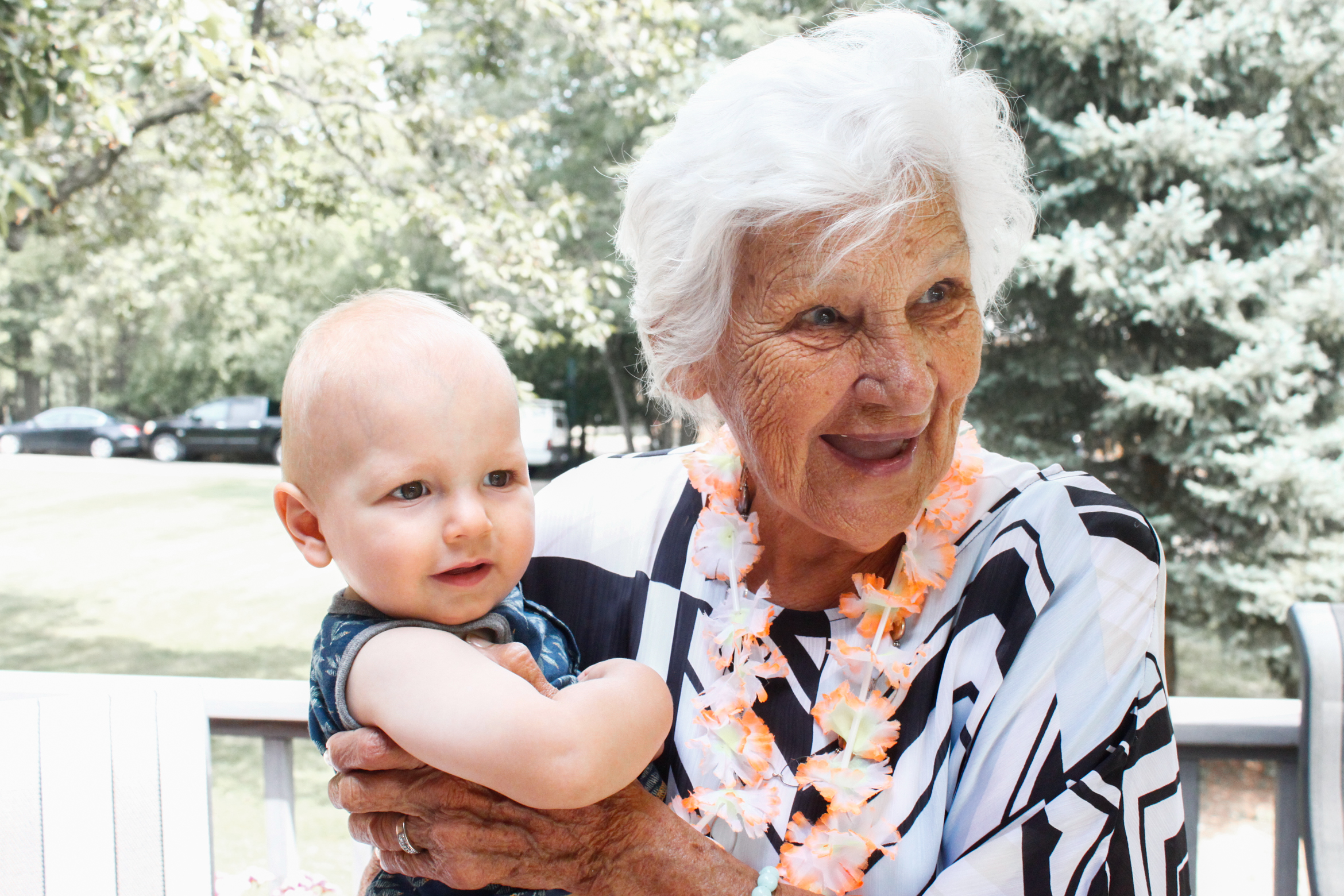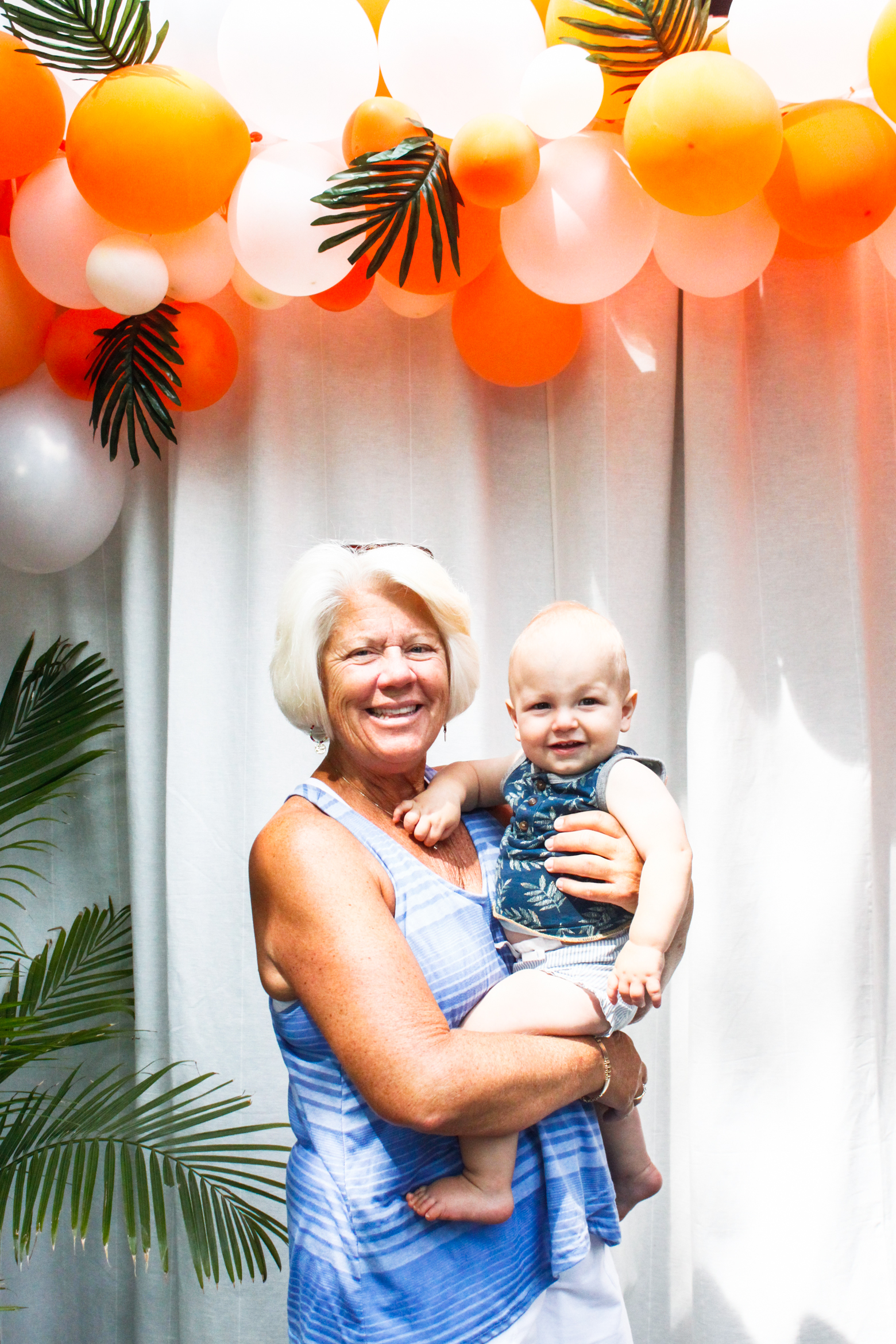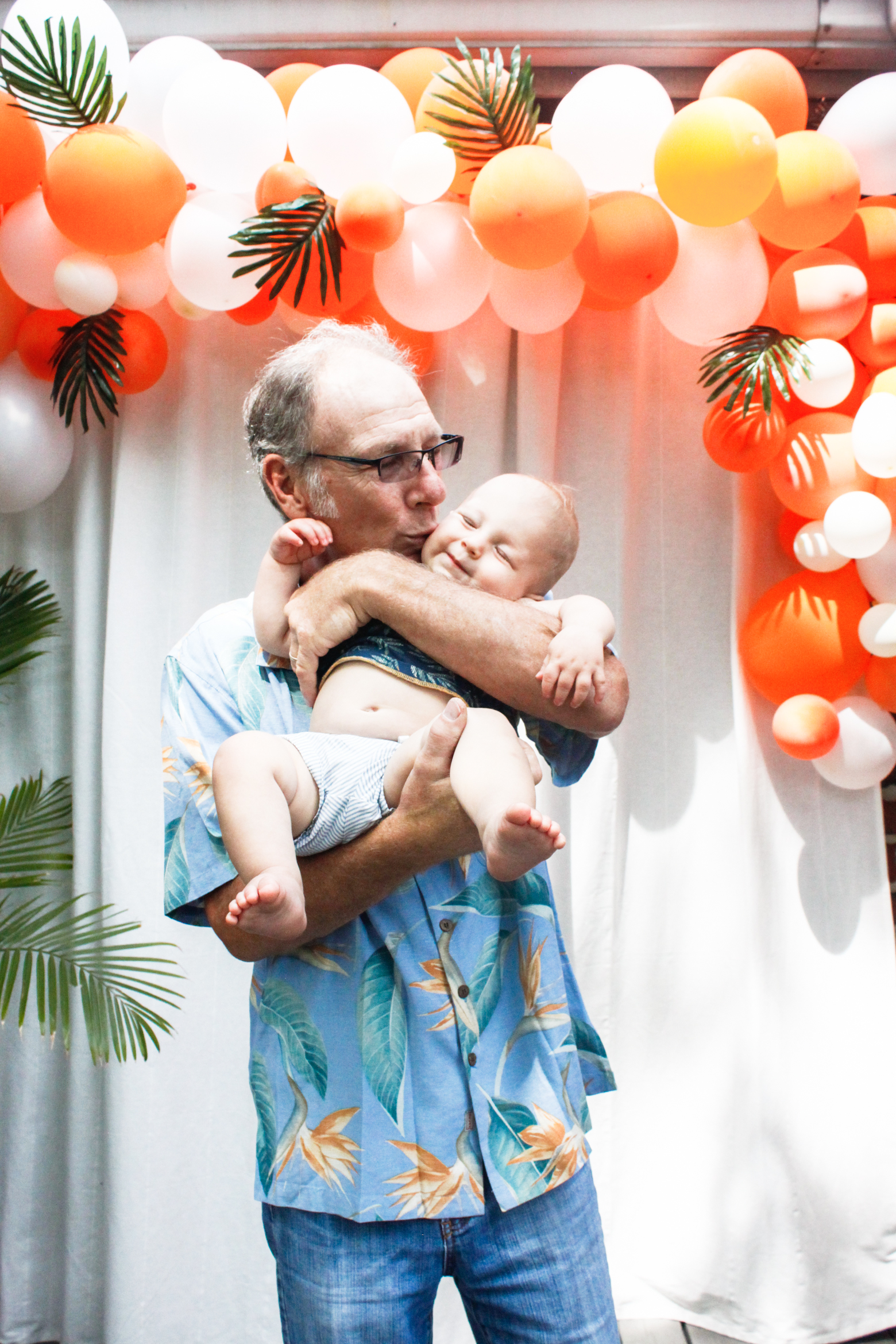 Please enjoy this next series of images of James and his besties attempting a photo together: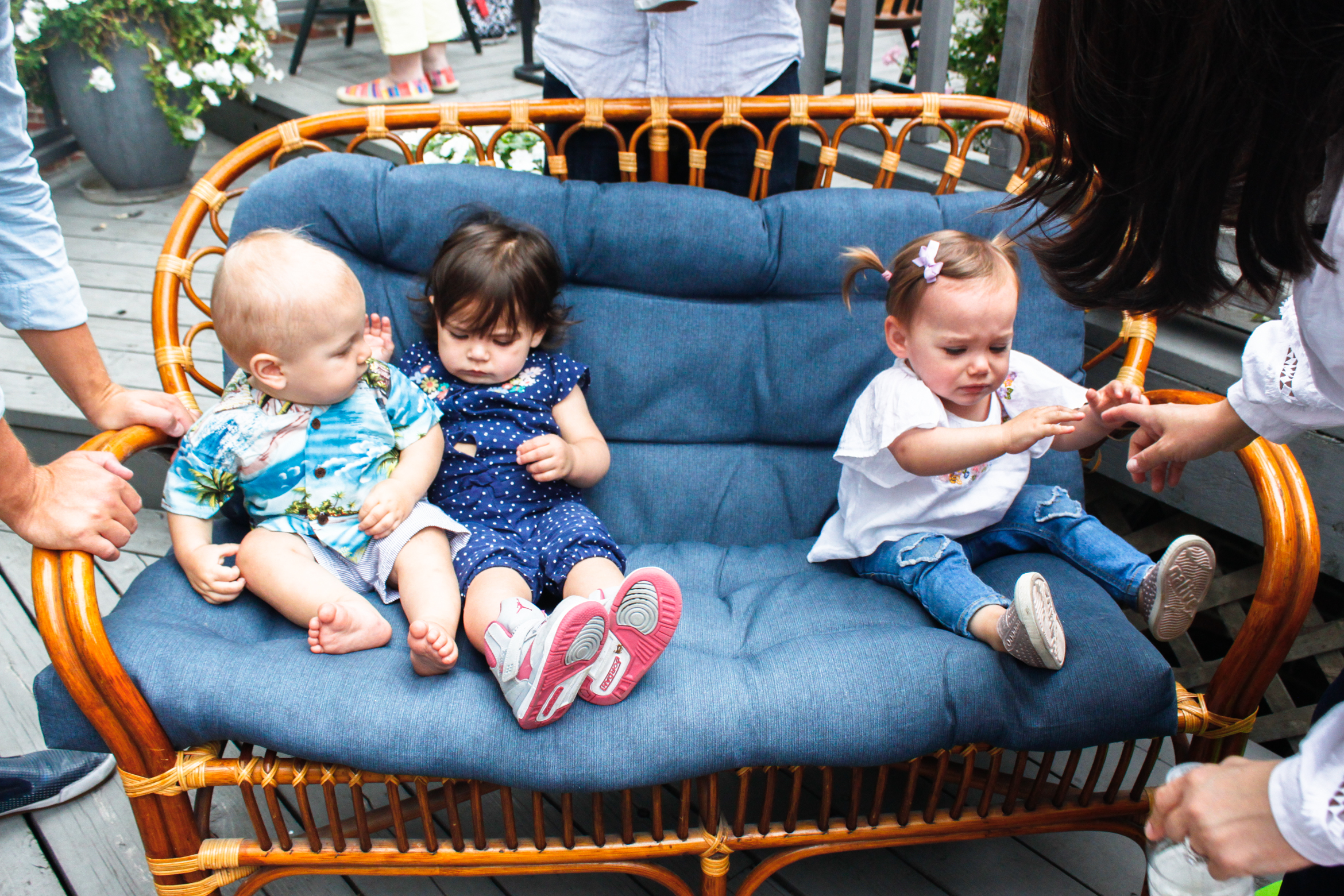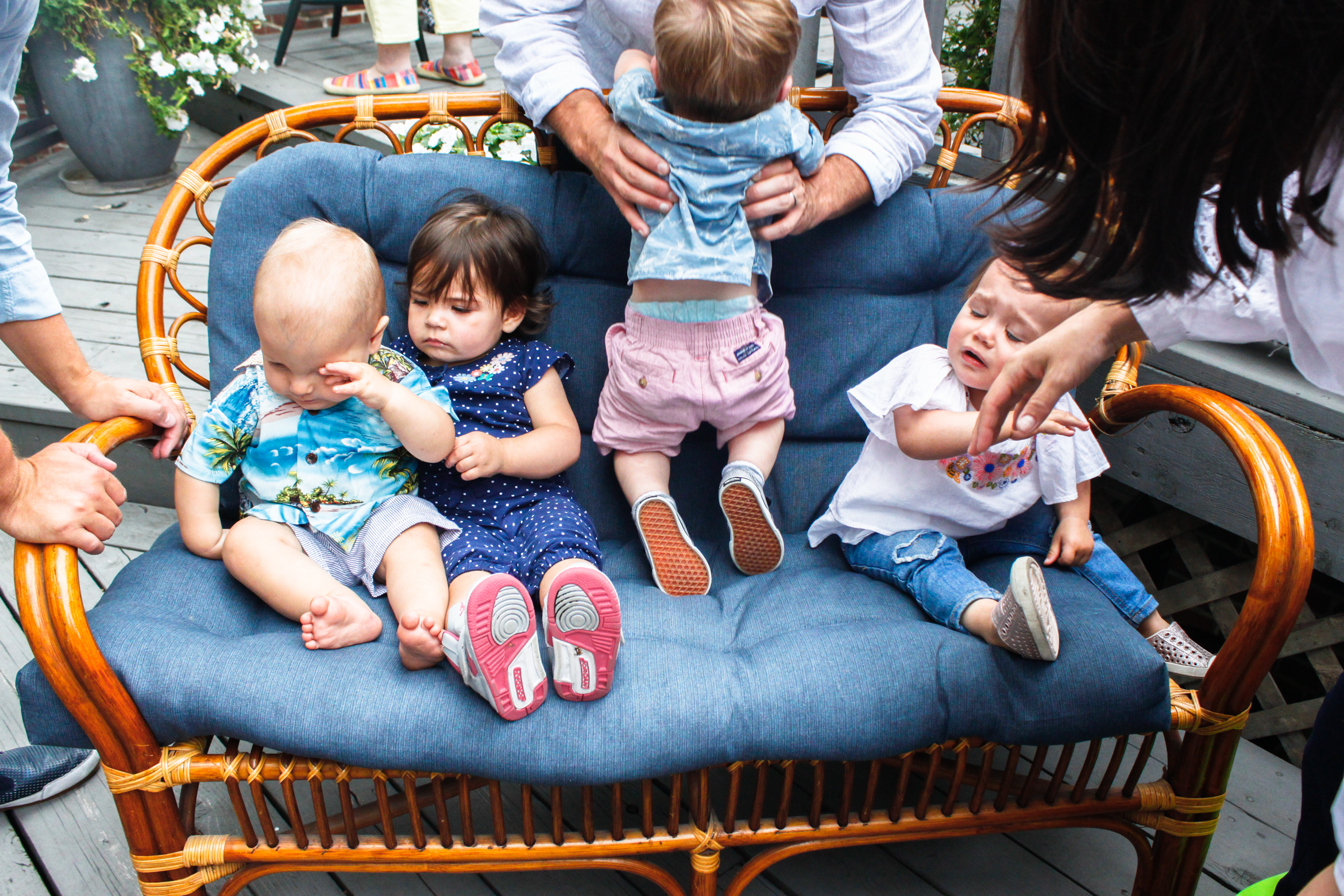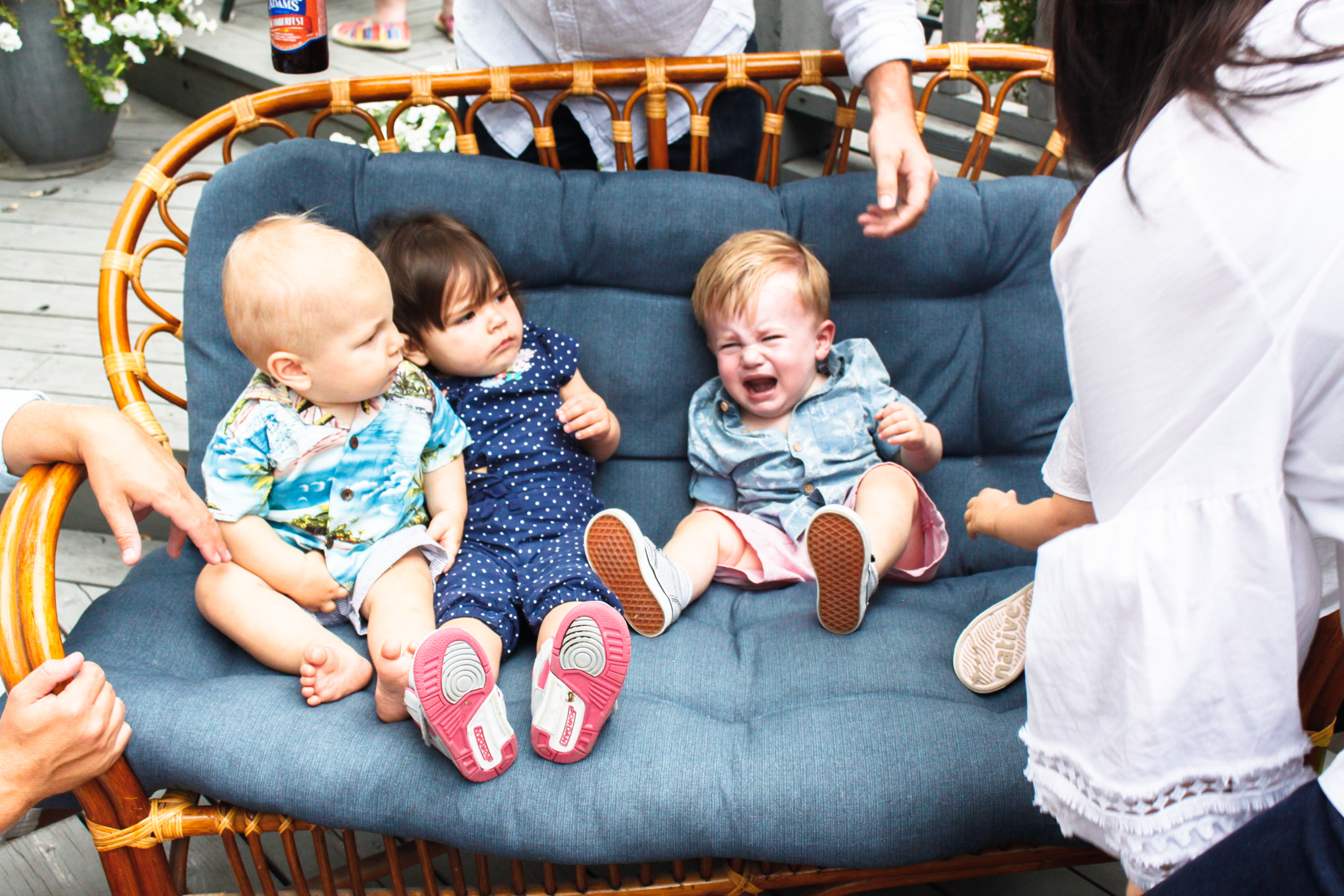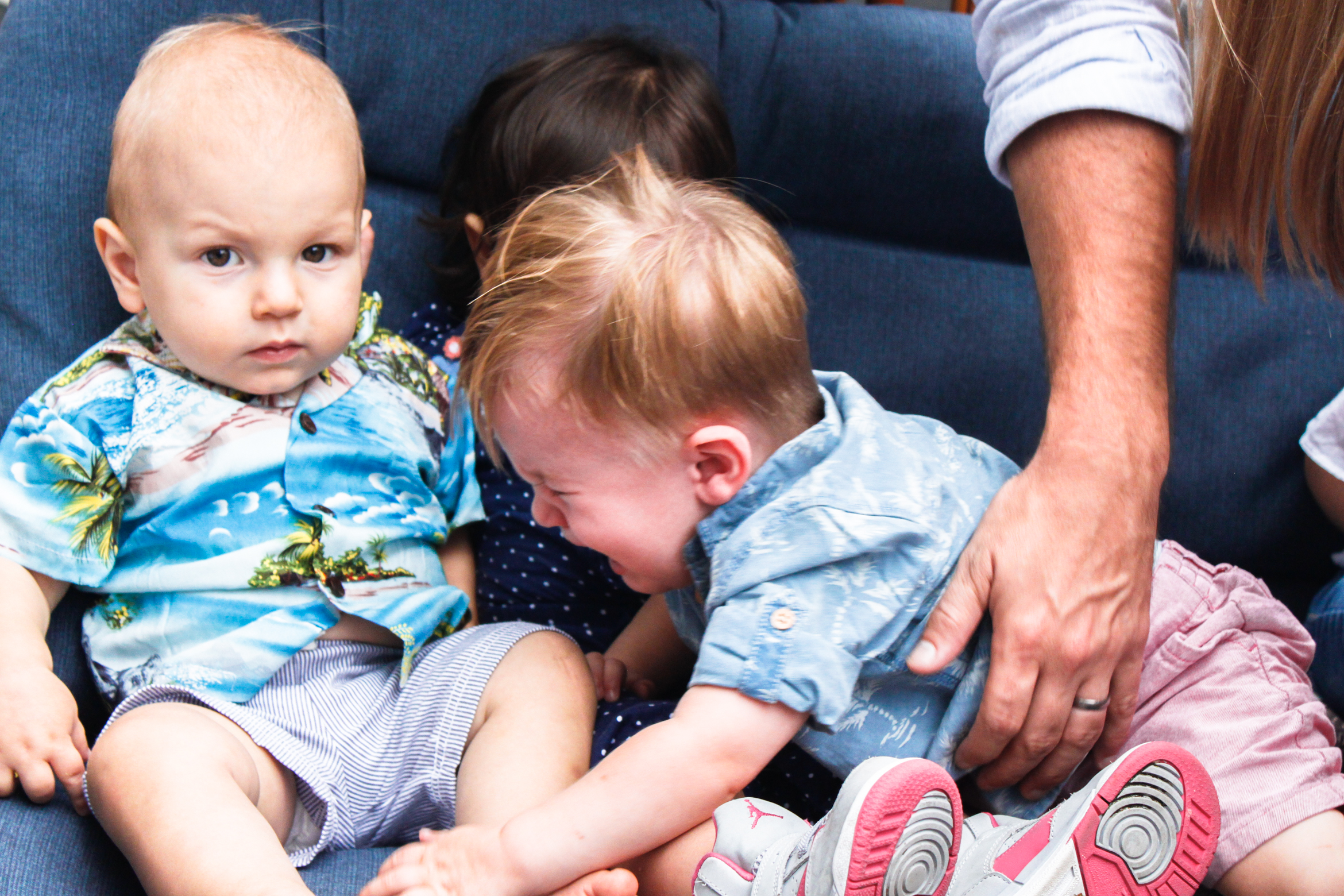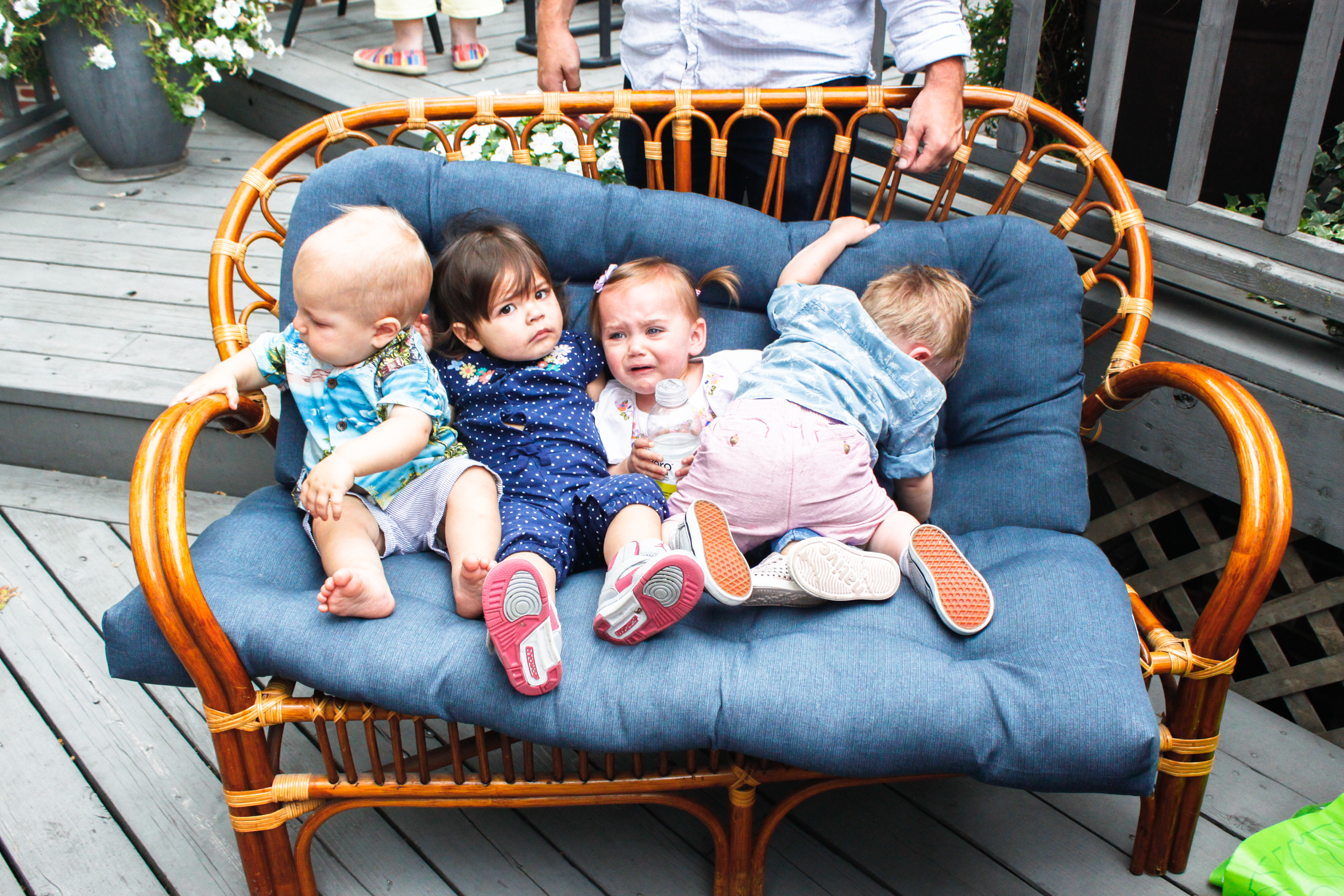 **Big shout out to my executive producer (AKA my mom) for helping me put this together, she always throws the most beautiful events! And thank you to my MIL for baking James' cake and making most of the appetizers!**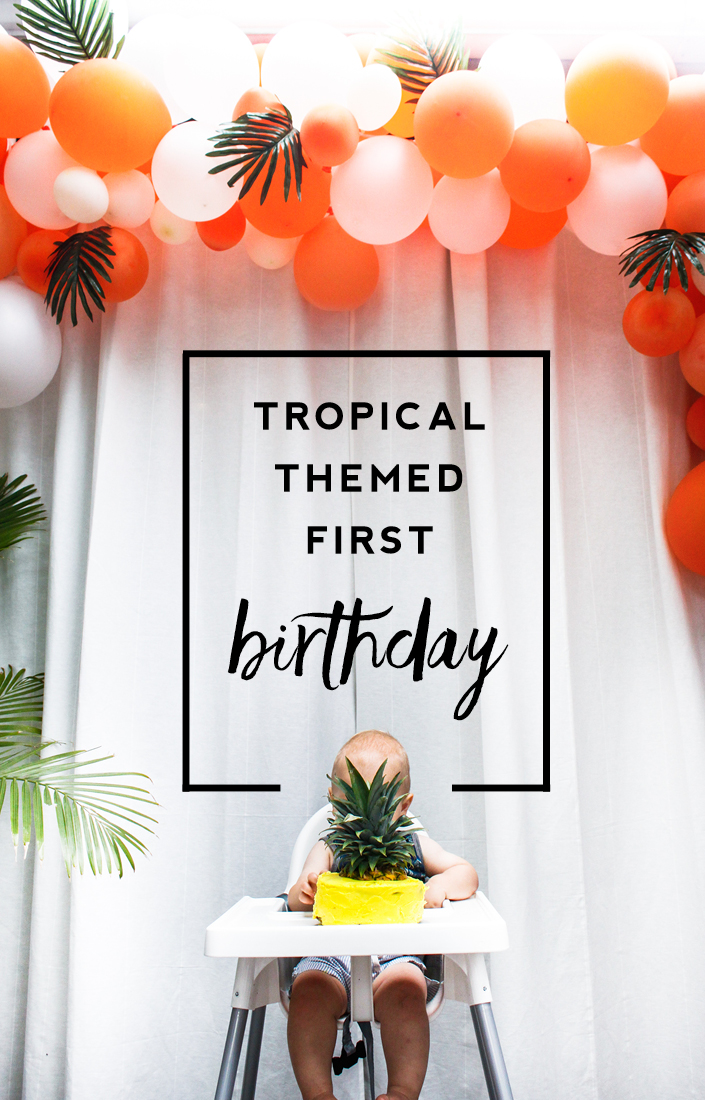 – SHOP THE POST –