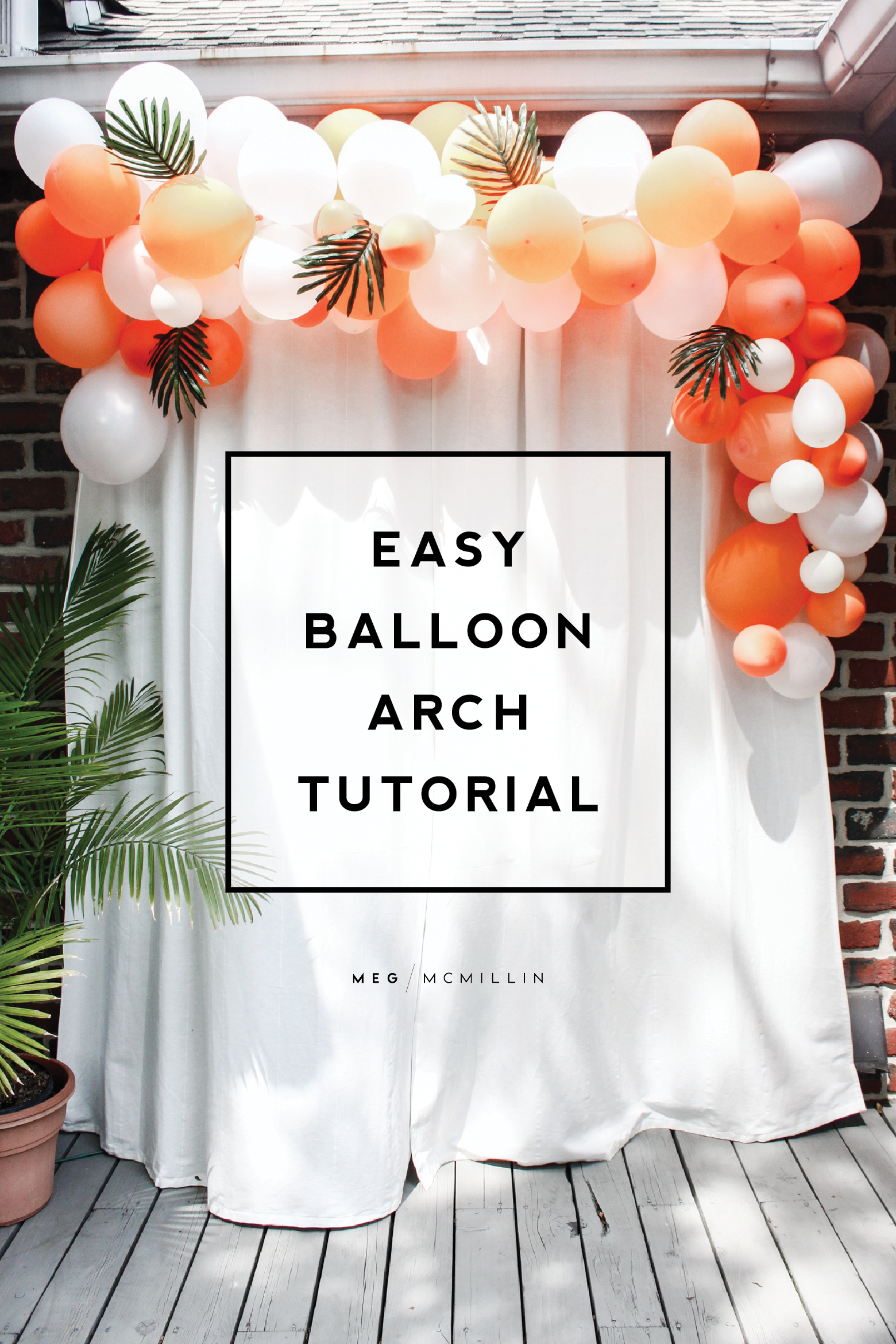 I made THREE simple balloon arches for Jame's 1st birthday!
I stumbled upon balloon arches on Pinterest, and became immediately obsessed. They are magical. Some balloon arches are super over the top and probably not doable without a team of professionals (like this one omg), and others (like mine) are easy to do on your own.
I want to apologize in advance, because I didn't do the best job of photographing my process. To be honest, I was expecting the end result to be a total disaster and didn't plan on posting about it. Classic pessimist move. But, I'm happy to report that I am confident you will be able to create one, even without helpful photos.
Here are 3 things I want you to know before we get started:
Making this balloon arch was WAY easier than I expected – I actually found it to be therapeutic – and I promise you can do it on your own.

I DID NOT USE THE CHICKEN WIRE METHOD! The chicken wire method looks easier than I assume it actually is, don't even bother messing around with that. I made all three arches using only balloon tape + a low temperature glue gun.

You HAVE to use a hand held balloon pump, never blow up a balloon using your mouth ever again. 
Because I don't have the most helpful pictures (bawling emoji), I'm going to list out the supplies first and then do a simple step by step! If you have any questions at all, please feel free to ask them in the comments! Happy arching 🙂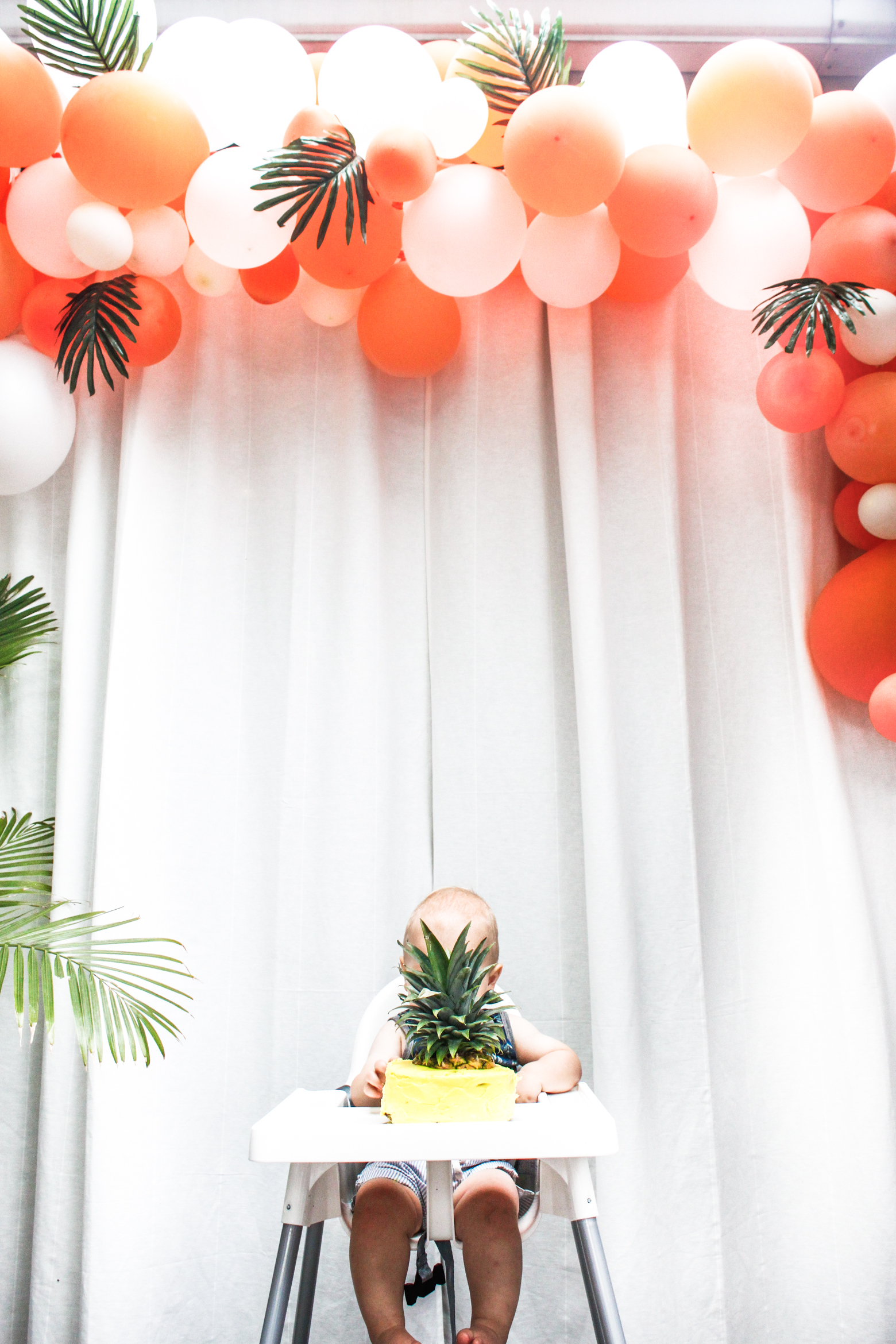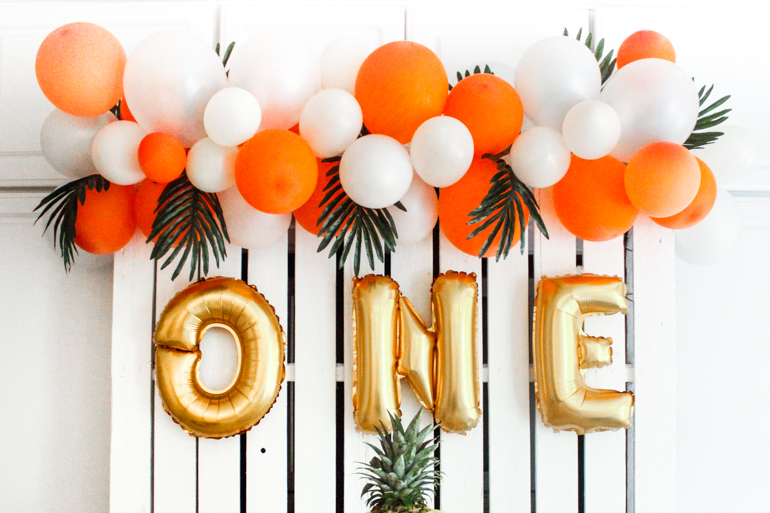 HERE IS WHAT YOU NEED…
This balloon arch tape is the main ingredient, folks. It is a clear, non-stick strip, with little perforated holes. All you do, is pull the balloon knot through the hole – that's it!
2. SOMETHING TO HANG YOUR ARCH ON
You can get creative with this! I made three arches. One was hung on a wooden palette, one was hung on a curtain rod, and the last was hung on a wooden pole/dowel rod (same concept as curtain rod). Decide on where you want your arch and work from there.
Duh. Buy more than you think you need, though! I bought my balloons on Amazon and used all of them, and ended up wishing I had more! You can always run to Party City for extras but it's smarter to buy in bulk on Amazon. Have fun with your color palette, I wanted to do shades of orange, peach, coral, and found a 50 pack of assorted colors right within my palette. I also added large white balloons and small ivory balloons!
*TIP: Gold latex balloons are ugly, don't buy them! Originally, I wanted gold in my palette but was super disappointed with how they looked blown up. 
This is a MUST. Do not even think about blowing up all of your balloons by mouth. This thing is a life saver! Also the electric pump comes with balloon arch tape too – it's basically a little balloon arch kit!
Do not skip out on this, a low temp glue gun is very necessary! Without it you will just have a simple string of balloons on the balloon arch tape. You need the low temp glue gun to stick smaller balloons onto the larger ones! PS make sure it is "low temperature" a regular glue gun will burn through the latex and pop your poor balloons.
BELOW: see all the little balloons on the right hand side of the arch? ALL of those were glued onto larger balloons!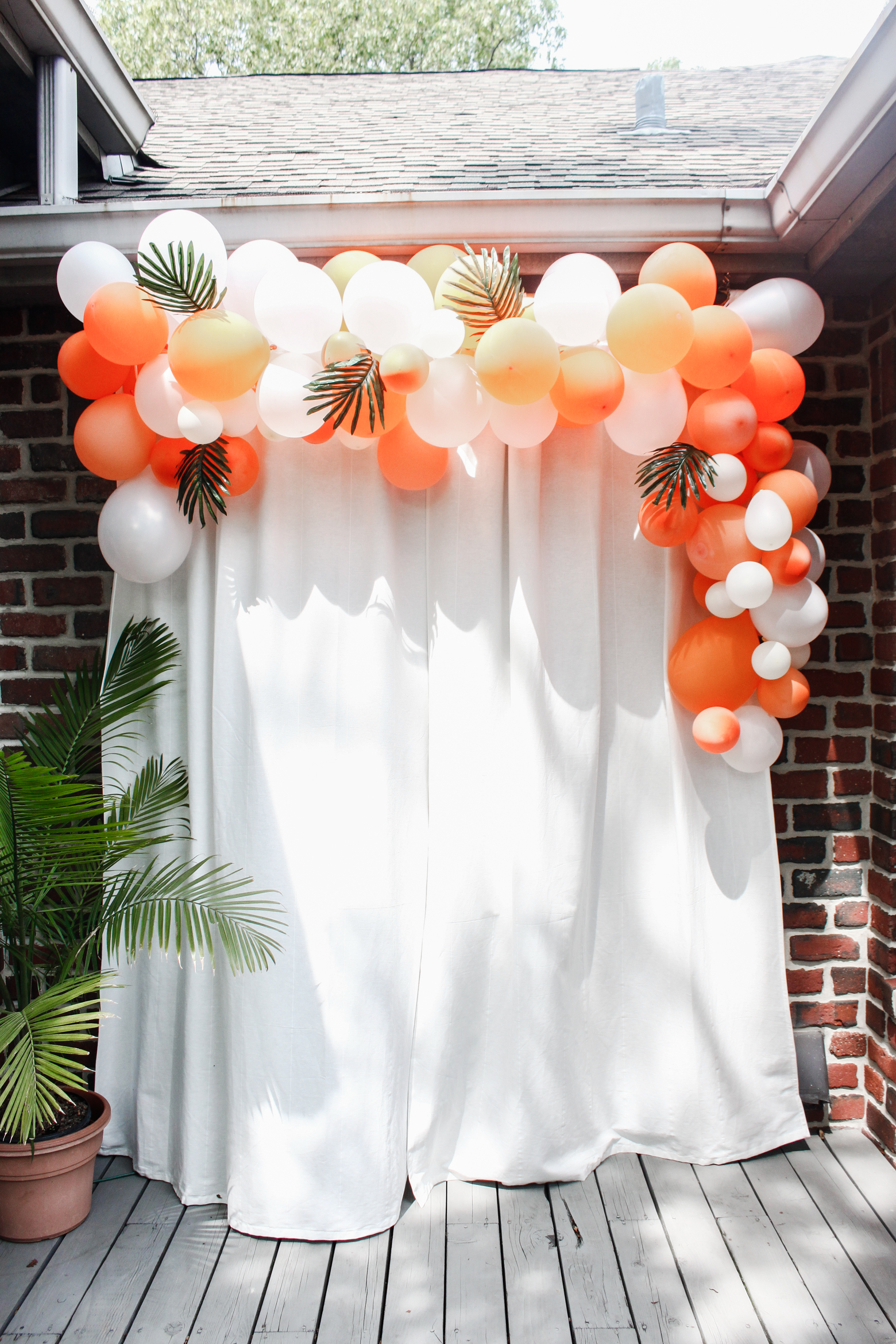 STEP 1. Blow up a bunch of balloons, varying in size.
You won't need to blow up ALL of the balloons before getting started, but I recommend blowing up a good amount so that you can get into a good rhythm once you start creating the arch! Also, make sure you are blowing up balloons that are all different sizes.
STEP 2. Attach the balloon arch tape to wherever you will be hanging your arch
Again, balloon arch tape is NOT sticky. It is just a clear roll of plastic with little perforated holes in it. So, you will have to get creative about how you attach the strip to wherever your arch will be hanging from! I used twist ties to hang it from one side of the curtain rod to the other.


STEP 3. Start attaching balloons to the balloon arch tape
All you have to do in order to attach a balloon to the arch tape is pull the knot through the little perorated holes! It is SO easy.

STEP 4. Glue on more balloons to the balloons already affixed to the tape
This is really the last official step! This is where your balloon arch will really start to take shape and look sweet AF. Fill in all the gaps with balloons of varying sizes, glue a bunch of balloons together to make a tail on one side (like my photo drop arch), etc.! Have fun with it!
STEP 5. (OPTIONAL) Glue other fun stuff onto your arch!
I bought these palm branches from Amazon and stuck them into all of my arches. Again, be creative!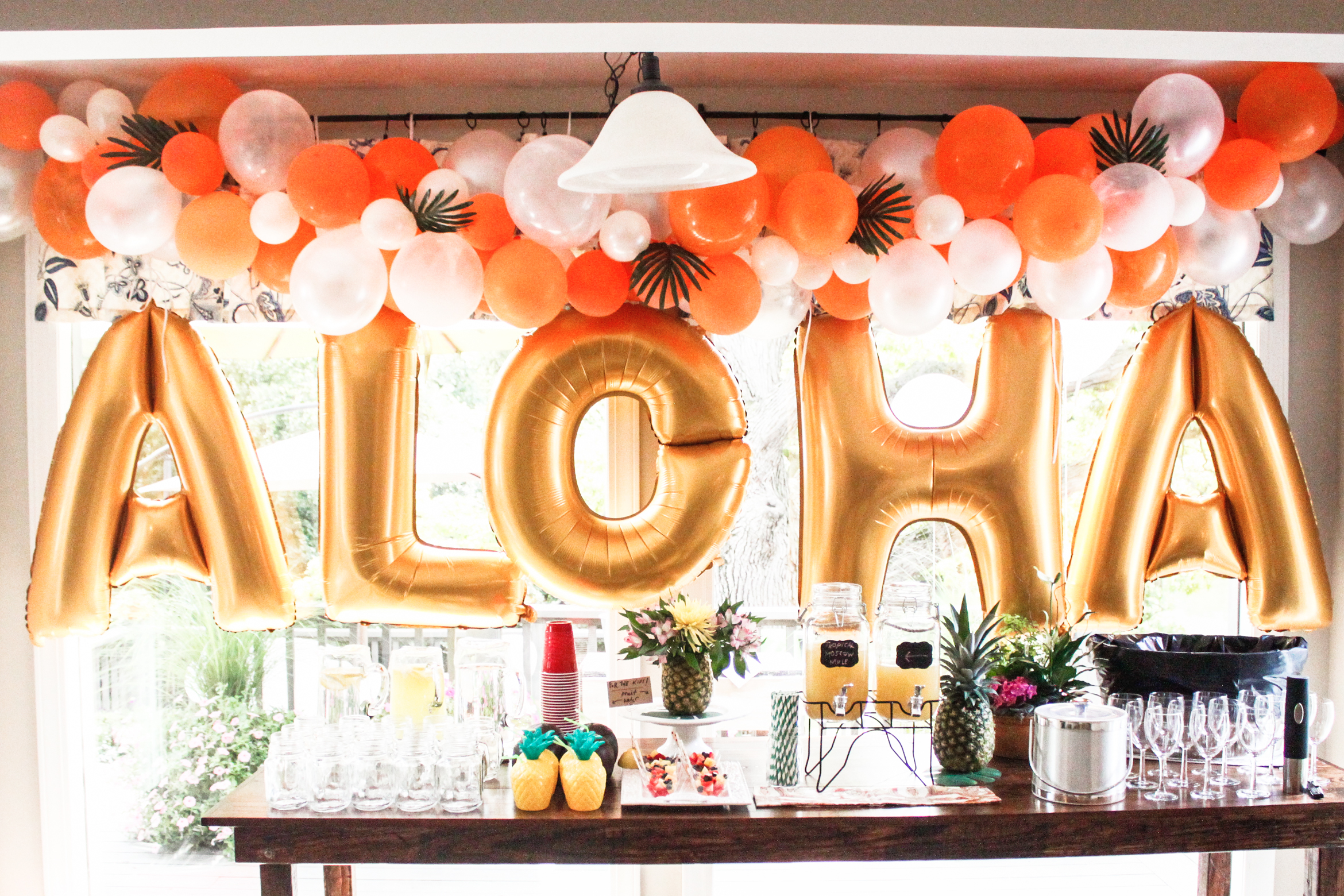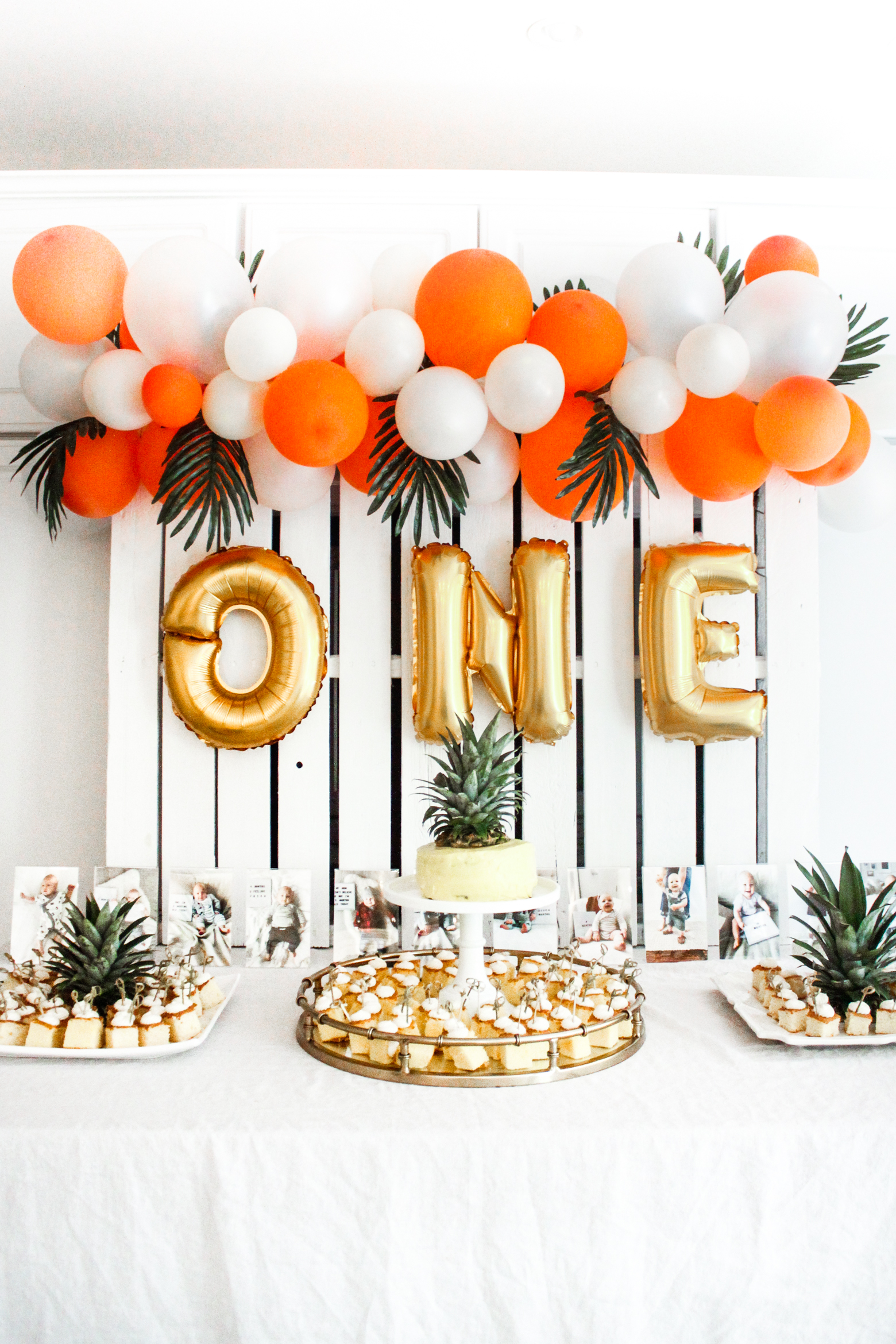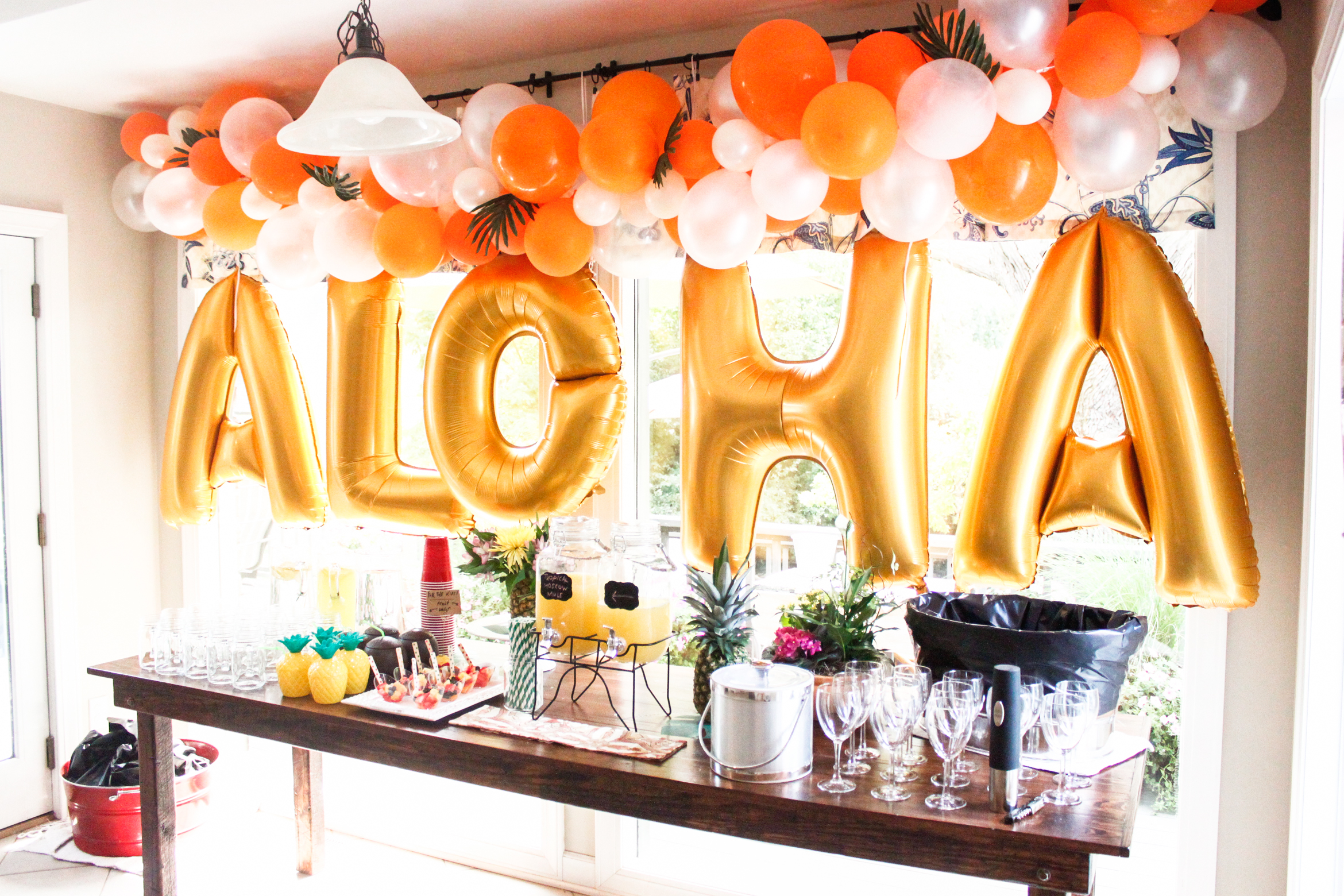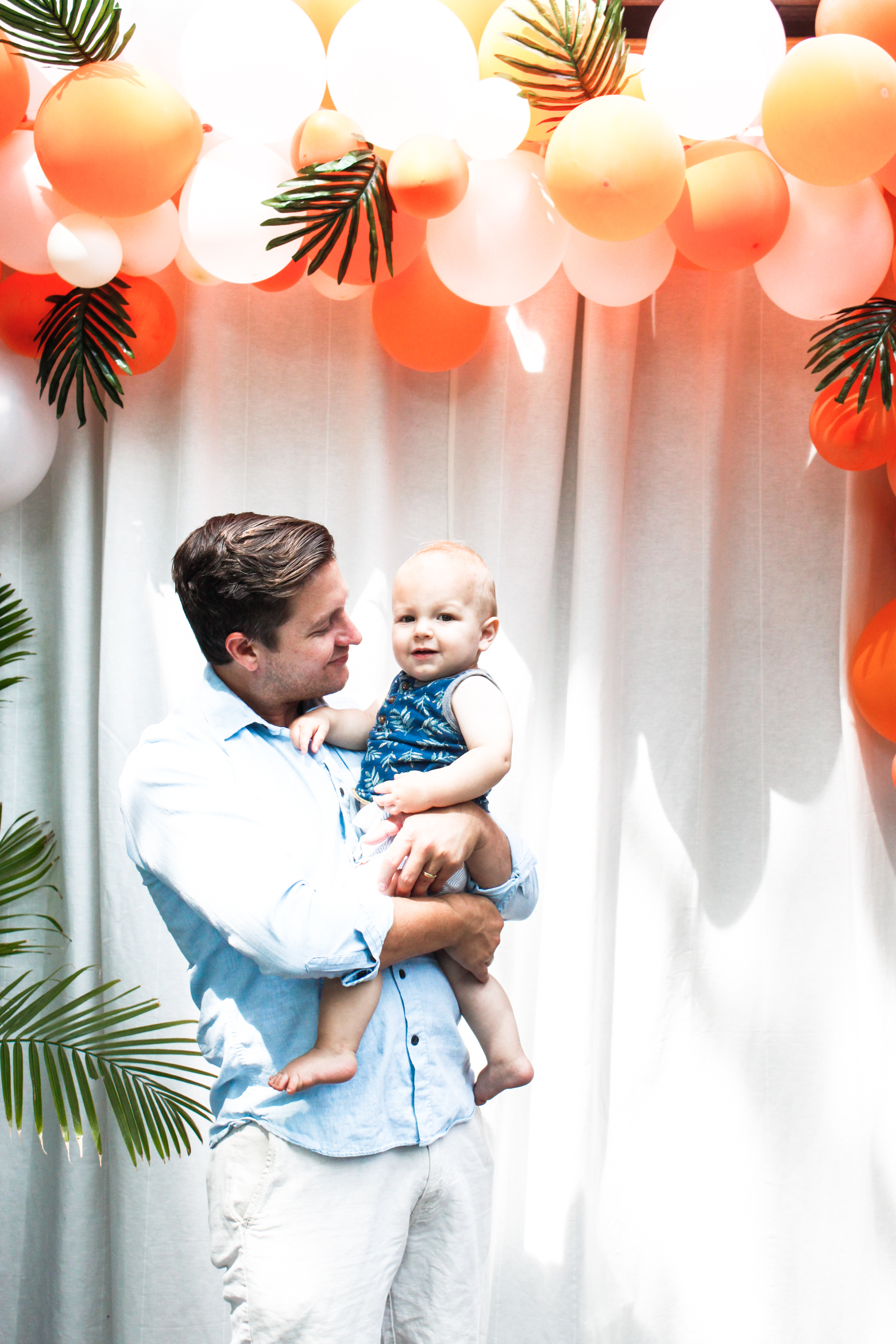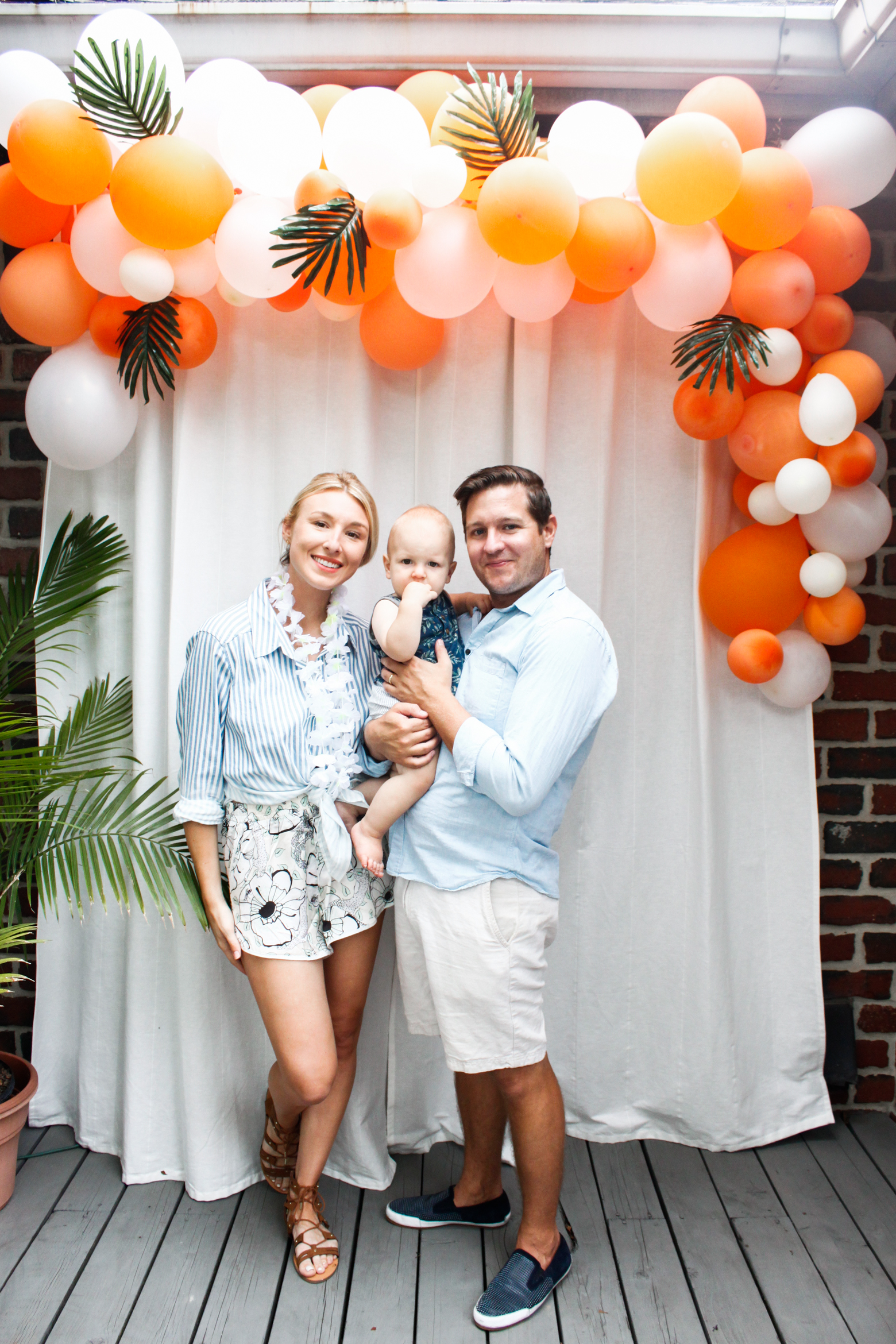 – SHOP TROPICAL PARTY ESSENTIALS! –