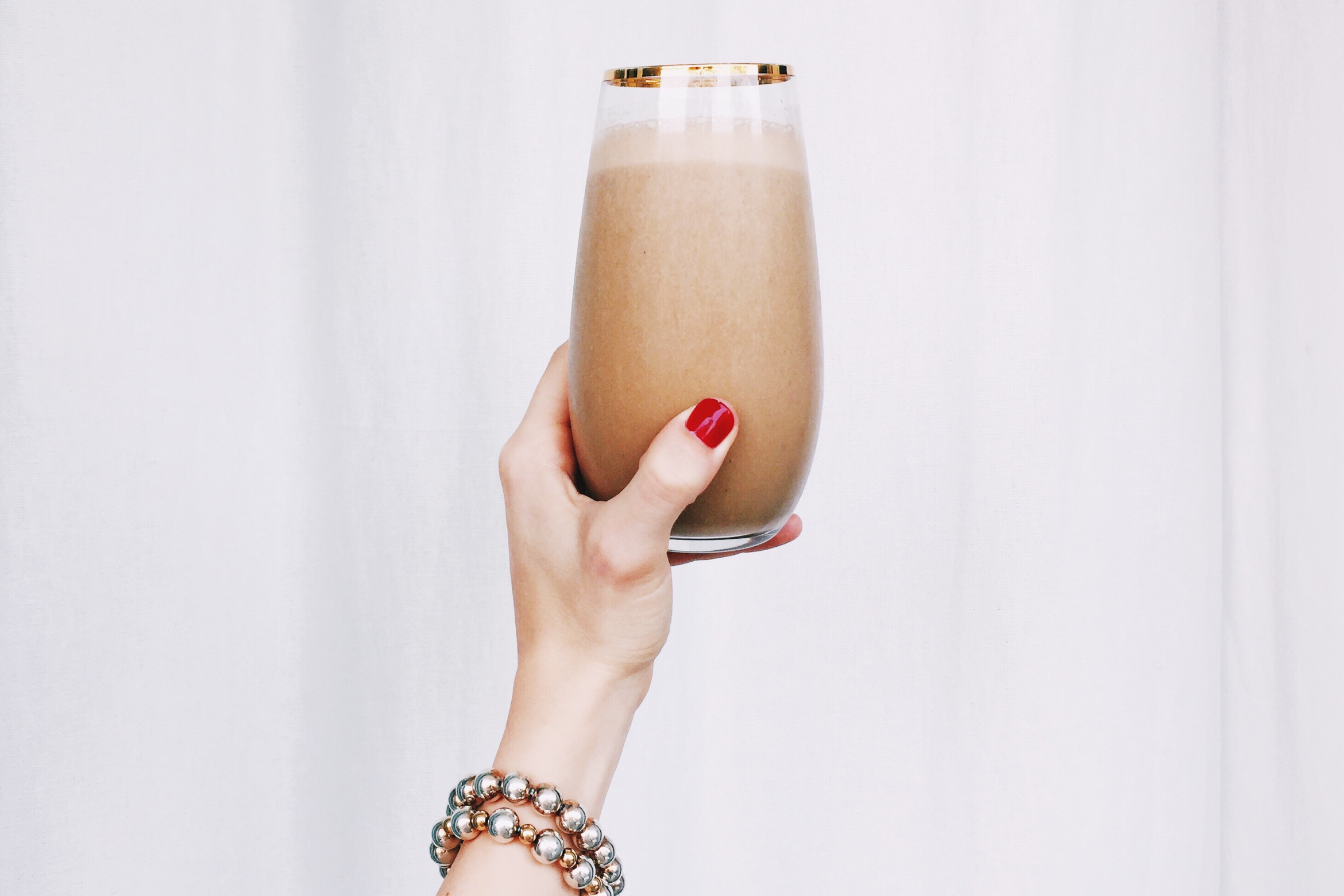 Iced Coffee Protein Smoothie:
1 to 2 cups ice

1 banana

1 cup brewed coffee

1 cup unsweetened almond milk

1 tbsp Tigernut Powder (or regular protein powder)
HELP MEH. I cannot wake up this week. Is it really Wednesday??? I am so tired, and feeling insanely unmotivated. I blame mine and Kyle's very "social" weekend for my slow/unproductive week thus far. Oh! And James is STILL waking up at 5AM every single morning. For the past three weeks now. I'm going to be posting about that later, but I'd like to try a couple more things to see if I can solve the issue first before I write about it. That way it might be a helpful post, instead of just a whiny one. No promises though. It will probably just be a whiny one. I'm embarrassed that I haven't posted anything all week! Sigh. James is napping right now and I'm staring at a messy kitchen, and four bags full of groceries that I haven't put away yet from our trip to Whole Foods this morning. I made a conscious decision to skip my 10 minute speed clean after I put him down for this second nap.  I decided I rather take a moment to lay down and wallow in self pity about being tired. I put on last week's episode of RHONYC** (see more thoughts on that at the end of this post) and I think their craziness mixed with the bustling New York City vibes started to give me a little energy. So, I made my new favorite iced coffee smoothie and started to write this post. Currently sipping away as I slowly getting back into the swing of things.
This drink is everything guys! I'm still breastfeeding James, so I try not to douse myself in coffee all day long but I definitely still drink it. I didn't for the first few months I nursed and then I slowly started up again. It's too necessary. One day, we had some leftover in our French press and I was making a smoothie for lunch. I decided to just toss the rest of the coffee into my smoothie and noticed that it seemed to give me a bit more of a boost than just a regular cup of coffee did. Score! I think it might be the combo of the caffeine and tigernut powder?! If you're not familiar with Tigernut Powder, I explain it in this post. Also, this smoothie is deeee-licious. Like one of those cold to-go Starbucks fraps but minus the 5,000 grams of sugar and artificial sweeteners.
Lastly, here is a quick weekend recap if you're interested! As I mentioned, we went out kind of hard this weekend. I just cannot hang like I used to. Kyle's birthday was last Tuesday and to celebrate we got massages on Friday night (and I got a facial, my first one since James!) and then had dinner and drinks with a bunch of our friends. So fun. Did I mention there were drinks???? Ugh. Somehow we were able to get moving on Saturday and made the stupid decision to go out AGAIN on Saturday night. The day started off innocently enough, we had a late lunch at Parlor in Wicker Park with our bff's who have a 14 month old. I love when the six of us get together it's so easy and nice to feel like we still have social lives even though we have the babes. After that, we came home and put James to bed and Kyle's brother came over and held down the fort while we went BACK out. It was a blast but in hindsight we probably should have thought twice about going out two nights in a row. Ohhhhh well! Onward and upward. I'd like to say we won't drink at ALL this weekend, but we have a wedding Friday that I'm SO excited about and it's also a holiday. Sooooooo, ya. Enjoy this smoothie and have a lovely Wednesday!
**RHONYC Sidenote: Can anyone else just NOT with Ramona this season, btw????? Her at the bar with the straw?! Plus EVERY other thing she has said and done?! This is by far the most off her rocker she has ever been. Also, Tinsley seems nice enough but TBH I think she was a terrible choice for a housewife. She is going to get eaten alive. Snooze. I'm really interested in them casting someone who can go toe to toe with Bethenny because her just bulldozing everyone non-stop is getting boring.**