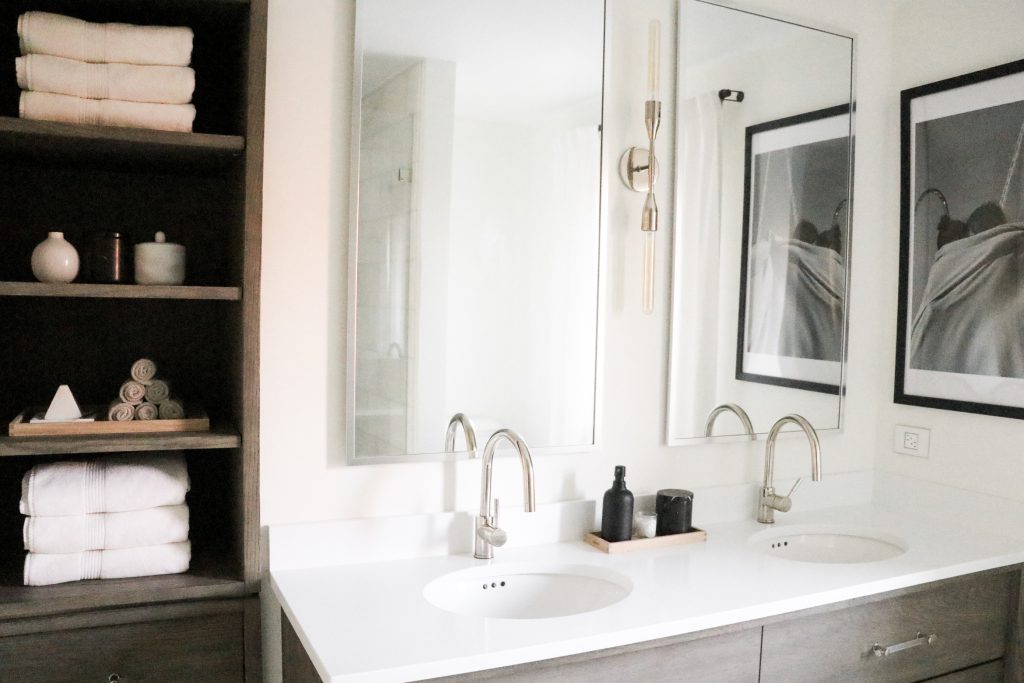 Product Links:
Quartz Countertop from Surfacewerks in Bellwood, IL 

(708) 681-2930
Artwork is from Chairish // (sadly not linkable, sorry! Urban Outfitters has great pre-framed large scale artwork though if you're looking for that vibe)
Washcloths from H&M Home but no longer available
Matte Black Soap Dispenser  // sold out from Amazon but similar here
Our bathroom remodel is finally *fully* finished after what feels like forever. It has been *almost* finished for like over a year but there were so many small yet important details that needed completing – and I find those always take the longest. Our MB definitely has the most modern vibe in the house. It's very small for a master bathroom, so I wanted to keep it really sleek, simple, and bright to give the illusion of more space.
I was clueless upon starting this project (keep scrolling for before pics). I knew nothing about bathrooms, hardware, vanities, etc. I didn't know where to look for what I needed and had no clue where to start in terms of style. So, like I do with all of my rooms, I started with Pinterest (check out my bathroom board here). I enjoyed this project so much more than I thought I would and now I'm slightly obsessed with bathrooms. Luckily, we have 2 more in our house that need to be fully re-done so I have that to look forward to. I'm thinking of doing something with this vibe in our first floor powder room!
I wanted our bathroom to feel like a hotel; something chic and minimalistic with a hint of luxury. I mixed polished nickel hardware with matte black accents and tried to keep everything else within a super neutral color palette. Keep scrolling to learn more about some featured products I selected in partnership with Hinsdale Lighting, as well as before and after pics of the space!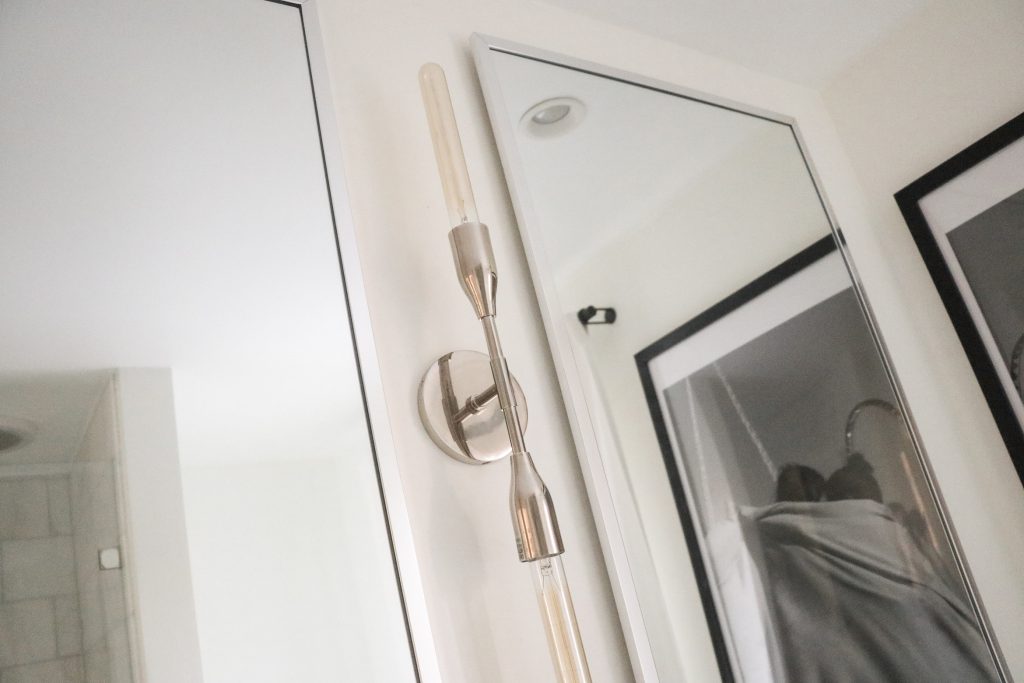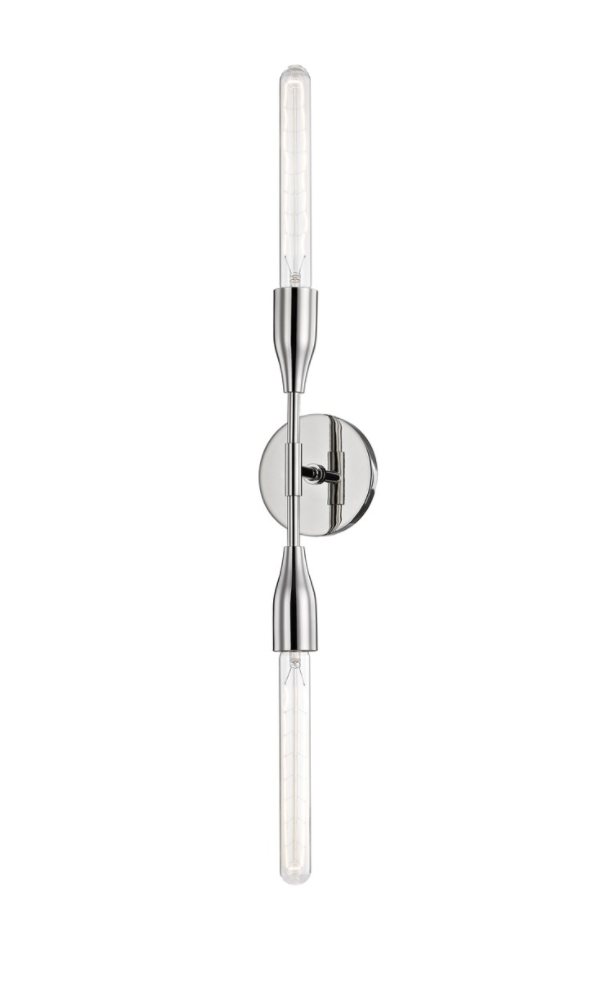 I'm writing this post in partnership with Hinsdale Lighting as they were actually an integral part of my design direction. They helped me decide on mixing metals, my mirrors, the vanity sconce, as well as the outlets and light switches.
The light fixture is the Tara sconce by Mitzi for Hudson Valley Lighting. I love it SO much and it comes at a really affordable price point! The bulbs that it came with give off a super moody, romantic type of light which is exactly what I was going. Cue luxury hotel vibes. By the way, I do not use this sconce as my main light source! I have overhead cans for that.
Another amazing detail that I love: our LeGrand switches, dimmers, and outlets. Hinsdale Lighting recommended these as the best option on the market and I'm so glad we went this route. We ended up putting these throughout the rest of the house as well and I truly can't stress what a difference this seemingly simple detail makes. Having aesthetically pleasing but also high-functioning outlets and light switches makes a world of difference.
The LeGrand Adorne Collection has so many options available. You can choose from a wide variety of colors, finishes (wood, metal, matte, etc.), and styles. Of course, I decided to go with simple white. They are seriously so chic, which is definitely not a word I ever thought I'd use to describe a light switch! You can take a little video tour of my switches on my Hinsdale Lighting highlight reel – the Adorne portion is toward the end.
The Adorne Collection also features cutting-edge technology through options like wave-controlled switches, app-based dimmers, Pop-Out™ outlets, USB charger outlets, as well as under-cabinet lighting. Additionally, they have regular switches, fan controls, and even built in night-lights! We have their USB charger outlets in our kitchen and it's such a treat being able to have phone cords plugged into the wall while still having full access to the plugs!
Below are the Adorne products seen in our master bathroom. We have 2 dimmers and one regular outlet!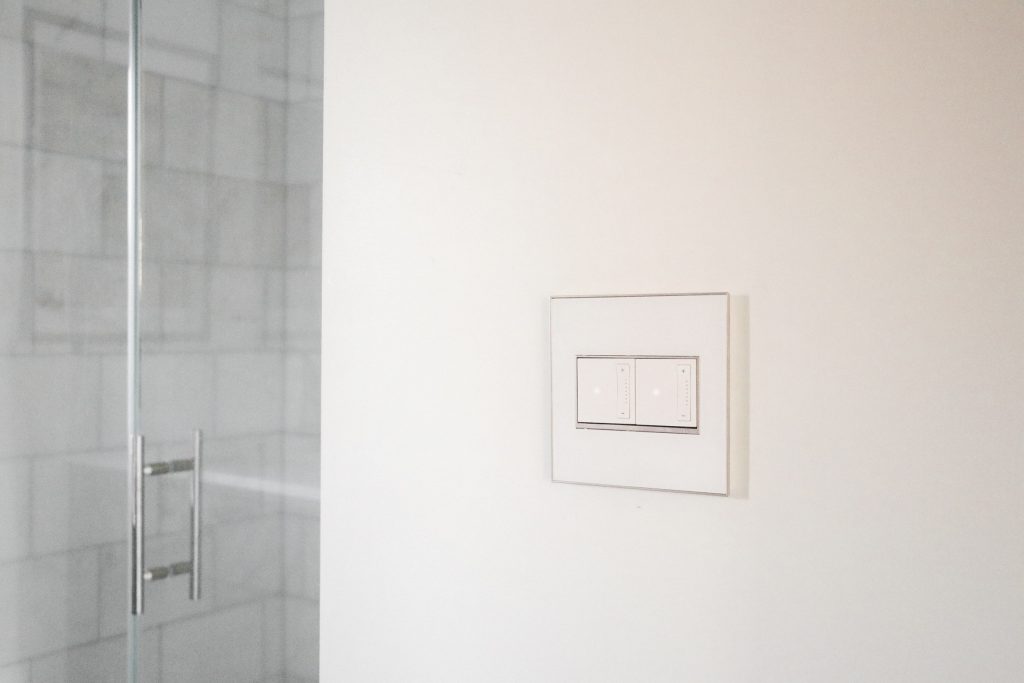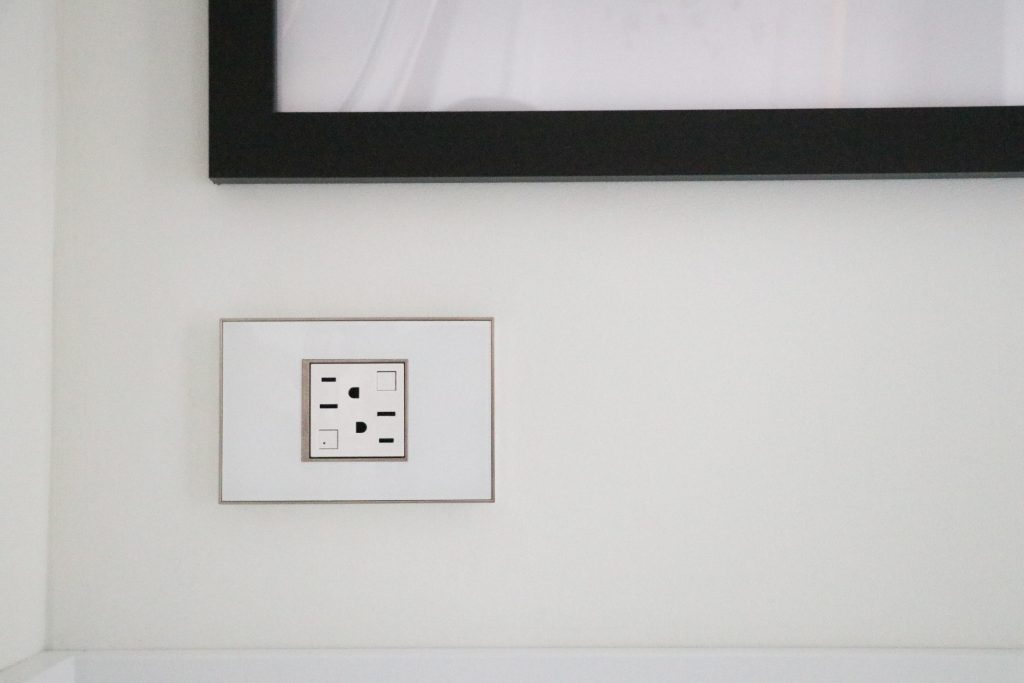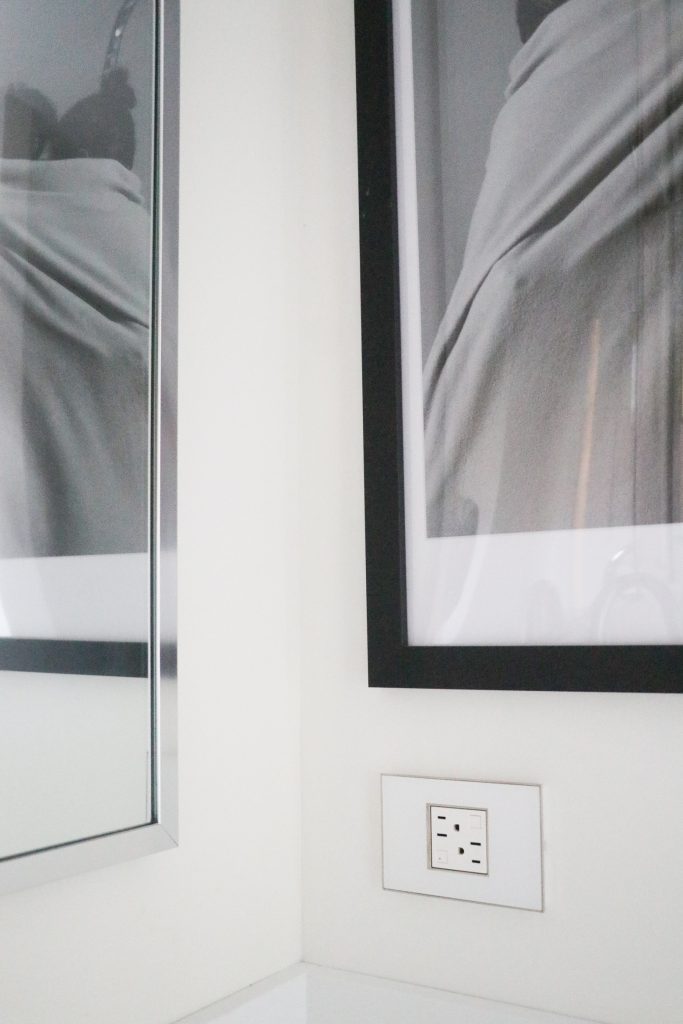 The before pics…
Moving on to the rest of this remodel! Below are pictures of what our master bathroom looked like when we moved in. We ended up gutting the entire thing and starting from scratch.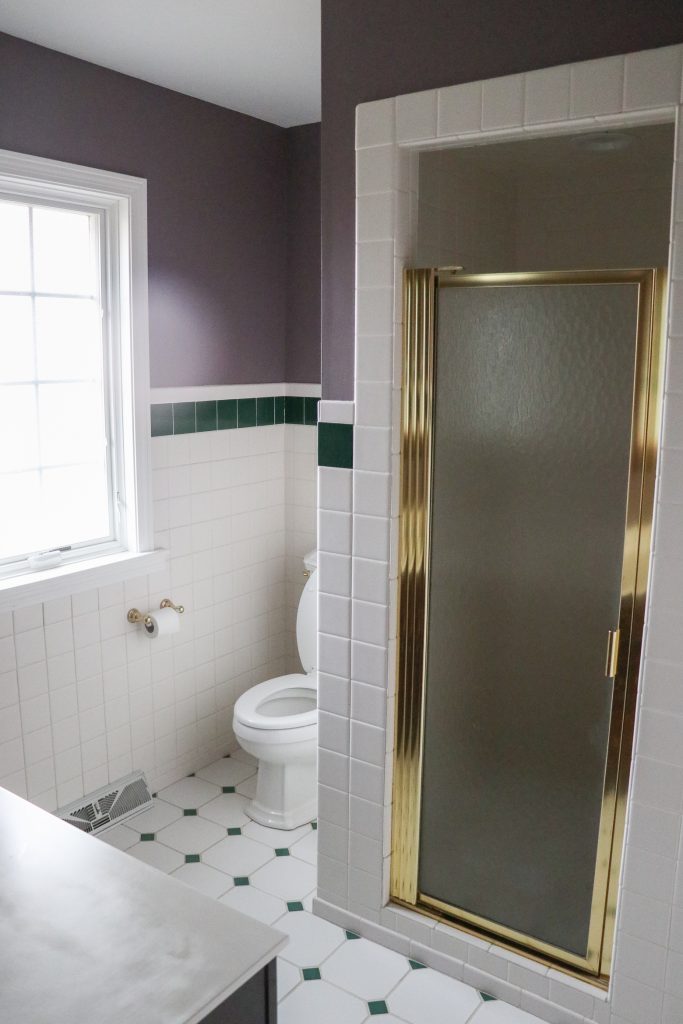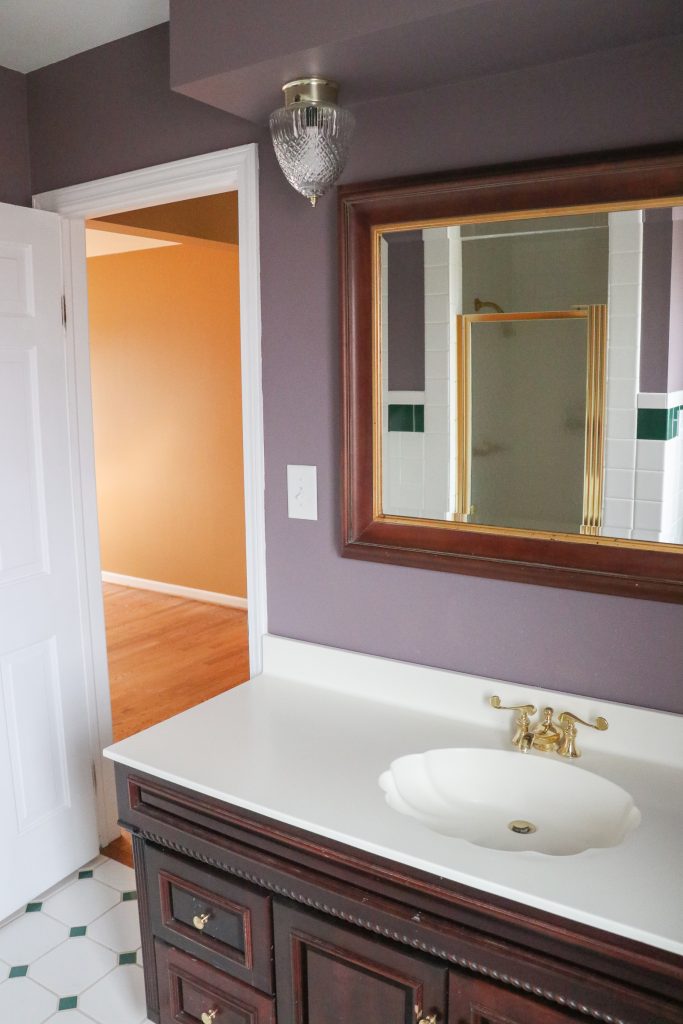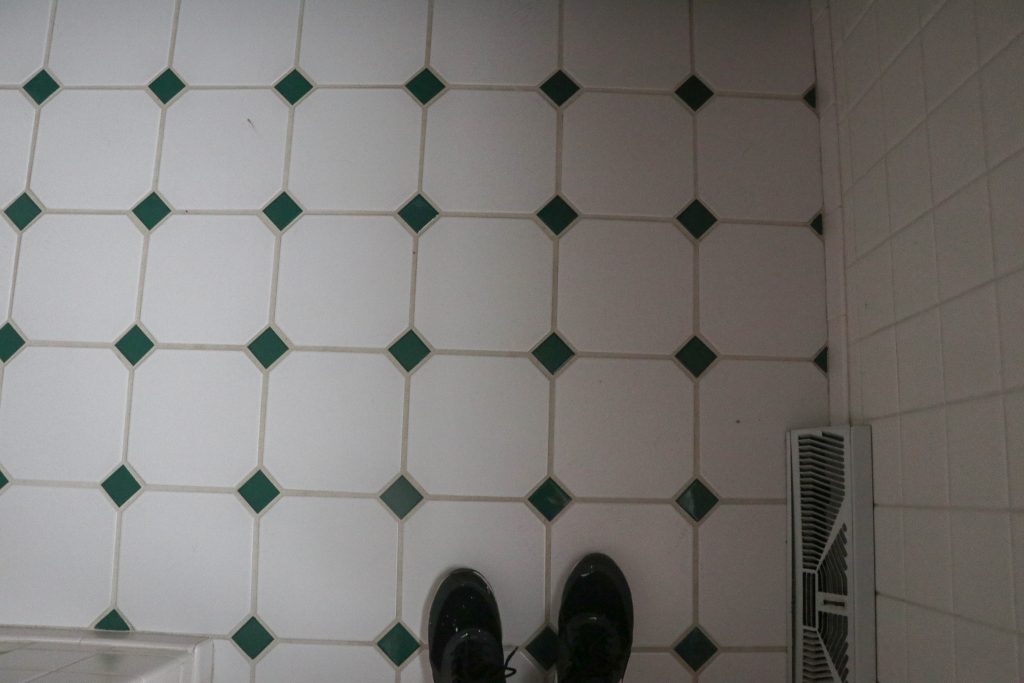 And after!