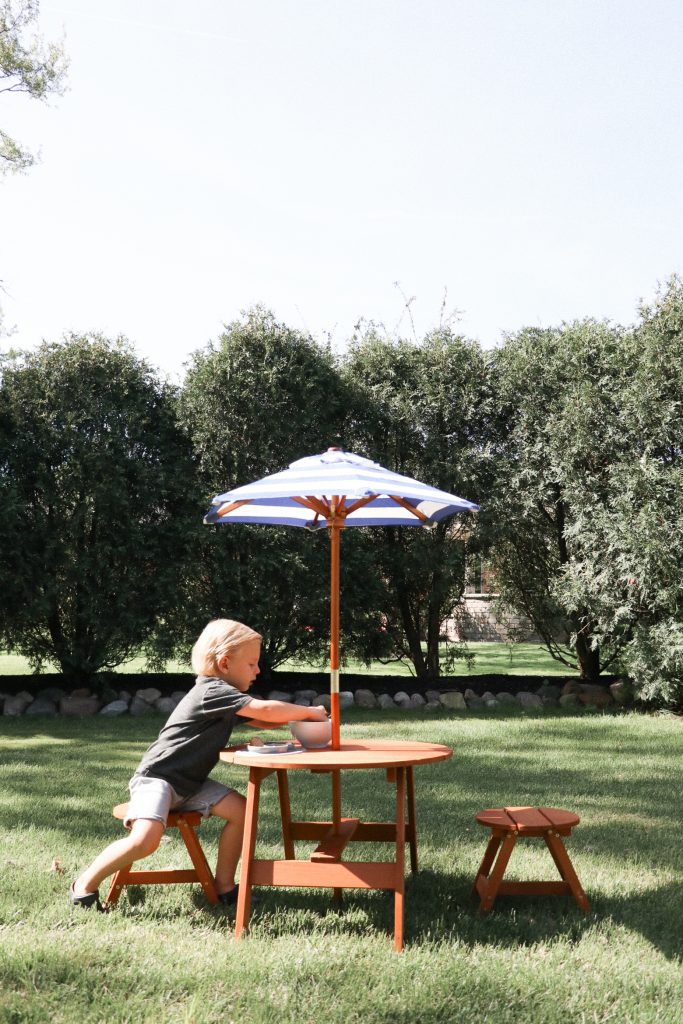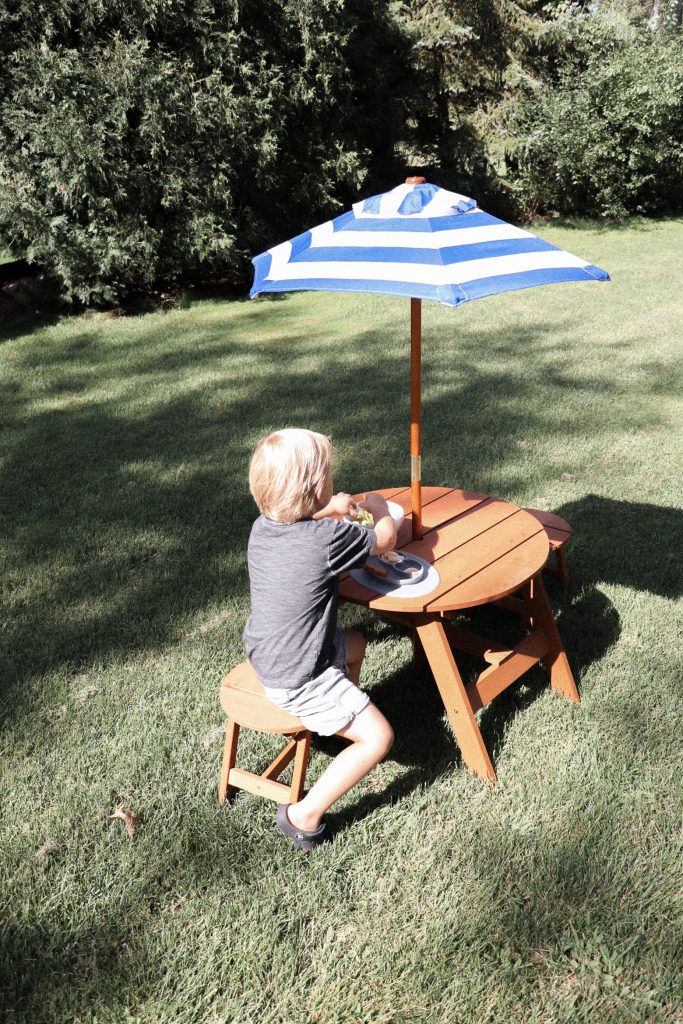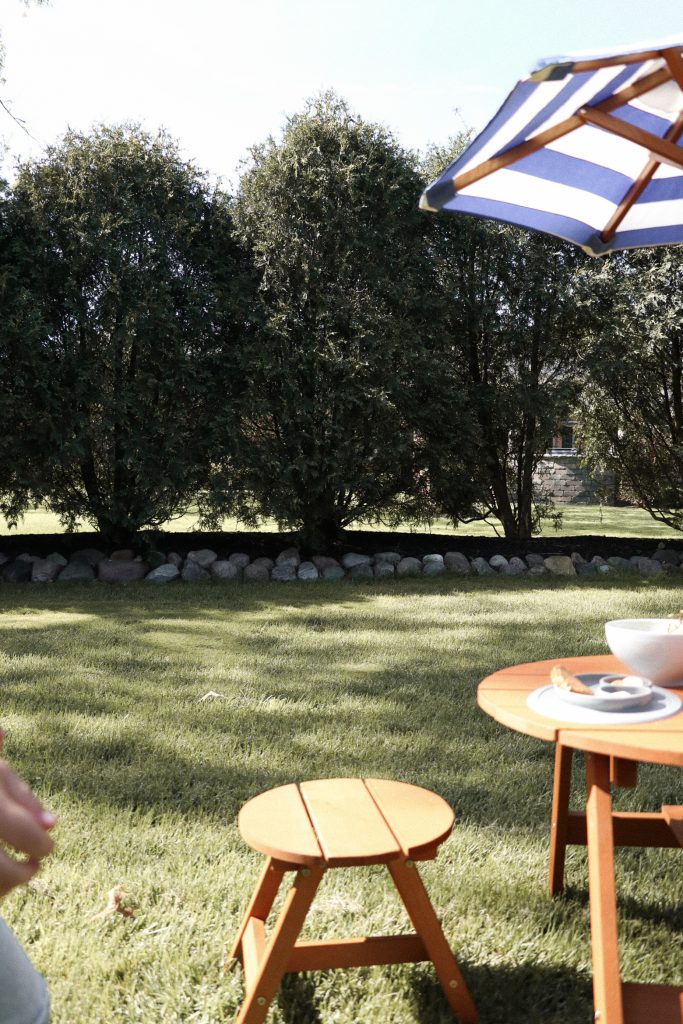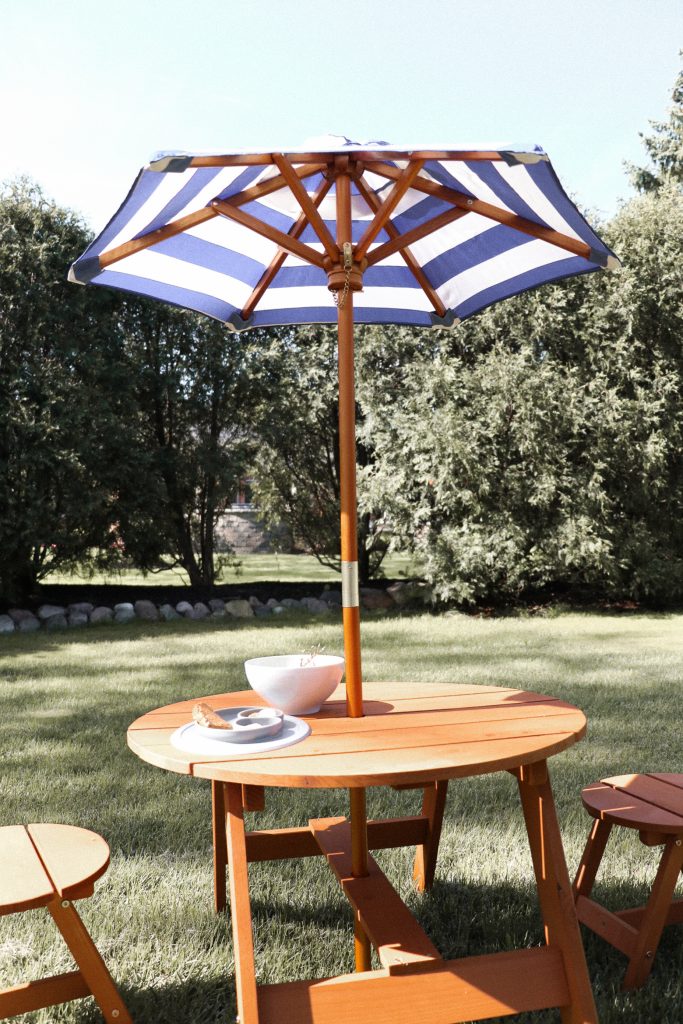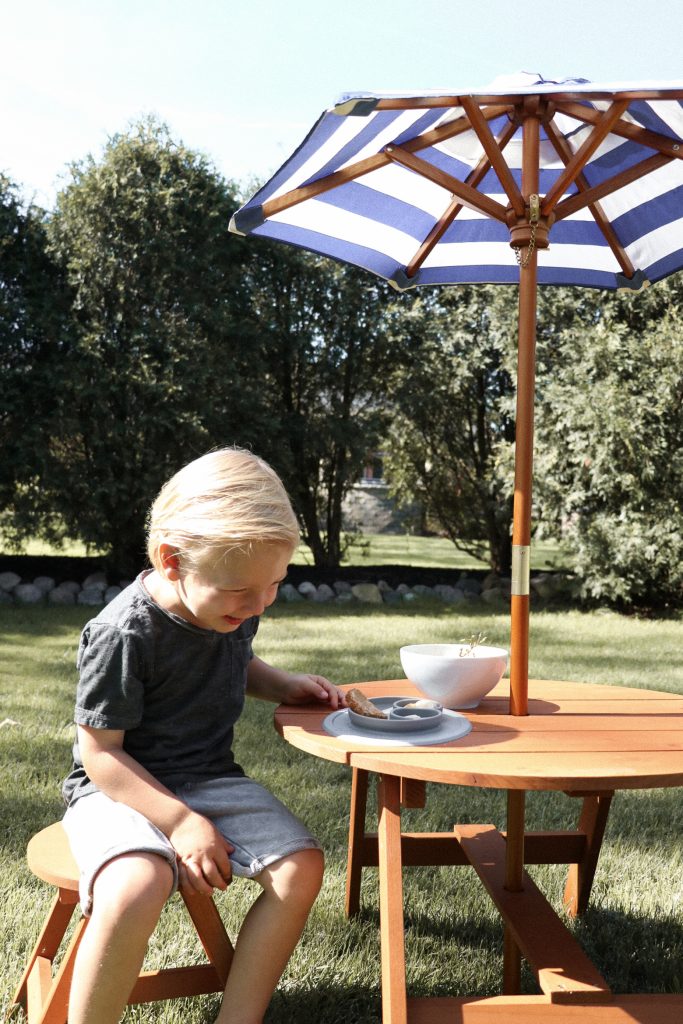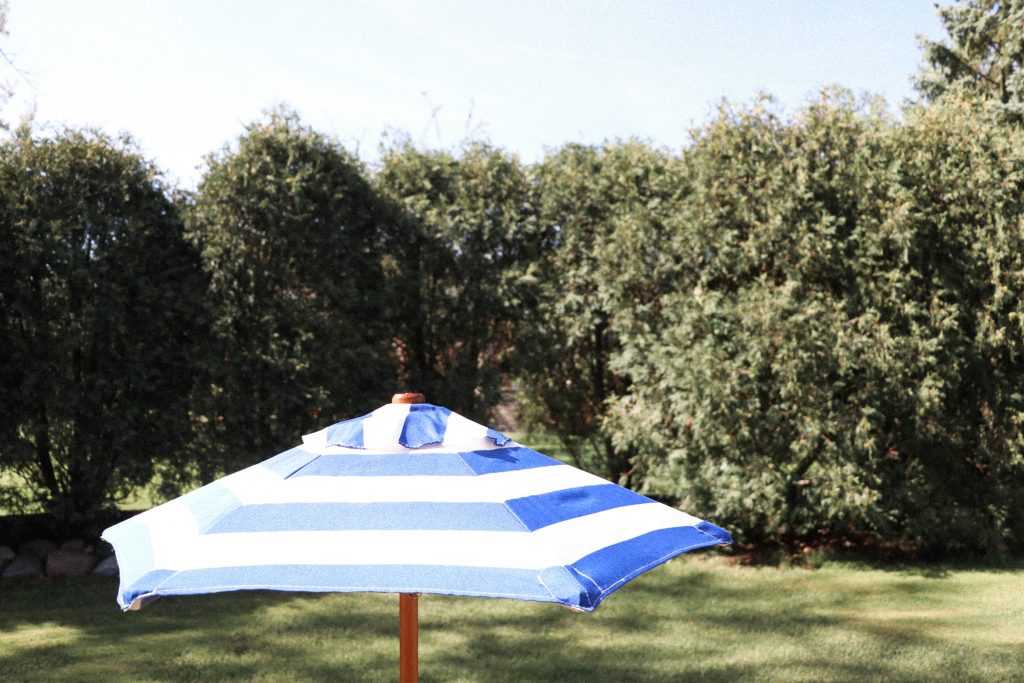 This post is in partnership with buybuy BABY, a brand I trust. All opinions here are my own.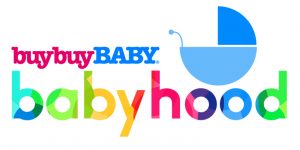 Excited to share some of my current top picks from buybuy BABY with you guys! We are still spending SO much time at home and I need all the help I can get in terms of products that can make life easier right now. Shea is almost 9 months and entering that "entertain me" phase, James is soaking up all the outdoors time he possibly can before the temps start to drop, and I am just trying to stay sane!
Below are some of our favorite things as of late. Most we own, a couple things are on the way, and the rest I've just heard great things about from fellow mom friends!
I got so many questions about this adorable little set when I posted it on Instagram the other day. We are loving it so much. The quality is LEGIT (especially impressed with the umbrella) and the price point is fantastic. There were a couple I had been eyeing on Amazon that are over $200 and I was so excited when I found this one. Highly recommend!
I discovered Avanchy through a friend of mine who served James dinner in one of these sets the other night and I became instantly obsessed. They are definitely on the pricier end but I'm all about quality when it comes to what my kid's eat off of. These are totally safe + non-toxic. I don't know how they got the bamboo to be so soft! It feels like velvet. They are not dishwasher friendly so you have to hand wash BUT they clean really easily because the bamboo is so smooth. Definitely recommend!
Also, you don't have to buy the whole set. You can buy bowls, plates, or spoons individually and they come in infant sizes too.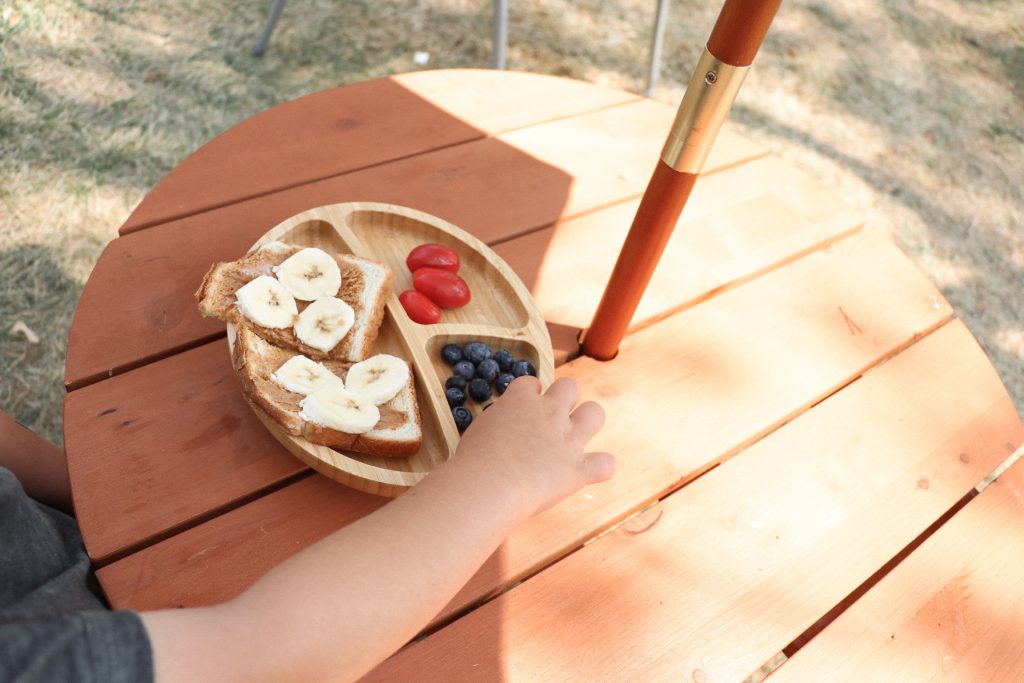 I was THIS CLOSE to buying one of these and then Shea started crawling all over the place and I decided I missed my window. However, I wish I had this thing for the first 7 months of her life! We have wood floors throughout our entire first floor and not much rug space – so every day I had to put out huge blankets and weigh the edges down with pillows and books so the blanket area wouldn't bunch up while she rolled around and practiced sitting up. A huge + cute mat like this would have been a lifesaver.
You've seen me rave about this on Instagram, I love the Boon silicone feeders. This thing is the best and I remember loving it just as much when James was a baby. Not only are they great for hand-eye coordination and obviously feeding your baby food, they're a great time killer as well! Shea will eat from and play with one of these things for like 20 minutes straight. I put all different kinds of stuff in it: banana, avocado, steamed but cold veggies like sweet potatoes and carrots, frozen fruit, pretty much anything that can be sucked through the little holes is fair game.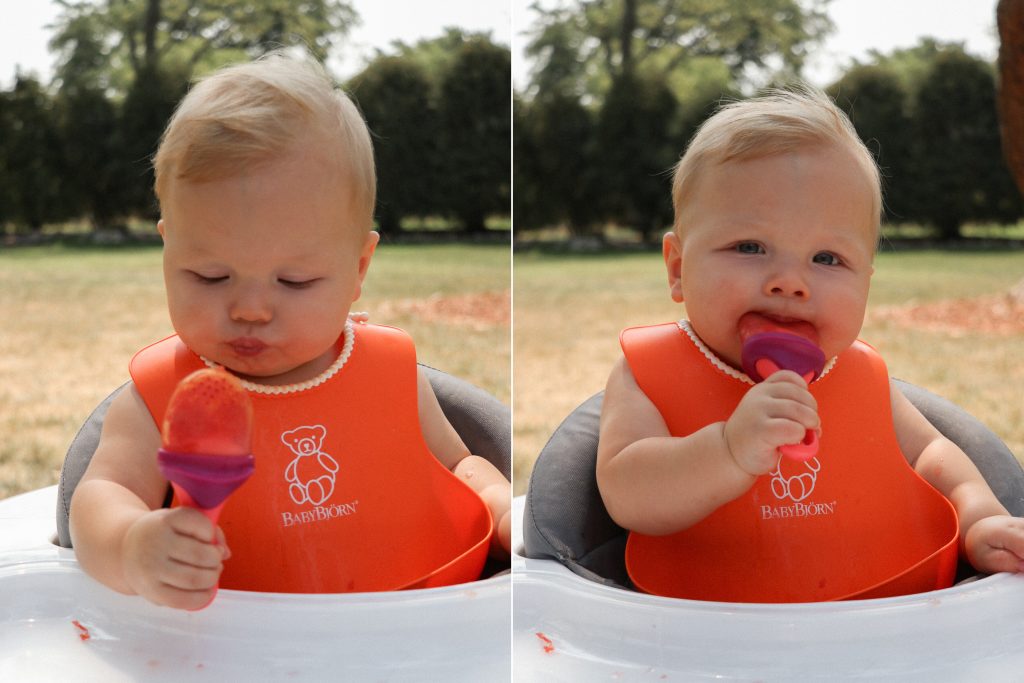 I would have given anything to have known about this before leaving for our lake house vacation! It would have been SO perfect for the beach. Also, such a great idea to keep in the car for visiting family, going to backyard get togethers at friend's houses, picnics, etc.
Thinkbaby sippy cups came highly recommended to me by Kate from Bumble Baby! We are loving this one and there also is a version that comes with a straw.
I love this product. It doubles as a steamer and a bowl and is so easy to use and clean! I wasn't totally sure I would use it that often but I use it every time I make steamed veggies for Shea.
I just ordered this for Shea after it came highly recommended by a friend! It's for ages 10 months to 3 years and is supposed to be great for sensory development.
We never had one of these types of activity centers for James but we have one for Shea and she loves it! James will even sit with her in front of it and play around from time to time too. It's perfect for the 4-6 month age range when they are learning to sit.
These are also on the way! James and Shea have been taking baths together and I've heard these are great for sibling baths because the older kid can blow the bubbles for the baby and thus: everyone is entertained. I love anything by the Boon brand!