This post is in partnership with buybuy BABY, a brand I trust. All opinions here are my own.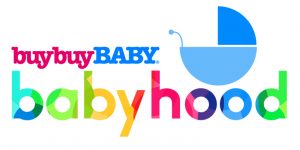 We finally made the big switch!
James is no longer in his crib, whoop whoop! It took us forever to pull the trigger on this and honestly if baby number two wasn't on the horizon, I would have been just fine with leaving him in his crib until he was like 10. We really procrastinated this transition because we were scared to throw a wrench in the gears during our last couple months of serenity, regular sleep, easy night time routine, etc. But it needed to be done, so we did it, and it actually went SO much more smoothly than we anticipated!
Before we get started I want to note that if your child is sleeping near a window, do not forget to window proof! We actually didn't use any external products but we did remove the window handles from the windows near James' bed.
In this post I'm sharing our experience + my tips + the products from buybuy BABY that helped make this transition go smoothly…
This change definitely requires some thought, a little research, and proper timing! That being said, I'm excited to report it was far less dramatic and chaotic than we anticipated. In fact, it was neither of those things. I highly recommend going into a buybuy BABY and talking with one of their helpful in-store associates about the best big kid bed products to fit your needs and budget! Today I'm going to share the ones that work for us and I'll get into more detail about them below.
We wanted to get him settled into his big boy bed before baby arrives…
The baby obviously won't need James' old crib immediately after she's born, so this was definitely less about that and more about getting him settled into his little 'new normal' before his world is rocked by more change very soon. James is 3 and if he were 2 or younger with a little sibling on the way, it's possible we would have just gotten a second crib. However, I could tell he was ready so we decided the time to make this change is now. We figured about 2 months would be a sufficient settling period. It's been about a month and he is already totally settled and in a big boy bed groove. AMEN!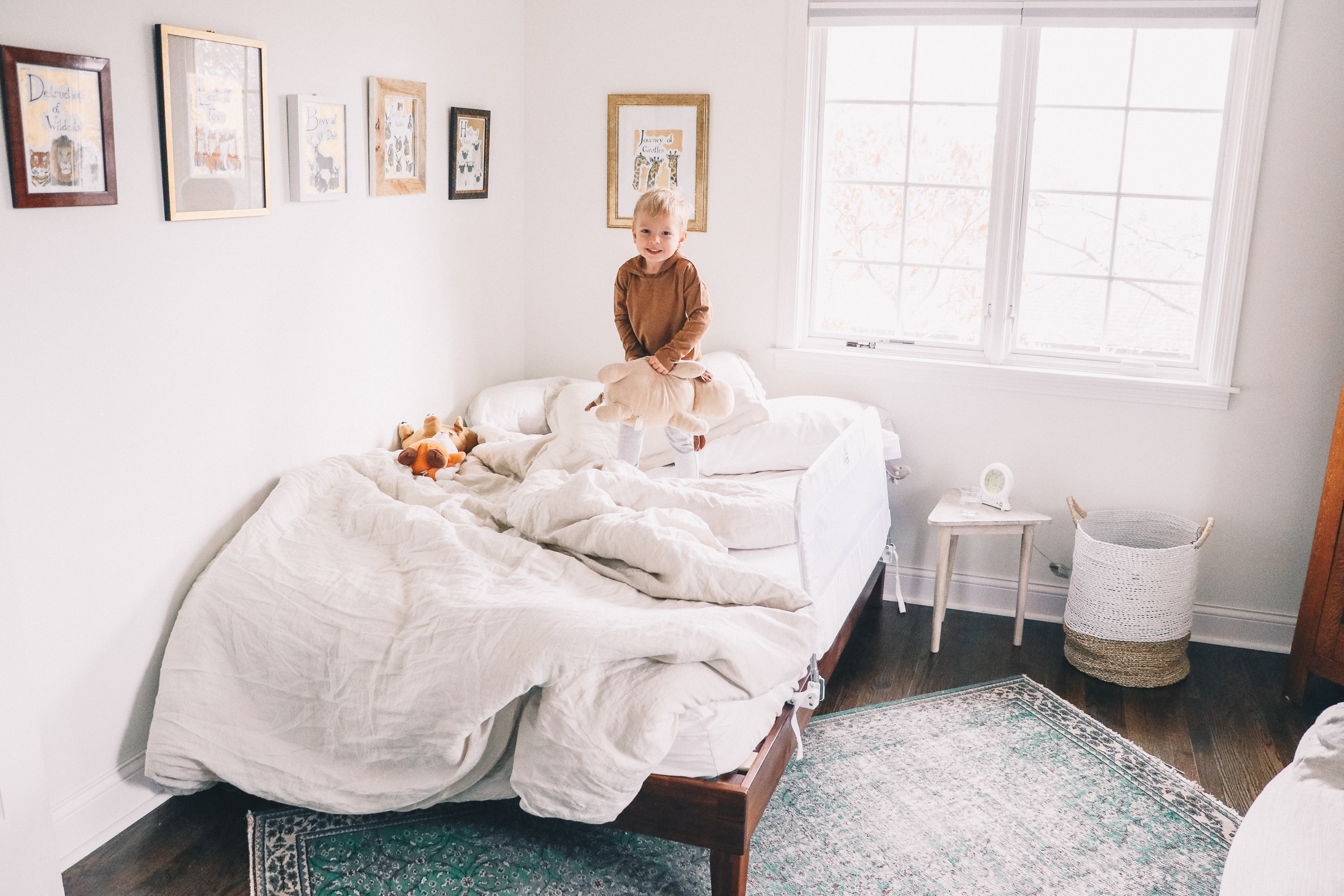 Talk about it A LOT with your toddler before actually making the transition from crib to bed…
I did my research and learned that talking about big transitions like this ahead of time is extremely important, even for toddlers. However, there is a fine line between talking about it enough and talking about it TOO much, or making too big of a deal about it.
We started planting this seed long before before getting the big boy bed but I was careful to never force the topic. When one of his little BFF's got his big boy bed, we Facetime'd, visited, and made a big deal about it and that REALLY got James excited. He eventually started to ask us about when his big boy bed is coming, without us even bringing it up. That's how I knew he was ready!
I did not rub it in his face that the baby would be getting his crib…
We tried our best to separate the experience of getting a big boy bed with the fact that the baby is coming and needs his crib. I wanted to be sure that we made this about HIM and not the baby! We kind of manipulated him into thinking that giving the crib to the baby was his own bright idea. I told him his sister was going to need a crib and asked him if he knew where we could find one (lol) and he was super excited to present the idea of giving the baby his old one. 
I was nervous that if we suggested or pushed it then this could backfire and he would become territorial over the crib. Crisis averted! The crib now resides in the baby's room and James has paid zero attention to it since getting his bed.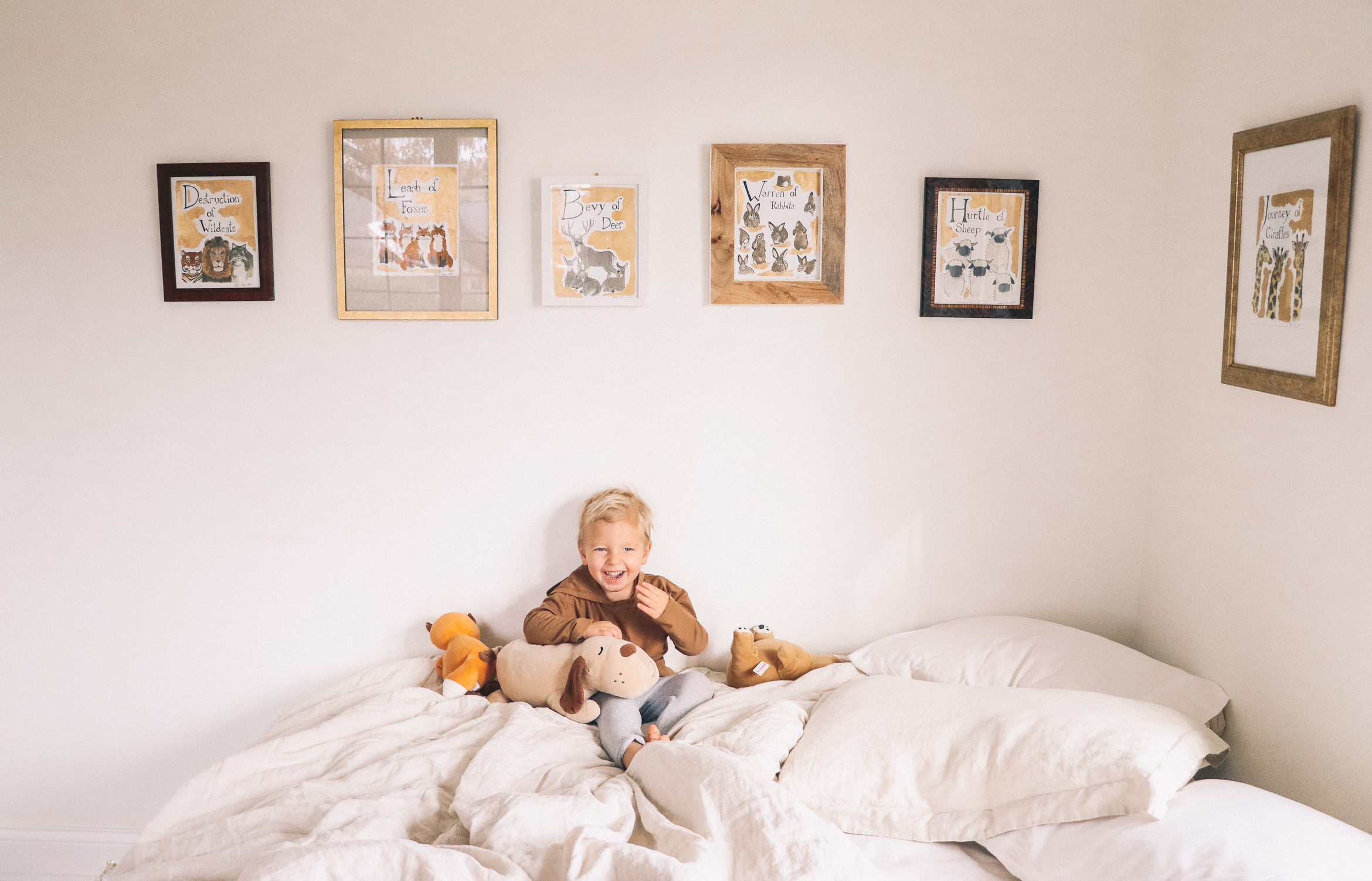 Get your child involved in the process!
Once Kyle and I decided on a mattress for him, which I'll get to, I had James sit with me on my laptop and scroll through all the mattress options on buybuy BABY and let him "pick one".  But then we obviously just ordered the one we wanted. Okay, starting to realize I seem super manipulative and shady with all this deception, but parenting is all about making your child THINK they are in control right?! Then, I explained how a big package would come just for him and when it got here he could open it himself and he was very pumped. Do the same thing with pillows, sheets, comforter, etc.!
Invest in the mattress, not the bed frame!
At first, I wasted a ton of time looking at cute bed frames but then I realized I could get a cheap platform bed and switch it out for a cute frame later. We decided what we should be investing in is a good mattress! I knew I wanted a really good quality organic + non-toxic mattress but Kyle and I could not agree on whether it should be a full or a twin. A full seems SO extra and oversized for a little 3 year old, plus Kyle and I both grew up sleeping in twin beds literally our entire life. So, shouldn't our children suffer too? Jk jk.
We came to the conclusion that since we have the space for a full it would be better to invest in a bigger mattress that he could grow into for the rest of his childhood/teenage years. So, we got a cheap + simple platform bed frame (it was only $120) and put all the money toward a great mattress.
We ended up going with the Naturepedic Verse Kids Organic Cotton Mattress and it's really great. It's firmer but really comfortable and fantastic quality. I'm a HUGE fan of Naturepedic! They are the real deal when it comes to quality organic products. A non-toxic mattress is so important for so many reasons – I would love to get into that here but I'm going to save that for a future blog post. For now, I will leave you with this amazing non-toxic mattress guide from Gimme The Good Stuff and if you're interested in why it's so important, she will tell you!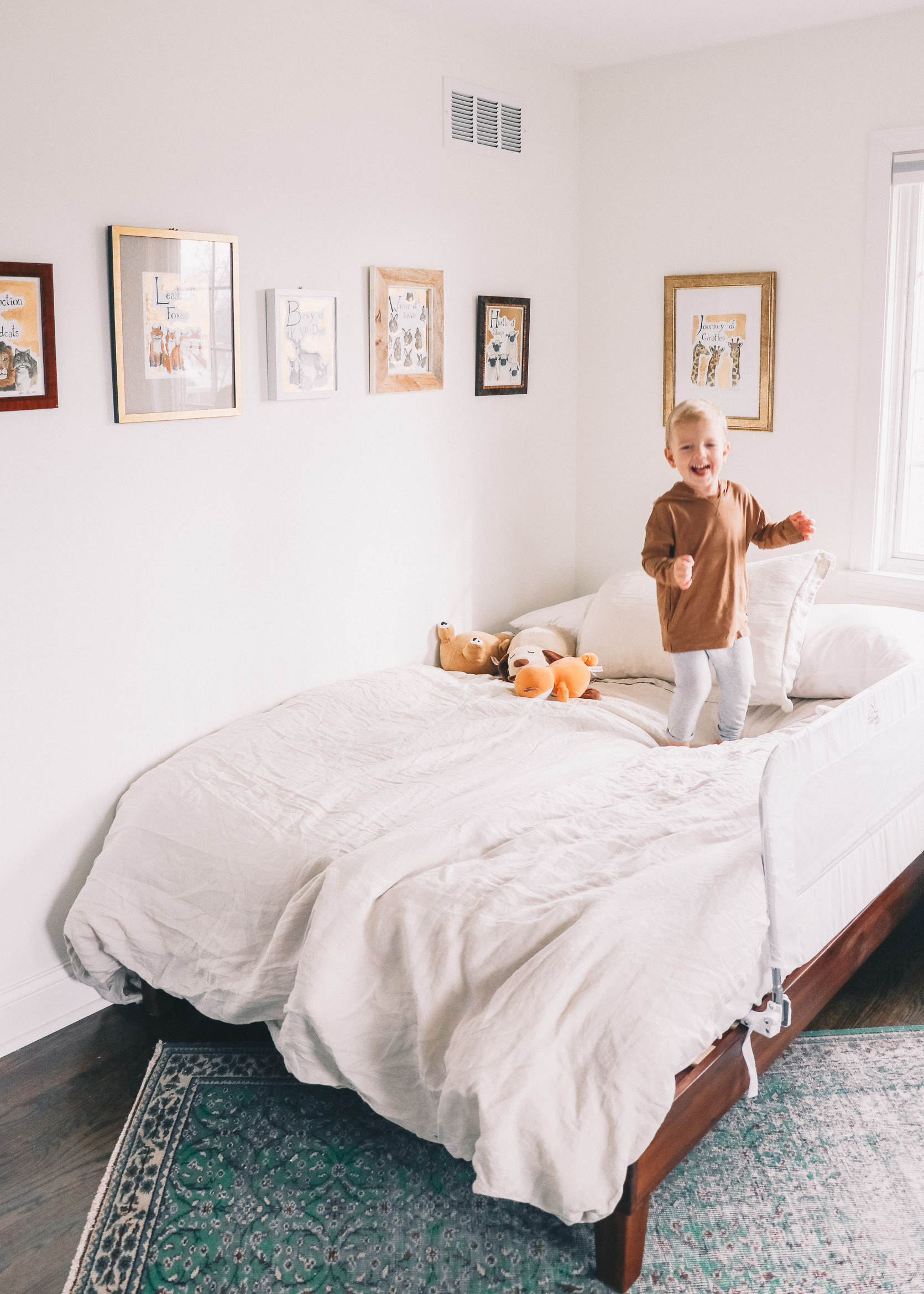 Yes, you definitely need a toddler rail!
We were almost going to just pass on this because I figured he would be fine. However, our friends informed us that they thought the same thing and let their little guy sleep in his new big boy bed with out a toddler rail and he rolled out more than once! So, we decided not to risk it and just get one right off the bat. Plus, 99% of the time James is curled up asleep with his face fully smashed against the toddler rail. It also gives them a much needed sense of security after leaving the crib!
We went with the HOMESAFE by Summer Infant Serenity Single Fold Bedrail and I definitely recommend it. It does the job and it's easy to install!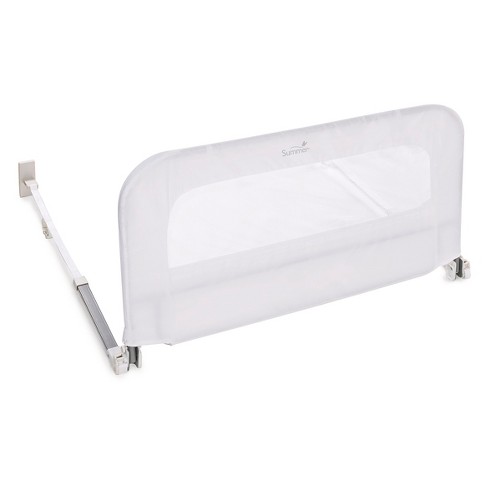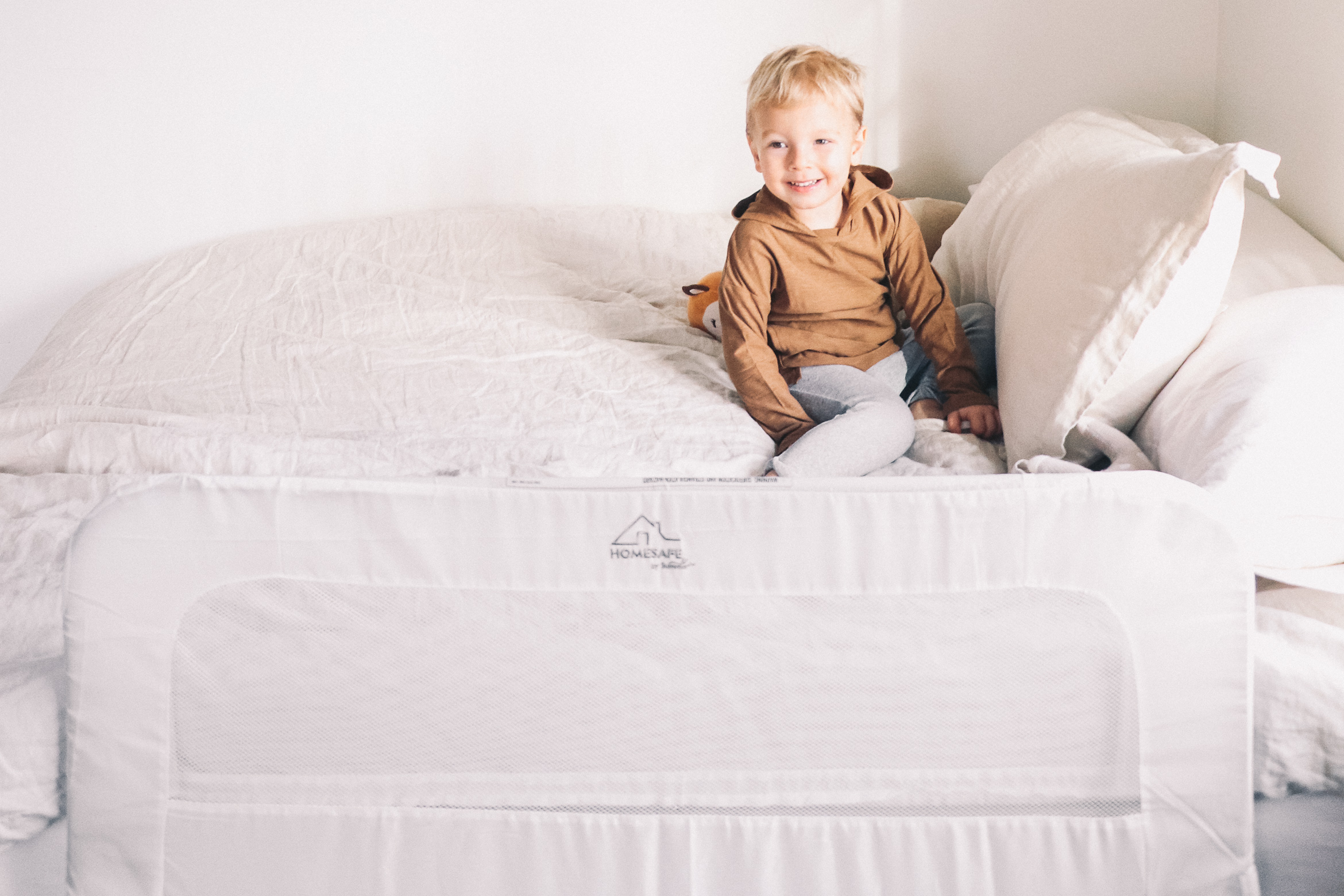 Another must have: a toddler alarm clock!
Okay, so we went with the Tommee Tippee Groclock Kids Training Alarm Clock and to be honest I was hesitant about it at first but now it has completely grown on us. My only qualm is that I wish it was controllable from your phone so that we could alter the wake time to be slightly earlier on the mornings where he is a super early riser. The Hatch Sound Machine has a toddler alarm clock feature and is controllable from your phone! However, it doesn't show an actual clock or numbers, which is James' favorite part about his Groclock.
Brief rundown on how these things work: first of all, they do not make noise! They give your toddler the cue that it is time to wake up and okay to leave their room by using light cues only. So, you don't have to worry about an actual alarm ringing and waking up your toddler prematurely if they're sleeping in. When we set the Groclock at night, a blue screen appears with stars and they disappear one by one throughout the night, when it reaches the wake time (which is pre-set by you)  the screen turns yellow and a sun appears. This notifies your toddler it's time to wake up and they can leave their room!
I know this whole thing sounds extremely controlling but it really is an awesome safety device because it helps with their temptation to leave their room which is a scary thought for parents in the middle of the night. Also, it helps sleep train really early risers. I tell James that if he wakes up and he can't fall back to sleep, then he can get out of bed and play in his room, read books, make his own choices INSIDE his room until the sun comes up on his clock, and once it does then he can choose to come out if he wants. We use the Groclock at nap time as well (they have a daytime nap setting) and I tell him the same thing!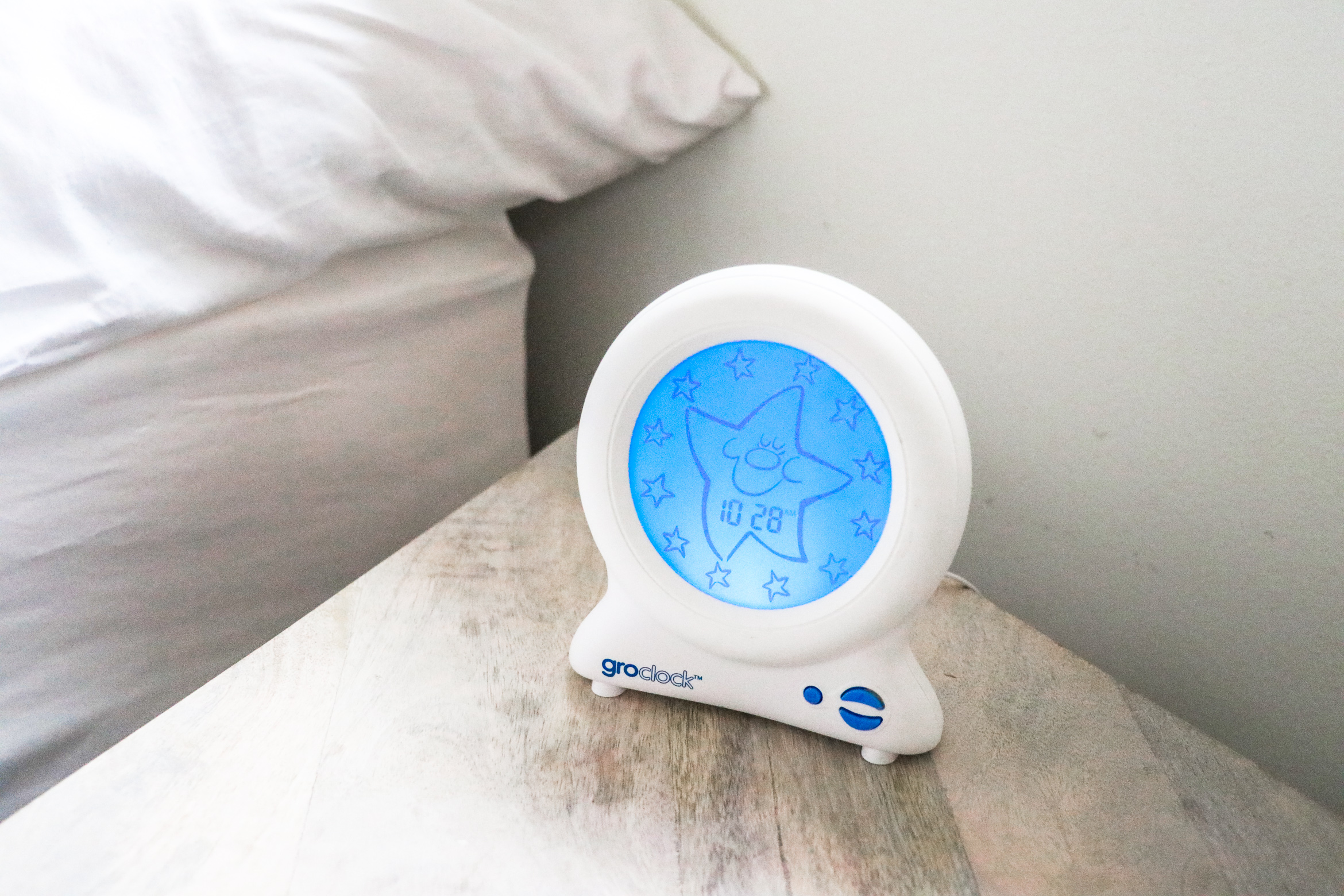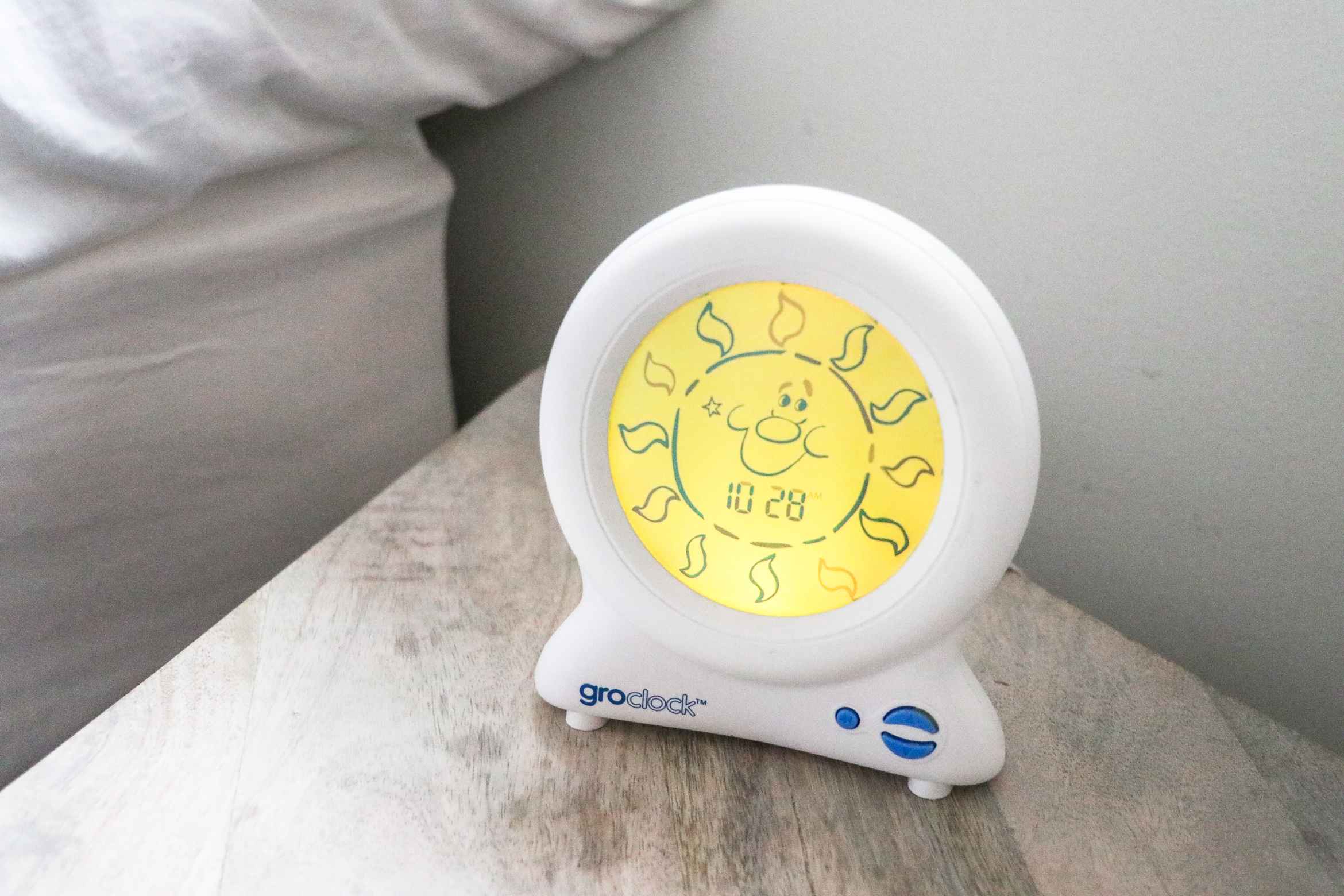 Don't forget a waterproof mattress pad!
This is a major detail that is easy to forget! I almost did until a friend reminded me. We have the AllerEase Naturals Organic Cotton Waterproof Mattress Pad.
We got all of James' bedding from buybuy BABY's sister company, Bed Bath & Beyond. Everything is organic aside from his duvet cover. Which, by the way, before you condemn me for giving my child a beige linen duvet cover let me explain! I was fully ready to let him pick out some tacky comforter riddled with superheroes if need be. However, when I asked him what kind of "big blanket" he wanted he was extremely adamant about getting one "just like Papa's" (so, one that looks like my parents bed set). Did I mention there was a Spiderman option? No, I didn't. Sue me. Would I have mentioned it if I needed to in the instance he was bucking this whole big boy bed thing and needed extra enticement? I certainly would have! For now, we both win. When he is old enough to request theme bedding on his own, he will get it!
Here is James' exact bedding: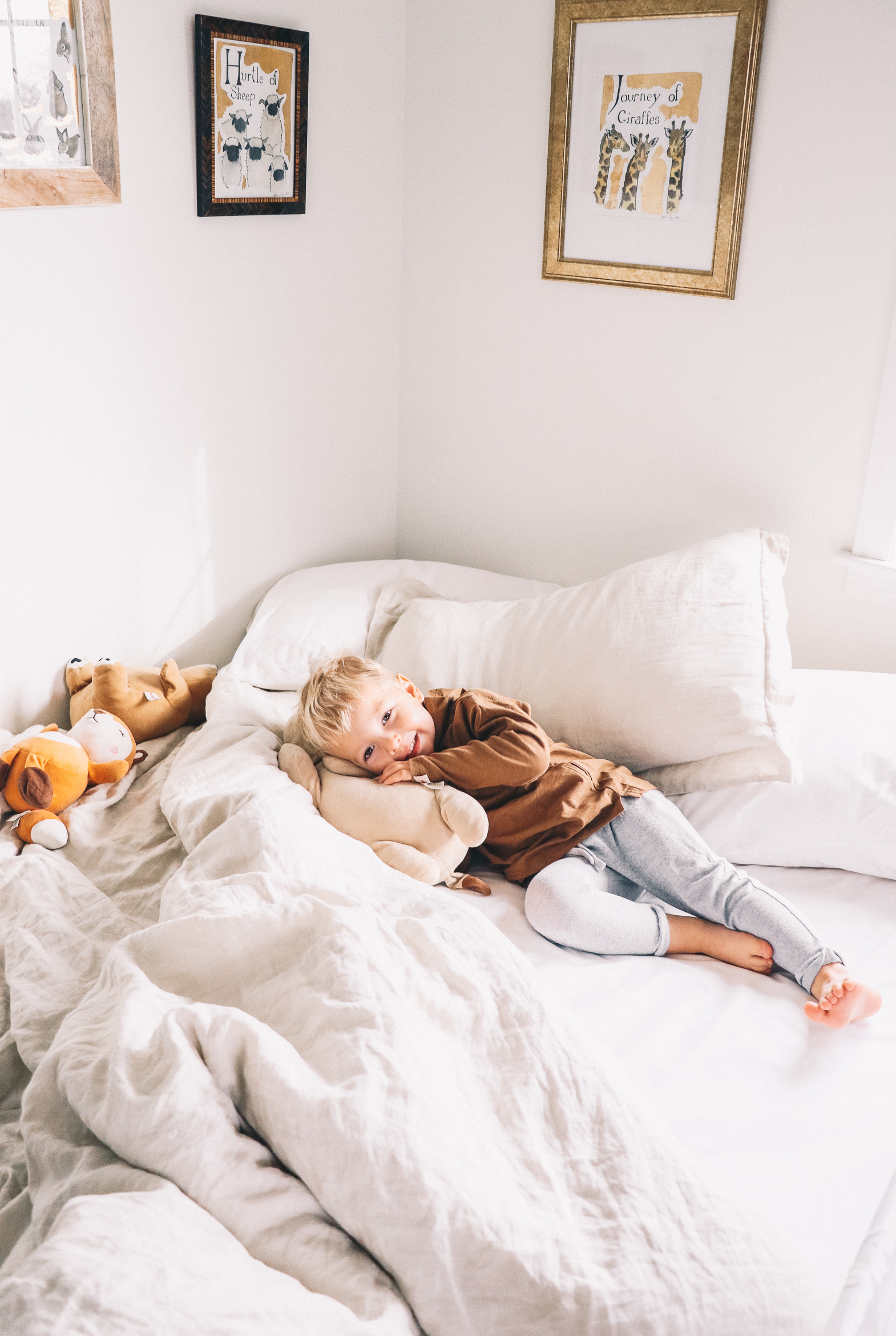 Last tip: we got James a plant for his "new room"…
The weekend of the big switch out, we decided to make it as big and fun of a deal as possible. So, we made a special trip to Home Depot to let him pick out a plant for his "new" big boy room. He was super excited about this and I think it helped take away some of the attention from the bed situation! I highly recommend getting a little something special for their room that is not related to the bed so that they aren't hyper-focused on moving from their crib!