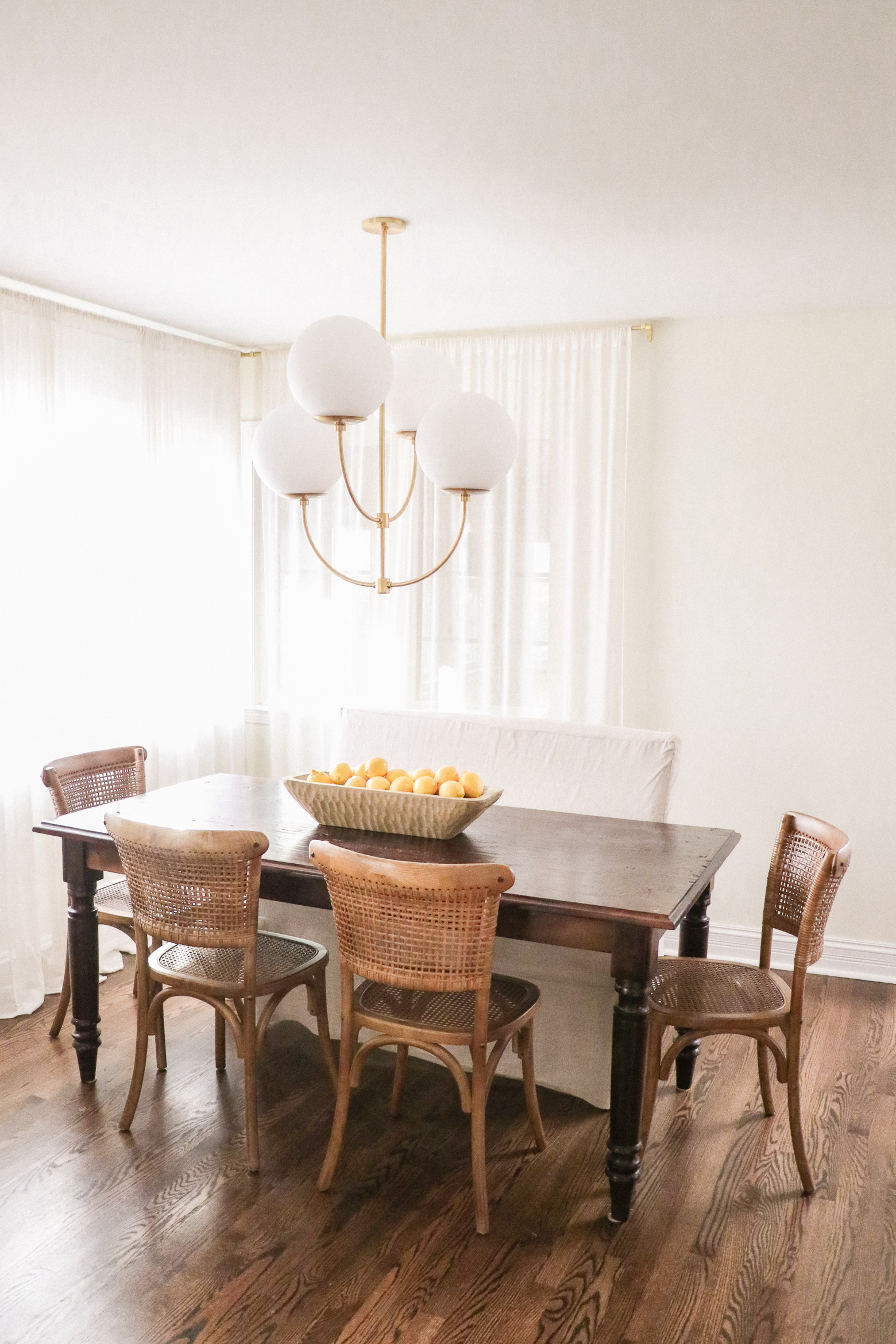 Our kitchen nook is 99% done! All I'm missing is a killer piece of large scale art for that blank wall on the right. I actually know exactly what I want there but that can wait! I'm so excited to share these before and after pics with you guys today. I just realized it has officially been one year since we moved! How how how. It was so crazy going through all of our old house photos as I put this post together, I cannot believe how different it is now.
Let's take a moment to meet my new bff Carrie…
My hands down, no questions asked, absolute favorite part of our kitchen is this Carrie chandelier by Mitzi for Hudson Valley Lighting, I never would have pulled the trigger on this gorgeous fixture if it weren't for my design team at Hinsdale Lighting. They are 100% responsible for convincing me I would love it, and I 100% do! I was a little hesitant at first because I thought it might be a little large but the pros assured me this was a fun + bold design move and I suddenly became super into the idea of having some fun with scale in this nook.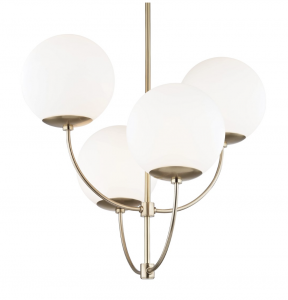 I went with the "aged brass" finish to match my curtain rods but the light fixture also comes in polished nickel and polished copper. This light is definitely a statement piece! I love it because it allows me to let everything else in the space be simple and understated. It's honestly like a functional piece of art because it is the first thing you look at upon entering the room.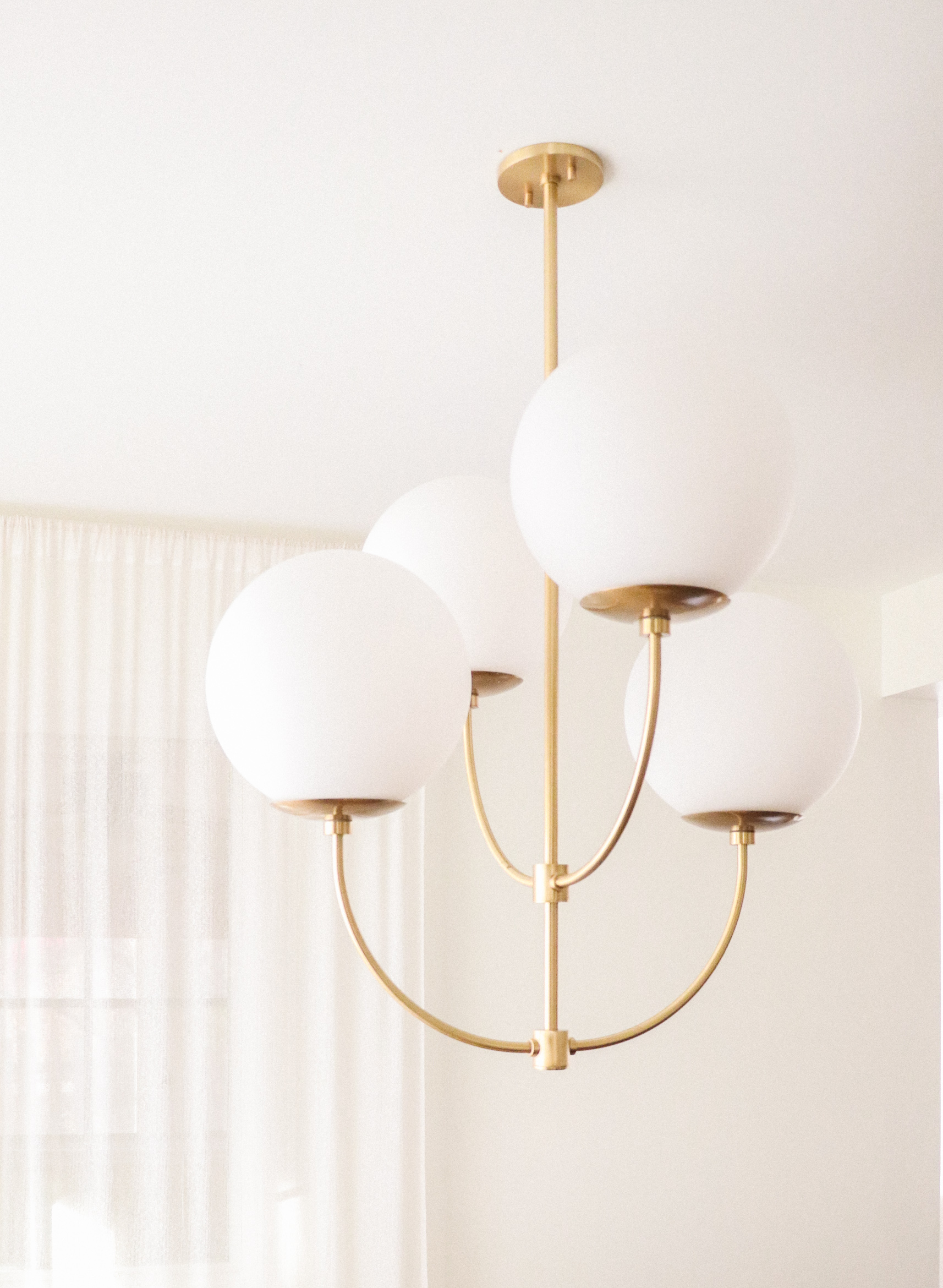 Now for some before and after pics…

As you can see, we removed the wall that was dividing the kitchen area and the family room. The house was previously very compartmentalized and this was such an easy and inexpensive solution to open it up and make the overall space feel bigger.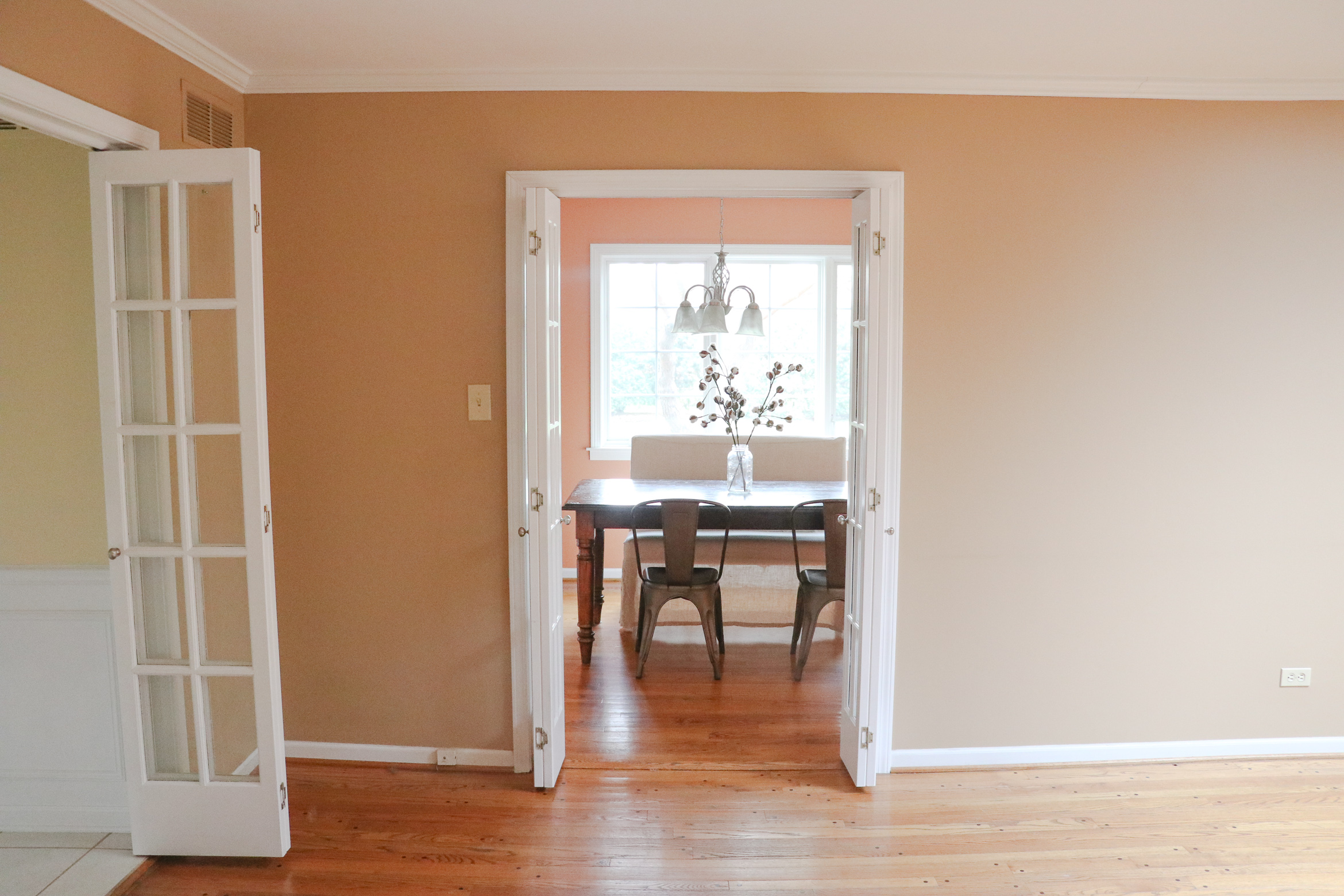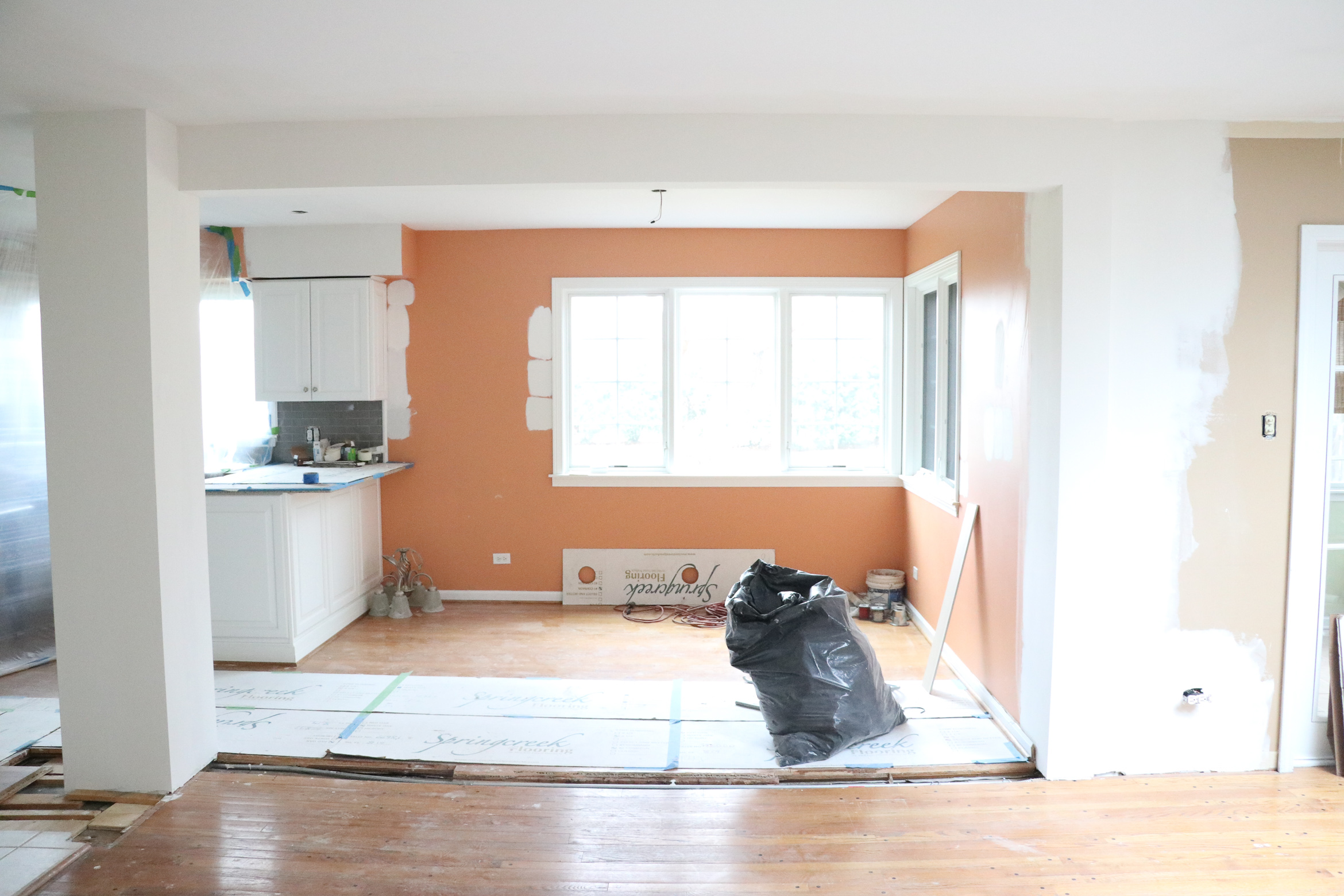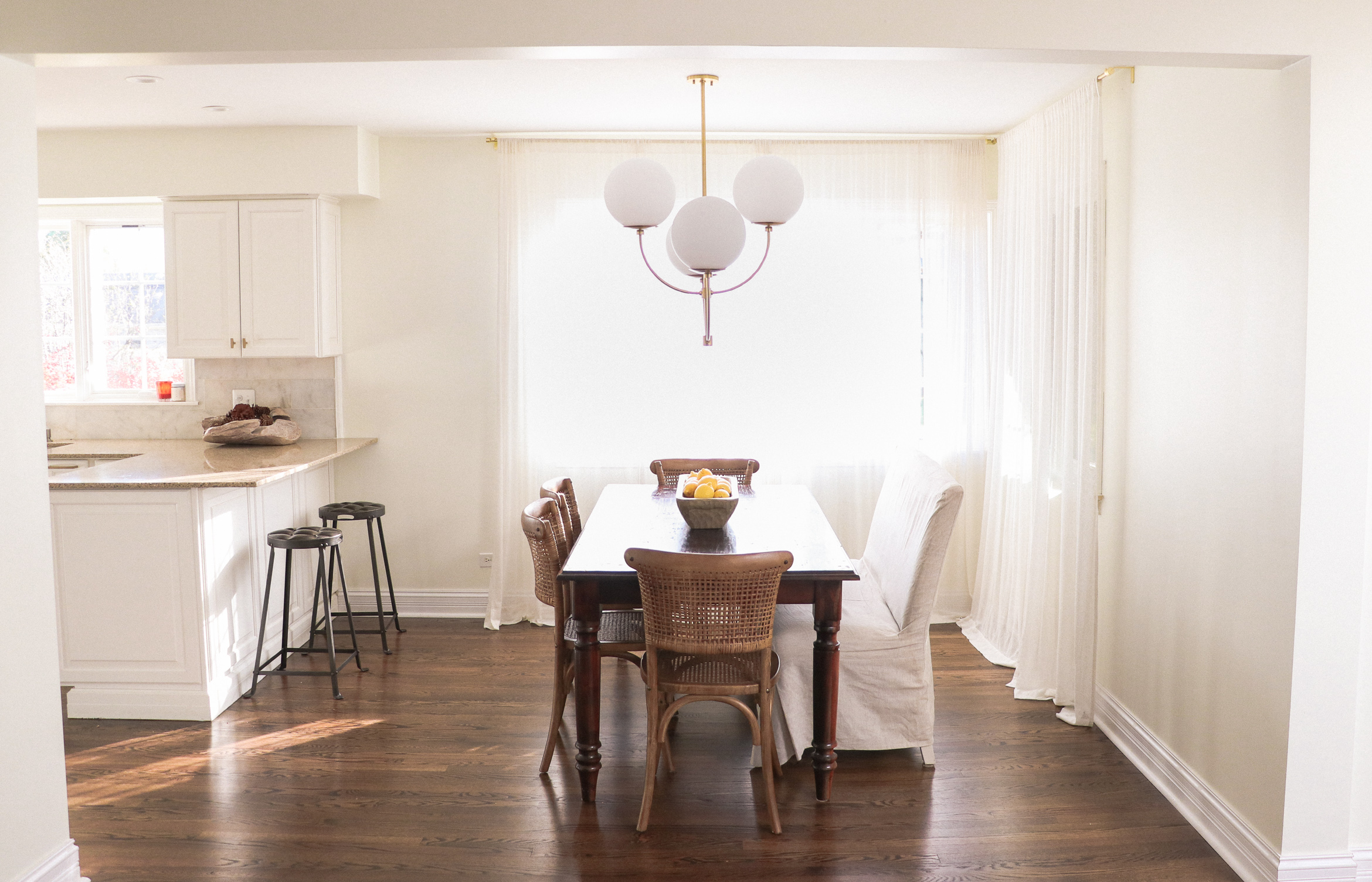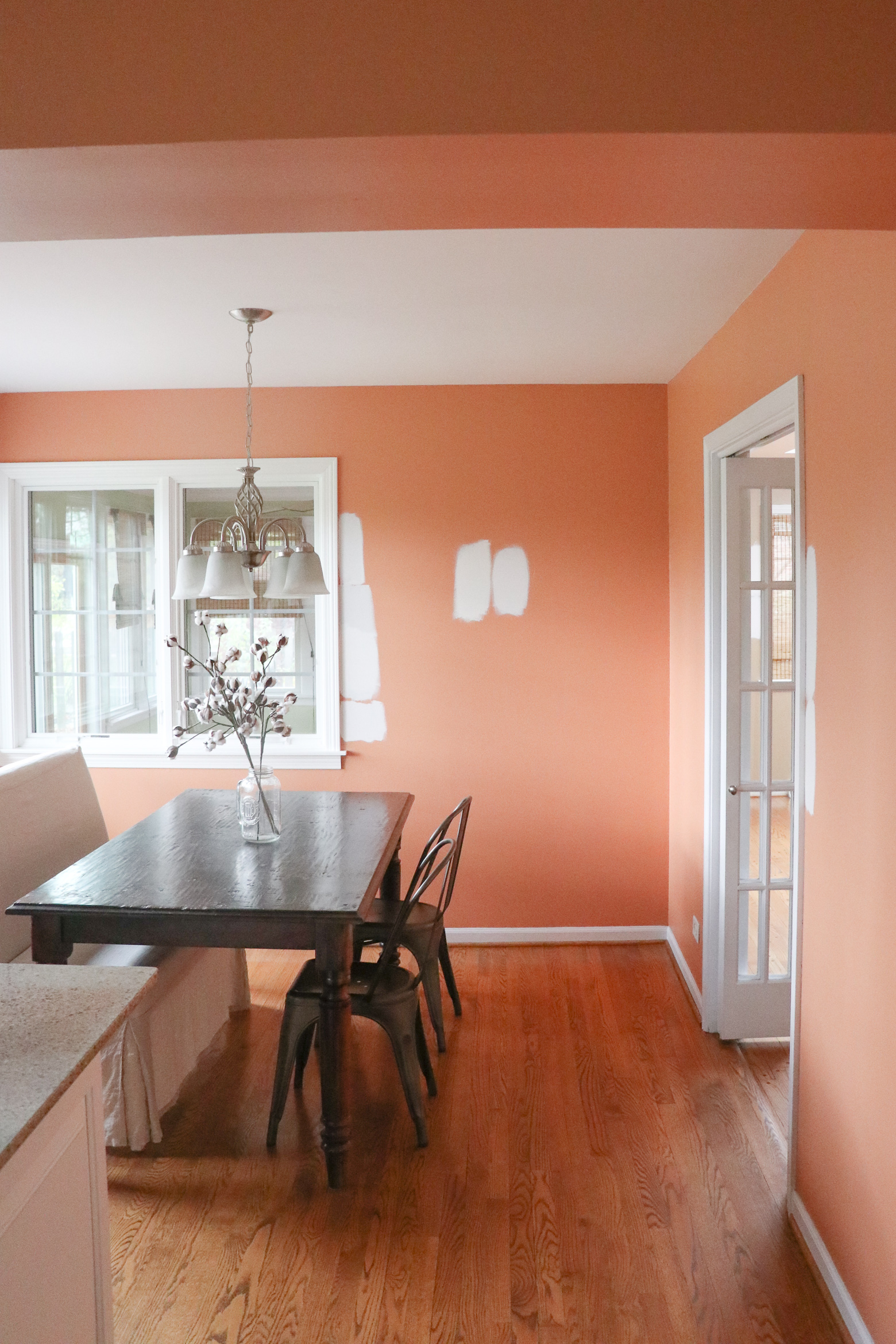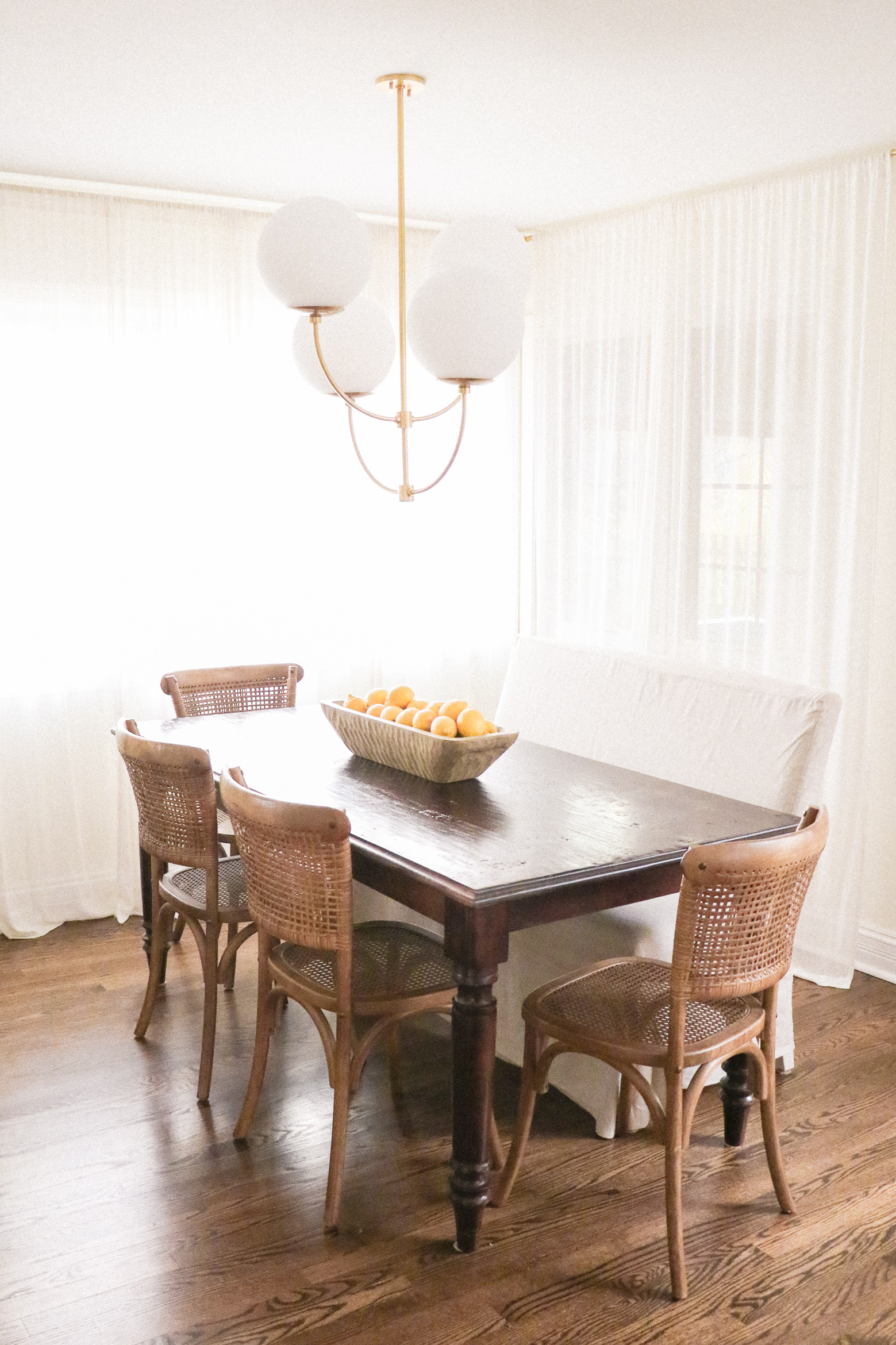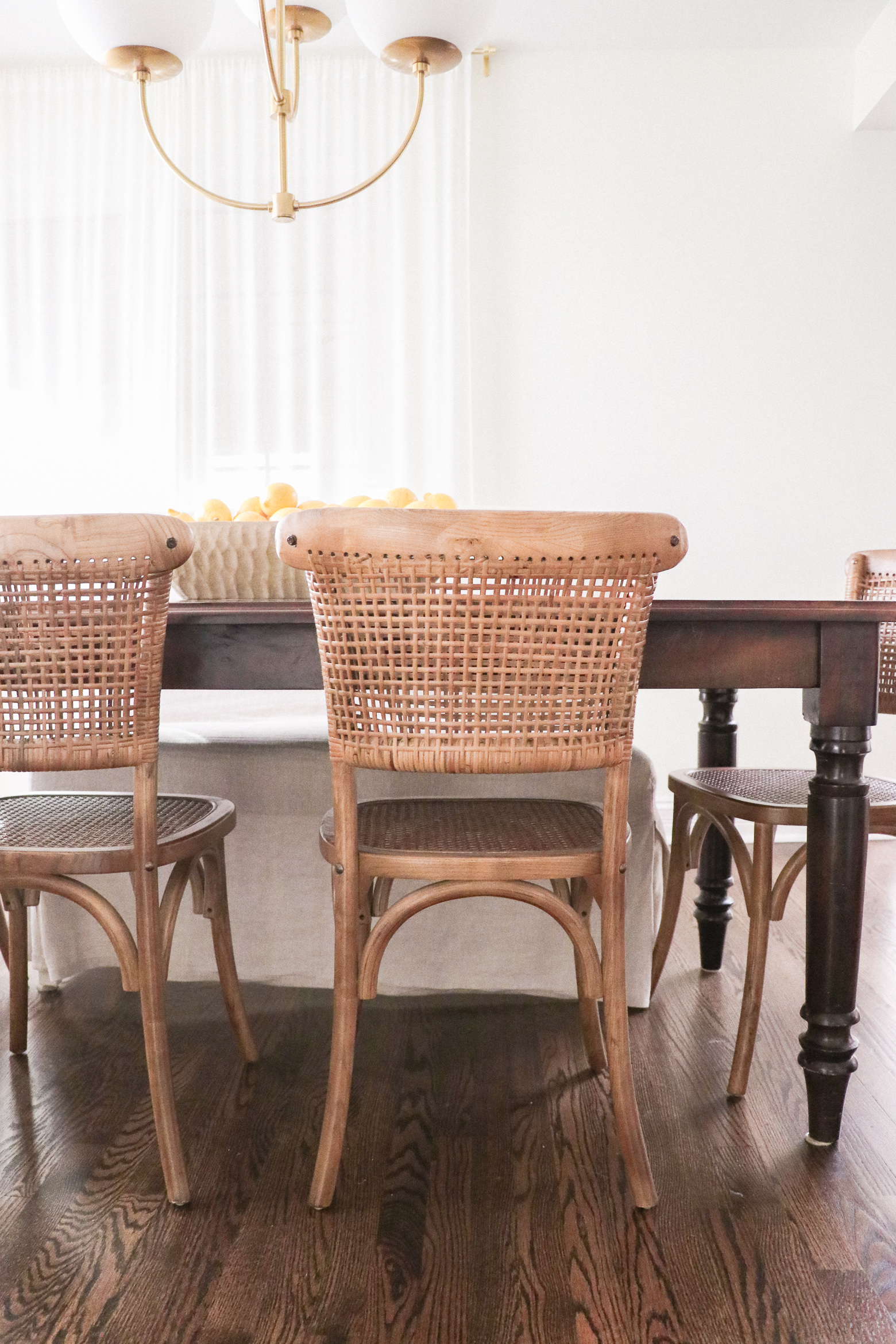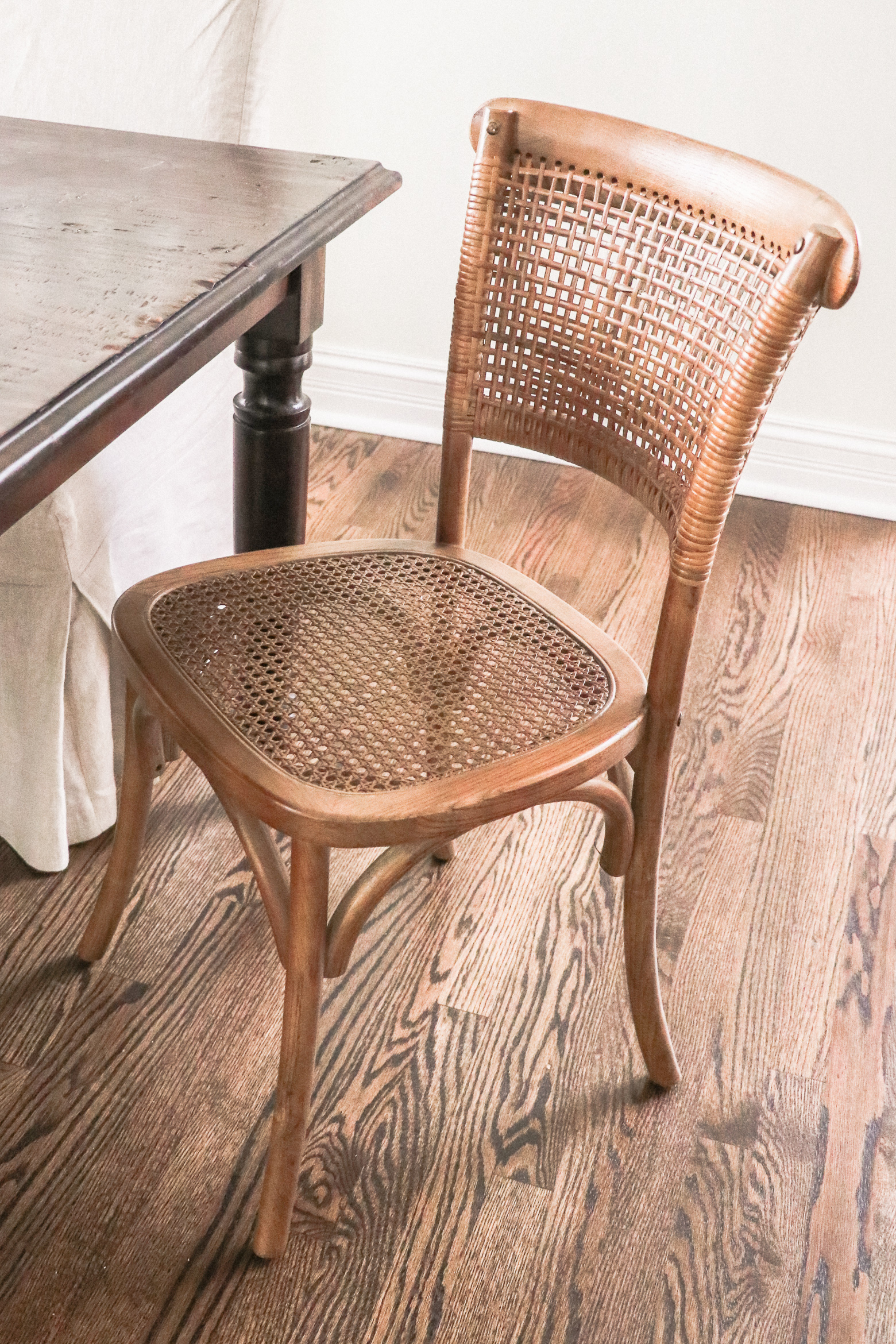 PSA time. Urban Outfitters has an amazing and affordable home decor section and their chairs in particular are incredible. I am BEYOND in love with these cane chairs – they come in a set of two. I went back and forth and back and forth debating what kind of chairs I wanted for this nook. I was on the hunt for leather for quite some time but never found any I loved that weren't way outside my budget. Then, I stumbled upon these and they made my inner Francophile so very happy and excited.
I love the contrast in textures between these chairs and the chandelier. Together they give me this awesome vintage French bistro vibe and I'm loving it so much. They are comfortable and solid quality!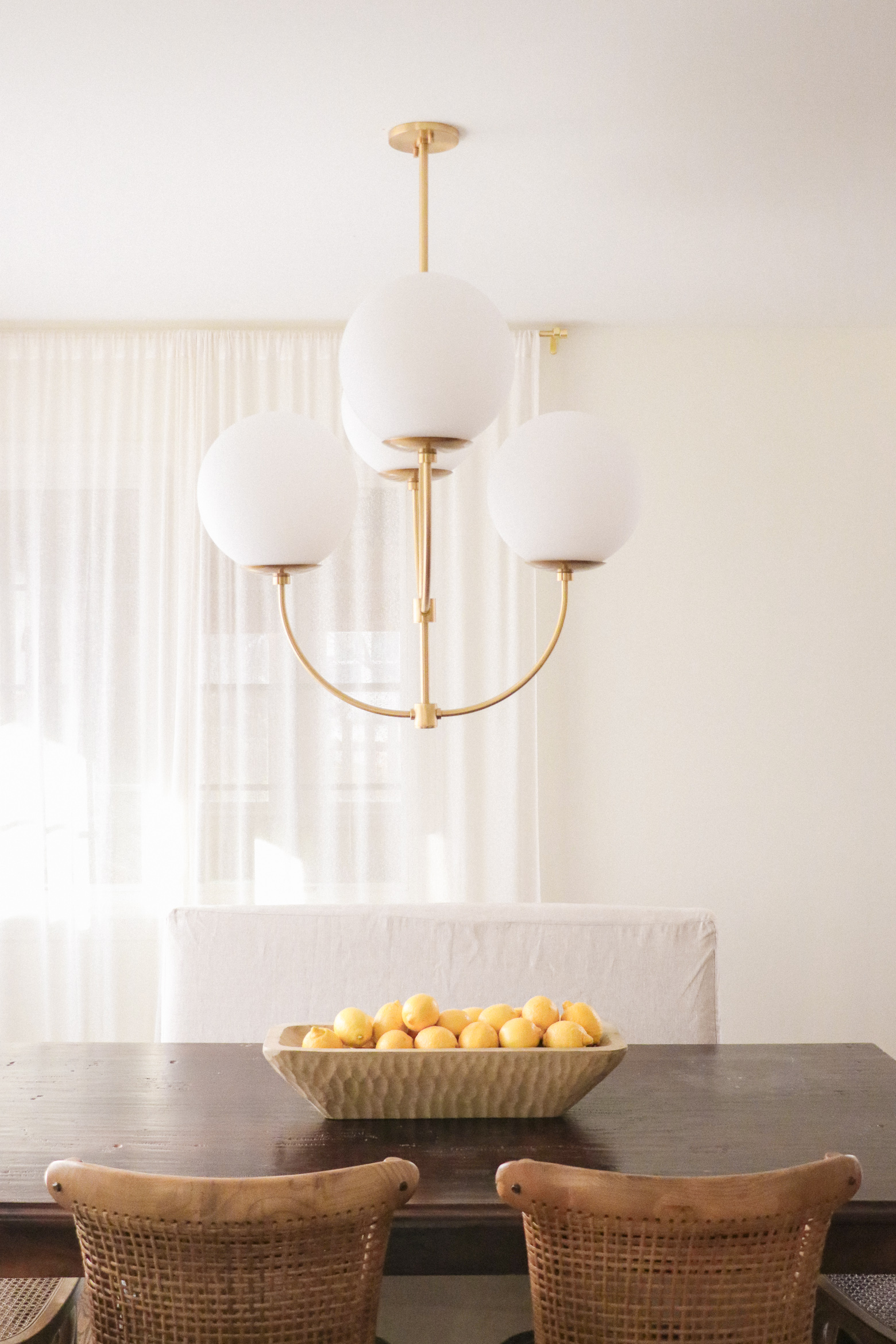 Our slipcovered linen bench has been with us since we moved into our city condo years ago. It's from Crate & Barrel but for some reason they don't make it anymore with is absurd because it's such a classic staple piece and people ask me about it ALL the time!
Luckily Bed Bath & Beyond sells one that looks practically identical. However, I cannot comment on it's quality as I've never seen that one in person. At first, I was leery to keep this bench in our kitchen for fear of it getting trashed but it's been almost a year and I have a 3 year old boy and it's still in great shape. The slip cover comes off and washes really easily, so I've decided she's staying put.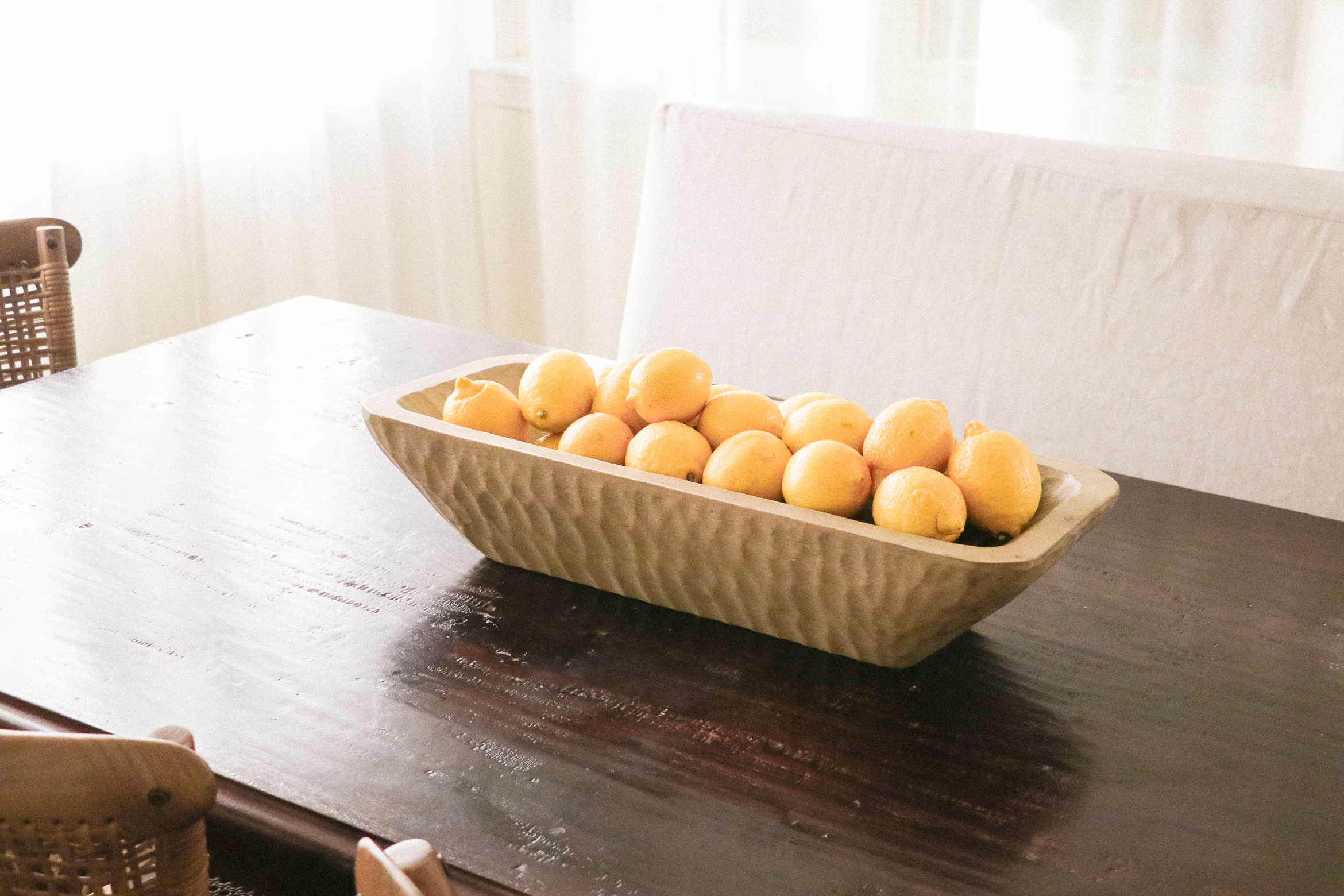 That dough bowl (pictured above) is from a little boutique called Trousseaux, which is literally 10ft away from Hinsdale Lighting – and owned by the same fabulous woman. (Hey Karen! You are my idol FYI…) I have the small one which is pictured and also have the larger one which is currently filled with pumpkins on my dining room table. These things are SO fun and easy to style. I'm going to do a blog post on my favorite ways to decorate with/use dough bowls for the holiday season! Stay tuned. 🙂
The curtains and curtain rods in the nook (pictured below) are both from CB2, which is one of my favorite home decor stores ever. Their style, vibe, selection, aesthetic, etc. is just so on point and I'm always loving everything they have going on. The curtains are such a cool netted material and I have them in my formal living room and in the dining room as well. They are sheers so they definitely don't block a lot of light but they are so beautiful and perfect for rooms where darkness isn't necessary.