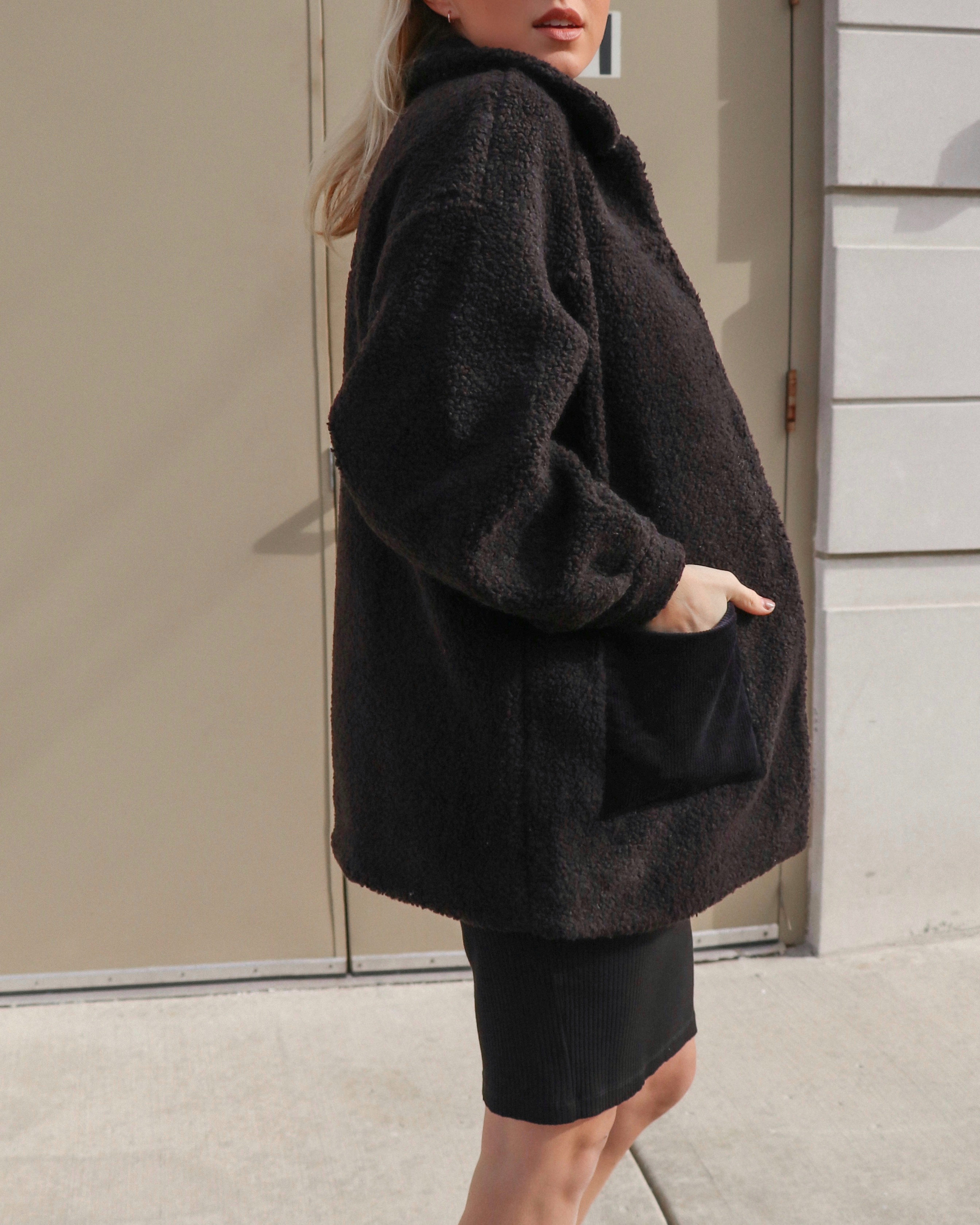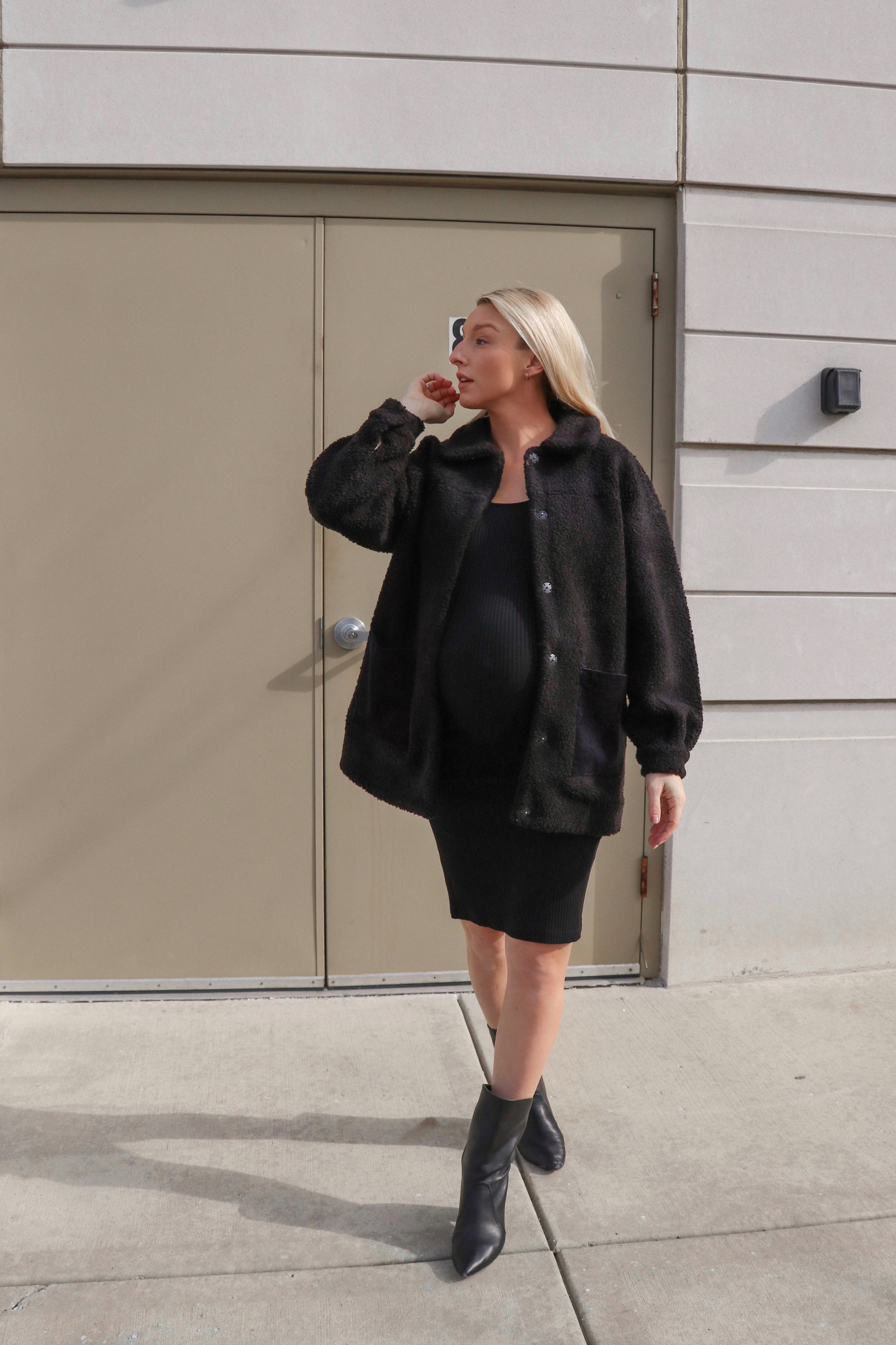 – SHOP THE LOOK –


Winter is coming! Or, if you live in Chicago, Winter was here and already left and will BRB. What on EARTH was that weather about on Halloween? Unreal. In the worst way. But, it's Fall again and I'm going to enjoy every last drop of it.
I'm admittedly stocking up on more coats than I need right now. My outerwear obsession is real. I think it's because I'm truly starting to miss fashion and regular clothes (8 months pregnant here) and coats/jackets are the one thing I don't have to worry about buying maternity. Although I do have this BB Dakota maternity coat that zips over the bump and it's fantastic. But other than that, I'm just doing regular coats since I'm due in only a few weeks. The one I'm wearing in this post is from And Other Stories and I love it – fits true to size, I'm wearing a 6.
There are a bunch of amazing F/W coat trends happening right now that I'm drooling over big time. See: oversized sleeves, big dramatic puffer coats, vinyl trench coats, I could go on. Below, I'm breaking down a lot of the current trends you'll be seeing this season. I hardcore scoured the web for the best coats and jackets under $300 (total scrolling time was probably like 1000000 hours) and it was fun but also torture because I want one of everything.
My favorite online stores to shop for outwear are:
F/W 2020 Coats & Jackets for under $300:
Teddy Coats
Not a new trend (and luckily one that will probably never go out of style) but there a ton of new styles this season that are really fun beyond the usual silhouette we're used to seeing. For instance, how cool is this teddy trench?!
Dramatic Puffers
If you know me, you know I'm a fan of the bigger the better and these giant puffer coats are my idea of perfection.
Statement Trench Coats
You'll be seeing a ton of trench coats with a twist this season. Big sleeves, mixed materials, crazy belts, etc. Love love love.
Fluffy Faux Fur
Faux fur is always in. But this Winter it will be all about the shaggy/fluffy look.
Oversized Sleeves
Heart eyes x 100. Love when anything oversized is on trend because I will always be wearing it regardless. I have this coat from ASOS and am beyond in love with it. Bonus with the oversized sleeve trend: these coats actually fit over all your bulky winter sweaters!
Vinyl & Faux Leather
Okay, I know this isn't for everyone but I'm so here for it. Would you where a vinyl trench?
Maxi Coats
Long coats are always in. But I'm not talking just "long" here. I'm talking like REALLY long, as in the coat is the outfit. The idea is for just your shoes to show! These will be everywhere.
Vests & Capes
We will be seeing a ton of vests and capes this season too! Obsessing over this dreamy teddy vest, love the length so much.
Bright Pink
I'm not much of a color person but if you are, bright pink and fuchsia is the "it" color right now.