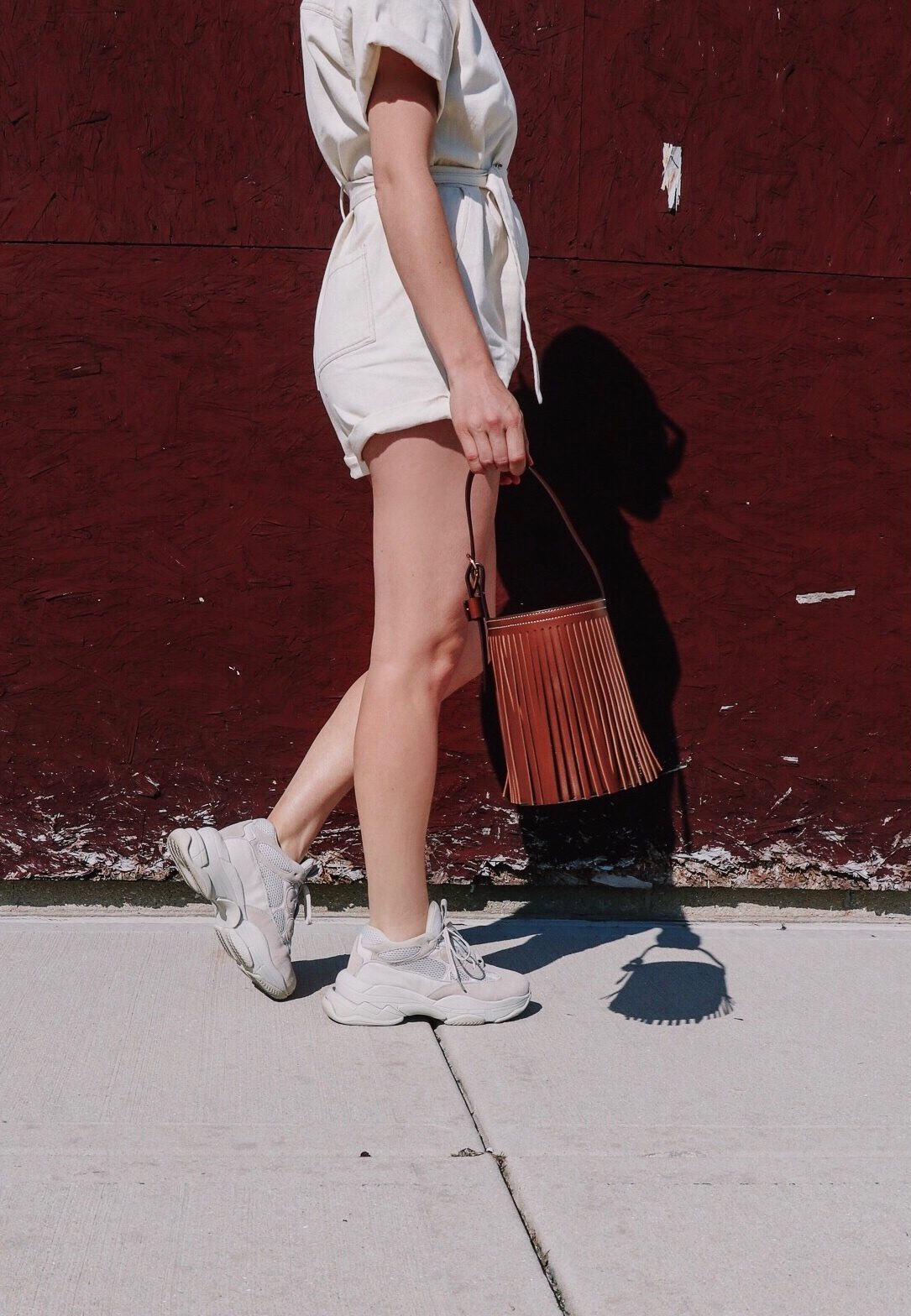 All of the bags I linked below are under $200! This Trademark bucket bag that I got (for 50% off!) is amazing and I'm in love. Also, there is a TON of Cult Gaia on serious sale, like 30-50% off. I was so nervous the fringe on this bag would be kinky and all over the place because that has been my experience with anything fringey but it isn't at all! The fringe is stiff and straight and the leather is fantastic quality. PS there IS a way to close it, check out the product photos on Net-A-Porter!
I've only had this Goldfaden M.D. Doctor Scrub for a week but I highly recommend it. I hate washing my face and I literally look forward to using it every day. Not kidding, the first time I used it I actually saw my dead skin being washed down the drain – goes to show how long it's been since I exfoliated! It has Hyaluronic Acid (helps with filling fine lines) and daily use is supposed to rejuvenate your skin and make it firmer. It's a splurge but there is a lot of it and a little goes a long way. I also have the Goldfaden M.D. Bright Eye's Cream and love it! PS – I have a new skincare routine that I'm going to be posting about here on the blog next week, stay tuned!
Some interesting facts about exfoliation:
Applying moisturizer to skin that hasn't been exfoliated actually softens the dead skin cells and clogs pores! Not only does that cause breakouts and dull looking skin, it also prevents anything else you put on your skin (serum, oil, etc.) from working.

Guys. This watermelon feta salad recipe is the easiest friggin' thing. Like bring it to every single BBQ you go to this summer and I swear it will be a huge hit and make you look fancy + Martha Stewart-y but really you will have barely lifted a finger. The salty + sweet combo is so addicting, I've been making it for lunch too many times a week lately and probably need to chill because my feta/sodium intake is reaching dangerous levels. But it just tastes like SUMMER and I can't stop!
As much as I wish I was, I am not a cute pajama person. I'm making steps toward becoming one though because I randomly put these summer PJ's in my cart at Target and have grown totally in love with them. They are SOOO soft and super comfortable to sleep in! I weirdly look forward to putting them on every night because I feel cute and more put together than when I wear a pair of gross Soffe shorts from 8th grade and one of Kyle's old t-shirts. They come in 3 colors and are only $22, highly recommend!
5. Real Housewives of Potomac
Bravo people, give Potomac a chance!!! I've never watched EVER and recently binged and started from season 1 on Hulu and am fully hooked. I haven't seen any from the current season (4) but I'm recording them all. I'm proud to say that now I officially watch single city.
SHOP THE POST