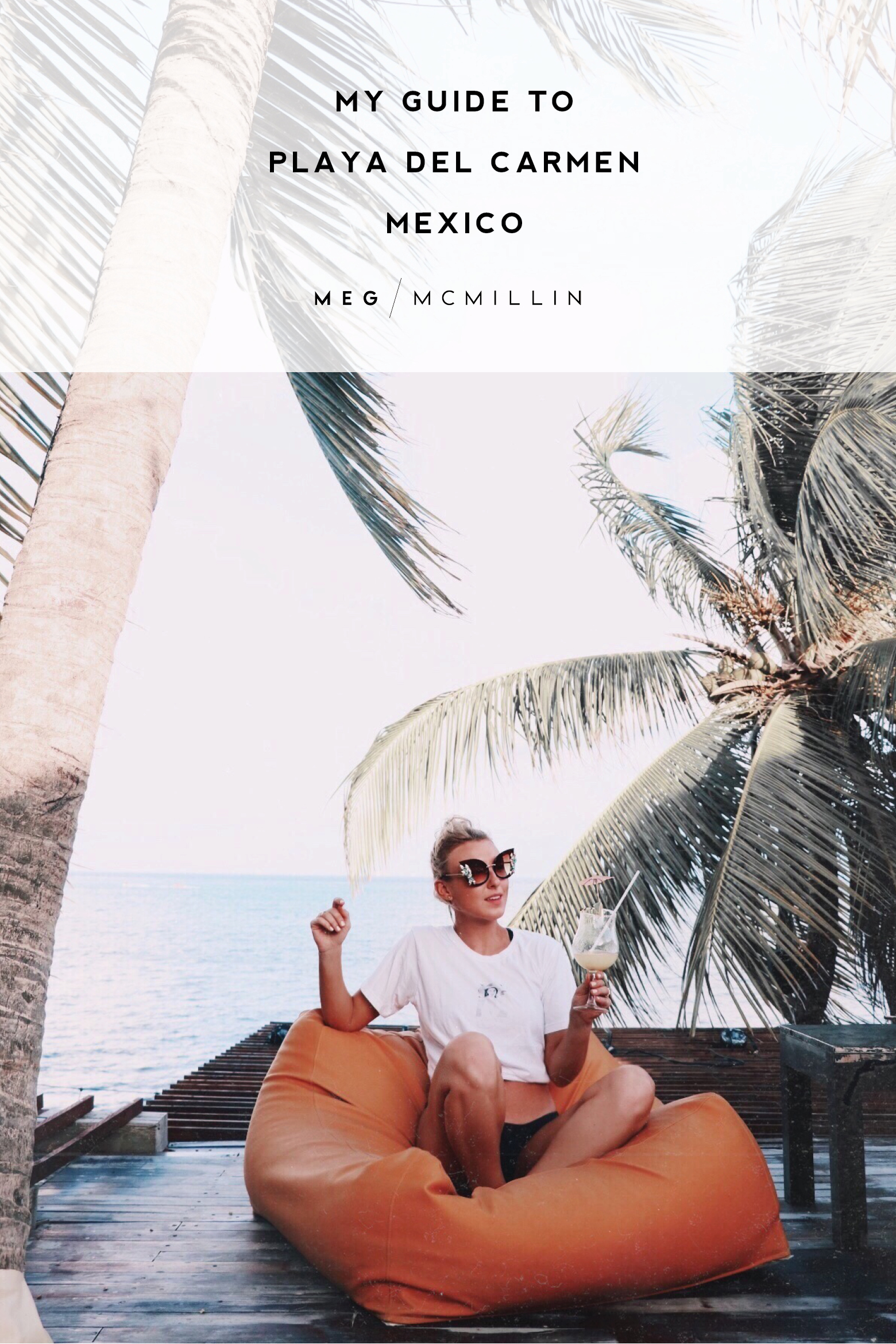 Hola! Apologies that it has taken me almost 6 FREAKING MONTHS to get this post up. I have no good excuse! I'm sorry if I left anyone hanging, I know there were some people who were planning Playa for their honeymoon! It seems like travel guides in general are something people are very interested in. I want to do more of them!  I'm going to LA on a girls trip in a few weeks and will be doing a "girls weekend guide to LA" after the trip. (Hopefully, it won't take me half a year to get it done this time though…)
In this post you will find:
1. Where to stay
2. What to do
3. Where to eat/drink downtown
4. My favorite beach bars
5. 1 million pictures
My family and I have been going to Playa del Carmen every year for about 15 years. That makes me feel so old, omg. I love Playa so much and plan on making it a tradition to keep going every year with my own family. The beaches are beautiful – although there is a major seaweed epidemic hitting Mexico the past couple years so they are not as pristine as they used to be ugh – the downtown area is so cute and fun, and there are lots of fun day trips to take and things to do!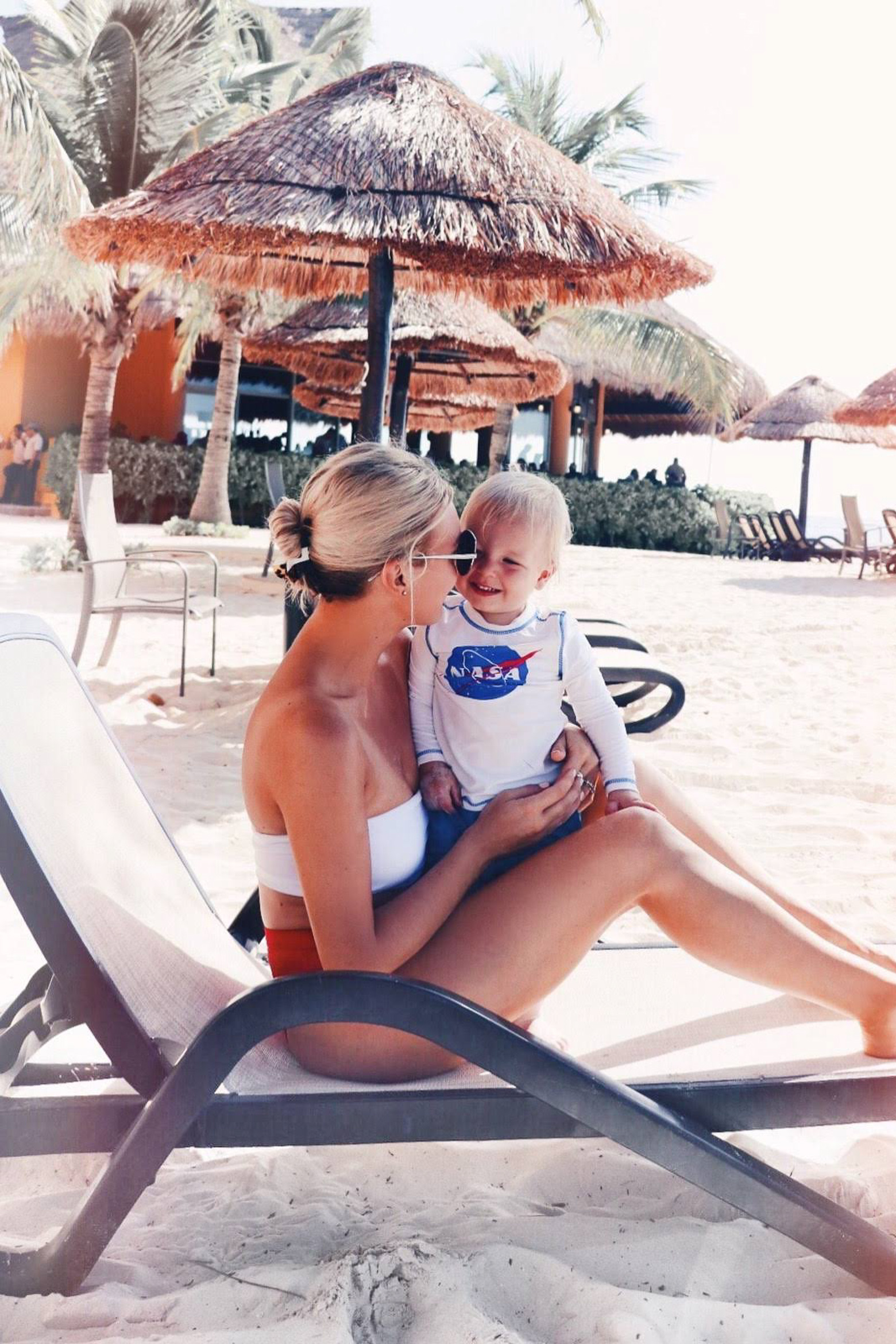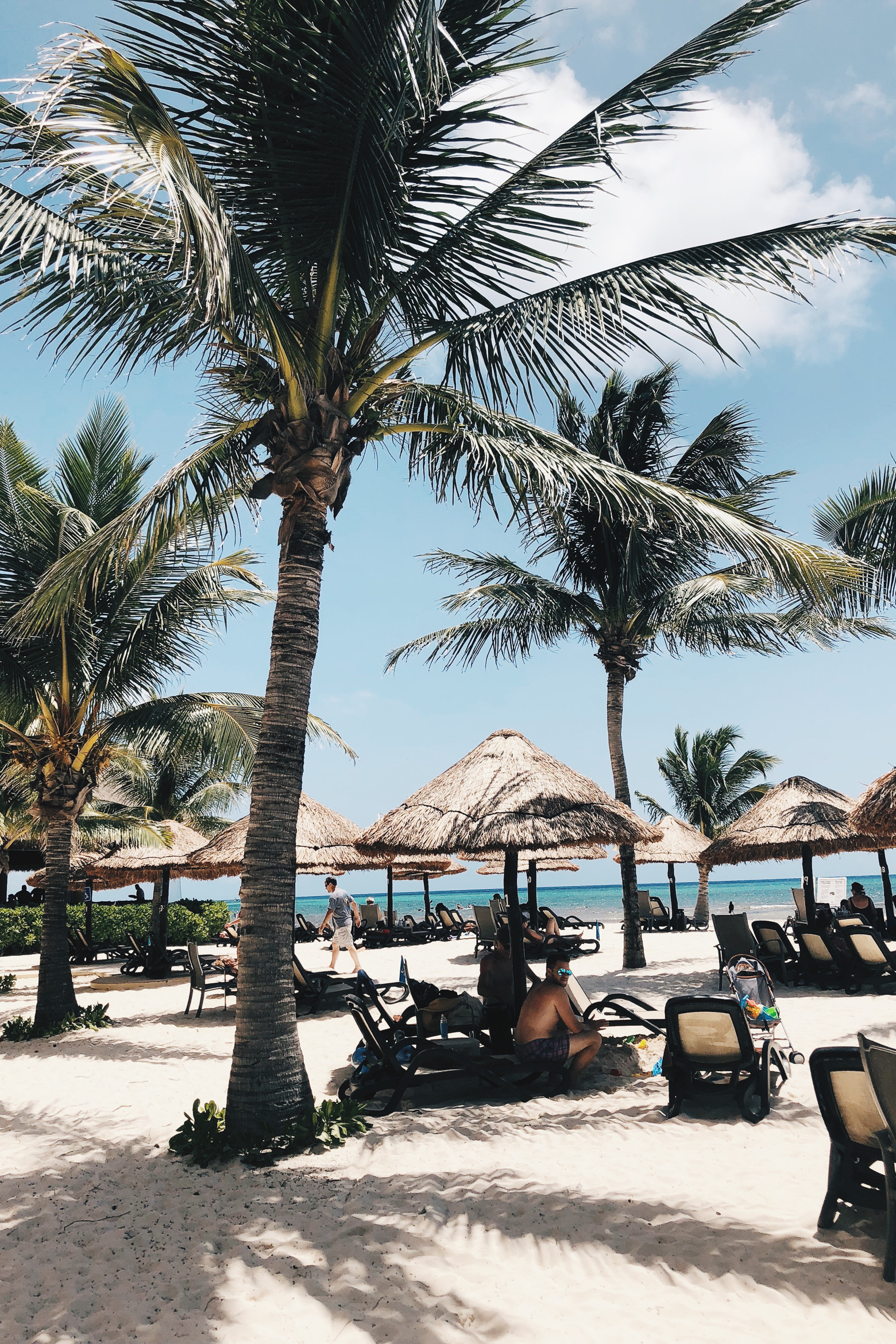 Where to stay
So, we have stayed at the same resort for the past 15 years so I do not have any other recommendations based on personal experience as far as hotels/resorts go! We always stay at The Royal Haciendas, it's about a 15 minute drive from 5th Ave./downtown Playa. However, below are places I've heard or read are great!
Remember to consider whether you want a big resort feel or a cozier boutique hotel vibe. Both have their perks!
1. The Palm at Playa (affordable + my friend stays here a lot and loves it)
3. Thompson Beach house (smaller and right off 5th Ave. in downtown)
6. Newport House Playa (amazing reviews + very affordable)
6. Rosewood Mayakoba (super expensive / where all the celebs stay)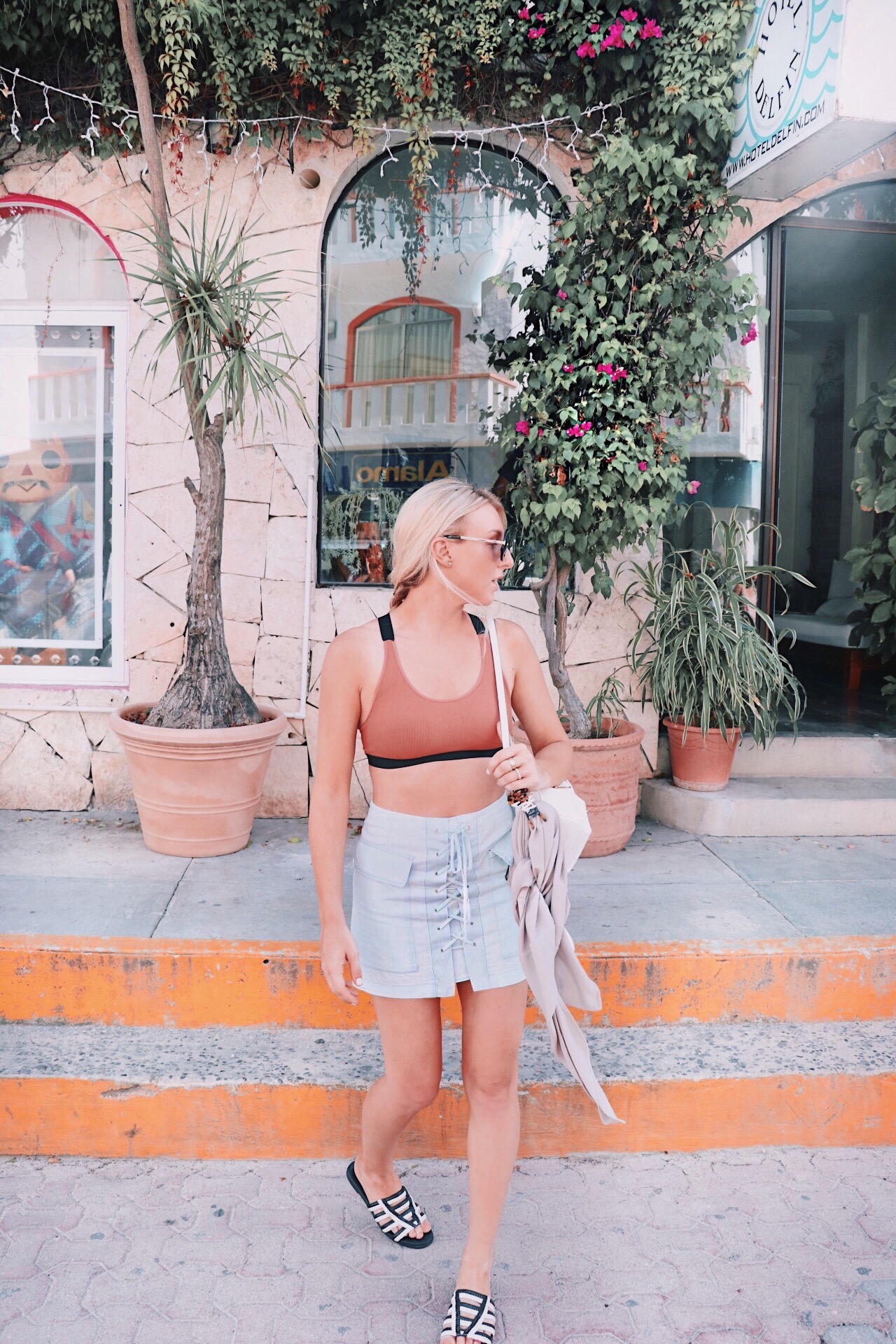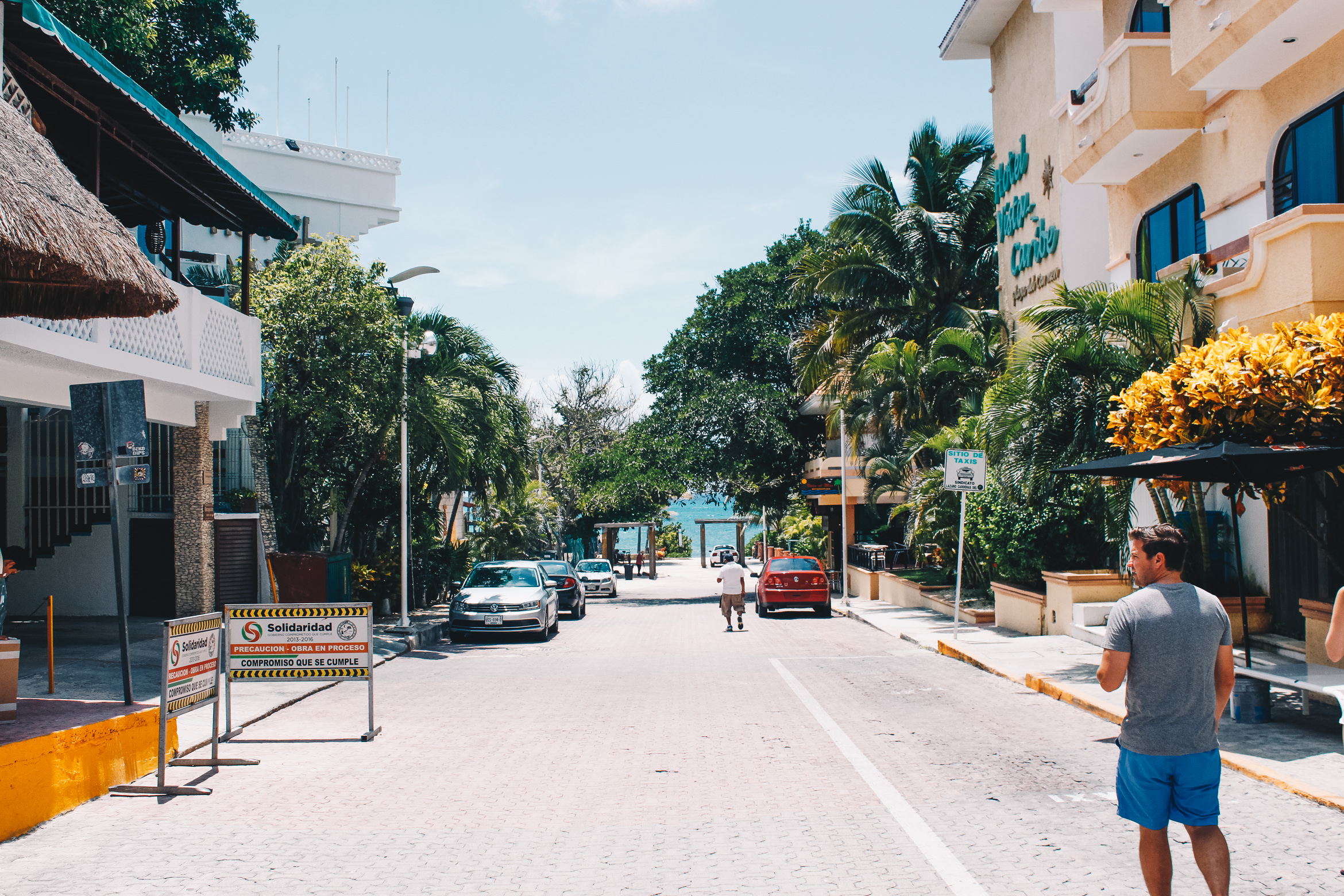 What to do
1. Spend the day on 5th Ave. shopping + eating + beach bar hopping
I'll list some of our favorite restaurants + bars in the next section but you really can't go wrong just bopping around 5th ave. all day! It is right on the beach so you can switch off between shops/restaurants in town and taking a dip in the ocean + grabbing a margarita at a beach bar. Ahh, missing it as I type this!
2. Day trip to Tulum + the Mayan Ruins
Tulum is only a little over an hour away from Playa del Carmen so renting a car or taking a shuttle/cab out there is a breeze. Also, the Mayan Ruins are in Tulum! So, it's easy to check those out and then head over to that super dreamy strip of resorts + beaches that you've all seen on Instagram non-stop that past few years. If you are just looking to relax then skip the ruins and just hit Tulum for the day!
If you're active and/or are going with your kids, check out some of the "theme parks"  (here is a list) like Xcaret, Xel-ha, or Rio Secreto. We haven't been to one since I was younger but I always remember them being fun! They call them theme parks but there are no roller coasters. You can do things like snorkel, cave dive, zip line, etc.
4. Go snorkeling in Akumal
Akumal is a beautiful beach with a huge lagoon perfect for snorkeling. You can spend the day here snorkeling and relaxing on the beach and eating/drinking at the beach bars. Akumal means "place of the turtles" I've snorkeled here twice and both times swam next to gigantic sea turtles! However, please don't hate me if you go and don't see any.
5. Take a catamaran tour to Isla Mujeres
Isla Mujeres is a beautiful island in the Caribbean and has a very laid back vibe with really gorgeous beaches and water perfect for snorkeling and scuba diving. And you can drive the whole island in a golf cart! There are a few different beaches but Playa Norte is by far the most popular, it's considered one of the most beautiful beaches in all of Mexico and bonus: there are great beach bars.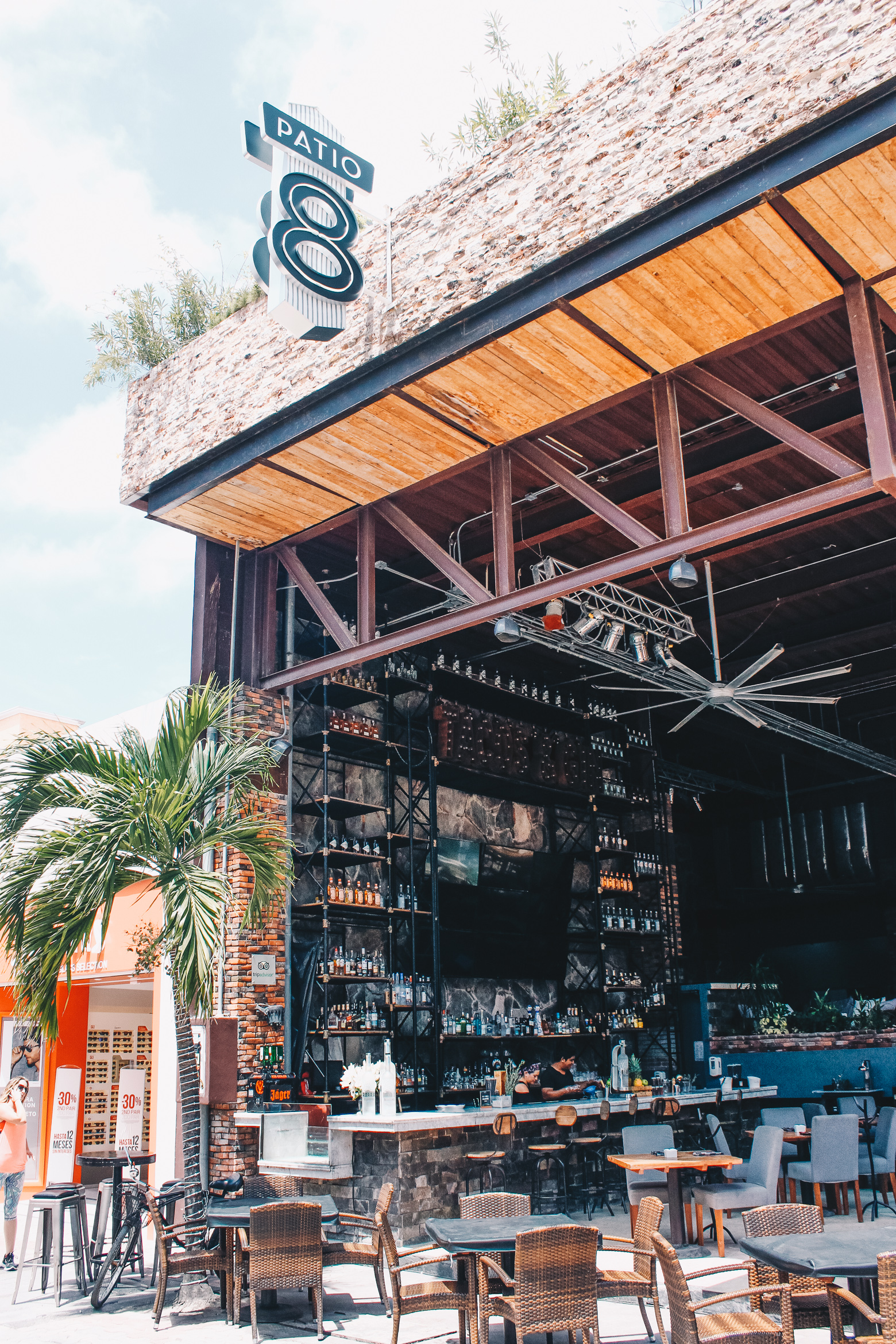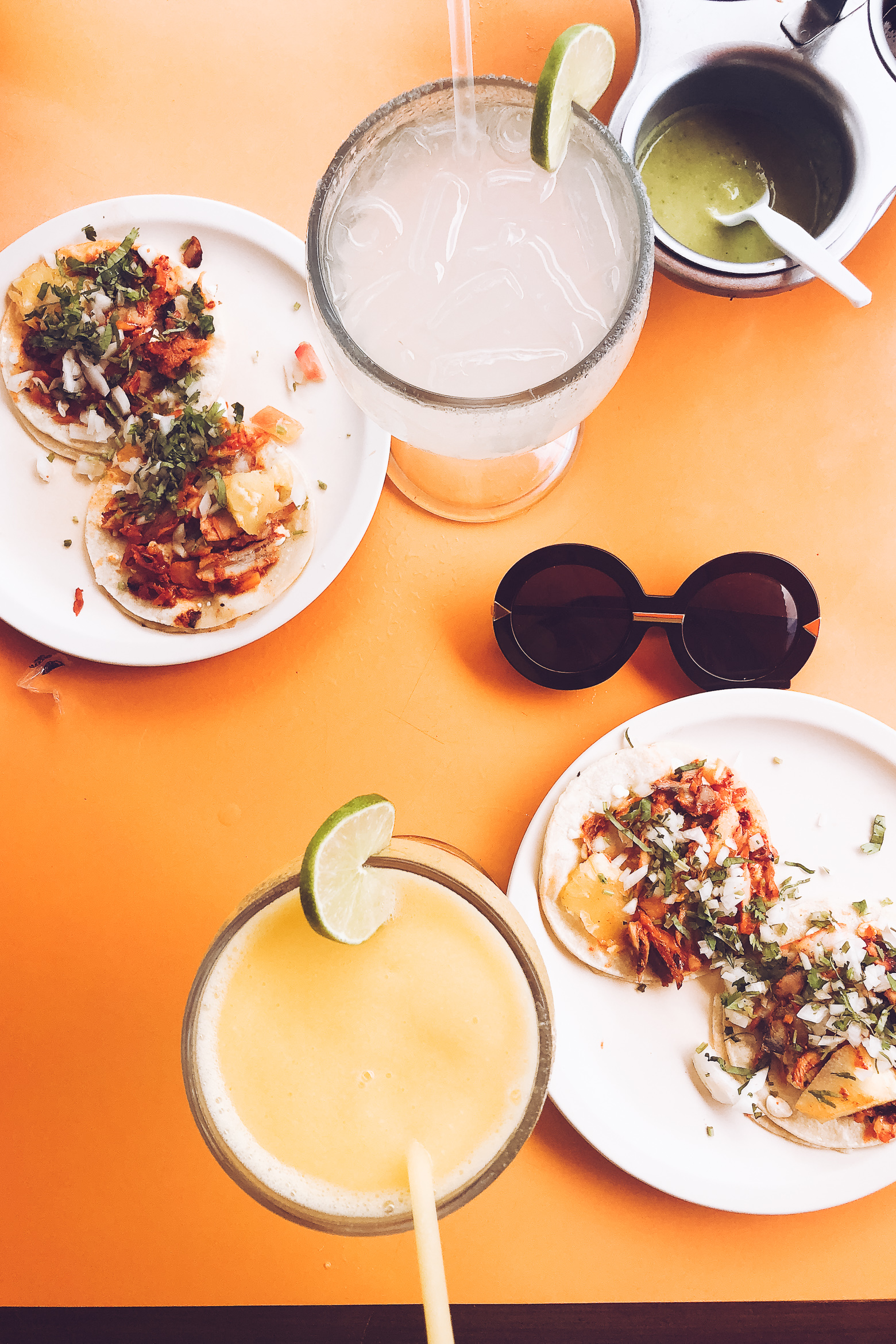 Where to eat & drink on 5th Ave.
There are so many great restaurants in downtown Playa del Carmen. You can't really go wrong but below are some of my favorite places we've been to over the years! There is a combo of really authentic Mexican spots + more modern/new spots, you get the best of both worlds on 5th!
Calle 34 Norte & Calle Quinta Avenida, Centro,
Cute little cafe at the beginning of the strip perfect for a cup of coffee and a cute Instagram
5°Av. Mza. 28 No. 209-1 x 10 y 12, Centro
Go here for breakfast! I know the name seems weird but the vibe is awesome and so is the food! Oh and get a strawberry mojito.
3. El Fogon (for a quick taco)
Avenida Constituyentes, Quintas del Carmen, 77720
You may have already heard of this famous hole in the wall taco joint! It's off the strip on more of a busy street and while the tacos are truly amazing and the margs are super cheap, beware that the vibes are nothing exciting! It is an authentic little taco stop but totally worth popping in for a quick bite and drink, if not to just be able to say you've been, because if you tell someone you went to Playa they will probably ask if you went here!
*You can check out our experience here in my "Mexcio" highlight reel on my Instagram!
See above! This rival hole in the wall taco joint is literally right next door to El Fogon. I took a poll on my Instagram when we were there and asked if people were team Don Sirloin or El Fogon and it was almost split down the middle but with El Fogon slightly in the lead! Eat at both and decide for yourself 🙂
5. FAH (for day or night drinks)
Calle Quinta Avenida 455, Centro
So, I've never eaten here but Kyle and I have a tradition that we ALWAYS stop here for a beer + tequila shot at the bar after breakfast (don't judge). The vibes are cute and it's a nice little stopping place as you make your way down 5th! PS I've heard they have live music here at night and it's really fun.
Calle Quinta Avenida, Centro, 77710
Stop here for lunch, ask for a seat outside, and order the fajitas!
7. Patio 8 (for drinks)
Calle 8 Norte 876, Gonzalo Guerrero, 77710
This is one of the newer/more modern spots on the strip and it's really cool. To be honest, I'm kind of bummed to see so many of these modern restaurants popping up because 5th ave. has become progressively more commercialized over the 15 years we have been going. However, I do love this place! It's an open air bar/restaurant and the vibes are awesome. Like all the newer spots on the strip, it's more expensive than the older places.
8. Pez Vela (the "swing bar" for a quick drink)
Calle Quinta Avenida 3, Solidaridad, 77710
The swing bar! Or, I guess I should say bar with swings. Stop here for a shot of tequila and a cute picture on the swings at the bar!
9. El Diez (for dinner)
Quinta Avenida Esq. Calle 30 Loc. 8 y 9, Centro, 77710 
El Diez is an Argentinian steak house. We do a family dinner here every year! Great meat and excellent vibes!
10. Alux (the "cave" bar – for dinner)
Av Benito Juárez Mz 217 Lt2, Ejidal, 77710
This place is SO cool! The restaurant is literally in a cave (aka: "cenote") right outside of the downtown area. The food and overall experience is amazing. Alux is a TOTAL must if you are on your honeymoon or celebrating a special occasion!
Calle 10 Nte 236, Centro, 77710
Much to all of our dismay, this steakhouse is NOT associated with Vanderpump Rules. However, you can find it in an episode of VPR because they did a group dinner here on their cast trip to Playa del Carmen! It's one of the newer/modern restaurants on 5th. Vibes and food are great but heads up it's on the pricier side!
12. Karen's (for dinner)
Calle Quinta Avenida, Centro, 77710
This is a pizza place, lol. I know what you're thinking: why would I want to eat at a pizza place called Karen's" on my tropical beach vacation to Mexico?. To be honest, about halfway through our vacation we usually need a little break from Mexican food and so we found this place and have made it a little tradition to eat here one time per trip. It's one of the best spots to sit and people watch at a table outside! Ask for Freddie the waiter.
5th Avenue Between 34th and 38th, Hotel San Pedro, 77710
This is a steakhouse and my parents ate here for dinner last time we were there and loved it!
14. PLANK (for dinner)
16th Street between 1st. & 5th Avenue
Swankier vibes and great food, doesn't have an ocean view but right by it so you can get a sunset pic on the water before or after din!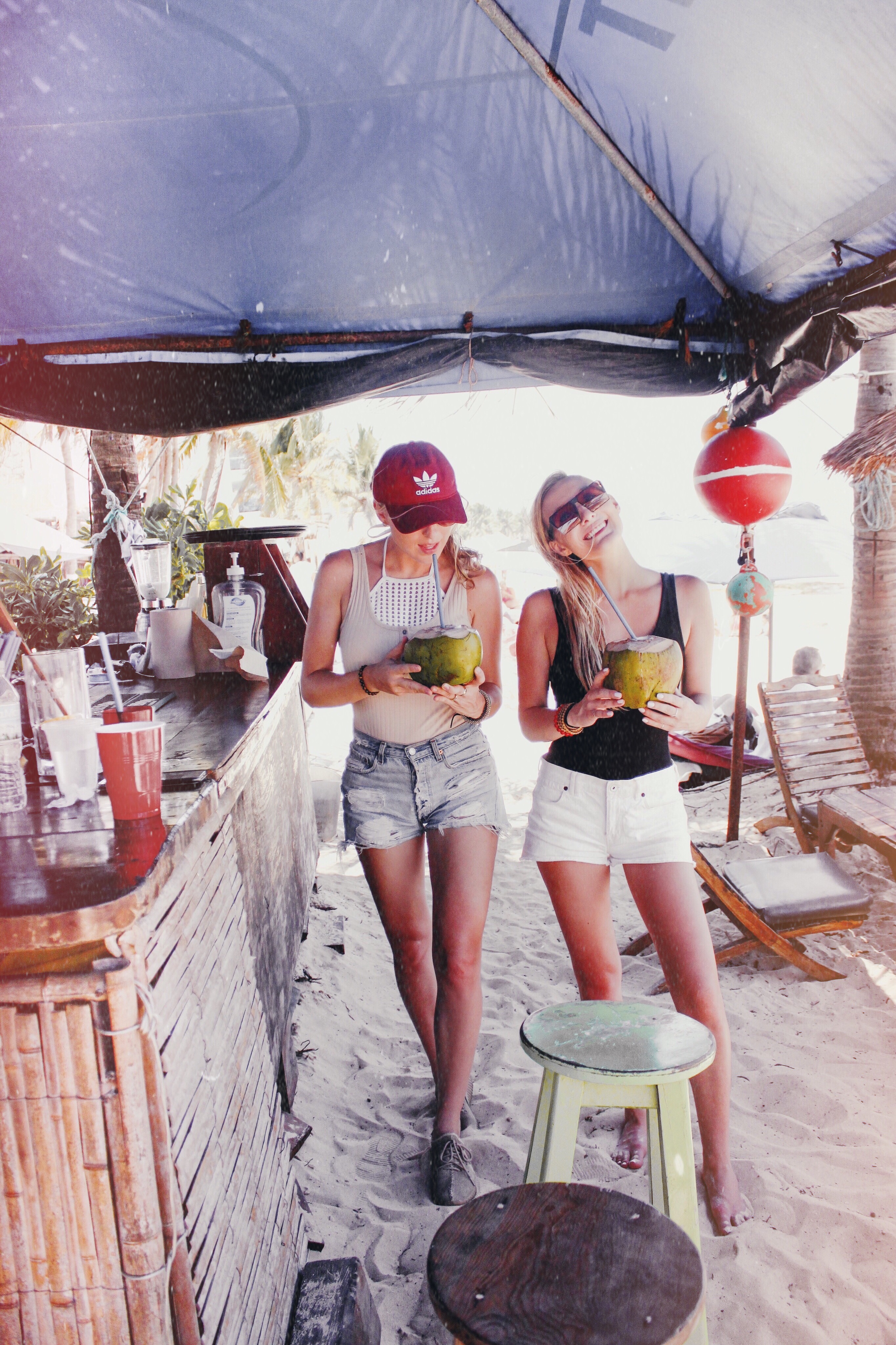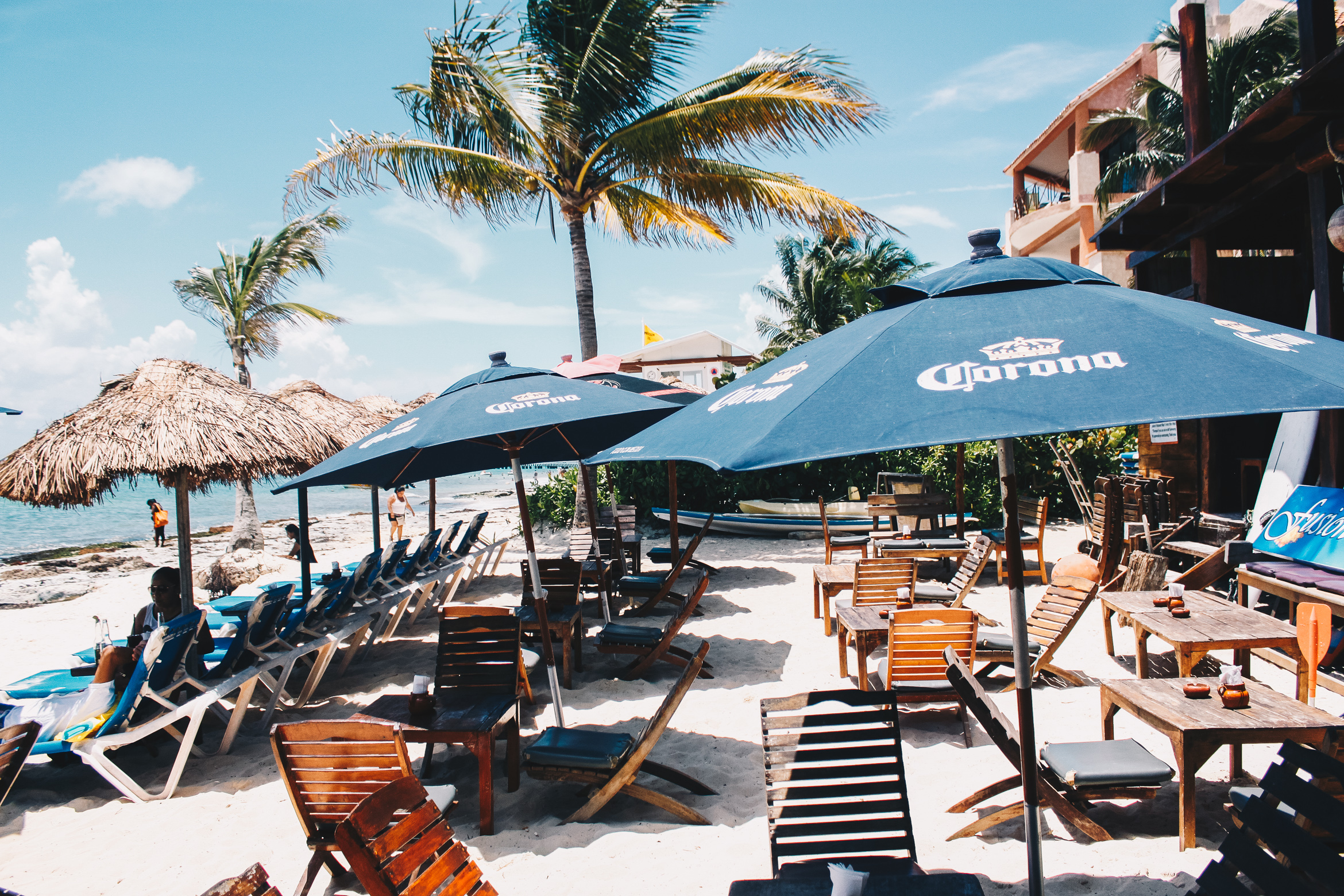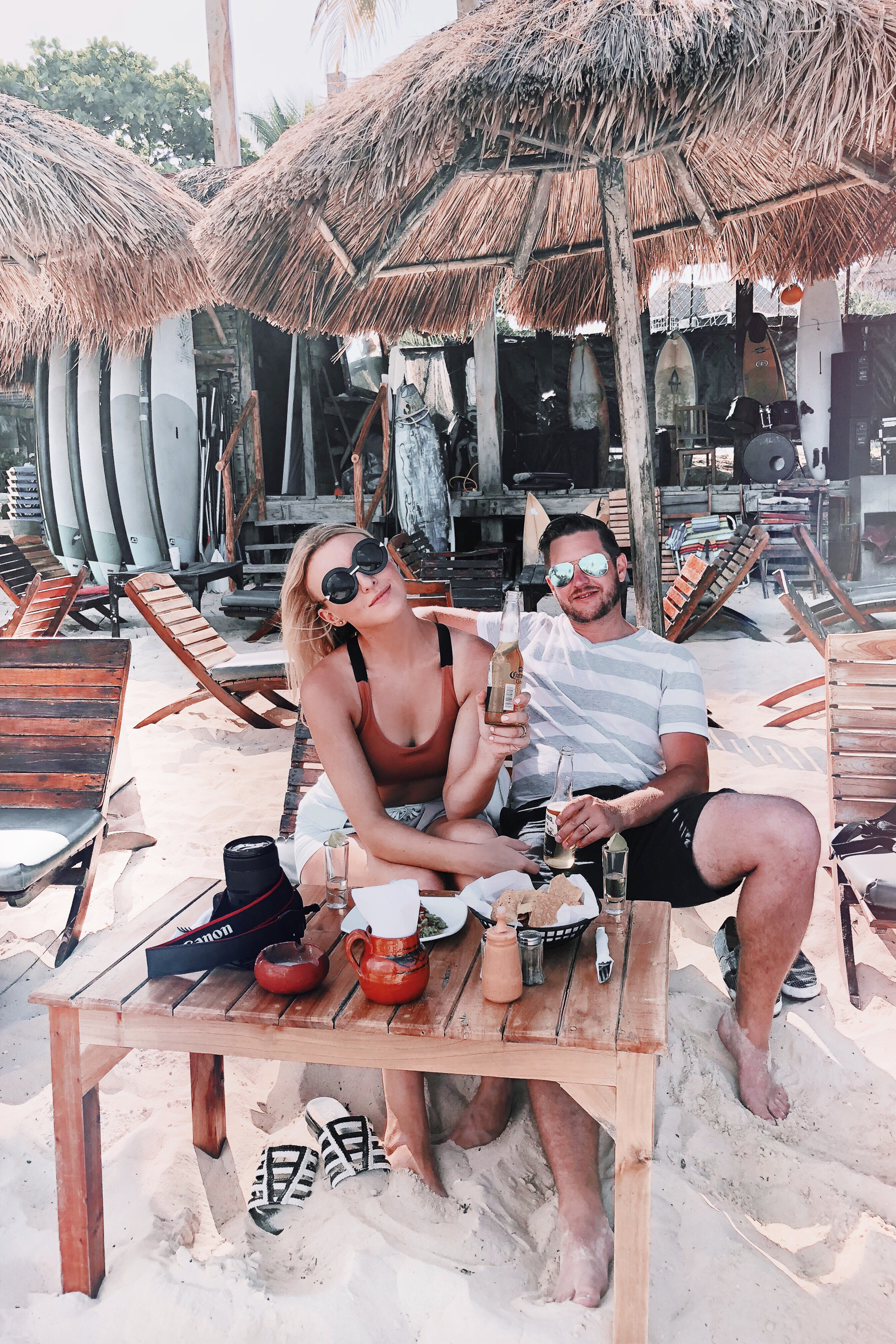 Beach Bars
You can literally just walk up and down the beach that runs next to downtown/5th Ave. and hop around the bars but here are a few of my absolute favorites!
77710 Playa del Carmen
2. INTI Beach (be sure to ask to go upstairs to the little loft!)
La playa, entre calles 6 y, Calle 4 Nte, Centro, 77710 Playa del Carmen, Q.R., Mexico
Calle 8 Norte 876, Centro, 77710 Playa del Carmen, Q.R., Mexico
Calle 8 y Playa s/n

 | 

Zona Maritima

, 

Playa del Carmen 77710, 

Mexico