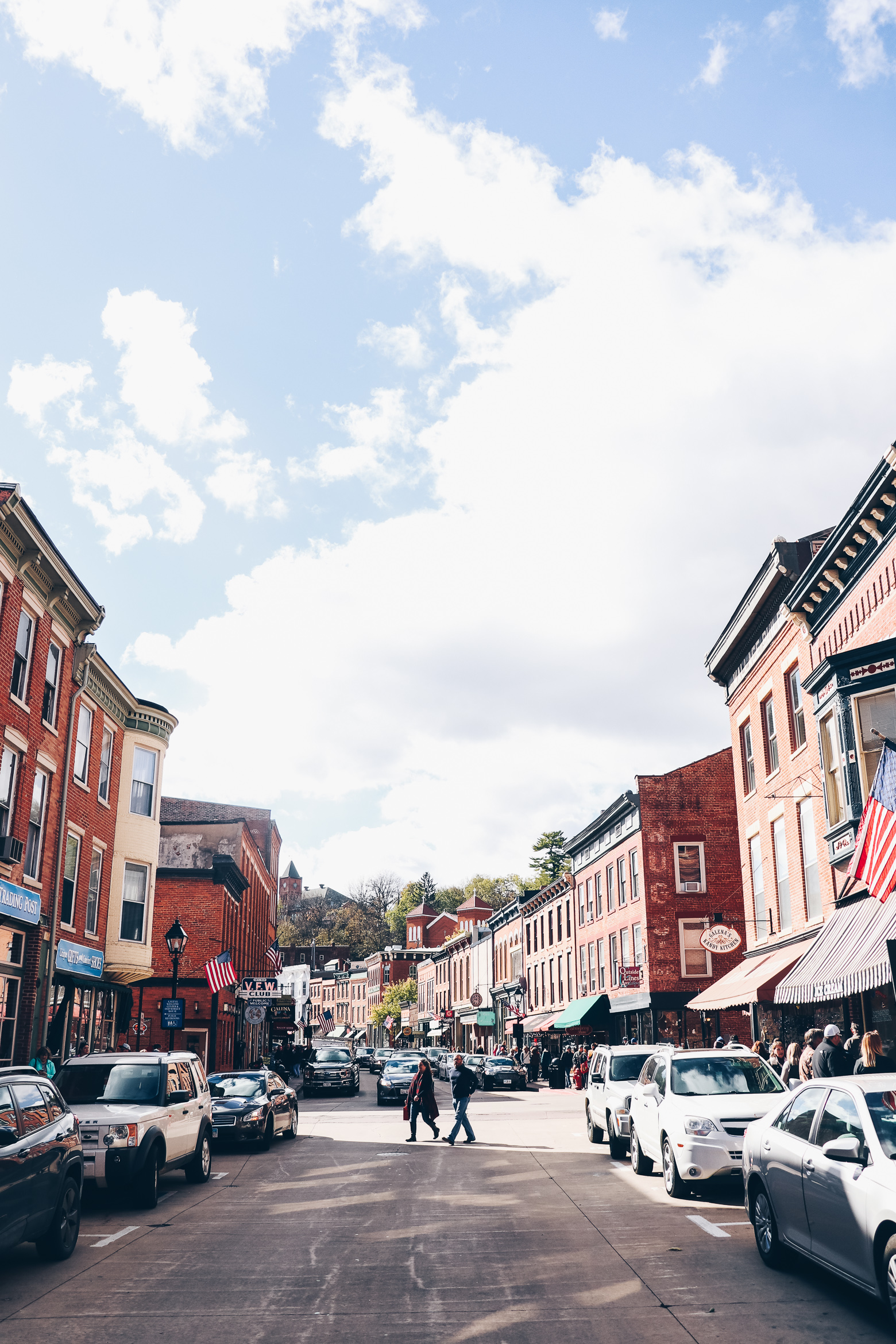 This post was written in partnership with the city of Galena, IL – a town that I love and visit every year! All thoughts and opinions are my own.
We got married near a little town in Illinois called Galena in October of 2015. If you're not familiar with Galena, it is an adorable town about 3 hours west of Chicago. Galena is nestled among gorgeous farms and rolling hills, which is super unusual for the typically flat/visually boring state of Illinois. No offense, IL. But for real, this little section of the state looks more like the Irish countryside than it does the midwest!
I can and will do a separate post about our wedding (if that is something you guys are interested in) but long story short: we discovered this little slice of heaven while looking for our wedding venue and we're so glad we did because the town will be a part of our lives forever. We've decided to take a weekend trip to Galena every year in the Fall; it is basically our first and only family tradition so far. This was already our third year going with James! See below 🙂
While Galena is gorgeous year round, I have a major sweet spot for this place in the Fall. The leaves are insane, the Halloween vibes are epic, and every other shop is calling you in for hot apple cider. MOOD. I really want to go during Christmas season because I'm certain it is next level cozy in the Winter too.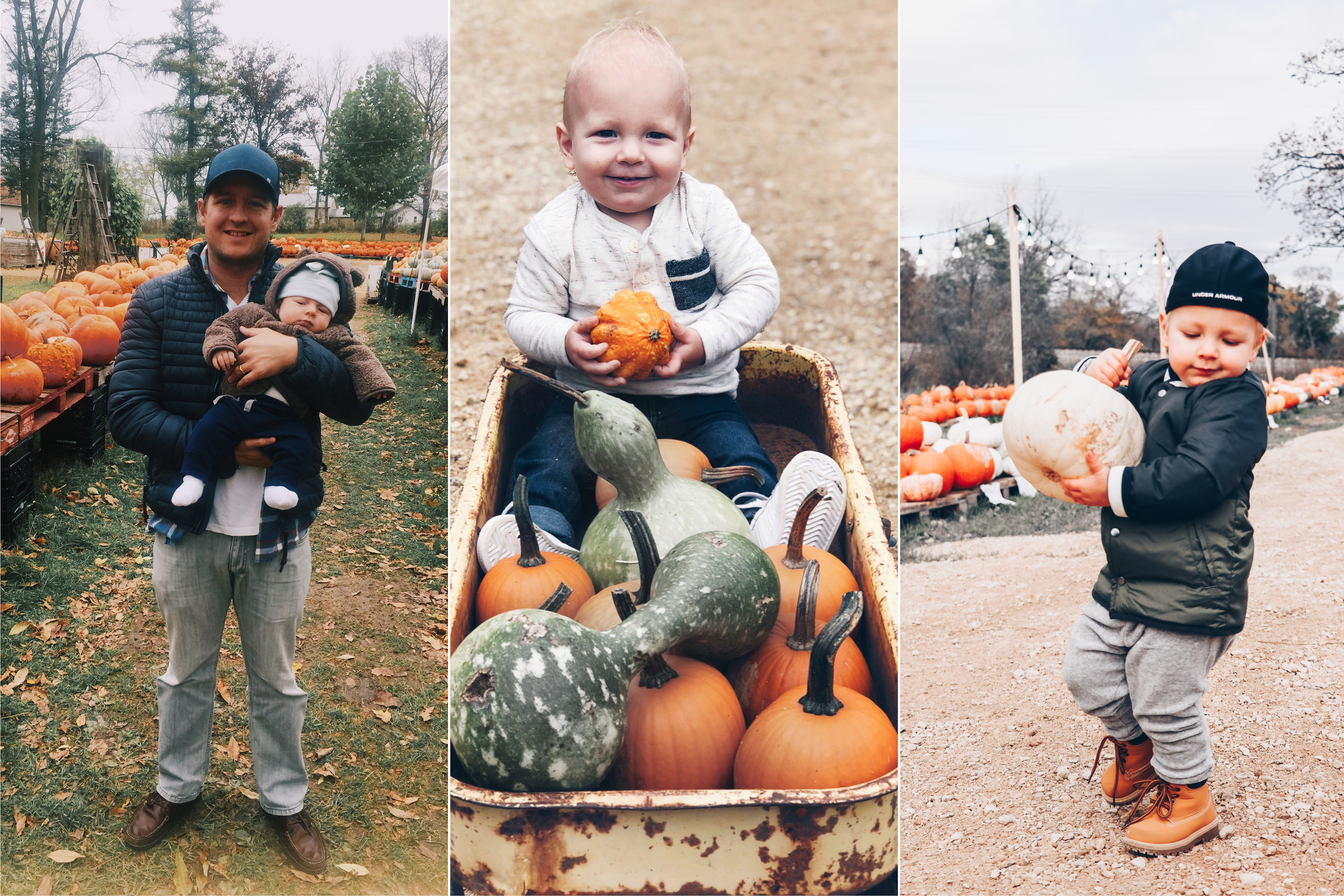 Where to stay in Galena…
This year, we stayed at the most beautiful house called The Galena Chalet in Eagle Ridge territory. We always rent a house in Eagle Ridge when we go to Galena. Eagle Ridge Golf Resort & Spa is about 10-15 minutes from downtown Galena, and they have hotel rooms you can stay at within the resort or you can rent a house via VRBO in the Eagle Ridge "territory". If you want to stay closer to town there are lots of cute historic bed & breakfast places closer to Main St. as well! But I've never stayed in any of them so don't have any recommendations.
The Galena Chalet is an actual dream. It is so cozy, clean, comfortable, beautifully decorated and has the most humongous + gorgeous outdoor patio I have ever seen. And the view! There is nothing like curling up with a cup of coffee (or a mimosa) in the morning and taking in that view. The whole vibe at the Galena Chalet is very cozy chic.
Think: authentic ski lodge in the Alps meets Restoration Hardware catalog. It is very well taken care of, sleeps 8-10 in beds plus there is a ton of couch space as well. I highly recommend staying here! Also, the owners are the most lovely people and so accommodating + readily available to help you with anything you need.
To book a stay at the Galena Chalet, click here!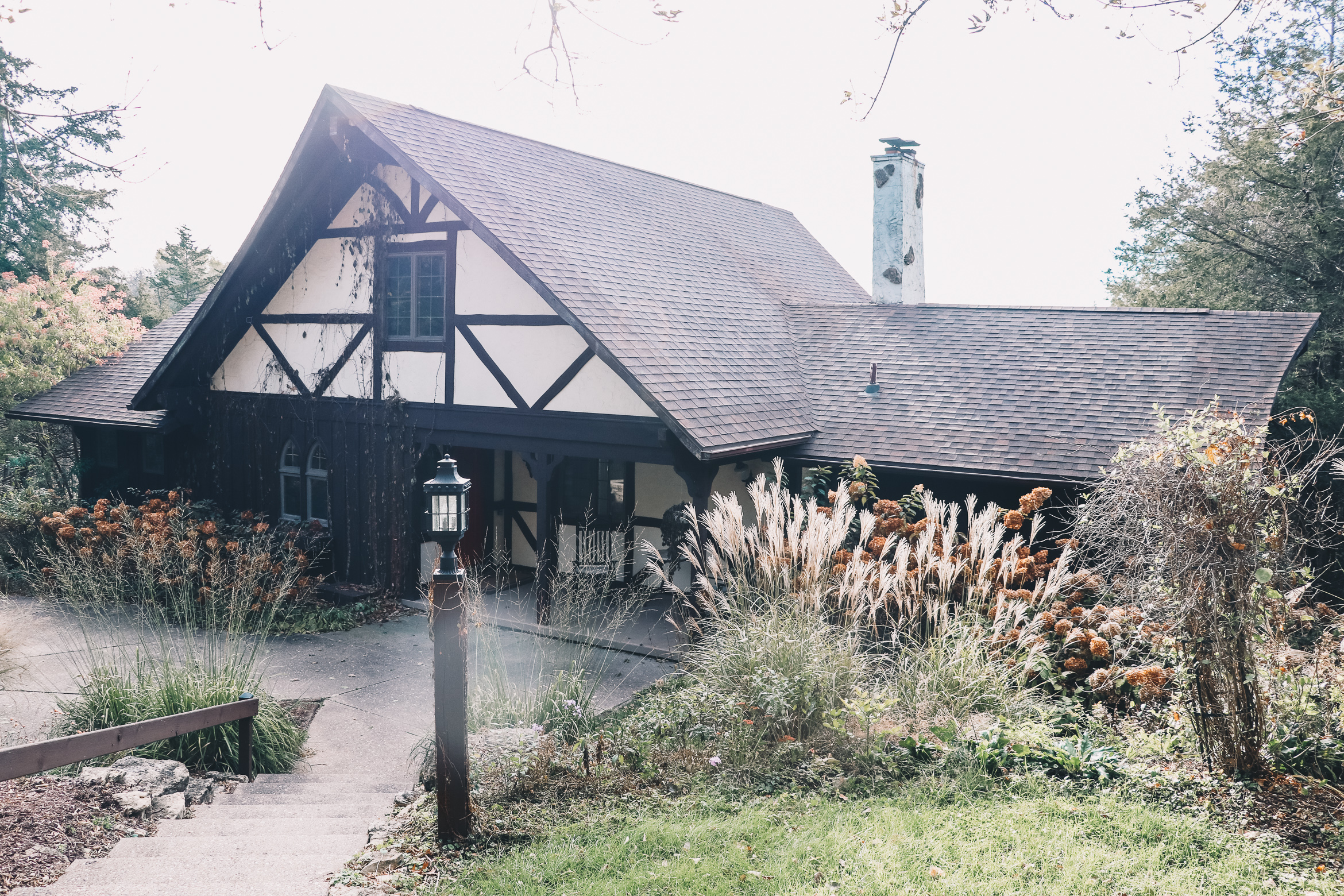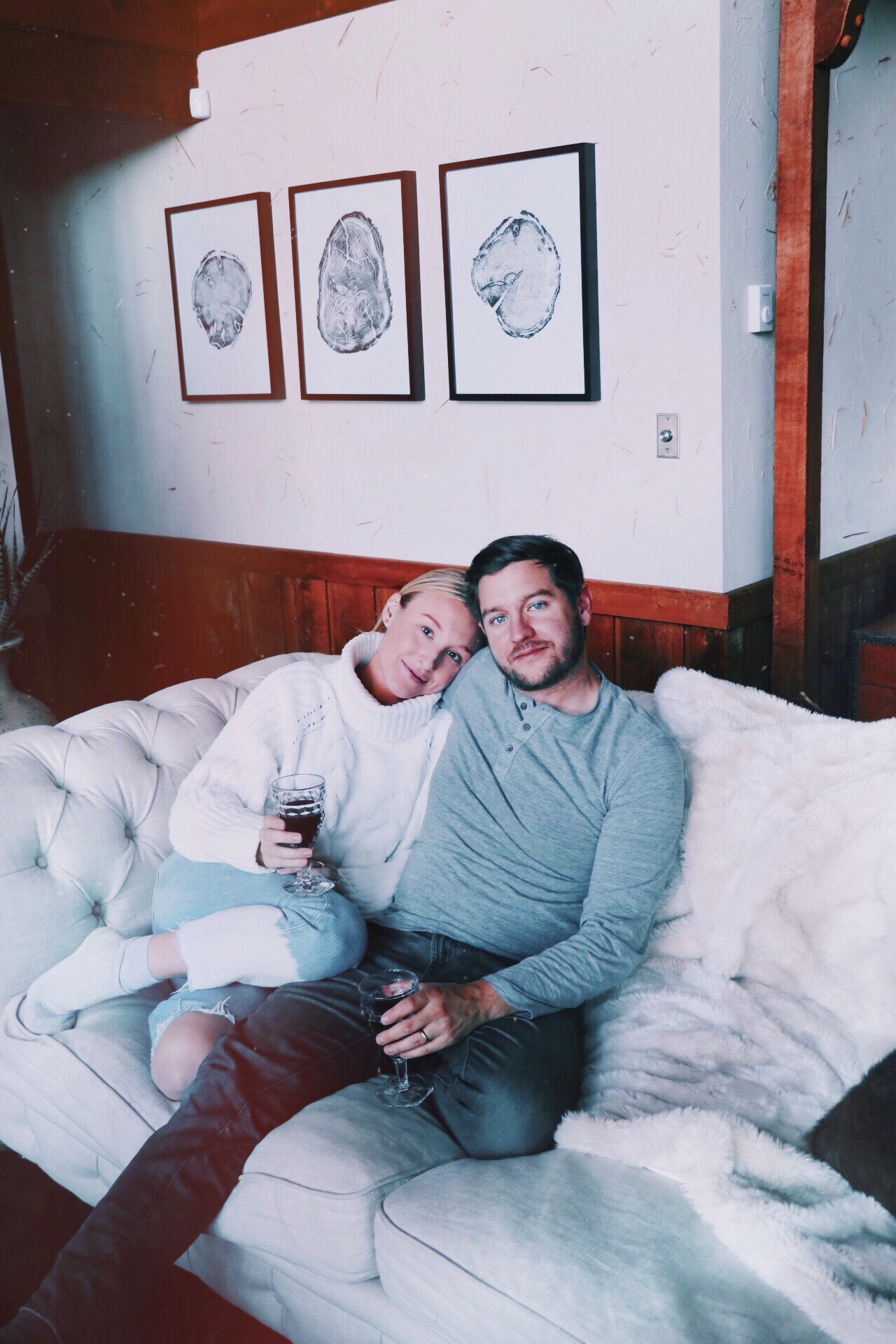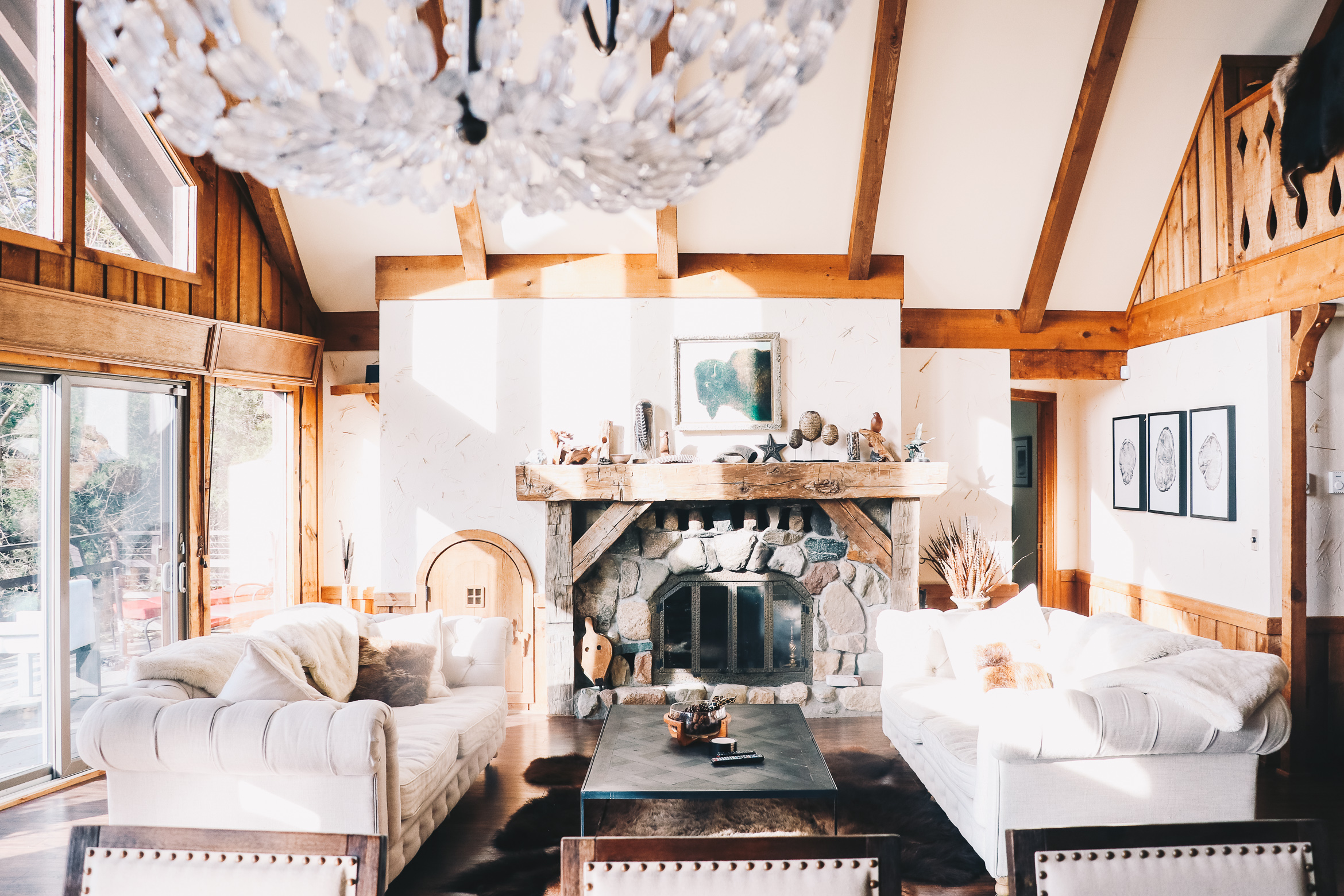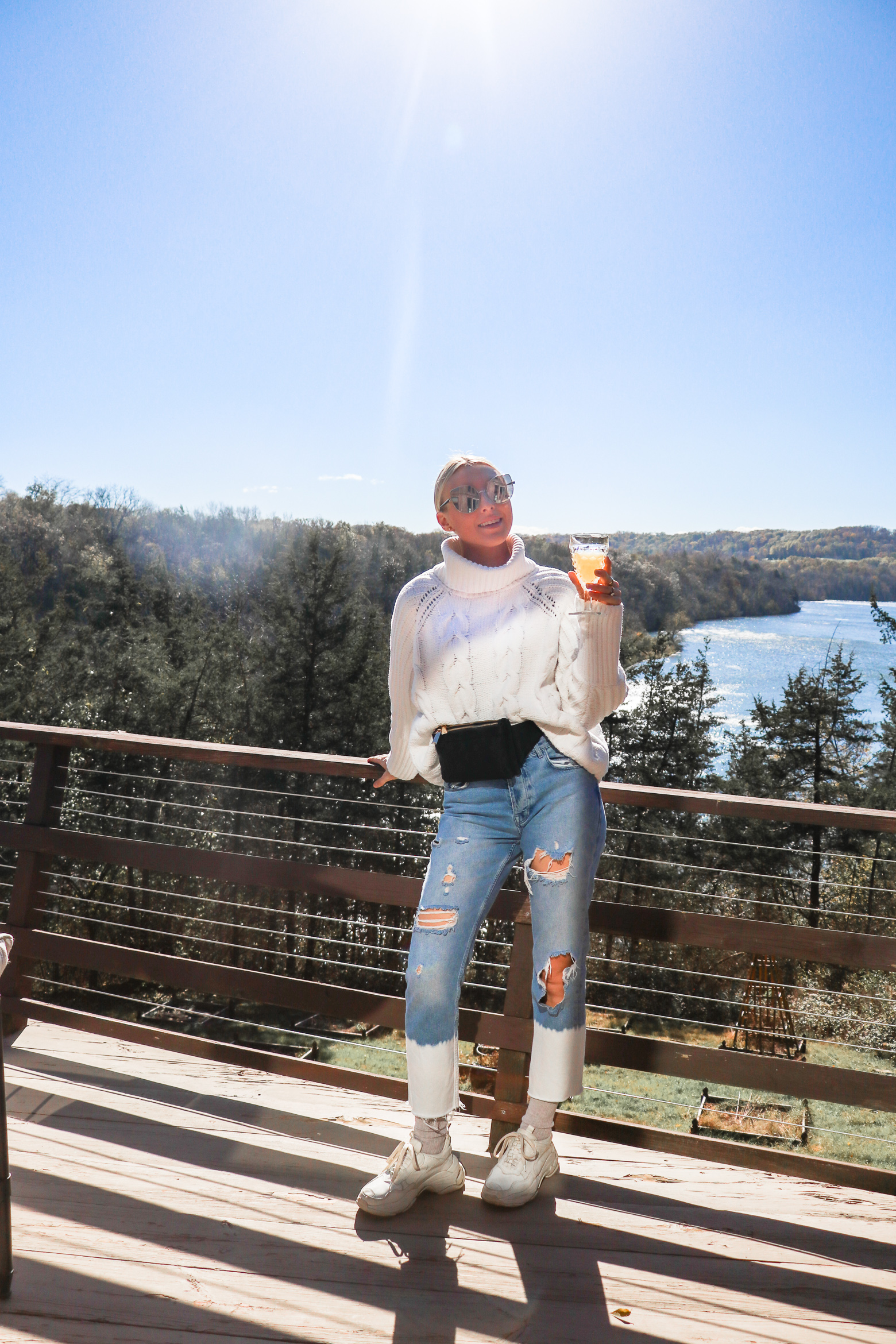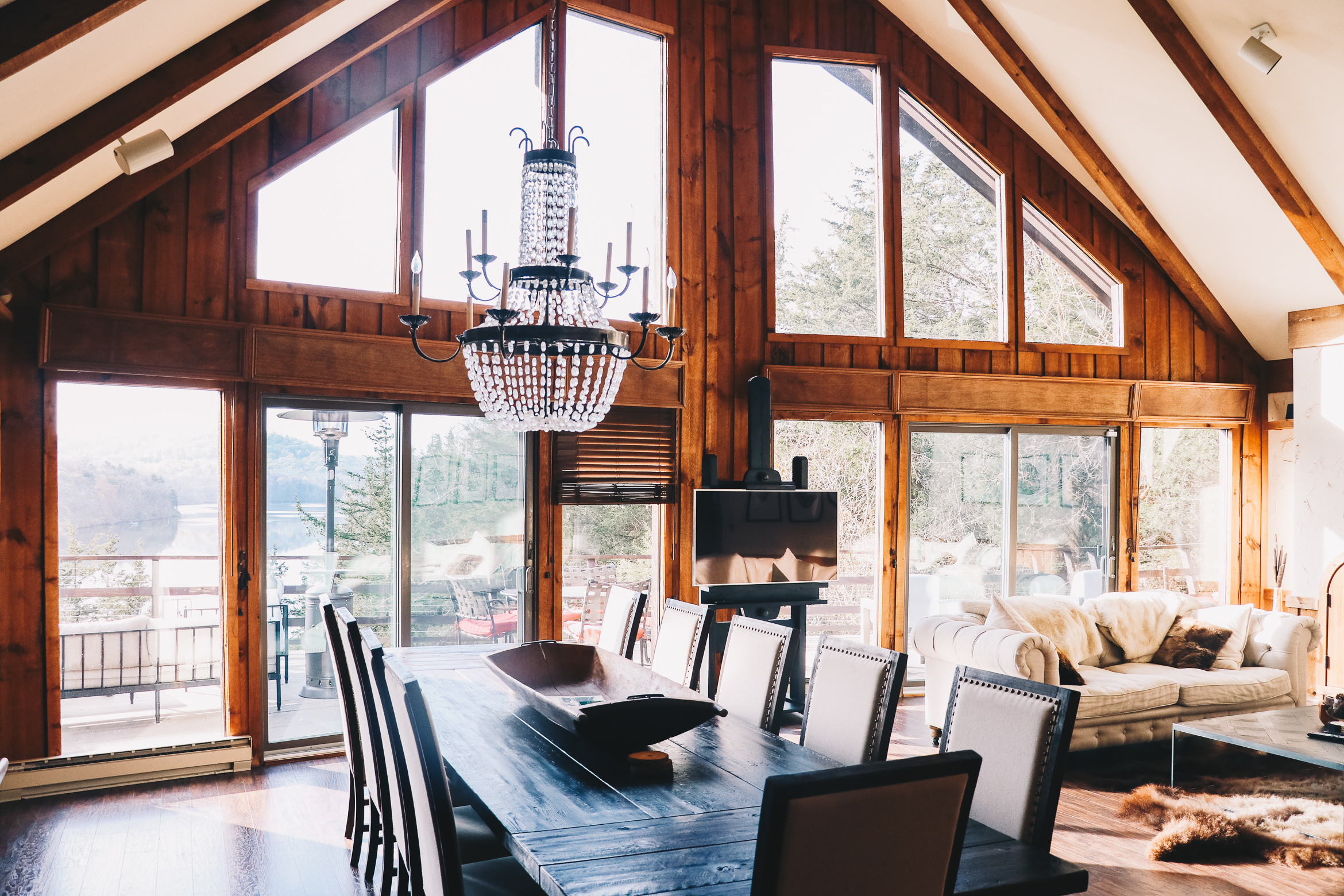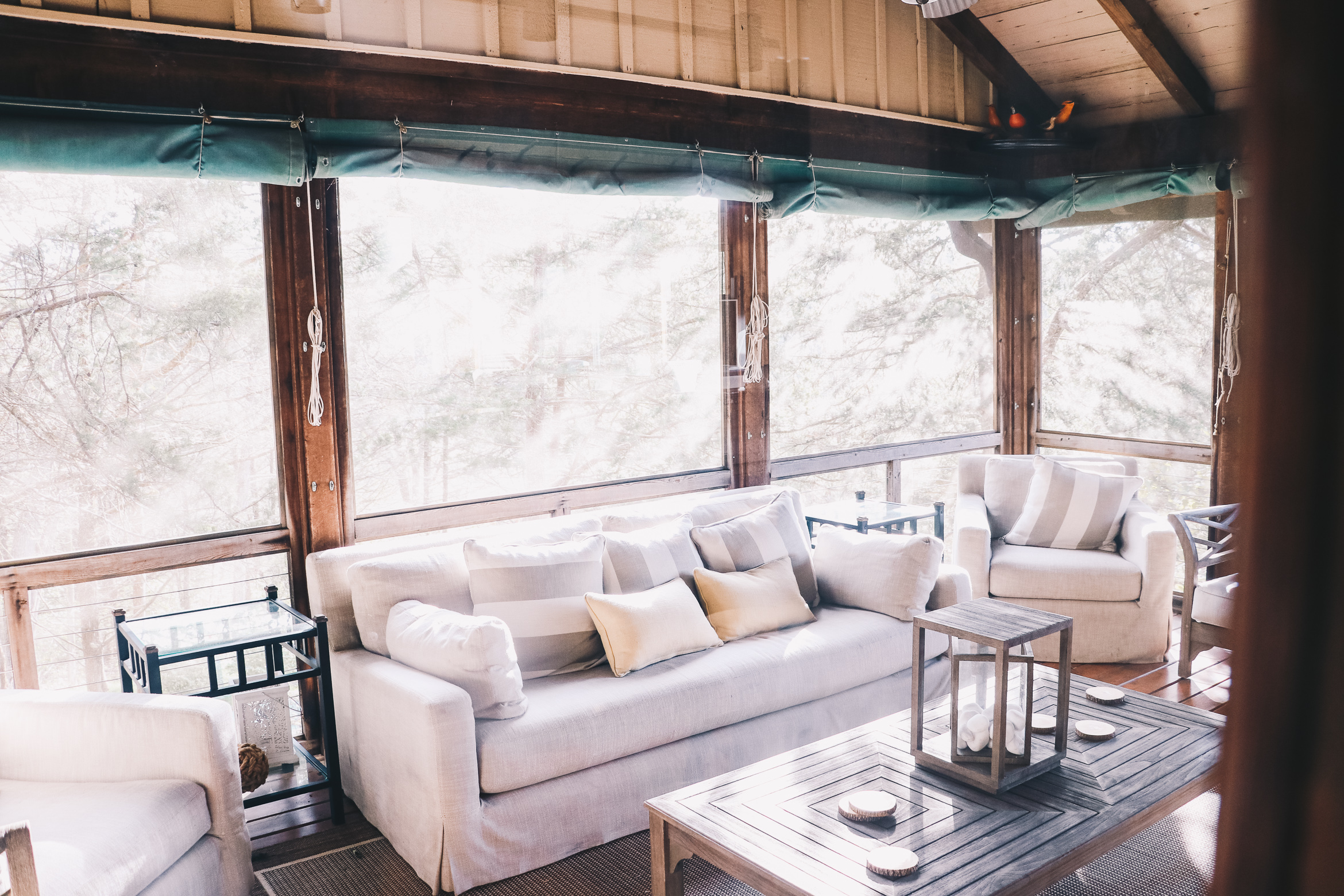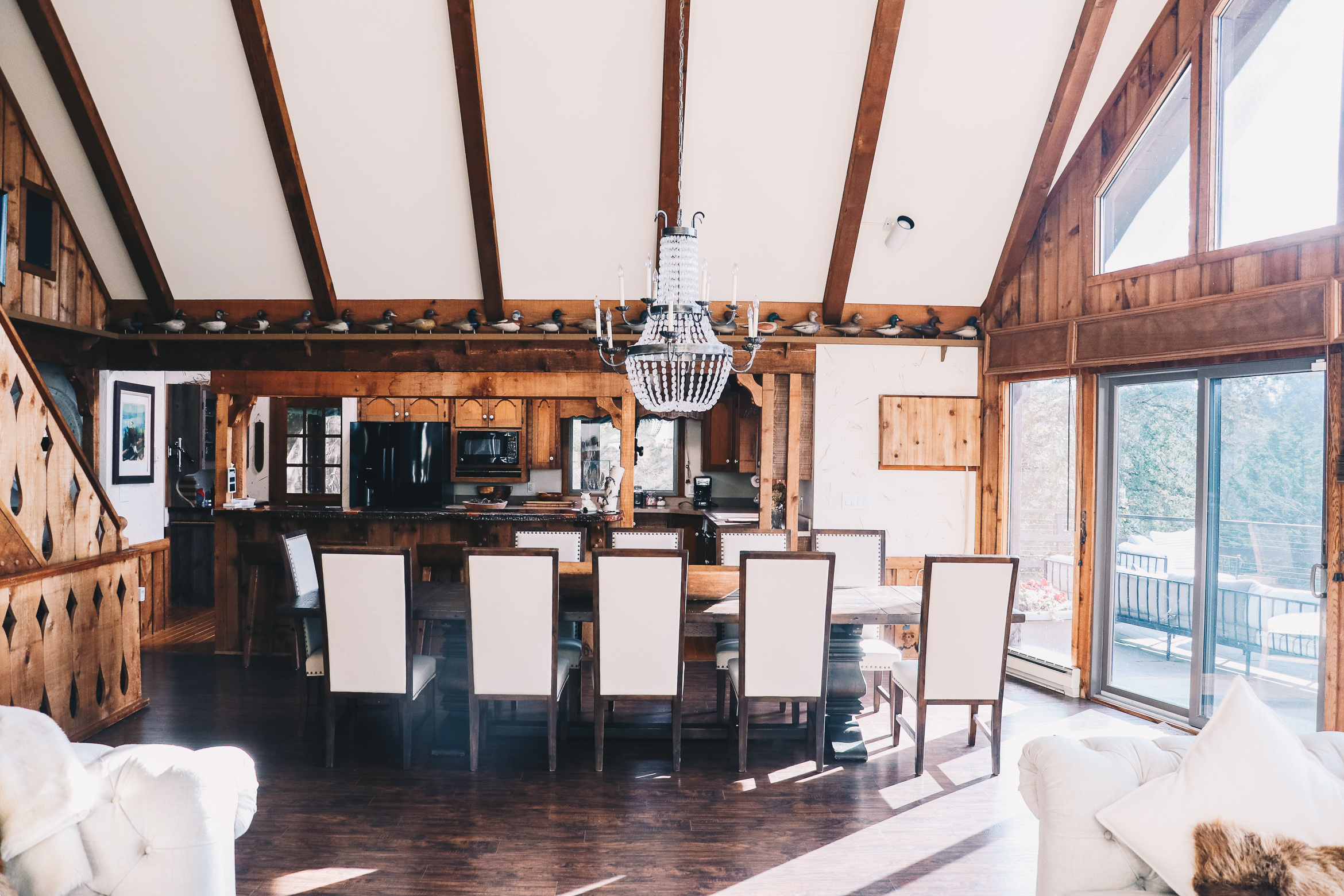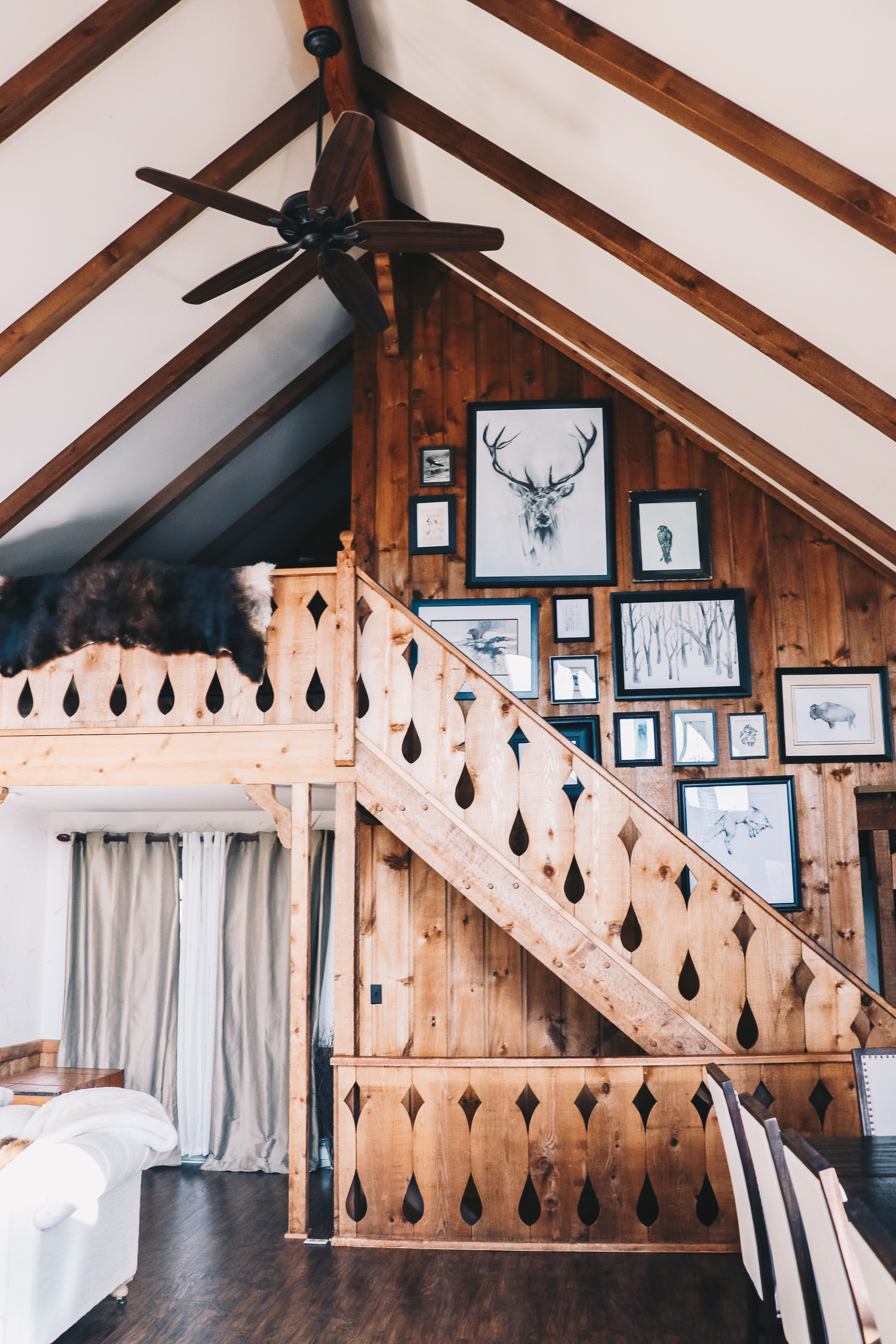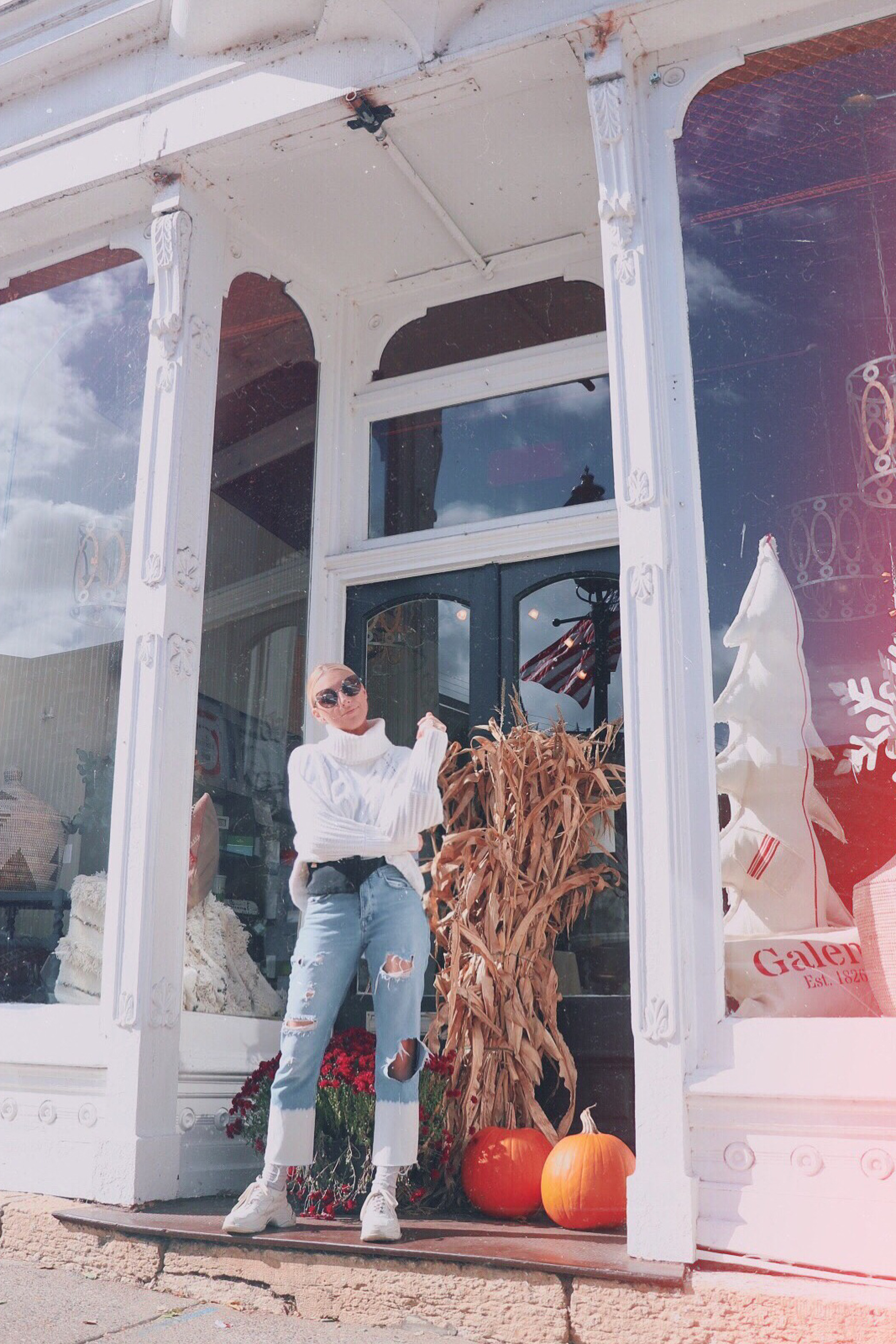 What to do in Galena…
Galena is so historic and charming that just walking up and down Main Street is an activity in and of itself. There are cute boutiques, antique shops, restaurants, and wine bars. It has such a relaxing, cozy, hometown feel that it really could be straight out of a movie. Actually, Field of Dreams was literally filmed there.
We also like to hit some of the vineyards outside of downtown, Kyle loves to golf at Eagle Ridge, and there are a ton of historic sites/old homes you can do tours of as well. We did the trolley city tour for the first time this year and I definitely recommend it! Next on my list is one of the ghost tours (apparently Galena is very haunted) but I chicken out every year.
Pumpkin patches + stuff to do with kids…
Dittmar Farms (cutest pumpkin patch with a ton of activities for kids including hay rides, pony rides, corn mazes, etc.)
Go on a "goat hike" at Hoof-It Galena (we have done this 2 years in a row and James LOVES it)
Shop…
The boutiques here have great seasonal decor. We pick out one Halloween decoration each year to bring home with us!
Elle & Beck's (coffee + clothes + gelato = best combo ever, right?)
Poopsie's (a must if you have a little one!)
Go antiquing…
I'm trying to start an antique coffee table book collection, so every year I pick out one old book from Peace of the Past II!
Peace of the Past II (down the street from the other Peace of the Past – great selection of old books!)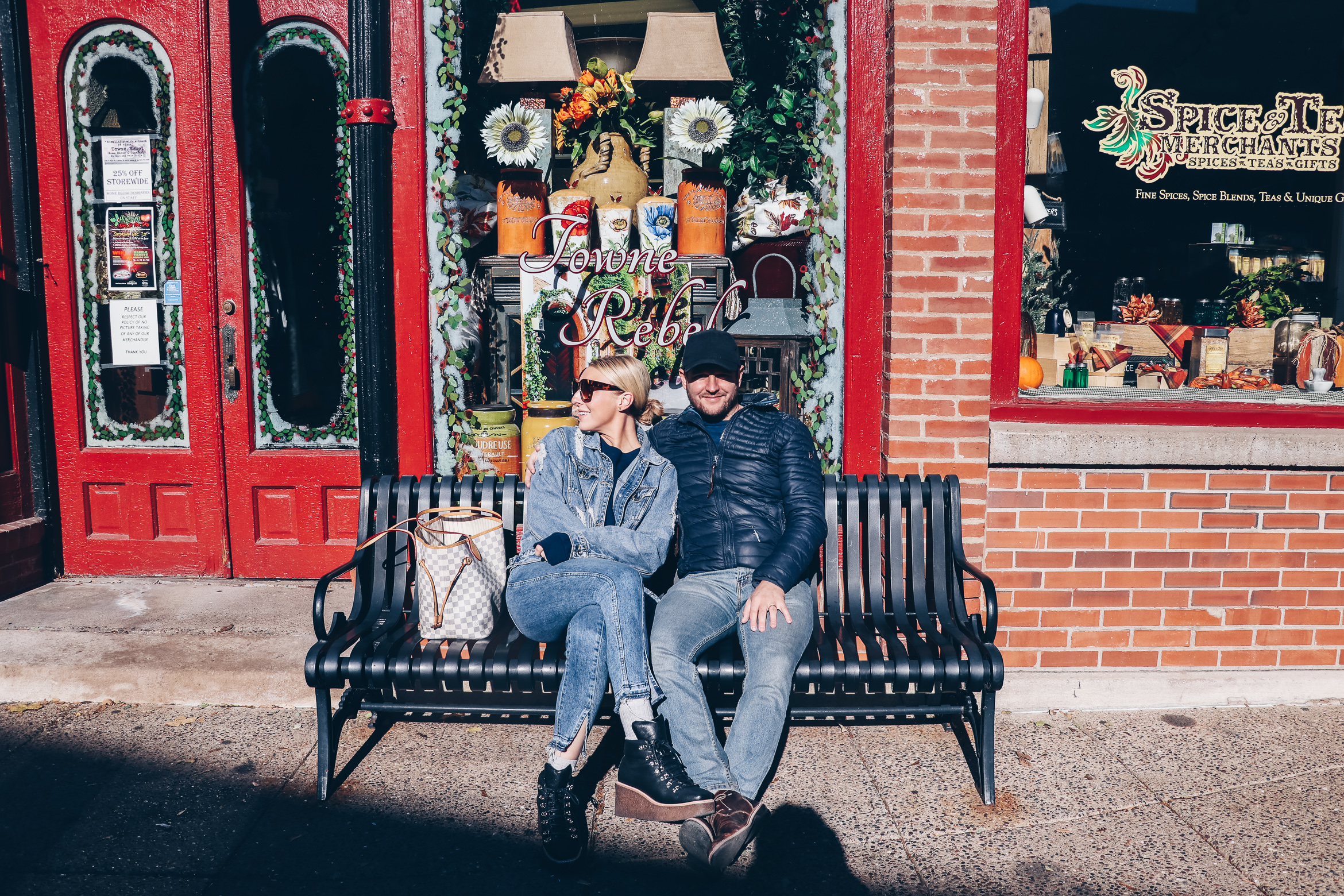 Hit all the food shops…
Okay, I'm going to be honest with you. The little food shops are really what I come for. Everything smells and tastes so good, it's all fresh and locally made, and you're on vacation so calories don't count.
I must warn you about the Galena Canning Company hot sauce though, it is H-O-T! There is a free sample tasting bar set up at the front of the store and I made Kyle try some and he almost passed out. You can see that whole saga on my "Galena" highlight reel on Instagram. He tried the 4th from the hottest hot sauce, meaning there were three sauces hotter than the one he taste tested, and he had to buy a milk on the spot to ease his pain. Please let me know if you try the hottest.
Galena's Kandy Kitchen (Get some almond bark and homemade sea salt caramel fudge!)
Galena Canning Company (Taste the hottest hot sauce in the world, AT YOUR OWN RISK!!!)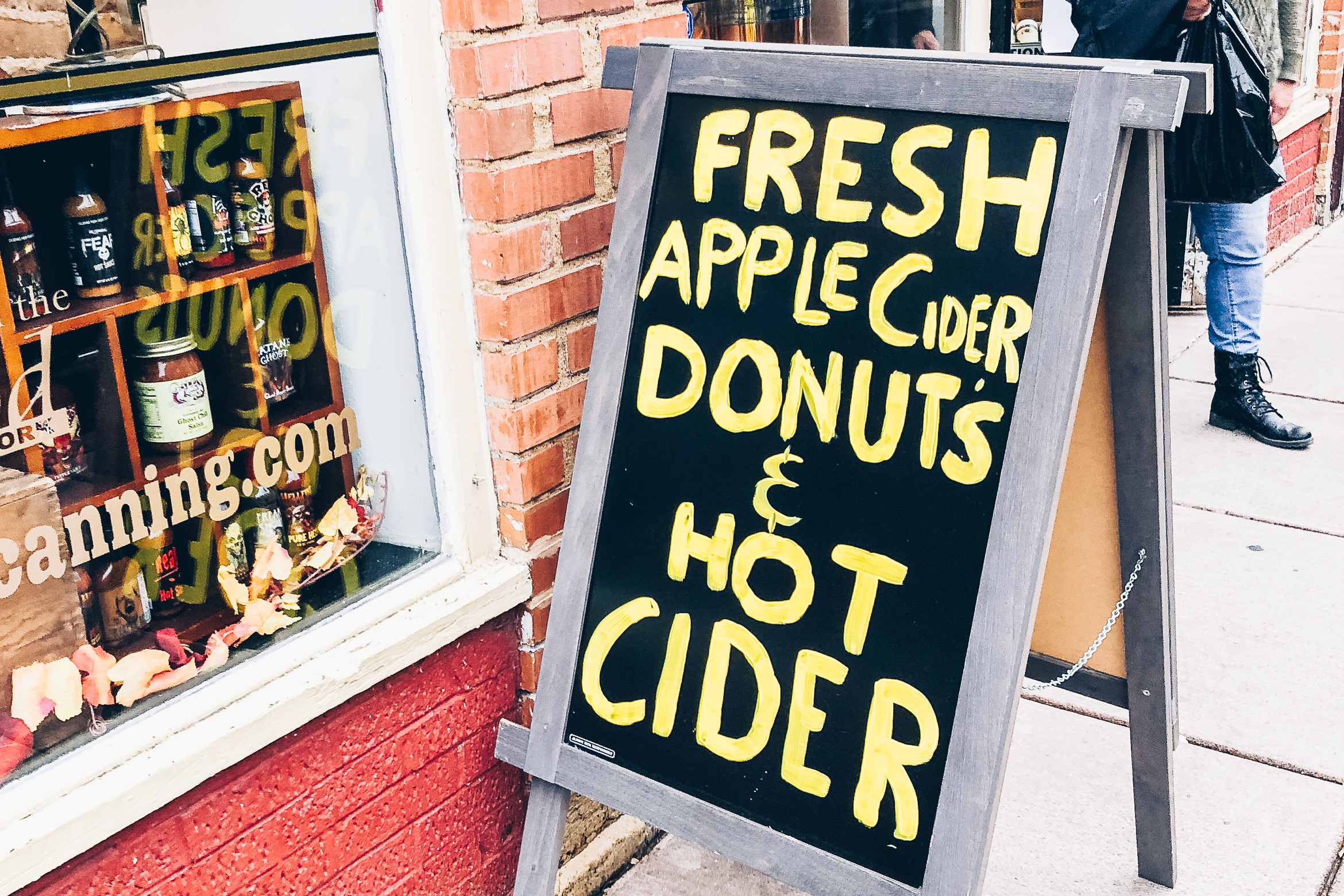 Do a tour…
Galena is so historic. Do some tours! Ulysses S. Grant lived there, there is a ton of civil war history, there are lots of homes from the 1800's, old fancy mansions you can tour, etc. Also, if being scared is your thing then definitely you're in luck because evidently the town is pretty haunted and you can even do a ghost tour as well.
Where to eat & drink…
Lots of great places downtown and even some outside of downtown to eat and drink while you're in Galena! For a full list of the dining scene, click here.
Vinny Vanuchi's (most adorable + delicious family owned Italian place, ask to sit upstairs if it's too cold to sit outside!)
Otto's Place (a must for brunch, not on Main St. though!)
Jamie's Wine Studio (for a to-die-for loaded + homemade bloody mary)
Gobbie's (good bar food + big outdoor patio)
Galena Brewing Company (if you want to catch a game + do some beer flights)
Ayalas (family owned Mexican restaurant – they catered my rehearsal dinner!)
Fergedabouit Vineyard (a super gorgeous vineyard outside of town, total Tuscany vibes!)
That about covers my city guide! Please let me know if you have any specific questions or visit www.visitgalena.org for more details about Galena. If you're reading this because you're heading there soon yourself, have a great trip! 🙂
More photos from our trip (a lot more)…