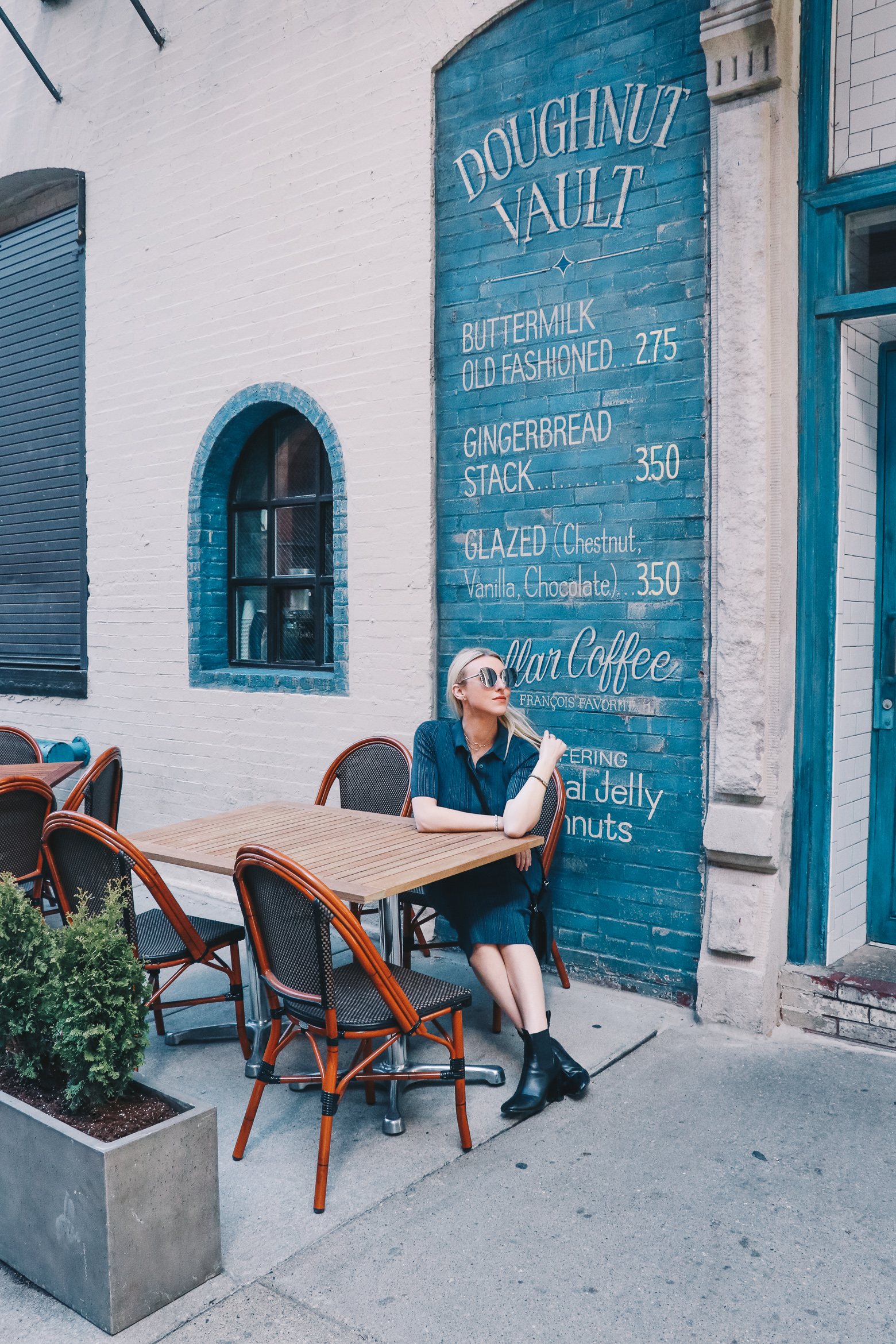 Okay, a couple things before we get started. First of all, I'm going to be totally honest and address the fact that I'm completely knocking off Somewhere Lately's "coffee talk" series. Main difference is, they probably get hundreds of questions a day and I get like 3-ish. Lol. But, I love reading Q&A posts on blogs and feel it's a great way to connect with people! I am an open book and can talk to anyone about anything for hours, especially if there's wine. So just FYI, nothing is off limits here, ask me anything.
Secondly, I promise all of these are real questions written exactly how I've received them in my Instagram messages. I really want to answer every DM and feel terrible when I get behind on them. So, I thought this might be an easier way to cover some FAQ's that I get from people. Also, I'm trying to be on my phone less in front of James, so please forgive me if it's taking me longer to get back to you these days! I will of course do my best to answer DM's, but if you have a question please feel free to comment with it on this post or email me directly at: hello@megmcmillin.com with "Ask Me Anything" in the subject line. I'll be sure to cover it here!
Here are some recent + random Q's I've gotten…
Q: I'm new to your blog/insta! If you don't mind me asking, how old are you?
I turned 30 a few months ago! Saying that still feels so weird. My birthday is February 14, 1988.
Q. So curious, tall girl to tall girl, where do you recommend shopping for jeans? Love the fit of yours!
Hi, fellow tall girl! I am 5'8″ and have weirdly long legs, so not all jeans fit right. I'm obsessed with finding a nice long jean and always have the best luck with places that sell them by LENGTH and not just waist size (i.e. "27/34" instead of just "27"). My favorite places to shop for jeans that do this are: Topshop and ASOS. The "Farleigh" style jeans from ASOS are some of my favorites, the price point is literally unbeatable and the fit is excellent/TTS. Also, I've always liked H&M jeans and find they fit my long legs well.
Q. What kind of camera do you use for your photos/what app? I want to create something for our surrogacy journey and would like to learn to take photos like yours!
Congratulations!!! How exciting. I hope the pregnancy is going well! I shoot with a Canon 80D. It has an awesome feature that allows you to upload photos directly from the camera to your phone. Which is amazing. When editing on my phone, I use the VSCO app for filters and I also use the Snapseed app to do selective saturating/de-saturating, lighten/darken certain spots on the photo, etc. My favorite VSCO filters are: HB1, HB2, C6, and A5. I don't use the same filter for every photo, because every photo is different and therefore I try and achieve my "look" using whatever filter would suit that particular photo best.
When I have time, I will edit photos in Adobe Lightroom on my computer. It is easier to adjust shadows and color tone in Lightroom. Also, I found this awesome free download: 10 Free Lightroom Presets Inspired by VSCO Cam and use that when editing in LR.
Q: Hi! Love your blog and posts! I have a 7 month old and we are trying to get her accustomed to going out with us but she's not doing so well at restaurants. James seems like a pro – any tips/tricks?
First of all, I swear James has his moments! He isn't a happy camper 24/7 when we are out. I've gotten this question before and have been meaning to do a post about it. The book Bringing Up Bebe was my inspiration for fearlessly taking James to restaurants.  He definitely gets antsy and throws a tantrum from time to time but we've got him pretty figured out by now and know how to handle it when things go south. Here is what I find works:
James tends to behave best when Kyle and I are talking to each other and basically ignoring him. Don't focus on/dote on your baby while you're out. I think that the more the adults at the table talk to one another + enjoy themselves, the more likely a baby is to relax, look around, and become enthralled with everything going on around him/her.
Bring snacks. Ration them.
If your baby/toddler really starts to lose it, don't panic. Talk about this possibility with your spouse beforehand and agree that if this happens, one of you will walk around with your little one until they calm down. This might mean a trip to the bathroom, lap around the restaurant, or even going outside for a bit. But they WILL calm down!
If you like going out, then just keep doing it. Don't let one bad experience stop you! It will get easier each time, both you and your baby will start getting used to it.
On the flip, if going out to eat with your baby seriously stresses you out then don't feel like you have to force it just because other people do it. Kyle and I are social animals and selfishly love to go out, so we enjoy it even through the hard parts.
Q: Where is the rug in James room from? Is it real? I am hunting for a good Moroccan rug!
It is an authentic 5×7 Turkish Rug! And I got it for $125 (including shipping!!!) at the E-Carpet Gallery Ebay Store. No two rugs are the same and you have to dig for the good stuff, but the deals are seriously amazing. That it also where I bought the rug in our bedroom which I've received some questions about too. You can check out James' rug in his nursery tour post.
Q: James seems so verbal. I have a 12 month old and he doesn't really have any words and I'm kind of stressing. Did you do anything with James to get him talking so much so early on? Any tips would be very much appreciated.
This is another question I have gotten a few times. First of all, don't panic! All children develop at their own rate. I never want to stress out other moms with videos I post of James! I have felt this way before when I see moms post about the 4-hour nap their toddler is taking because I have struggled MAJORLY in the nap department and always feel like it must be my fault in some way! But it's not. We are all just doing the best we can!
I want to tread lightly here because I'm clearly not a child development specialist and don't want to come off like I know anything for certain about why James is so verbal. I talked very early on as well, and it could just be hereditary. And what I've done with James may have nothing to do with why he talks! However, I'm happy to share some things I've done with James in case it helps in any way:
I was really strict about TV in his first 15 months of his life. I've read that TV before age 2 can hinder language development so I put my foot down early on about that. However, I eased up once he started showing signs of talking around 15 months.
I have always constantly talked to him, even when he was a newborn. In the book Secrets of the Baby Whisperer, she recommends talking to your baby as much as possible + explaining what you're doing while you're doing it. Sounds kind of ridiculous, but I went along with it. I would (and still do) explain the dishes as I unload the dishwasher, talk to him about what I was doing while changing his diaper, point to cars/dogs/trees and talk about them on our walks, etc. Lots of theories support the idea that babies can understand us far before they are able to talk and that it can help them learn!
I started doing the "James, can you say…" thing when he was really young, even though I knew for a fact he couldn't repeat whatever word I was asking him to say. At first he would just look at my like I was crazy, a few months later he would start making grunts, shortly after that he would blurt out something more word-like, and then he started articulating a little better.
Q. Did it take a while to lose your baby weight? Did you do any workouts?! I'm in third trimester and totally worried about the weight gain and if I'll be able to shed it! I know everyone is different but always up for insight.
Please be easy on yourself in those early postpartum months, it's such an emotional time as it is and your body has already been through so much! I hate telling people this because I know breastfeeding is a super touchy subject and I don't want to stress ANYONE out, but I attest losing most of my baby weight to breastfeeding. I also walked a ton. But I breastfed for 15 months and didn't start to lose weight until James was around 3/4 months. To be honest, I hate working out with a passion. I was a pretty serious athlete up until college but now I suck at working out. And the fact that I don't exercise stresses me out because I SHOULD! For physical AND mental health reasons! Katelyn is always trying to get me to Soul Cycle with her but I keep putting it off. I know it is so annoying when someone who seems in shape says they don't exercise. I wish I had a better answer for this and I promise I'm flabby AF. I do walk all the time and when James was an newborn I started walking a couple miles a day with him as soon as I was able.
If you end up not nursing, do not stress! I was basically the only one of my friends who breastfed and they all look amazing. However, they are all a lot better about working out than I am. Okay, I'm going to stop now because I'm nervous that everything I say in this answer is offending someone out there.
Q. I love when you talk about Bravo stuff! This is so random but I have to ask: who is your favorite and least favorite on Vanderpump Rules?!
PLEASE keep Bravo questions/comments coming. I LOVE THEM. Least favorite: by far Scheana. Favorite is tougher to answer because I feel like everyone is meant to be a villain on that show, ha! I think James is by far the funniest. I met him a few months ago in LA and he was actually really sweet! Albeit blacked out. We saw him at The Abbey with Logan and Ariana's brother Jeremy! People will probably disagree with me here but I honestly like Stassi and feel like she is the most real, but I know everyone hates her because of that stuff that happened with her podcast. Also, aside from the chronic cheating on his wife I really love Tom Schwartz!
Q: Hey girl – love your posts James is adorable. I went to LT with your sis and need to know where you get your hair done/if you get it colored. I need to make a change real bad!
Thank you so much! And go LTHS! AKA Lyons Township High School. Yes, I get highlights partial highlights every 6/8/10 weeks or so. It totally varies. Sometimes I'm good about going and sometimes my roots grow out so bad that I have to try and pass it off as ombre. I have been going to Dennis Neva for years, he is an independent stylist and works out of Salon 9B in Lincoln Park. Call or text him directly to book: Dennis Neva // (773)910-5109
Feel free to leave questions for my next post in the comment section or email me directly at hello@megmcmillin.com with the subject like "Ask Me Anything"! As always, thanks SO much for stopping by.