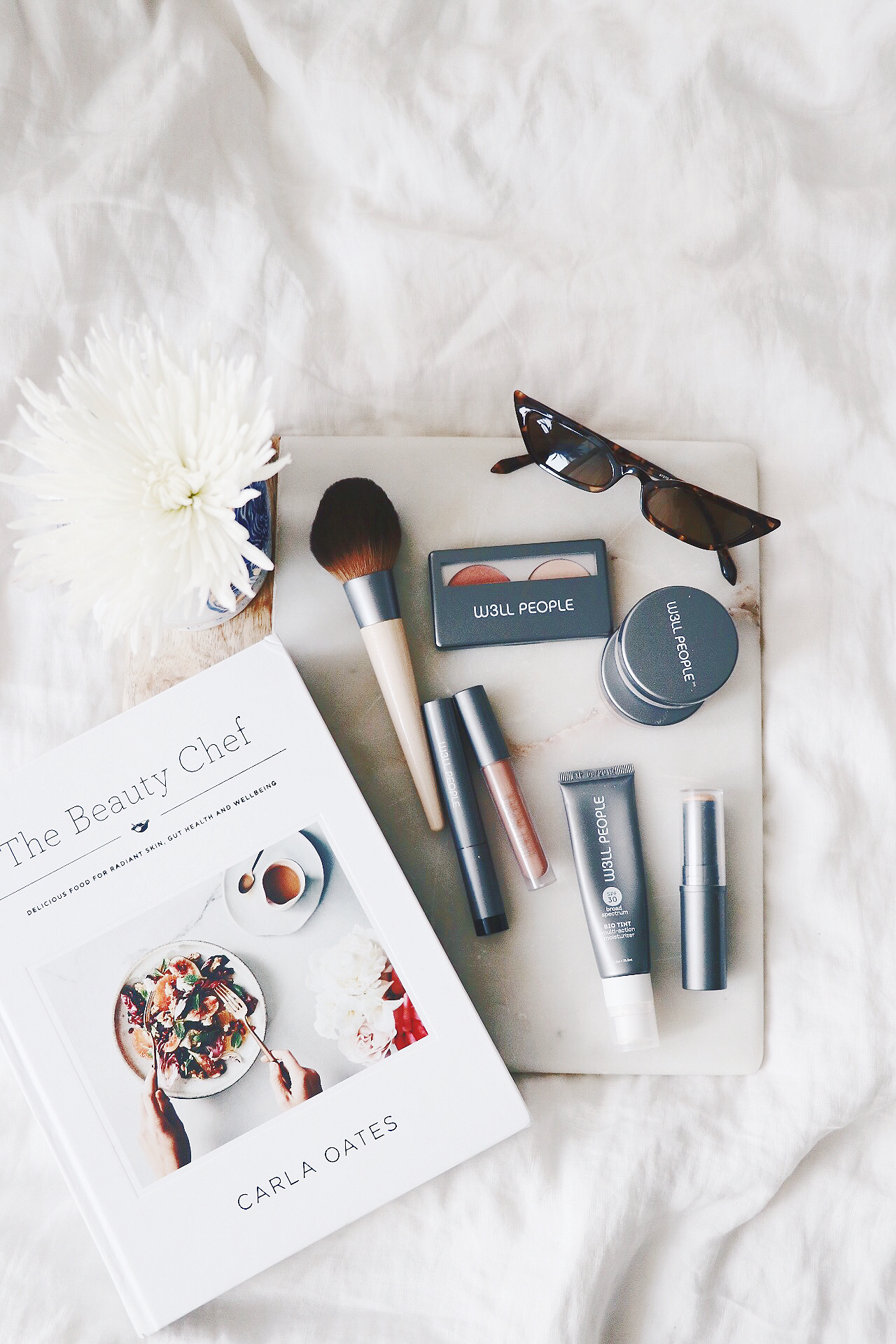 I have been using W3LL PEOPLE makeup for a while now and am really excited to share my favorite products with you guys. This post is not sponsored, but they did send me over a few products to try out. I never want to endorse anything that I don't truly love or believe in, so I promise you can trust me. Their stuff is non-toxic and it WORKS. A rare combo!
Not only are their ingredients awesome and super trustworthy, their price point is good too. It's not in the cheap drugstore price range but definitely more affordable than Beautycounter makeup and other clean beauty brands.
Some things to know about W3LL PEOPLE
The use CLEAN ingredients and score in the green zone on the Think Dirty App

Made in the USA

They are cruelty free

They use hydrating ingredients like aloe vera and coconut oil, which means it's actually good for your skin

Contains no fillers, propylene glycol, petrochemicals or petroleum by-products

They use innovative botanical complexes that move and breathe on your skin which = no creasing or fading
Places where W3LL PEOPLE can be purchased: Amazon, online at Target, Anthropologie, W3LLPEOPLE.com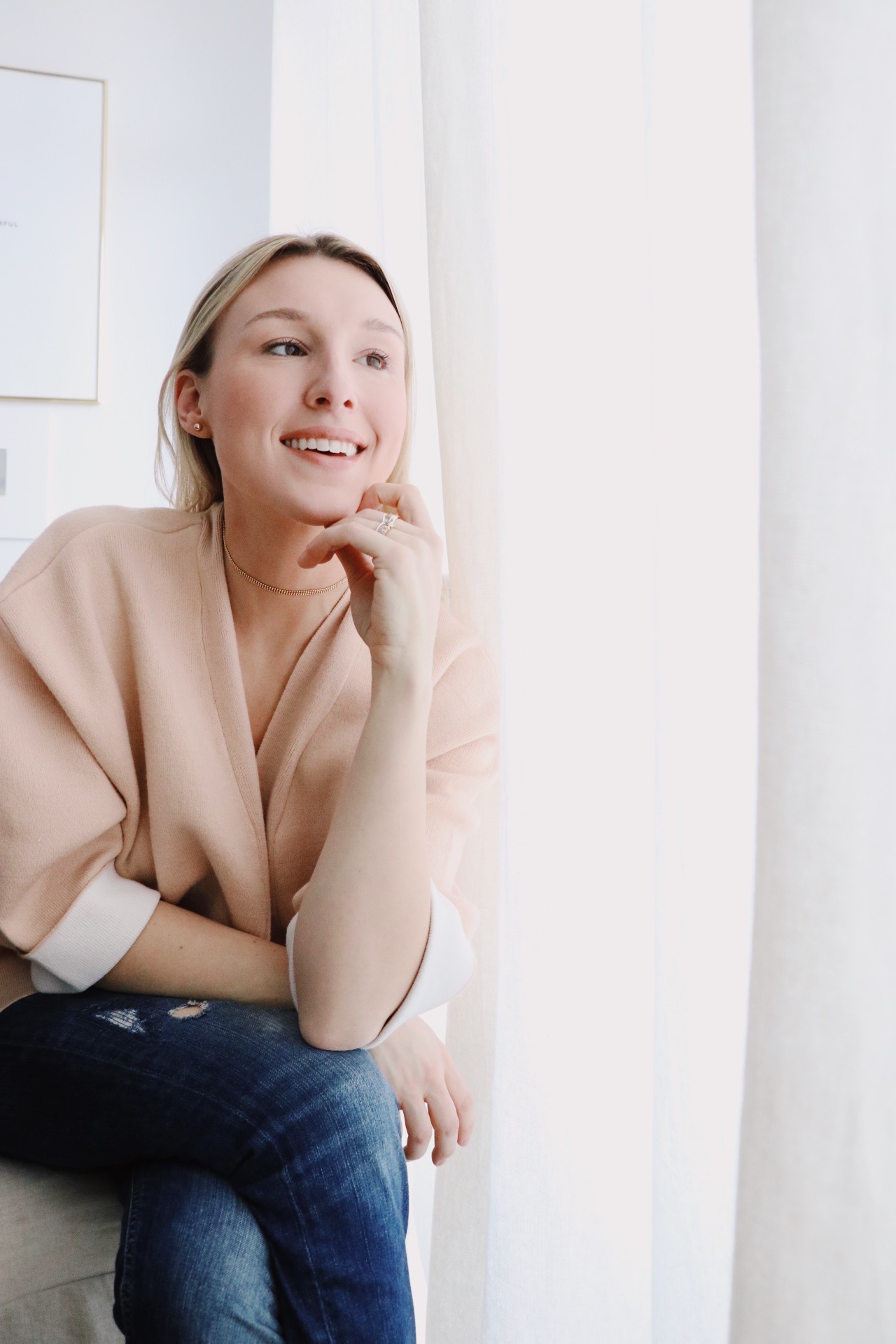 I use all of the products below, pretty much every day!
Okay, I've raved about the W3LL PEOPLE narcissist foundation stick probably 500 times on this blog and on my Instagram. I swear by it. Ever since having James, I've had permanent bags under my eyes and I've tried SO many different under eye concealers to help and this is the only one that has! I wear this EVERY DAY. I cannot believe how well it blends, it's like I'm applying real skin to my skin (ew that sounds gross lol) but it does not cake and looks so seamless.
NOTE: I only use it under and around my eyes but it can certainly be used all over your face.
I have basically replaced my liquid foundation with this W3LL PEOPLE bio-tint moisturizer, because it has the exact same coverage as liquid foundation. The consistency is great, very light and not pore clogging at all BUT it still provides good coverage.
We all know how I feel about my Beautycounter Dew Tint Moisturizer, it is my baby. BUT, as I've mentioned, I like to use the dew tint sparingly as it's pricey and a little goes a long way do to it's thick consistency. So, I have been applying the dew tint first to give my skin the dewy look and then using the bio-tint moisturizer on top of for foundation.
This lip gloss is trulyawesome. It has plumping + volumizing crystals in it and gives you that very mild tingly sensation! I find it wears well, about as long as any gloss (it is glossy and not matte) and I LOVE the nude shade (it's called "Nudist 8"). I'm obsessed with nude lips and I'm always on the look out for a good shade of nude that isn't pink.
I was nervous to try this at first because it looks super dark in the container. I'm fair, and typically steer clear of crazy dark bronzers in an effort to not look like an Oompa Loompa. However, it actually applies SO well and is not nearly as dark as I thought it would be! It gives me a really nice natural + tanned glow and applies easily.
I apply it to my neck first and work my way up the face in order to avoid my face and neck being two different colors – AKA every girls worst nightmare.
This is my new favorite blush. I have a love hate relationship with blush and only wear it when I can find one that applies really easily. I CANNOT wear loose powder blush without looking like a clown, so I am thrilled that this is compact. It is very subtle and lasts all day long!
I also use the blush powder AND the nude powder as eyeshadow! I haven't tried it on my lips yet (it's fully powder so not sure how that works?) but I will and report back ASAP!
This brightening powder (loose) gives you a really subtle glow and there is something so fun about lightly applying it all over your face once everything else is finished!!
I love this mascara and it comes in different colors! So fun. If you are looking for more of a thick/chunky/voluminous mascara this is not it. I have a hard time with those types of mascaras because I have NO EYELASHES (well I have some but they are crazy small) so when I use thick mascara, it applies really poorly. This gives you more of a natural lash and I love this brush because it's sleek and goes on easily!