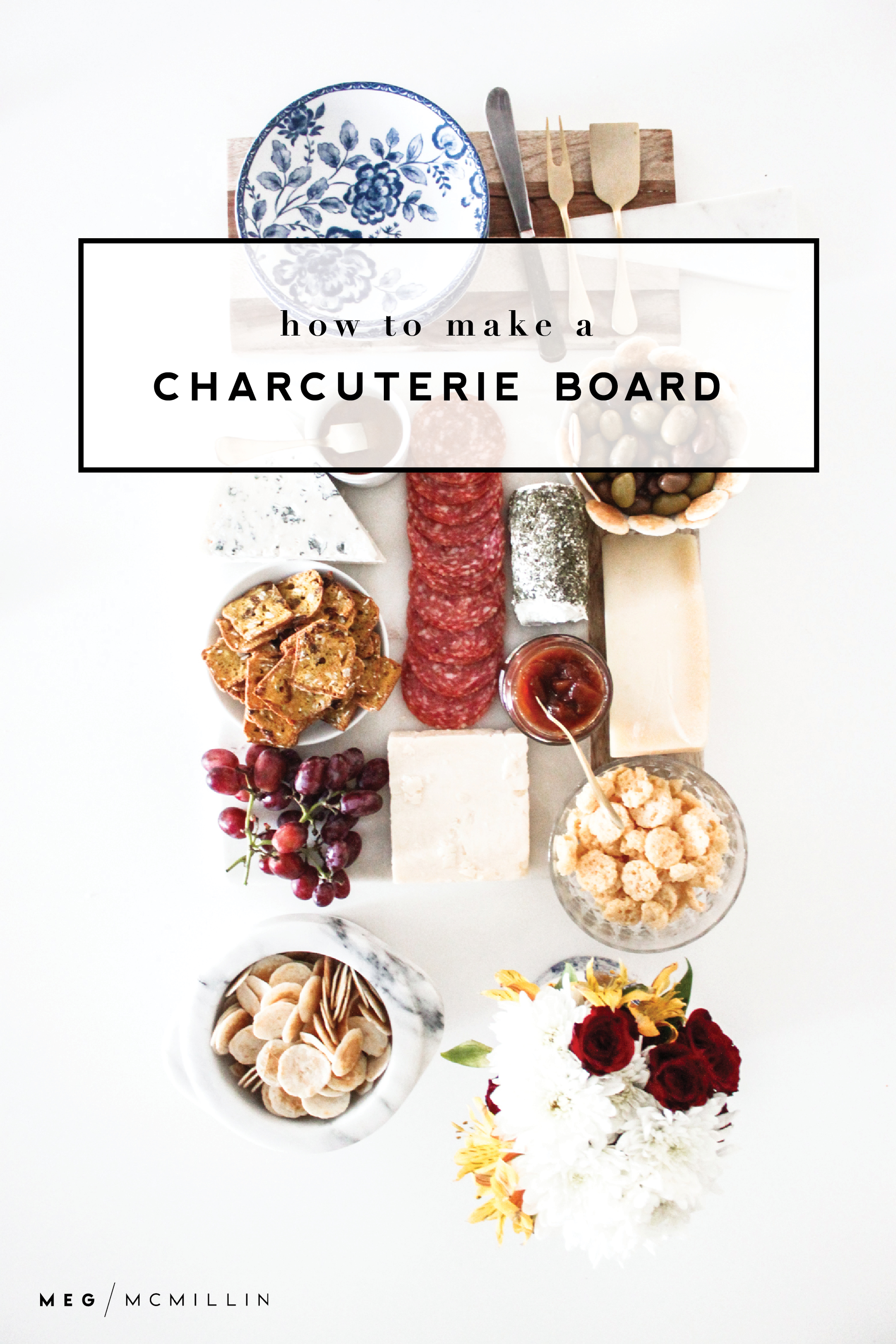 Happy Friday! There is a massive heat wave taking over Chicago this week, and to be honest I've been kind of bratty about it because I'm ready to start dressing for Fall. When in reality, this weather gives me another excuse to hang outside this weekend, drink cold wine, and enjoy this extra little dose of summer we are being blessed with.
Let's talk charcuterie…
Is there anything more magical than a bad-ass charcuterie board? I am obsessed with cheese, and I love nothing more than when a ton of cheese is piled onto one giant platter. Hi. It wasn't until probably a year ago, that I researched and learned the anatomy of the perfect cheese board. The key is in creating a combination of flavors and textures. Sweet, savory, crunchy, smooth, bold, etc. You can have fun with this!
This is how it used to go: I would go to the cheese section of the grocery store, get overwhelmed, start Googling "charcuterie board", panic, buy WAY too much random cheese and end up spending a ridiculous amount of money. Then I would get home and have no clue what to do with all of it. Sound familiar? Well, say goodbye to those days, because I'm going to teach you how it's done.

Step #1 – You need a stunning cheese board.
I have this marble and wood platter from Crate & Barrel and it is honestly my most prized possession. It is only $30 which blows my mind because it weighs about 100 lbs and the quality is unreal. When I got it at my bridal shower my mom told me it was something I'd have forever. This platter from CB is also awesome, and it comes with 3 gold cheese knives, such an great deal for only $50! I also have this smaller but equally beautiful board from Anthropologie; they have the most AMAZING cheese boards by the way. Here are a few more of my favorites:
Step #2 – You need some stunning cheese knives.
I have these cheese knives from Crate & Barrel and they are so heavy duty and lovely. They come in a nice little cloth wrap, I love pulling it out for dinner parties. I also have these gold cheese knives from West Elm and they are a little more casual/lightweight, I like having both!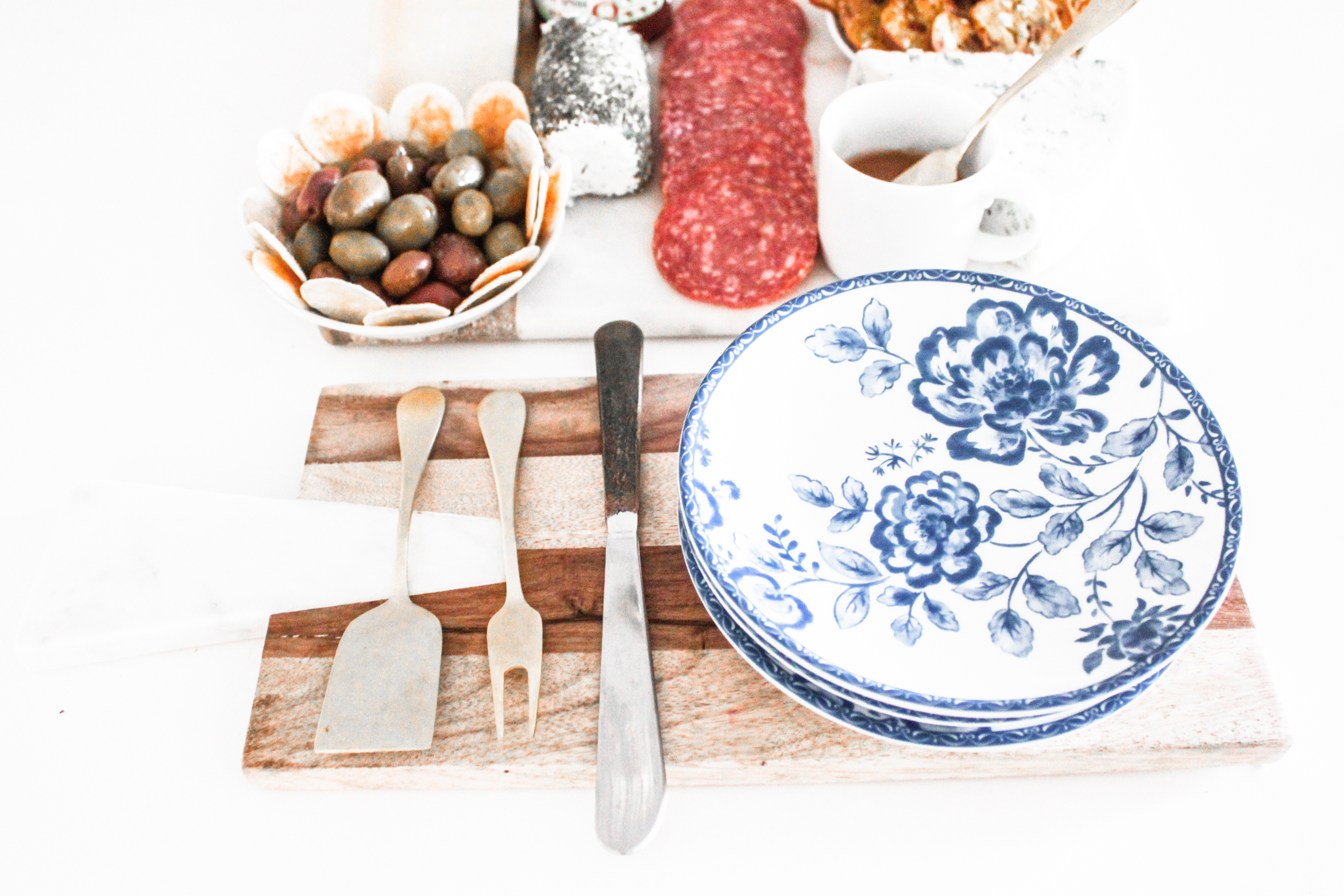 Step #3 – Pick one cheese from each of these categories…
To make this easier, let's divide cheese into 4 categories: soft, semi-hard, stinky, and aged. Pick one of each for your board. My standard cheese board always contains the following: goat (soft), blue cheese (stinky), cheddar (semi-hard), parmesan (aged). Here are some more options for each category:
SOFT CHEESE:
Goat, brie, camembert
SEMI-HARD CHEESE:
Cheddar, Gruyere, Gouda
STINKY CHEESE:
Blue, Gorgonzola, Roquefort
AGED/HARD CHEESE:
Parmesan, Asiago, Pecorino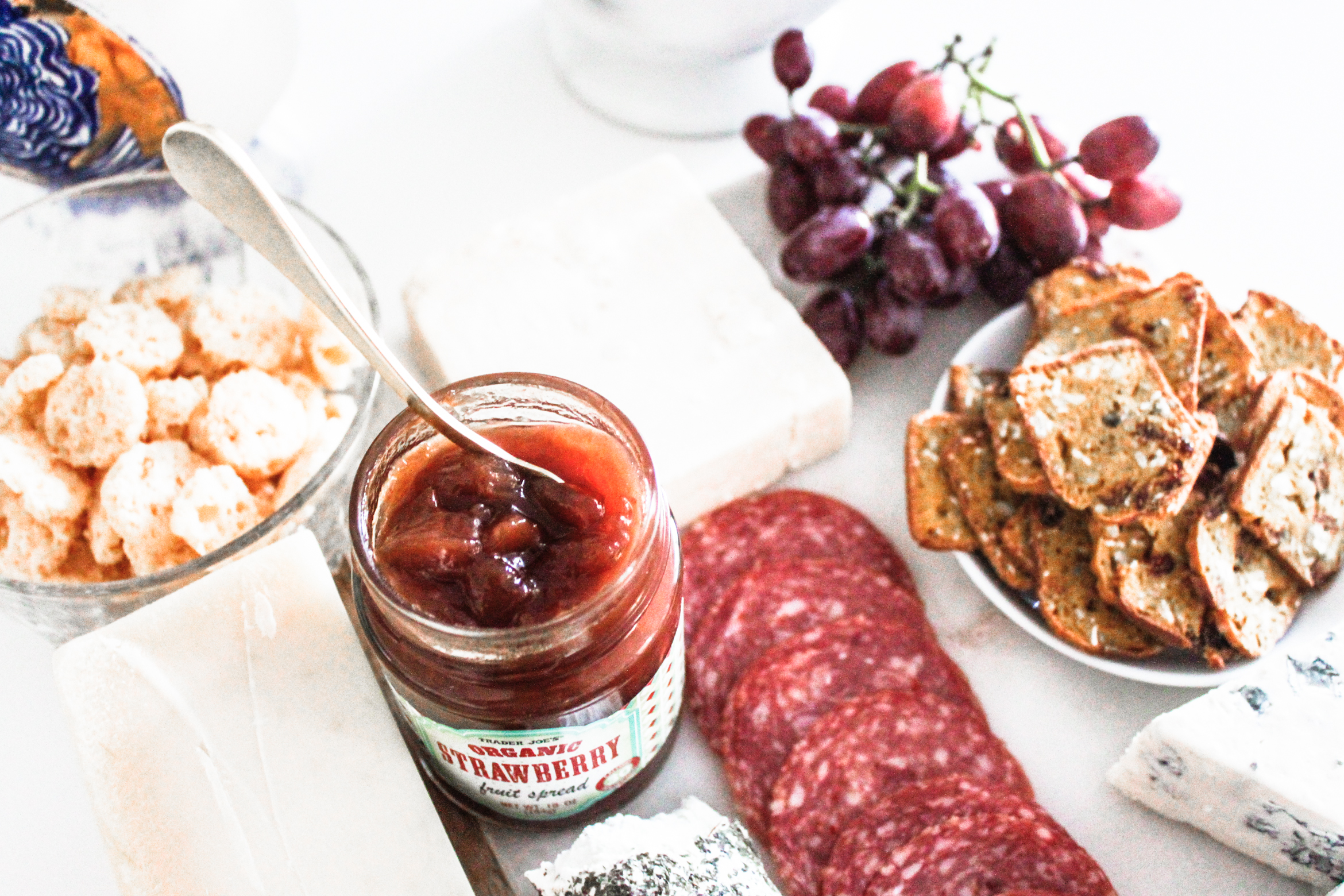 Step #4 – Add some cured meat.
This part is easy! I usually always have salami and prosciutto. But doing just one is totally fine! Here are some more options:
CHARCUTERIE MEAT:
Prosciutto (Italian ham), Salami, Coppa (cured pork shoulder), Cured Sausages
Step #5 – Pick a fruit.
I always go with grapes because everyone loves grapes, and they are always in season. But here are some other options: strawberries, blackberries, figs
Step #6 – Pick a jam or a spread.
I typically go with an apricot or strawberry jam. A woman I used to nanny for taught me the magical combination that is: apricot jam, gorgonzola, and honey. Ahhhhhhh-mazing. Here are some other ideas:
JAMS + SPREADS:
Apricot jam, strawberry jam, fig butter, olive tapinade, pâté,
Step #7 – Crackers.
I love Raincoat Crisps, you can get them at any grocery store! How you display them is totally up to you. Have fun, get creative.
Step #8 – Add Olives.
I always just use a medley of Greek Olives from the deli section. I just put them in a little bowl!
Step #9 – Add honey or honeycomb.
I firmly believe honey should always accompany cheese. I'm drooling just thinking about it. If you can find it at the grocery store, try getting a fresh slab of honeycomb! It is a fun alternative to actual honey, and it is like crack. SO GOOD!
Step #10 – Pick a little finger snack.
It's always nice to have something small for your guests to munch on without having to do any work (like spreading, cutting, etc.). My friend just turned me on to these little oven baked cheese bites from Trader Joe's, and they are amazing! They will be on every one of my charcuterie boards from here on out.
OPTIONS FOR AN EXTRA SNACK:
Nuts (almonds, cashews, macademia), Mini/Flavored crackers, Raisins, Mini Pickles
– SHOP THE POST –