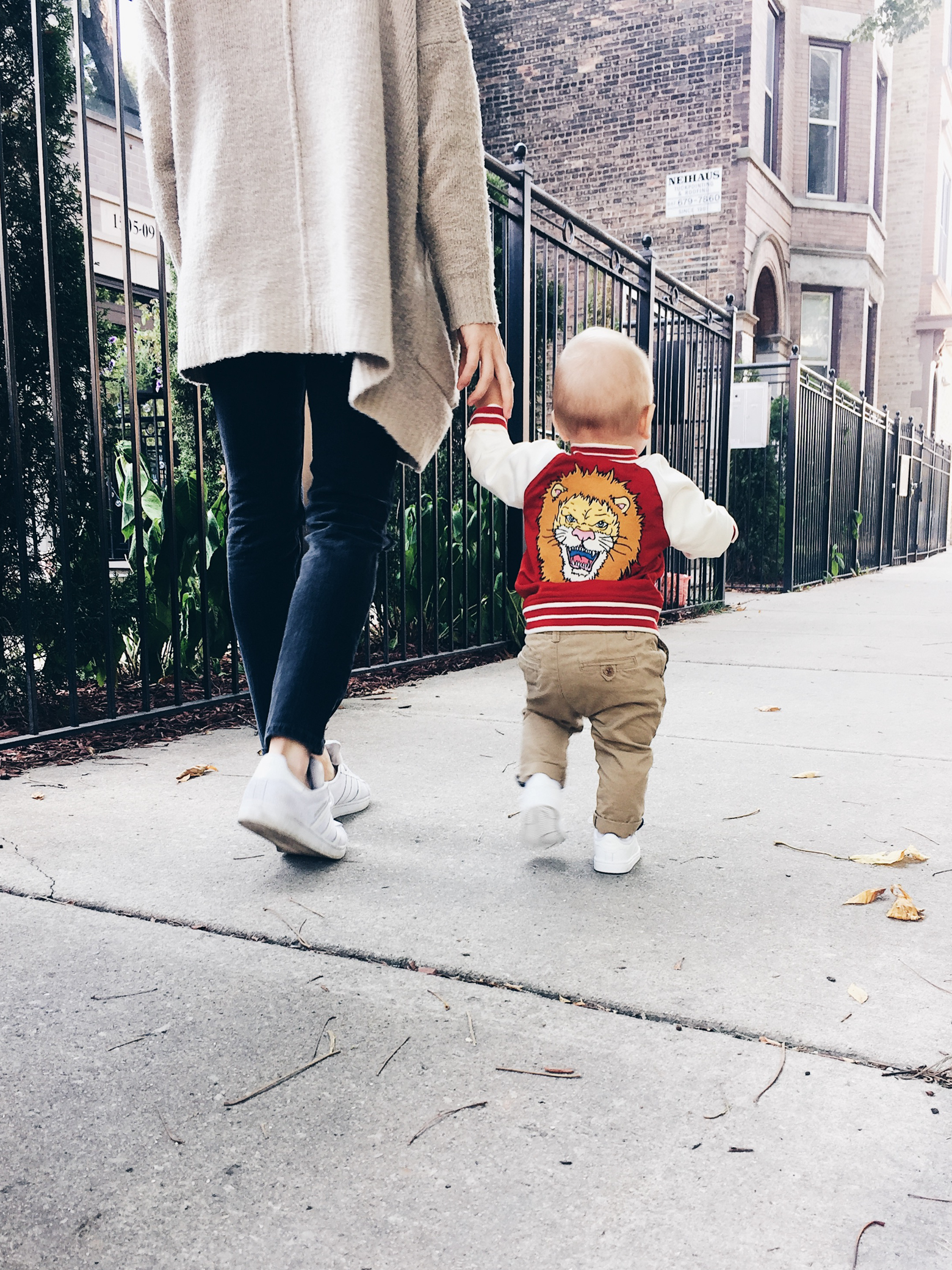 Happy Tuesday! That's not even really a thing, I just don't know how else to start this post. I'm exhausted. James is having a reaction to the MMR (measles + mumps + rubella) vaccination that he got at his 12 month check-up the other week. He has a terrible rash and mild fever. Apparently, only 5% of kids experience this reaction, but thankfully it is nothing serious. It was just scary seeing him randomly break out in this rash! And he has been crabby/off as a result. The rash is not contagious at all, but I feel weird taking him places for fear other moms are going to be freaked out by him and accuse me of exposing their child to some horrible disease. Moms are scary. It is so weird that I actually AM one because honestly I still look at other moms like they are older/wiser/scarier/more experienced/etc. and I honestly feel like a nanny when we are out and about.
Anyway, I finally got James some Fall clothes! TG, because all of his pants are capris and his beer belly hangs out of pretty much all tops. It's so hard not to go overboard because there is SUCH cute stuff out there. My go to spots are H&M, Old Navy, Target, and Nordstrom. (PS: does anyone else hate the Target website as much as I do? I am so shocked by how bad it is, and same with Old Navy! Load times are so long, there are a TON of glitches, and the user experience on both is terrible. Rant over.) I don't really ever even look at Baby Gap, because TBH it has the same stuff as Old Navy but for double the price. No thanks!
I tried to keep all prices super reasonable. I think the most expensive item is a winter coat for $35. I firmly believe there is no reason why there should be anything in your baby's wardrobe for more than $35! Other than special occasion pieces, of course. As much as James wants this $650 baby Gucci jacket from Nordstrom, he just can't have it. LIKE ARE YOU KIDDING ME?!?!?!?! Can you believe that? Does anyone in the world besides Kim Kardashian buy that for their kids????? I can't. Check out the baby Gucci section at Nordstrom if you want to feel shock followed by sadness that there are babies out there spitting up on hoodies that cost more than your rent. Normal! Happy shopping, mamas. 🙂
Guide to the perfect baby/toddler Fall wardrobe:
I would say make yourself a plan before you just start buying stuff willy nilly (lol at that phrase). This is what I figured:
3-5 long sleeve shirts:
1-2 sweatshirts:
1-2 light jackets or zip up hoodies:
1-2 "nice" sweaters:
1-2 button downs:
3-5 pairs of sweats:
1-2 pairs of jeans or "nice" pants:
1 heavy coat:
1 vest:
1-2 pairs of shoes:
Only if your baby wears shoes! Last Fall when James was in the 2-4 month age range, I wasted so much money on shoes that he never wore! The only reason I'm buying shoes now, is because he actually needs them. If you have a little baby, forget about shoes until they are bigger!
Restock on bodysuits!
James still sleeps in a long sleeve bodysuit and a sleep sack (this is my favorite sleep sack because of the shoulder snaps). Also, whenever we are just hanging in the house I usually just throw him in a long sleeve body suit with no pants! I'm still stuffing him into his 9 month suits, so it is definitely time to restock on those.
Don't forget socks:
SHOP THE POST…