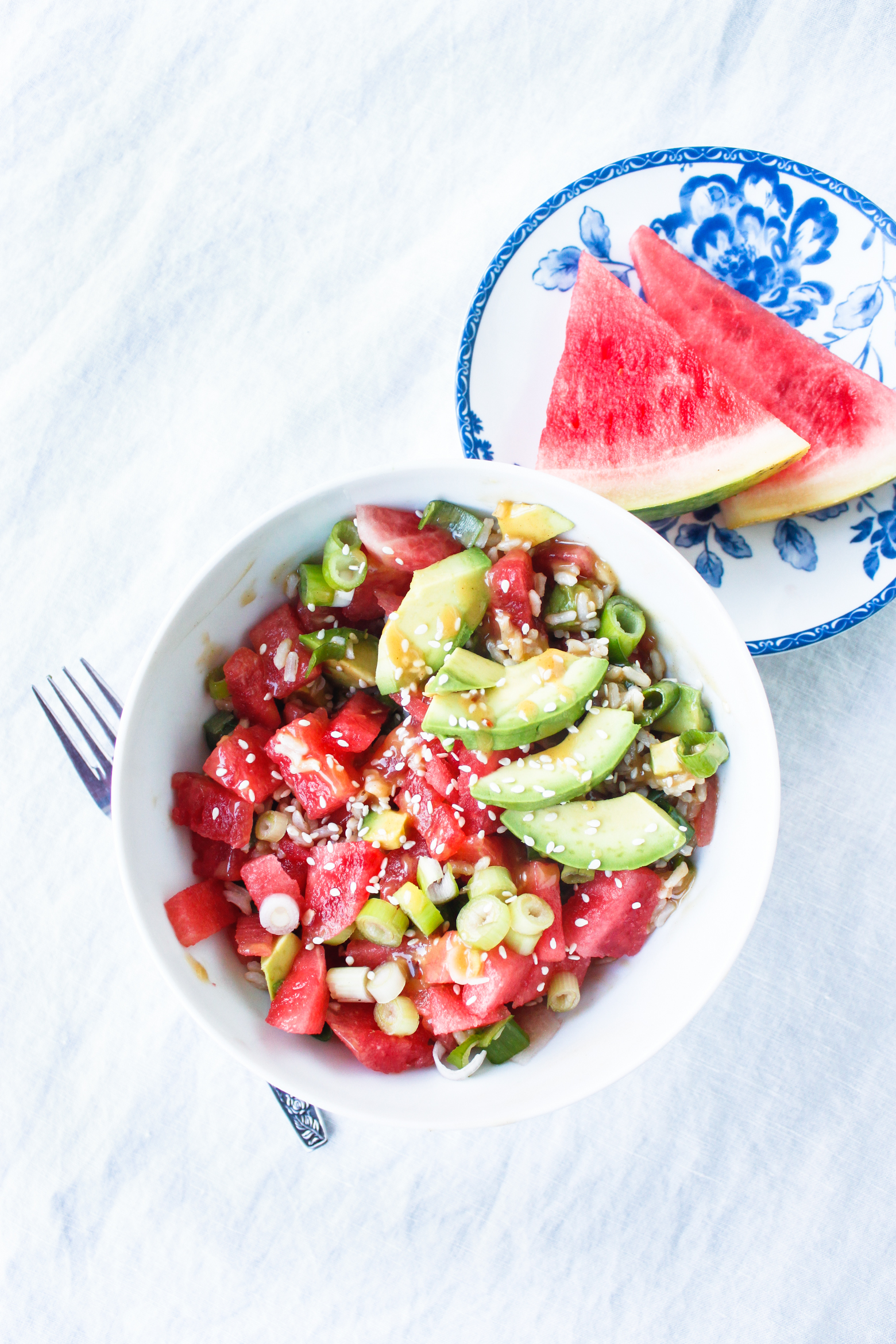 These vegan poke bowls are quick, easy, and refreshing! They are kind of my new obsession. I love me some ahi tuna but I'm also lazy AF and finding + preparing fresh tuna at home isn't something I feel like doing any time soon/ever. Recently, I ate at Native Foods for the first time (an all vegan restaurant) and I got their poke bowl in which they substitute the tuna with watermelon. I couldn't believe how much I loved it. Also, I was so pleasantly surprised by how filling it was!
I wanted to make these at home and started searching for recipes. Unfortunately, most of them call for a bunch of random stuff which caused my ADHD to kick in, so I decided to try and create my own simple version. I figured this was worth a shot: brown rice base, with watermelon for sweetness, green onions for a crunch + a little kick, and avocado to give it some substance. I created a honey peanut sauce with what ingredients I had in my cabinet and it surprisingly turned out well. I don't want to talk up my sauce too much because I fully made it up, and if you make it and hate it then there is no one to blame but me and I'm not ready to take on that kind of responsibility. So, if you feel more comfortable Googling "honey peanut sauce" then I won't be offended!
Kyle loves them by the way and will eat them for dinner even though there is no meat involved. Win! I love meat but hate preparing it because: lazy AF. They also make a great lunch. Enjoy!

INGREDIENTS FOR THE BOWL:
2-4 cups brown rice (depending on how many people you are serving)
Green onions to taste
Watermelon to taste
1 Large avocado
Cook the rice, and just add each ingredient to taste! I like to put a bunch of everything in to fill me up, I've never really measured. I like to make them as filling as possible. Especially obsessed with adding tons of watermelon! The brown rice gets so nice and sweet from the juice and it's magical. Additionally, I love the crunch of green onions, so I like to add a bunch of those too. Next step: sauce.
INGREDIENTS FOR THE SAUCE:
1 tablespoon sesame oil
1 tablespoon olive oil
1 teaspoon minced garlic (jarred)
1 large spoonful of peanut butter
1/4 cup honey
1/2 tablespoon of water (or until you reach desired consistency)
Red pepper flakes to taste
Sesame seeds to taste
Combine and whisk all ingredients in a bowl. I like to put it in the fridge for a bit before serving, but not mandatory at all. Again, I MADE UP THIS SAUCE. I'm really nervous about you guys making it and hating it! I'm having major sauce insecurity. I love it, and I've asked Kyle for reassurance multiple times and he says it tastes great. So, fingers crossed that you will too. Just in case though, here is an actual recipe for honey peanut sauce. The only reason I made up my own is because I didn't have all the ingredients for that one!