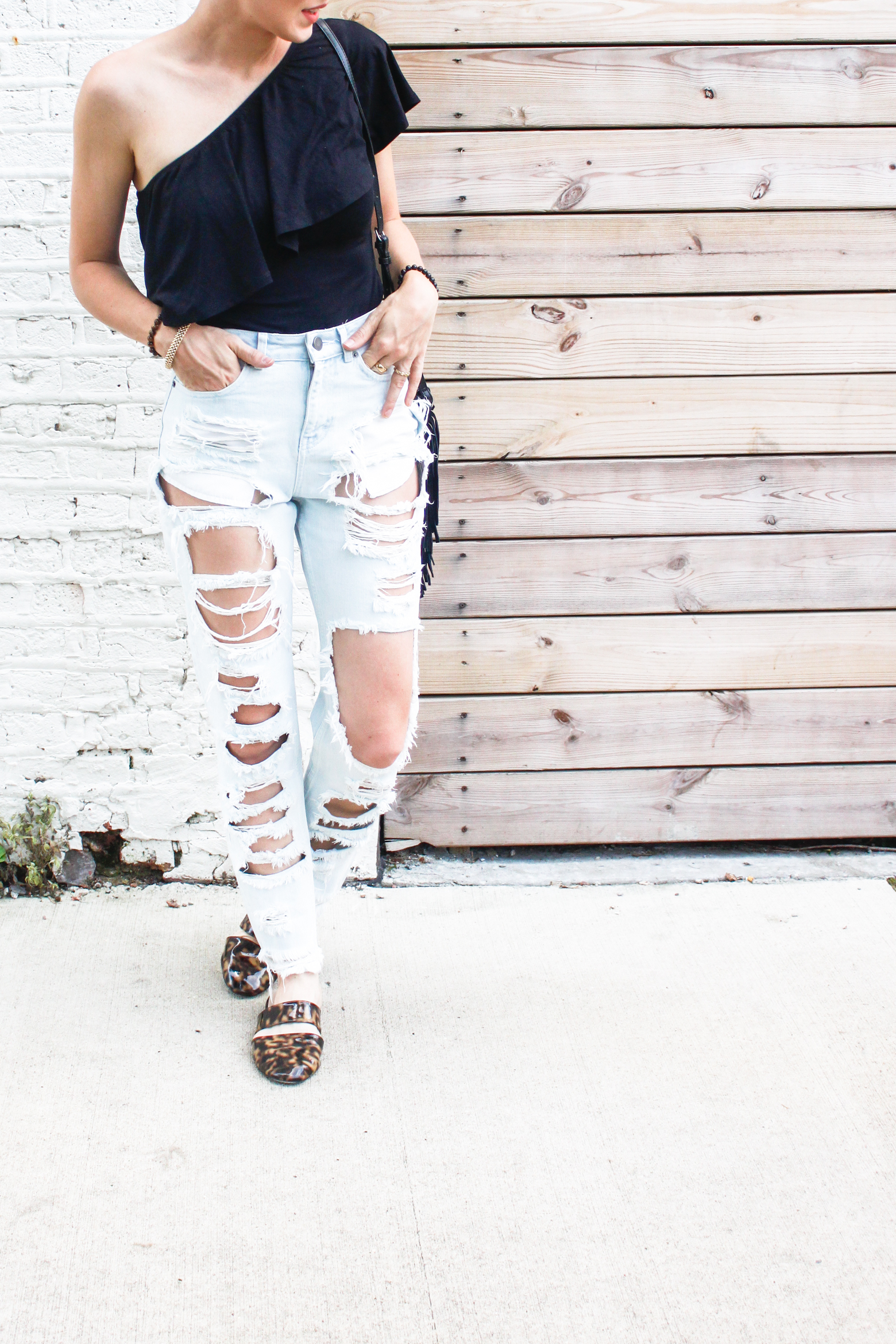 Hi hi hi! Happy August! (Scroll if you could care less about my weekend and are only interested in the outfit details!) How have you guys been?! Apologies for the radio silence lately. July was such a crazy busy month for us, and sadly I'm not quite good enough at blogging yet to know how to be busy AND  blog at the same time. Cue major anxiety. How do all the pro mom bloggers do it? I don't understand. But I'm back and feeling very refreshed!
Before I get to these outrageously awesome jeans and one shoulder ruffle bodysuit (which PS together is only $85 total!), here is a little weekend recap. We had no plans for the first time in a very long time, and it was amazing. If you follow me on Instagram, you probably saw me partying my face off last weekend in my Insta stories for my sister Casey's 25th birthday. It was SO much fun but the recovery was BRU-TAL. So, a relaxing weekend was much needed. On Friday night, we grilled and continued watching Riverdale on Netflix; which is so incredibly cheesy but we are hooked and can't stop watching. Then, Saturday morning we randomly watched that documentary What the Health and decided we would be vegans for the day. Have you guys seen it? It is depressing but VERY eye-opening. I recommend it. I personally could never fully give up meat and/or dairy, but I will certainly be cutting back on it from now on. Ugh. Kyle has really bad asthma and general allergies, and after we get back from Mexico (we leave this Saturday!) he is going to try and give up dairy for a month and see if it improves anything. I will keep you posted! I'm going to do it too. Again, ugh.
After that we went out and shot the photos in this post, Cassandra is out of town so Kyle had to step up to the plate and play photographer. Then, we walked to Native Foods for lunch – which by the way, is a vegan/plant based restaurant. LOL. I was serious about pretending we were vegans for the day. I got an amazing "poke bowl" but in place of tuna, they sauteed watermelon in sesame seeds and soy sauce! SO GOOD. I am going to try and recreate it at home, and I'll be sure to blog the recipe. We came home, and James rejected his second nap (something that has been happening a lot as of late FML) and it put me in the worst mood. You would think after almost a whole year with a baby who just does not nap well, that I would be used to it by now and able to let it roll of my shoulders – but nope! It still manages to turn me into a raging anxious psycho. Kyle suggested cocktails to snap me out of my manic state, so I tried a skinny coconut margarita recipe I have been wanting to try and it was AWFUL! Like, so bad. I even photographed the process (before tasting it) because I wanted to blog about it. #FAIL. They tasted like hairspray. This put me in an even crabbier mood. We had two mangoes in the fridge so I blended those along with ice, tequila, and coconut water = SO MUCH BETTER. We drank our nap sorrows away on the porch while James played at his water table.
Sunday, we were productive. In between James first and second nap, we hit Old Navy, Whole Foods, and Buy Buy Baby and I was even able to manage a quick Forever 21 mission. TG all of those places are within a 2 block radius of each other. I got this tee, red bodysuit, and this henley bodysuit at F21. Success! Afterward, James ACTUALLY NAPPED in the afternoon, granted it was only for 45 minutes but whatever it is better than nothing. (See that?! That is me pretending to be an optimist.) During his catnap we started getting ready for our Mexico trip, then later walked to dinner, came home and watched more Riverdale and Game of Thrones (omg the end of that episode!!!?!?!?!) and then bed. Hope you guys had a great weekend! Now onto this outfit…

THE JEANS:
THESE JEANS! I realize they may seem super intense, and many of you are probably thinking "I could never pull those off" but I swear you can. I love them. And they are so fun to style!!! Original inspo came from this shot of Kourtney Kardashian I saw on Pinterest. It made me crave a pair of super distressed jeans. I do not know why but I'm constantly and inexplicably drawn to distressed clothing. Is there something deep in my psyche that is responsible for this??? Is there something wrong with me??? Do I subconsciously not feel worthy of whole pieces of clothing???? I don't care, I love ripped clothing. TBH, I have been feeling a little pressure to blog about less outrageous/more relatable clothes, but I promise this is really my style. I'm not just picking out shocking clothing that would be fun to photograph, I have and will continue to wear these IRL! But, I will try and do a better job blogging about more sensible pieces for you – I promise.
Okay, so I am not kidding when I say that ASOS has the best quality denim for the most affordable price ever. These jeans are only $56!!!!!! And, my favorite mom jeans that I'm always wearing are from ASOS (I just bought them in black too and they are now my new favorite), both pairs are also $56. I don't get it. Why are they so inexpensive?!?! The denim is THICK and excellent quality, they feel so expensive and their denim washes well and lasts so long.
SIZING TIP:
I am wearing a size 26, but I wish I sized up and got a 27 because this denim is not stretchy. When I'm standing up the jeans fit perfectly, but when I sit down they tighten up a bit and I wish I had the extra wiggle room!
THE TOP:
Moving on to this top. Which is – of course – a bodysuit! And only $29. If there is one thing I love just as much as distressed denim, it is a bodysuit. I live in them. When I ordered this top (also from ASOS) I was concerned it was way too girly for my taste. I am honestly soooo over off-the-shoulder-tops and even more over ruffles, but I wanted this top. Maybe it was the fact that it's a bodysuit, or the fact that it's black, but I was drawn to it and ultimately ended up loving it. See!?!? Go outside your comfort zone! Don't think you can pull off these jeans?! TRY THEM I DARE YOU. In case you didn't now, ASOS offers free shipping and free returns – on everything, ALL the time – so give some new looks a try.
THE SUNGLASSES:
Speaking of going outside your comfort zone, let's talk about these $19 sunglasses. I have never bought a pair of non-oversized sunglasses in my life. I have always been convinced that I HAVE to wear chunky, oversized shades. However, I've been super obsessed with the current John Lennon look everyone is doing, and decided to give it a try. SUCCESS! These are awesome.