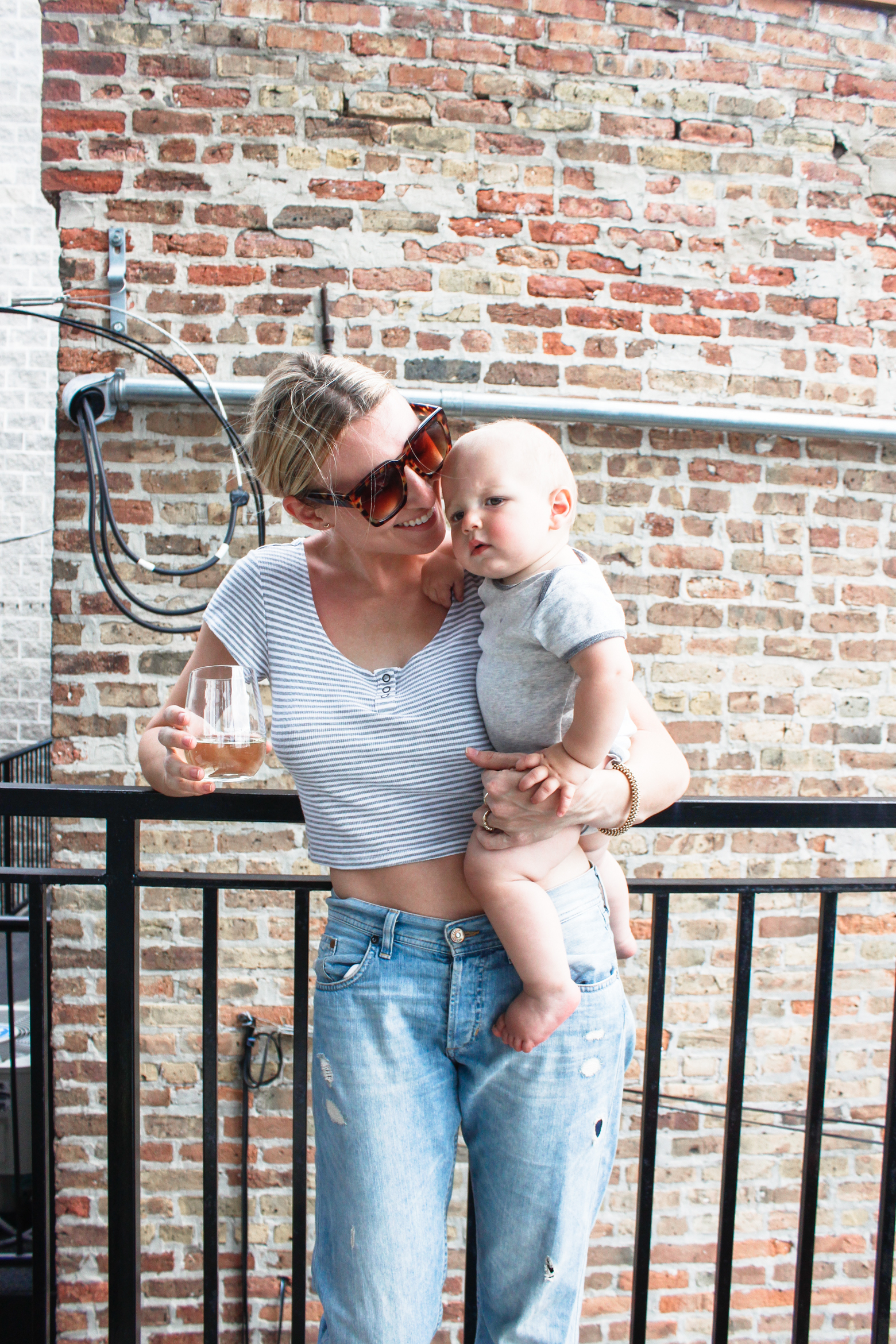 – SHOP THE POST –
Happy Monday! I hope your week is off to a good start. We had a lazy family weekend at home and it was everything. I got a lot of questions about these amazing jean shorts from an Instagram I posted yesterday morning – there are more photos of the shorts later on in this post. I'm not kidding when I tell you, I'm living in them. They are only $22 but feel like $85 Levis. Obsessed! Okay, FYI this post is long, and in kind of a weird order. I'm going to start with this grilled salad recipe that I made for dinner on Sunday, and then get into the rest of our weekend! Also, just a heads up there are 500 pics of us grilling on the back porch. There were just too many cute shots of James that I couldn't resist including them all, oops!
So, grilled salad is my new obsession. This is such a simple, healthy recipe! I had no clue that grilled lettuce was so delicious. I'm not kidding, the prep time takes 5 minutes and the cook time is literally 5 minutes! Is anyone else on this train? Grilled salad is SO tasty, low cal, and RIDICULOUSLY EASY! If you haven't noticed, I only like easy recipes. Somehow, grilling lettuce makes it so much more filling than eating it raw?! Aside from fresh romaine hearts and maybe parmesan cheese, I'm certain you have everything else you need to make this recipe. Just a heads up, I photographed two heads of romaine hearts but we only ended up grilling one of them, and we didn't even finish it! I honestly think one large head could serve 4 people, but if you're feeding 4 adults I would probably make 2 heads just to be safe.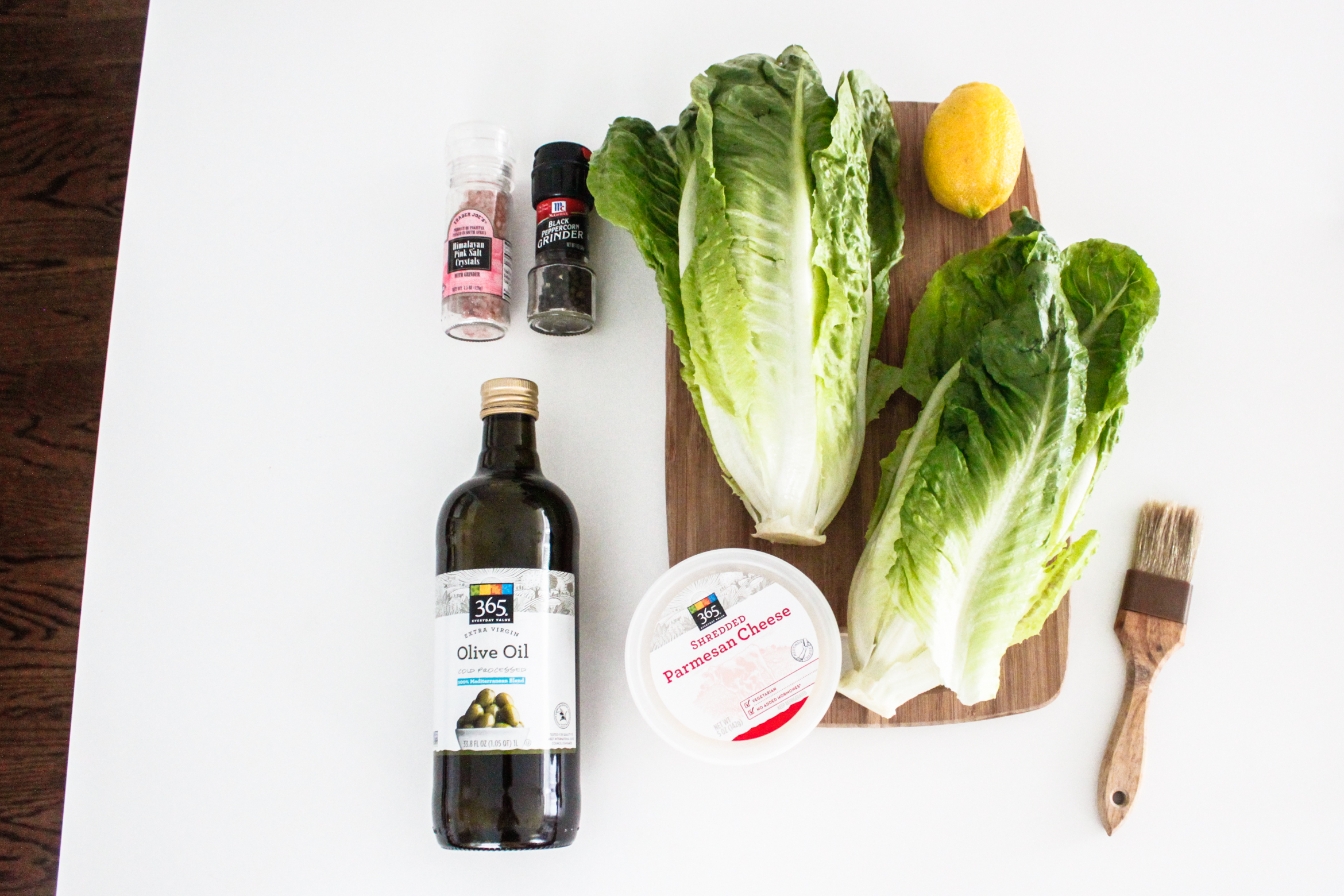 HOW TO GRILL LETTUCE…
INGREDIENTS
1-2

heads of fresh and firm romaine lettuce, cut VERTICALLY  (that is the most important part!)

3

tablespoons olive oil + pastry brush

Salt to taste

Pepper to taste

One lemon 

Fresh parmesan cheese
DIRECTIONS
Make sure grill grates are cleaned, and turn grill on to medium/high (about 400 degrees)
Cut romaine hearts in half VERTICALLY (aka: long ways!)
Fill a small bowl with 3-4 tablespoons of olive oil, and brush the front and back of each lettuce half liberally with olive oil using pastry brush. Sprinkle on some salt & pepper.
Place lettuce halves cut side down and grill for 3 minutes, apply some pressure with your tongs to get a good sear! Flip the lettuce and grill for 2 more minutes.
Remove from grill. Squeeze fresh lemon juice over each half and sprinkle on the fresh parmesan cheese to taste! I like a lot 🙂 Enjoy!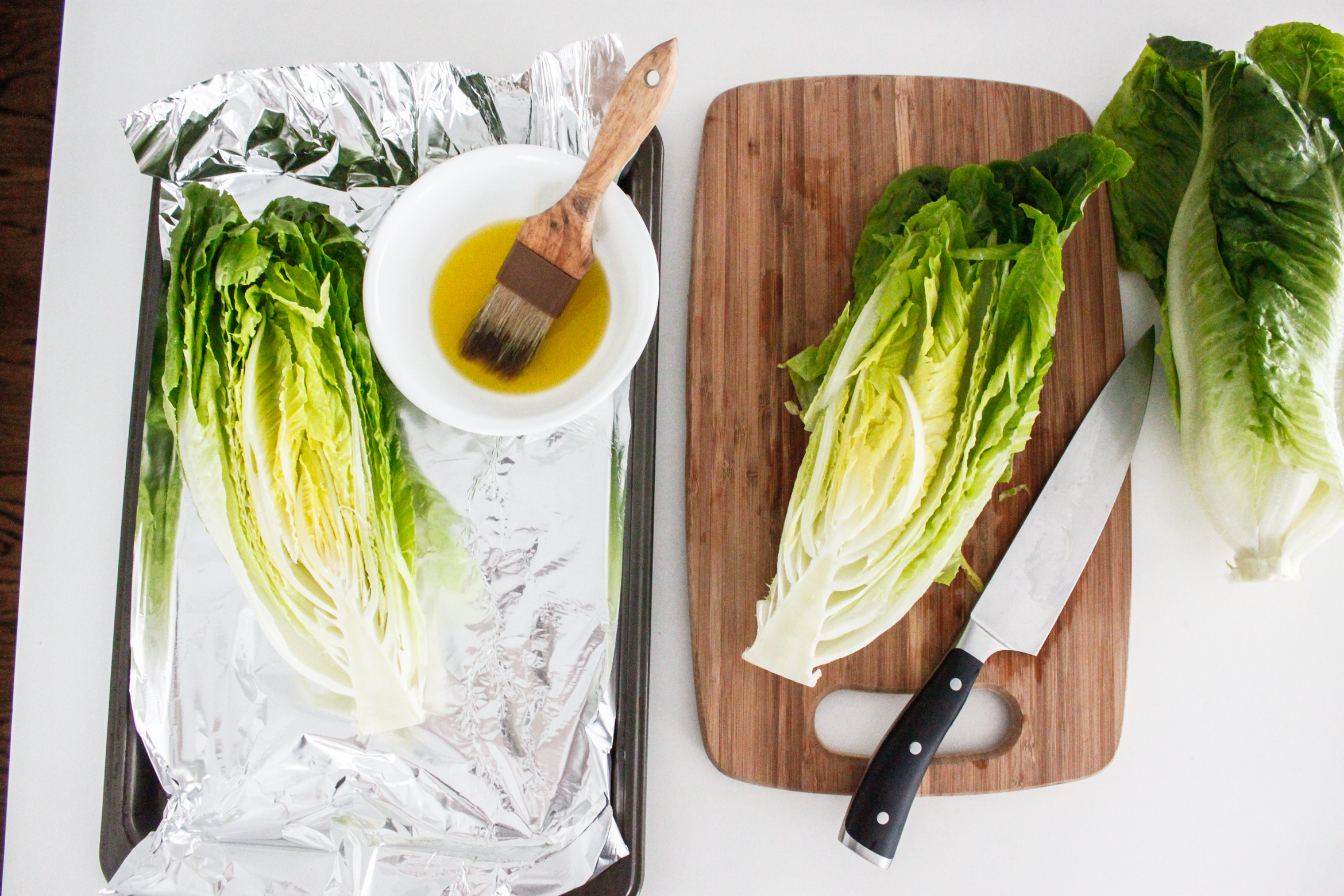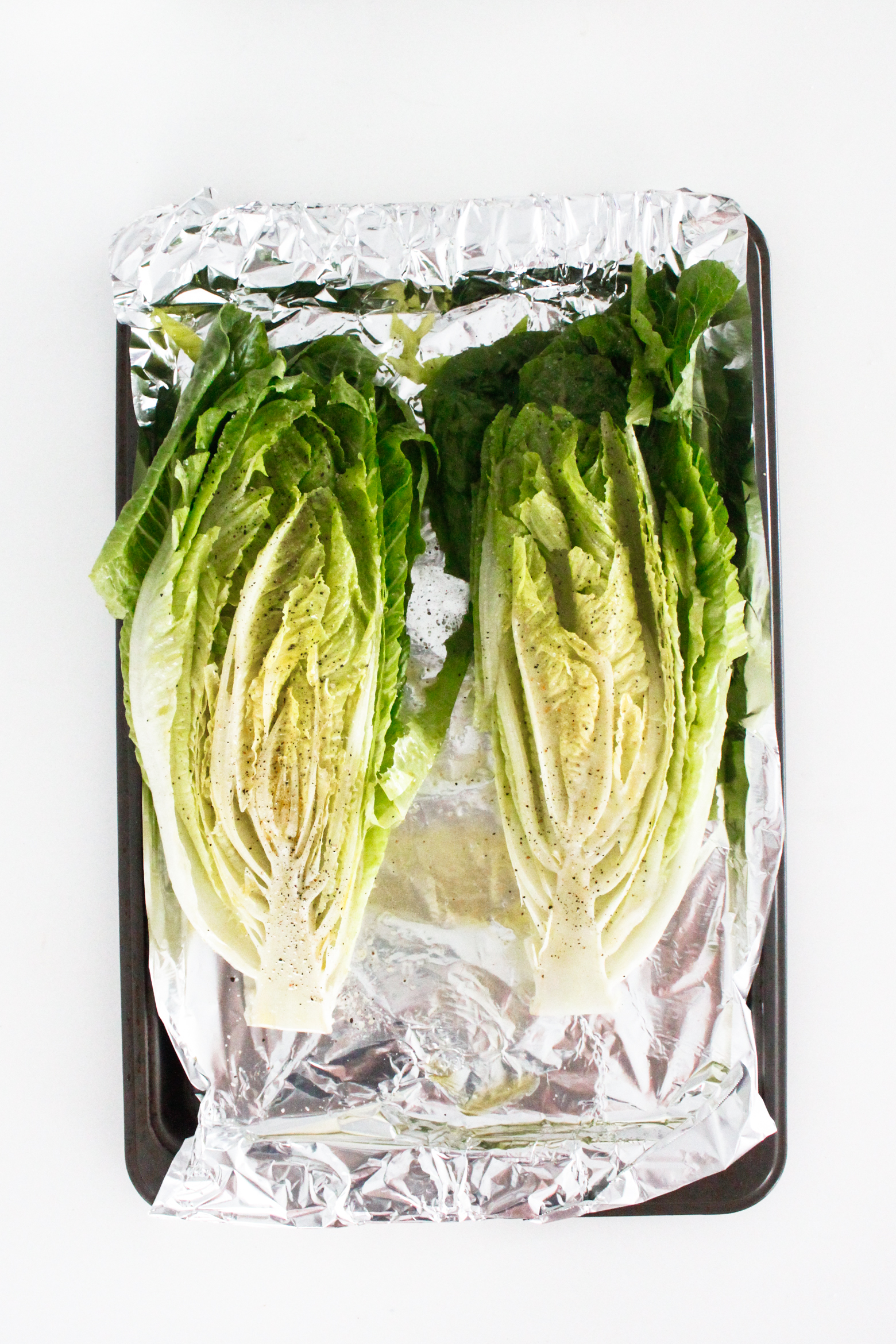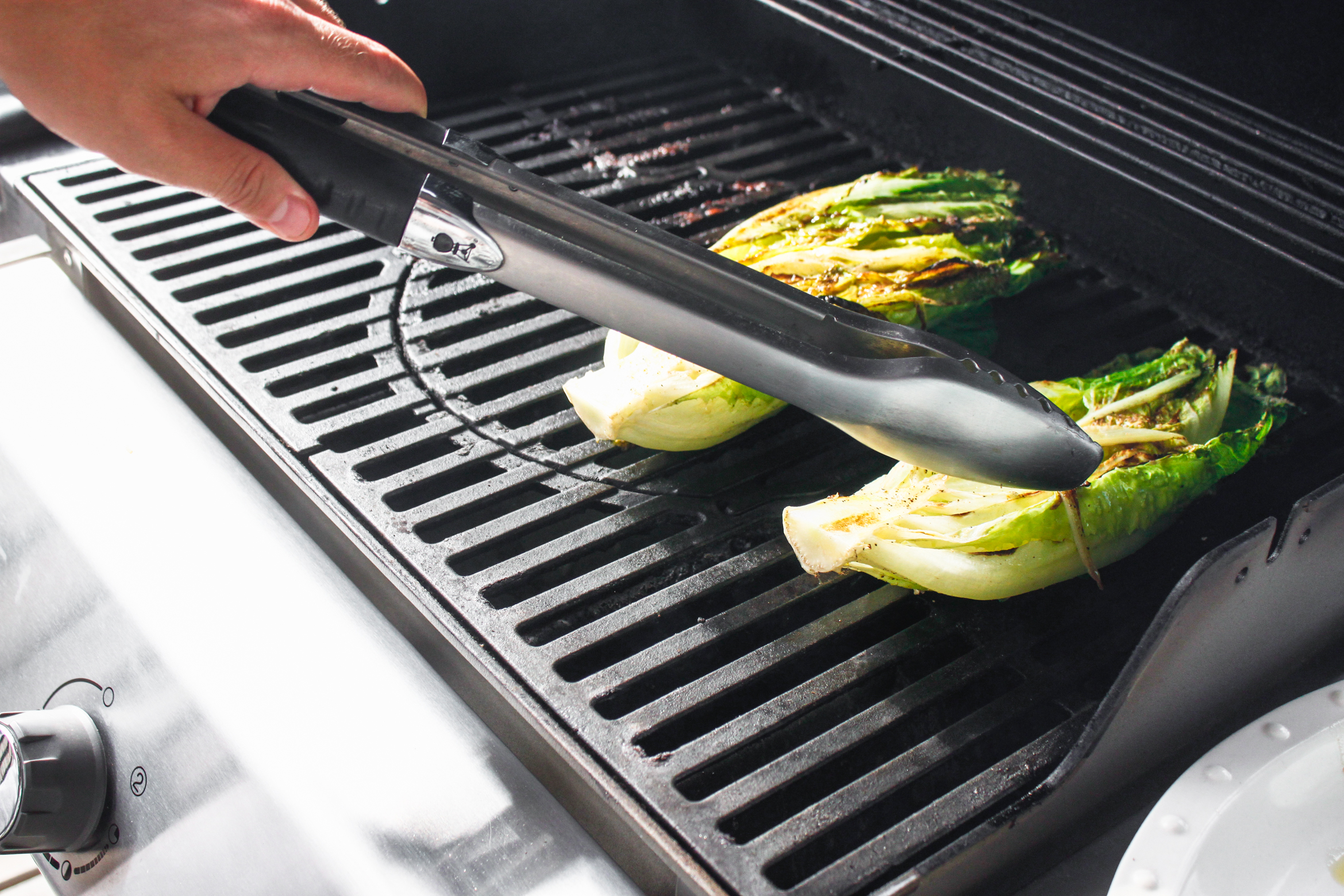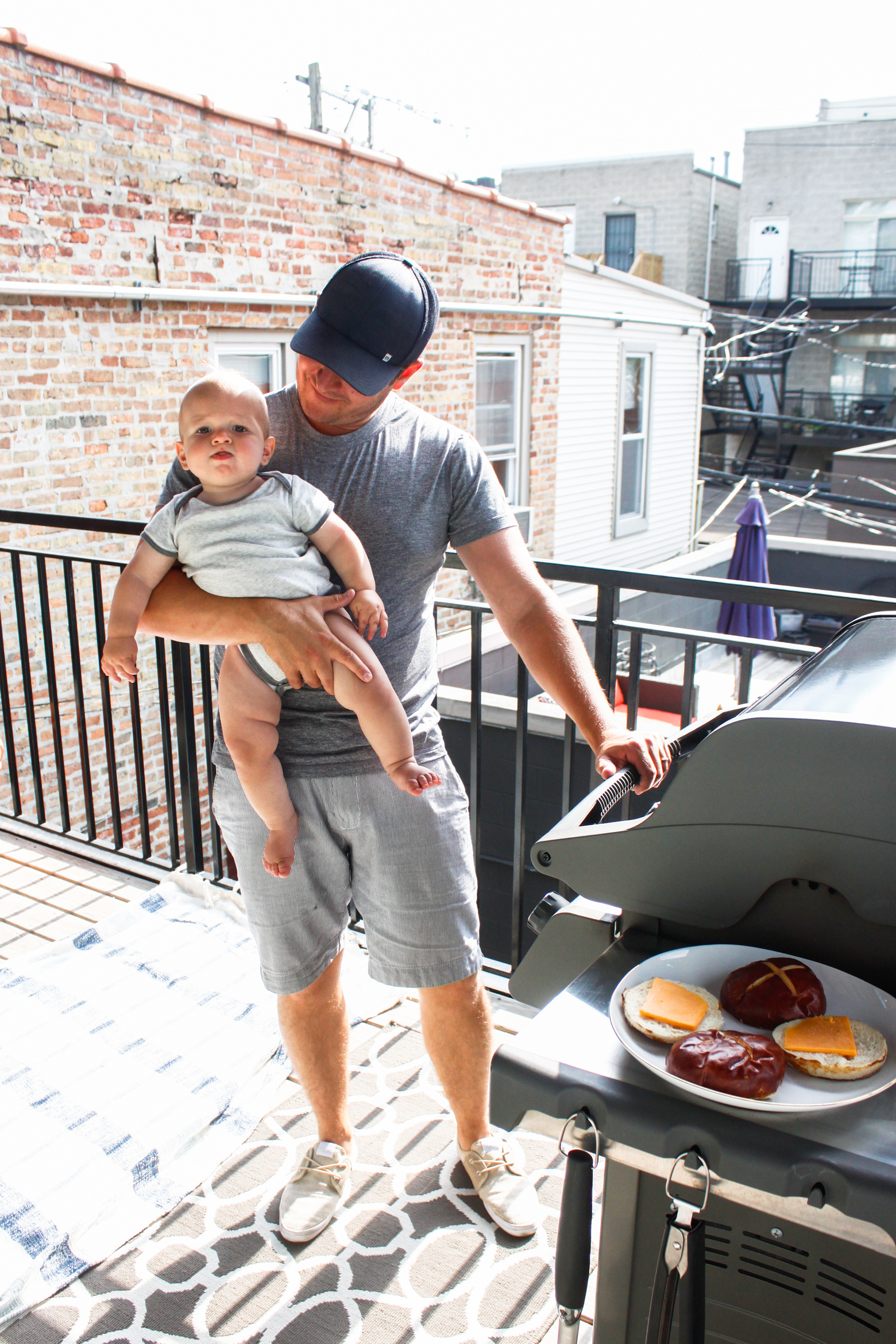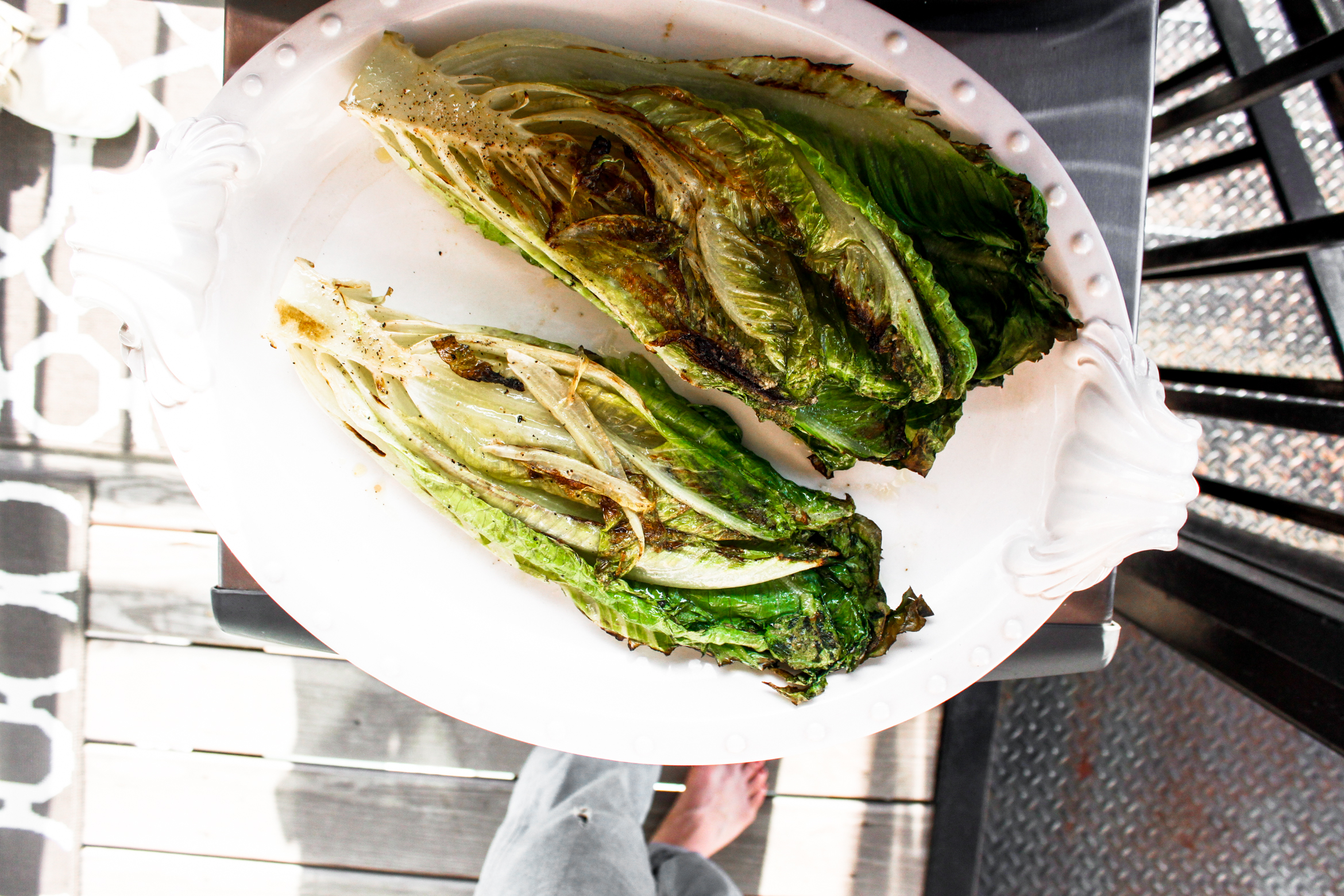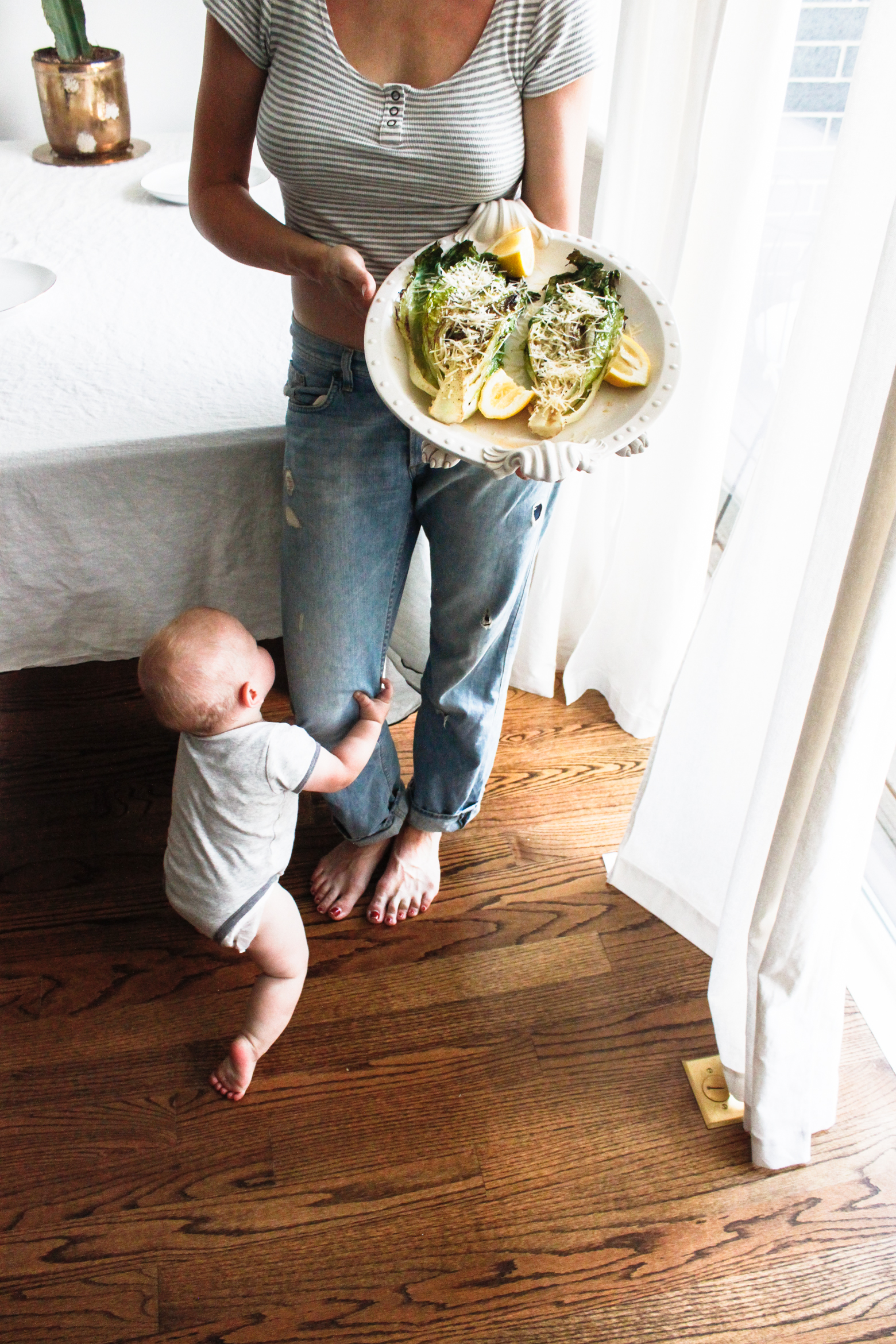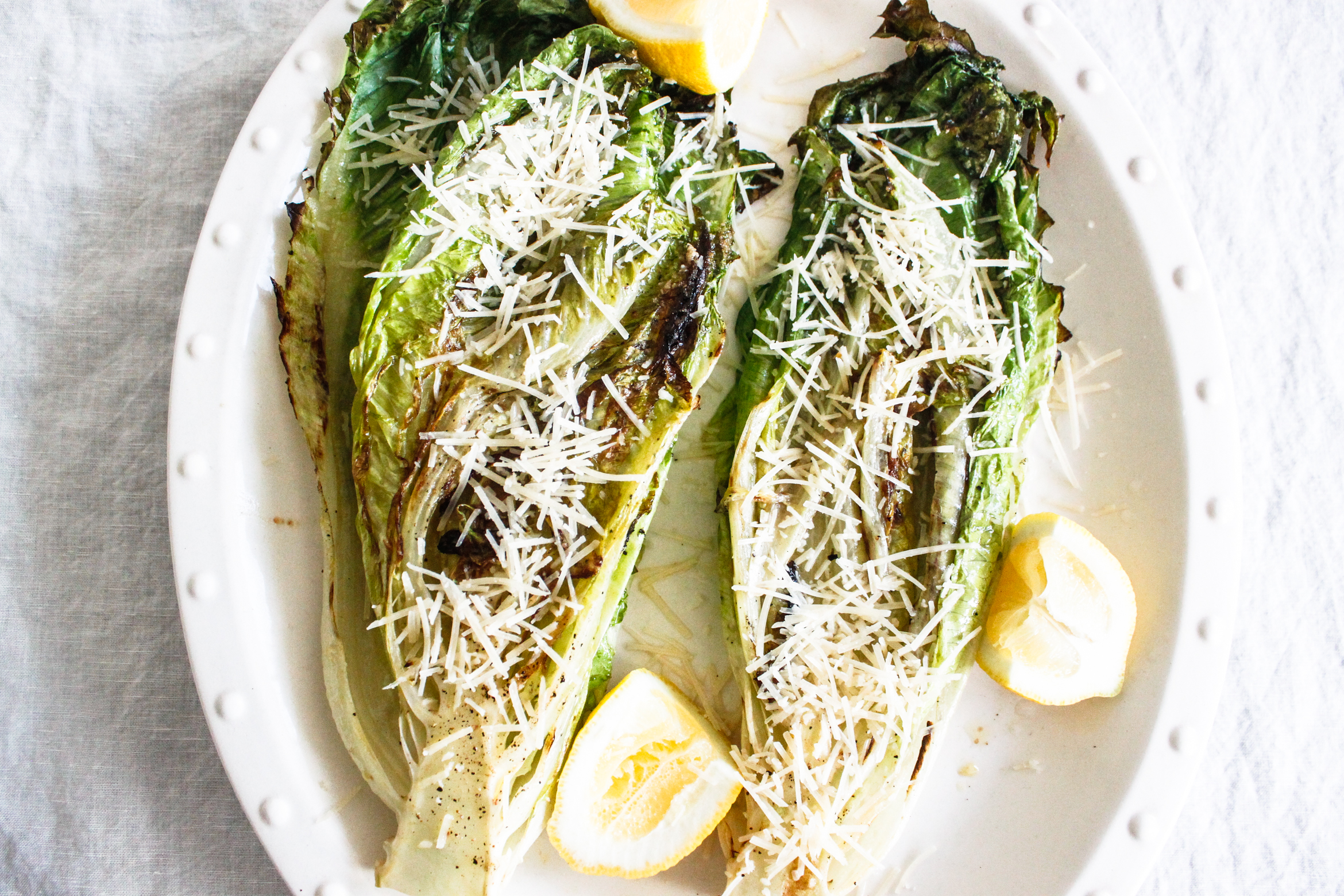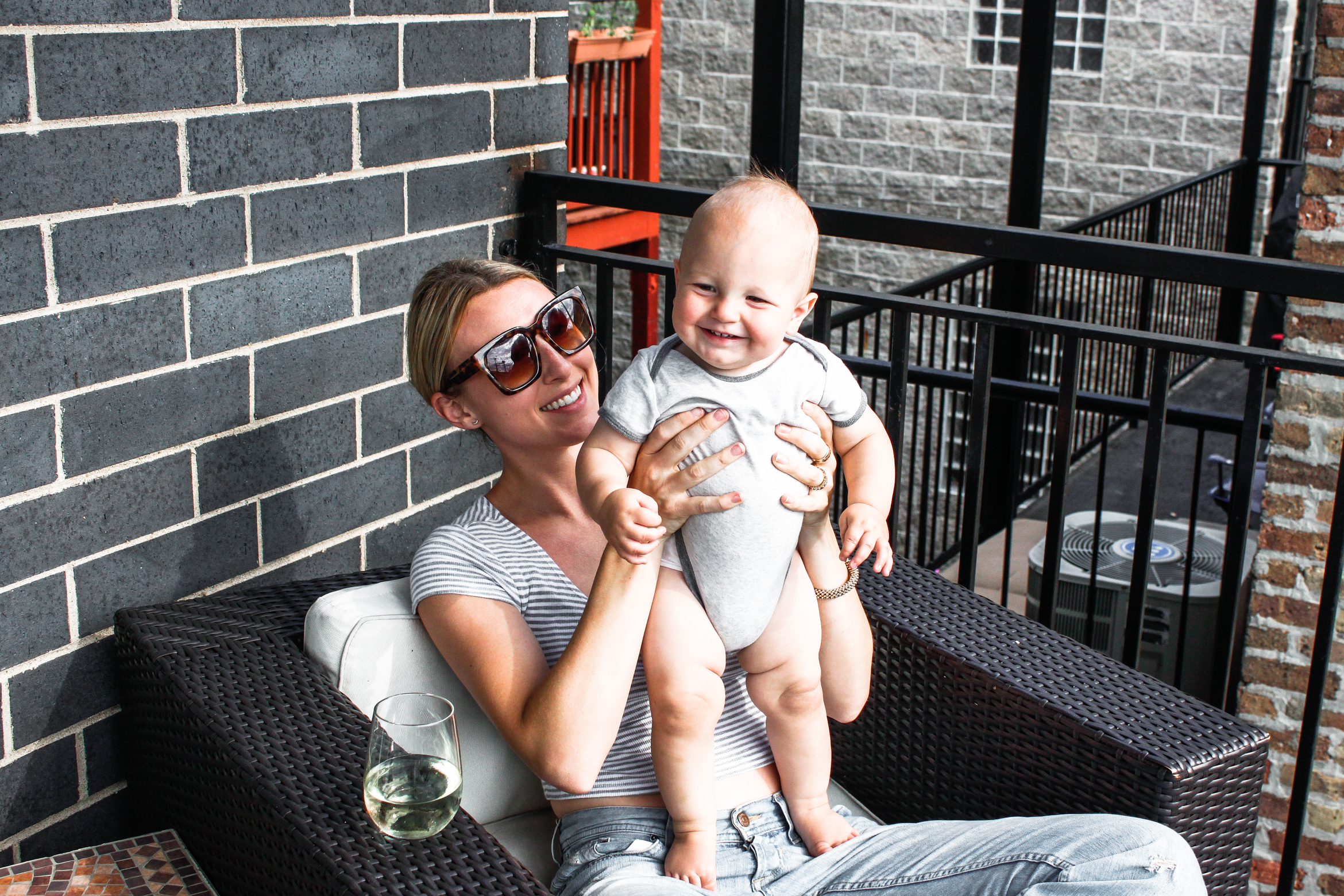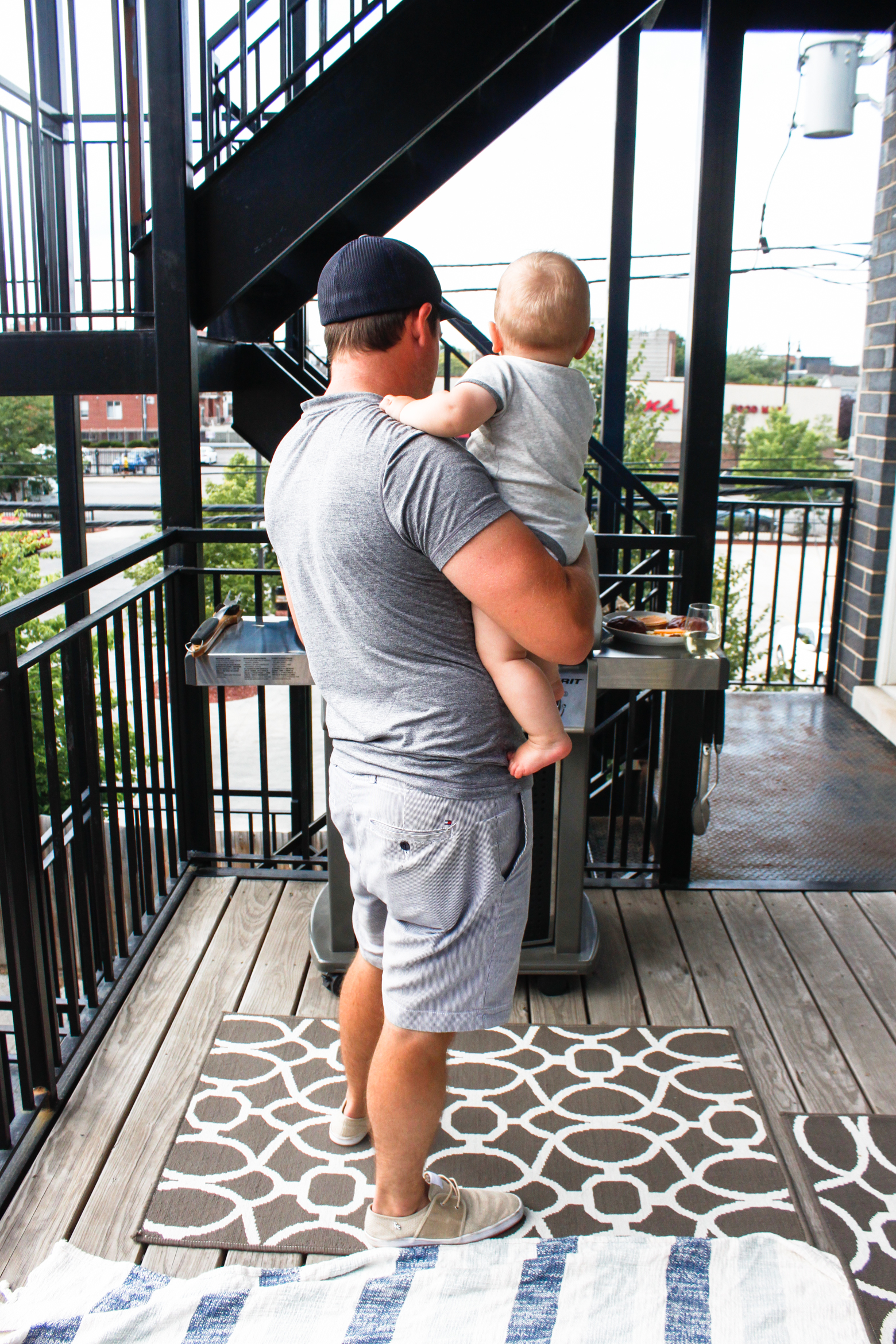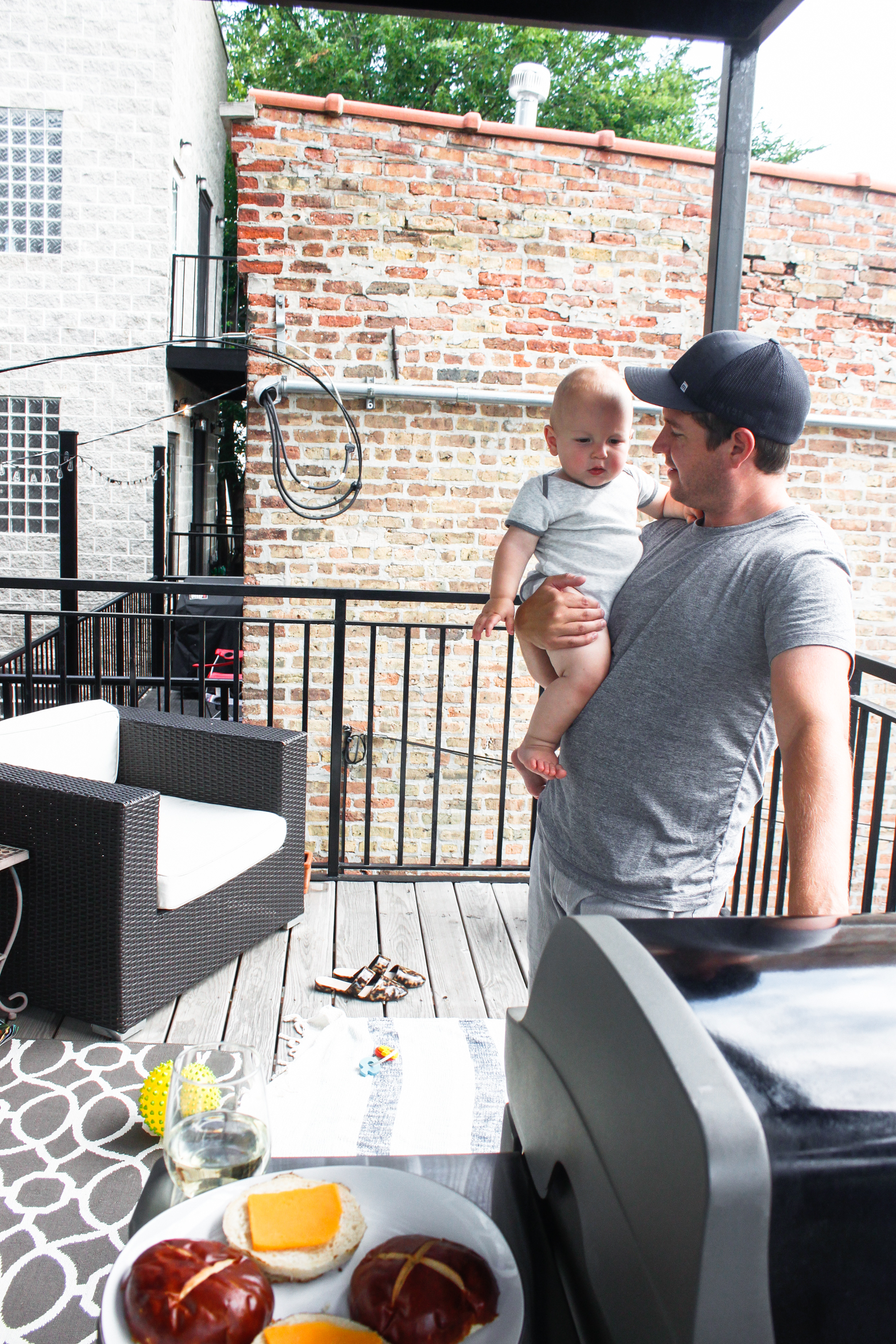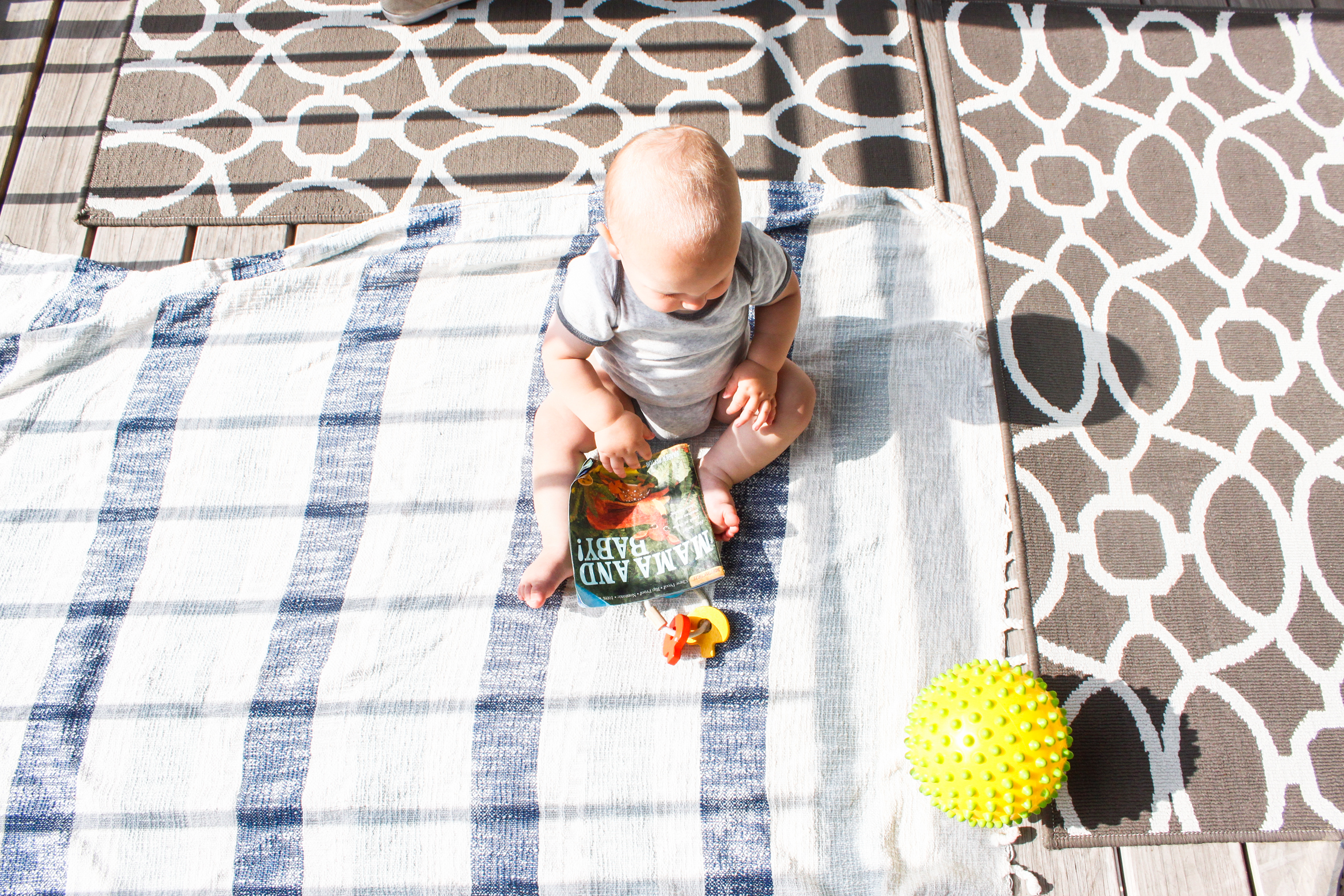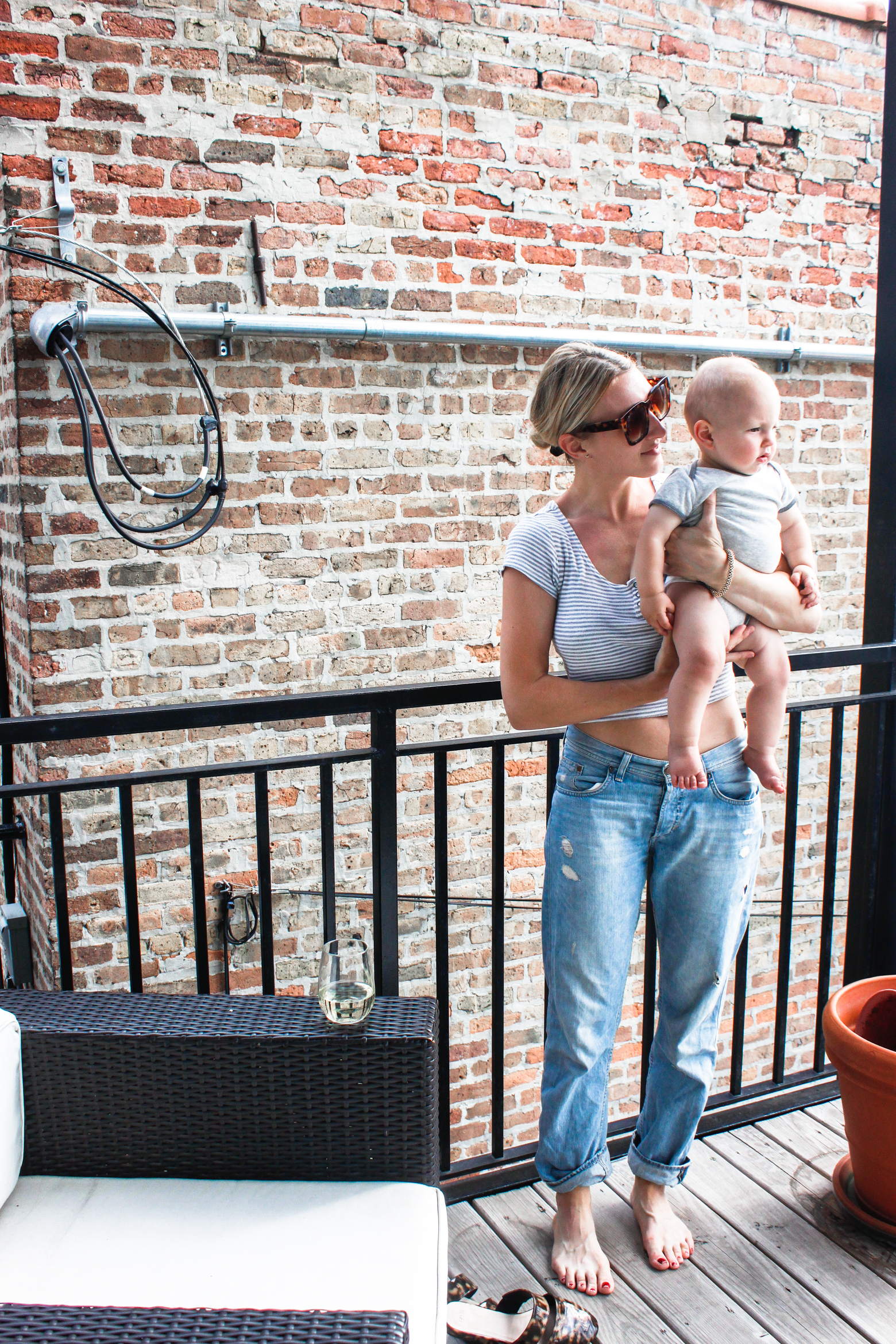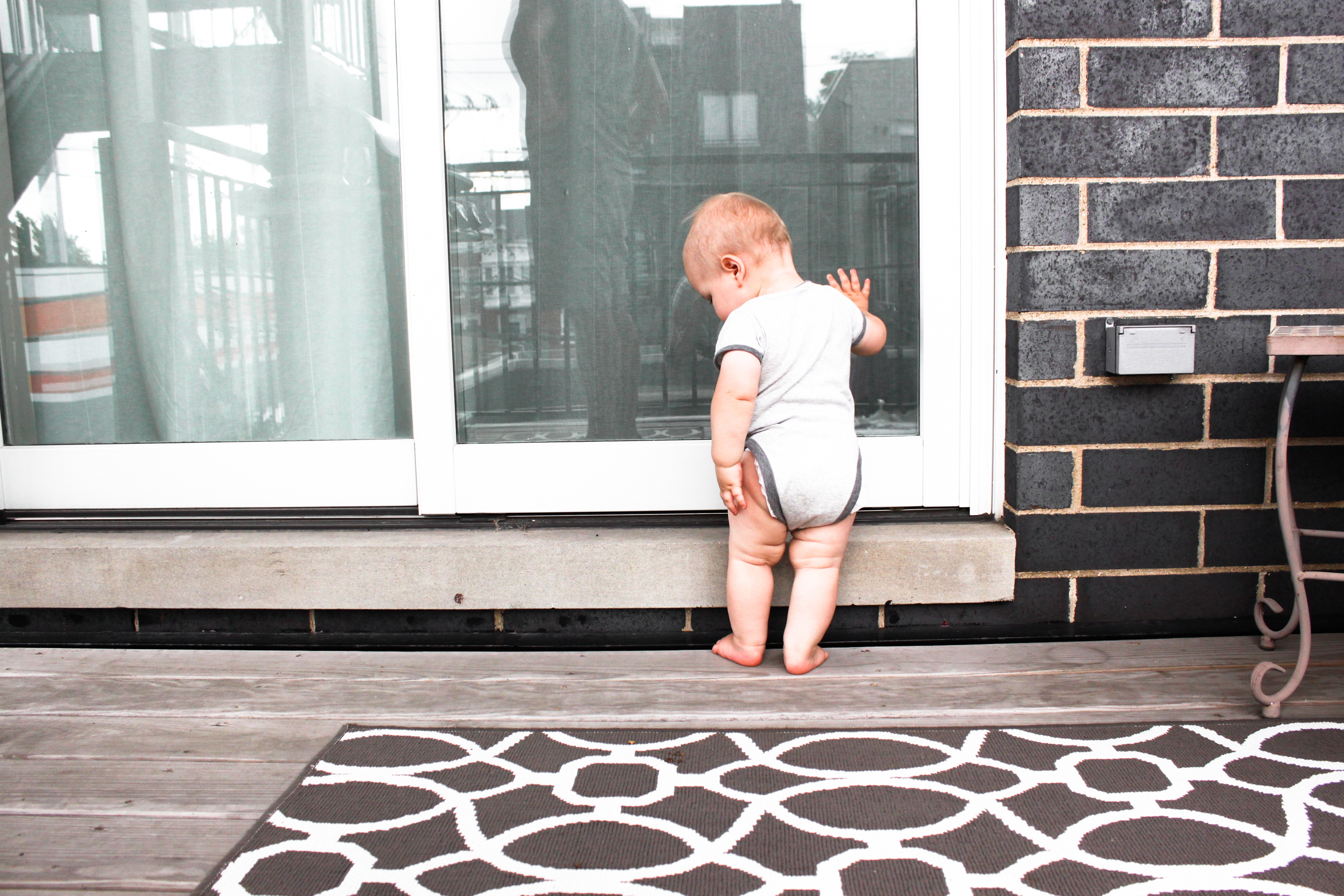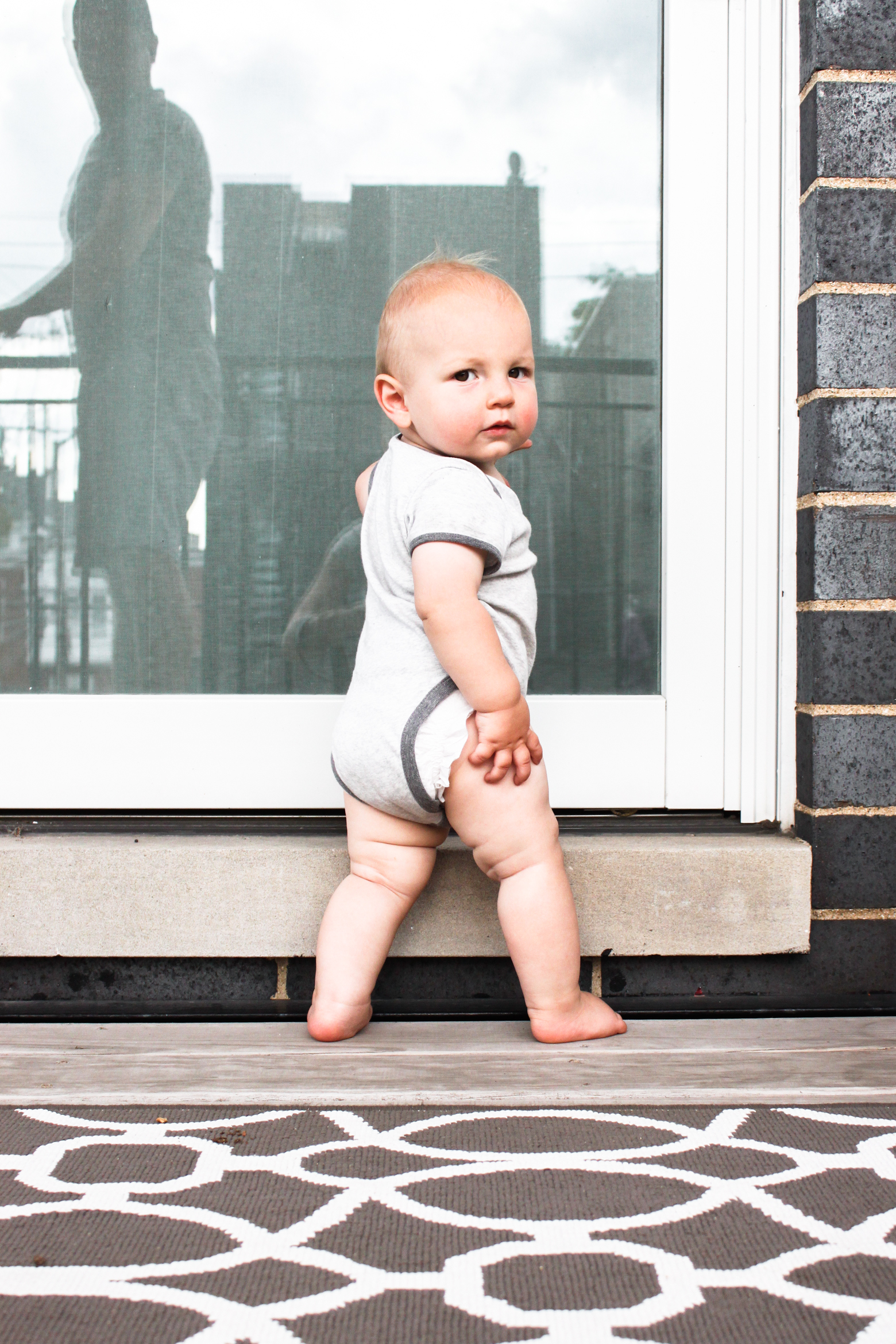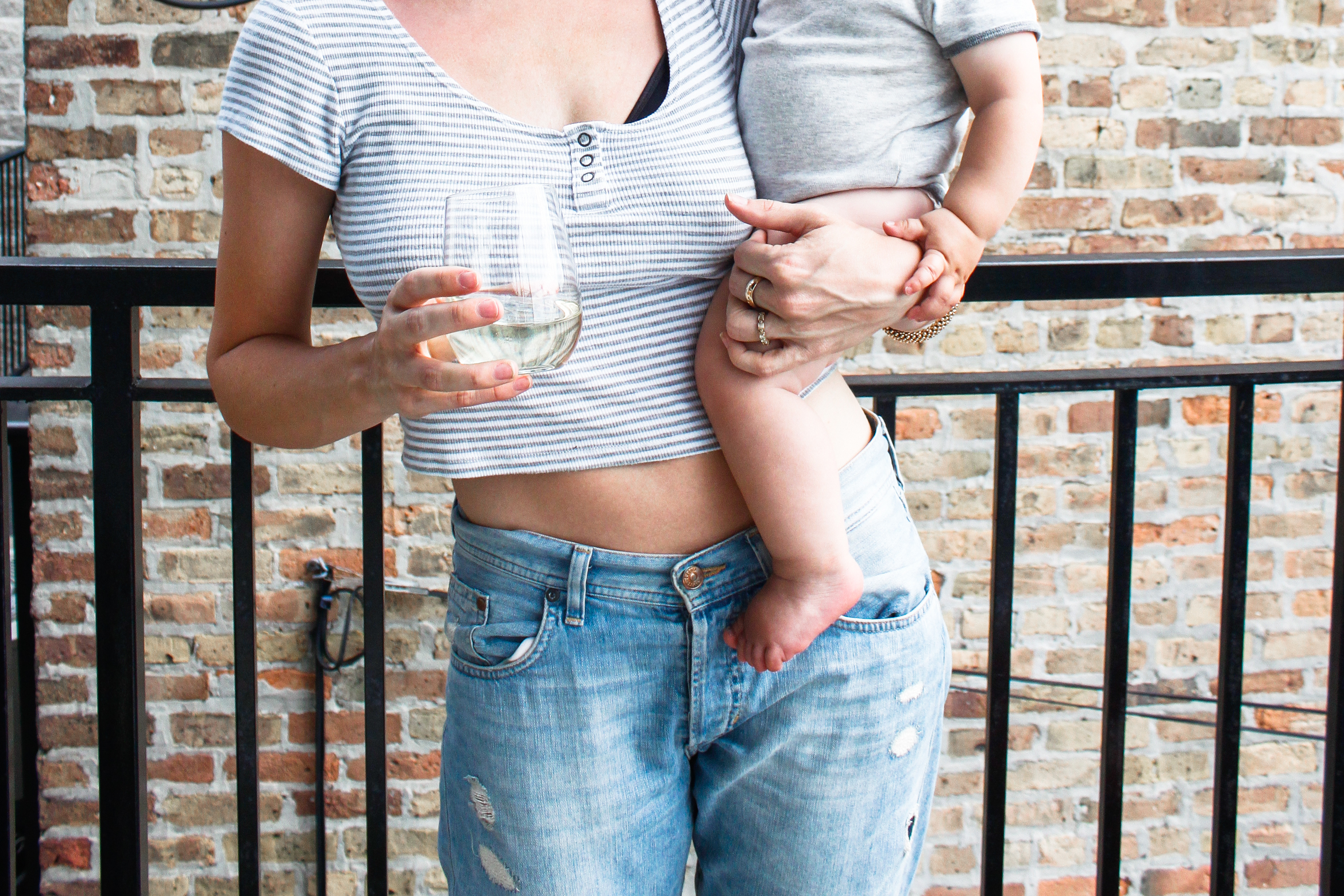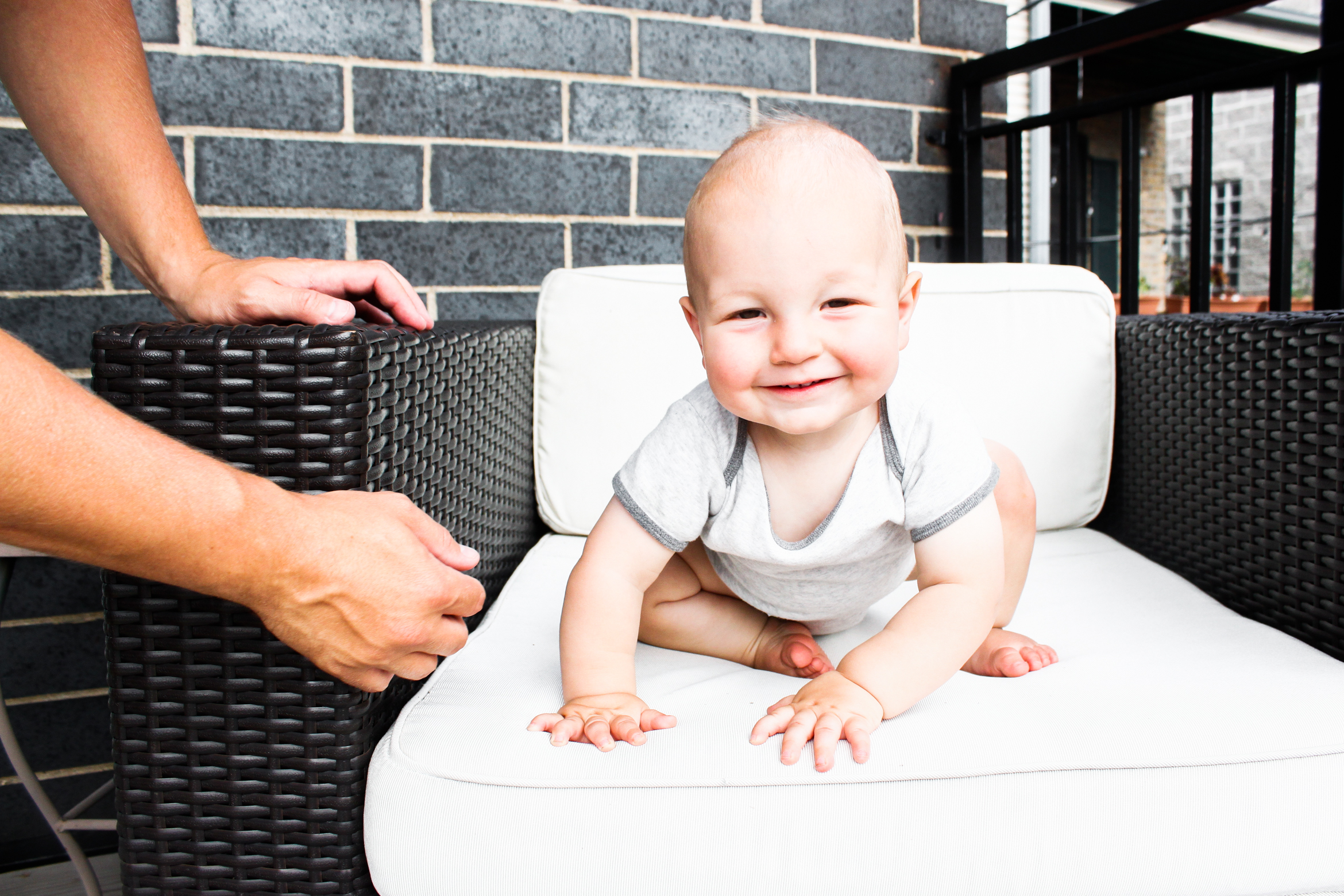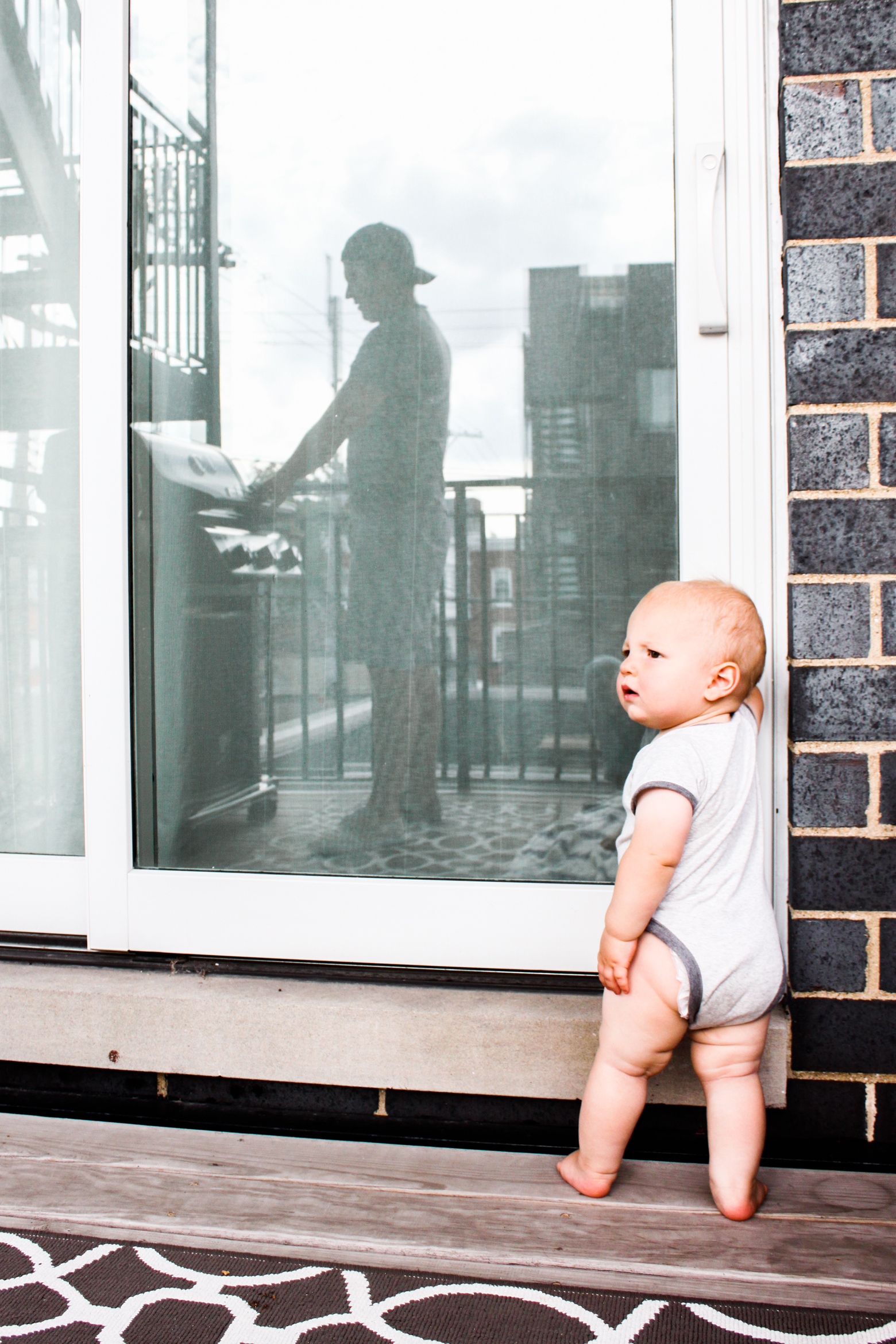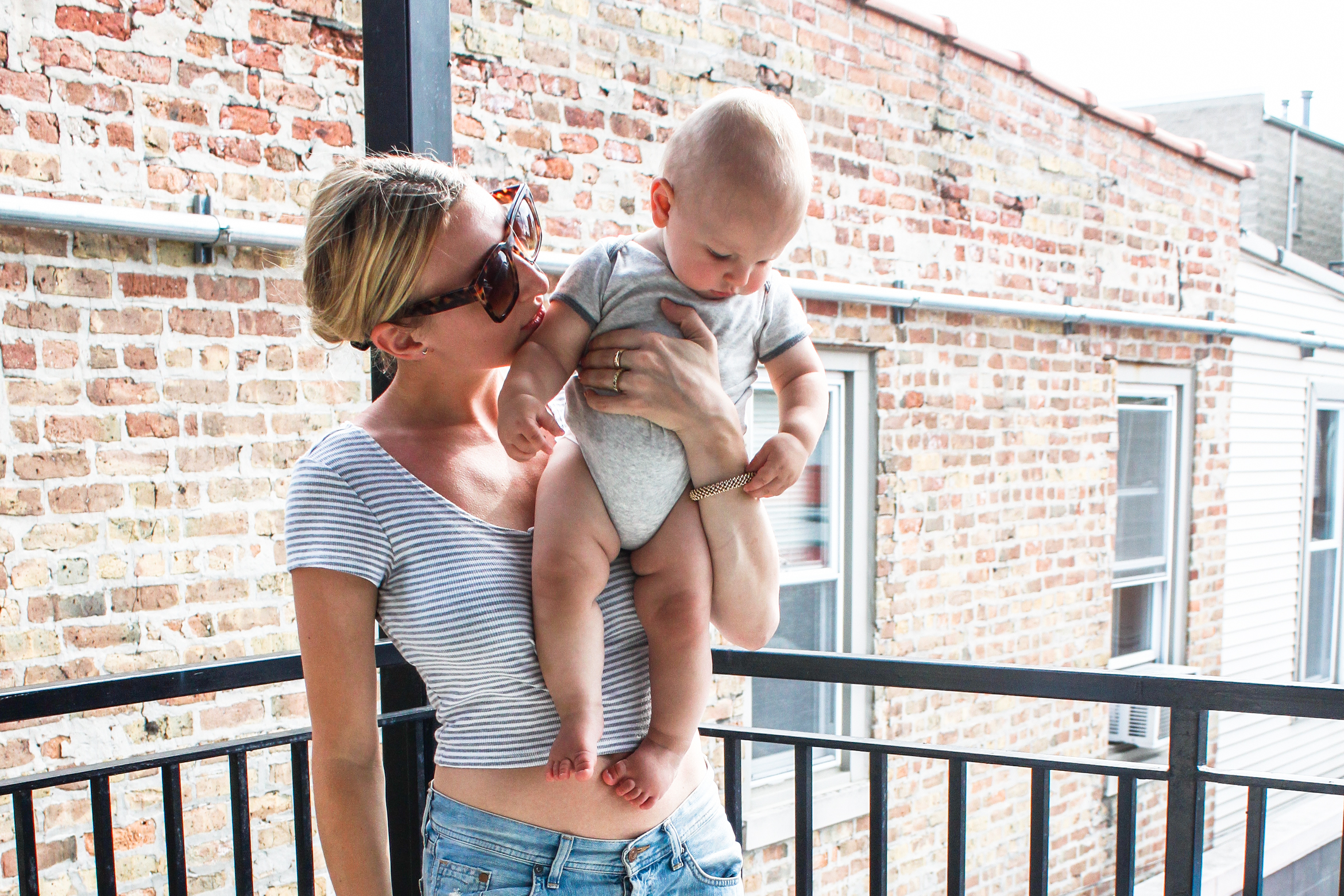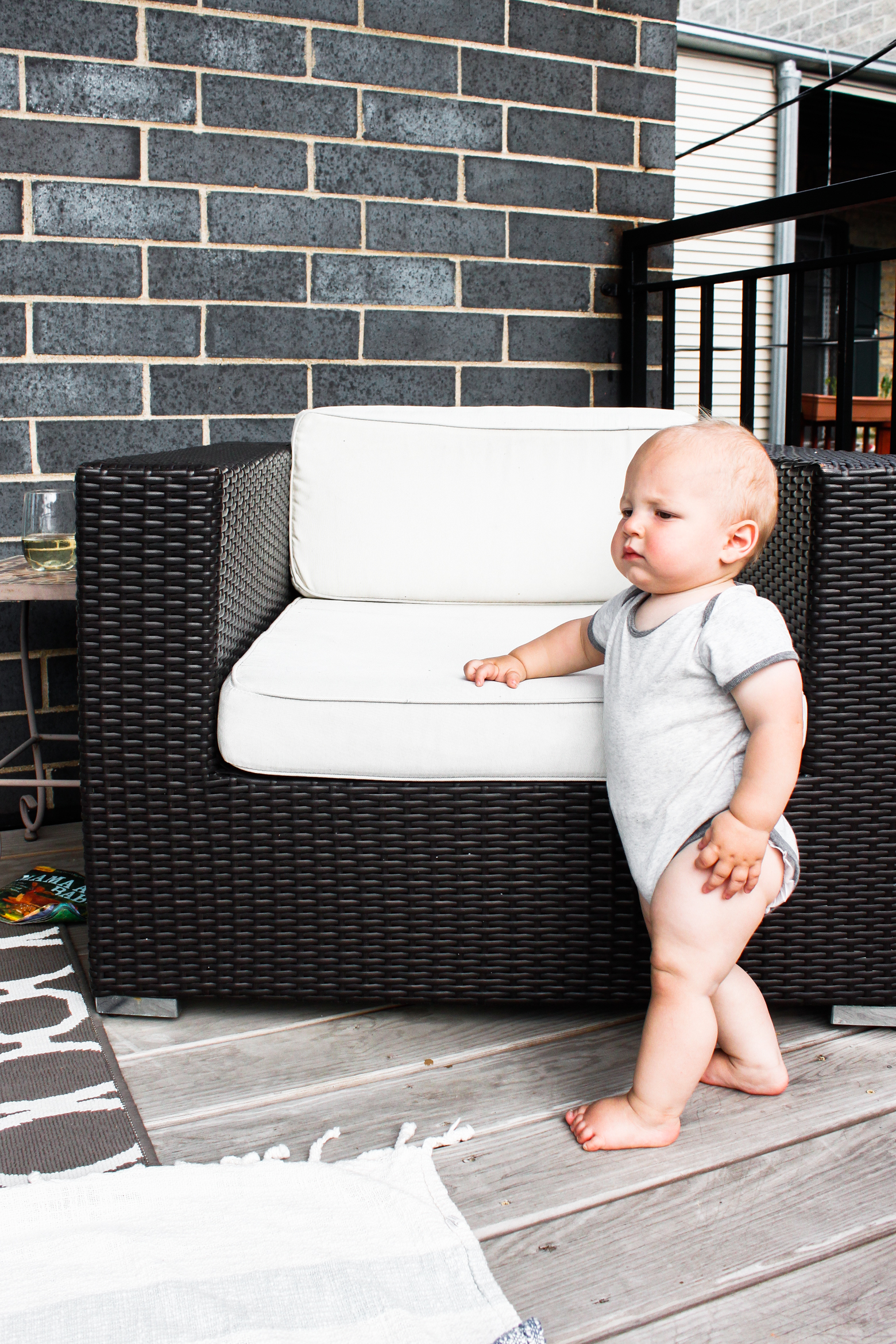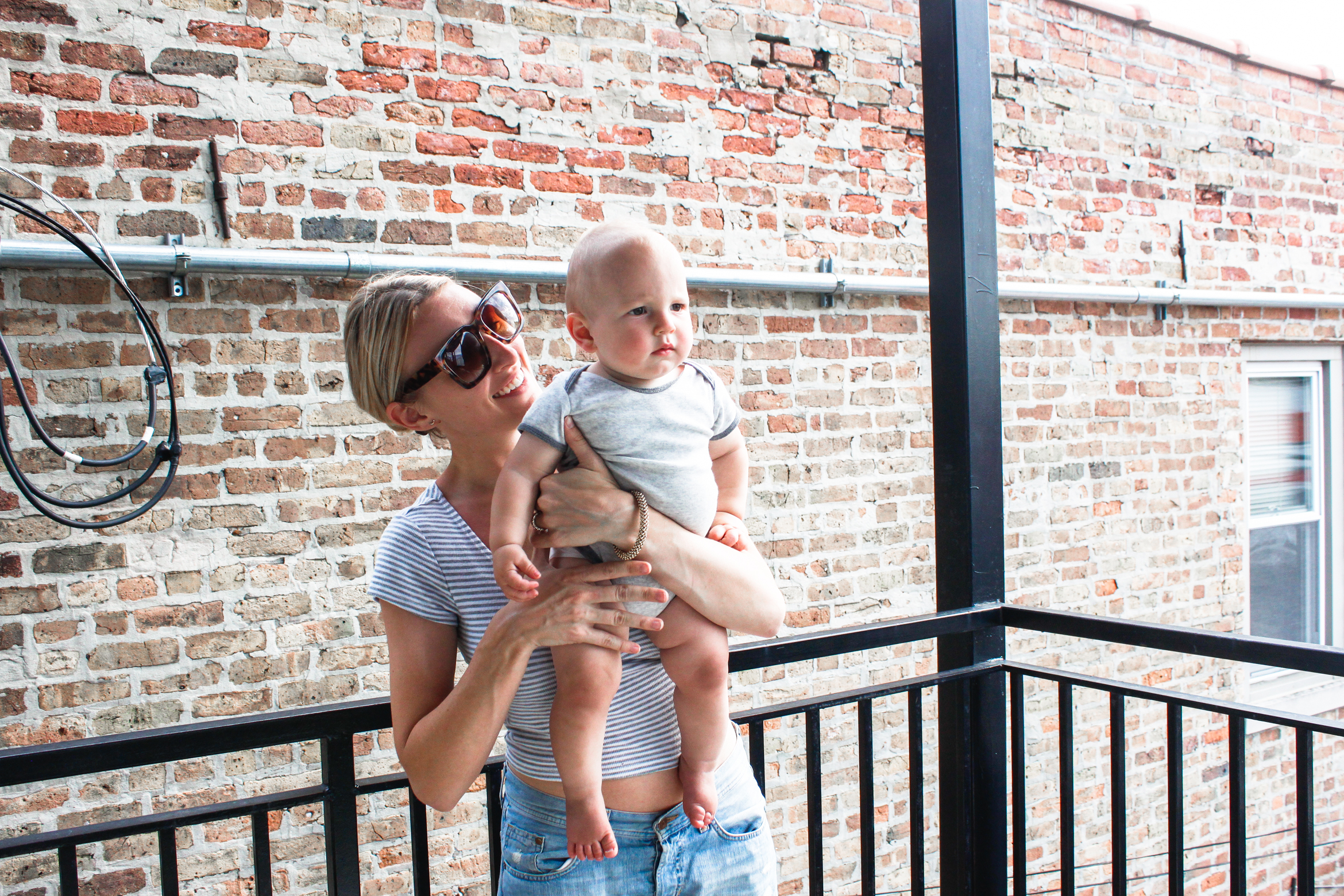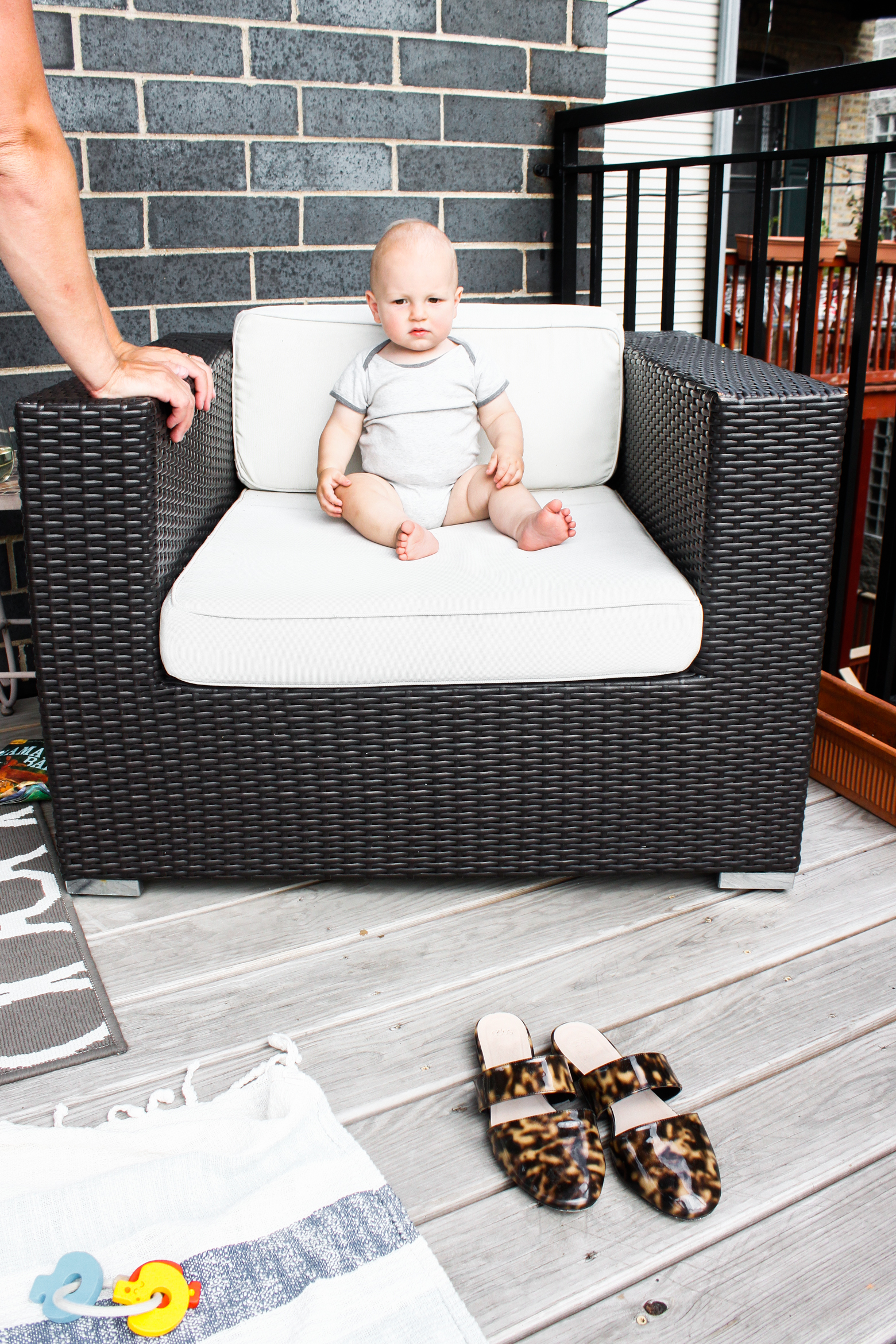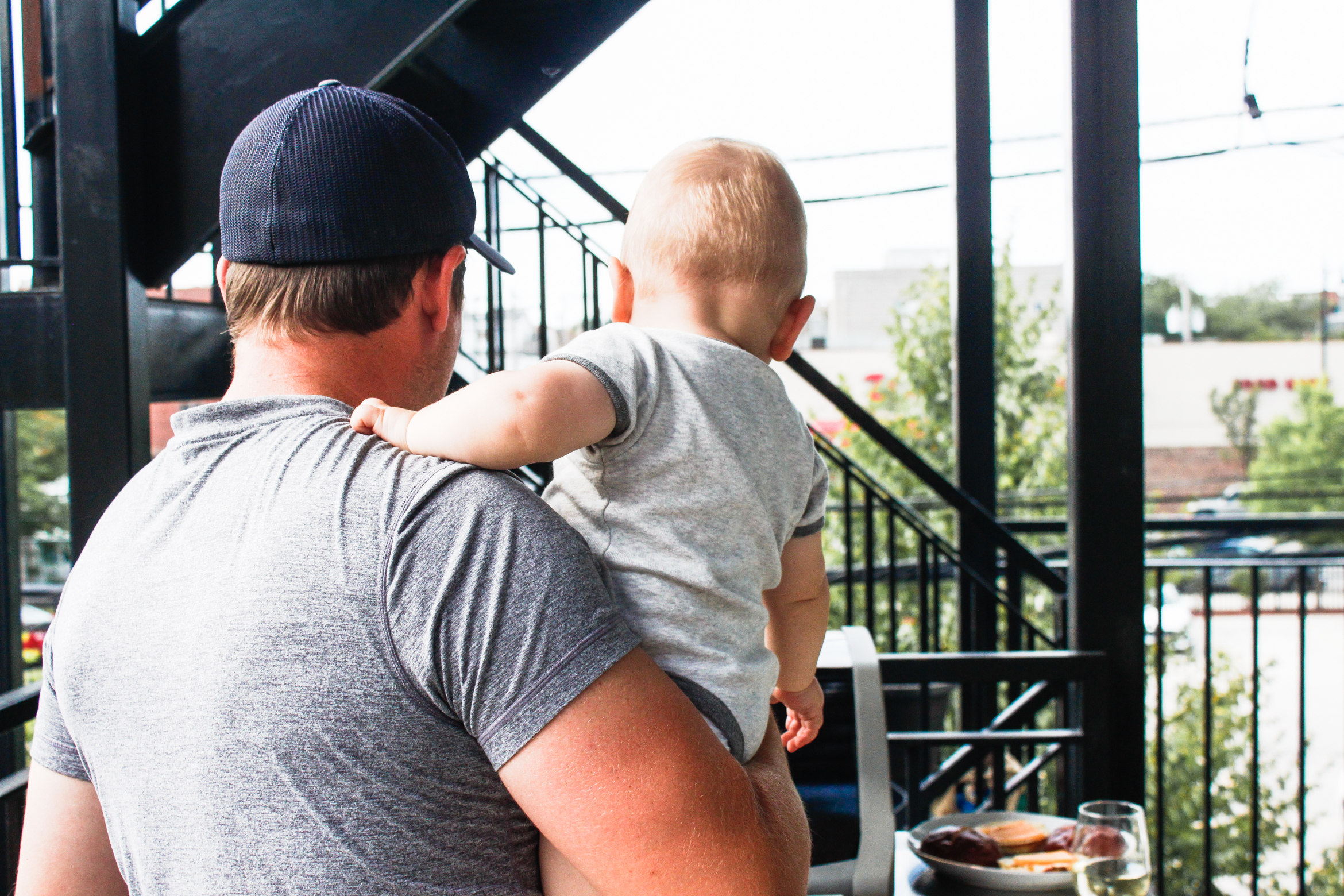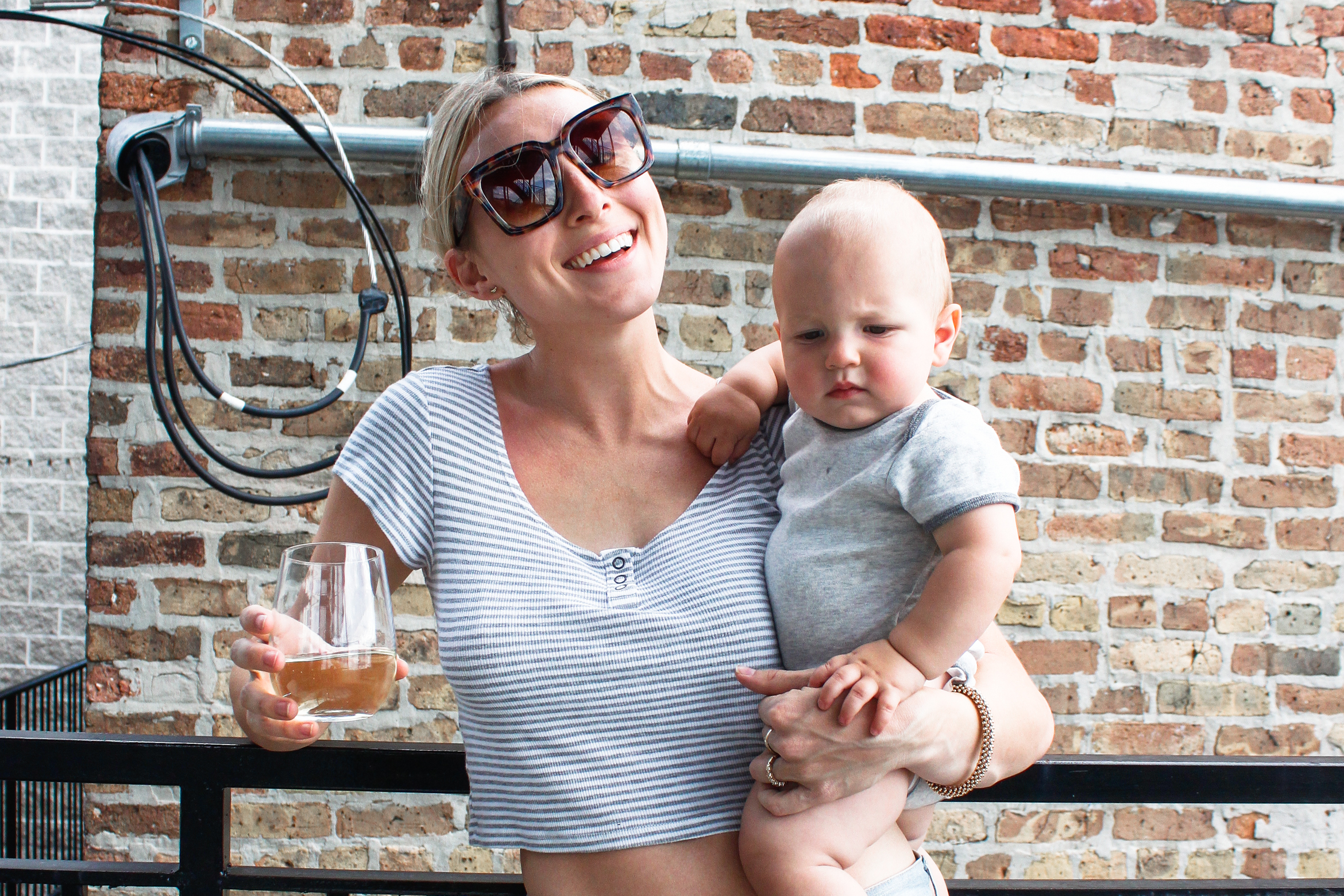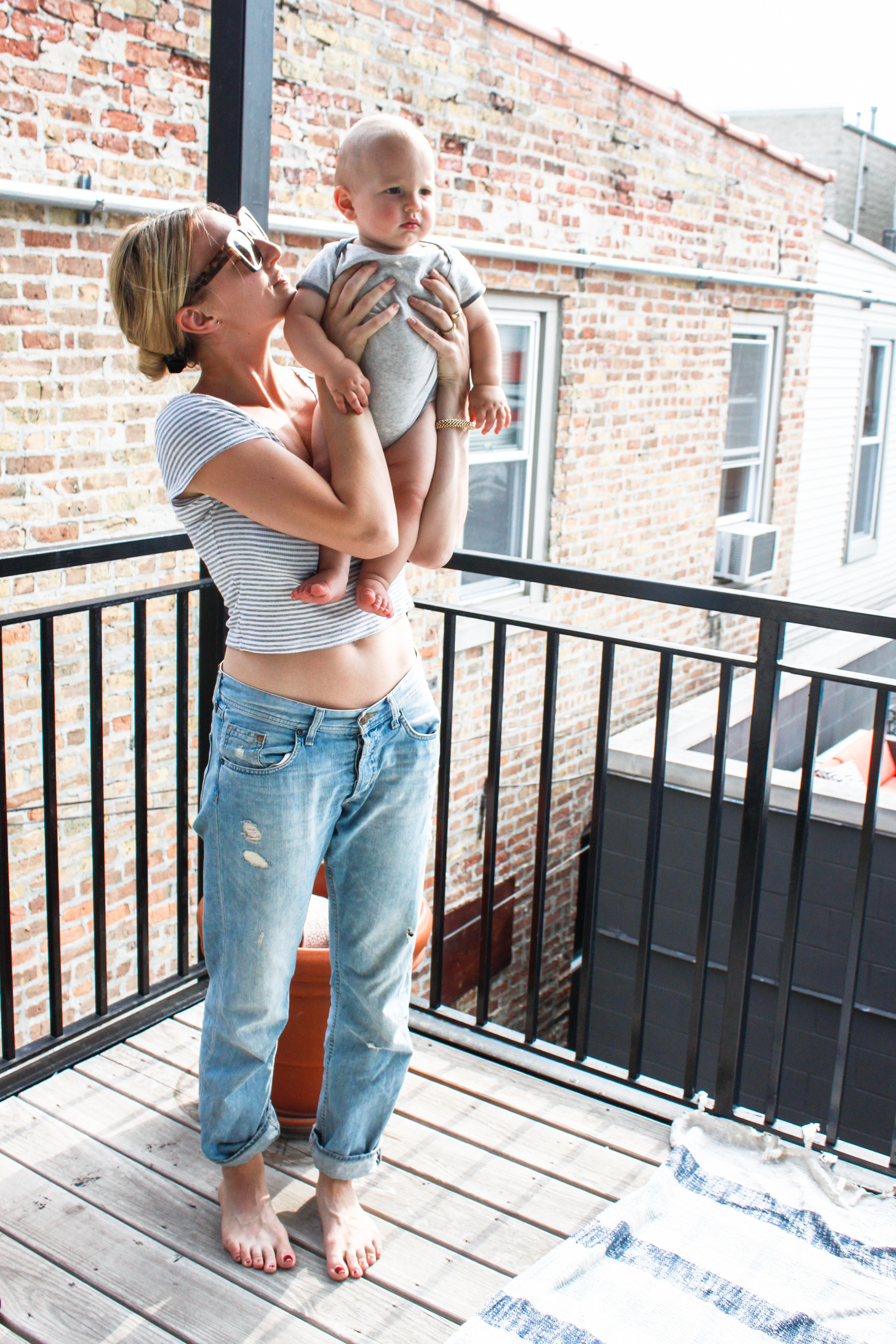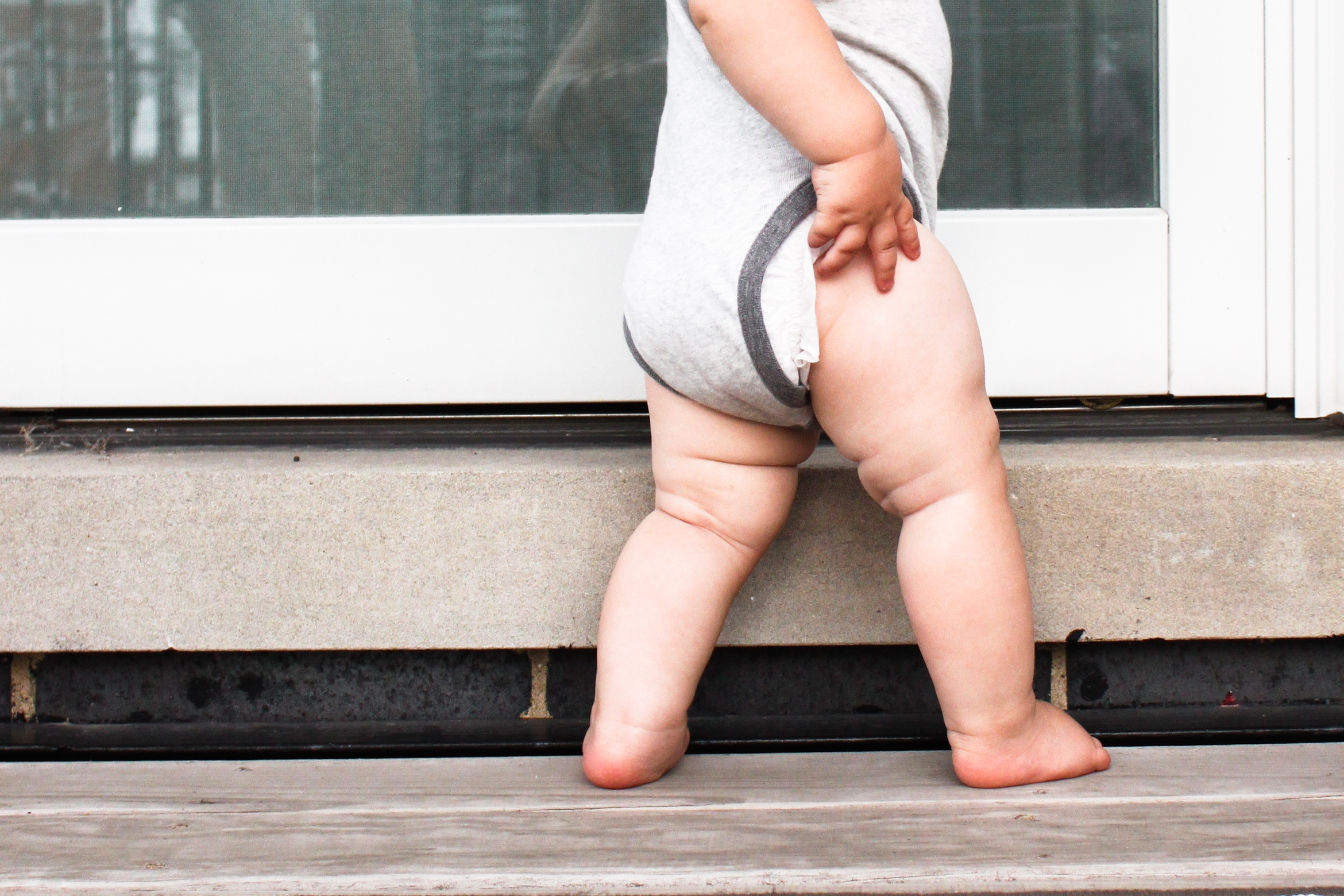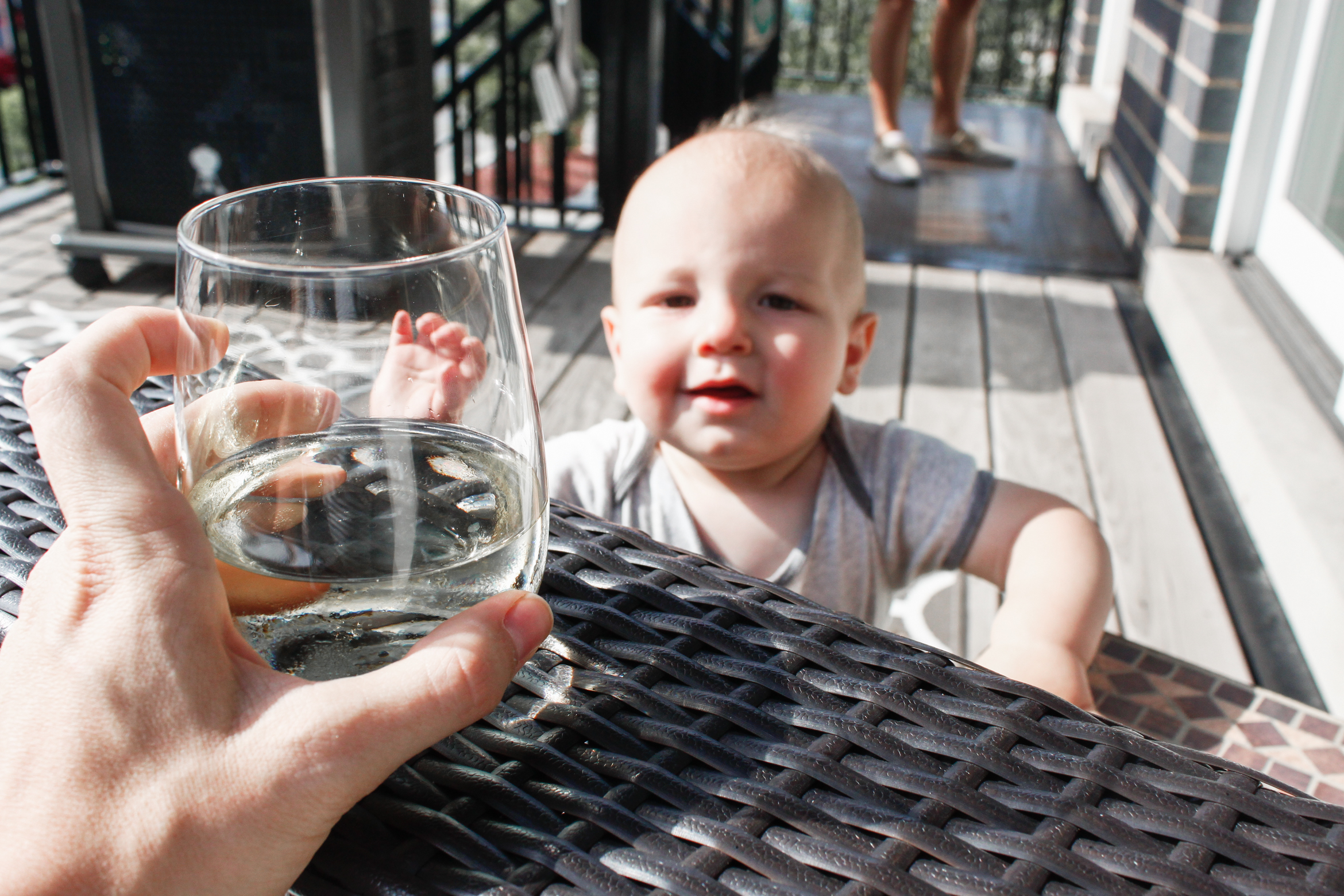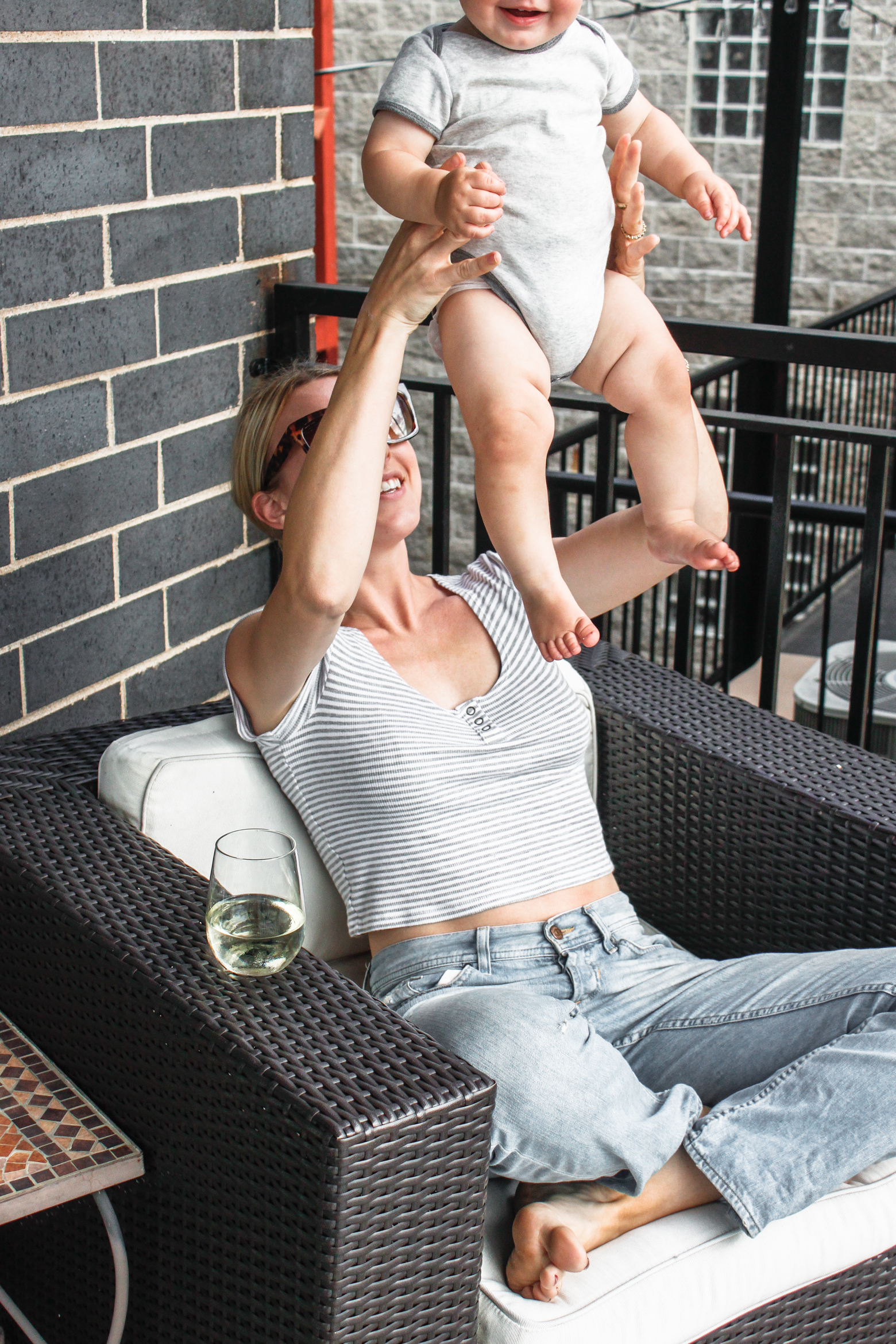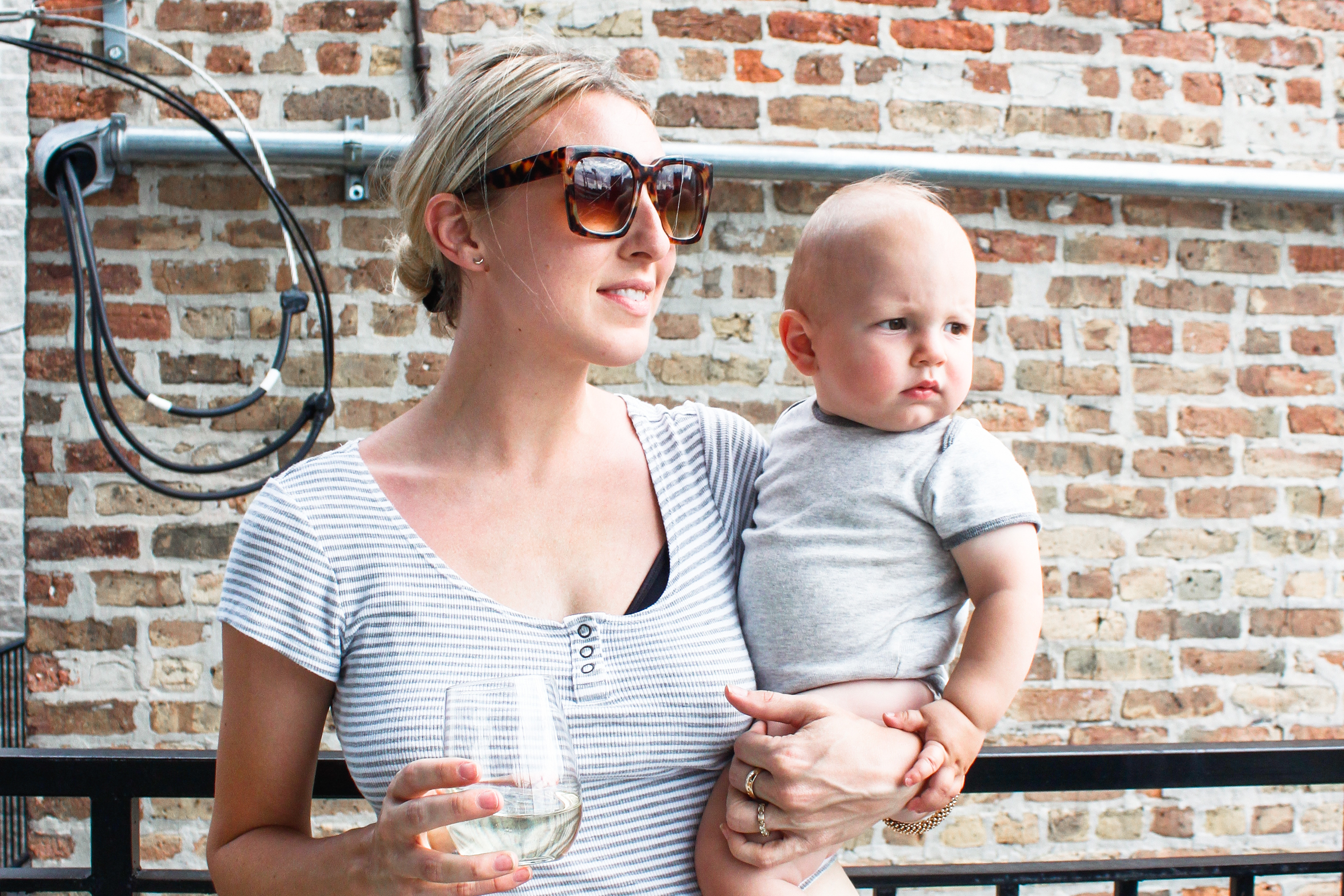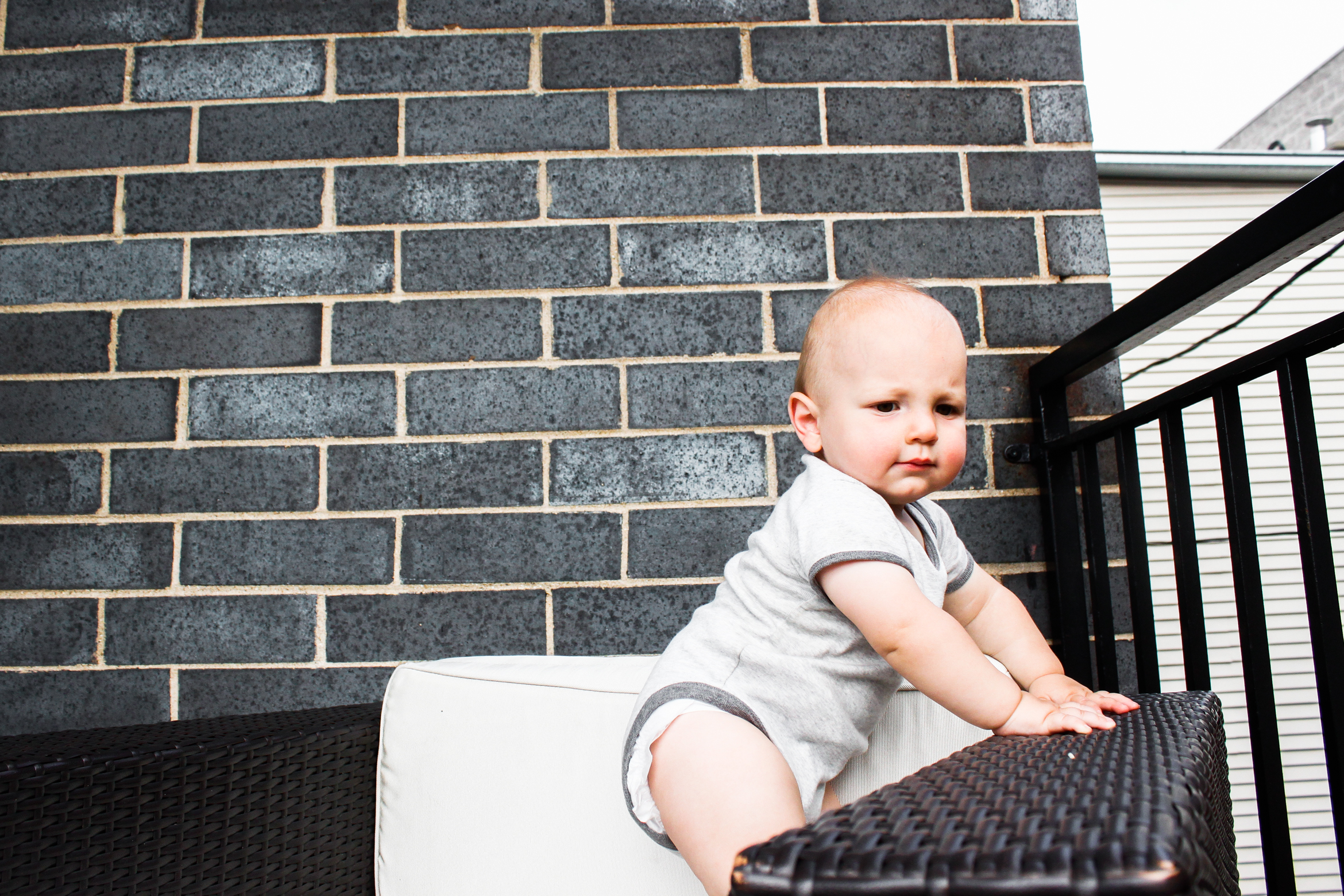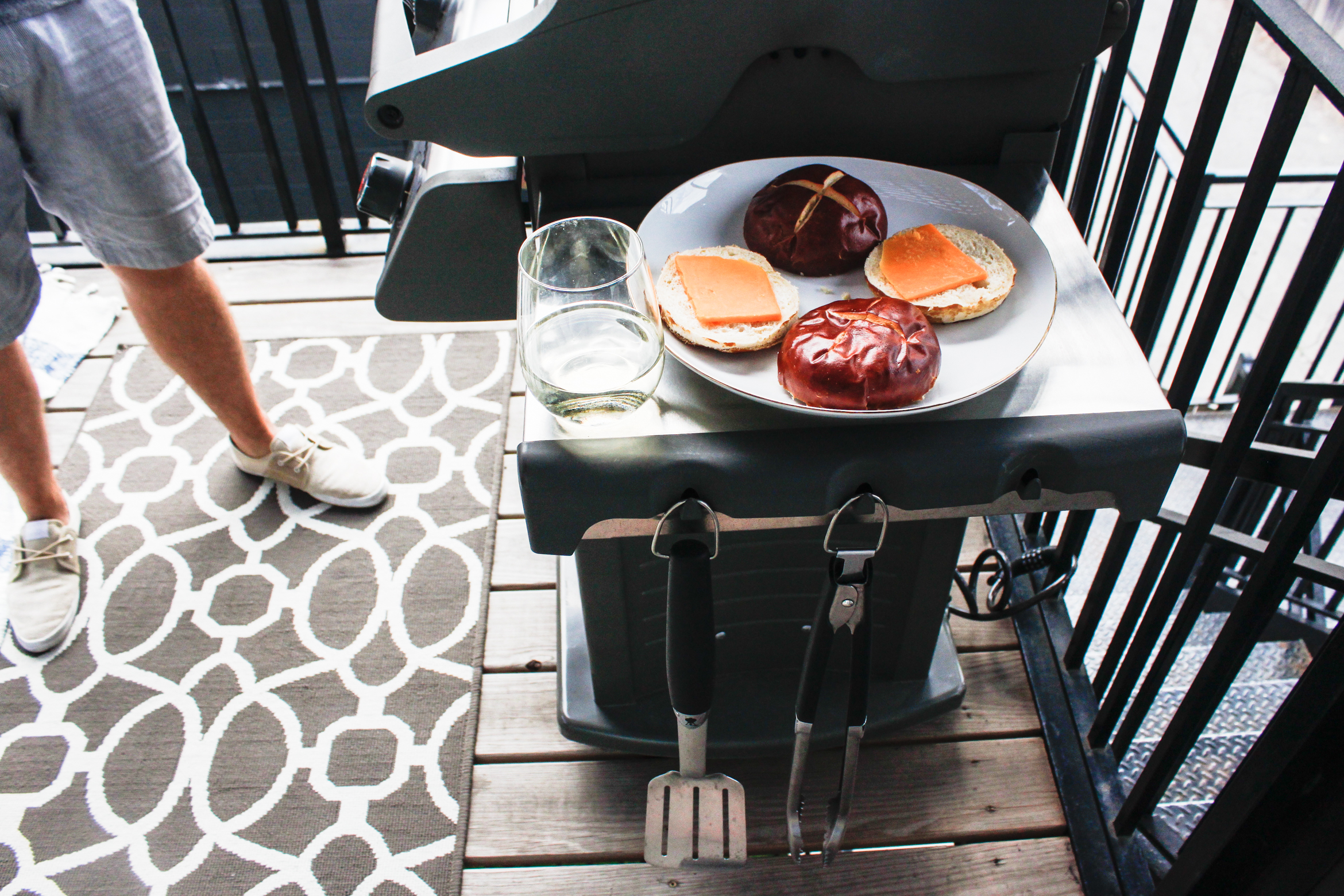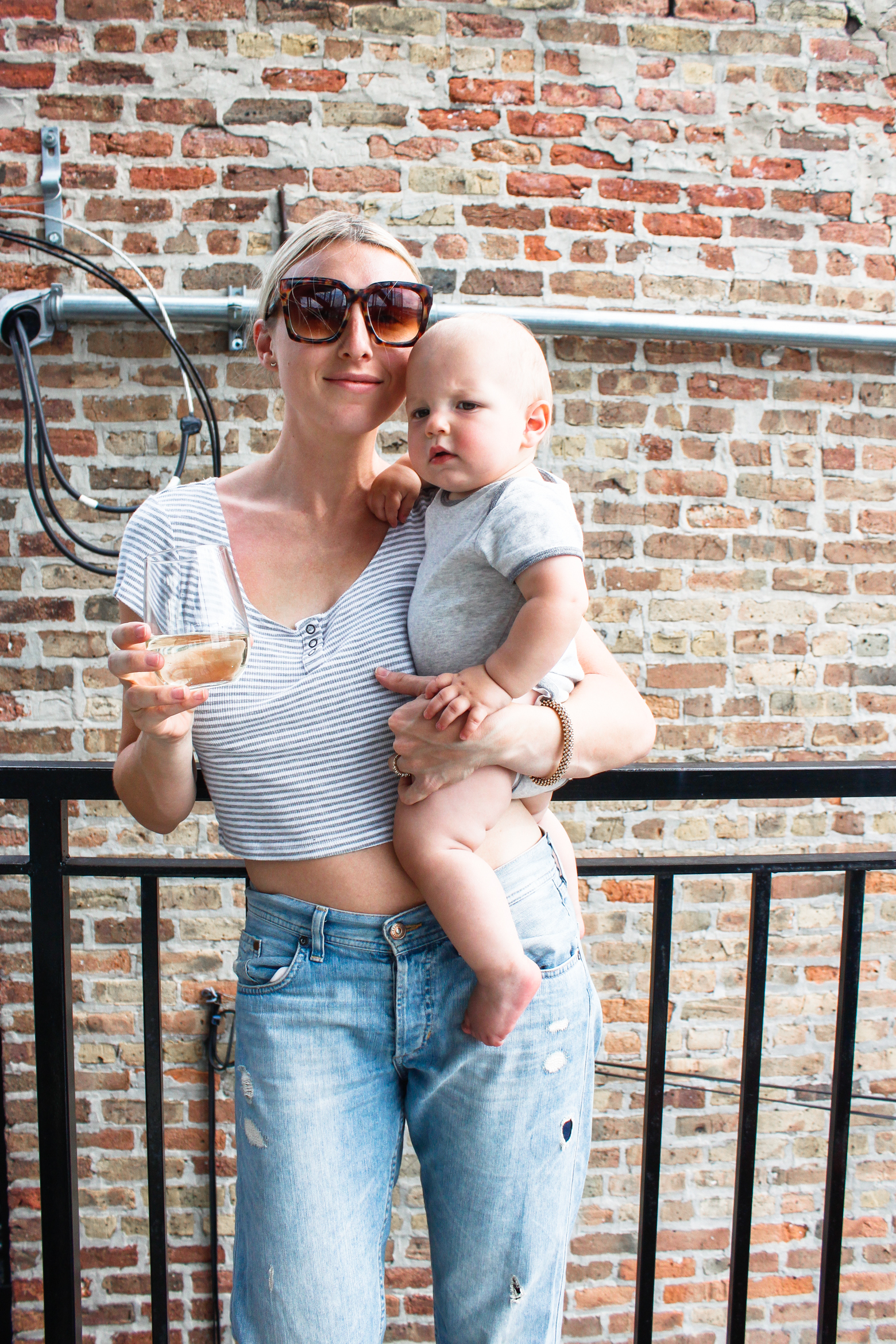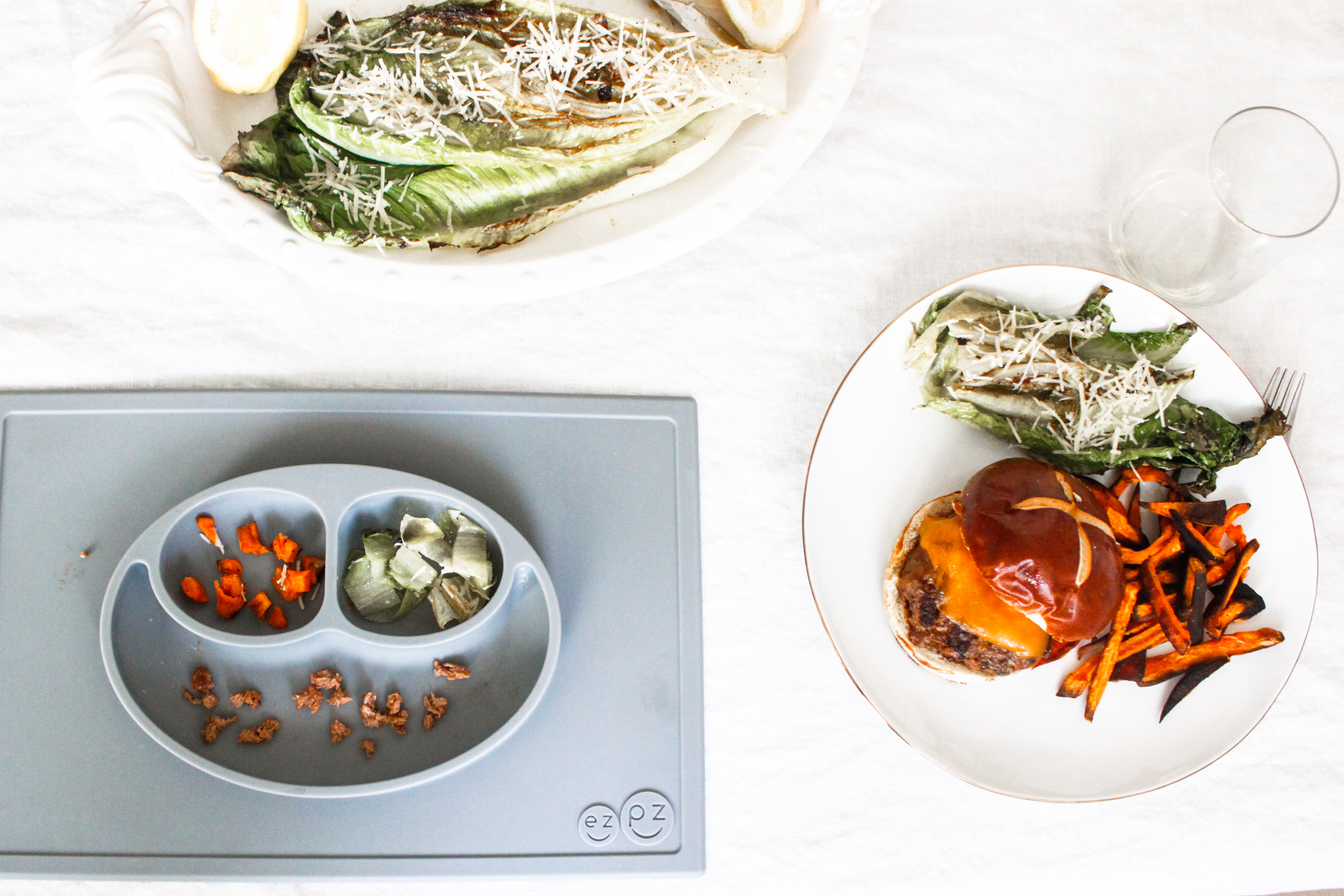 Does anyone else use this awesome EZPZ mat?! I am so obsessed. It is made of silicone and suctions to your counter top – which means, James can't chuck it onto the floor like he does with everything else. Also, it's super easy to clean and is dishwasher safe. We made a Buy Buy Baby run yesterday, and I got the mini one too. My plates are from West Elm, and they are the best. They are slightly larger than regular dinner plates which I love!
Also, I want to be totally honest with you, we hardly ever eat dinner at the table together like this. Our condo is tight on storage space (and space in general), so we opted for the highchair that clips onto the countertop which by the way I love. I used to hate it because hand cleaning it was a pain, but I recently learned it can be thrown in the dishwasher!!! #GAMECHANGER. It will not however, clip onto our dining room table. So, we have been feeding James at the counter and then Kyle and I eat after he goes to bed. However, now that James is older I really want to try and have dinner made (or ordered lol) every night by 6pm so that we can start eating together as a family. Which means, we NEED to get a real high chair so he can join us at the table. Do you guys have any recommendations? It can't be too big. I really want the Stokke Tripp Trapp because it is pretty (all that matters right?????) but most importantly it is so compact and barely takes up any space. But, it's so expensive! Ugh. I also like this one but again, expensive. I'm such a sucker for aesthetics! To be honest, I'm considering just getting a cheap/basic restaurant style high chair, but not sure if that will be a huge pain for clean up? However, I'm thinking I'll probably appreciate a detachable tray. Suggestions are welcome!!!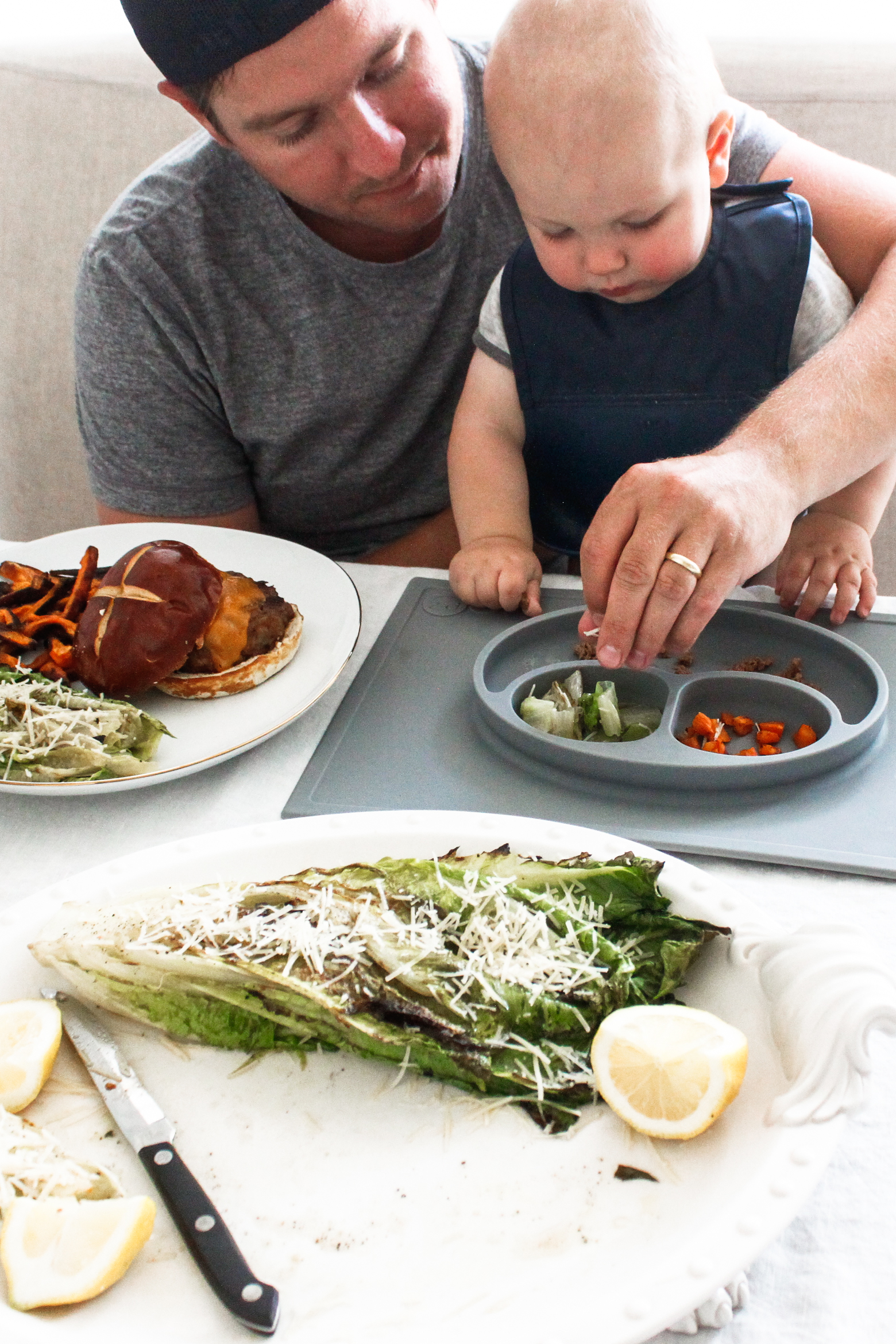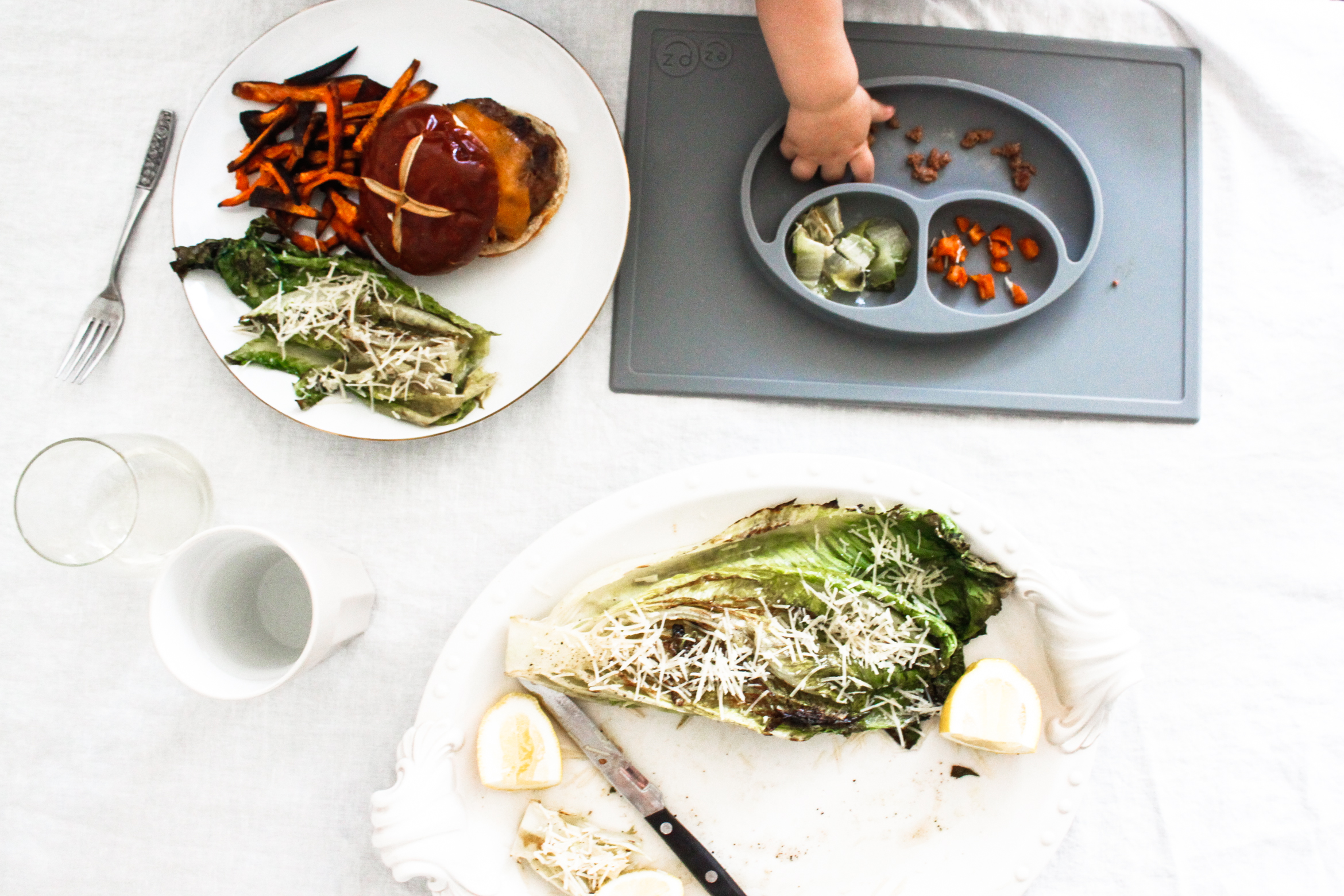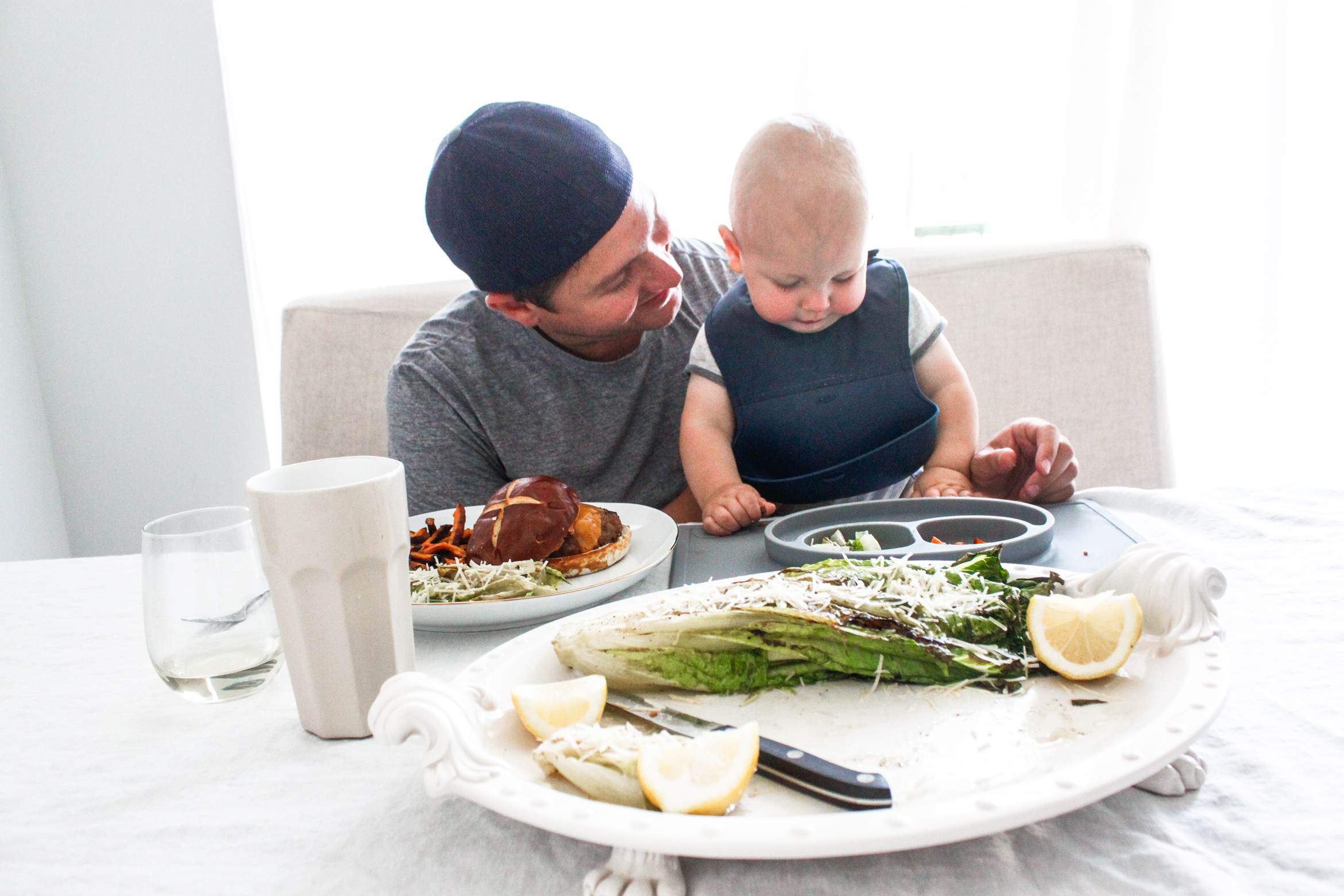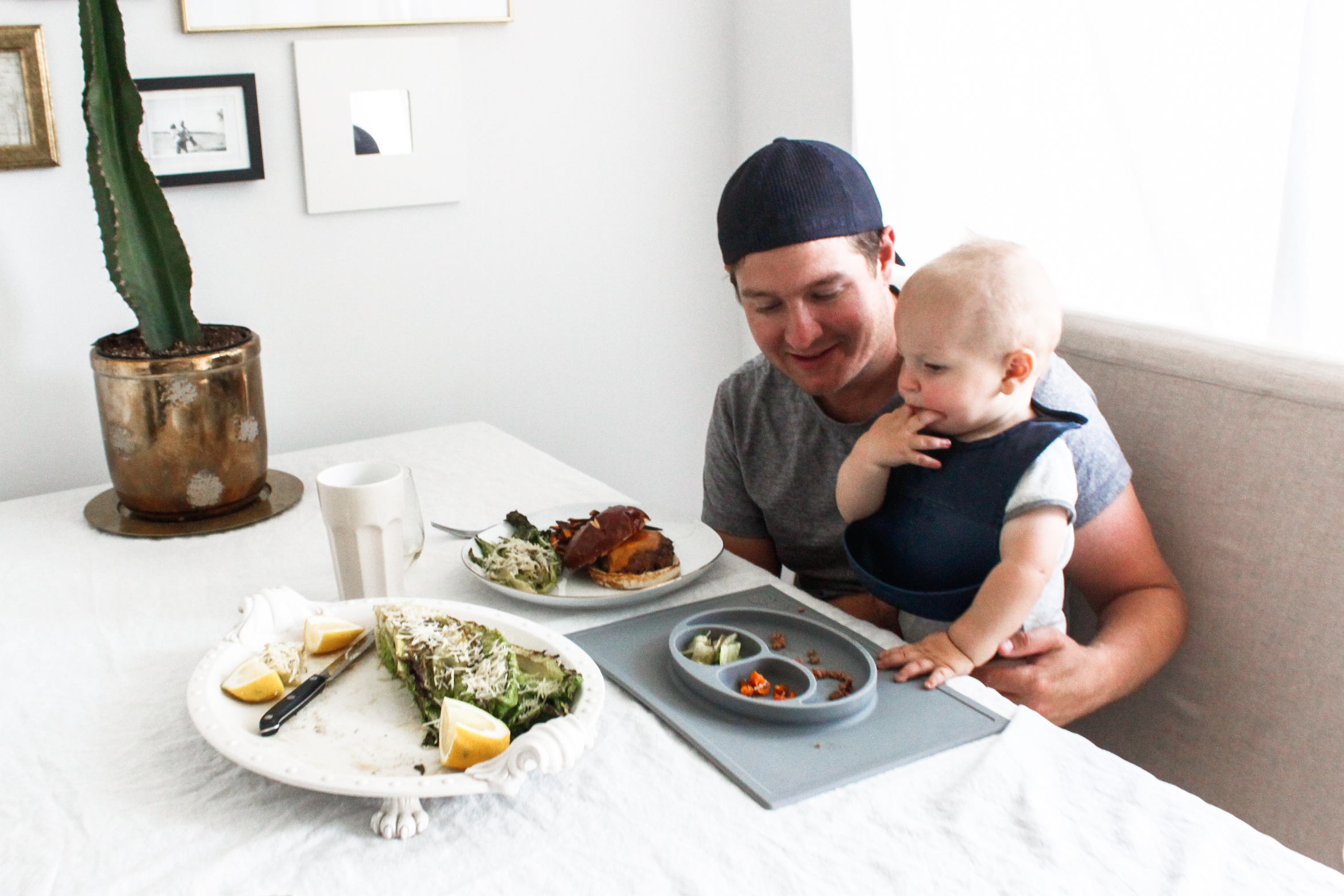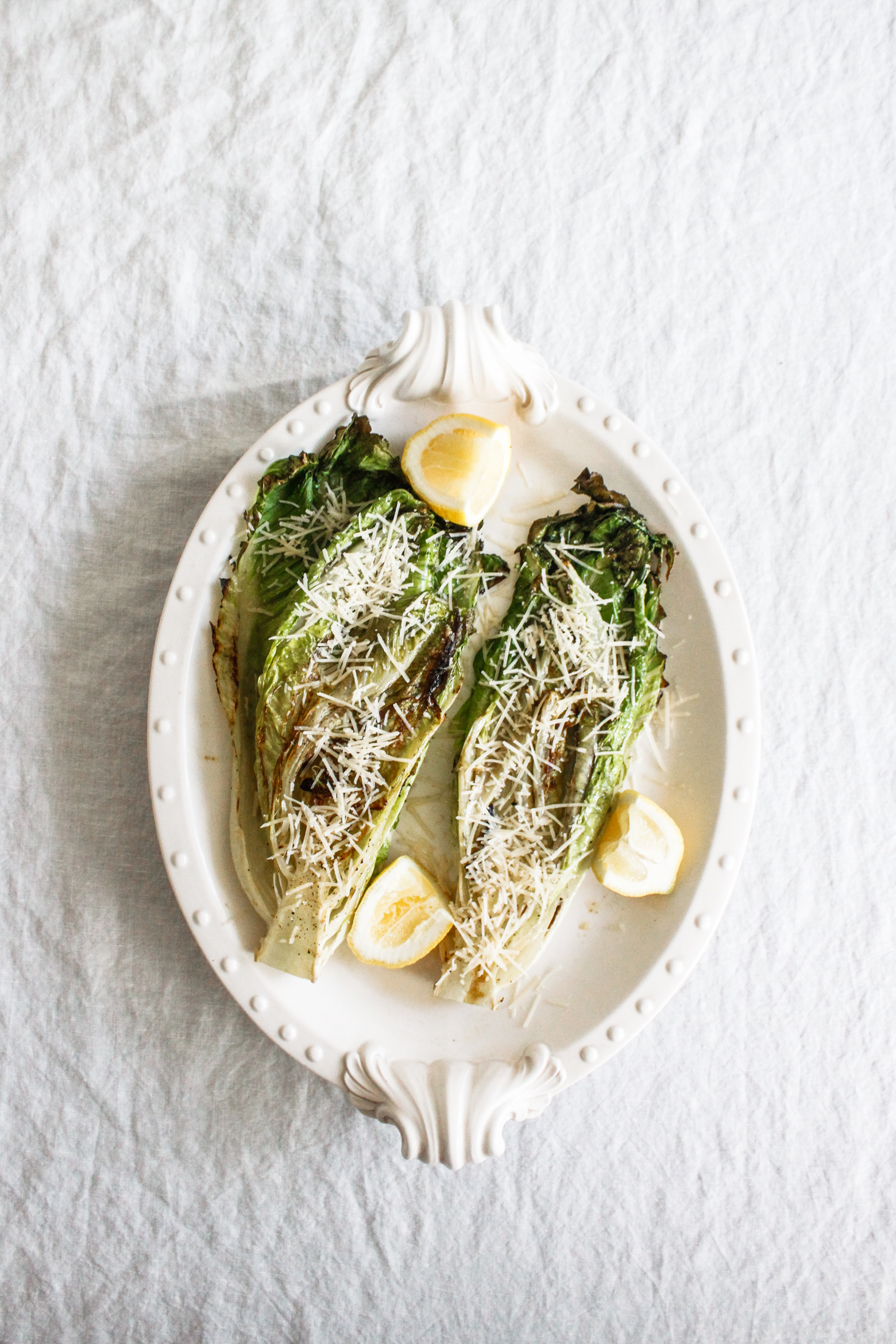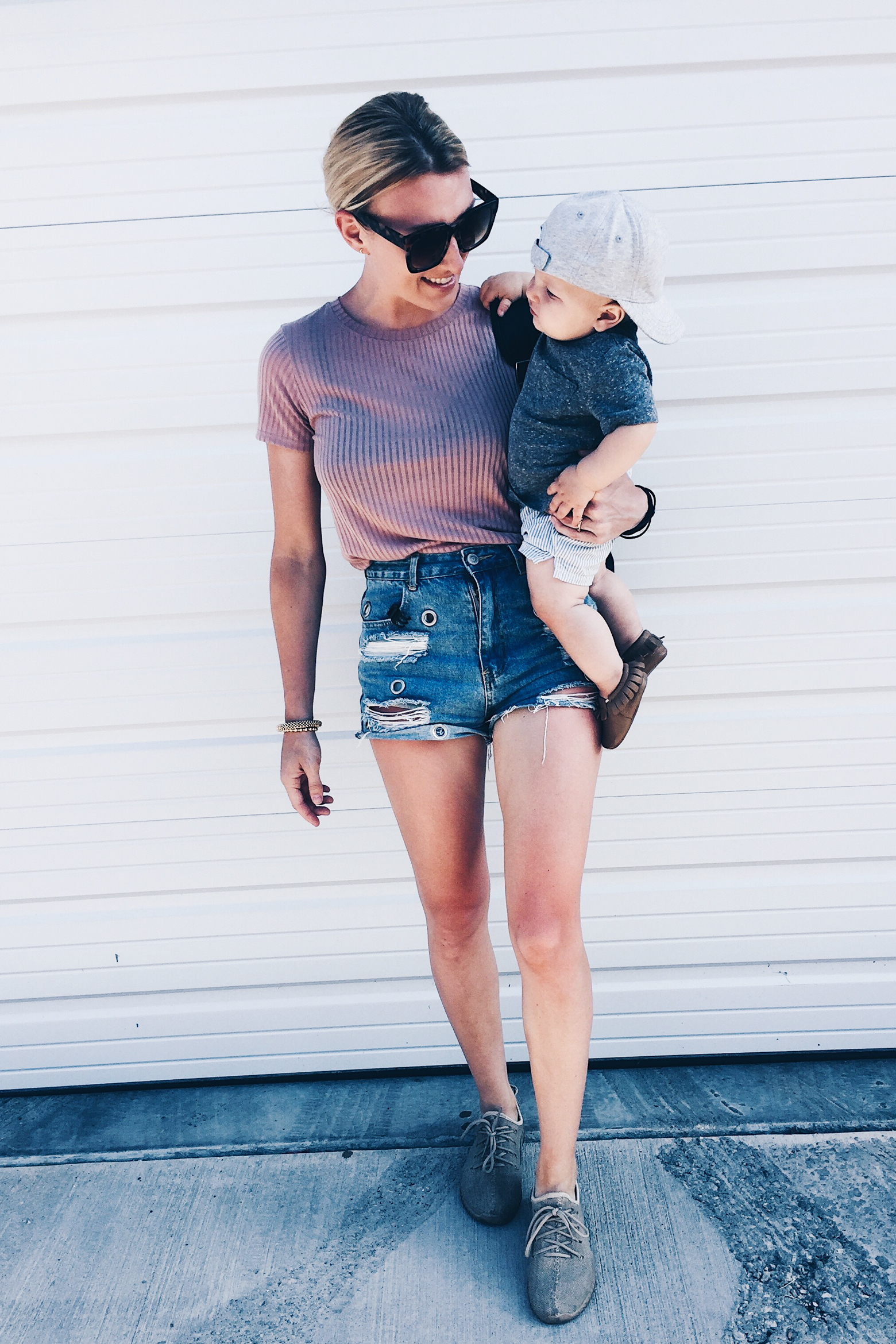 Saturday was a little more eventful than our lazy Sunday spent grilling and running errands. My above look is what I wore to dinner Saturday night, we went to Parlor Pizza in Wicker Park (shocker!). We had originally planned on taking James to a museum or doing something annoyingly active during the day, but the weather was PERFECTION on Saturday! So, we decided to hang out on our rooftop all day. Ugh, usually I am so good about making the roof pretty and fun; I plant a lot of flowers, decorate it, keep it clean, etc. This summer though: nothing. I have planted ZERO flowers, our big umbrella broke and we haven't gotten a new one (the one below is our smaller table umbrella, we bought a MASSIVE one from Ikea last summer and it's the best – aside from the fact that it broke), and I just feel like we've put no effort into the roof at all this summer. It makes me so anxious and sad. Kyle and I became instantly depressed Saturday morning when we realized we're almost halfway through July and we have barely spent any time up there! So, we decided that is what we would do. And it was great.
***NOTE: Please excuse these horrible/random iPhone photos from Saturday. I'm kicking myself for not taking any good photos documenting this day!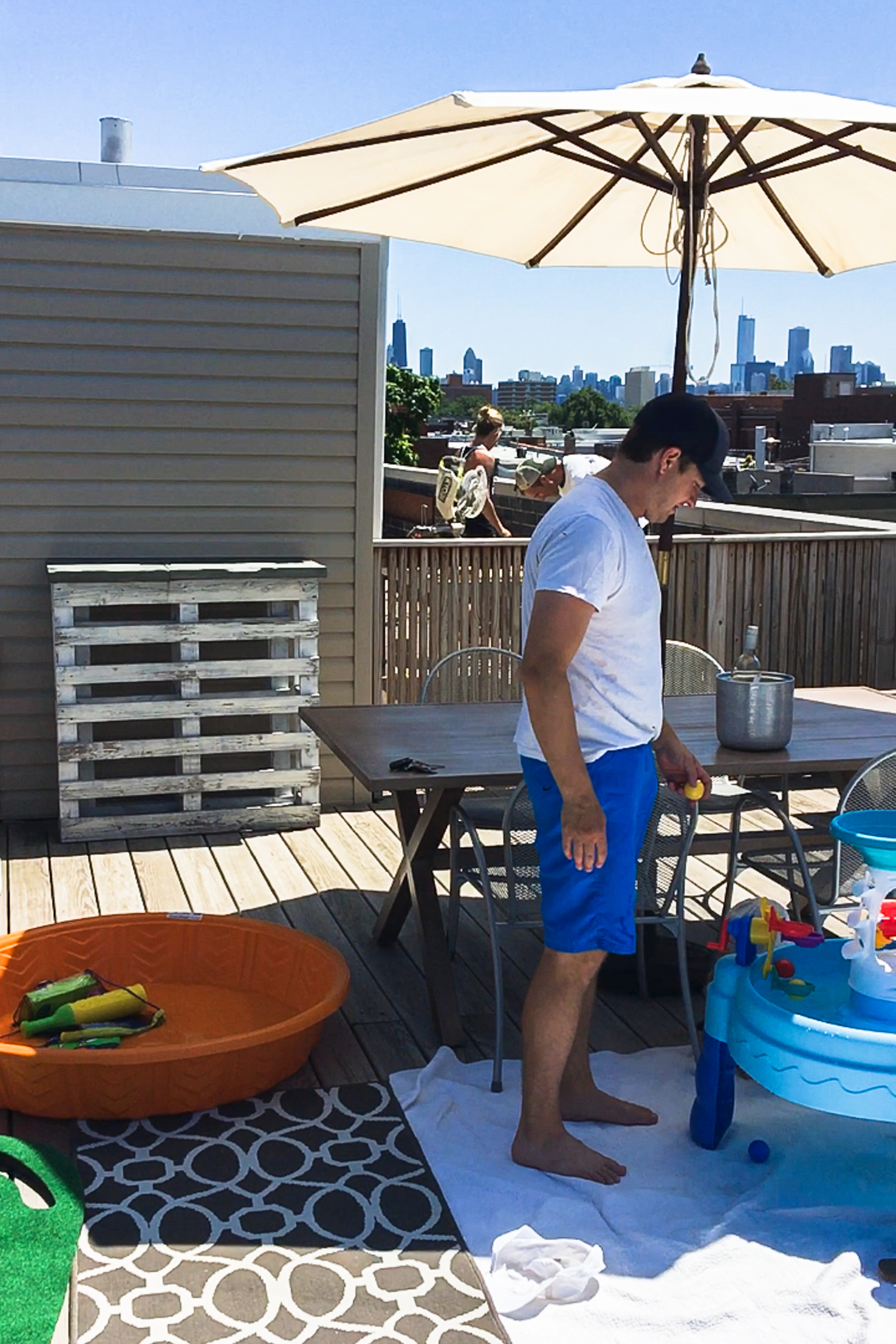 I sent Kyle to Target in the morning to pick up some rosé (obvi) and a water table for James. PS: you can get the exact same water table for $6 less on Amazon Prime! He loves this thing. He first played with a water table a few weeks ago at a 1st birthday party, not gonna lie, he spent a LOT more time at it during the party when there were 5 other kids playing alongside of him. We kind of had to keep redirecting his attention to it on Saturday, but nonetheless he did really love it! Also, note our neighbor in the background. She doesn't have kids – and therefore has a life – and she's pimping her rooftop big time. We are so jeal. While we were busy assembling a freaking Little Tikes table, she had people over there building an outdoor custom TV stand and beautiful built in planter boxes! Envy.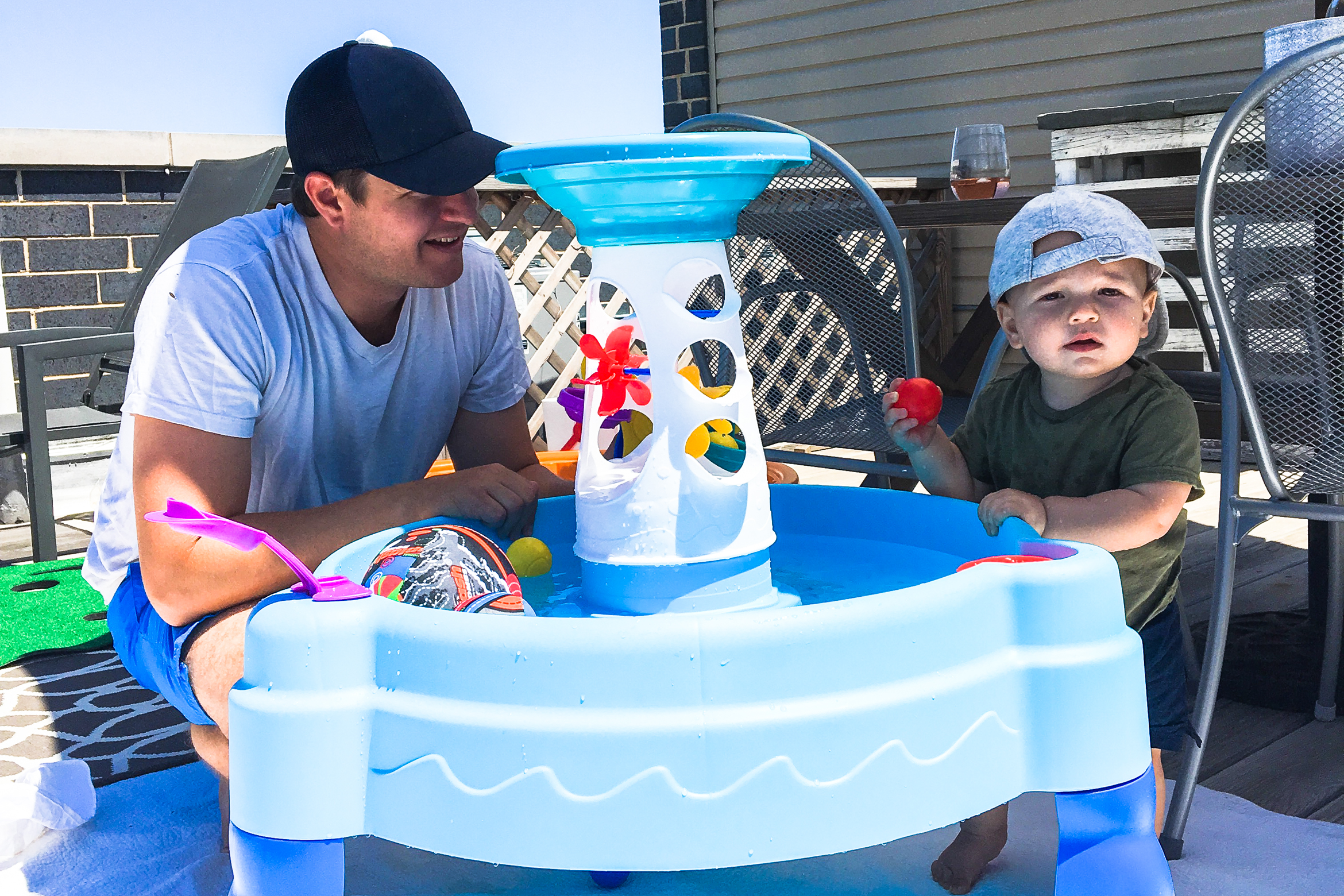 After hours on the roof, we showered and got ready for an early dinner. PS, my back got SO sunburned. It was brutal. I use Babo Botanicals sunscreen on James, and my favorite ever Dew Tint Moisturizer from Beautycounter on my face (it is SPF 20). But, I completely forgot about my back. Oops! Also, those up there are the shorts I have been raving about. I wore them all day with my bathing suit top, and couldn't resist wearing them again to dinner. Even though they were dirty and wet from pulling weeds from my flower pots on the roof and playing in the water table with James! But, like any amazing pair of denim shorts, they actually get better with a little wear and tear.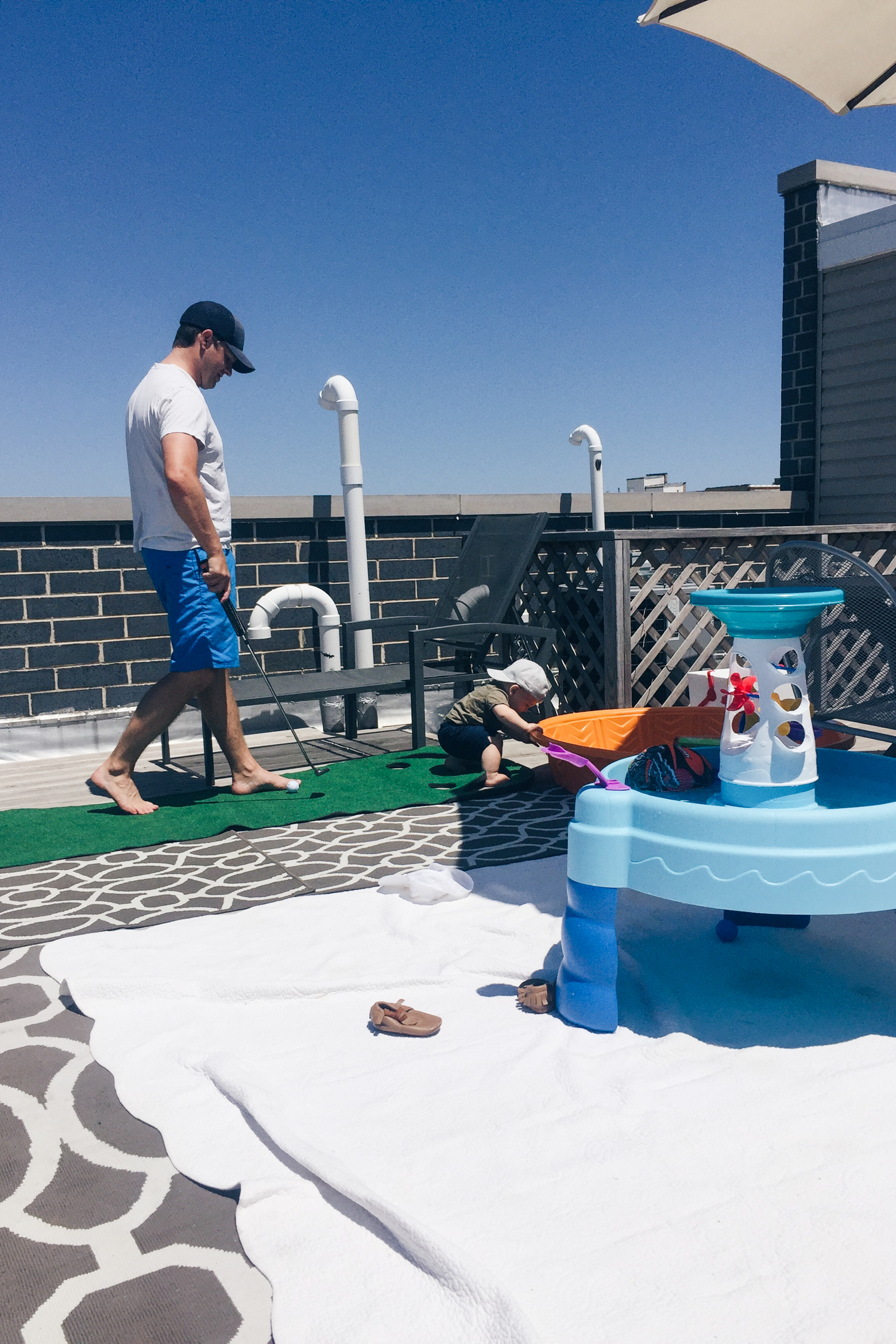 A few years ago, I bought Kyle a portable putting green for his birthday so he could practice putting on the roof. He loves it! Ladies, if your guy is a golfer this is SUCH a good gift idea. I cannot believe how inexpensive it is – only $32! This was James' first time watching Kyle put with it, and he loved it too. Much to Kyle's dismay, he kept throwing the golf balls and they would roll underneath the rooftop floor boards – lol.
We were home from dinner by 7pm, put James down, and the two of us went back up onto the roof and enjoyed some alone time. We had a couple of beers, laid on the couch, and actually watched some fireworks! People are still in 4th of July mode, apparently. It was so nice. 🙂 I hope all of you had an amazing weekend! xx