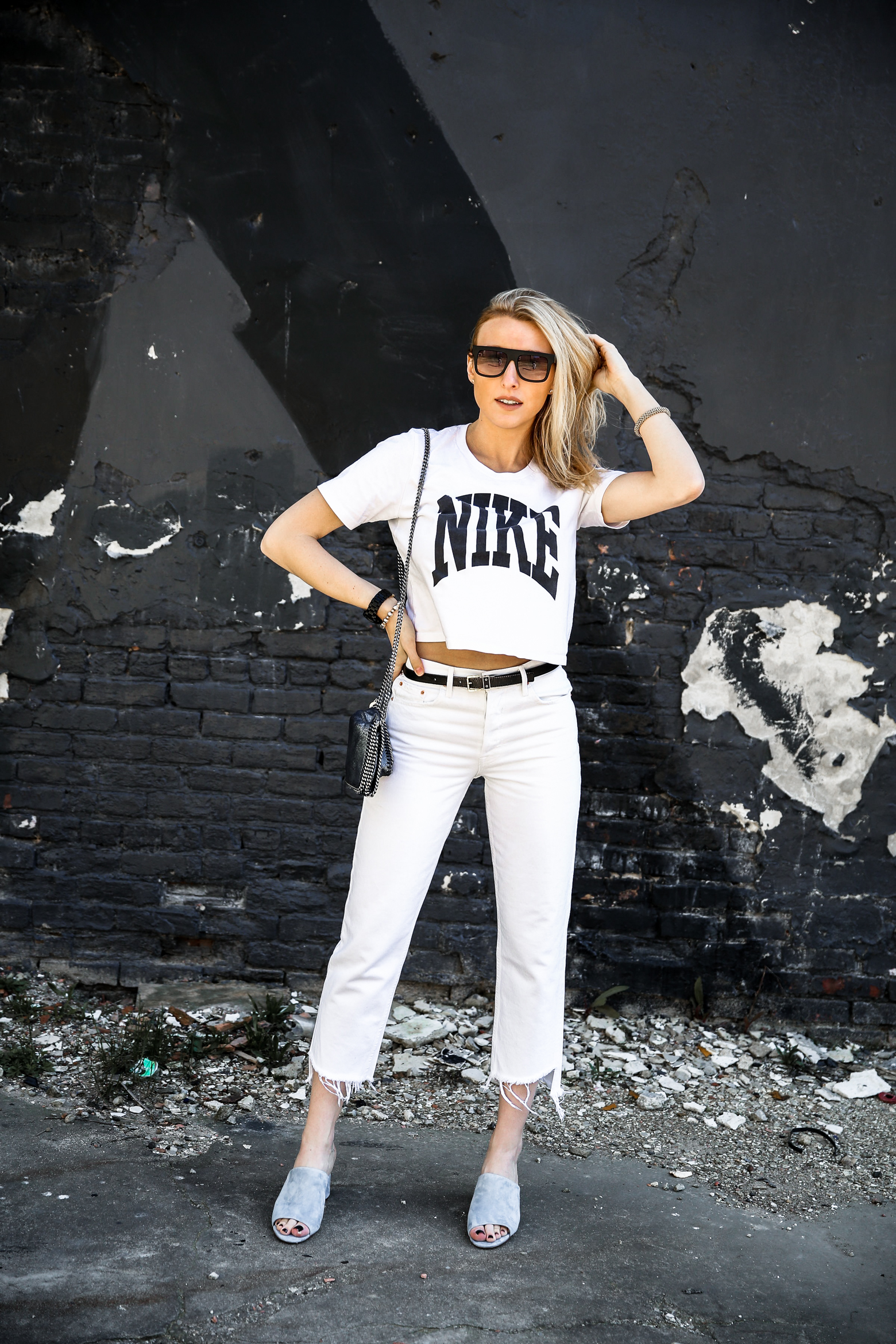 Happy Monday! I hope everyone had a great Father's Day weekend! We did. On Friday, Kyle stayed in with James and I went out with two of my girlfriends – it was seriously so much fun, and seriously very much needed. We planned it literally two months in advance, isn't it so weird how that is basically the only way to make plans as an adult? Everyone is so busy in the summer, it's so hard to find a mutual weekend that works for more than two people. I was so proud of us for actually following through with our plans. Usually, someone always backs out last minute! We met for drinks in the afternoon and then hit the Taste of Randolph, then I met up with my sister and her friends and stayed out a little too late – oops. Saturday, we did brunch with our friends at Parlor in Wicker Park – which btw, I'm adding to my list of baby friendly brunch spots – and then had everyone over to our rooftop for drinks and pizza. We have to get out of the house for a few hours one Saturday a month for our cleaning lady (we hired her after I had James, best decision of my life) so, James only had one morning nap and did such a good job lasting the rest of the day without a second one. I try to keep his routine consistent during the week, but he has gotten used to tagging along everywhere with us on the weekends, and honestly I think it's made him flexible. It used to give me SUCH bad anxiety when he would skip a nap or go off his routine, but now it doesn't bother me at all. I really believe that incorporating him into our lives on the weekend is teaching him to go with the flow! We put him down early around 6:30pm and he slept until 6:30am! He is slooooooowly getting out of his 5am wake up funk. TG.
Sunday: Father' Day! I had planned a surprise golf outing for Kyle with the help of his brother. As I've mentioned before, golf = Kyle's obsession. James and I woke him up early with breakfast in bed, a couple small FD's gifts and basically told him he had to GTF up because he had an 8:22am tee time. I've never seen him get out of bed so fast in my life. The surprise was a success! He met us later at my parents house for a BBQ, which is what we do for every holiday, and the rest of the day was spent relaxing + stuffing our faces.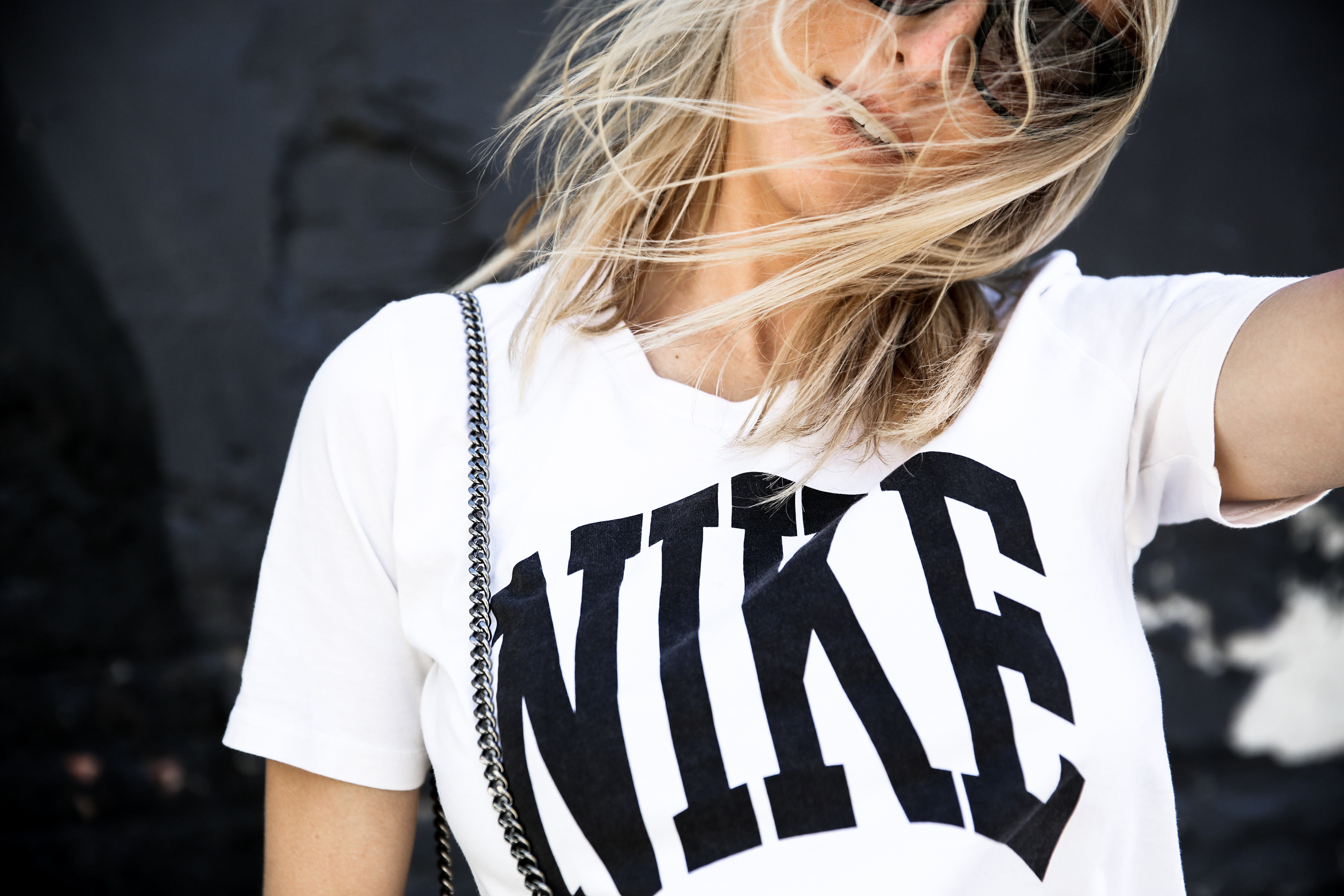 Okay, onto this look! So, I have never been a huge fan of white jeans. I have always found them to be too preppy for my style. Then, I found these. I am OB-SESSED. I love the cut, the high waist, the distressed hems, everything. I started looking at other white jeans to link to this post for you guys and I realized there are SO many cool, unique, edgy, non-preppy white jeans out there. And now I'm like, give me all the white jeans. Here are some of the coolest ones I found: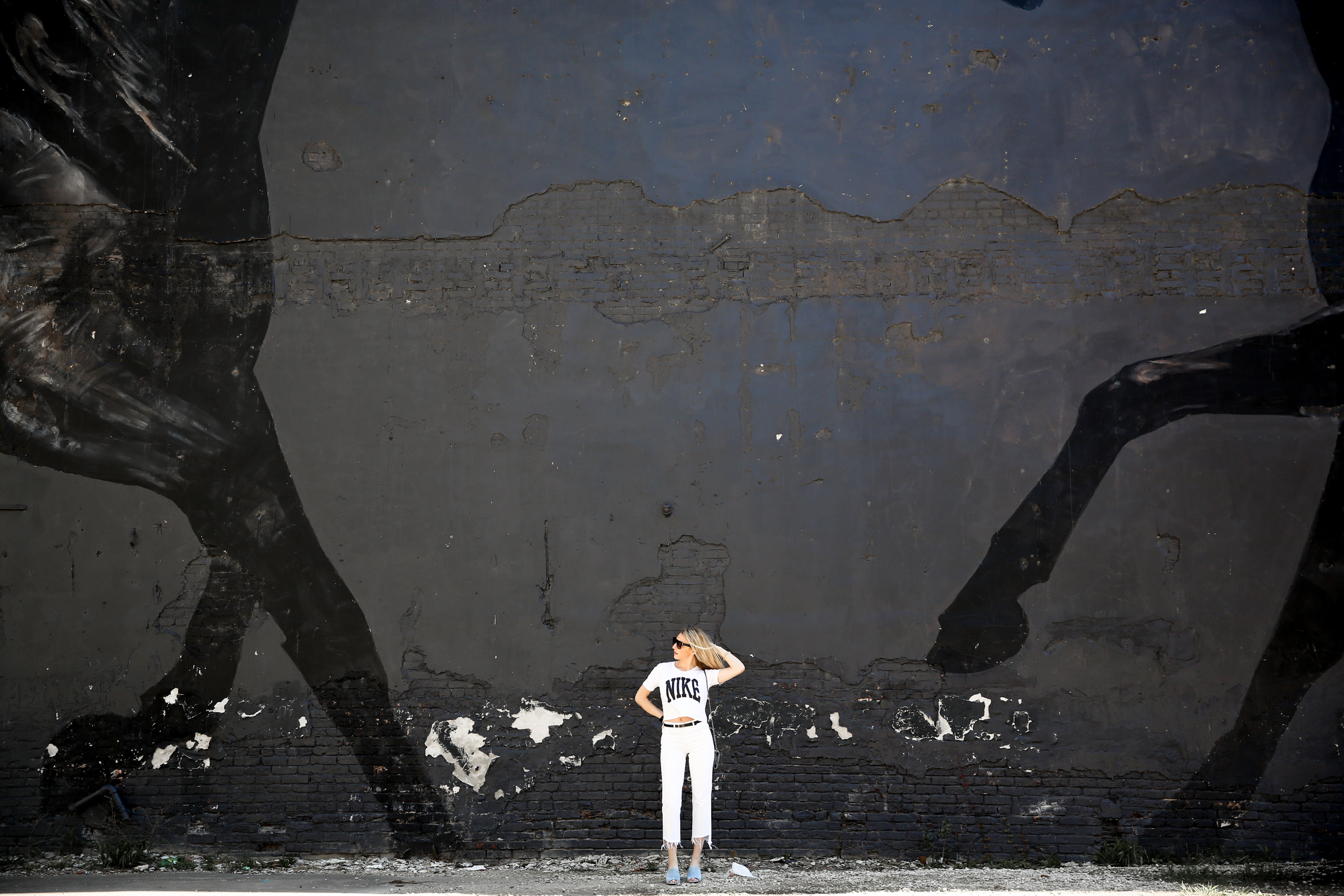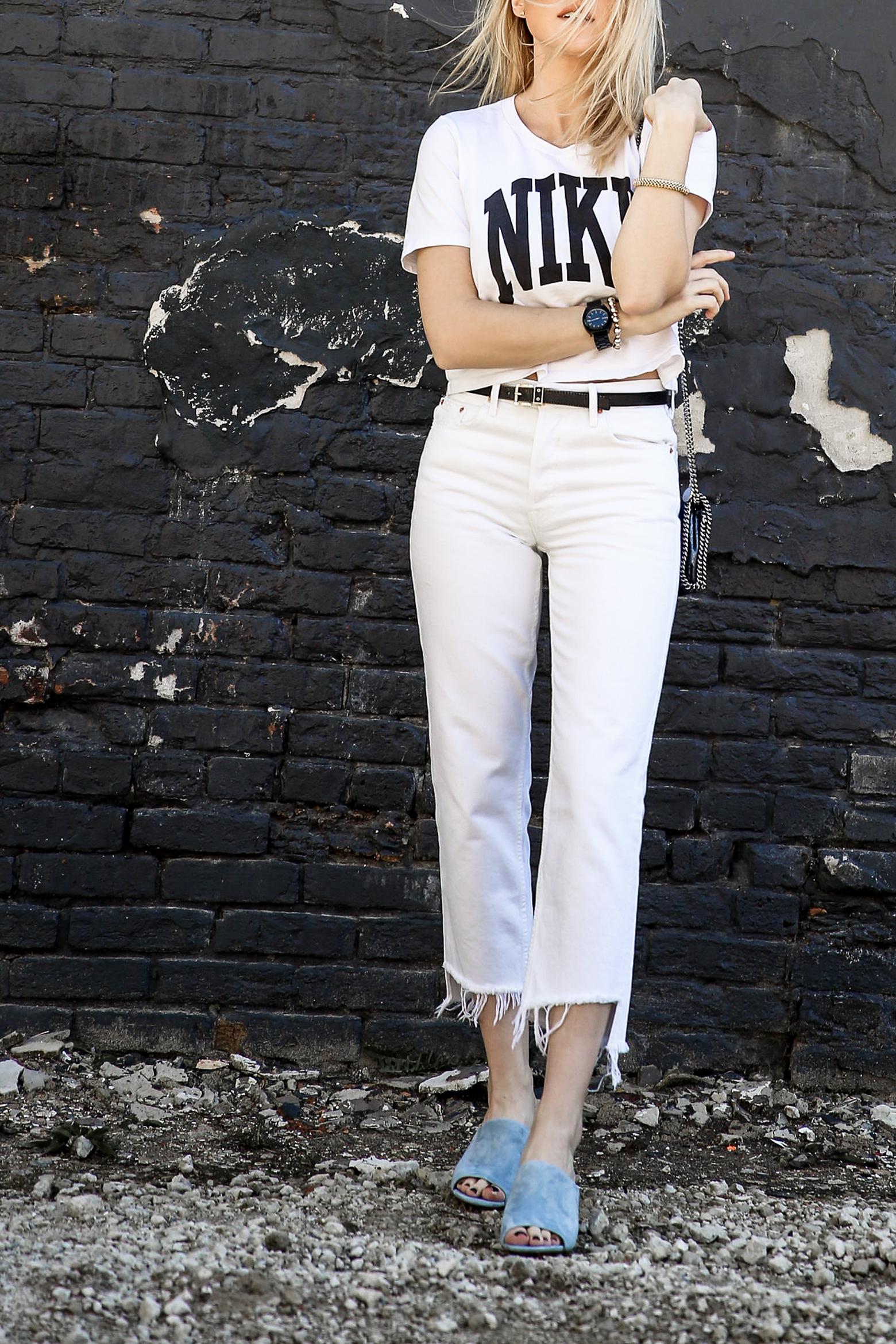 I have also realized that another way to de-prep white jeans, is to wear them with a white, cream, or off-white top. In my opinion, monochrome outfits are bold and take some guts to pull off. After trying on these jeans with a bunch of tops, I kept going back to the white on white look. Also, the contrast created by the combo of these pretty blue mules and the casual/sporty Nike crop top added the much needed edge that I was looking for. I feel like I am ALWAYS preaching about "contrast" and "edge" created by mixing dressy with casual, but I swear that is how I approach almost every outfit I put together!
I also want to tell you really quick about this awesome Etsy shop I just found. They have a ton of cool logo tees for cheap (they might be fake? but I mean, whatever!). I love this Calvin Klein crop for only $19, this green Nike crop for only $17, and this Tommy Hilfiger crop for only $17! Those are my top three favorites, but they have SO many more! Check it out. I swear, I'm buying them all. It is so weird how old branded logo tees are so popular now, but I truly love them.
What is your fav way to style white jeans?! Thanks for stopping by, shop this whole look at the end of the post! xx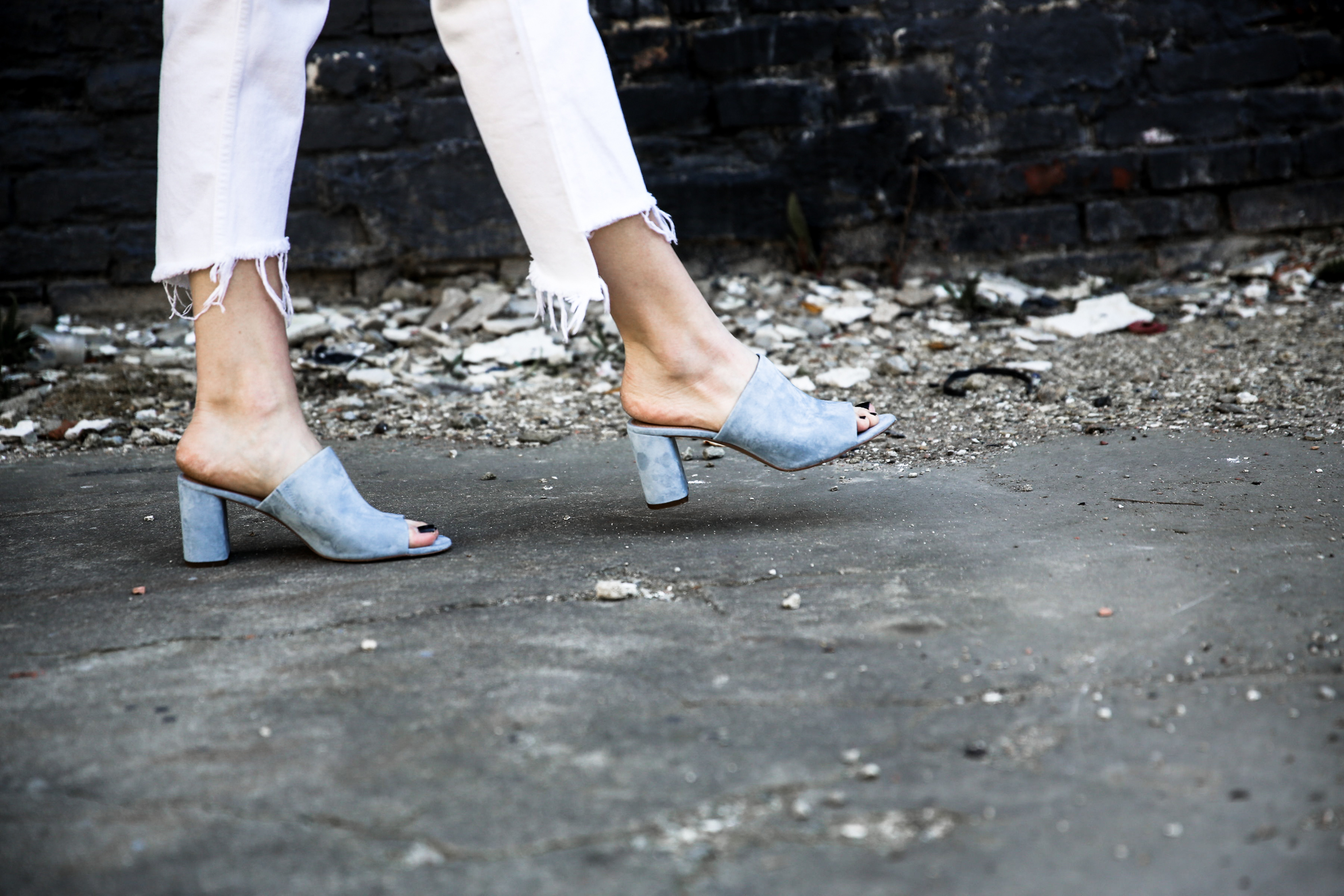 These gorgeous blue BCBGeneration mules are my new favorite pair of shoes. It is so much fun figuring out how to style them. At first, I was hesitant to buy them because I thought they would be too hard to wear with stuff, given they are BLUE – but it has actually been the total opposite. I just wear them with everything! They add such a fun touch to every outfit, and they are SO comfy! Like, really comfortable.