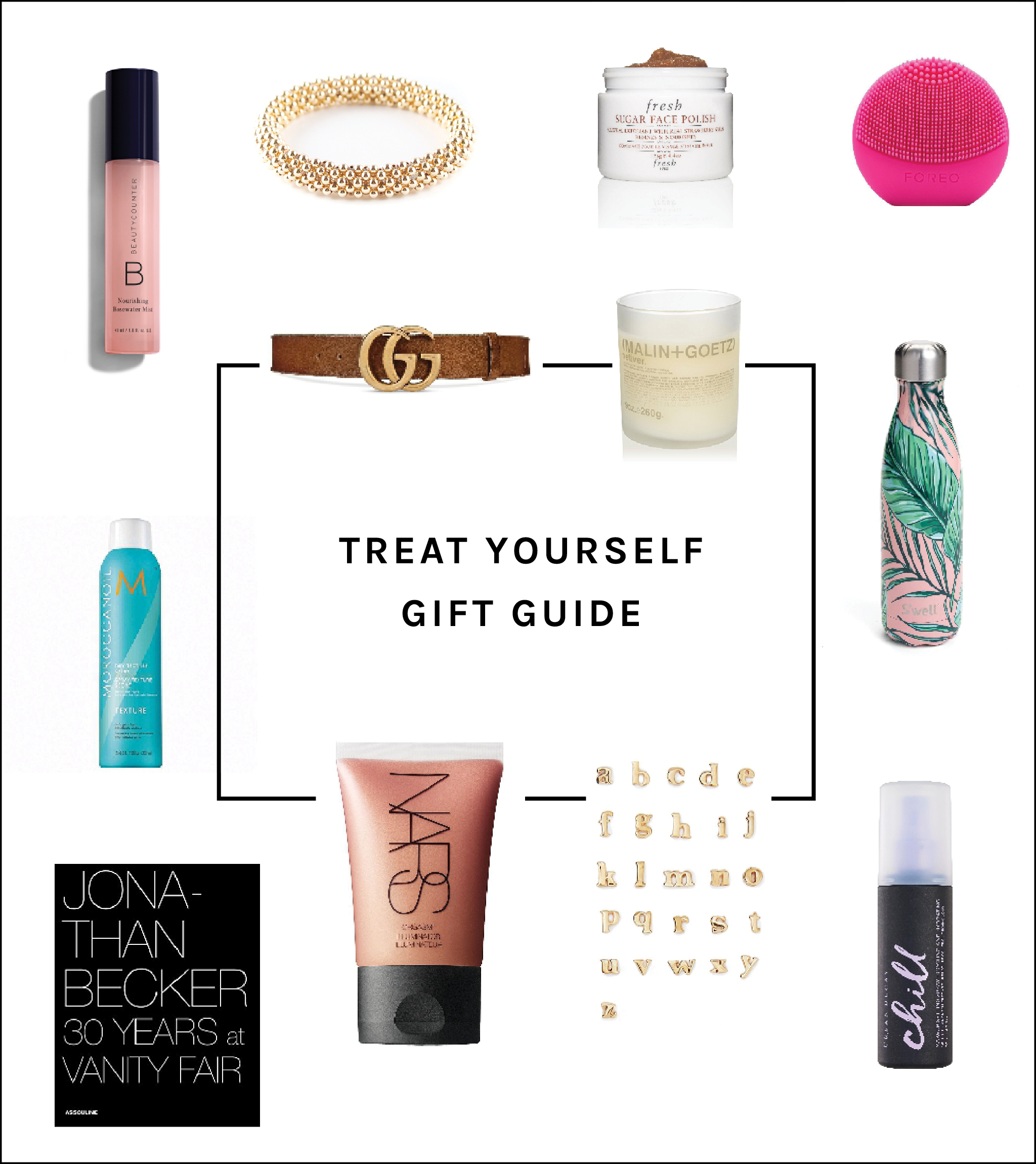 Mother's Day is almost here. AKA: you deserve to splurge a little on yourself. Even if you're not a mom, you can still shop this list. Nothing is mother-specific. We ALL deserve to spoil ourselves every once in a while. But, if you ARE a mom – why not use this week/weekend to treat yourself?! Here is a list of things you might not typically buy yourself. Also, I'm currently craving basically all of them (besides the few I already have).
TREAT YOURSELF GIFT GUIDE
1. Rosewater Face Spray
Face sprays are the BOMB. I don't even know for sure how much they actually do for your skin but rosewater spray smells SO GOOD and it makes you feel all dewy and sexy. I use the Beautycounter one but these other two are great too. Have you heard of SW Basics? I use a lot of their products – they are SO clean and non-toxic! I have been wanting to try their rosewater spray, buying now.
2. Something New for Your Makeup Bag
Is there anything better than new makeup? No. TREAT YOURSELF. That Urban Decay Makeup Setting Spray is AHHH-MAZING! Two of my gf's gave it to me for my birthday and I'm so insanely obsessed with it (thanks, Kate & Bridget!). It gives you the most awesome dewy glow and feels so good to spritz a little on right before you walk out the door. Also, I've been dying to try this Neubrow Brow Enhancing Serum but I can't until I'm done nursing James. Anyone else obsessed with finding a way to get wild, bushy eyebrows? I heard this stuff is the way to go.
3. A Quality Belt
I think it's time I invest in one or two quality belts to add to my wardrobe. A good belt is a TOTAL staple. I have always bought cheap belts and not saying I'm going to stop but, I feel like one or two really nice leather belts that will actually get better over time and not worse is a necessity.
4. A Delicious Candle
Story for you. I was recently at a restaurant (Giant) and this Malin + Goetz candle was in the bathroom and I almost fainted upon walking in due to it's amazingness. I almost didn't leave the bathroom. I went back to my table thinking "I'm going to buy that candle and it's going to change my life." I was about 3 glasses of wine deep. But, I ALSO heard about 5 other women ask about it (the restaurant is super tiny). There is nothing like a good candle, and in my opinion, splurging on a good one every now and then is KEY!
5. A Pretty Swell Bottle
Water water water. Must. Drink. More. Water. I would never drink ANY if it wasn't for my Swell. I have the rose gold one. It's the only way I stay hydrated. These are awesome because they keep liquid nice and cold (or hot!) for up to 24 hours!
6. Dry Texture Spray
If you haven't jumped on the dry texture spray train yet, do it. It works serious wonders and makes you look like you just got off a horse on the beach in Cabo. I just got the Moroccan Oil kind and I love it. I cannot BELIEVE how good it smells! My Mom uses Oribe and it's phenom as well.
7. An Awesome Face Scrub
I just read some article about how if you're not using a face scrub regularly you are basically f'ing your skin. They had this scary cartoon showing how badly skin cells pile up and clog pours, resulting in dull/aged looking skin. Ew. Getting one immediately. Also eyeing that crazy looking face scrubber tool!
8. A Cute Pair of PJ's
I just bought myself that green pair right there. I usually just sleep in an old tee and heinous Soffee shorts from 8th grade (anyone???). I feel like a cute pair of pajamas is the first step to getting back into a good night time routine, which is something I'm slowly working toward. I think that feeling cute at night sounds fun, especially since I spend so many days looking UN-cute.
9. A Beautiful Coffee Table Book
I'm so in love with a good coffee table book. And there is no better feeling than finding an awesome one, buying it, bringing it home, AND FINDING THE PERFECT SPOT FOR IT. Omg chills just thinking about it. Kyle got me that black one down there: 30 Years At Vanity Fair. Let me tell you, that pic does not do it justice! It is gor-geous IRL. The cover is cloth and it's huge and pretty and I love looking at it everyday.
10. An Inspiring Day Planner
Anyone else a sucker for a pretty day planner or journal? TBH I'm terrible at writing in them. But that doesn't stop me from buying. How cute are all of these from Anthro??
11. Something Pretty for your Kitchen
I have that marble cutting/cheese board and it might be my favorite thing I own. I also have that marble spoon rest and I LOVE it. Adding something pretty and new to your kitchen is so fun!
12. A 10k Gold Mesh busywrist Bracelet
I'm a little biased here (as many of you know, busywrist is my jewelry company) but I'm not kidding when I tell you I truly believe this will be the best bracelet you ever own! I wear it every single day.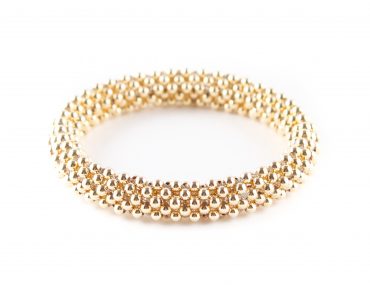 13. A New Pair of Everyday Earrings
I really want to open up my double piercing again (it closed forever ago) and start wearing a precious little gold "J" for James. I don't do big or dangly earrings so I'm always on the lookout for cute little gold earrings I can wear every day!