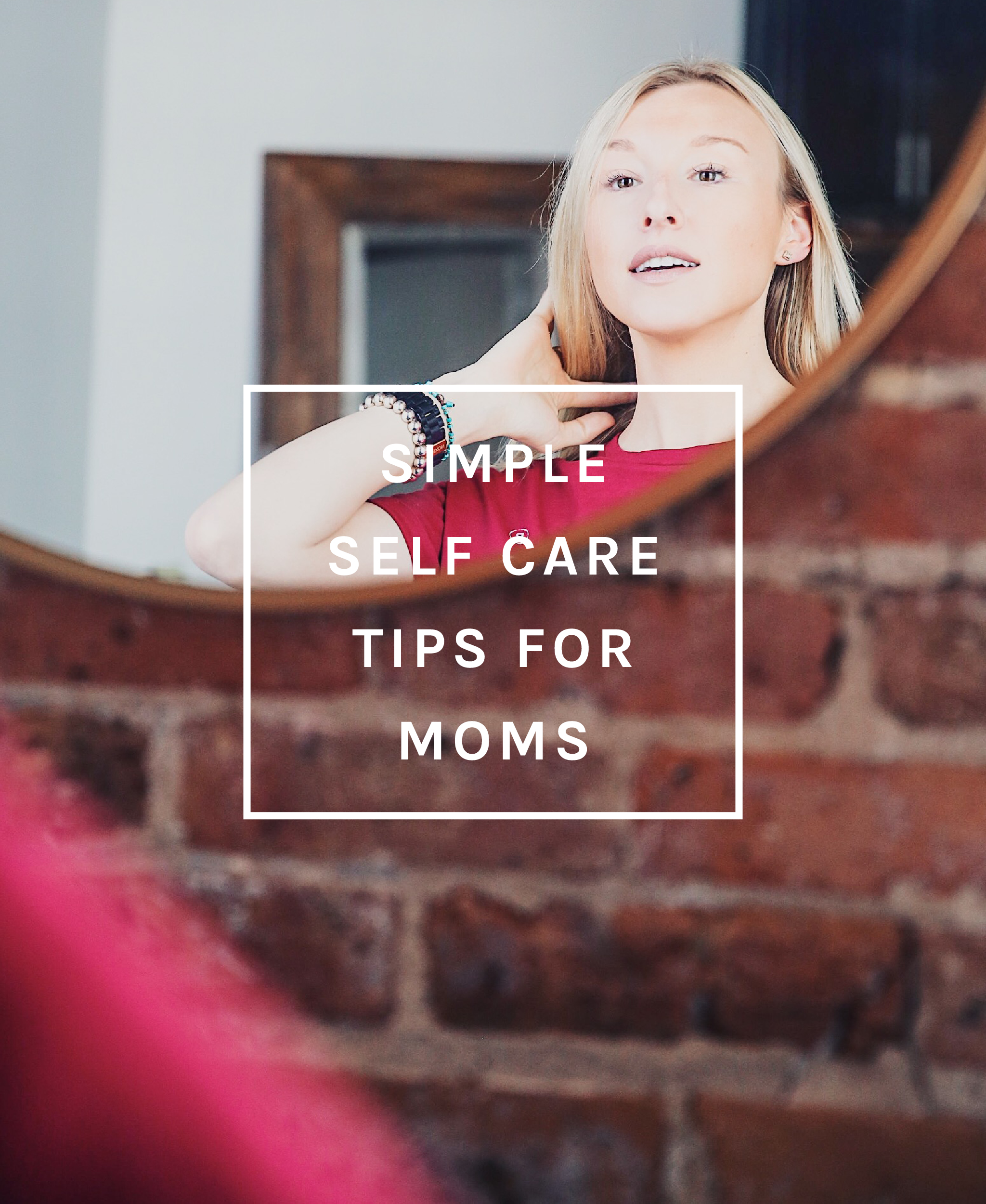 Happy almost Mother's Day! I was originally planning on doing a "treat yourself" gift guide (which I am still doing and will be posting this week – trust me, you want to shop it!) but when I started to put it together I started to realize a common theme: self care. I feel like that is a buzz term right now. I remembered I had pinned some trendy self care guides on Pinterest a while back, but as always with Pinterest (besides recipes) I never actually went back and looked at what I pinned. I decided to go check it out.
Sadly, I ended up finding some ridiculous self care info-graphic that made me feel like total crap. Why? Because I realized that according to it, I've basically completely abandoned taking care of myself since James was born. And it made me feel like a slob! I mean, TBH there are nights I make a conscious decision to skip brushing my teeth because I'm so tired, let alone execute a multi-step skincare regimen. I try to remember to put on a little coconut oil or moisturizer before bed when I can, but that's about as far as it goes. And even that only happens a few nights a week. Also, I've only gotten a mani/pedi twice since I had James! Both times were pre-vacay. Sigh. Needless to say there have been no weekly massages, facials, book reading, no daily meditation sessions, no journaling my "intentions for the day", and no consistent exercise or yoga routine (full disclosure, I don't exercise at all right now – I know that is so so bad but I swear to always be honest with you). I've been letting my roots and split ends grow out way longer than I should. I just recently finally went and got that situation taken care of. I have basically just been merely trying to survive for the last 8 months – while throwing in the occasional shower. Bonus if I remember to shave my legs. Omg, reading that back I sound like such a lazy slob. I promise I'm clean. 
But guess what, currently at this stage of my life – first time SAHM with an 8 month old – when I'm not taking care of James, I REALLY JUST WANT TO DO NOTHING! The thought of going to the gym, or arranging for a sitter so I can go get a facial, or reading at the end of a long day, all sounds totally freaking exhausting. And it gives me anxiety thinking that I NEED to be incorporating that stuff into my life right now. Like, can watching Bravo and drinking wine count as self care???? If so, I take great care of myself. I think for new moms, self care should be less about pressure to stick to an intense routine, consistent pricey grooming habits, and anything that requires deep thought; and more about just remembering to shut off and do whatever you FEEL like at the end of a long day – even if it's not necessarily considered "self betterment". The first year of motherhood requires enough deep thought, reflection,  and pressure. Don't put more pressure on yourself to do all of these activities if you find that finding the time to do them is actually creating more stress! If trashy reality TV is something you enjoy, then enjoy it mama! No shame. If crashing onto your bed after a long day and scrolling through Facebook or Instagram is something that you look forward to, do it. If a glass of wine helps you unwind, then wine not. 
Of course, I'm not suggesting that exercise, reading books, taking care of your skin, writing in a journal, or meditating, etc. are NEGATIVE ACTIVITIES that should be avoided. I mean obvi not!!!!! Those are all for sure #GOALS. And if you are a new mom and have successfully worked one or all of these things into your  daily/weekly routine then seriously GOOD FOR YOU and multiple hands clapping emojis. I'm just saying that in my experience, the pressure to do a lot of these "self care" practices can sometimes cause more anxiety on top of the already existing mama anxiety we all have. I am definitely PRO all moms sneaking out for a manicure whenever they can just because, or making the time to go spend an afternoon alone. All of that is important for sure. One day soon, I hope to get back in shape, get my old nighttime routine back, and at some point I would love to start my day with a quiet moment of meditation. Of course, I think as moms we deserve the incorporation of ALL these amazing activities into our everyday lives. But my point is, that if these things are currently NOT part of your routine, do not for a second feel like you're failing at a balanced life, don't feel gross, and don't feel alone. 
So, I went ahead and put a little list together of 10 simple, low pressure, free practices that moms can try to work into their daily lives that can get us on the track back toward a real self care routine. None of these require a babysitter, planning ahead, or money.
10 Simple + Free + Low Pressure + Daily Self Care Practices for Mamas
Take three big, deep-belly breaths when you wake up in the morning and call that your meditation for the day.

Light a delicious candle and let it fill your kitchen. The power of a good candle can do wonders for your mood. (My favorites in the "treat yourself gift guide" coming soon)

Put your phone on airplane mode for one hour: i.e. unplug.

When you put your baby down for a nap, set a timer for 10 minutes and do a speed clean, then spend the rest of the nap laying down doing nothing (and by nothing I mean: sleep, watch a show, stare at the ceiling, etc.). This way you still feel productive but you get to relax too. Win win.

As soon as your husband walks in the door, hand off your LO immediately and go take a bath (bring a glass of wine).

Organize something simple: your makeup bag, silverware drawer, the bar cart, etc. This is a fast and easy way to feel like you accomplished something and you'll feel good about yourself.

Set a "water alarm" on your phone that reminds you to chug a glass of water every 1-2 hours.

Listen to a TED Talk (I'm going to do a post on my favorite TED Talks they are just the best). They are on average about 10 minutes long, if you are sitting at a desk then listen on your headphones, if you are a SAHM then just stream one out loud while you play with babe or do housework. Go to the website and just scroll through and pick something that catches your interest!.

Incorporate 10 squats into every day. 5 in the morning, 5 at night, or 10 at once. Do a couple in the shower! If you're like me and not actively going to the gym or work out classes – this is a good way to at least feel like you're doing something. I try and do 5 every time I go to the bathroom (has nothing to do with going to the bathroom, just a way of remembering when to do them!).

After baby goes down for the night, spend a little time on Pinterest getting inspired. Look at cool home decor, read inspiring quotes, check out cool style boards (not gonna lie, mine is pretty great) and try to visualize recreating outfits with clothes you already have.
Sound doable?! I hope so! Cheers to you this week, and here's to hoping we all start taking better care of ourselves at SOME POINT! xoxo