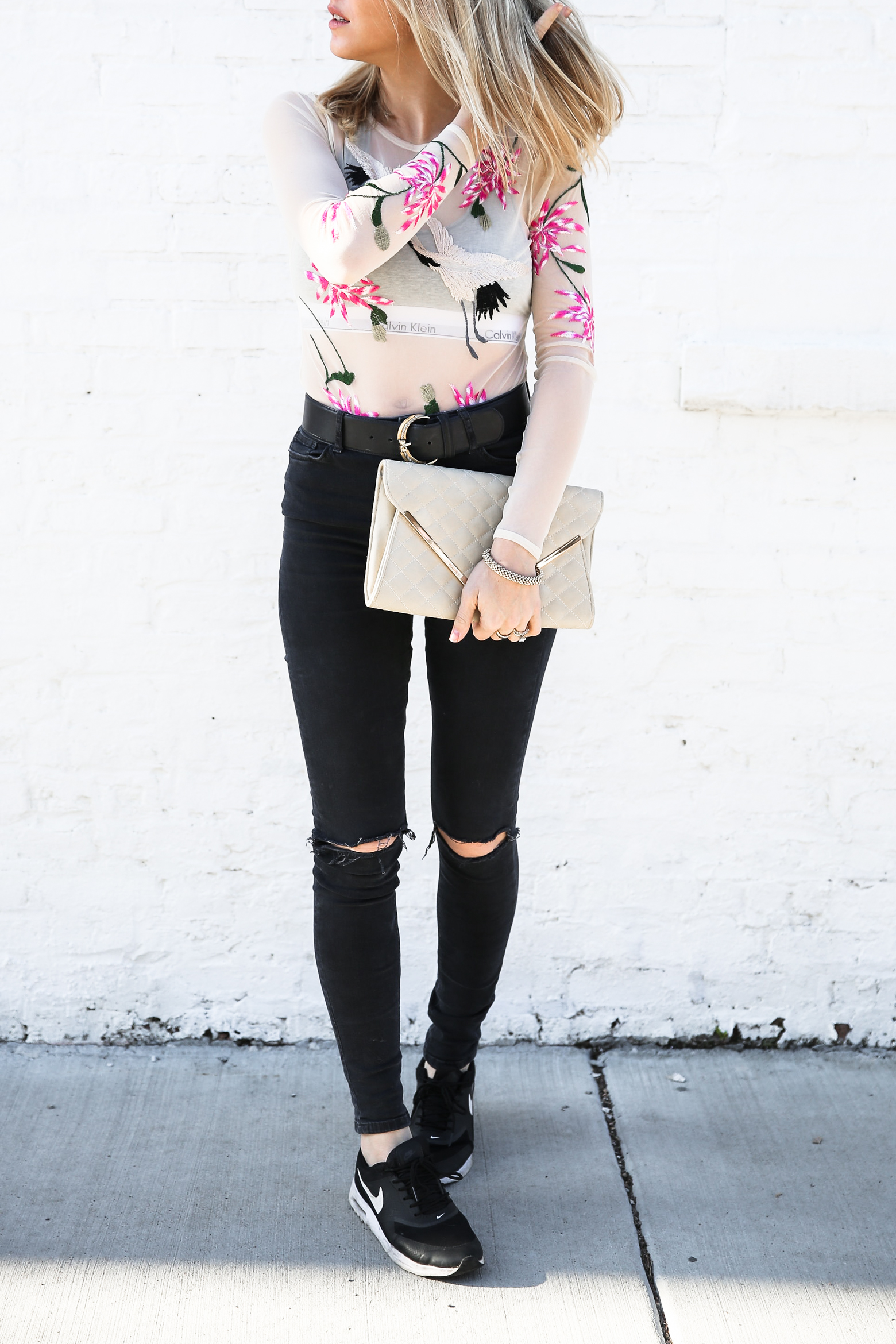 Happy Monday! Can you guys even handle this BODYSUIT!?!?!?! Yes, it is a bodysuit. Which makes it 100x more incredible. I'm so obsessed with it. More on that in a minute, here is a little weekend recap!
We had another long but fun weekend. James' new thing is waking up at 5:30am – so, yay!!!! It's really cool. Ugh. I complained about it on Friday in my Brunch Guide, and it is still happening. We've tried putting him to bed a little later, adjusting naps and awake times, we have slightly altered feedings, nothing seems to work. Hopefully it is just a phase???? Whatever. He is still getting about 10 hours and sleeps straight through, so I really need to just get it over it. I know there are moms out there with way worse sleep dramas, so I will shut my mouth!
Friday morning was rough and I was a drama queen about it – but in hindsight, so not a big deal. I just got very overwhelmed with the day (laundry, the clutter, James 5:30am thing, laundry, the blog, etc.) and it made me a little crazy for a minute but Kyle was really nice and stuck around for a bit in the morning to help with James before he went to the office (he is his own boss, so not a big deal). I think the early wake ups are getting to me?? Probably not, I think I've always been like this. The day got so much better, my MIL came down to watch James in the afternoon and once I got out of the house for a minute (alone) and took a breath, everything seemed so doable again. I shot a BUNCH of looks with Cassandra, we had so much fun and it felt so productive. I haven't accomplished that much in one day since before I had James. I came home around 6pm just in time for James bath and bedtime routine, and then Kyle and I watched Secret Life of Pets (LOL) and drank a little wine on the couch.
Saturday, Kyle golfed. I've complained multiple times about golf already so I will spare you the negativity and move on. He had an early tee time and was home way earlier than I anticipated so it wasn't horrible! My sister and her friend came over to play with James so that was great. (And they brought a little rose, also great.) Then, Kyle came home and we all walked to Mahalo for an early dinner – have you guys been?! I loved it! Their drinks are soooo good and made me feel like I was on vacation. Loved. Then, I went out with my sister and her friends and Kyle did bath and bedtime with James on his own. Thanks, babe! We were proud of ourselves for finding a way to both get some time to ourselves without it turning in to a huge fight – SUCCESS! Sunday was lazy, just as it should be. We laid around and napped while James napped and then I took him to dinner with my girlfriends and it was so fun. Next Sunday I think we should attempt church with James. Overall, good weekend!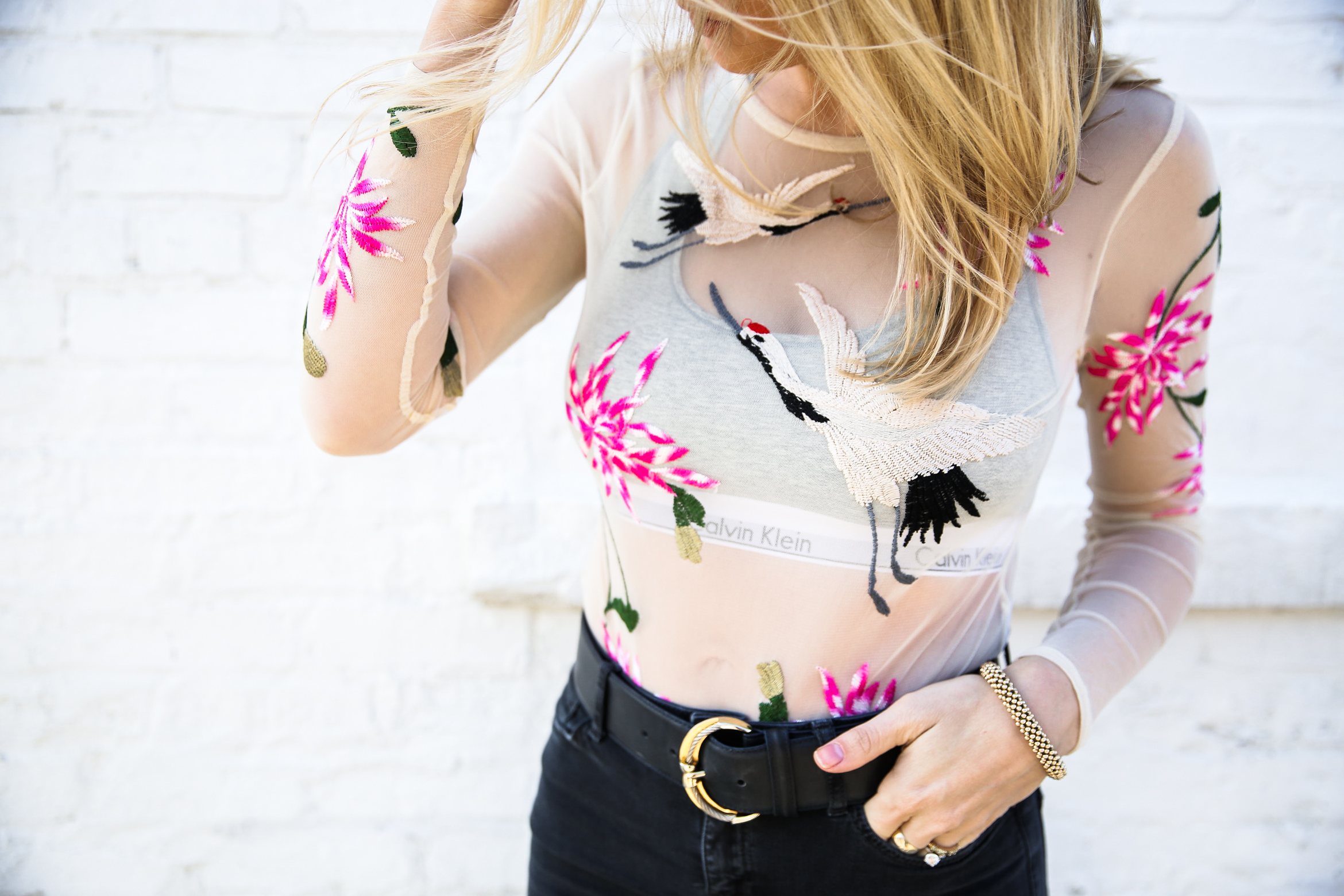 Now for the main event: THIS BODYSUIT YOU GUYS!!!!!!!! Isn't it the most beautiful thing you've ever laid eyes on? It is so feminine and delicate. Something I don't usually go for! I was instantly in love when I saw it online, and then when it arrived I fell even deeper in love (it is just as gorgeous IRL and the fit is great). Then, I panicked because I started to think it was WAY too girly for my style and got nervous I wasn't going to pull it off in a way that felt like me. I had to grunge it up somehow. I have an obsession with Calvin Klein bras, and thought this gray one would look so cool underneath. It added a the more casual/sporty edge that I felt it needed. I wore it with my favorite torn up jeans, and these nikes – and when I completed the look I was obsessed.
Other ways to wear this bodysuit: